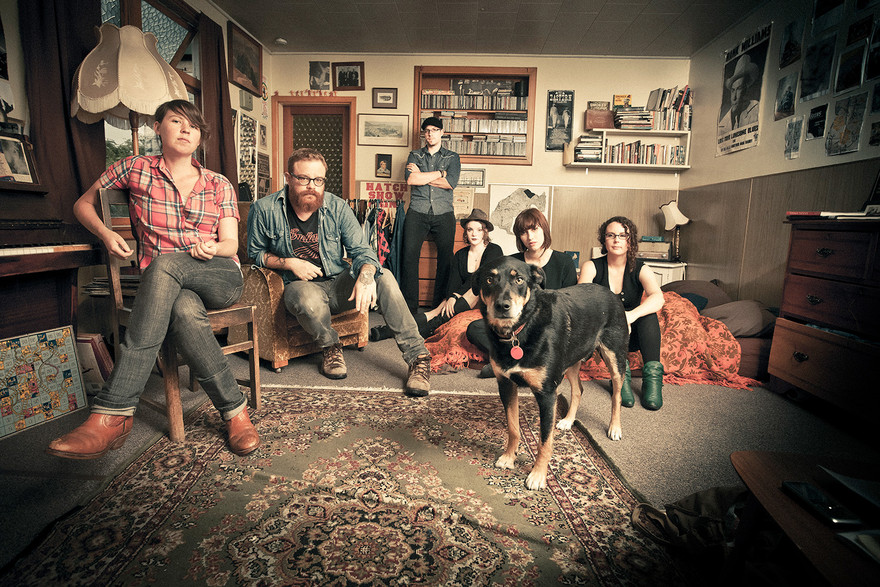 New Zealand country music has certainly come of age in the 2010s, with women leading the charge. South Islanders Mel Parsons, Kaylee Bell, Jackie Bristow, Jody Direen, Jenny Mitchell, agent-turned-singer Aly Cook and Canadian import Tami Neilson have all found success in Australia, the United States and beyond – while at home all but Neilson, and perhaps Parsons, have remained in large under the radar.
The port town of Lyttelton, the South Island's very own Austin, TX, has brought us Delaney Davidson, Marlon Williams and The Eastern. It was Davidson who introduced The Eastern's main protagonists and fostered the burgeoning scene there. Meanwhile, the omnipresent Warratahs have remained The Warratahs, and that's why they are a much-loved New Zealand institution.
Local country music has grown more visible especially in the last decade. Whereas record companies and funding authorities were often reluctant to sink money into music videos by New Zealand country acts in the past, the success of the likes of Neilson and Williams has seen accompanying film clips become commonplace in the genre.
The Warratahs – 'Kupe's Tears' (2012)
Evergreen troubadours The Warratahs celebrated their 25th anniversary with this single written by the godfather of modern New Zealand country music, Barry Saunders. Saunders has helmed the band since it re-formed in 1999 after a five-year hiatus; he and fiddle-player Nik Brown are the only two members to appear in this Brian Culy-directed video, shot in Hawke's Bay.
'Kupe's Tears' is a piece of coastal land in the Wairarapa and the song was penned after a day trip Saunders took with his daughter. The song wasn't initially considered for The Warratahs' next album, 2015's Runaway Days, until Saunders reheard it on Christchurch radio while visiting his sister.
When you catch lines such as "Where the fire met the frozen waters, Kupe's tears turned to stone," you recognise why Barry Saunders is a national treasure. The Warratahs' back catalogue is chock full of Saunders gems, stretching back to 'Maureen' and 'St Peter's Rendezvous' off their first two albums.
Delaney Davidson and Marlon Williams – 'Bloodletter' (2012)
On the day of the Christchurch earthquake of 22 February 2011, Delaney Davidson and Unfaithful Ways singer Marlon Williams were sitting outside the Lyttelton Coffee Company discussing recording together. The resulting album, Sad But True: The Secret History Of Country Music Songwriting Volume 1 was released the following year.
The haunting debut single 'Bloodletter' was visualised as a blood-spattered horseback chase music video filmed on the Mesopotamia Station in mid-Canterbury's Rangitata Valley. Davidson played most of the instruments on the track; Williams added an almost Māori strum on acoustic guitar.
Davidson and Williams first met when Eastern singer Adam McGrath accidentally double-booked them to fill in for him at the Wunderbar in Lyttelton. The duo opted to do the gig together and bonded over songs they had in common including the John Lennon screamfest, 'Mother'. It was obvious from the start this combination was going to be no Brooks & Dunn.
Jody Direen – 'Loud' (2013)
'Loud' was the first release for Wanaka singer Jody Direen after signing to British adventurer Bear Grylls' United States-based talent company. The TV star and his crew ended up at Direen's St Patrick's Day gig in Wanaka when filming was rained off, and they invited her to Los Angeles where they signed her to a management deal.
Six months later, she exploded with a new image and the Nashville-produced 'Loud', co-written with New Zealander Fiona Benefield and Australian Matt Scullion, followed by the album Breaks Out. Direen had finished third in the TVNZ talent show Find A Star in 2011 and released her debut album Here We Go in 2012.
She may wear influences such as Shania Twain and Keith Urban on her sleeve, but it has her well armed to continue a determined push onto the international scene. Her 2020 album Smokin' Ashes was produced by Stuart Stuart, whose credits include Sheppard and The Veronicas.
Tami Neilson – 'Walk (Back to Your Arms)' (2014)
Canadian-born Tami Neilson has smashed down all manner of walls to make New Zealand country music the most popular it's been since John Hore was outselling The Beatles in the mid-1960s. No more so than in becoming the first country songwriter to win the APRA Silver Scroll, which she did with this song in 2014.
And Neilson continues to go from strength to strength. Her 2020 album Chickaboom! made numerous "best of the year" lists, including No.3 in the online Country Universe, who said, "... the album's driving engine is Neilson's insistence in taking up space and claiming it not just for herself, but for all womankind."
Neilson began writing 'Walk (Back To Your Arms)' in her kitchen, stomping to the beat while comforting her crying newborn; the song was completed with her brother Jay Neilson. The video features Marlon Williams as a backing singer and Delaney Davidson as the guitarist.
The Eastern – 'The Waterside' (2014)
Following a blueprint drawn up by The Warratahs some 25 years earlier, The Eastern had played every nook and cranny of New Zealand by the time their 2012 album Hope And Wire was released. Without a music video or accompanying tour, the collection still made it to No.2 on the NZ album chart.
The recording of Hope And Wire took place in Christchurch's Red Zone in the months after the 2011 earthquake and filmmaker Gaylene Preston used its title for her miniseries that screened on TV3 in 2014. Preston told Stuff the band's frontman, Adam McGrath, was ''a vital guide'' to making the drama.
When The Eastern appeared in an episode performing 'The Waterside' in somebody's backyard – as they did many times in the aftermath of the quake – they were joined by fellow Lyttelton luminaries Marlon Williams, Lindon Puffin, Al Park, Tiny Lies singer Charlotte Ivey and former Eastern member Hannah (Aldous) Harding.
Aly Cook – 'Midnight Cowboys' (2015)
Aly Cook's quirky 'Midnight Cowboys' breezed its way to the top of the Country Songs Top 40 Australian Airplay Chart like a breath of fresh air in November 2015. The track's point of difference was the Alan Jansson production that was so far removed from anything else at the time or since.
Jansson and collaborator Fats White (Brent Hayward) had written the song more than a decade earlier as 'Robot Cowboys', but they changed the title when Cook was recording her second album, Horseshoe Rodeo Hotel, with Jansson at the desk.
The songwriters laid down acoustic guitars to a click track and then had drummer Jim Lawrie come in and copy the click exactly, playing both snare and kick on the beat and a "rat-a-tat" figure before the chorus. Graham Brazier added harmonica, Warratah Nik Brown contributed fiddle and Three Dog Night guitarist Paul Kingery played slide. Cook topped the Australian charts again in 2019 with 'Red Dirt Road Trip'.
Jackie Bristow – 'Whistle Blowin'' (2016)
The second single from Jackie Bristow's 2015 album Shot Of Gold, 'Whistle Blowin'' was accompanied by an expansive video shot in California and directed by media jack-of-all-trades and Strawpeople founder Mark Tierney.
Born in Gore, Bristow performed around the South Island with her sister before upping sticks and moving to Sydney in 1998. There she met long-time collaborator Mark Punch, an Australian guitarist who had played with all the big names in the city during the previous 20-plus years as well as co-writing the New Zealand backyard party favourite 'Heading In The Right Direction', a hit for The Renee Geyer Band.
Bristow spent her time in studios and touring between Sydney and Los Angeles before relocating to Austin, TX, in 2008, and later back to LA. Punch produced Bristow's fourth album, Shot Of Gold, in his Sydney home studio and in Los Angeles. In early 2017, Bristow moved to Nashville, where Punch was now living.
Jenny Mitchell – 'Wildfires' (2018)
Another Gore native, Jenny Mitchell won the New Zealand Gold Guitar Award as a 19-year-old in 2017 and recorded her following album, Wildfires, in Sydney. It was produced by the in-demand Matt Fell, known for his work with Australian country royalty Slim Dusty, Troy Cassar-Daley, Sara Storer and John Williamson, and New Zealanders Shanley Del and Jackie Bristow.
Mitchell described the eponymous lead single as a story of distrust and disloyalty. "I really wanted to create a clip that got inside the minds of those who end up stuck in those situations," she says on production company Spilting Films' website. "The way that the narrative shifts from gentle moments to the chaotic fighting scenes is a very honest portrayal of how it can feel to be wrapped in a toxic relationship."
The album and its predecessor, The Old Oak, were both crowd-funded. Wildfires reached No.1 on the iTunes NZ Alternative Album Chart and No.4 on the Official NZ Music Charts.
Mel Parsons – 'I Got The Lonely' (2018)
A long-held hankering to work with uber-producer Mitchell Froom was realised for Westport singer/songwriter Mel Parsons with the recording of her Glass Heart album, released in 2018. Parsons and Froom – Crowded House producer and now member – first talked about working together in 2015.
Parsons wrote the first single, 'I Got The Lonely', after combing through Tom Petty's catalogue soon after his death in October 2017. "Something in his songwriting hits me in a very emotional way, and I guess that's the feeling I am trying to emulate with 'I Got the Lonely'," she said.
Recorded in Santa Monica, Glass Heart was her fourth album and the first recorded outside of New Zealand. Parsons began writing for the LP in Lyttelton but further songs came during a North American tour at such locations as a cabin in a remote area of Washington State, rural Ohio, the Midwest, and Canada's maritime province Prince Edward Island.
Kaylee Bell – 'Home' (2020)
As soon as the Covid-19 domestic travel ban was lifted, Auckland-based Kaylee Bell flew home to Waimate in South Canterbury to film a video for her 2020 single 'Home'. It wasn't the first time Bell had used the stunning South Island scenery and a classic car in a music clip, having done so with the multimillion-digitally-streamed 'Getting Closer' in 2016.
"I wanted to make a keepsake video, so we just tried to write something like an anthem of coming home," Bell told Joanne Holden of Stuff. "People who live in Waimate will recognise these places and that's really important to me. I really wanted to capture the South Island as a whole and Tekapo was great for that."
Bell won the New Zealand Gold Guitar Award in Gore in 2007 before moving to Australia where she won the Star Maker contest at Tamworth in 2013. In 2019 she played festivals in Australia, London and Florida.
--
Born in Hastings, Glen Moffatt is a musician, songwriter (Somewhere in New Zealand Tonight, 1995), and regular AudioCulture contributor. Since 2002 he has been based in Brisbane.