1. Pop-up press kit for The Clean's 'Boodle Boodle Boodle' 12" EP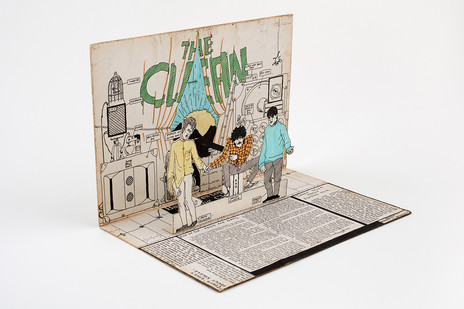 From what I'm aware, only approximately 50 of these pop-up press kits were ever made; they were used to promote The Clean's landmark Boodle Boodle Boodle 12" EP when it was released in November 1981.
As well as looking exceedingly cool when propped up, it contains some wonderful drawings, reviews of their 'Tally Ho!' 7" and various press clippings about the then relatively unknown Flying Nun. There are some insightful self-penned bios from both the band members and Roger Shepherd, who concludes, "If you don't like it I hope you choke yourself to death on your fucking mother's stupid cooking."
The person who gave this to me helped cut out and glue them together, along with Chris Knox and members of the band. I have no idea what it would be worth if it went on the market, but also don't really care. This is the sort of thing I'll leave to my daughter in my will.
2. Signed copy of singles by The Great Unwashed, 1984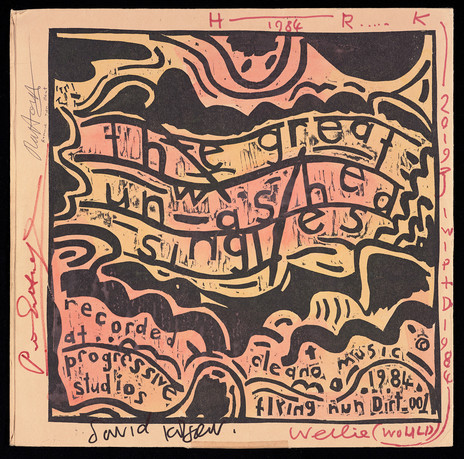 I don't really collect autographs anymore but in my teens and twenties I actively went about getting various items in my collection signed. There were a few signed records in my collection to choose from for this list but this one takes the cake, primarily because everyone, including the artist, has signed it. It was also a time-consuming labour of love to get all the signatures, beginning with Peter Gutteridge (RIP) after a one-off Snapper show in Dunedin in 2005, cover artist Ronnie van Hout after an exhibition at the Christchurch Art Gallery in 2009, David Kilgour after an instore at Slow Boat Records 2013, and Hamish Kilgour after a solo show in Wellington in 2019. A 14-year journey.
3. The Fall's New Zealand tour poster, August 1982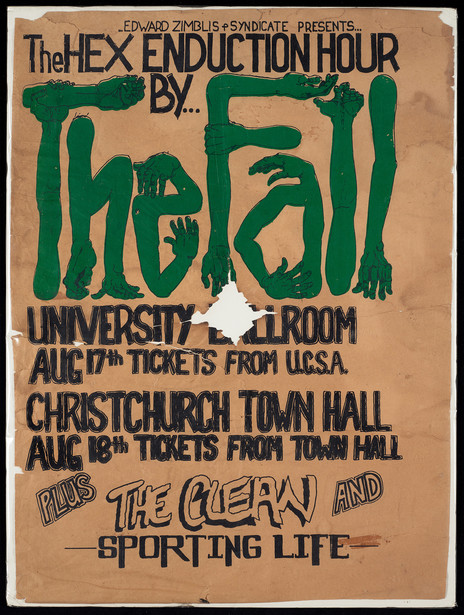 This poster is an original Chris Knox silk-screen print and is from the Christchurch stop of the now-infamous New Zealand tour by The Fall in 1982. The fall out (no pun intended) surrounding Flying Nun recording and releasing a live album of the Auckland show, called Fall In A Hole, is now widely known. This particular copy of the poster has a special history to it too: it was rescued by my 6th and 7th form photography teacher from a fireplace (notice the burn holes in the middle) in a flat in Knowles Street, Christchurch. At one time The Gordons lived there, and part of the Scorched Earth Policy video for 'Johnny Frog' was filmed there. I traded it with her for a photography book about Andy Warhol and the Factory, a deal that I didn't undertake lightly, but I think I made a wise decision in the end. Notice The Clean listed as the support act – these are the last shows they did in 1982 before they first split up.
4. Handwritten Straitjacket Fits set list with Shayne Carter's guitar pick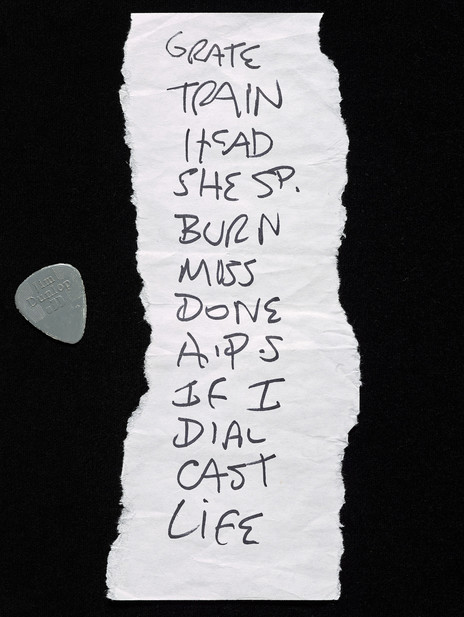 These came into my possession when I accompanied Straitjacket Fits on most of their recent reunion tour of New Zealand. I unfortunately missed the Auckland show but saw the other five gigs around the country and I found these in my pocket the following morning after one of the two Dunedin gigs at the Captain Cook, which was recently renamed Dive.
I accompanied the band as part of a film crew that is currently making a full-length documentary about Shayne Carter, for which I'm the principal researcher and archivist. The Dunedin, Christchurch and Auckland shows were all professionally filmed and recorded. We have managed to find some wonderful archival footage to use in the film, such as VHS camcorder footage of the Doublehappys playing at the Oriental Tavern in November 1984, Straitjacket Fits live on Radio with Pictures in July 1987, and more recent footage, such as the last-ever interview Andrew Brough gave before he passed away. The film is currently in the post-production stage, so watch this space.
5. Printer's proof sheet of unused hand drawn labels for The Bats' 'The Law of Things' LP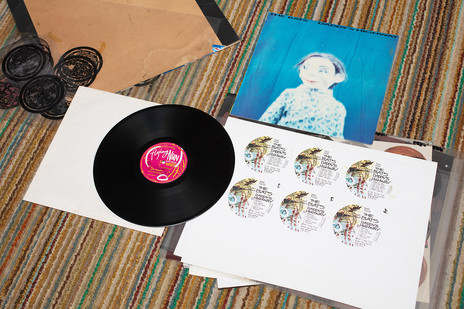 Around about the same time that Flying Nun relocated from Christchurch to Auckland in late 1987, another major change happened involving the printing process of the album artwork. Previously hand-drawn centre labels were now replaced with a generic pink and yellow label, which were designed by Lesley Maclean. Roger Shepherd recently told me that this change came about due to pressure from the record pressing plant as having a generic label was meant to speed up pressing turnaround times as they could print them up in bulk and then print the label copy for the release in question, rather than having to individually print off the unique artwork for each individual record.
One of the casualties of this change was the beautiful Robert Scott-designed labels for The Bats' The Law of Things album, and it is interesting to see that they made it as far as the proof-printing stage before they were scrapped in favour of the new generic labels. As a side note, when the album was reissued by the Captured Tracks record label in 2014, I sent a scan of these labels to the label and suggested they should incorporate them somewhere in the reissue artwork, however this was inexplicably rejected.
6. Signed set list from The Clean's Getaway Tour show in Christchurch, April 2003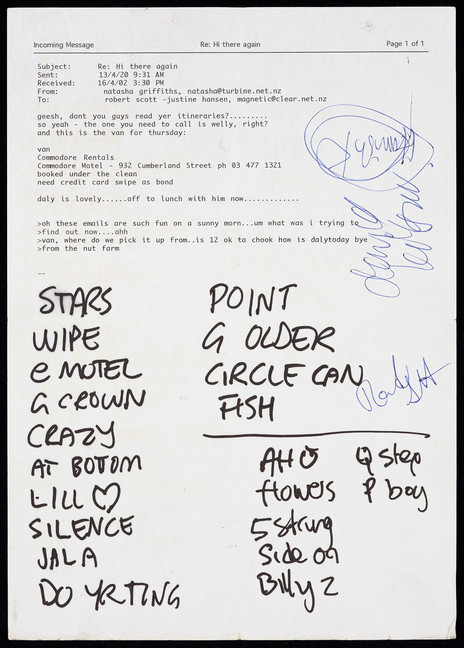 This was the first of five times that I have seen The Clean and without a doubt the worst gig I have seen them play. Perhaps I was just too excited – I had only recently turned 18 and could finally legally go to pubs, not that that had stopped me in the past. However, my expectation of being blown away was somewhat dampened by a somewhat underwhelming and subdued show. I remember the opening song being a rather tame and short version of 'Point That Thing Somewhere Else', and aside from a powerful version of the song 'Jala' off their Getaway album the rest of the set was frankly a little disappointing. My opinion was confirmed after the gig by some mutual friends who felt the same way and confirmed that apparently some onstage drunkenness was to blame for the night's performance. I guess it was just one of those gigs, as I have subsequently seen them play some brilliant shows. Notice the addition of '5 String' on the setlist, which isn't an instrument instruction but the Arthur Lee and Love song 'Five String Serenade', which was also covered by Mazzy Star. Also note what the set list has been written on: an email with printed instructions for their van hire and hotel address for their Dunedin show.
7. The Great Unwashed Great Outdoors tour poster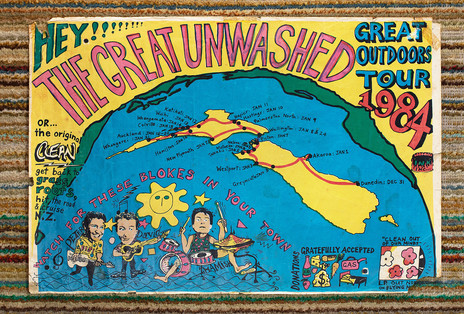 The reason I included this poster was primarily for personal reasons; aside from the fact it looks awesome, my birthday is 23 January 1984, which was the same day they performed in New Plymouth on this tour. I also chose it because it was designed by my friend and fellow AXEMEN bandmate Stuart Page, who has also made some of the classic and endearing Flying Nun music video clips, such as 'Buddy' by Snapper and 'AFFCO' by Skeptics.
8. Original hand-drawn centre labels for This Kind of Punishment's album 'In the Same Room'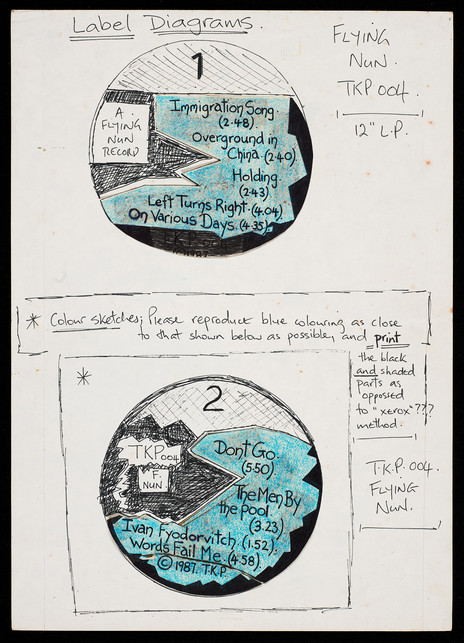 When Flying Nun was in the process of packing up with the impending move to Auckland in late 1987, a dumpster was set up outside their Christchurch office and all unwanted items were thrown out. A friend of mine rescued (with permission) a few bits and pieces from that skip, one of which was the aforementioned Bats proof sheet and also this, the original hand-drawn centre labels for This Kind of Punishment's In The Same Room album, including detailed printing instructions for when the vinyl was pressed. One can now go to the album listing on Discogs.com and compare the final pressing with the instructions given; thankfully this one came out close to what the band wanted.
9. Complete set of 'Jesus on a Stick' comics, c. 1986-87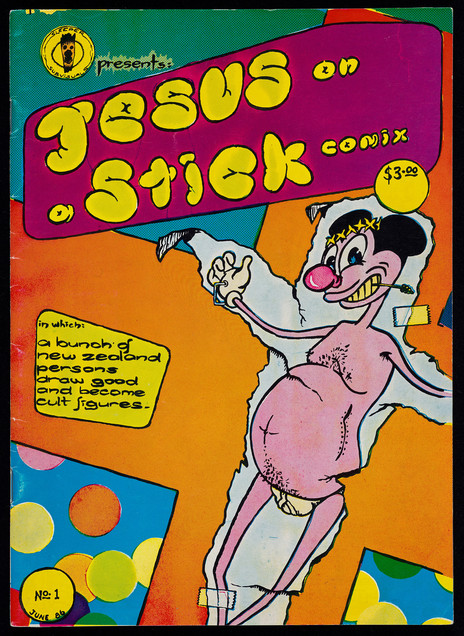 In the mid-eighties Chris Knox had a comic book series, which sadly for mainly financial reasons only lasted four issues. It was called Jesus on a Stick and as well as illustrations from the man himself featured contributions from other notable Flying Nun luminaries, such as Martin Phillipps, Hamish Kilgour, Chris Matthews, and others.
10. Martin Phillipps' personal copy of The Monkees' 1967 album 'Headquarters', signed by 3/4 of The Monkees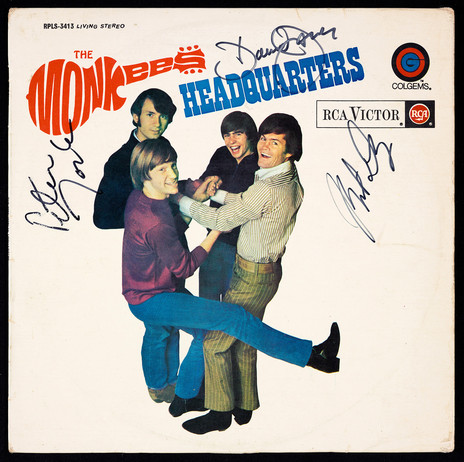 I came into possession of this record purely by accident during my first proper tour in the winter of 2003 when I was 19. My band was playing Dunedin and around then I was beginning to properly delve into mid 60s pop music. I visited Echo Records and there were two Monkees records for sale, this one and an original US pressing of Head with the very cool metallic mirror cover. I chose this one simply because it was cheaper, and only noticed Martin's name written on the inside and centre label of the record later that day. It is not uncommon to find previously owned records by Martin around Dunedin; a good friend of mine recently found a copy of Two Yanks in London by The Everly Brothers at Relics that also had his name written on the inside.
Fast forward to July 2011. When a close friend and I (oddly enough, the same close friend that recently found that copy of Two Yanks in London) flew to California to see three dates of An Evening with The Monkees: The 45th Anniversary Tour, it seemed only natural that this was the album I brought along to get signed by the three original participants. Davy Jones passed away seven months later and was joined at the Pearly Gates by Peter Tork in 2019, making this particular record a very special one in my collection.
The record only has three of the four Monkees' signatures. The one conspicuous by its absence is Michael Nesmith. In 2013, Nesmith announced a tour of the US. I was unfortunately unable to go over for this one, however the same friend travelled over and offered to try and get my copy of Headquarters signed by Papa Nez. Nez had a policy of only allowing one Monkee item to get signed per person, and as my friend already had one Monkee record signed, he'd reached his limit. My friend nevertheless surreptitiously put my copy of Headquarters in his pile of solo albums to get signed. However, Nez was no fool and pushed it out of the way as soon as he saw it. As weird as this sounds, the fact that he rejected signing it is just as cool as if he had gone ahead and signed it.
11. Wildcard entry: Jansen Transonic Organ purported to have been owned and/or used by The Chills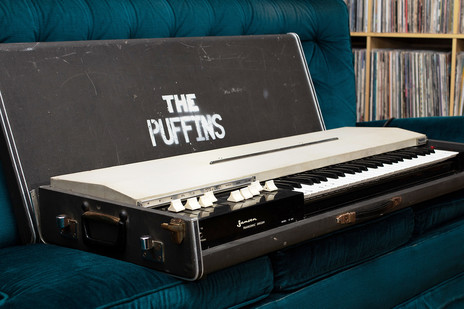 I acquired this organ in 2003 from the keyboardist of the much-loved late 90s Christchurch glam-rock band The Puffins (as seen spray-painted on the outer case). He told me that the person he purchased it off in the mid-nineties claimed that it was owned by The Chills sometime in the early to mid-eighties, and added that he was a reputable source and wasn't the sort of person to make things up.
I recently sent Martin Phillipps some photos of the organ, and asked if he recognised it and whether it was owned by The Chills in their formative years. Martin said that he can't say that it wasn't used by the band at some stage but that their primary Jansen in the early 80s was black, not grey and was stolen out of their Auckland practice room in the late 80s. But who knows? Perhaps this was used for a few gigs in Christchurch at some point when their regular Jansen organ broke down?
--
All images published courtesy of William Daymond.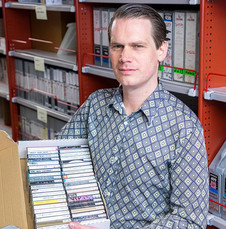 William Daymond recently became the first New Zealander to complete his Masters in Popular Music Heritage as part of the Museum and Heritage Studies course at Victoria University in Wellington. His main assignment was a 300-hour project sorting and cataloguing the 162 cassette tapes in the Flying Nun Records archives. While completing this task he unearthed many aural treasures, and a compilation album of some of these findings has been prepared. He works at the Alexander Turnbull Library, is a musician (Terror of the Deep, AXEMEN and The Flying Sorcerers, to name a few), has a four year-old daughter called Astrid, and is the principal researcher/archivist on a film currently being made about Shayne Carter's life.