In May 1980, researching for Stranded in Paradise, I made the first of three extended trips across the Tasman, and there were another half dozen shorter trips. On two occasions I flew into Auckland on a Monday or Tuesday and I was back in Sydney before the weekend. That year I spent more time in Sydney than any other Australasian city.
Tasman Publications owner Geoff Adams had taken a six-month lease on a two-bedroom apartment on Bayswater Road, partly for his own use and as accommodation for his sales staff as a performance incentive. It was perfect, just a five-minute stroll from the heart of Kings Cross. Not being anti-social, just preferring my own space, whenever others were sharing I vacated the apartment, opting for the Gazebo Hotel – dead centre of Kings Cross, looking down on El Alamein Fountain – rather than the trendier Sebel Towers, Sydney's so-called "rock'n'roll hotel". At other times I would spread myself among my friends, notably John Topper in Surry Hills.
Topper had found a freedom in Sydney that was absent in New Zealand. A longtime member of Wellington's Dorian Society, he had once played bass and guitar in a band at the underground gay club which featured Andy Anderson on vocals, pianist Garry O'Keefe and a drummer named Dave. Topper and Dave were gay, Andy and Garry were not. They named the band Bent and Straight.
On a Wednesday night, shortly after arriving, Topper drove me to a wine bar on Sydney's North Shore to see Citizen Band, down to a trio after Greg Clark's departure and with Mike Chunn replaced by Roland Killeen. Topper and I propped up the bar, knocking back G&Ts. We ended up at the Manzil Room, the popular Kings Cross nightspot and musicians' hang-out, staggering out at dawn to breakfast at the nearby Sweethearts, another musos' institution. When Topper stumbled off to work, I strolled to Paddington to catch up with Toy Love.
Doug Hood opened his bedroom window with a scowl. With too little money for too many gigs, Toy Love had discovered 24-hour television. Doug told me to return later. By coincidence, the band house was in the same street, Windsor Street, where Claude Papesch was living during my previous Sydney visit.
Papesch, the blind multi-instrumentalist, was high on my list of priority interviewees, his career dating back to his stint with Johnny Devlin's Devils in the late 1950s, through to BLERTA's Sydney sojourn and beyond. After finishing a bottle of vodka at his kitchen table one stormy afternoon, Claude cajoled me to allow him to drive my hire car to replenish, "because I know where we're going, John," he told me.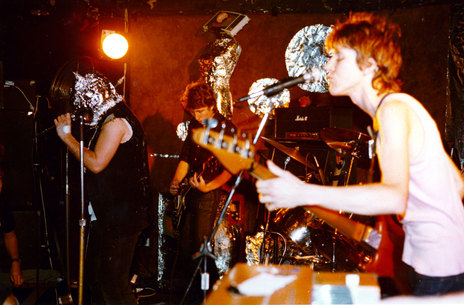 I returned to the Toy Love house later in the day. To ensure a warm welcome, I was armed with a slab of beer, a bottle of whiskey and a bag of dope. The crew – Doug, Ian Dalziel and Chris Moody – was unimpressed. The band was playing out in the western suburbs that night and the crew had to drive out in mid-afternoon to set up. Terence Hogan had also shifted to Sydney, assuming tour manager duties. We – the band, Terry and I – caught a train to Blacktown's Comb & Cutter Tavern in the early evening which, given Sydney's excellent public transport system, wasn't as painful as it sounds.
The gig was another disappointment, but after two months in Sydney they had grown accustomed to audience disinterest. The 200-odd punters were there to see the Hitmen, the support act was ignored. When Toy Love finished, the resident DJ suggested that the band shouldn't give up their day jobs, infuriating Paul Kean, who dashed onto the dance floor to abuse him.
After two months in Sydney, Toy Love had grown accustomed to audience disinterest.
No one was upbeat after the performance and no one was eager to stick around for the main act, which featured two members of Sydney's pioneering punk band Radio Birdman. We trained it back to the city. The following night Toy Love played their residency at The Civic, a small inner-city venue which had launched the Sydney careers of Cold Chisel, Midnight Oil and, most recently, Mi-Sex.
Toy Love's new manager, Australian heavyweight Michael Browning, was present, and I was keen to chat. In the late 1960s Browning had managed Wellington band Joyful Crye, renamed Compulsion in Australia. After the gig – so-so, not one of their best – we stocked up and headed back to Windsor Street. Spirits were low and around midnight, Browning and I escaped to the Manzil Room.
The most entertaining Toy Love performance I attended in Sydney was a Monday night at French's, on Paddington's main drag. The audience of maybe 30 disinterested punters was all seated, staring vacantly at the band. For the second set, the entire band seated themselves in a row across the front of the stage, looking back at the audience – Who's a pretty boy then? – and the anger the band displayed lifted everything up a notch, but to no avail.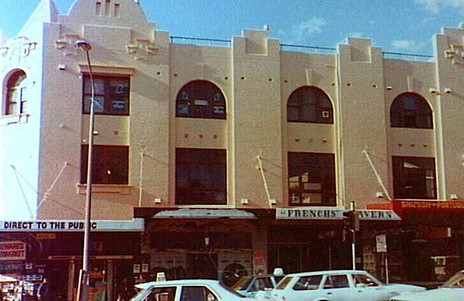 The band's first television appearance screened while I was in Sydney. Asked what he thought about Australia, Knox, said, "Oh it's alright, sort of like New Zealand, only not as good." That set the pattern and, by the time Alec Bathgate's poster featuring a sheep-shagging Ocker guitarist graced the city's walls, you could almost feel the resentment against these uppity Kiwis.
The days turned into weeks. I spent a weekend with Johnny Devlin in the outer suburbs, which included a night out with his rich mate and drinking buddy, advertising mogul John Singleton and his fiancée, former Miss World Belinda Green. There was an afternoon and evening with promoter Michael Chugg of the Harbour Agency. I stayed overnight with that most affable gentleman Ricky May and his wife Colleen in Elizabeth Bay, having earlier accompanied Ricky to a shopping-mall charity promotion where, to my horror, he engaged in a pie-eating competition. I tracked down an old Wellington friend, guitarist Don Burke (Natural Gas, BLERTA, and Decent Chaps), who was playing in the Richard Clapton Band and living in The Squat in Woolloomooloo. I wandered around enquiring about him and every second person asked me if I wanted drugs – dope, speed, uppers, heroin. It was a veritable supermarket.
Watching Marc Hunter, on hiatus from Dragon, perform with a small group at a small Kings Cross club frequented mostly by transgendered people, hookers and generally seedy-looking types was an experience. Marc's set was mostly covers and only one Dragon song, 'Sunshine'. He suggested that we meet in Hyde Park a couple of days later. Sydney's weather in May seemed uncommonly hot to a visitor from Aotearoa and I found Marc taking in the sun at a bench overlooking the giant chess board, with the Sydney Morning Herald on his lap. "What is it with you guys and chess?" I asked. "Chess turns you crazy," he answered mysteriously, adding, "here you are, Dix, more you than me," handing me a bag of dope which a passing fan had gifted, "I need a drink, let's go." It was 11am ...
Marc had recently returned from a jaunt around Europe, was living in Glebe or Pyrmont, somewhere out there, and had ventured into the city by bus, clearly not planning to travel far. We strolled to the Kiwi Hotel on William Street, just down from The Cross, close to the site of the Whisky au Go Go, my bad luck venue. I regaled Marc with a tale of being rolled in the toilets by a black American serviceman a decade earlier and, on another occasion, my arrest outside for supposed loitering. Marc was bored, I clearly had to lift my game to retain his attention. "Where's Brazier?" I asked. "Do I look like Graham's mother, Dixie?"
"Where's Brazier?" I asked Marc Hunter, who quipped, "Do I look like Graham's mother, Dixie?"
The plan had been to retire to the Bayswater apartment to conduct an interview but Marc was having none of it. He quaffed his beer quickly, obviously relegating it as a drink for dopers, and ordered up a confusing cocktail with three or more spirits and various splits, irritating the barman. "This is a public bar, mate, beer or top shelf." Ignoring him, Marc commanded me to drink it fast and then ordered two more, which really pissed the barman off.
We caught a bus up the hill and settled into a window seat at The Goldfish Bowl in the Crest Hotel, watching the street life pass, Marc giving a running commentary. I'd seen him only briefly since his unceremonious sacking from Dragon 15-16 months earlier and the revamped Dragon had already disbanded. I was keen to hear Marc's thoughts but all he said was, "It was never going to last without me, was it?" No need for false modesty, Marc, but he was right, of course.
By 3pm I was dizzy and disorientated and hanging for a kai but Marc was in no mood for dining. "Food makes you sick," he said. There was a steady stream of well-wishers, street people mostly, strip-club barkers and bouncers, the occasional muso, lots of fans. Never one to suffer fools, Marc was polite until the unwelcome overstayed. "Thanks for stopping by, appreciate it, see you around … Don't you have a train to catch? … Hey, mate, it's time to fuck off. Now."
Tapping me on the arm, Marc pointed out a forlorn figure approaching outside. Brazier! Marc rapped on the window as he passed. Graham greeted me as if we'd last parted company the day before. "Hi, John. Marc, can I have a quick word?" They huddled together three metres away, money was exchanged. Brazier departed with a "see you soon". Rejoining me, Marc said, "I don't think we'll be seeing Graham again today." I didn't see Graham Brazier for another three or four months, back in Auckland, looking even more the worse for wear.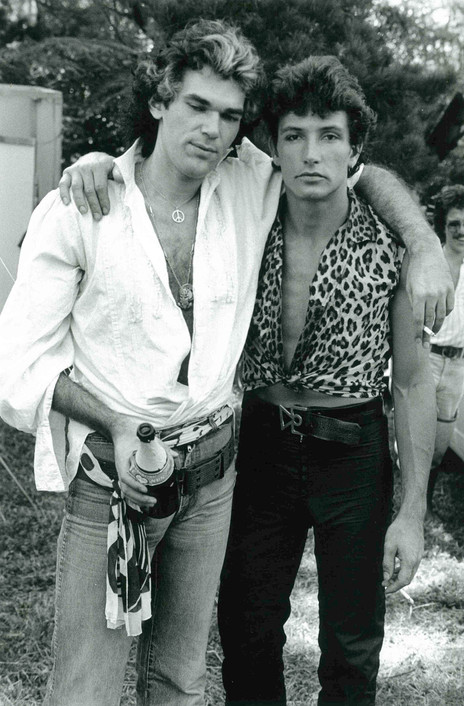 In the early evening, we were heading to the Bourbon & Beefsteak when Marc suddenly called out, "Sharky!" and, indeed, across the road, was Sharky, aka Paul Hewson. Paul had just weeks before joined the resident band at Auckland nightclub Jilly's, replacing Peter Woods in a line-up which also included drummer Rick Ball, bassist Paul Woolright and guitarist Eddie Hansen with Beaver on vocals. But here he was in Sydney, apparently to pick up a royalty cheque. It was looking like a long night ahead but Sharky was already on the nod.
He stayed awake long enough to tell us that he and Dave McArtney planned to form a band, insisted on shouting us dinner and gifted me a silk scarf I had commented on. I treasured that scarf until some wanker stole it backstage at Sweetwaters the following year.
Paul fell asleep before we even made it to the main course, flopping head first into his soup bowl. We cleaned him up as best as we could and taxied him to his accommodation at the Sebel Townhouse in Elizabeth Bay. He returned to Auckland the next day. In the Sebel house bar we ran into a group which included Kevin Borich and Aussie great Doug Parkinson. Marc and Borich had been planning a band (the Headhunters, with Marc's brother Todd and Kevin's current drummer John Annas, was short-lived).
Already feeling jaded and with an early start the next day I bailed when the group headed to the Manzil Room. I was to see Marc Hunter several times over the coming weeks and months but nailing him down for a taped interview proved difficult, although no shortage of stories peeked through. "Put the notebook away, Dixie, you're making me nervous." "What, you want me to write my notes in the toilet, Marc? Fuck off."
Getting around Sydney was a breeze. I would hire a car when needed – Rent-A-Dent, cheap as, nothing like it in New Zealand at the time – and the public transport was the equal of anything in the world. Taxis were cheap – less than $1 from the inner-city to Kings Cross – and I scored a regular daytime driver in Phil Key, the former La De Da's lead singer.
Tracking down most of yesterday's rock'n'roll heroes was a breeze and all were happy to talk. It was the more current bands who were difficult to pin down, the ones still out there touring, promoting themselves. The two biggest bands in Australia in mid-1980 were both from New Zealand: Split Enz and Mi-Sex.
Mi-Sex was touring the US when I first arrived and Split Enz was on the road pushing the True Colours album to greater and greater heights. Both album and single, 'I Got You', were at the top of the charts and remained there during my first Oz visit.
I was in Sydney when Mi-Sex returned to Australia to launch that all-important second album, but pinning them down was proving difficult. When I phoned Steve Gilpin, a longtime acquaintance, he said to clear any interviews with manager Bob Yates or tour manager Merton Ciddor. I told him I wanted to chat with him, not fuck him. He hung up on me. Egos were inflating. I needed a dash of Melbourne for variety.
Mi-Sex's Steve Gilpin hung up on me. Egos were inflating. I needed a dash of Melbourne for variety.
For a period in the late 1960s Melbourne challenged Sydney as the centre of the Australian music industry, but that had passed. It still had a vibrant live scene but most of the real heavyweights were based further north. With just a handful of interviews, I had less need to stick around and I was dismayed to learn that one key interview, Mike Rudd, was in Sydney when I arrived in Melbourne and was back in Melbourne when I returned to Sydney.
Andy Anderson offered to be my Melbourne host. He was renting in Collingwood, close to the Crawford Studios. With his family back in Auckland, he had taken to bachelor-hood very well. Living on takeaways, the only thing in the fridge when I arrived was a lumpy bottle of milk and a large jar of magic mushrooms, which he'd been gifted but was loathe to eat.
Andy had a strict regime. His party days were over, strict doctor's orders, he didn't even smoke dope ("I get behind in my lines") and alcohol would kill him. He retired early most nights, rehearsing his script for the following day's shoot, up and at them at the studio at a time when, in an earlier life, he was just arriving home. Much like I was doing most nights. I felt it diplomatic, if you like, to book into the Diplomat Hotel, the fairly priced St Kilda hotel popular with the rock'n'roll fraternity.
Unbelievably, I ran into Bob Yates, Mi-Sex's genial manager, in the foyer. The band was in Sydney, he explained and he was in Melbourne alone on band business. He was too busy to talk right now but he'd sort out interview times and consider my request to hang with the band during the album's imminent promotion, handing me a copy of the album like a valuable Chinese vase. Space Race. The cover displayed a feature-less human-looking figure running down a desolate city landscape. That, explained Bob, is a clone. The promotional slogan was "Are You a Clone?" Very interesting, I said, with little understanding. This didn't look good and I hadn't even heard the music.
Split Enz was another band who proved elusive. Manager Nathan Brenner didn't return my phone calls and, as some sort of consolation, Mushroom's Michael Gudinski took me out for a lunch that lasted until dinner time.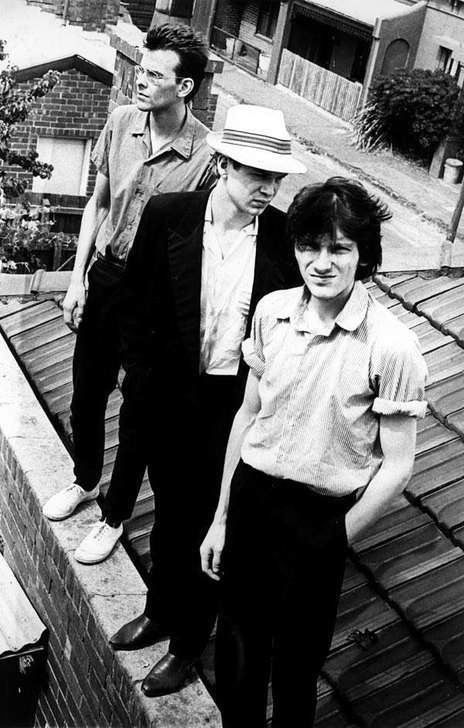 The lunch I had with the Marching Girls, the erstwhile Scavengers – Johnny Volume, Ronnie Recent and Des Hefner – was strictly liquid. The band had had a drunken spat with industry heavyweight Frank Stivala and they were banished from most of Melbourne's major venues. Despite this, they recorded one of 1980's best singles, 'True Love', produced by Dave Russell, ignored in Australia but a moderate hit back home.
On the drive back to Sydney, I detoured to the Puckapunyal Army Base about 120kms north of Melbourne. Geoff Murphy, awaiting the release of Goodbye Pork Pie, had been contracted to handle special effects on an Australian mini-series, The Last Outlaw, about the Ned Kelly Gang. Geoff's wife, Pat, also scored a job as, I think, wardrobe mistress. Most of the filming was around the vast army base.
I'd been to Puckapunyal previously. It had served as an induction centre during the Vietnam War and one evening in 1970 a group of us – assisted by a conscript who had gone AWOL, and half-a-dozen peaceniks ridiculously dressed like commandos – broke into the camp. We were armed with wire cutters and cans of spray paint to daub anti-war slogans anywhere we wouldn't be easily sighted.
Looking around in 1980, in the harsh heat of day, I wondered why we didn't just drive in. The security was indifferent, lax at best, and the checkpoint staff gave me confusing and sometimes conflicting directions. I drove around the vast complex for an hour before I located the film crew, only to discover that the Murphys had departed just days earlier. One of the crew introduced himself as a New Zealander, Murray Newey – and learning of my project, told me that he'd been an original member of 1960s Dunedin pop group The Inbetweens. Not a wasted detour after all: we arranged to have a chat at the Seymour Hotel at day's end.
Shortly after returning to Sydney, I called into EMI's Studio 301 one evening where Todd Hunter and Toy Love were putting the finishing touches to the album. It was a sombre atmosphere. The Australian engineer clearly hated the band and he seemed to deliberately ignore Todd's suggestions, for which Todd seemed resigned. He kept yelling, "Why isn't the drummer here?" Dooley had long given up on proceedings; the rest of the band hunkered down, obviously unhappy. It was depressing, and when I heard that Mi-Sex was in the studio next door, I bolted.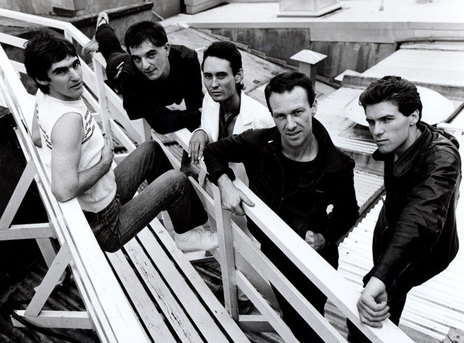 Mi-Sex was just days away from the Space Race launch but they were already recording demos with Ricky Fataar. I felt as welcome as a leper but hung in just to be staunch, mostly at Ricky's elbow. After an hour Bob Yates arrived and quickly okayed an interview schedule, but they would have to be in New Zealand in a few weeks' time. As a concession, although I had to prod, Bob agreed to let me accompany the band for a day promoting the new album. I wondered whether I should curtsy?
CBS gave the Space Race album a huge push. Toddler-sized mannequins (branded "space clones") graced record-store windows, and there was a massive poster and advertising campaign. Part of the Sydney promotion was a series of shopping mall appearances, the band flying by helicopter from mall to mall. As it turned out, as I should have known, I didn't make the helicopter, despite an earlier assurance, and after driving from the North Shore to the western suburbs, I flagged any further pursuit.
At the second mall I ran into John Hood, the former Radio Windy DJ and Grunt Machine frontman, who was a big fan and had been responsible for breaking the band in Sydney on Radio JJ (soon to be renamed Triple J). "Have you heard the album?" he almost whispered to me. "Fucking dreadful!" was all I could muster, a remark heard by Rocket, the band's soundman, who glared at me with evil intent every time our paths crossed thereafter. I tried to placate him. "But at least they like it," pointing to a trio of those stupid space clones. I think Rocket wanted to punch me.
But, hey, the band was hot, the promotion itself was news. I had to hang in there because, love or loathe them, Mi-Sex was huge. I attended the packed Sydney show at the Bondi Lifesaver with Topper. The crowd was jumping and singing along – compu-pu-pu-pu-pu-pu-putergames – pogoing on the spot up front, cigarette lighters swaying above their heads out back. I felt like a heel but … "Topper, let's get out of here, my head hurts." I was tired, wired and grumpy. I'd been in Australia almost six weeks. I just wanted to go home.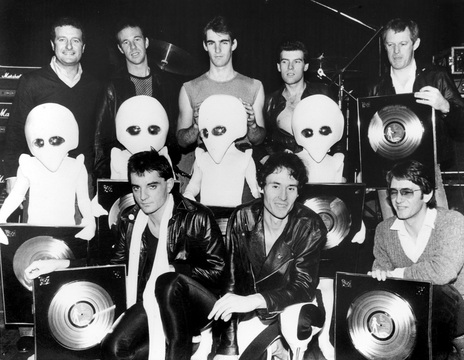 For my last Saturday in Sydney, I had agreed to let Topper show me his Sydney, the vibrant gay community. It was the least I could do, given his hospitality and running me around or lending me his car. It was hard going, lots of shrieking and loud clothes, shit music. We hopped from pub to pub, club to club. Rush (amyl nitrate) was de rigeur. I was pretty pissed in the early hours when the taxi deposited us at a private Potts Point club, near Kings Cross, called The Barrel Inn. With a shock of recognition, I remembered the premises as the Mickey Mouse Theatre from 10 years earlier; I had lived in the house next door. Inside, I took in what I could with the swirling lights and dim corners, these once-familiar surroundings. Distracted, I bumped into a sweaty body and, turning around, realised that it was a naked young man, gagged and trussed, suspended from the ceiling. I let out a high-pitched shriek. I really needed to go home.
--
Read 'Stranded in Paradise' – Auckland, 1980 by John Dix