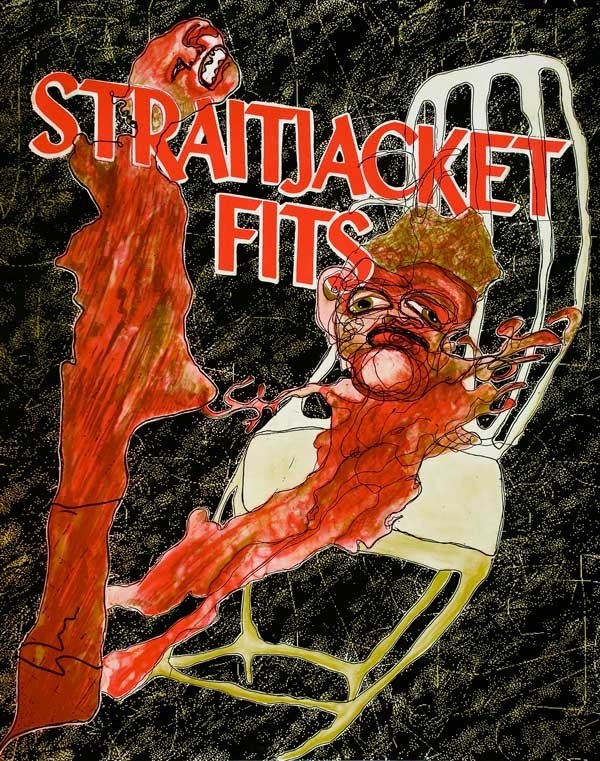 A return tour to the USA in 1991 led Straitjacket Fits to play at the New Music Seminar in New York. While that gig (a double bill) with The American Music Club went well, Carter considered their best gig that year to be at the Marquee in New York, supporting The La's, where he says they blew them off the stage.
It's safe to say that The La's did not endear themselves to Straitjacket Fits, and Carter put it succinctly by telling Wendy Yee at Kahoutek 'zine, "if they want to stay at our place when they … tour New Zealand, I think they might find the doors boarded."
Creative issues between Carter and Brough had reached a head.
This tour also marked the beginning of the end of Brough's involvement in the band. Creative issues between Carter and Brough had reached a head. According to Carter, Brough didn't want to tour, rehearse, or play music.
"I remember going to the first few rehearsals were awful, after we got back from that tour … I was just playing it by ear to see how Shayne was going … the tension was there, still, so it just made sense to get it out of my life, it was too awful," Brough explains.
Much has been made of the tensions and differences between Shayne Carter and Andrew Brough. David Wood stated that there were two versions of the band – one for Carter's songs, and another for Brough's, and that the two had little interaction.
Brough explains their relationship as "two guys that are pretty tense anyway in the same room … there were only one or two horrible times, but the rest of it was pretty normal, and pretty healthy, I thought. A good tension, sort [of] 'I'm going to do something better than you' … it makes you strive to write better music."
Carter agrees that creative rivalry and tension helped. "It keeps you on your toes. It's only when that tension becomes destructive, that's when it's not good."
One difference between the two was that Carter was a faster writer than Brough, so not as many of Brough's songs were recorded, something that Debbi Gibbs noted to NZ Herald in 2005. "Andrew didn't bring as many songs to the band as Shayne did … Andrew was a slower writer."
Brough has his own thoughts about this, "I wanted to strive to write better music, but it meant I had to have more space, three songs wasn't going to cut it, and I didn't think it worked for the overall band thing. We had to make decisions – were we going to be half and half, not just me doing a few songs?"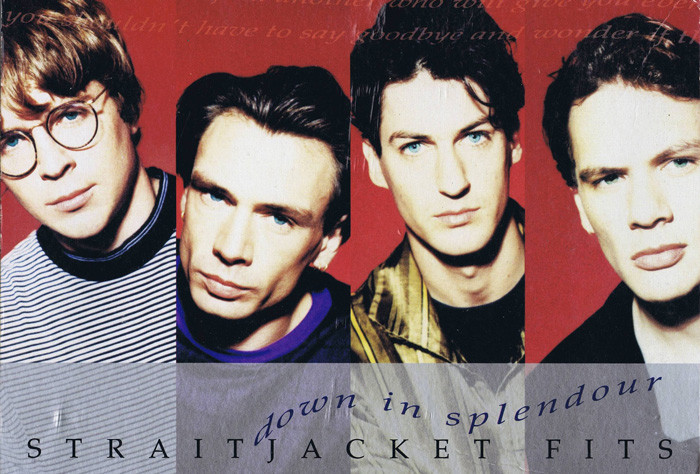 Carter however, preferred a more organic method to his craft, with the songs built up by jamming. His music is based around the idea of authenticity, which is a huge influence. "The thing that affects me with music is just the quality of truth in it. You know, if I can hear a person really means it, it's called soul, I suppose. I love that feeling of compulsion that you just have to do it, I respect those people's art."
Brough's main memories of recording the band's music are mixed. "It was Shayne's baby all the time, except when I was working on my songs," he states emphatically. "When I was working on his songs I just pretty much followed what he wanted. I had my own parts that I contributed, but a lot of it was what he wanted me to play. I was fine with that but it was quite a back seat contribution. The consolation for me was to be able to do my own songs."
Carter considers Brough's contribution important to the band's sound. "His melodic sensibility and his more straight ahead chiming guitar sort of fitted well with my more angular stuff. It was a really nice yin and yang kind of thing."
Between personal tensions, creative tensions, and Arista wanting Brough's more commercial music pushed front and centre, the band dynamic became more fraught. Brough wanted more of his music used too.
"I started pushing and Shayne resisted it, and he got the other boys on side with him. I think he convinced Debbi as well, our manager. The last few weeks of that American tour were quite argumentative. I got back wanting to leave, and I thought no, we'll see how it goes."
Brough says he was not directly asked to leave, but felt it was for the best.
Brough says he was not directly asked to leave, but felt it was for the best. "If I hadn't left, I would have been asked to leave. That's what Shayne wanted. I had brought the subject up about leaving, about quitting. I knew he just wanted to hear me say, 'I'm leaving' ... At the end of the day, it was Shayne's band…I completely empathise [with] where he was at, I'd be the same. I wouldn't want someone coming along saying 'I want to write half the music', when it's my baby!
"He wasn't prepared to compromise, and I don't hold that against him. His vision at that point was turning into much more hardcore, inaccessible dense sort of sound, and it wasn't for me. That was part of me wanting to leave as well. And then John and David both saying, 'we want to get grungier, no more slow songs, no more soft songs'."
Unsurprisingly, Carter sees it differently. "The last year we were together, we couldn't actually write, things had got so creatively awkward between us all. The last American tour, Andrew went off on a really weird trip, and completely dark-manned out. He wasn't trying at gigs, he would actually give up on stage, we'd be playing a show, and look across at this dude who was sitting there. It just became impossible to work together, and it was no fun either."
Carter smiles. "Can I just say, that to this day, in the only game of chess we had, which was a highly symbolic contest, he won! I brought my Queen out too early. There's a metaphor in there somewhere!"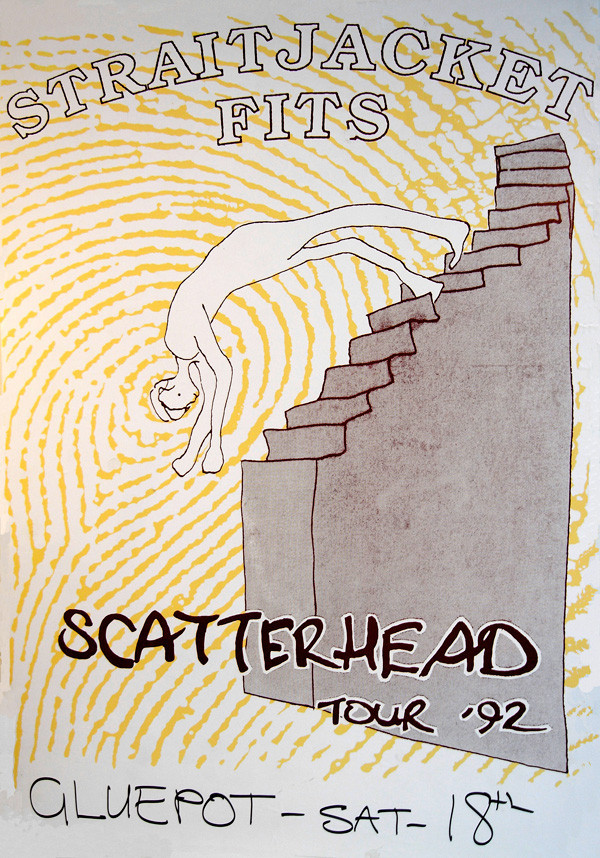 Collie is more diplomatic about the situation. "Andrew's departure was necessary for Andrew. He hated touring and we did a lot of it. I can see in hindsight what a vital part of the sound he was, but as time went on he and Shayne didn't enjoy being on stage together."
Brough left the band in 1991, and initially returned to Dunedin before relocating to Auckland. He formed Bike in the mid-1990s, and recorded a self-titled EP in 1996, and a very successful album, Take The Sun, in 1997, which became lucrative when Brough licensed music from it to be used in Australian dramas Home and Away and Neighbours. In a somewhat ironic twist, the video for single 'Welcome To My World' features Shayne Carter as a moustachioed policeman. Andrew Brough folded Bike soon after and returned to Dunedin.
Carter is fed up with all the stories that have gone down as gospel about the creative and personal tensions between himself and Brough. "I'm so sick of it. We wouldn't have been in the band if it was that crap, and also, it's just the nature of bands – you get together and you make music, and then, if you do split up, or have differences, well … that's just what happens," he muses. "It's become the popular line that Andrew's this poor quiet, hard done-by choirboy … and nasty Carter kind of stuff … it's just bullshit. I like Andrew!"
The misconception that Brough wrote all the band's prettier songs needles Carter as well. "I wrote some really nice songs in Straitjackets too, and he wrote some rockers. It's all very simplistic, people sitting round and going 'poke poke' – who have no idea of what actually went on, and the dynamic of the band!"
While it was perhaps inevitable that Brough would depart, it was also a sure thing that the band would continue.
While it was perhaps inevitable that Brough would depart, it was also a sure thing that the band would continue. They did, as a trio, before recruiting Mark Petersen in 1991 as guitarist for a tour of Australia, supporting My Bloody Valentine. They then released the Done EP, and the 1993 album, Blow.
'Done' marked a change in the band's sound: harder, rockier, less harmonic, with a wiry guitar riff. Collie concurs. "We wanted to be harder and more rocky. It was a pretty conscious decision to get Andrew out of our systems!"
While Brough liked 'Done' he thought little of the video, saying "they were all in the video with their shirts off, I could never be in a band that took their shirts off and acted like that. I thought 'posey crap', but quite a good song!"
'Done' went Top 20 locally and kept the band in the spotlight before they recorded Blow in Los Angeles with producer Paul Fox. Blow continued the band's new sound, with Carter's songs reflecting his grungier aesthetic. Conversely, the single, 'If I Were You' bucked that trend, with quieter sonics, and a textural rhythmic track – preempting Carter's songwriting with Dimmer. Unlike Melt, with its many production effects, Blow had few, as the album was mostly recorded live.
Blow received much press and hype. The 1993 Flying Nun Newsletter called it "a total blast … [it] manages to make each of [the previous] efforts seem like sketches of a part of the greater whole that is Blow." Hyping it further, they report the sound to be "fresh and big", their musical territory a "passionate, addictive soundscape."
Carter is not a fan of Blow, saying that the songs don't have enough space. "I'll blame the producer to a certain extent!" he laughs. "Also I think we felt like we had to prove we could rock. 'If I Were You', 'Burn it Up' … there's a song called 'Way' which no one ever picked up, and we really loved. And they were quite quiet, gentle tunes. I don't think that side got totally extinguished."
Collie has similar thoughts. "Recording Blow in America with Paul Fox was great too, but somehow the record was missing something, [maybe] Andrew."
Brough likes the album, after initially wanting it to be a failure. "It's a great album… [but] it's so inaccessible and dense, so many great ideas in it, but they're buried. It just wasn't going to work."
Straitjacket Fits went their separate ways in 1994 after recording a final song, 'Brittle', for the No Alternative compilation, and undertaking the Beyond the Jangle and Noisy Land Tours with The Bats and Jean Paul Sartre Experience. The tours were long, and melded into one another: Beyond the Jangle took them to Europe, while Noisy Land returned them to the USA and an appearance on The Late Show with Conan O'Brien.
Carter detailed the USA tour for Dun Magazine's Spring 1993 issue noting highlights such as the "mother of all rats" appearing in their Washington dressing room, having to wear shorts on stage for the first time in New York, and the 38 people who came to see them in Asbury Park, New Jersey (and the 14 who remained until the end of the gig).
Lack of money and the fact that they had not broken America contributed to the decision to end the band.
Lack of money and the fact that they had not broken America contributed to the decision to end the band, as did Carter feeling sullied by the Arista deal. He also admits that the magic had gone by then. In the end, the decision was mostly his.
"I think I instigated it. We were just touring all the time, and jetting between here and America. No rest, we were writing to deadlines quite a lot. I think that's what happened with that later stuff, you know, you've got to get your record out now … it was starting to feel kind of, not choreographed … just needed a fresh challenge."
The tours were the last straw, and Carter is frank about the experience "They were hard yakka … we were all on these miserable buses, it was winter. I think all the bands came back and split up, actually!"
Collie wasn't surprised about the split. "That was our third trip around Europe and our second in a bus. You'd play a gig, pack out, then travel on the bus overnight to the next town. When you haven't really got any money and are stuck with the same people in a bus things get a bit crazy! I guess we weren't getting traction in America and Shayne was [also] longing for a different style of music … it felt like things had run their course."
Straitjacket Fits' final hurrah was at the 1994 Big Day Out in Auckland, a performance considered one of their best. "We were playing with Smashing Pumpkins and Soundgarden, and they were the big bands at the time," Carter reminisces. "I could take the stage with my band, and they were just as good as those motherfuckers … we just went out on a high when the band was still sounding strong."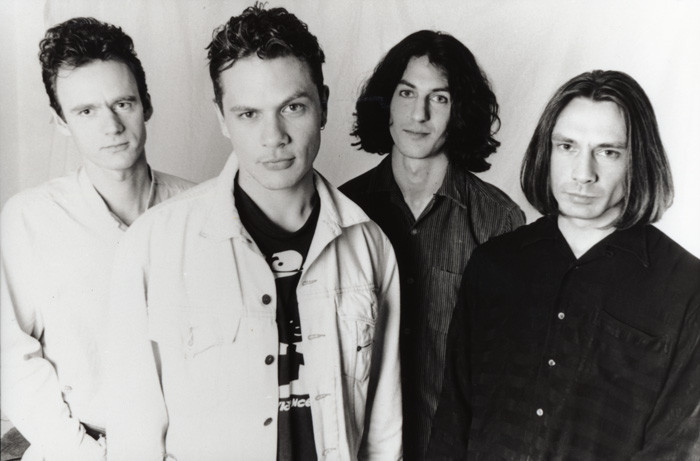 However, this was not the absolute end of Straitjacket Fits. A self-titled compilation appeared in 2000, and in 2005, the band reformed for a series of shows around New Zealand. The germ of the idea to reform occurred at their manager's birthday party.
"We got together, the line-up with Mark [Petersen] and it was so cool, and as soon as we started playing it was like 'there it is', you know, there's that sound," Carter explains. "And we thought bugger it. It's our legacy to ruin, so why don't we go out and do some sad reformation shows – so we did! We invited Andrew, [he] was going to come and do it, but he didn't get on the plane."
Brough agrees he did change his mind at the 11th hour. "One reason, I couldn't be bothered, honestly," he acknowledges. "The second reason was that Mark Petersen was going to be coming on board as well, and I wasn't prepared to play second guitarist. You know it felt to me like it was just Shayne Carter's concert, the band all over again with him in control.
"He said we were doing it as a democracy, but at the same time, it wasn't. I wouldn't even be there for the end of the gigs. I never said that if Mark Petersen plays I don't, but the day I was due to fly up there, I pulled out. I let down a few people at the last moment. A bit of resentment, and a bit of laziness, couldn't be bothered going to Auckland and doing it."
The gigs went down well, something Carter won't forget. "I will remember that reformation tour with real fondness. We ended up with a great gig at Sammy's [Dunedin], it was pretty nice for the band to get together free of all the pressure we'd known. No more politics, all the petty arguments, all that's out the window, and we could actually sort of enjoy the thing we'd created together. And we had these great gigs, and the music still sounded real good, and we thought we hadn't played together for ten years, it all sounded real strong."
Collie felt a similar way. "It didn't take long to get the songs sounding good – like riding a bike. I really enjoyed just looking out between songs and taking the time to think, 'this is awesome', and soaking it in a bit – something I hadn't really done the first time around."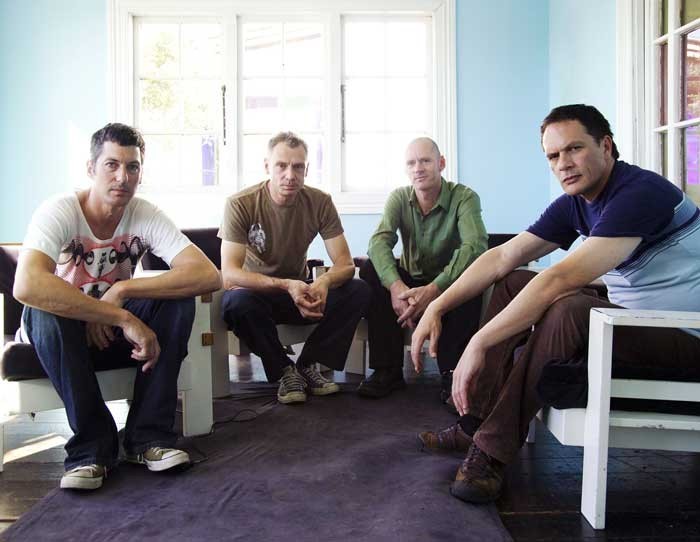 In 2008, the band was inducted into the NZ Music Hall of Fame, celebrated by the establishment they were originally railing against. The epic tale of Straitjacket Fits ended sadly in 2010 with the death of David Wood.
In 2015, 'She Speeds' and 'Down in Splendour' were performed as part of the Tally Ho concert, where the music of the fabled Dunedin Sound was arranged for orchestra by Graeme Downes of The Verlaines. Carter enjoyed the event, but was having difficulty in relating the feel to the orchestra. "I was trying to explain to the orchestral people the concept of sleaze, but I don't think they quite got it," he laughs. "The occasion was fantastic, it was so good … a really cool occasion for the community … all the songwriters really loved it."
How should Straitjacket Fits be remembered? As a crack live band whose reputation is based on their lightning-in-a-bottle performances?
Carter prefers the live shows to the recordings, though these often were hugely contrasted: they played to virtually no one in New Jersey, and then thousands at the Big Day Out.
Collie thinks that the band's impact was through their music and style, explaining, "We had weird bits in our songs and Shayne's guitar playing was so original and energetic. The fact that we got signed to a major American label was probably pretty inspiring, it was quite unprecedented."
Brough disagrees about the band having any major impact, though the experience meant a lot to him. "For me personally, it was a vehicle to enable me to prove myself as a songwriter," he explains. "I would never detract from that – even though I might moan about not getting enough air time. Overall for the band, I couldn't say what sort of impression I think they've made. Nothing extraordinary, it needed another couple of years." Andrew Brough died in February 2020.
The final word on the band's success or failure needs to go to Shayne Carter, founding member, lynchpin, and sonic visionary. "I'm proud that the band stuck to its guns. We had many opportunities to sell out, and we didn't. Because if you haven't got your integrity, you haven't got anything and I'm really glad that we held onto that. I'm happy with that band, I'm happy with what it did, and I'm happy with its legacy. End of story, really."
--