A new dawn
It was the dawn of a new decade, and it found Split Enz with a case of the seven-year-itch. They had been through so much in the rollercoaster-like first seven years as a band. Members, managers and record labels had come and gone, the first fruits of success in the UK had turned bitter, and the existence of a large and loyal following in Australia and New Zealand was not enough to keep the clearly ambitious Finn brothers satisfied.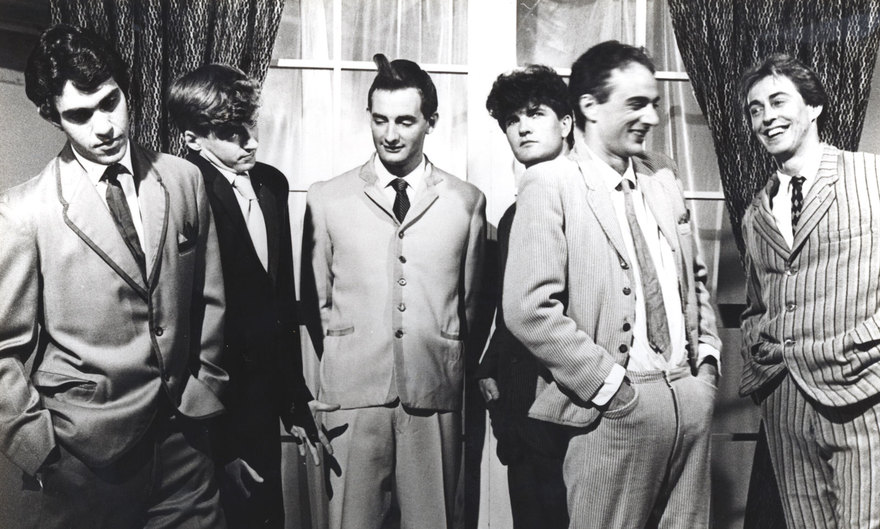 Split Enz had changed radically, from the musically and visually ambitious art-rockers that had created the seminal Mental Notes to the increasingly streamlined and polished outfit they had become in 1980.
Tim Finn described the changes in an October 1980 interview with Ken Coates of The Press. "We concentrated on the music, not the theatrics: skimmed off the fat and left the bare bones of it. What we've got now is simpler and more effective. I got sick of looking like a parrot, singing love songs."
"I got sick of looking like a parrot, singing love songs."
– tim finn
In a 1982 interview with famed American music mag Trouser Press, Neil Finn also reflected on the stylistic transformation of Split Enz. "We never consciously sat down and said 'Let's be commercial.' Maybe there was a subconscious desire to sell records, but we were writing deliberately simple songs because we were sick of 'clever' arrangements."
The Split Enz line-up going into 1980 had solidified as a sextet, comprising Neil and Tim Finn (guitar, vocals), Eddie Rayner (keyboards), Noel Crombie (percussion) and the Anglo rhythm section of Nigel Griggs (bass) and Mal Green (drums).
Things were about to happen fast for the band. They'd closed out the 1970s by completing work on their fourth album True Colours. Hotshot young English producer David Tickle (he engineered Blondie and The Knack) had helmed the sessions in Sydney, and Split Enz sensed they were on the verge of something big. In his band biography Stranger Than Fiction, former Enz bassist Mike Chunn recalls Tim Finn handing over an advance copy of the new album, saying "This time I think we got it."
What they got was 'I Got You', a shimmering piece of pop perfection from the increasingly deft pen of Neil Finn that became Split Enz's biggest ever, international hit, kicking them up several rungs of the ladder of success. True Colours and 'I Got You' came out in New Zealand and Australia on January 21, 1980, instantly scoring saturation radio play for the single as well as extensive exposure for the song's eye-catching video clip, created by resident visual genius Noel Crombie. Chart success quickly came, with 'I Got You' holding down the No.1 spot in Australia for eight weeks, and topping the NZ charts for five. True Colours followed suit, with a 10 week run at the top in Australia, eight weeks in NZ.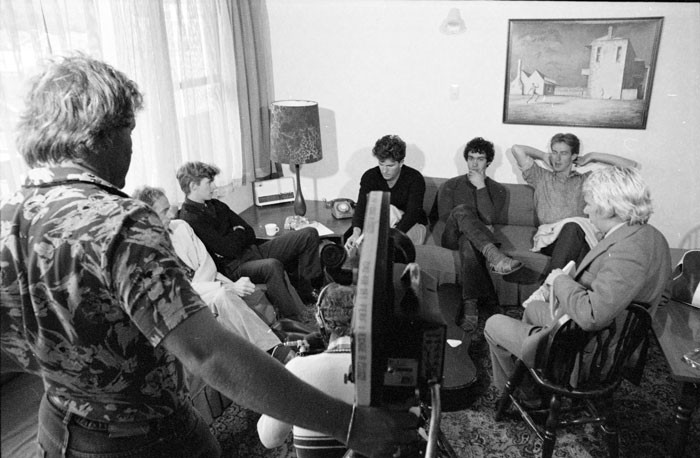 "This time I think we got it."
– Tim Finn
A triumphant headlining slot at the Sweetwaters festival in New Zealand led into another highly successful New Zealand tour, Trooping the Colours, followed by an equally winning Australian tour Sporting True Colours (a double bill with Aussie band The Sports, who were quickly eclipsed by the Enz).
This Australasian success ignited major label interest in the band, and a deal with A&M Records was signed in May 1980. Putting their money where their mouth was, A&M decided to release True Colours in the Northern Hemisphere as the first ever album to have a design lazer-etched into the actual vinyl. This could have come across as a shallow gimmick, but the fact that the design (featuring the album cover's symbols) was the band's own and that vibrant visuals had long been an Enz trademark deflected any such criticism.
North America and UK – finally...
Upon its release in North America and the UK in August, 'I Got You' started scoring airplay and True Colours notched positive reviews. Tim and Neil Finn did the promo rounds in the USA and UK, and dates were set for another short UK tour. Its highlight was a sold-out show at London's prestigious Hammersmith Odeon on September 27, 1980, one termed by Chunn, "a crowning achievement." A performance of 'I Got You' on Top Of The Pops (broadcast to an estimated 11 million people) helped the single reach No.10.
Across the Atlantic, 'I Got You' was also having an impact, hitting No.40 on the Billboard Top 100. A short American tour was kicked off at Los Angeles industry hangout the Whiskey, with celebs in attendance reportedly including Bette Midler and Donna Summer. Midler was to become a loudly outspoken fan of the band. In an issue of Australian Playboy (March 1981), she's quoted as saying, "I saw those guys three times in LA, and I'm tellin' you, they're bloody amazing. Why they don't get their arses back to the USA and blow the joint apart is beyond me."
Mike Chunn speculates that the fact that 'I Got You' did not move further up the charts in the States might be attributable to industry feathers being ruffled by Split Enz manager Nathan Brenner. "The business in America doesn't work like anywhere else. People take offence and pull plugs," he wrote in Stranger Than Fiction.
No such pettiness was evident in Canada. This scribe had just moved to Toronto from London and was thrilled to see the Canadian audience taking to Split Enz like a bear to salmon. I didn't need to berate my acquaintances at A&M Records in Canada about the merits of this band, as they instantly got it. Jim Monaco, then Head of Publicity at A&M Canada, recalls hearing 'I Got You' for the first time at the label. "We all said, 'it's a killer, it's a hit.' We all sensed it was going to be a smash."
Canadian radio quickly joined the party. 'I Got You' soon hit the Top 10 and True Colours reached platinum sales status (100,000 copies). A cross-Canada tour in October fuelled the buzz, and reviews were unanimous raves. "If XTC is the Pink Floyd of the new wave, Split Enz is its Beatles," gushed The Edmonton Journal. I caught their Toronto debut show, at The Masonic Temple on October 17, 1980, and came away impressed with how the band had evolved into such a tight, confident and melody-driven unit.
More gigs in the UK (including two nights at the Apollo Victoria in London) and Europe were followed by gigs in Brisbane, Sydney and Melbourne to close out a quite frenetic year.
"We had bloody credibility up to our ears and that's the most important thing when you come down to it, but ultimately your survival depends on selling a few records."
– Neil Finn
In a 1984 interview with Rip It Up (February 1984), Neil Finn admitted that True Colours was a make or break album for Split Enz. "At the time we said to ourselves that this album had to do it or that was it ... It was a crucial point for us and we needed success. We had bloody credibility up to our ears and that's the most important thing when you come down to it, but ultimately your survival depends on selling a few records."
Somehow, in the midst of the frenzy that was 1980, Split Enz had found time to record another album, again with David Tickle as producer. This was released in Australasia on April 1, 1981 (clearly the band and label were not given to superstition), intriguingly with two different titles.
Waiata
In New Zealand, it was Waiata, a Māori word for "celebratory song". Tim Finn explained to Rip It Up at the time that, "there is a celebratory aspect to Split Enz because we have survived through thick and thin and there is that ecstasy of being a young band whenever we play together."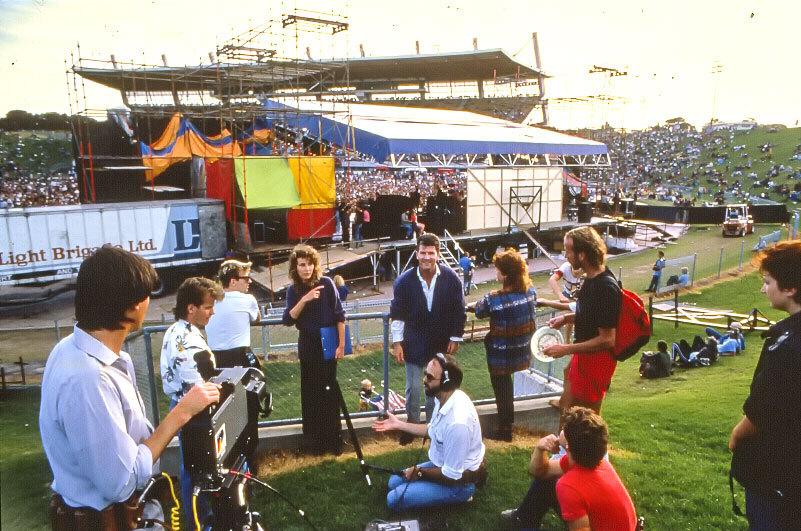 An aboriginal word with a similar meaning, Corroboree was chosen for the album title in Australia. In the official PolyGram press release for the album, Tim gives this definition: "When a band has got something special and a lot of belief and shares a certain joy in the music they're creating, then in a sense, each time they play it's like a Corroboree. It's a feeling of ecstasy when it all works and gells."
Preceding the album's release was first single 'One Step Ahead', (another Neil Finn composition) and it quickly stepped onto the charts, soon followed into the Top 10 by 'History Never Repeats'. In an intriguing twist of fate, the top of the singles charts in both countries was then held by 'Counting The Beat' – the irresistible classic hit from Phil Judd's new band The Swingers.
Prior to Waiata/Corroboree coming out, Split Enz's triumphs of 1980 were recognised at the Australian Recording Industry Awards (the ARIAs) in March. To nobody's surprise, 'I Got You' took home the Best Single trophy.
Given Split Enz's status in Australasia, it was also no shock that Waiata went straight to No.1 in New Zealand and to No.1 in Australia. The critical response at home was positive, as exemplified by Roy Colbert's review in Rip It Up. "The two Finns are beatling down the home straight, shoulder to shoulder, hurling diamonds at each other as they run. The race is a delight to watch."
The band quickly returned to the touring treadmill, playing dates in Queensland and New Zealand before setting their sights abroad. As Tim Finn told the NZ Listener's Phil Gifford at the time, "We've always seen past New Zealand. We want to make it in England and America."
Easier said than done, of course. Split Enz set sail to the USA in May on a promotional tour, but were soon disappointed to see that neither the first single, 'One Step Ahead', or the album (which peaked at No.50 there) were making much of a dent on the charts. A highlight of that trip was an appearance and performance on late-night American TV show Tomorrow with Tom Snyder. A fellow guest on the show was Sandy Allen, billed as the tallest woman in the world (7 foot 7 inches), later to be immortalised in song by Split Enz.
Across in the UK, the band still drew respectable crowds in concert (the 2,500 to 3,000 range) but the much needed hit single remained elusive. As Mike Chunn writes in Stranger Than Fiction, "Once again, much as they had done in 1977 in the UK, Enz had to stare at ecstatic crowds while the airwaves ran cold."
Between English gigs, a 20-date European tour proved both expensive and reportedly dispiriting. A happier fate greeted Waiata in Canada, however. The first two singles ('One Step Ahead' and 'History Never Repeats') were both radio hits, and the album quickly reached platinum sales status (100,000 units). Headlining shows there regularly attracted 3,000 fans, and Split Enz also toured as special guests on a Tom Petty tour of Canada and the USA that found them playing large outdoor or arena shows. Word is that Petty himself requested the band join him on tour, a clear sign of the man's good taste!
I saw them with Petty at Toronto's famed Maple Leaf Gardens, an historic venue that hosted both ice hockey games (Canadians are as fanatical about hockey as New Zealanders are about rugby) and big rock shows. This is the place Bruce Springsteen or Neil Young would play when they hit Toronto. A large and sometimes acoustically suspect arena may not have been the best place to catch Split Enz's melodic and subtle material, but they did superbly. The crowd of perhaps 12,000 responded with genuine enthusiasm, demanding an encore not usually afforded an opening act.
Time And Tide
At the conclusion of the North American tour, Split Enz returned to Australia, with the writing and recording of a new album the main priority. They'd already recruited English producer/engineer Hugh Padgham, with studio time booked for the end of November. Padgham had already worked with Split Enz as a lowly tape operator on Frenzy, but his stock had quickly risen via the production of hit albums by the likes of The Police and Phil Collins.
It is worth reflecting on how much more compressed the timetable was for recording and releasing albums back then. These days, bands and solo artists routinely take three or more years between records, but that was rare in the 1960s, 1970s and 1980s. Record labels were hungry animals, and their acts were expected to deliver a new album every 12 or 18 months. Combine that with intensive touring and promotional activity, and its little wonder that a burnout factor applied to so many bands and artists.
Neil and Tim Finn's songwriting sessions were proving productive, with Mike Chunn speculating that Tim's emotional torment over the disintegration of his marriage actually fuelled his muse. Demo sessions with the band were equally fruitful, and the spirit of positivity spilled over into the recording of what was to be Time And Tide. Chunn wrote that "As the band walked into Sydney's Paradise Studios on November 30, 1981, they knew, in their hearts, that this was going to be a celebration. From the first note struck, it felt brilliant ... This time Split Enz were a band in the truest sense, and the sessions developed in a state of harmony and altruism. As well as recording songs that had been written by more than just the Finns, the musical framework burgeoned into a fantastic three-dimensional superstructure."
Finished in February 1982, Time And Tide was set for an April 13 release, exactly a year after Waiata. The preceding first single 'Dirty Creature' was released in mid-March, quickly reaching the Top 10 in Australia, New Zealand and Canada. Given the disappointing commercial result of Waiata in the Northern Hemisphere (Canada aside), Split Enz adopted rather a wait and see approach rather than committing to extensive touring there.
An extensive Australian tour saw them sell-out large venues, and, buoyed by rave reviews, Time And Tide quickly hit No.1 on the NZ album chart. Split Enz played a triumphant sold-out gig at The Palladium in Los Angeles, but a lack of American airplay for the single kept the album foundering in the lower chart shallows.
Canada? That was another story entirely. In May 1982, Split Enz returned there. They came, they played, they conquered, as this scribe witnessed first hand. By now, the group were well-established stars in Canada. True Colours had sold double platinum in Canada (over 200,000 sales), Waiata went platinum and even the belated release of Frenzy (first released in Australasia in 1978) in 1981 saw it sell a very respectable 40,000 copies in Canada.
By the time the band arrived this time, Time And Tide was already a platinum-selling record. In recognition of the fact that Canada was proportionately a far better market for the group than the USA, Split Enz actually played more dates there, than stateside for the main Time And Tide tour. There were 20 shows in Canada, while the USA was covered in two weeks. Eddie Rayner told me at the time that, "There are two ways to tour the States. One is to be like Peter Frampton and do the big grind for six years until you make it big. The other is to do a short tour of your key markets. That is what we've decided to do for two weeks."
Rayner theorised about the differences between the two markets in our interview. "Canadian radio stations offer much more space for new bands, while in the States the whole industry is very wary of taking risks because of the recession. We're not getting the AM crossovers you need for a hit, and hit singles are essential there." Split Enz manager Nathan Brenner concurred, saying that, "The whole music scene in Canada is less industry oriented. They are more open to new things."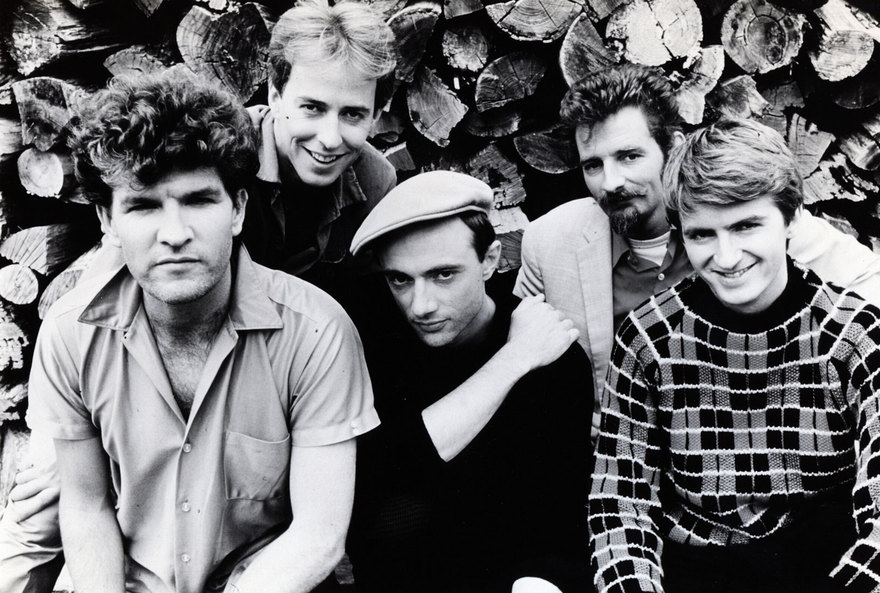 In their superb May show at Toronto's Horseshoe Tavern, Tim Finn accurately observed that "a roomful of Canadians is much like a roomful of New Zealanders." I wrote about that show and Split Enz's Canadian success for Rip It Up (July 1982). The opening paragraph ran: "To a transplanted Kiwi, the bar room scene borders on the bizarre. Exhausted but ecstatic bodies press against the small stage from which New Zealand's finest launch into an encore comprising such off-the-wall selections as 'To Love Somebody', 'Jamaican Farewell' and a version of 'I Hope I Never' that features a soaring guitar solo from one Mick Ronson. It is party time in Toronto, and the faces of the Enz are split with smiles, for they know they are amongst friends."
The presence of guitar god Ronson (David Bowie, Ian Hunter) was due to the fact that he was playing in The Payola$, a fine Canadian band recruited by Split Enz as the tour's opening act. This club gig was actually a last-minute surprise affair, held the night before Split Enz's sold-out show at Toronto's most historic concert venue, Massey Hall. Aided by the hall's fine acoustics and their own inventive lighting and stage set, the band simply dazzled. New Time And Tide songs like 'Dirty Creature' and 'Six Months In A Leaky Boat' went over very well, while older favourites drew loud applause.
"But Neil does look young and cute"
The demographics of the Split Enz audience at this time were fascinatingly diverse, ranging from screaming teenyboppers to professional types in their thirties and forties. Eddie Rayner admitted to me then that he had a few reservations about the loud young girls. "We do see them getting hysterical and a few of them fainting. Perhaps we appear as father figures to them. I feel that old, but Neil does look very young and cute. Unfortunately it does put off older people who I'd feel more comfortable with."
"Time And Tide has the kind of startling brilliance only rarely encountered outside the best literature."
This reaction didn't put off the rock critics who caught the Enz Canadian shows, though. Their response to the tour and the new album was near-uniformly ecstatic. "There isn't a more completely talented band in rock right now," gushed Peter Goddard of The Toronto Star. Writing in Canada's largest daily paper The Globe and Mail, Alan Niester observed that "Split Enz came across as amiable, danceable, and perfectly delightful." In national music monthly Music Express, Greg Quill noted that "Time And Tide has the kind of startling brilliance only rarely encountered outside the best literature."
On this Canadian tour, Split Enz drew crowds as large as 10,000, though Eddie Rayner told me, "We try and play the large theatres, rather than those big stadiums where you can't communicate with the audience."
No on-the-road debauchery for these guys, it seems. "We don't get into much of that 'life on the road' stuff; we take what we do too seriously," said Eddie then. The road had its rigours though, as shown by Rayner getting his sore shoulder treated by a masseuse at the time of our interview.
Any euphoria from their Canadian triumph was offset by a setback in the UK. 'Six Months In A Leaky Boat' was off to a good start there, scoring airplay on London's all-important Capital Radio, prior to a cruel twist of fate. The Falklands war was raging then, and the sinking of British destroyer Sheffield in the conflict made the title of the Enz single problematic. The Capital Radio station manager declared that, "We feel it is a duty to our listeners not to go with the record. In view of the sinking of the Sheffield we thought the song would cause offence to a large number of our listeners." Of course, having a single banned in England can actually be a godsend (it sure didn't harm The Sex Pistols), so it'd seem that Split Enz's English record label fell asleep at the switch in not capitalising on the publicity.
While Time And Tide failed to break through in Britain and the USA, band members seemed united in their view that it was one of the group's very best records. "Waiata was not a great album; it had a lot of flaws," mused Rayner to this writer. "I go by first impressions, and I have a gut feeling that Time And Tide is our best album. This is our strongest album lyrically, that's for sure ... Now we're more outspoken and our ideas are a lot more global. This is the first time I've really got something out of our lyrics, and Tim is certainly feeling prouder of them now."
Tim Finn compositions like 'Six Months In A Leaky Boat' (termed by former comrade Phil Judd as the best song Tim had written) and 'Haul Away' were both poetic and personally revealing, and their author was justifiably proud of his work. In an interview with Rip It Up, Tim declared that "Time And Tide was a great victory for me personally to come up with what I think are some of my best songs ever. For everyone else it was a time of learning and a time of great joy. We had a very happy time making it."
Reflecting upon Time And Tide in an interview with Peter White of Metro in 1985, Neil Finn said, "There ended up being hit singles on it but we really didn't think about that ... we just wanted to make an album that was true to what we were. Tim's lyrics, in particular, were very personal on that album. That was a big change for us, it was less poppy as well."
Returning to southern climes, Split Enz then toured Time And Tide throughout Australasia, to packed houses and ecstatic response, though no further singles from the album would duplicate the success of 'Dirty Creature' and 'Six Months In A Leaky Boat'. A highlight of the New Zealand tour was a reception in Wellington hosted by Radio 2ZM and PolyGram Records to celebrate the double-platinum sales status of the album. The fact that then Prime Minister Bill Rowling and MP Marilyn Waring paid tribute to the band there confirmed Split Enz's position as genuine cultural ambassadors.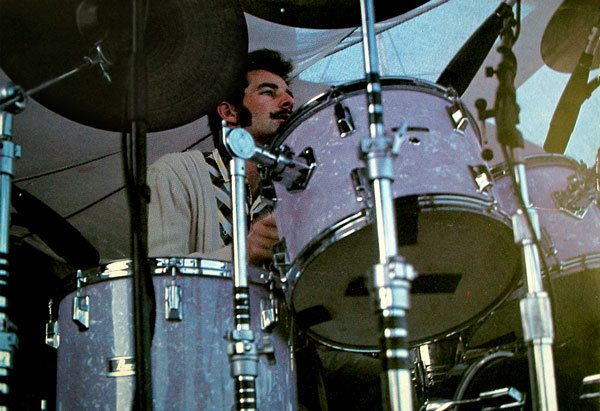 Enz Of An Era
The end of 1982 marked the 10th anniversary of Split Enz. What a long and strange trip it had been. To mark the milestone, a compilation album, Enz Of An Era, was released, and it quickly racked up impressive sales over the Christmas period. A headlining appearance in front of 35,000 at the Sweetwaters festival on January 30, 1983 fuelled speculation of a mass reunion of former Split Enz members. Mike Chunn, Rob Gillies and Paul Crowther did participate, although the enigmatic Phil Judd was nowhere to be seen. This same line-up then played one more Enz Of An Era concert, at the Bowl of Brooklands in New Plymouth.
In retrospect, this wasn't just the end of an era, but the beginning of the end for the Enz. If he'd been told in 1982 that the end of the band was only a couple of years away, Eddie Rayner would likely have been stunned. "Longevity is the key to success for me," he said to me then. "Ninety percent of these bands making it big are here today and gone tomorrow." He did predict that,"Split Enz will definitely diversify. It won't be just this album/tour cycle for the next 10 years."
"1983 was Split Enz's worst year and the root cause of their eventual demise."
And it wasn't. After the artistic triumph that was Time And Tide, Split Enz's recorded output was, most agree, rather spotty in quality, and internal rifts began to appear. In Metro, Peter White wrote, "1983 was Split Enz's worst year and the root cause of their eventual demise." Neil Finn told him, "Our relationship with Mushroom [their record label] deteriorated savagely ... They took more and more of the credit and started doing less of the work. We started to become very disillusioned with them."
As Time And Tide ebbed, the members of Split Enz took a break from each other. Noel Crombie recorded a solo single, covering 'My Voice Keeps Changing On Me', Neil Finn did some outside production work, Eddie Rayner worked with other artists, including Australian rock great Russell Morris, and most significantly, Tim Finn began work on a debut solo album.
Both his bandmates and record label, Mushroom, gave Tim the go-ahead, but in the future the project was to cause a fraction too much friction. Tim recorded the album Escapade, in Sydney with producers Ricky Fataar and Mark Moffatt and a cast of top Australian players (and ace American keyboardist Richard Tee) and backing singers.
Released in mid-1983, Escapade proved a triumph, musically and commercially. First single 'Fraction Too Much Friction' became a radio and video hit. The album reached No.1 in both Australia and New Zealand, eventually selling a formidable 175,000 copies.
Just before its release, Split Enz reconvened to commence pre-production work on their next record, and that's when internal rifts deepened. Mike Chunn wrote in Stranger Than Fiction, "Tim was there [at pre-production] but his material was short of his usual standard. He was suffering a certain amount of guilt from the Escapade venture; this put pressure on him to come up with the goods, but the songs weren't there."
The upcoming album would, aptly, be entitled Conflicting Emotions, for creative differences between Tim and the rest of Split Enz deepened. In his Metro interview, Neil Finn recalled, "We didn't feel his songs were suited to the band, hence on Conflicting Emotions he has only four songs because he was working on Escapade. I don't begrudge him that, he really needed to do it, but at the same time it did affect the unity of the band. When we went into the studio there was a lot of pressure, particularly from Tim, for it to be a commercial album, whereas we just wanted to suit ourselves again."
Recording began in Sydney on July 1, 1983 with Hugh Padgham returning as co-producer. According to Chunn, Tim Finn was keen to use both drum machines and ace drummer Ricky Fataar on the sessions, something that alienated both Noel Crombie and Nigel Griggs. When the album was completed, it was decided the band would hire a new full-time drummer, with Noel returning to his former role as percussionist. Their choice, Paul Hester, was to play a significant role in Neil Finn's future.
In looking for a new drummer, Neil consulted pal Rob Hirst, drummer for Midnight Oil, and Hester's name surfaced. He'd played in a couple of prominent Australian bands, Deckchairs Overboard and Cheks. In Stranger Than Fiction, Mike Chunn cites Hester's "Exemplary performance" on 'Dirty Creature' as the clincher of the audition. "His keen sense of humour and his simple style were also positive factors." A penchant for housework quickly endeared him to Tim Finn when the two began sharing a house in Melbourne.
Tim Finn took another break from Split Enz to play a series of solo concerts in Australia to promote Escapade and then Conflicting Emotions was released in November 1983, entering the NZ charts at No.5. It was preceded by the single 'Strait Old Line', a moderate hit only. As the year wound down, Split Enz embarked on yet another holiday season tour of Australia and New Zealand, one that included a New Year's Eve show at Auckland's Mt Smart. A memorable highlight of this trek was an appearance in the Finns' hometown of Te Awamutu in January, with a huge outdoor concert at Albert Park planned as a highlight of the town's centennial celebrations.
Mike Chunn wrote, "Tim was in top form … relishing the opportunity to wrap up all his old Te Awamutu memories in a transcendent one-night stand." Present at the concert and photographing it was Rip It Up publisher Murray Cammick, while Rip It Up scribe Russell Brown reviewed the show. He termed the night "genuinely warm and warmly genuine ... a very special Split Enz performance, a piece of natural showbiz that broke clear of the scriptedness and uprightness that has marred their shows in the last two or three years."
Peering into the future, Neil Finn told Rip It Up at the end of that tour, "I think it [1984] is a crunch year. The band is at a crucial stage of its career ... we need new challenges and we need to arrive somewhere definite ... I wonder if it would be good for me to do something else, to start something with my own stamp."
Conflicting Emotions did not fare well internationally. In fact, parent label A&M did not even release the record in the USA or UK, although Canada and the Netherlands did put it out. In the latter market, it was overshadowed by Escapade, where the album reached the Top 10 and 'Fraction' made No.2. In his chat with Metro, Neil took some of the heat for the rather disappointing artistic and commercial fate of Conflicting Emotions. "It was my fault as much as anybody's, I had as little clue as anybody what we were doing on that album," he said candidly.
And then there was one (Finn)
At the 1984 ARIA Awards in Melbourne, Split Enz went home trophy-less, but Tim Finn was the biggest victor of the night, winning for Male Performer, Songwriter, Album and Video of the Year.
With this new solo success and a new love in his life (actress Greta Scacchi), Tim's focus had moved away from Split Enz. This was made official in June 1984 when, by Mike Chunn's account, he rang each member of the band to tell them he was leaving. Shockwaves registered locally at the news. In an editorial, The New Zealand Herald rather ponderously proclaimed that "For pop music in this part of the world, Tim Finn's departure from Split Enz is equal to the upheaval the Beatles would have suffered if John Lennon had deserted them 20 years ago ... He will be missed as a Split End, but he will remain one of New Zealand's most popular sons."
Initially, Neil Finn and his comrades pledged to carry on, but Neil's commitment would be temporary. In Chunn's words, "Here was a band with a new focus and the chance to grapple with a new direction but Neil couldn't see it coming; he couldn't find the new ground and he became quickly frustrated ... and convinced it was time to close the chapter."
Just three weeks after Tim's exit, Neil Finn informed the remaining members of Split Enz he was planning to leave, clearly spelling the ultimate end. It was decided that the Tim-less band would finish and release one final Split Enz record, while Tim would re-join the fold for one last "Enz With A Bang" tour of Australasia.
So Long For Now
In an interview with Rip It Up a day after the Melbourne press reception that made the group's decision to call it quits official, Neil said, "We're still very ambitious, particularly me as far as another band goes." In a letter to the now large Frenz Of The Enz fan club, Neil stressed that, "all of us including Tim are and always will be great friends."
The last-ever Split Enz studio album also sported a fitting title, See Ya Round. The first single 'I Walk Away' came out a month before the album's early November release, and its video was the first ever Split Enz clip without Tim. The album failed to hit a high chart position in Australia (No.29) and in New Zealand it charted for a comparatively short 10 weeks, peaking at No.5. Not the most auspicious coda to one illustrious recording career.
The farewell Enz With A Bang shows fared better, drawing large and enthusiastic crowds. The band's birthplace, Auckland, was naturally chosen to host the final (for now) Split Enz shows, and demand for tickets was so strong they played four shows at the Logan Campbell Centre in the first week of December. The appropriate choice of final encore song – 'Hard Act To Follow'.
Shows in Melbourne and Auckland were recorded, and the results (along with some live material circa 1982) appeared on double live album The Living Enz, released in December 1985.
The numerous obituaries and tributes published at this time credited Split Enz with an indelible and invaluable impact upon New Zealand music. Writing in Rip It Up, George Kay observed that, "Split Enz worked with the world's best and so helped destroy the Kiwi inferiority complex as regards the great Overseas myth. They made the grade and encouraged other bands to take their goods to supposedly superior markets. That's got to be appreciated."
Post Enz– reunions and legacy
As we all know, this was not really to be the final goodbye. Over the next quarter-century, there were to be a number of Split Enz reunions, both for one-off special gigs and for extensive tours of Australia and New Zealand.
In late 1989, Split Enz decided to reunite for four summer gigs in Australia with Crowded House, culminating with a New Year's Eve concert in Sydney. Testimony to Australia's abiding affection for Split Enz was the fact that they, not Neil Finn's newer hit band Crowded House, were billed as headliners. The Enz line-up for these shows was the vintage early 1980s combination of Neil and Tim Finn, Eddie Rayner, Nigel Griggs and Noel Crombie, with Enz/Crowded House drummer Paul Hester sitting in on a few songs.
What should have been a fun, nostalgia-filled jaunt turned tragic, though. The tour opened in Mudgee, New South Wales, on December 27, with a gig set for Newcastle on December 28. That morning a powerful earthquake struck Newcastle, demolishing the show venue, the Newcastle Working Mens Club. Sadly, the tour's truck driver, John O'Shanassy, was killed in the quake.
Both Split Enz and Crowded House returned to Newcastle in February 1990 to participate in an Earthquake Relief Concert featuring a Who's Who of big Australian rock acts and one of the biggest-ever concerts of all-Australian (and NZ) talent. Neil Finn told the crowd, "We were bound up in this event when a bit of paper was slipped under our door saying 'gig cancelled because of earthquake'. We lost a truck driver in it, and that's reason enough to be involved."
As the years passed, both Neil and Tim Finn could reflect on the legacy of Split Enz with new perspective. In a Rip It Up interview in May 1992, Neil Finn discussed this with Murray Cammick. "We were a NZ band even with two British people in it. The heart of the band was NZ and we can still sense in NZ that Split Enz will always have a special place in people's hearts. Crowded House will never eclipse the kind of emotion that Split Enz has for people."
"I feel here more than anywhere, there's a special place for Split Enz. It sometimes feels like a burden but overall, it's a very positive thing."
– Neil Finn
When it was pointed out that Crowded House had likely scored more airplay here than Split Enz songs, Neil responded thusly: "Maybe in many statistics but in terms of people's affections, I feel here more than anywhere, there's a special place for Split Enz. It sometimes feels like a burden but overall, it's a very positive thing."
One unconventional Split Enz reunion gig came in mid-1992, when they entertained travel agents in Sydney on behalf of the New Zealand Tourist Board – clear confirmation of the group's residual status as cultural ambassadors for New Zealand. The show was also something of a revelation for Tim Finn, as he later explained to Juice magazine. "We did a show in Sydney about six months ago," he recalled. "It didn't seem like nostalgia, it didn't seem like a cabaret act. It felt like a band that existed now."
The strong pull of nostalgia returned in late 1992, as the 20th Anniversary of the birth of Split Enz neared. Mike Chunn's biography of the band Stranger Than Fiction had just been finished, so what better way to launch the book than with a December 10 party at Auckland's Wynyard Tavern, home of that first-ever Split Enz gig in December 1972.
That was followed, in March 1993, with a highly successful reunion tour of New Zealand. Neil Finn and Paul Hester were already in the country, having just taken part in the intense Karekare recording sessions that would surface on Crowded House masterpiece Together Alone. A week of dates drew 55,000 fans, proving the loyal devotion local music lovers still had for this band. They played Mt. Smart Supertop on March 20, a show reviewed by Alister Cain in Rip It Up. He wrote that, "Reformation gigs don't always come off but this one could only be described as a triumph ... These gems were performed by a band who were so slick and together that you would have thought they'd never been apart. It was also good to see consummate frontman Tim Finn settle back into his rightful position with ease. In fact, he appeared to enjoy the show more than anyone else."
That observation was confirmed by Tim Finn in an interview with this writer in Toronto six months later. "The first Auckland show was unbelievable," said Tim. "I'll never do a better show in my whole life. Before we went on stage, we all looked at each other, bewildered. We couldn't believe the noise coming from the crowd. Half the audience were kids who'd never have seen Split Enz, but they knew every song. That was a great feeling, that we were part of them. There wasn't that separation. We belonged to them and there's a kind of liberation in that. It's a great feeling."
A live album, Anniversary, was culled from the tour. Extensive Australian press coverage of the tour proved that great interest in the band remained there, prompting Mushroom Records to re-release all the Split Enz CDs in two boxed sets. History can repeat.
In our 1993 interview, Tim Finn reflected eloquently on his perspective on Split Enz then. "There's part of one that wants to move on and leave it all behind, but there's part of one that finds it like an old coat. It is very easy to slip into. It's very comfortable and has a lot of memories."
Over the next 15 years, he and his comrades did occasionally slip back into the comfy coat that was Split Enz, delighting fans, young and old, in Australasia. In 1995, Eddie Rayner spearheaded the ENZSO project. In this, the New Zealand Symphony Orchestra (under conductor Peter Scholes), New Zealand National Youth Choir and Split Enz collaborated on orchestral treatments of some Split Enz classics. As well as Neil and Tim Finn, those contributing lead vocals included Sam Hunt, Dave Dobbyn and Annie Crummer. The resulting album, ENZSO, and a touring version both did very well in Australasia, and the album gained a North American release on Sony Music. A sequel, ENZSO2, was released in 1999, with illustrious guest vocalists including Dame Kiri Te Kanawa, Bic Runga, Jon Stevens and Margaret Urlich.
In 1999, Split Enz performed at the Millennium Concert on New Year's Eve in Auckland at the Viaduct Basin, Auckland. In July 2005, Split Enz were inducted into the ARIA Music Awards Hall of Fame, performing 'Poor Boy' and 'History Never Repeats' at the ceremony in Melbourne's Regent Theatre. Every member of Split Enz received an award and all of them were present, except for Mike Howard and, sadly, Paul Hester, who had taken his own life four months earlier. John Clarke (aka Fred Dagg) presented the band, while other inductees that night included The Easybeats, Renee Geyer, and Normie Rowe. Good company to keep.
An Australian tour in June 2006 drew large crowds, and was notable for the fact that it featured Malcolm Green (drummer from 1976-81) back behind the kit. A March 2008 tour of New Zealand comprised shows in Christchurch and Wellington and two in Auckland at the Vector Arena. Always ready to reunite for a worthy cause, Split Enz also played together on March 14, 2009 in Melbourne at the Sound Relief benefit concert, in support of Red Cross relief for the Victorian Bushfire Crisis.
Regardless of whether New Zealand ever again hosts a Split Enz show, the band's impact on New Zealand music is both immense and indelible.
Split Enz. We will not see their like again.
--