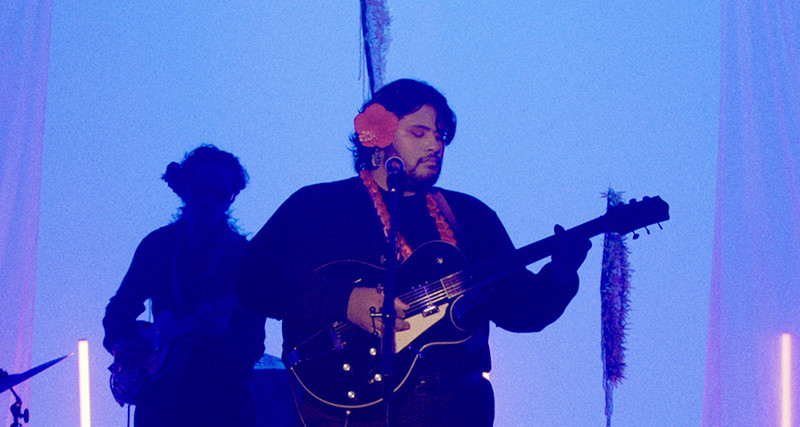 Samara Alofa – Dnt Care
Ngāti Whatua-o-Kaipara, Ngāti Awa, Vailoa-i-Palauli, Tongatapu
Ancestral and healing. Samara shapeshifts sounds so sincerely and with such grounded gentleness, listening to their music is like wading in water – present and moving. When I first heard 'Dnt Care', the single from their debut album Earth Punk, I cried. Hearing the sampled invocations of Tonga-via-Futuna chant, the me'etu'upaki, the saudade guitar melody and Samara's purposeful vocals all invoked an ocean of emotions for me. The me'etu'upaki is a prayer of navigation that asks for the blessings of the gods – Kolulu, the god of the seas and Latu, the god of the winds. Thus, I find it beautifully fitting when Samara sings "got to be faithful and see/sea", I hear a message for realignment towards an open moana future that carries the blessings of our atua. Samara is so awesome, as an artist, comedian and as a wonderful friend.
Kōtiro – Puti's Maunga 2021
Ngāti Tāwhaki, Ngāi Tuhoe, German-Jewish
"Mai rā anō" – since before the sun. Kōtiro, an expressive project of Ana Chaya Scotney alongside collaborator Thomas Arbor, captures so much stunning light in the sails of its gorgeous sonic waka. 'Puti's Maunga' is high-def, multinational and harks to memories/feelings of her own ancestors. It is no coincidence, then, that in listening to this offering it resonates with a swell of worlds. Ana's vocals embody a tonality and deep feeling akin to mōteatea, and alongside the swells of strings that act as a beautiful korowai to this story of Puti. Listening to this song feels like being on the waves of the ocean, a calm yet wholesomely strong experience. As noted in their album foreword, Kōtiro is in every way "high-vibe" and "spirit-rich".
Half Hexagon – Ramona
Tāmaki Makaurau
A cyberpunk delight. Electric from start to finish, the track entrances you to a rainy, night-of-assassins, cybernetic reality where you're on a mission to terminate replicants and rehearse memorable one-liners (on which note I highly recommend Samuel Te Kani's essay analysis on Blade Runner 2049 in Whose Future?, 2020). The steady, deep synthesiser bassline and sine embellishments from James Milne, Julien Dyne's menacing drum production and Yolanda Fagan's eerie and hypnotic vocals all lend to what is a ridiculously slick song. This heavy trifecta of cool does not cease to impress with their collective/individual body of works and 'Ramona', the end track of their debut self-titled EP does not miss the mark. My favourite facet of the song is the spring reverb on that snare; in the context of the arrangement, it gives a very Les Rallizes Denudes meets heavy dub feel which I love. I don't know who baby Ramona is, but they've got the greatest theme song made by the best of the best.
Coco Solid – Wow
Ngāpuhi, Apia, Germany
"Inevitably they say – wow" and inevitably I did so as well. This taonga of a track is really special for me and since hearing it for the first time back in the disturbia halls of high school, I immediately became a forever stan of Jessica Hansell aka Coco Solid. Being a weird brown kid with an eclectic taste of music in a predominantly brown school, it was hard trying to see myself in conventional genres of reggae and RnB, but all was resolved when I stumbled upon 'Wow' around 2014-15. Coco's lyrical style is so fun, silly, and steeped in sass – and on top of Jizmatron's funky techno beat, I knew I had found a gem. After a quick Google search and learning Coco is Ngāpuhi and Samoan-German, my mind was blown. It never occurred to me before that a brown artist would be exploring and creating diverse forms of music (amazing music at that too!) and it was super affirming for me to feel seen in Coco's music. Years on and I'm still the biggest fan of Coco's work and kōrero. She's a rangatira in so many regards and for so many people and I am super blessed to acknowledge her as a big inspiration.
Lion Dixon – Mmt
Atiu, Aitutaki, London
Ōtāhuhu indie diamond. Dalyan Rangi-Dixon (formerly known as LION DIXON, now Dalyan RD) is a lover of all music through and through, and I mean that quite literally. There are few people as open minded as Dalyan and being around such a vibrant person, you can't help but feel inspired to give everything a go. Most known for their hip hop output and collaborations, 'Mmt' off their 2019 Lace EP is a grungy, pretty indie rock track that makes you want to dance in the sunbeams of your bedroom window. Atop the fun foundation of crunched open guitar chords and a perfect bassline, Dalyan's lyrics are sweet, harmonious and unmistakable. It's something I've always loved about Dalyan's music, you know it's a Dalyan track every time, and no one can replicate that magic – or at least do it better than they can. Meitaki toko.
Erny Belle – Gone Fishing
Ngāpuhi, Ngāti Rēhia
A swellful offering with so much heart, Erny Belle (Aimee Renata) astounds with the track 'Gone Fishing' from her phenomenal debut album Venus is Home. Commencing ever so gently with sparse percussion, synth strings and guitar, it sets the sweet-yet-sombre tone for the song that unravels into the most gorgeous chorus I've heard in a few moons. The chorus of this waiata is so uplifting and graceful, with perfectly introduced instruments supporting the waves of aural and lyrical emotionality Erny has cleverly arranged. This song is suspenseful, nostalgic, and earnest with Erny's longing voice and lyrics a shining ode to a past familial memory. I haven't heard a voice so compelling since Kirsten Morrell was serenading the hearts of the country with Goldenhorse. It is hard not to well up at how beautiful this song is. 'Venus is Home' is definitely up there in my all-time favourite albums.
Strangelove – Hopeless Romantic
Liku, Pepjei
Hopelessly romantic and hopelessly waiting for more romance-soaked hits from the elusive enigma that is Strangelove. I was conflicted between featuring this song or the insane first track 'Like the Usual' off their debut release 1800EACHWAY, which oozes love-drunk cassette haziness with the most addictive bassline. However, 'Hopeless Romantic' is the track that truly solidified Navākatoa Tekela-Pule as one of my favourite musical imaginaries. The track is a meeting of Michael Seyer-esque endearing slickness and 'nesian island enchantment. Starting with acoustic guitar before the big wave of crisp drums, suave bass and dreamwashed electric guitar, you're transported to the serene islands of Niuē, where this song was originally demo'd. A truly inspiring song, which upon my first listening brought the biggest smile to my face imagining what more beautiful and diverse music is to come from current and future Pasifika artists. Monuina + Faiåkse'ea!
'Hopeless Romantic' Bandcamp link
Kenny Sterling – Roses, Sunshine & Honey
Tāmaki Makaurau, Scotland, Norway
Introducing one of Tāmaki's finest hit makers, Kenny Sterling. The swoon moniker of Matt Hunter (Mānuka Recordings, Heat Rockers Records), Sterling has a production talent and vision that is both bold and temptatious. 'Roses, Sunshine & Honey' is the sweetest box of chocolates you and your lover(s) could indulge in on Valentine eve. I'm a big fan of drum intros, and this song immediately satiates that with an amazing drum production of the crispiest hi-hats and deep kick. Once that G'd out bass and sexy guitar comes in, you know you're in for a soul delight. Accompanying musicians Seb Soto and Larsen Tito-Taylor's flute and saxophone duet pull in an intoxicating atmosphere for Sterling's dreamy as-heck vocals to play upon. This song is definitely for the low-rider lovers and ocean sunset dwellers. Let's keep shaking that 8 Ball for more Kenny Sterling and more Aotearoa soul heaters.
'Roses, Sunshine & Honey' Bandcamp link
WHYFI – Theme Song
Ngāpuhi, Ngāti Whatua, Tainui
Starstruck by another classic. Larsen Tito-Taylor, otherwise known as Whyfi (now spelled Waiwhai), has alchemised a plethora of significant sonic imprints since 2015 and has been a large influence and tuakana for my own musical practice. 'Theme Song' wastes no time with its hefty G-funk bass line that acts as a pou for the entirety of the song. After which, an iconic synth flute and opiated guitar chords join the shimmering sonic joyride. The vocals are reflective and crooning through its autotune filter, which adds a layer of mystery and intoxication to this already moon-kissed track. As alluded to in the album title TRASH 2: The Official Movie Soundtrack, of which 'Theme Song' is the opening track, this song truly is cinematic. Larsen continues to push the musical, esoteric and dialectical envelope with his sonic offerings and only time will tell what more awesome musical expressions are to come.
Yolanda Fagan – Bad Dream
Tāmaki Makaurau
The icon, the legend and the moment. Words couldn't even begin to encompass how much I admire the work and stellar being of Yolanda Fagan, but alas I am here to pronounce my deep love for this original demo of 'Bad Dream'. As with everyone else, the first cut of this gem I heard was as the Na Noise single released in June 2019 – a psychedelic-cowboy desert rock ballad performed with fellow amazing bandmate and musician, Harriet Ellis. However, there's just something truly enamouring about the original recording from 2015. The live drums bring in a calming, surfy radiance to the song. Yolanda's lullaby vocals resonate over the track so soothingly and dreamlike, every listen feels super meditative and to be honest, heartwarming. Every listen feels like a Super 8 film affirmation, like you're standing upon the shores of tomorrow looking out to the horizon, but mostly just watching the sun glimmer off the waves. Everything about this song is just fantastic.
--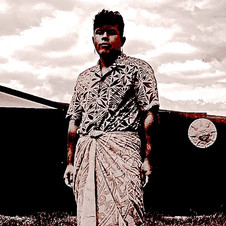 LEAO is the creative outlet of David Feauai-Afaese, a Sāmoan indie-rock musician. They are one of the artists featured in Amplified, a web series on the RNZ website – hosted by DJ and music journalist Jess Fu – that "spotlights artists who use music to embrace, connect and explore their cultural roots."