The Pictones, The Flares, The Big Three, The Saints
Before teen idols and beat music challenged the middle of the road brassy tedium of dance halls and radio fare, The Flares Show Band ruled the roost in Palmerston North. Many players from its ever changing line-up went on to make their own mark.
Among them were Johnny McCormick, who later joined Sounds Unlimited and The Quincy Conserve, and Maurice Greer, Trevor Harrison and Peter Knowles, who went on to form The Big Three.
Trevor Harrison joined guitarist and singer Mike Griffin, bassist Graeme James and keyboard player Mike Miers in successive pub bands, including Soundproof and Milkshake. Greer formed The Saints with Dave Hurley before becoming the mainstay of multiple versions of the Human Instinct.
Harrison, known by some as the grandfather of Palmerston North rock and roll, kicked off his lifelong musical career in the late 1950s, messing around after intermediate school with a few friends in the basement of Maurice Greer's Palmerston North home.
A friend of Greer's older brothers Frank and Barry, Harrison was playing tea chest bass, another mate was bashing away on a drum kit made of pots and pans and dented baking trays, and 12-year old Greer was struggling with two chords on a battered old guitar.
They tried to copy the radio hits of the time but something didn't feel right. Greer had a good ear for rhythm and was frustrated that their so-called drummer couldn't keep time.
Standing behind to help him find the right beat came easier for Greer than his attempts to master the guitar, so he took over on "drums" – basically a combination of cake tins placed at different levels.
A proper bass guitar
Greer and Harrison, now having acquired a proper bass guitar, were joined by Ken Climo on lead guitar and Johnny Oliver on rhythm guitar. They named themselves The Cavaleros after the Mexican bandits (Caballeros) they'd seen in western movies.
They practised for a year before playing their first public gig at a friend's party. With only eight songs in their repertoire, they expected another band to take over after they completed their one set. But jazz guitarist Brian Gibbs was the only one who turned up from the expected band. He joined the young Caveleros to keep the partygoers dancing as they reworked those same eight songs at different tempos.
Greer's mother Thora, seeing her son's determination, invested in a real set of drums which arrived just in time for the boys to make their appearance at the annual Savage Club's Talent Quest at the Palmerston North Opera House.
The heats leading up to the final gave The Cavaleros enough confidence to keep rehearsing until they eventually made it through. On the big night guitarist Ken Climo, struck by shyness, hid behind the curtains rather than face the audience.
Hot favourites the seven-piece Flares Show Band were also having problems. The unit had just lost their drummer, Alan Rasmussen, and asked young Greer if he would sit in. The Flares took the honours and after the show Greer was recruited.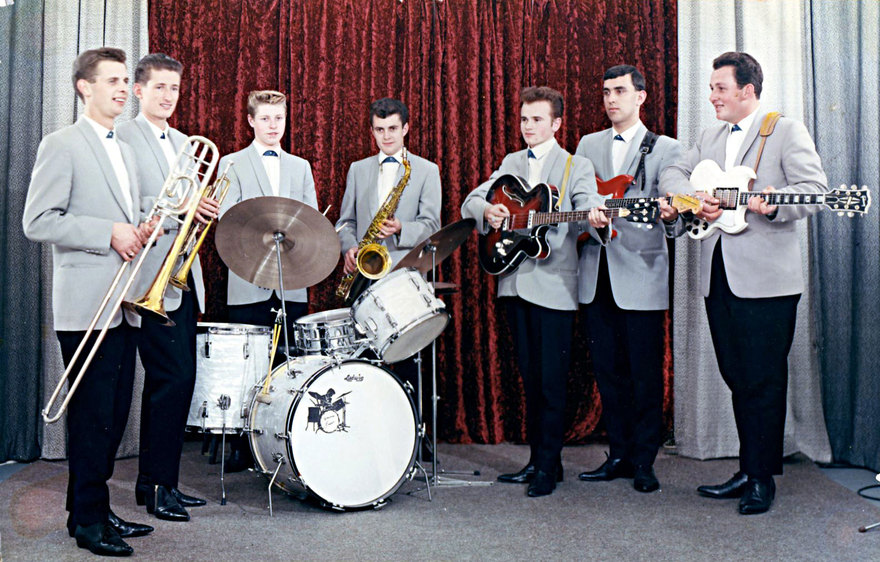 Trevor Harrison was invited to join Dave Clark and The Pictones, who like many groups of the time played Shadows and instrumental covers. They prided themselves on being the first local band to play bossa nova and were in demand across the region for youth dances. They were among the first local artists to record, creating bossa nova records at Tala Records in Levin.
Teen wonder drummer
A year later The Flares were looking for a bass player and Greer, only 14 years old and billed as "the teenage wonder drummer," recommended his old friend Harrison.
The band had undergone a number of changes and now consisted of band leader Warren Burgess on trumpet with Peter Knowles on guitar, Roger Dix on rhythm guitar and a brass section with Bill Watson on trombone and Johnny McCormick on saxophone. (McCormick's first band was Jim and the Jets with Alan Craven on bass, the late Peter Crosby on drums and Taffy McDonald on guitar. Jim was Jim Bulloch, owner of what later became Manawatu TV & Sound.)
Never short of a gig, The Flares continued rehearsing in the lounge of Warren Burgess' large family home. Harrison says the band dressed in tuxedos and black bowties and did a lot of choreographed "fancy foot work" as part of the show.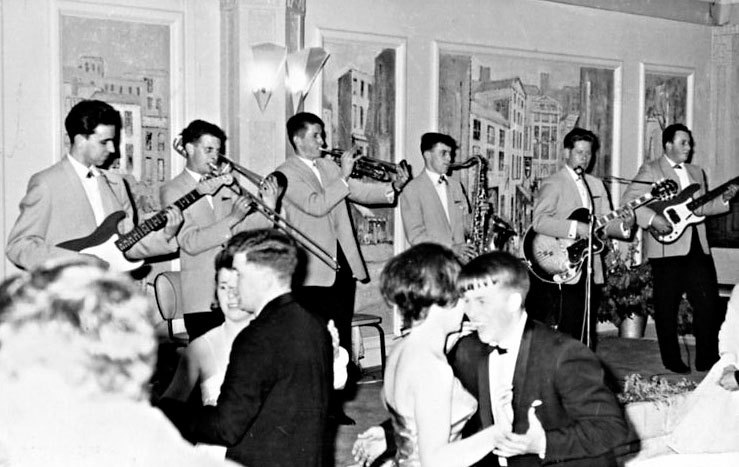 While they tried to keep up with the sounds that suited their style, radio stations were now shifting their playlists away from Acker Bilk and Bert Kaempfert. The new rock and roll teen idols were Bobby Vinton, Pat Boone, Gene Pitney and Elvis Presley and harmony groups including The Four Seasons and The Beach Boys. It was the time of Chubby Checker and 'The Twist' and 'Limbo Rock', Dion and 'The Wanderer', Del Shannon's 'Runaway' and Booker T & The MGs' 'Green Onions'.
Harrison says The Flares were a great backing band for visiting overseas artists and local singers including Tommy Adderley and Ray Woolf. But in 1963 when The Beatles came out with their first New Zealand hit singles, 'I Want to Hold Your Hand' and 'Love Me Do', and their debut album Please Please Me there was a sense that the big band days were over.
"We were doing a double billing in New Plymouth with Bari & The Breakaways. Every time The Breakaways came on with their Beatles numbers the crowd went wild and were dancing. When we came on they sat down. I said to Maurice, we really need to be doing something different."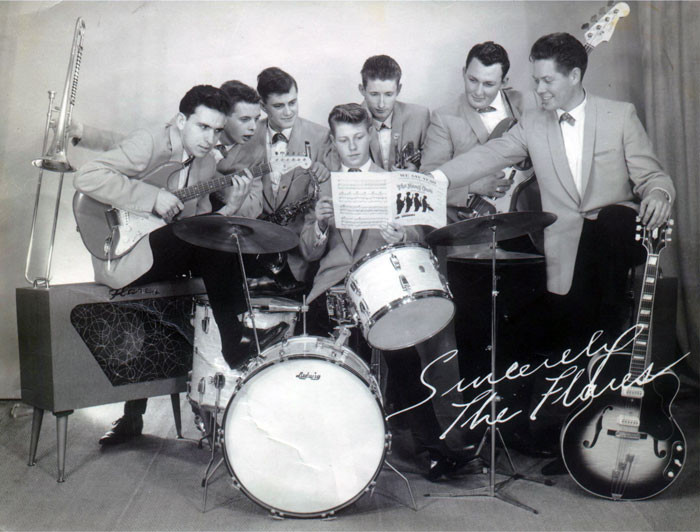 A decent live venue
Greer and his two older brothers Frank and Barry had been talking about the lack of decent live entertainment venues in Palmerston North. While regular dances were hosted by a couple of local entrepreneurs, there were no regular band venues.
They were thinking beyond the Broadway Milk Bar where the Bodgies and Widgies hung out to listen to the jukebox and the small Nicoberg coffee lounge, which often featured folk and pop acts.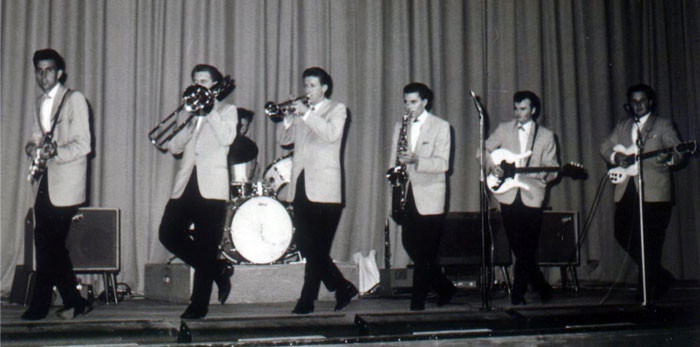 The Greers leased a building at the back of a car yard behind the Regent Arcade in King St. They imagined a coffee bar in front with the rest of the building curtained off to open as a nightclub on weekends with a full stage and a dance floor. Their mum Thora became the main investor in this new enterprise.
The day they were putting the final touches to the Flamingo coffee bar and nightclub they heard on the radio that president John F. Kennedy had just been shot – it was 22 November 1963.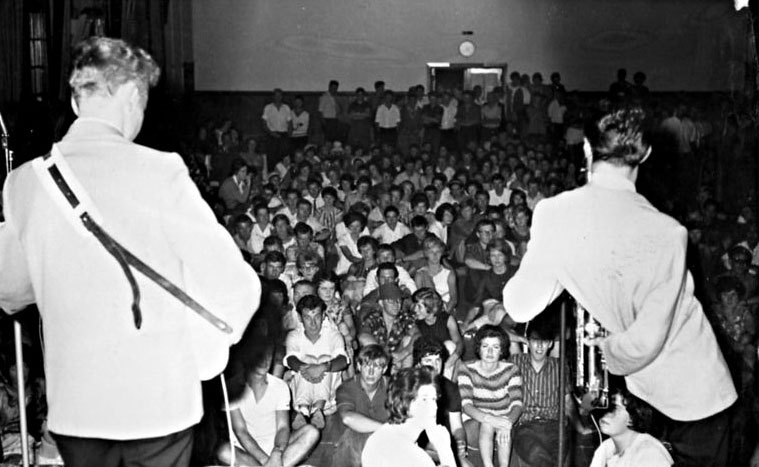 The Flares Show Band played on opening night but it was also the farewell performance for Maurice Greer and Trevor Harrison, who along with Peter Knowles had formed a new group to take the residency at the Flamingo. The Big Three played most weekends with other featured artists, including local band The Cyclones and singer Shane.
The Big Three wore gold suits with black lapels designed by the seamstresses at James Ladd menswear. They played The Beatles, Rolling Stones, Turtles and other more contemporary pop hits of the time.
Peter Knowles, an impressive player who had two Gibson guitars, selected much of the repertoire. It was this unit that featured Greer's stand-up drum kit for the first time – he reckoned it was much better for his vocals.
TV and homemade pies
The Flamingo coffee bar was renowned for the homemade pies, baked by Greer's grandmother and delivered piping hot by Morris Minor from the family's Terrace End home in time for the evening meal.
"We bought one of the first black and white TVs in the country. We'd turn it on at 6pm when transmission began and people would stay there during the week until 10pm when the only channel shut down. They'd have a pie and coffee and watch The Munsters, Mr Ed, Car 54 Where Are You or the Lucy Show," says Greer.
The Flamingo became a popular meeting place for locals. After paying their six-shilling entrance fee the dancing would begin. Strong friendships developed so that it became more like a youth club. Outings were arranged to other clubs or special events and visitors and friends from all over the country would arrange return outings to the Flamingo.
If there was strong enough interest in a concert Frank Greer would hire a bus and they'd head off to Whanganui or down to Wellington. When The Beatles arrived in June 1964 after five UK hits and two No.1 hits in the US, there were 7,000 screaming fans waiting at Wellington airport.
A busload of regulars from the Flamingo was in the audience for the Wellington concert and a few months later another busload turned out for the PJ Proby concert.
The Big Three struck a deal with New Plymouth-based Bari & The Breakaways (featuring Midge Marsden) to occasionally swap venues. They played the Taita Bay Youth Club, the Hideaway and Teen-a-Rama nightspots in Wellington and dance halls in other towns. They also did some radio backing for teen idol Mr. Lee Grant but never made a record themselves.
Queues down the street
"People used to say rock and roll was a bad thing but it was no worse than today. I think it was good and when The Beatles came out that really made the Flamingo," says Frank Greer. The bands would play Beatles songs and at 8pm there were queues down the street with people waiting to get in."
He says it didn't matter who was playing, the same people would come every weekend. Although some would sneak in a bottle of booze, Frank says it was more about friendship with milkshakes and fruit juice.
"They were innocent times. There was no such thing as drugs and there was no fighting or violence or screwing around. We were like a happy family really. It was kind of a cult thing. I've never drunk, smoked or had drugs. I'm a rare specimen in this world," recalls Frank Greer.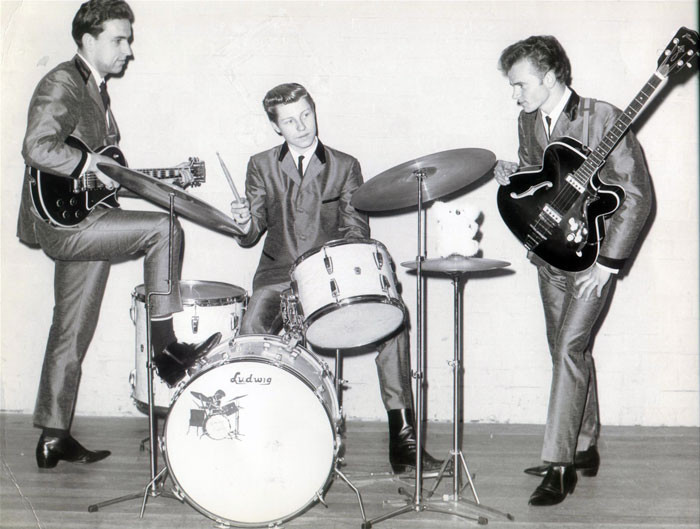 By this stage The Big Three had established a strong reputation for themselves outside of Palmerston North and while there was plenty of demand for their brand of music, guitarist Peter Knowles had his sights set on a more stable career. He joined the police force and literally hung up his guitar.
Local musicians were horrified with the news he'd drilled a hole in his Gibson Les Paul, put a clock in it and hung it up on the wall in his lounge. "Today it would be worth thousands as a collector's item," says Trevor Harrison.
Saints march in
In 1965, with Peter Knowles gone, that was the end of the Big Three so Maurice Greer and his brothers urgently needed to put together a new unit. While the big bands on the Palmerston North scene in the early 1960s were The Cyclones and The Flares, The Cavaliers had built a reputation playing Shadows-style guitar music on the youth club and dance circuit. Band leader Roy Ingram, who had previously formed The Ambassadors, was on guitar, Billy Western was on drums and Mike Long on bass. They soon added 16-year old Dave Hurley on second guitar and in 1965 Doug Rowe and singer Winston Cardinal joined and the repertoire quickly changed to include Rolling Stones and Beatles numbers.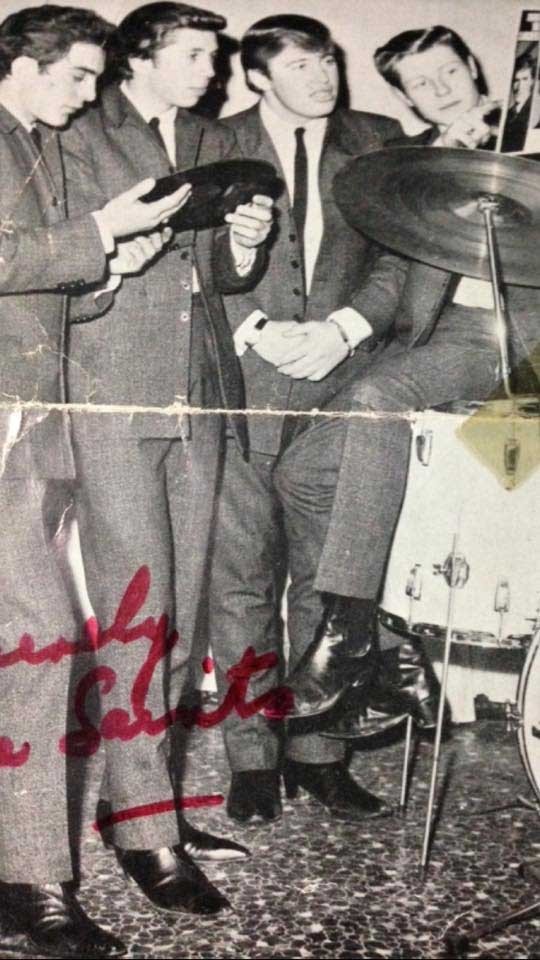 Within six months Doug, Winston and Dave had been approached to join Greer and take over the old Big Three residency at the Flamingo nightclub. "It was an offer we couldn't refuse," says Hurley. Now called The Saints, they were in hot demand around the lower North Island and after playing a few gigs in Auckland, Greer was poached by The Four Fours.
Hurley joined his friends Bari & The Breakaways in Wellington in January 1966 just as Midge Marsden left to join the army for three months. When Midge returned the band went on several tours and completed two albums. Doug Rowe went on to join Australian chart toppers Flying Circus while The Four Fours, on their way to England in 1966 morphed into The Human Instinct.
After the Flamingo closed in 1966 Frank Greer opened Rickie's, just down the road. After a period of managing The Human Instinct he moved to Auckland, outfitted and ran a series of clubs including Granny's, Grandpa's and Hatchets, and then Christies in Christchurch. His interest in building small mobile stages to hire out for various functions began to be quite lucrative. Today Frank runs Melbourne-based World Stages, building and setting up massive stages for chart-topping performers and travelling shows all around the world.
Read Pioneering Palmerston North Pub players - part 2 - here