Paul Hewson arrived in Sydney in July 1975 with little more than the clothes on his back and a headful of music. He hardly knew the men in Dragon he'd left his pregnant wife and son in New Zealand for, but he knew this was his time.
Nobody could have predicted the impact his songwriting would have, not just on the band, but on Australian music over the next four years. Even Dragon guitarist Ray Goodwin, who had jammed with Paul in Auckland and introduced him to the band, wasn't aware just how prolific the 22-year-old pianist was.
Dragon's rise to the top of the Australian pop scene coincided with something dark and sinister.
But Dragon's rise to the top of the Australian pop scene coincided with something dark and sinister, and the band's New Zealand manager would unwittingly put Dragon directly in its path.
Arrival
From the outside it looked as though Dragon had landed on their feet since arriving in Sydney in May. Several of the city's movers and shakers had shown up at their debut gig at the Coogee Bay Hotel and the band had opted to go with Wayne De Gruchy, who also managed John Paul Young.
The day of Paul Hewson's arrival, De Gruchy had Dragon at EMI to record Ray's 'Star Kissed'. The song didn't catch on with record buyers, but was there ever a more prophetic refrain than "Sooner or later/You know we're gonna/You know we're gonna get you"?
Undeterred, the band rehearsed and wrote every day. The first songs Paul put forward were 'Life Has Just Begun', which Cruise Lane had demoed two years earlier, and the epic 'Dance', which though never recorded would be a staple of Dragon's live repertoire for the rest of the decade.
Back in Auckland on August 18, Paul's wife, Angelique, gave birth to a daughter she named Syreeta, a little sister for Daniel, now three. About six weeks later, they joined Paul in Sydney, but the reunion was not as welcoming as the young mother had hoped for.
The shared accommodation and sleeping hours of the musicians, including Paul, were anything but conducive to the sleeping patterns of a baby, and Angelique would rise early and take the children on long outings to Centennial Park.
Paul had become especially tight with Dragon's singer Marc Hunter, who had run the gauntlet from Tom Jones to Jim Morrison in the two years since joining the band. Both men shared a similar cruel sense of humour, and Marc's larger-than-life persona would come to be equally as important to the band as Paul's songs.
When they weren't egging each other on, Paul and Angelique would hang out with guitarist Robert Taylor and drummer Neil Storey. Dragon's founding members – Marc's older bass-playing brother Todd and guitarist Ray Goodwin, who struck Angelique as a stylish Bryan Ferry type – remained relatively separate.
Wayne De Gruchy scored a coup for the band when he secured them the support slot on the Status Quo tour of Australia that October. There was an inauspicious start to the trip when Paul and Robert stole a bottle of Scotch from the Quo dressing room during the first gig at the Hordern Pavilion.
When the Quo entourage left Perth to fly back to Melbourne later in the month, De Gruchy had lost interest in Dragon and they were broke and stranded at the White Sands Motor Hotel in Scarborough. Paul had pretended to go play the piano in the hotel only to sneak into the kitchen and steal a chicken to feed the band upstairs.
Luckily, Dragon's Vertigo labelmates Buffalo checked into the White Sands and their manager Sebastian Chase – who Marc had already tried to convince should manage Dragon prior to De Gruchy's involvement – persuaded the Perth promoter to pay Dragon's airfares back to Sydney.
The band took any work they could get – clubs, pubs, lunchtime high school gigs, nature strips, ice rinks – and Marc learnt quickly how to manipulate any crowd. Occasionally they would take the train to a gig out of town, singing songs to the girls on board for food.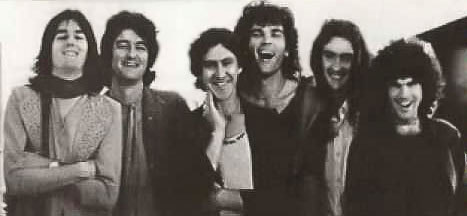 Mr Asia syndicate
On returning from one such trip, Dragon found they had acquired a housemate in the form of rock music fan Greg Ollard. The band's New Zealand manager Graeme Nesbitt, who bought and sold cannabis with Ollard in Wellington, had offered him temporary board with Dragon while he settled in Sydney.
He was the lieutenant in a drug ring that would become known as the Mr Asia syndicate.
Ollard was likeable and flush. What the band didn't immediately know was that he was the lieutenant in a drug ring that would become known as the Mr Asia syndicate and would soon have Sydney awash with heroin. Paul Hewson, Marc Hunter and Neil Storey were about to find out very quickly.
When he moved to a small flat in Kings Cross, Ollard threw parties sporting free smack and tequila, where he passed around photos of an ex-girlfriend doing unspeakable things to a German shepherd.
For Paul the temptation of a free taste was too great. As a nightclub musician in Auckland, he'd enjoyed alcohol, had tried LSD and wasn't afraid to pop any pill offered without even asking what it was. Heroin seemed a natural progression and he initially started snorting it.
Ollard would occasionally buy Dragon food, drinks or petrol and when the band's gear was stolen he offered to buy new equipment but Todd Hunter would have none of it, preferring an HP agreement with Farrell Music. Paul, Marc and Neil were careful to keep their new pastime away from Todd.
Paul's other obsession of the time was chess. He had always been keen on the game but now it was all encompassing. He bought book after book and played all day and night with anyone, even playing for money against the old Greeks and Russians in Hyde Park. These games weren't for the faint-hearted and Paul would often win.
The simmering tension between Ray Goodwin and the Hunter brothers came to a head at the end of 1975. Ray and Todd had played together since 1970 in bands such as OK Dinghy, Anteapot and Staff before forming Dragon in 1973 and being joined by Marc.
Resentment had been building between Ray and the Hunters for some time – familiarity, stale creativity – and Ray had not been looking forward to returning to share accommodation with them and starting again in Australia after two successful albums at home.
For Todd the parting was inevitable – Ray's theatrical, Split Enz approach at odds with the rest of the band's pop direction. The Hunters called a meeting, Ray called them fat bastards and he was sent packing.
At least it got him away from the clutches of Greg Ollard and his shiny white powder. A woman on the periphery of the Dragon circle called Donna Shaw would later tell police that Ollard had boasted to Neil Storey and herself of killing a woman and dumping her in Sydney Harbour.
Although the weighed-down body of Melbourne dress designer and suspected drug courier Maria Hisshion had been recovered from Sydney Harbour in January 1976, New South Wales police never investigated Shaw's allegations.
Todd Hunter moved into a boarding house in Edgecliff to get away from all the drama but one by one the rest of the band followed him. When the German manager went away overseas he left Paul in charge. His duties included checking in tenants, distributing keys and supervising cleaners.
Recovery Wine Bar
The band was now under the wing of concert promoter and former Ticket manager Robert Raymond, who saw them as a down-under Rolling Stones. He had them playing Monday nights at the Recovery Wine Bar in Camperdown in early 1976 for hardly any money but plenty of mince.
It was here that Ariel leader (also formerly of Chants R&B) Mike Rudd caught Dragon and told his producer friend and CBS A&R director Peter Dawkins that he should catch the band. Dawkins visited the Recovery on three consecutive Mondays, the last time taking along the president of CBS, Dick Asher.
Dawkins would later recount, "Dick Asher was in town and he'd given me the brief of getting something happening, and the only thing I'd found was Dragon at this point. So I took him down to the Recovery Wine Bar.
"The charisma was there and the songs were there and it was just like hearing one hit song after another."
– Peter Dawkins
"So you've got all these limousines pulling up out front of this scungy old wine bar and a band with just Marc Hunter standing out the front being the real smart arse, as he always was. But the charisma was there and the songs were there and it was just like hearing one hit song after another. And Dick Asher said, 'Good boy! Good boy!' So we signed them."
But there were immediate clashes between Dawkins and Dragon's manager Robert Raymond. During a brief stint at Festival Records Dawkins had seen Raymond's influence over his charge Billy Thorpe turn the entire company against Thorpe and he envisaged the same thing happening to Dragon at CBS.
Dawkins listened through the band's repertoire, which included most of the songs that would end up on their first album, and decided Robert Taylor's 'Wait Until Tomorrow' was the best option for their CBS debut. The song had already been released as a single in New Zealand four years earlier by Robert's former band Mammal. The B-side would be Paul Hewson's complex 'Show Danny Across the Water'. The single was not a success.
But the tide was about to turn. With two singles for two different companies having gone nowhere, Dragon knew they wouldn't get many more chances, so when Robert Raymond locked them all in his office and told them to come up with a hit song by morning they delivered 'This Time' and 'The Dreaded Moroczy Bind', named by Paul after a chess pawn formation.
Raymond rang former Band of Light and Buffalo manager Sebastian Chase to see if he would be interested in going into partnership in managing Dragon. The band had no money and little prospects and Raymond was planning a move to Los Angeles with Billy Thorpe.
With Raymond out of the picture, Chase went to the band and told them a partnership was tough to run when there was no money coming in and no partner to help. He said either he could bail and they could stay with Raymond, or Chase could take sole control. The band decided to go with Chase.
One of his first meetings as manager was a run-in with Dragon's self-proclaimed "sixth member" Greg Ollard at the Bondi Lifesaver. Unaware of the type of character he was dealing with, Chase told Ollard that he had no interest in him as a co-manager.
'This Time' was recorded with Dawkins, complete with big harmony vocals from Air Supply, and released in September. The producer and Chase believed the song was a hit and Dragon were hopeful they were right.
Just a week or so after its release, on September 20, Chase received a phone call from Todd Hunter – "Neil's dead." It took several seconds for Chase to process the words. Neil Storey, the unassuming, healthy 22-year-old Dragon drummer was dead from a heroin overdose. It was the first indication of the deadly pursuits some of the members were engaging in.
Though thoroughly horrible, Storey's death served to strengthen Dragon's resolve. "Fuck this, bring it on" became their mantra. Todd called their New Zealand manager Graeme Nesbitt, who sent over Robert Taylor's old Mammal bandmate Kerry Jacobson as a replacement drummer.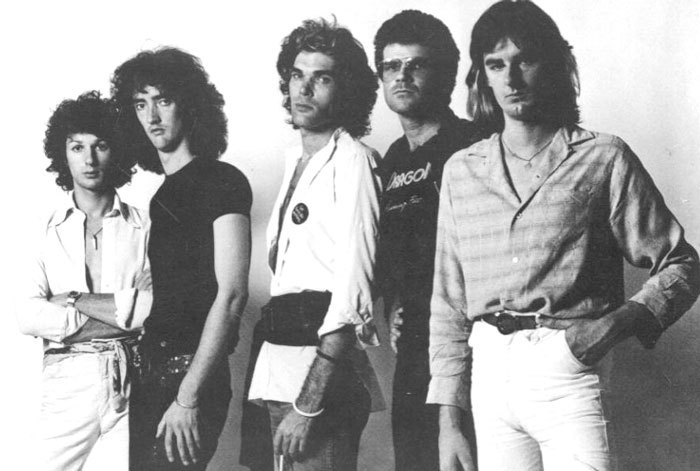 In a move designed to distance Dragon from their vices, Chase immediately got the band out of the Eastern Suburbs to Church Point in the Northern Beaches. It further isolated Angelique Hewson and her children, who were penniless and without transport .
Her relationship with Paul had deteriorated and he had become selfish and abusive, drinking heavily but keeping his drug addiction secret. Music was his focus and he was committed to advancing Dragon – a wife and two small children were contrary to such ambitions.
Paul would turn up with just the clothes on his back and his Globite school case, which usually contained something to read, a chess set and his medication.
The band set about rehearsing their new drummer and Paul had written a new song called 'Sunshine' in honour of his late friend Neil Storey. He envisaged it in the Joe Cocker/Grease Band style, but the rest of the band interpreted it differently.
Surprisingly, Neil Storey's demise did nothing to quell the bad habits of Paul and Marc, and Kerry was already being led down the same path – the trio were guests at Greg Ollard's big house in Frenchs Forest where drugs were piled on the tables, people were walking around with straws and the heroin was free.
When 'This Time' peaked at No.26 on the Australian chart in November, Dragon were on their way. So began a monthly grind of one week in Melbourne, one in Adelaide, one in Brisbane and one home in Sydney. It also meant seeing less of Greg Ollard, who would disappear in 1977, and was later revealed to have been executed by Mr Asia boss Terry Clark.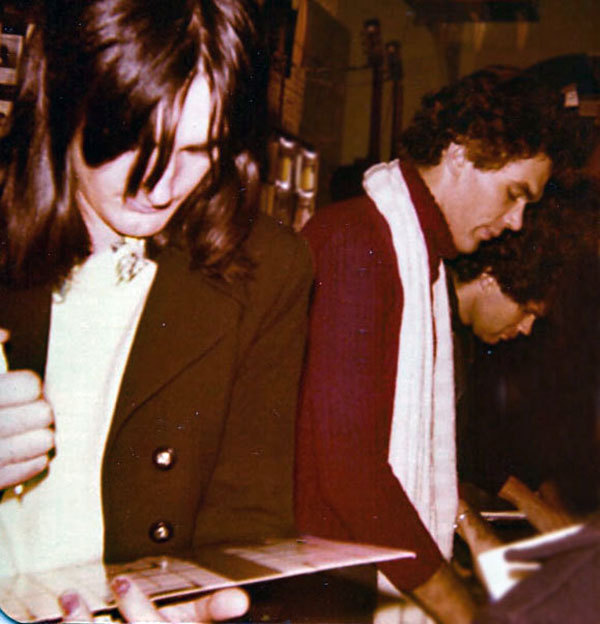 Marriage breakdown
The primitive existence mostly alone in Church Point was a clarion call for Angelique Hewson and early in the new year she had her parents send money to get her and the children home to New Zealand. She gathered her meagre possessions and caught a bus to a grotty Bondi motel.
She had no money and no food except for two cans of baked beans. Dragon were playing in Camperdown and Angelique took Daniel, four, and Syreeta, 18 months, and stood amongst the audience, unbeknownst to the band.
The next day Paul appeared at the motel with a bottle of wine, which he drank while telling his wife the breakdown of their marriage was her fault. It became evident his reverse psychology wasn't going to work, that Angelique and the kids were gone.
He did later send her a copy of the Boz Scaggs LP Silk Degrees with something for the children, but he made no attempt to stay in contact besides a visit maybe once a year.
Now he immersed himself in Dragon, bringing a bohemian touch to life on the road. While the others would appear with overfilled bags, Paul would turn up with just the clothes on his back and his Globite school case, which usually contained something to read, a chess set and his medication. When he deemed the clothes he was wearing were past their use-by date he would buy a new outfit and leave the old one behind.
The late nights, long hours travelling and bad habits had also aggravated the hereditary scoliosis in his back. He had been born with a prominent curvature of the thoracic spine accompanied by rotation of the vertebrae, but it wasn't felt the condition would cause any later problems for a healthy person.
In March, Dragon headed into the studio to record their debut album with Peter Dawkins. Paul contributed 'Same Old Blues', 'Sunshine', the next single 'Get That Jive' and 'New Machine' in addition to his contribution to 'This Time'. From early on, Dawkins regarded Paul Hewson a genius composer.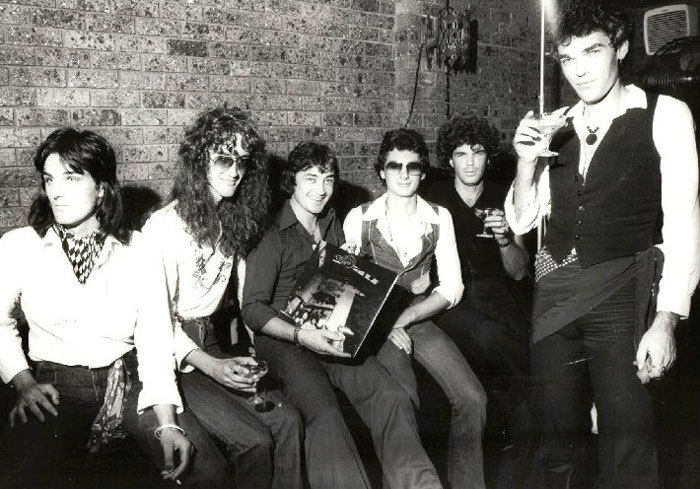 But Dragon's, particularly Paul's, opinion of their producer's work was anything but flattering. When the Sunshine LP was released in June it sounded so small to the band, not at all like the huge live juggernaut they had become. Paul coined the phrase "ant music" to describe how Dragon sounded on the radio.
The chart action also saw them a frequent attraction on the ABC's weekly pop show Countdown.
There was no denying Dawkins' track record, though, or the fact the Australian public were snaffling up the band's singles and album. The chart action also saw them a frequent attraction on the ABC's weekly pop show Countdown.
On the day of filming, Dragon would fly to Melbourne, arriving at the studios at 10am, endure three rehearsals and mime to the song, Kerry fluffing drum fills on muted drums and plastic cymbals, Robert and Paul playing wrong chords and only Marc's vocals being taped live. On one later date Paul appeared to "play the piano" in mittens.
The Countdown appearances saw attendances to their gigs explode, although the crowd were often confused when the bright, shiny pop stars from their TV screens came across as a dark bunch of degenerates with a shirtless frontman who whipped people with a riding crop.
Dragon were becoming well known for their "us versus the world" mentality, and at the forefront of that were Marc and Paul constantly trying to outdo each other in every field from their drug intake to their songwriting. They were as thick as thieves with enormous confidence, both bright and extremely funny and cynical.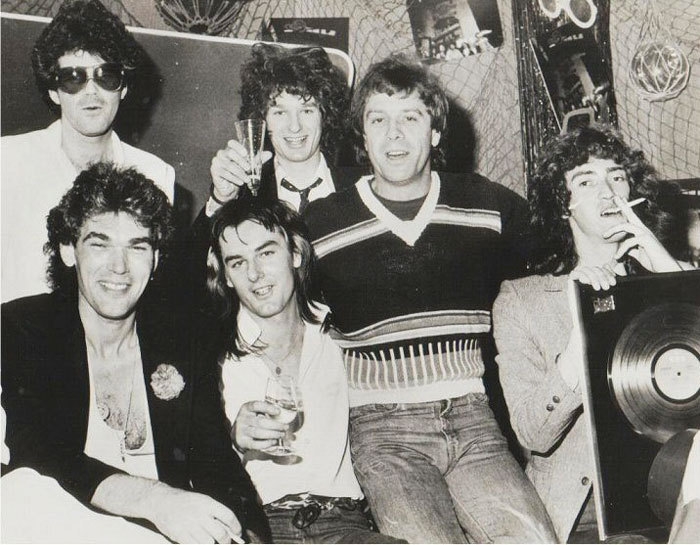 Not long after the release of Sunshine, while Dragon were touring with Sherbet, Paul and Robert were passengers in a car that was hit by a truck in South Melbourne. Robert was thrown out the door, smashed his head and scooted along the road while Paul suffered whiplash and a fractured shoulder.
While Paul was discharged with his own bottle of morphine the next day, Robert spent a week in hospital with a deep cut to his forehead and the driver of the car, his girlfriend Sue Lindsey, suffered broken ribs and a punctured lung and endured a much longer stay.
Meanwhile, Peter Dawkins had secured Dragon an American record deal. On a trip to the CBS convention in London in June, he'd placed a 4.5-minute slide presentation of Dragon, using 'This Time' as a soundtrack, after presentations from Argentina and Japan.
All the American A&R people liked what they heard, despite having turned the band down only a week or two earlier when Dawkins had circulated test pressings. The most appealing was Portrait Records, a relatively new, exciting label whose first signings were Joan Baez, Burton Cummings and Heart.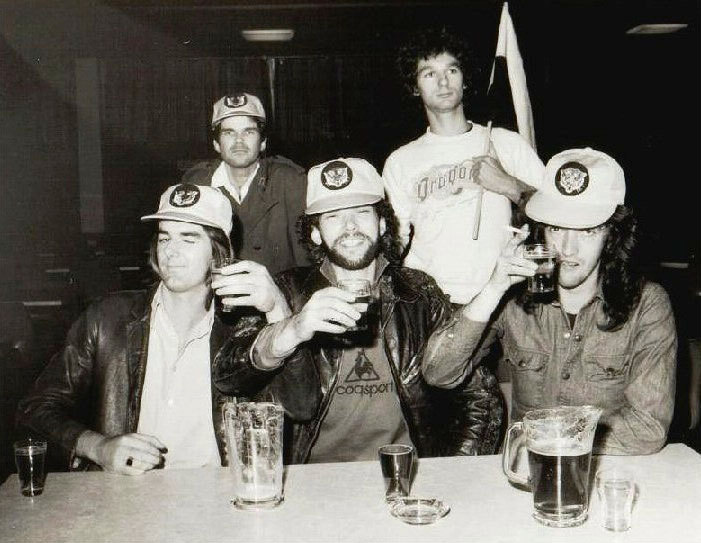 The news was met with typical Dragon indifference. "Who gives a fuck?" Dawkins waited until attending the CBS US convention in New Orleans in late January to clinch the deal, when Portrait also offered him a job as their A&R director.
Dragon's second Australian LP Running Free was released in time for Christmas 1977. Paul's contributions included his most personal lyric in a ballad to his estranged wife called 'Since You Changed Your Mind' and the rocking 'Any Fool Can Tell You'.
One of the songs, 'Shooting Stars', was written by Paul in about half an hour. "Everybody went out for lunch so I sat at the piano and came up with it," he was quoted in the Sydney Morning Herald. "On the original demo track Marc plays drums, Robert is on bass and I sang – dreadfully, but with feeling."
April Sun
But the album's runaway smash was 'April Sun in Cuba', a title straight out of one of Paul's chess books. During the world chess championship match between reigning champion German mathematician Emanuel Lasker and Cuban challenger José Raúl Capablanca in Havana in April 1921, Lasker contributed a weekly letter to Amsterdam's De Telegraaf newspaper.
In his column of April 4, he wrote of his first loss, "On this occasion, the Cuban sun was to blame. It had intoxicated me." A week later he suffered his second loss and wrote, "My fatigue, however, has a physical origin; it comes from the heat and the glare of the April sun in this country."
Written with help from Marc in the verses, Paul had the idea of heavy, sluggish AC/DC guitars but the band turned it into almost a polka. The first time Dragon played 'April Sun in Cuba', at the Rooty Hill RSL, the audience went berserk and the band knew they were onto something.
And Peter Dawkins gave it the full treatment. He later said, "They did the usual in and out of the studio, and after they left I put the jungle noises on the front – sort of sped-up and slowed-down jungle noises – I put steel guitar and strings going 'boing'. I thought they'd be very happy with it, but of course they were very shocked when they heard it, and they said, 'We're not gonna promote that record,' and I said, 'Well, everybody loves it.'"
'April Sun in Cuba' spent three weeks at No.2 in the Australian singles chart but couldn't dislodge Wings' 'Mull of Kintyre' from the top spot.
Complete with a video by Russell Mulcahy, 'April Sun in Cuba' spent three weeks at No.2 in the Australian singles chart but couldn't dislodge Wings' 'Mull of Kintyre' from the top spot. It was Dragon's first chart entry in New Zealand, reaching No.9.
They embarked on a massive three-month-long Australian tour to promote Running Free. The band displayed their by now common duality – one night brilliant, the next a shambles – and reports abounded of roadies discharging rifles, a yacht being looted and Mini Mokes being written off on Magnetic Island, not to mention Paul and Marc's alleged $200-a-day heroin habits.
But it wasn't all sex, drugs and rock'n'roll, there were long hours on the bus and endless motel rooms. Paul and support band Finch's bass player, Mark Evans –recently sacked from AC/DC – had ongoing chess games during the tour where Paul rarely got out of cruise mode.
Paul had also found a new hobby in building model airplanes, starting with a small balsa kit set, graduating to something bigger with a rubber band-driven propeller and culminating with a massive petrol-engine, radio-controlled behemoth with a two-metre wingspan.
When the massive plane was finished, Todd Hunter insisted the propeller Paul had bought was too small. "It's never going to fly. The prop's too small," he opined. When the coach broke down in the middle of nowhere, Paul fired up the engine, took hold of the radio-control and instructed the tour manager to run along the paddock and launch it skyward.
The plane rose briefly into the air before taking an immediate nose-dive into the ground. Several unsuccessful launch attempts later, the aircraft had sustained too much damage. The mechanic turned up, fixed the bus, and Paul's model-making career was ended.
His acerbic nature saw him on the receiving end of a Mark Evans headbutt at a Portrait Records bash to celebrate the success of 'April Sun in Cuba', where Paul told the former AC/DC bassist he'd never met a bass player that he liked and that The Doors were his all-time favourite band because they didn't have one. Ironically it was the Dragon bassist, Todd Hunter, who pulled a still punching Evans off Paul.
Dragon came off the road to record the O Zambezi album with Peter Dawkins at EMI's Studios 301. Paul had some finished songs but was still writing at his piano, which had been set up behind isolation panels in the corridor leading to studio B.
Still In Love With You
One of the songs was the country-tinged 'Still In Love With You', which Paul had intended to be his lead vocal debut for Dragon. But Peter Dawkins had other ideas. Although Paul's dry nasal twang was used extensively in backing vocals on O Zambezi, the producer didn't rate him as a lead singer.
Paul persisted so Dawkins agreed to record a lead vocal track from Paul and one from Marc and leave the decision to Portrait Records, who Dawkins would join in Los Angeles as A&R director at the conclusion of recording, when the album was mixed at Studio 55 in LA. Of course Paul Hewson's singing was no match for Marc Hunter's.
The other Hewson compositions on O Zambezi were 'Civilization', 'Midnight Groovies' and the song that would become Dragon's only Australian No.1, 'Are You Old Enough', apparently inspired by a real-life carnal knowledge bust in Blackwater, Queensland, during the Running Free tour.
The O Zambezi production was met with the usual Dragon disdain, Paul even taking the extreme action of ringing Dawkins in Los Angeles to say he wouldn't promote the album unless it was remixed. Dawkins resisted and the album rose to No.3 on the chart while 'Are You Old Enough' was the only Australian-recorded No.1 of 1978.
Dragon were now poised for the big push from Portrait Records in the United States, where initial plans of tours supporting either Electric Light Orchestra or Heart had lessened to a six-week tour opening for The Johnny Winter Band through the southern states.
On the eve of the trip, Paul opened up about his songwriting in a feature on the band. "I always knew I'd be a good songwriter," he said. " I guess I'm incredibly big-headed. I do have a large ego, but I'm not egotistical; being egotistical is thinking you're better than you are. In my case, I know how good I am.
"Songwriting is, to me, a two-part process. You've got to try and find the right balance between inspiration – which stems from the spiritual side of man – and technique, which is the physical programming of the body – the heart and the hands, if you like. I'm also very aware that it's hard to find the balance between business and art. You do have to be commercial to appeal to the masses," he concluded.
The scene was set for the US trip when Paul and Marc Hunter immediately sought out Hello Sailor's pad in the Hollywood Hills.
The scene was set for the US trip when Paul and Marc Hunter immediately sought out Hello Sailor's pad in the Hollywood Hills. By the time Dragon manager Sebastian Chase arrived two days later, Marc had been throwing up so much as a result of his heroin intake that he'd damaged his throat.
US trip
By the fifth show of the 52-date itinerary, Marc Hunter could only croak. The crowds across the South would one minute be cheering a terrific blues-tinged Robert Taylor guitar solo and the next booing the singer who couldn't sing. And a band whose big number was 'April Sun in Cuba' was never going to make inroads in the States even 16 years after the Cuban missile crisis.
At the tour's conclusion – with Marc's lack of voice, his suggestions to the Texan audiences that John Wayne was a fag and his poor-taste jokes about the fact oral sex was illegal in the state still fresh on their mind – the rest of the band convened for a secret meeting and decided to sack their frontman on their return to Australia, as much for his preservation as the band's.
Dragon without Marc Hunter was always going to be a hard sell. The band decided to replace him with two singer/musicians – Perth saxophonist Billy Rogers, who was Paul and Robert's choice, and Melbourne electric violinist Richard Lee, who had played on the two tracks on O Zambezi Todd Hunter had had a hand in writing, 'Politics' and 'Company'.
Portrait Records dropped the band, the band dropped their entire repertoire and started covering everyone from Sonny Boy Williamson and Marvin Gaye to Ian Dury and Frank Zappa, and their audience dropped off nearly as quickly.
Paul's health was deteriorating to the same extent that had brought Marc's dismissal. Even a blossoming romance with the young Jessica Kenny, who had come into Dragon's circle as Billy Rogers' girlfriend, couldn't halt Paul's downward spiral.
Of Polish descent, the blue-eyed Jessica arrived with a copy of Arthur Janov's The Primal Scream, which Paul decided to read, leading to deep discussions about his childhood, his divorce from Angelique and the pain of being separated from his children Daniel and Syreeta. The more they talked, the more infatuated they became.
Despite the love triangle, Paul was intent on making the new Dragon line-up work as a recording entity and encouraged Billy as a collaborator. "You're going to be singing this, so you come up with some words," he told the singer.
But the first single was a solely Paul Hewson song, 'Love's Not Enough', sung by Billy Rogers. When it came time to film the video, the band drifted in for an early morning start but there was no sign of Paul, who was sick in bed.
He phoned the CBS artist development and relations manager John Sackson and said unless he got $5,000 he wasn't going to come to the shoot. A young, energetic industry rookie, Sackson wouldn't tolerate being held to ransom and decided to go and get Paul from his Bondi flat.
The record executive found Paul beneath a sheet on a broken three-legged bed, pale, slurring and unable to communicate.
The record executive found Paul beneath a sheet on a broken three-legged bed, pale, slurring and unable to communicate let alone participate in the filming of 'Love's Not Enough'. Sackson drove back to the studio dreading the prospect of going to his bosses with no Dragon clip.
As a last-ditch effort to save cancellation fees, Dragon came up with an idea. "You play Paul Hewson," they told Sackson. "We'll dress you up in the traditional Paul Hewson coat and hat." "Yeah, right," scoffed Sackson.
Before he knew it, the young executive was in an oversized coat, a cigarette hanging from his mouth, plonking away on a Fender Rhodes he had no idea how to play, with the film crew under orders not to get any close-ups.
At the following Monday's CBS A&R meeting, Sackson joined the rest of the CBS executive, who had no idea of Paul's absence, for the debut of the new Dragon clip. The performance was met with applause, smiles and goodwill but one lone voice spoke up.
Peter Dawkins had returned to CBS after an unhappy stint in LA with Portrait. "Something's not quite right. Play it again," said the man who had produced the track and had an intimate knowledge of Dragon. "Jesus, that doesn't look like Paul Hewson." Sackson came clean and the video was released.
Having spent some time getting himself healthy, Marc Hunter was a frequent visitor to Paul and Jessica's Kellett Street, Kings Cross, flat, often when one of the two men were feeling inspired. They wrote 'When You Walked Into the Room' for Marc's debut solo album Fiji Bitter and rewrote but never bettered the old Cruise Lane demo 'Good Guys Never Die' for the follow-up Big City Talk.
The torch ballad 'Lovesick', which would become one of Paul's favourite songs, was also written during this period, with Todd Hunter's wife and songwriting partner Jenny Hunter Brown assisting with lyrics.
Producer Peter Dawkins was enthusiastic of what the new Dragon line-up could achieve on record as they convened at Studios 301 to record a new album. Paul had returned to the tough Band-like writing style he had employed with the Murray Grindlay line-up of Cruise Lane in Auckland in the early 1970s.
The Hewson contributions to the Power Play album were 'Counting Sheep', 'Time Of the Year', both written with Billy Rogers, 'Crooked Highway' and a sixth share in the instrumental tour de force 'Gans En Farben', but he refused to play the synthesiser on Todd's '3:33', resulting in the band hiring Mi-Sex's Murray Burns. The album tanked.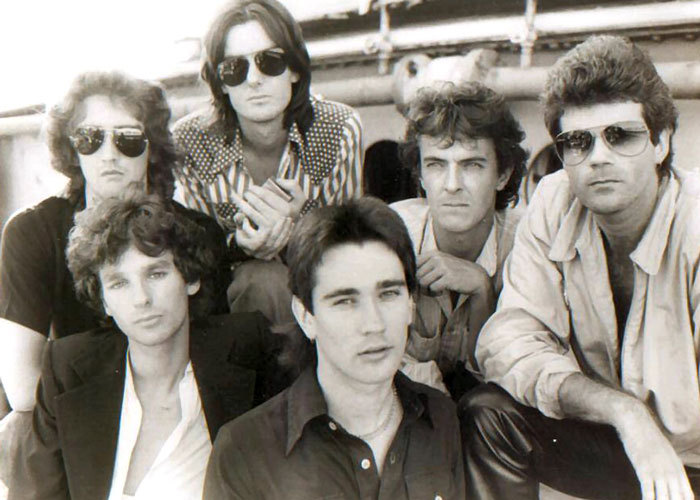 Not long after its release, Paul succumbed to hepatitis B and was admitted to hospital. He did, apparently, pull the drip from his arm and leap out of the hospital window to attend a special CBS presentation to Dragon at The Strata Inn in Cremorne for earning a million dollars in record sales. As Robert Taylor would later say, "He was never one to be left out of a free drink."
After receiving a royalty payment, Paul paid his way to Byron Bay to sit in with Hello Sailor for a few days. Sailor had been based in Sydney for most of the year and the guys and Paul had half-heartedly discussed him joining the band. He had added piano to 'Dr Jazz' on their Pacifica Amour LP the previous year.
There was a time when he received a hefty advance cheque from his publisher and proceeded to go about his business with it tucked away in his back pocket for weeks uncashed, much to the alarm of the company's managing director.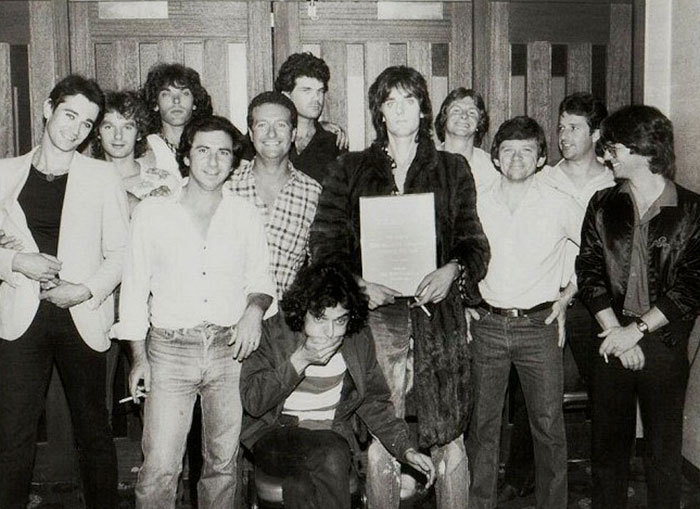 Dragon called it a day with a gig at Selina's on New Year's Eve 1979. The public had lost interest since the departure of Marc Hunter, although he had turned up as a guest at some shows later in the year, and the band's writers were pulling in different directions.
In the first few months of 1980, Paul and Jessica spent some time in Byron Bay, while Paul attempted to get healthy, before Jessica returned to her home town of Perth. Paul stayed some nights at Robert Taylor's, partied with Hello Sailor frontman Graham Brazier, may have visited Asia, spent time in Melbourne and even a few nights at former Dragon guitarist Ray Goodwin's. The deterioration in Paul's health, appearance and demeanour had Ray wishing he'd never brought the pianist into Dragon.
One morning around five o'clock, hot-shot Sydney guitarist Tommy Emmanuel awoke to a knock on his door and padded out in his pyjamas to find a weary Paul standing on the doorstep. "I've been writing some country songs and I want you to play on them. I wanna sing them to you." Tommy let him in and gave him a wine, Paul sang the songs and left, never to mention them again.
He wrote Hello Sailor guitarist Dave McArtney a letter suggesting the two of them form a no-frills pop band.
The Pink Flamingos
In April, he wrote Hello Sailor guitarist Dave McArtney a letter suggesting the two of them form a no-frills pop band where they could share the writing and singing duties. The two had been firm friends since the Pacifica Amour sessions and had found similarities in their writing styles. Dave looked up to Paul as a songwriter and sent him the airfare.
Before they could get the new band going, Paul needed an income. His arrival coincided with keyboardist Peter Woods' departure from Jilly's nightclub's resident band Woody. Club owner Maurice Greer (The Four Fours, The Human Instinct) was quick to snare Paul in the band that already included blues vocalist Beaver, Eddie Hansen (guitar), Paul Woolright (bass) and Hello Sailor's Ricky Ball (drums), the latter three all formerly of psychedelic rock band Ticket.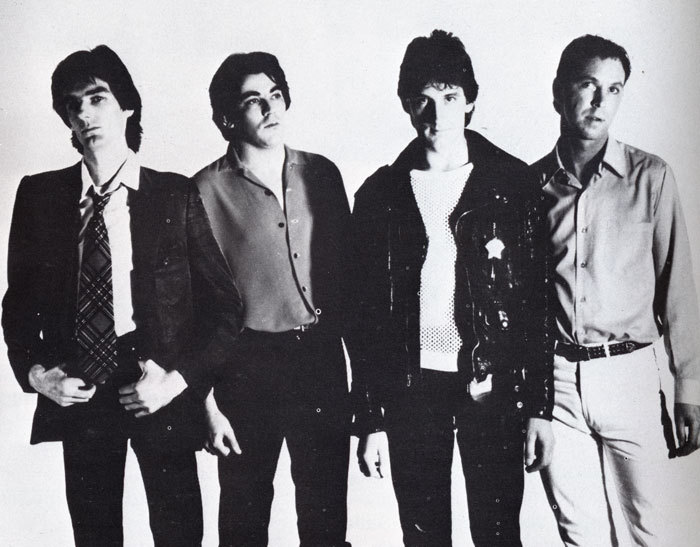 Almost immediately Paul orchestrated some clashes with Eddie Hansen and the guitarist left. Enter Dave McArtney, complete with a three-year, three-album solo record deal with PolyGram.
The band would play four nights a week till 4am and Paul would sometimes sleep at Ricky's place, the pair walking down St Marys Road from Ponsonby, howling at the neighbourhood dogs before waking up Ricky's wife and neighbours with Jimi Hendrix records at full bore.
After one early morning stroll down St Marys Road, Paul and Ricky made a pact they would do away with their materialistic lot and ceremonially burned their week's wages. Ricky's marriage was never going to survive the band and he eventually left to set up a clothing shop.
It turned out to be perfect timing as Street Talk were folding and Paul invited their drummer Jim Lawrie to join. There were further changes with Dave rechristening the band The Pink Flamingos and Beaver taking a break to receive treatment for nodes on her vocal cords. Her recovery took longer than expected and she never returned.
Paul had maintained a letter-writing campaign to Jessica Kenny in Perth and she joined him midyear. Tired from the flight, on her first night in town she passed on Jilly's and slept. But when she awoke alone in the Point Chevalier bachelor pad Paul and Dave shared, she set to work sweeping, cleaning the fireplace and throwing out newspapers. On their return, Dave freaked out while Paul found the situation hilarious. Jessica was made to promise to never clean the house again.
Jessica was a positive, calming influence on Paul, encouraging him to reconnect with his mother, his children Daniel and Syreeta, and also in entering a methadone program, although various types of pain relief for his scoliosis remained.
Paul also sought out his former Sam Harvey Animations mentor Dick Frizzell, whose career as an artist was taking off in the New Image movement. Paul would sometimes hang at Frizzell's Poronui Street, Mt Eden, home all day discussing why Dick wasn't doing "proper art".
And Dick had a secret passion – he was receiving bass guitar lessons from jazz great Kevin Haines, although Kevin couldn't hide his disapproval when Dick turned up with Sly and The Family Stone records to learn. Paul would humour the artist, playing boogie riffs on the piano while Dick noodled along on his bass.
Paul often played guitar at home, singing the folky originals he'd demoed as a teenager. He believed songs such as 'Cathy' and 'Had To Climb A Mountain' deserved to be recorded and a solo album down the track was something that appealed to him.
The Pink Flamingos continued to hone their sound, working on Dave's songs for his impending album during the day and getting tighter at Jilly's during the evening. They came across as powerful as Neil Young's Crazy Horse with a repertoire comprising Dave's new songs, a couple of his Hello Sailor numbers and some Neil Young covers, as well as Paul's Dragon songs 'Still In Love With You' and occasionally 'Crooked Highway', 'Lovesick' and his new double-edged 'I Need A Hit'.
Paul would chop his pepper steak into fork-sized pieces, shove the plate on the music shelf and play one-handed while eating.
The music shelf of the grand piano at Jilly's would be lined with drinks that would slop about as Paul powered away on the keyboard. The band got a meal halfway through the night but never had time to finish it, so Paul would chop his pepper steak into fork-sized pieces, shove the plate on the music shelf and play one-handed while eating, stubbing cigarettes out on the side of the plate as he went.
On more than one occasion the steak pieces would miss their target and end up bouncing away on the piano strings. At the end of the gig, Paul would lower the lid and move on. After a couple of weeks the band wandered in to Maurice Greer saying, "There's a terrible stench up on that stage," as the leftover food slowly rotted.
As the sessions for Dave McArtney's album continued and with PolyGram unwilling to modify his solo contract to include the band, Paul was beginning to sour on the shared Pink Flamingos vision. He never intended recording 'Lovesick' or 'I Need A Hit', deeming them not up to the standard of his Dragon output.
He was aware that years of opiate abuse had dulled his creativity and there was sadness in his perception that he'd dried up as a meaningful songwriter and had been relegated to the role of mere piano player. His writer's block wasn't helped by the fact that Dave was going through a prolific writing period, the songs benefiting greatly from Paul's dominant riffing piano.
Health in decline
The pain in his back was constant. A prescription for the heavy painkiller Palfium had long ago been superseded by self-prescribed doses of the anxiety medication Serepax, but that didn't seem to cut it anymore. Nor did the bohemian ingestion of Valium, a steady intake of marijuana and a taste for vodka martini and good wine provide anything more than passing relief.
When the new album, entitled Dave McArtney and The Pink Flamingos, was released in February 1981, it was also announced that Paul Hewson was leaving the band because of ill health and would concentrate on writing songs in Perth. It was also important for Jessica to see her family.
They moved into a place in Cottesloe, just west of Perth, within walking distance of the beach, Paul joined the nearby Nedlands Chess Club and looked up his former Dragon bandmate Billy Rogers, Jessica's ex. After his initial reaction of, "Shit, they've followed me," Billy didn't hesitate to invite Paul to join his new band The Essentials.
Billy bought a Yamaha organ for Paul to play while Billy played electric piano. The rest of The Essentials were Gary Masel on drums, Peter Kaldor on bass and David Bailey on guitar. All of the members wrote except for David and their repertoire was a collection of their own songs and an eclectic mix of roots, soul and new wave, Paul adding 'Crooked Highway' off Power Play and the once performed, oft-requested 'Lovesick'.
The Essentials played three or four times a week and were regular support band at the Swanbourne Hotel whenever the likes of Midnight Oil, Cold Chisel or INXS hit Perth. They even recorded one of Gary's songs 'What's Wrong' for an ABC Records compilation.
Paul soon became a defender of David Bailey's guitar playing when the others were quick to pounce on his free-flowing west coast style. "David plays great. Leave him alone," he said. And Bailey took Paul in when the inevitable split with Jessica Kenny came.
Seven years her senior, Paul would often tell Jessica she needed to experience more of life, while she felt she needed a break from the drugs and all the pain. Although Paul had weaned himself off methadone in Perth, he was taking paracodeine cough mixture.
At David Bailey's Swanbourne home, Paul unsuccessfully suggested he take over the garage to conduct his primal scream therapy but instead found his own apartment in North Fremantle. By November he'd got a perm, which he regretted, and quit The Essentials to fly to Sydney.
Waiting with open arms were The Pink Flamingos, who had just lost their replacement for Paul, Peter Allison. The band had dropped Dave McArtney's name from their title though he was still very much their creative force.
Paul was ready to embrace the original Pink Flamingos blueprint of shared writing and singing. And initially it worked spectacularly.
They already had an album nearly completed, but Paul was ready to embrace the original Pink Flamingos blueprint of shared writing and singing. And initially it worked spectacularly with Peter Dawkins employed to produce the final two tracks at Studios 301 – Dawkins first ensuring Paul was agreeable to working with him again.
At 301, Paul picked up a guitar and came up with a chord progression and the opening "She said, she said/ She said, she said," bouncing ideas around with Dave and completing their only co-write 'Just Like In the Movies'. Dave would liken Paul's writing style to "spontaneous ejaculation", songs built around anecdotal images, little ideas and poetic colours.
Paul played keyboards and added backing vocals to the two Dawkins-produced tracks on We Never Close – 'Just Like In the Movies' and 'Proserpine' – as well as adding piano to Allison's clavinet and Prophet on the single 'Is That the Way?' and 'Girl', both remixed by Dawkins.
Although Paul wasn't impressed with the LP, the band did lots of promotion and an expensive video for 'Is That the Way?' but The Pink Flamingos' fortunes were in a worse state than when he had left.
The band had fallen through the cracks during a major executive reshuffle at PolyGram and their management had been using Australian touring profits to pay another company's debts. Paul blamed the whole debacle on Dave McArtney.
The east coast of Australia was a tough market to break, competing against the likes of Men At Work, Mondo Rock and Cold Chisel. The Pink Flamingos would race along the highways in a rental car, the two cynics Paul Hewson and Jim Lawrie asleep in the back and Paul Woolright and Dave McArtney up front. It was Woolright who gave Paul the nickname "Sharkie" as he came sashaying towards them in his much-worn blue satin jacket.
Dave noticed his friend's overall condition was deteriorating. He was back into dope and taking big shots of tequila and vodka, not to mention the Serepax for his back and a renewed taste for heroin.
Dragon awakes
At the same time Dragon began stirring. A reunion tour of the classic Hunter-Hunter-Hewson-Taylor-Jacobson line-up was proposed to rid the organisation of outstanding debts from the 1978 US tour. There was only one logical outcome for Paul Hewson.
It all came to a head at Mainstreet in July 1982 where Paul informed Dave in no uncertain terms that The Pink Flamingos had descended into a limp-wristed little combo and at least he had a chance at resurrection with a recharged Dragon.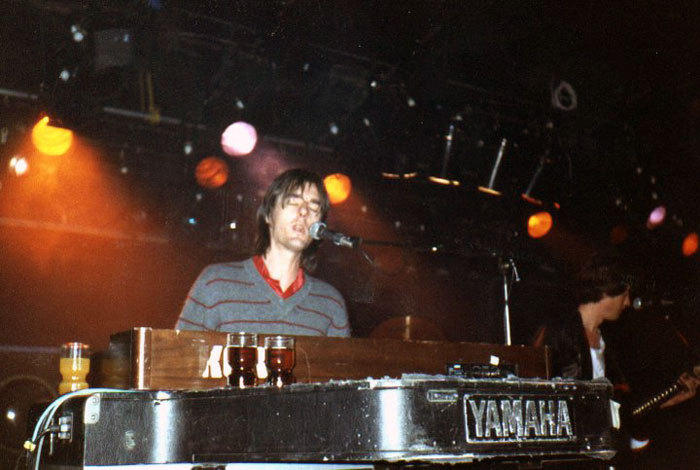 Early on in the Dragon reunion it was decided to release a comeback single. Perhaps an indication of Paul's writer's block was the fact they demoed 'Had To Climb a Mountain', a song he'd written when 16. He also put forward 'I Need a Hit' and the Dire Straits-like 'Stay Young', but the band opted for 'Ramona'.
Dragon's new manager Steve White kept the band out on the road as often as he could, but when they were in Sydney, Paul, Marc Hunter and Kerry Jacobson would party it up. Paul and Marc especially were unstoppable. It was not uncommon for White to be woken at 3am by a knock on the door of his Double Bay home to find a staggering Paul or Marc requesting $100.
Paul would go on binges, and on one afternoon visit to White's home, the manager's wife intercepted him in the hallway, threw him into the bathroom and insisted he would not be welcome in the house until he had showered.
The fairly large volumes of Scotch, bourbon, vodka and gin Paul could consume without being visibly affected took White aback. He was also surprised by what little sleep the pianist existed on.
Dragon's progress could have been derailed when The Royal Commission of Inquiry Into Drug Trafficking Report was released in the first half of 1983, which reported Donna Shaw had revealed to police "the entire band was being supported by the sale of heroin" in the mid-1970s and that "Paul Hewson was also selling a lot for (Greg) Ollard", an associate of Mr Asia syndicate boss Terry Clark. The band chose not to respond to the report.
When 'Rain' became a huge hit in Australia, PolyGram International put two bigwigs on a plane to fly out and meet Dragon to discuss a tilt at the world market. But first, PolyGram Australia A&R director Michael Crawley and Steve White convinced the band it would be beneficial to have them – more to the point, Paul and Marc – clean to make the most of the opportunity.
Cleaning up
It was believed a huge course of vitamins would help them overcome their heroin addictions, so long as they abstained from any other medication or alcohol. Consequently, in October 1983, Paul paid his first visit to Dr Danny Hameiri in Double Bay. Dr Danny noted Paul's long history of heroin addiction, abuse of alcohol and tranquillisers, and rheumatoid arthritis in his fingers, for which he was taking cortisone.
The doctor started Paul on a 10-day detoxification program consisting of daily vitamin injections and large doses of oral vitamins as well as the painkiller Doloxene and Paul's already ever-present Serepax. Dr Danny was aware that Paul had been using Serepax as a tranquilliser and sleeping pill for some time already.
Marc also underwent treatment, but the rejuvenation of Paul was especially remarkable. He visited Sydney's Centennial Park and returned to tell guitarist Robert Taylor he had touched textures and seen colours he hadn't seen for years. Dragon played at Tweed Heads not long after and the "new Paul" cooked for the entire entourage. The band was rapt with the improvement.
At rehearsals, Paul and Alan would engage in right-hand blues shoot-outs at their keyboards to see who could play the fastest.
When Dragon recruited second keyboards player Alan Mansfield, it was Paul who immediately took the newcomer aside to impart a piece of good advice that rang true. "Al, listen to me," he said, "no matter what girl comes up to you, what they say they're going to do to you, they always just want to get back to meet Marc."
At rehearsals, Paul and Alan would engage in right-hand blues shoot-outs at their keyboards to see who could play the fastest. Paul thought Alan was an incredible player, and the pair were looking forward to working out complementary parts for songs for a new Dragon album.
A lunch was arranged at one of Double Bay's prestigious restaurants to meet the PolyGram International representatives who were keen on releasing 'Rain'. Michael Crawley stressed to Marc and Paul, attending on behalf of the band, that they had to behave. "This is the best chance you'll ever have." The pair promised they wouldn't drink, they'd maintain their vitamin regime, and everything would be OK.
Crawley and White assembled at the restaurant with PolyGram Australia managing director Bruce MacKenzie and the two European bigwigs, but there was no sign of Marc and Paul. Suddenly, an old Holden Kingswood pulled up outside and out stepped the two Dragon members dressed to the nines. Crawley could tell their shirts were brand-new because they still had the pins in them.
After the introductions, Crawley and Marc were talking down one end of the bar when the A&R man noticed Paul ordering beers at the other end. He panicked and raced over to Paul, only for Marc to order some beer too. "Don't worry, Michael. It will be all right."
Sitting down to lunch, Paul engaged the international visitors in deep conversation on the possibility of getting around the Woollahra golf course with just a seven iron and a putter. In a scene reminiscent of The Blues Brothers, Paul dramatically speared his lobster meal with his fork sending lobster pieces flying – one cube into the hair of a nearby female diner.
When it came time to record the new LP with English producer Carey Taylor, Paul's years of drug abuse caught up with him. The crafted approach of adding keyboard overdubs to existing rhythm tracks put the pressure on Paul because he now had to produce performances that would compete with Alan Mansfield's playing of the same parts.
Carey noted that Paul's presence was very laidback from the beginning and that he was around at the sessions because that was his gig rather than to bring any great passion to the recordings. The producer felt he was almost certainly a bit intimidated by Alan's enthusiasm, his cocky confidence and his knowledge of modern keyboards technology. Paul's disinterest was a good defence mechanism.
He had offered no new material for the album and had a share in only one song, 'What Am I Gonna Do?' which the band had jammed before settling on 'Ramona' as their comeback single. The Hewson songs demoed only a year earlier, were now light years from the direction the band had taken.
Although Paul was at least temporarily clean, Carey was shocked to witness him shooting up vitamins into his groin, part of Dr Danny's detox regime, right in front of him in the Paradise control room. The Englishman had been surrounded by a lot of coke, grass and alcohol in English studios, but had never been around any needles.
Coinciding with the Hunters and Alan Mansfield flying to London for the final album sessions, and after about four months free of narcotics under Dr Danny's care, Paul had again fallen off the wagon. Dr Danny became aware that Paul was again abusing alcohol as well as the Serepax and Doloxene he had prescribed and was apparently obtaining the medication from other sources.
When he was down he had taken to staying with Robert and Sue Taylor in their Victoria Avenue, Woollahra, home for sometimes up to two weeks at a time. He would sleep on the couch in the windowless gloss-blue lounge, dubbed the "blue room", and would often be woken in the morning by two-year-old Lesley Taylor biting him on his ample nose.
One of Lesley's godfathers, Paul idolised the little girl. She would take him by his big arthritic finger and they'd totter off to Centennial Park together, Paul in his felt fedora hat. When they returned, his hatband would be encircled with pansies and Lesley would be clutching a handful of flowers from somewhere.
After a business meeting in April 1984, Robert, Sue and Paul adjourned to Marc Hunter and partner Annie Burton's Rose Bay home for dinner. Following the meal, Paul donned pink rubber gloves and began washing dishes.
He turned to the others, soapy water dripping from his extended arms, pupils expanded, took two steps, fell on his back, stiffened and began convulsing. Marc and Annie leapt to his assistance, Robert looked on confused and Sue freaked out.
Paul regained consciousness with no recollection of what had just occurred, but there was no denying the bleeding cut on his forehead.
Paul regained consciousness with no recollection of what had just occurred, but there was no denying the bleeding cut on his forehead. An ambulance was called and Paul was taken to St Vincent's Hospital in Darlinghurst, where he stayed overnight.
The following day, Dr Danny concluded he had suffered a grand mal epileptic seizure due to sudden withdrawal of Serepax and alcohol, Paul's latest attempt to clean himself up. Dr Danny commenced Paul on a course of Dilantin tablets and referred him to a neurologist at St Vincent's.
Although it was evidently Paul's first seizure, Robert and Sue believed they now had a cause for the bruises that would suddenly appear overnight on Paul during his stays at their home. After the episode at the dinner, his bandmates noticed Paul seemed to care less about his personal appearance and welfare.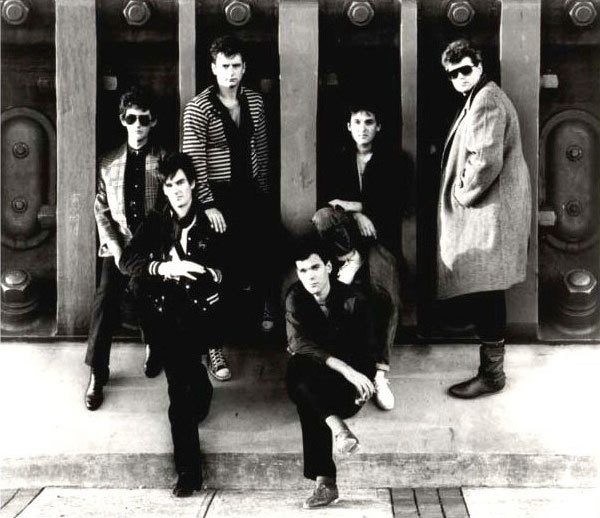 With the massive tour for the completed Body and the Beat album imminent, new drummer (and founding member of XTC) Terry Chambers returned to the fray from Lake Macquarie for rehearsals and would stay with Paul in his Ward Avenue, Elizabeth Bay, flat during the week, returning home for the weekends. Straightaway the situation was a shambles.
Steve White would dispatch a taxi to Ward Avenue to collect Paul and Terry at 10am. Terry would be ready, but there was no hope of Paul appearing from the goings-on in his bedroom. Terry was terrified by some of the drug paraphernalia and after-party scenes he awoke to find in the lounge.
When the taxi would arrive at rehearsal only Terry would be in it. "Where's Paul?" the band would ask. "I'm not here as his babysitter," the drummer would answer. "Well, you're living in his flat. Don't you care?" they would say. "Don't you care?" Terry would retort.
Paul's absence from rehearsals was especially irksome to Todd, who had invested so much energy into the new album. When he did show, his lack of enthusiasm for the album and tour was disheartening for the rest of the band and made for a tense working environment.
Just prior to the June 25 release of Body and the Beat, Paul visited Dr Danny again. The doctor noted Paul was fairly depressed but was stable on Dilantin and there was no sign of epilepsy. It appeared, though, he was abusing a large variety of drugs and had virtually given up any hope of rehabilitation.
Along the album tour, Dragon were joined by their loved ones for short periods. At one point, Paul organised for his younger sister, Michelle, to fly over from New Zealand with his son, Daniel, for two or three weeks. The pair travelled with Paul to Adelaide, Sydney and Melbourne, with Paul taking the opportunity to spend as much time as he could with his 11-year-old boy.
When Michelle and Daniel returned to New Zealand, Paul was back to rooming on his own. Robert especially was concerned for Paul not sharing a room after the seizure episode of only a few months earlier. Some mornings when visiting Paul's room the book he'd been reading would be fanned out on the floor, his medication spilled and he would be cut or bruised – evidence, Robert believed, of another seizure.
By the time of the Body and the Beat tour, Marc Hunter was well and truly pulling the strings in Dragon. Having cleaned up his own substance abuse issues, he became very domineering towards Paul and Robert, who were quick to indulge backstage in the excessive alcohol rider on the tour. Paul's attitude hadn't changed since the first dates, but now Robert seemed disillusioned with the musical route the band had taken.
Marc still had a great affinity with Paul and was aware the band wouldn't be in the position it was without his initial burst of creativity. But his blasé attitude towards their revival was all too evident and his health problems seemed to be worsening. As for Robert, his whingeing was wearing the singer down. "It's a waste of time if this continues," Marc told Steve White.
Back in Sydney, with Paul in need of a flatmate at Ward Avenue, former Cold Chisel bandleader Don Walker sent struggling singer-songwriter Paul Kelly over. In the process of moving up from Melbourne, Kelly was the brother-in-law of Walker's partner Jenny Hunter Brown, ex-wife of Todd Hunter.
Hewson and Kelly had briefly met at Dragon shows in Melbourne in the late 1970s when Kelly was fronting Paul Kelly & The Dots. By the time he moved into Ward Avenue, Kelly was finally writing songs he believed in and carving out his own niche right in the middle of a songwriting purple patch.
The two Pauls sat around playing songs, talking about recording together, jamming on Kelly's songs that would eventually become his breakthrough Post album. The material got a positive reaction from Hewson, who would constantly play new ideas for his flatmate but nothing that was finished.
Surprisingly, the two only collaborated once and it came from a most unlikely source. On August 8, millionaire Port Lincoln fisherman Dean Lukin won the gold medal in the super heavyweight class at the 1984 Los Angeles Olympics. "Let's write a song about that!"
Immediately after seeing the win on TV, the two started throwing lines around and came up with the knockabout 'Cool Hand Lukin' with the hook line "You can't stop Lukin when he's smoking."
It was an inauspicious start, but there was some indication Hewson and Kelly thought it promising enough when they approached Don Walker to form a band where the three would write and sing. Less than a year out of a 10-year ride in Cold Chisel, Don was "a bit fried" with the whole idea of being in a band again and declined.
Someone who experienced Paul's depression first-hand was set builder Peter Mackinnon, a former resident of Mandrax Mansion and Pink Flamingos fan who had moved to Sydney to take advantage of the vibrant film industry of the time, working on Mad Max 2.
At least three times a week, Peter would rock up to the Ward Avenue flat to find Paul drinking apple cider, lying on his bed firing a gas-powered dart gun into the air. Peter would meet his mate in a deep funk, chirp him up and transport him away in his Falcon Futura to South Heads.
With a pittance of Dragon work in the final months of 1984, Paul decided he would return to New Zealand.
The pair would sit on the cliffs for hours discussing everything from world politics to women to profound "meaning of life" stuff. Paul often stated he didn't believe he would make old age. Peter could never quite get a handle on the root of his mate's depression, except that it ran deeper than his health issues, but found his whole demeanour quite fatalistic.
Paul talked about Dragon and would often be singing 'Lovesick', the song he'd made his own with just the right crack in his voice with The Pink Flamingos and The Essentials. Never a great singer, he always delivered a song and knew just how to put a lyric across.
"I know a thing or two about this falling in love," Paul would sing to Peter Mackinnon, who would sometimes join in. "That's the best song I've ever written," he would say. "In fact, it's one of the best songs ever written!"
With a pittance of Dragon work in the final months of 1984, Paul decided he would return to New Zealand. He and Paul Kelly moved out of the Elizabeth Bay flat, Kelly going to Coogee with two friends from Melbourne – Steve Connelly and Michael Barclay – who would become the Coloured Girls and record Kelly's solo debut album Post, which would be dedicated to Paul Hewson upon its release the following May.
On Friday October 19, six days before his 32nd birthday, Paul flew home. Peter Mackinnon ran him out to the airport. As his friend disappeared, he had a strong premonition he would never see him again.
-
Part one and three: