In the austere 1950s, comedy and novelty records – featuring original songs or spoofs set to well-known classical or pop tunes – were Saturday night party favourites. Spike Jones and his City Slickers and the prolific Stan Freberg were hugely popular with New Zealand adults. Peter Sellers's Songs for Swinging Sellers (1959) was very influential for budding comedy music writers in New Zealand to whom The Goons radio programme was the breath of anti-establishment fresh air.
Harvard mathematics professor and pianist Tom Lehrer's album An Evening Wasted with Tom Lehrer, also released in 1959, was a hit on both sides of the Atlantic and caught the ear of the satirically minded in New Zealand.
Home-grown musical comedy does not begin with Donald J. Squire's Ashley Clinton Sheep's Choir (Kiwi, 1963) but it is a good place to start this random selection.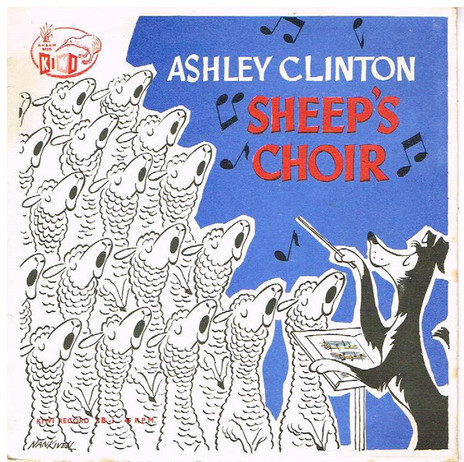 Squire's EP had sheep "singing" songs such as 'Baa Baa Black Sheep', 'Little Bo Peep' and 'Po Kare Kare' [sic]. According to the album cover notes, tapes of sheep bleating and baaing were recorded on tape and then "edited by carefully listening for and marking the positions of 'baas' which approximate musical notes. The identified 'musical baas' are re-recorded in correct order and timing onto another tape so as to make up the approximate tune of some well-known song."
Local musical entertainers, for whom comic banter was the bridge between songs, had the constant challenge of introducing new material – that would not fail – into their shows. One of the quickest ways to do this was to appropriate a popular song that originated overseas and give it funny New Zealand content. The familiarity of the tune made it easy to incorporate into an act and audiences enjoyed the cheekiness of the verbal variations.
Such parodies brought the Howard Morrison Quartet spectacular success. The mischievous Gerry Merito rewrote Lonnie Donegan's skiffle hit, 'My Old Man's a Dustman' as 'My Old Man's an All Black' in 1960. The La Gloria label single was recorded live when the Quartet performed at the Showtime Spectacular at the Pukekohe Memorial Hall and was playful social commentary on the fact Māori rugby players were not eligible for the All Blacks' tour of South Africa that year. It reportedly sold 60,000 copies!
'Mori the Hori' (La Gloria, 1962) was another Howard Morrison Quartet rewrite, this time of 'Ahab the Arab' which was originally written and recorded by American comedian and country singer Ray Stevens.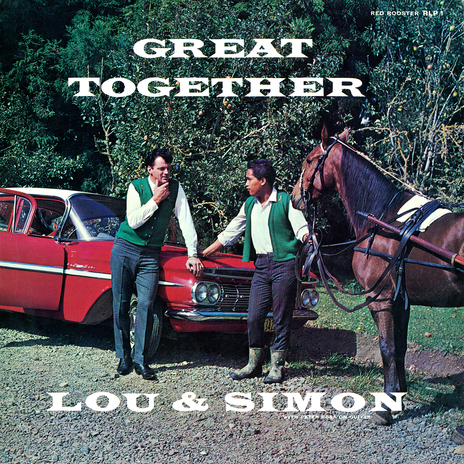 Lou Clauson and Simon Mehana (Lou and Simon) were often on the bill with the Howard Morrison Quartet and were themselves prolific recording artists and in-demand live performers, throughout New Zealand and overseas. Similar in style to the American duo The Smothers Brothers, they too parodied famous songs of the day but also wrote a lot of original musical comedy. 'A Maori Car' (Red Rooster, 1965) was a parody of Leonard Bernstein's 'America' from West Side Story, while 'Converted Maori Car' (Zodiac, 1966) was built around a lot of two-handed gags such as:
"Why are there flowers growing out of the tail-lights?"
"They stuck the wrong bulbs in."
"One of the headlights is facing up and the other one is facing down."
"The one facing up is for Pakehas to look for unidentified flying objects and the one facing down is for Maoris to dig toheroas out of season."
For a time Lou and Simon had a Sunday night residency at Te Unga Waka, the urban marae in Epsom, Auckland. Always in attendance, often breaking curfew, were a number of lads from the Maori Boys' Hostel in nearby Gillies Avenue. Among them was a young signwriting apprentice and budding musician, Bill Taitoko, who would later achieve great fame as Billy T James.
Peter Cape's 1962 EP (With a Woman like Mine) You Can't Win was released on the A.H. & A.W Reed Publishers' Kiwi label. Cape was very adept at capturing the rural sensibility and social awkwardness, as in the opening lyrics to the title track: "I met my girlfriend / down by the stock-yards / held her hand for an hour / but we did not speak / when I told her that I love her / all she said was, 'My gumboots leak'."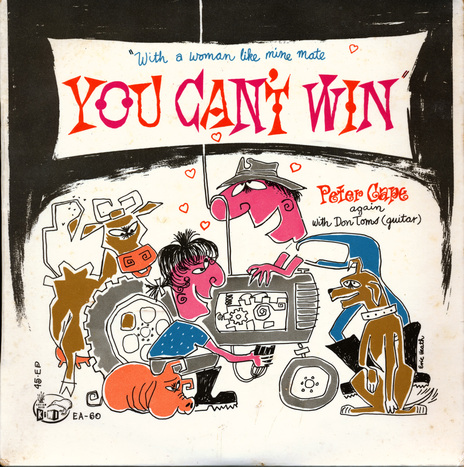 Vernacular songwriter Ken Avery – by night a jazz saxophonist, by day a NZBC radio programmer and songwriter – channelled the Australian hit 'I've Been Everywhere' for his rapid-fire, place-name heavy 'Tea at Te Kuiti' (Kiwi, 1962). Both 'Te Kuiti' and its sequel, 'Gumboot Tango' (1963) was recorded by Ash Burton and the Night Caps: Burton was a pseudonym of the rugby writer Alex Veysey. The rural setting of 'Gumboot Tango' – a dance in a Taranaki woolshed – was retained by Avery for the B-side: 'By the Dog Dosing Strip at Dunsandel'. (Avery collected his comedy songs in The Ken Avery Songbook, which can be downloaded for free, along with his memoir Where Are the Camels?)
Rod Derrett's 'Puha and Pakeha' (HMV, 1965) was a catchy comic song about cannibalism. Though still getting airplay 50 years after its release, in 2004 a complaint was made to the Broadcasting Standards Authority that the song was "racist to Pākehā." The complaint was not upheld.
Just as famous was Derrett's anthemic 'Rugby, Racing and Beer' (HMV, 1965) with its chorus of "Down Under they're mad over / their rugby, racing and beer". The EP also featured a cover of a song made famous by Peter Sellers, 'Any Old Iron'.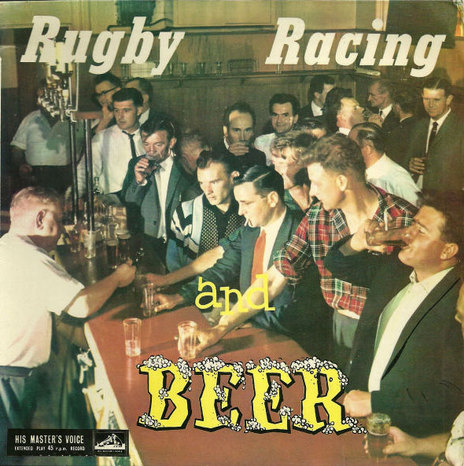 Racing commentator Reon Murtha was the voice of 'The Musical Stakes' (HMV, 1962) in which he "called" an orchestra warming up and then giving a recital. It remains a gem of a track, partly because of the inimitability of Murtha's monotone saying lines such as "just waiting for double-bass to steady himself in the back row" and "last performance he [clarinet] left his run too late and slipped and fell at the double-bar".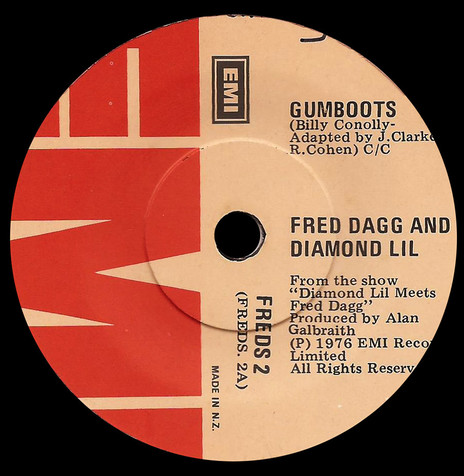 Though many regard John Clarke / Fred Dagg's 1976 EMI single 'Gumboots' as a 100 percent New Zealand song, it was actually sourced from elsewhere. According to Clarke, the song "came together when we needed a finishing number on a stage show I was doing in Auckland." That show, Diamond Lil Meets Fred Dagg, was an unlikely meeting between the rural hero of the masses in the company of Marcus Craig's popular drag queen at Phil Warren's central Auckland cabaret, Ace of Clubs. Said Clarke, "It was hastily cobbled together and was based on 'The Wellie boot Song' of Billy Connolly which in turn was based on an ancient folk song called 'The Work of the Weaver'. Of the three, 'The Work of the Weaver' is far and away the one to watch for."
'Gumboots' – backed with a cover of 'Save the Last Dance for Me' recorded during the same show – spent four months in the local charts, rising to No.6.
In 1978, Arthur Baysting's alter ego Neville Purvis ("At your service") debuted on national television in The Neville Purvis Family Show. The white-suited spiv had been developed during Red Mole's hit cabaret shows at Carmen's Balcony Nightclub, when Baysting would emcee in the guise of Purvis.
Baysting / Purvis toured with bands, appeared at the Nambassa music festival, briefly had a column in Rip It Up, and released a single, 'Money' b/w 'Disco On My Radio' (Vertigo, 1977), contained in a stylish pop-art sleeve. The B-side was a great take-off of disco with voices heard to say, "Good God", "Get up" and the very Kiwi, "What's the guts?" Musicians on the two tracks included Midge Marsden (who had been playing at Wellington's Royal Tiger Hotel with band The Country Flyers) and Jan Preston. Backing singers – The Purvettes – were Beaver and Jean McAllister.
The reception to The Neville Purvis Family Show was, it's fair to say, mixed. To some it became a cult favourite; to many more it was a disaster. It culminated in Purvis, who usually read critics' barbs on air during the show, ending the final show by saying "At least we never said 'Fuck'!" – the first utterance of that word on New Zealand television. In 1980, with Fane Flaws, Baysting wrote The Crocodiles' hit single 'Tears'.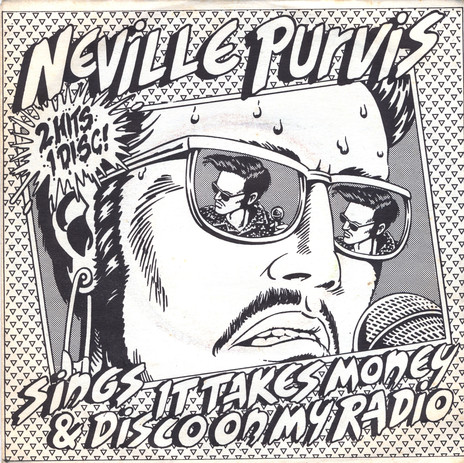 More mainstream was Laurie Dee's 'Rugby Deck of Cards' (RCA Victor, 1981). Rewriting the oft-covered Texas Tyler spoken-word piece 'Deck of Cards', Christchurch lawyers A K Grant and Chris McVeigh (notable for their satirical writing for television shows A Week of It and McPhail And Gadsby) changed the references to rugby. Twenty-one years after 'My Old Man's An All Black', race-relations and rugby ties with South Africa were again fodder for musical comedy: "When I see the Ace, I think of Ces Blazey who welcomed the Springboks with open arms and promptly got a kick in his principles."
The following year, RCA released Laurie Dee's Greatest Hit (RCA mini album, 1982), recorded at Mandrill Studios and produced by Glyn Tucker Jnr. Dee was an accomplished dramatic and comedic actor who was enjoying national popularity having appeared in Radio Times and The Billy T James Show. Christchurch-born Dee began his entertainment career playing in bands at church socials and working as a DJ at dances for teenagers. Promoter Trevor Spitz gave him his stage moniker, initially changing it from his birth name of Laurie Herdsman to Laurie D. Dee only found out about the change when he saw an ad for one of his gigs in the local newspaper: "I saw Trevor and I said to him, 'Who's Laurie D? I've never heard of him.' Trevor said to me, 'Ah, yes, I meant to talk to you about that. It's you!'"
Dee later joined Beam Unity, who, on moving to Auckland became Beam and a fulltime Lion Breweries band, playing pubs throughout the North Island. They were part of a national C'mon tour, in the company of Peter Sinclair, Bunny Walters and Craig Scott. By the time they secured a residency on the Kevan Moore-produced television show Free Ride the band were making it clear to Dee that they "would rather play their music in their gutter than crap on TV." Dee was then cast in a series of Sing alongside Scott, Angela Ayers, Alita Gotti and Brent Brodie. Comedy interludes were allocated to Dee and from there his reputation as a comedian grew.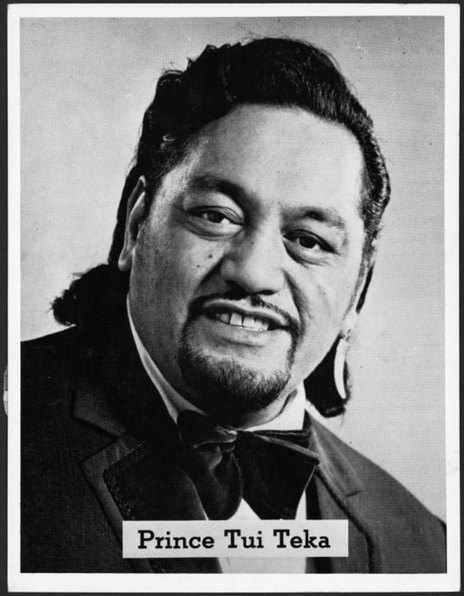 Prince Tui Teka's Live in New Zealand album (RCA, 1982) recorded at the Westward Ho in Kelston, Auckland (with backing band Children of the Mist) was an exuberant encapsulation of the big man's shows. Full of corny jokes that Teka couldn't help but laugh at himself, wonderful singing and childish song parodies it is very much in the style of predecessors such as The Howard Morrison Quartet, Lou and Simon and Māori showbands.
The Billy T James Show (RCA Victor, 1984), with cover artwork by Billy, was mostly songs including the lengthy 'That's Country Medley', 'The Golden Kiwi' and 'She Don't Come from the Islands, But They Call Her Isa Lei'. Stylistically it is a mix of musical theatre and cabaret, under the musical direction of Bernie Allen. The majority of the humorous songs were written by Billy's sidekicks, Dee and Doug Aston.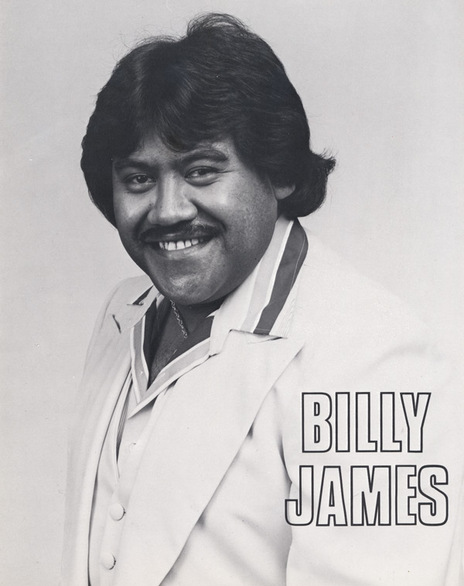 Radio stations had often recorded comedy songs which became part of their playlist but weren't sold to the general public. Billy T's parody of Bing Crosby's 'White Christmas' as ('I'm Dreaming of a) White Mistress', for Auckland rock station Radio Hauraki has been one of the most enduring. DJ Kevin Black ("Blackie") made many comedy records which were publicly released; most had a musical element. In 1981 Kevin Black and the Frigids' parody 'The Fridge' mocked Deane Waretini's huge hit 'The Bridge', and reached No.9. Black died in 2013; his last comedy album was Phoney Business for WEA in 1988.
Funny Business were New Zealand's version of the alternative comedians who had changed the face of comedy in England during the early 1980s. Willy de Wit, Dean Butler, Peter Murphy and Ian Harcourt had a residency at Parnell rock venue The Windsor Castle on Wednesday nights. Despite little promotion or interest from the venue's proprietor, their anarchic stage antics slowly built a large following over two years.
Funny Business (RCA Victor, 1988), the record of the Tony Holden-produced television series, had one of the group's best remembered (and at the time, most requested) songs. A parody of Bo Diddley's 'I'm a Man' it began: "When I was a little-bitty boy / my daddy said to me / son, one day you'll be a man / I became that man / then more than a man / you know what I am / I'm a Mor-man."
The series also included a parody of the Flying Nun sound, and the earnest rock'n'roll interview. Among the influences of the black-jerseyed Dunedin band The Flue, explained their spokesman (played by Willy de Wit), was French existentialism. But the skit's influence was Peter Sellers's early 1960s parodies of inarticulate or pretentious rock'n'roll stars.
Other Funny Business spoofs included a send up of a Grandmaster Flash and Beastie Boys-style rap ("Don't push me 'cos I might fall over") and the reliance on cover versions by 1980s bubblegum pop stars. That was set to the tune of 'Camptown Racetrack': "Any sixties hit will do / Covers, covers / Try Herb Alpert or Lulu / Covers rule ok."
Their 'New New Zealand Anthem' offered an alternative to Thomas Bracken's: "New Zealand is nice / New Zealand is good / New Zealand grows sheep / New Zealand grows wood / If we could sell some that would be good / and if we tried harder we probably could."
The success of the Flight of the Conchords' Jemaine Clement and Bret McKenzie in winning a Grammy in 2008 for Best Comedy Album for their EP The Distant Future (Sub Pop, 2007) confirmed their international popularity but also the continued love of musical comedy by Americans. In 2012 Bret McKenzie won an Academy Award for his original song 'Man Or Muppet', from the 2011 movie The Muppets. The six tracks were perfect spoofs of a range of musical styles, honed in hundreds of live performances. Imitation being the sincerest form of flattery, it lead to a plethora of New Zealand comedians suddenly turning up to gigs carrying guitars.