For two years running, the biggest selling single in Australia in the early 1980s was by a New Zealand group. The Neil Finn-era Split Enz took the No.1 spot in 1980 with the infectious, off-centre 'I Got You', which topped the chart for eight weeks. Former Split Enz member Phil Judd headed the annual list in 1981 with his trio The Swingers and their sole Australian hit, 'Counting The Beat'. The swinging new wave anthem spent three weeks at No.1 in March.
Mi-Sex's 'Computer Games' was a big-selling No.1 in late 1979, the 19th most purchased song that year. In April 1980, Mi-Sex breached the Top 10 again with 'People', the lead single from Space Race.
Split Enz and Mi-Sex's album sales were equally impressive. Graffiti Crimes sold over half a million copies worldwide in 1979. Mi-Sex's 1980 follow-up Space Race was a No.1 album in Australia and New Zealand.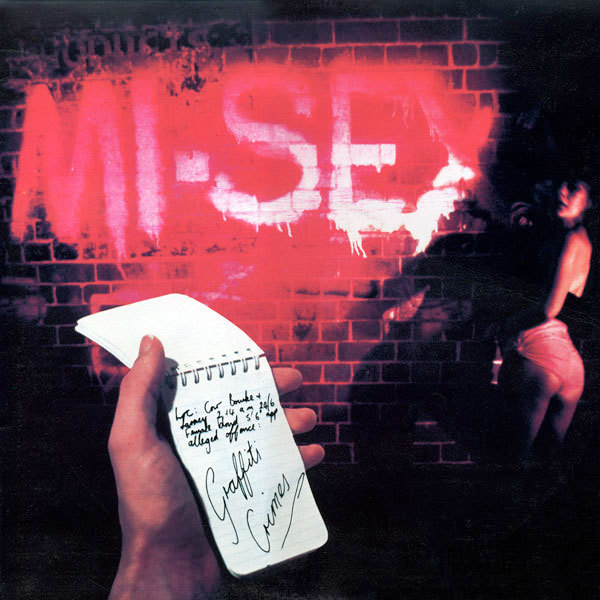 The re-energised and resurgent Split Enz released True Colours on January 21, 1980. Crammed full of brilliant accessible songs, it became the third biggest selling album of the year, capping a 10-week reign at No.1. Follow-up Corroboree (Waiata in NZ) from April 1981 was the tenth biggest LP of the year, spending three weeks at No.1. The eighteenth biggest selling album in 1982 was Split Enz's Time & Tide, which spent two weeks at No.1.
And that was just the tip of the iceberg. New Zealand's musical presence in Australia had been building since Dragon capped a run of impressive singles with their 1978 chart topper, 'Are You Old Enough.' Their album O Zambezi followed and reached No.3.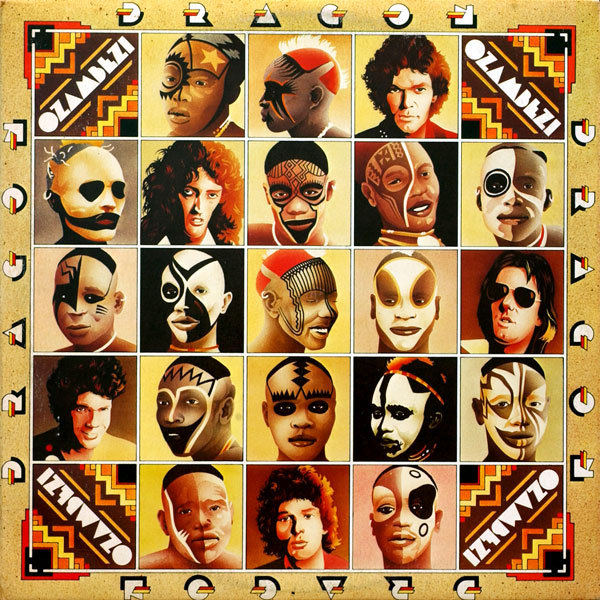 Then there are the New Zealand bands and solo singers who established sizeable and often enduring followings in Australia in the early 1980s. Many, including Sharon O'Neill, Tina Cross and Kim Hart, had chart success as well as a busy live and recording schedule. Add in the could-have-beens like Lip Service, The Tigers, The Crocodiles, The Newz, Pop Mechanix, DD Smash, Dave McArtney and The Pink Flamingos, Citizen Band, The Knobz, Blind Date and Hello Sailor and you have a concentrated creative engagement that is anything but minor.
When Australia's leading pop music show bundled them all together in late 1981 for a year-end TV summation, Countdown Summer, they called it the "New Zealand Invasion."
Stranded in Paradise?
In New Zealand, indie groups and a still robust pop and pub rock contingent were similarly resurgent, adding weight to what was a truly golden era for local music. But as cultural nationalism and its central conceit, the myth of isolation, took hold in the mid-1980s (lasting well into the 1990s), this remarkable achievement was whittled down to a narrower, almost exclusively local focus.
The New Zealand groups who succeeded in Australia were never strictly of one or the other. Their creative lives were a trans-national Australasian weave, which criss-crossed back and forth to tour in support of records released in both countries. They had simply taken another step in a continuing career. It was the mad rush to establish and acknowledge a "New Zealand music", which meant despite 20th Century New Zealanders drawing regularly and eagerly on British, US and Australian popular culture to create their music, local media and often fans had a blind spot for anything outside New Zealand, treating it as somehow diminished or at odds.
They ignored the fact that, with immigration still ongoing, the UK was the principal place of origin for non-Māori New Zealanders. Economic, political and social ties remained strong between the two countries. Residency in the UK was easily available if you had a British born grandparent, and many did in such a young country.
The United States was the original source of the most potent examples of popular culture that teens accessed, although it often came through willing and talented intermediaries in the other two territories, as well as through television, film and radio formats. Entry there was more problematic and constricted.
Unlimited entry for New Zealand citizens made the hop across the Tasman easy and tempting.
It was in Australia that our musicians and music had the most success, a relationship that is the least examined and understood of the three.
Unlimited entry for New Zealand citizens made the hop across the Tasman easy and tempting. And while some saw the sea between as a barrier, it was never that. It was a highway between maritime nations with common roots and always had been. The sphere of activity and influence formed by this proximity was called the Tasman World by historian James Belich in his vital 2001 New Zealand history Paradise Reformed.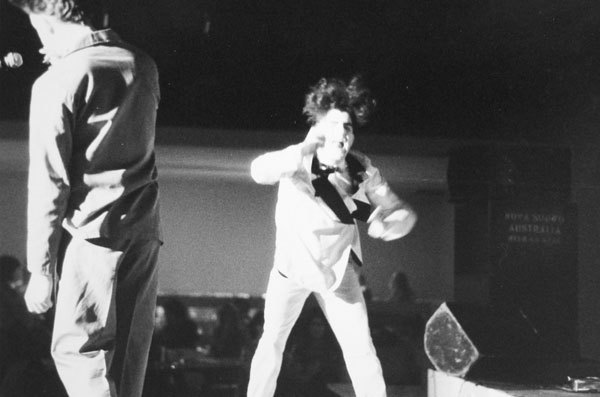 Think about it. It makes sense. The distance between New Zealand cities and the east coast Australian hubs of Sydney and Melbourne was less than to Brisbane and Perth, forming a natural trading sphere. Promoters bringing international tourists down under knew this economic reality only too well with many international tours hopping the Tasman. Australian record company Festival Records had been in New Zealand since September 1952 and multi-national record companies such as CBS Records had branches both in NZ and Australia.
Then there were the many New Zealand musicians and producers still active in Australia from past migrations, including Peter Dawkins, who kept an active eye and ear on New Zealand music. Throw in a sizeable expatriate community and national borders be damned; popular music and culture flowed too freely to be suppressed by such narrow minded and porous constructs.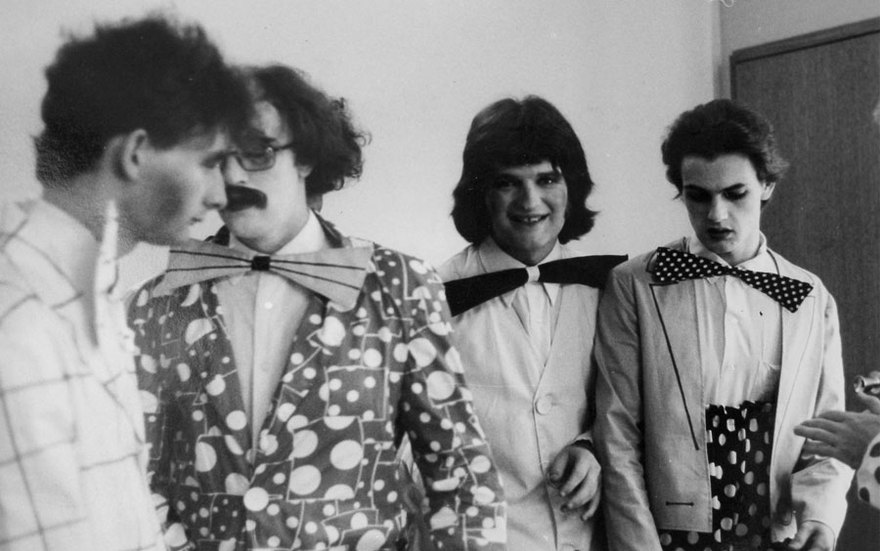 Give It A Whirl
If one group was key to New Zealand's music success in early 1980s Australia, it's Split Enz. When the art rockers first made the journey from New Zealand in 1975, they struggled to find a popular following despite releasing albums that made the pop charts and having a supportive label in Michael Gudinski's Mushroom Records, based in Melbourne.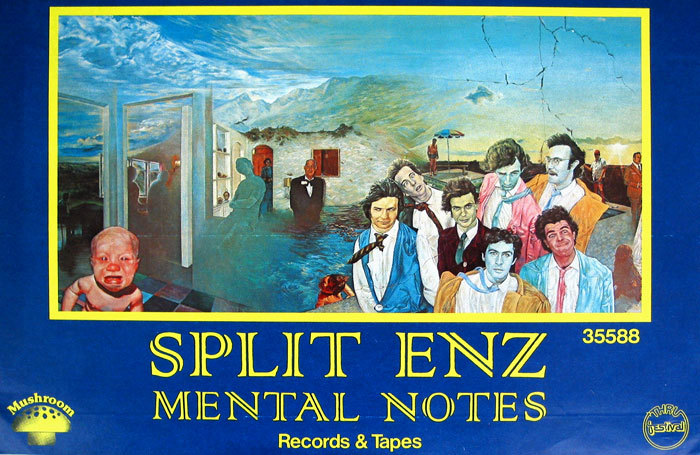 A move to England in April 1976 led to much critical praise and some impressive recordings, but it took the addition of Neil Finn and the arrival of punk to push the Enz towards a truly popular sound. Arriving back in New Zealand in early 1979 for the Nambassa Festival, the rebored Split Enz made an immediate impression. Their spiky single 'I See Red' had already hit the Australian Top 20 in January, while new album, Frenzy, exhibiting a similar mindset and abrasive energy, reached No.13 in the NZ pop charts and No.24 in Australia, where it sold over 35,000 copies.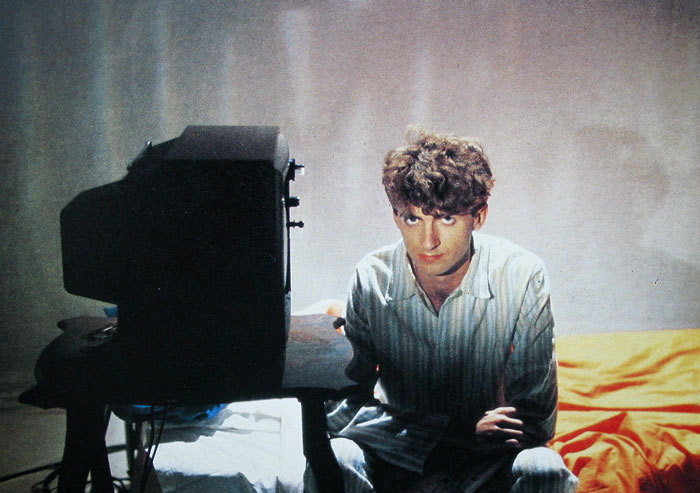 A move back across the Tasman wasn't long in coming. A 28-date tour of the continent in February and March was followed by an extensive trawl through New Zealand in late March and early April, reminding old fans and new that Split Enz were still alive and kicking. Dissatisfaction with distributor Festival Records led to a new deal with PolyGram Records. A May 1979 tour followed with Phil Judd's new group, The Swingers, who'd only recently debuted at Auckland's Liberty Stage.
But it was Neil Finn's 'I Got You' with its spooked lyric and atmospheric video that fully announced the new era Split Enz's arrival in late January 1980. The pivotal song in the group's resurgence, it was produced by David Tickle, who would soon take on ex-Enz Phil Judd's new group, The Swingers. Trooping The Colours, a comprehensive New Zealand tour, played out in February 1980, showcasing a Split Enz that was no longer an art rock band with a selective audience. A new generation was in the audience now.
But You Don't Care
The other New Zealand act breaking big in Australia in 1979 was Mi-Sex. Within months of arriving in Sydney in August 1978, the hard-working group, who formed on the cusp of the old and the new, was one of the city's biggest live acts. New manager Bob Yates helped ensure that.
Mi-Sex picked up a punk following in the first month in Sydney then gained a rock following with many New Zealand fans. Their Australian audience demanded original material so the group set about writing ten new songs, dropping what had been a covers heavy set. Mi-Sex showcased and road tested the new songs on the Before The Album tour. The new songs "bristled with strong hook lines (and) flashpoints of pure white energy," RipItUp's Duncan Campbell noted.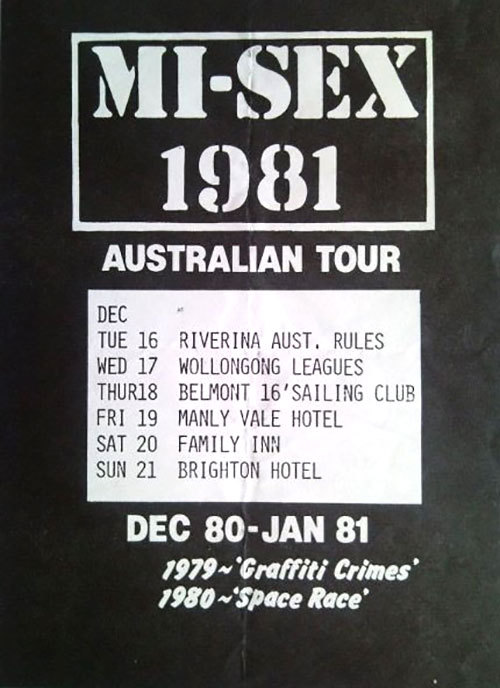 While some New Zealand fans considered the group straight-forward and mainstream, especially after their unconvincing first single, 'Straight Laddie', they were seen as more new wave/ left field in Australia, where their past was irrelevant.
Mi-Sex's first Australian hit, the sinister 'But You Don't Care', with its Stranglers-like menace and brooding Countdown video, rose to No.25 on the Australian charts in June 1979.
Sporting an impressive and professional live show, reactions to Mi-Sex were initially positive and enthusiastic. The Canberra Times described their July 27, 1979 show to 350 people at Headquarters as "packaged product" with song highlights being 'Camera Kazi', 'Still' and takes on Ultravox songs 'The Man Who Dies' and 'Saturday Night In The City of the Dead.' The same month, Mi-Sex supported Talking Heads on their first Australian tour.
Peter Dawkins, a key figure in the new moment, produced a strong, originals-filled debut album for Mi-Sex in Graffiti Crimes. It was a Top 20 hit for them in September 1979. Standalone single 'Computer Games' was released in October and hit the top spot seven weeks later. It was quickly added to international editions of the album.
The Canberra Times' Timespan column reviewed the album in the last days of August 1979, noting that the group's live presence had made it to record. "Unlike some of those bands which serve up hot bopping music for the crowd to sweat on, I have noticed a Mi-Sex audience quite content to stand and stare, mesmerised by the futuristic image filled songs, the colour and sound and of course the band's stage presence – all very bright and electrifying."
Mi-Sex toured Graffiti Crimes through Australia into October 1979, having kicked the extensive tour off with a live-to-air broadcast on the 2SM radio network of 31 stations to a potential audience of five million in August.
In October 1979, Mi-Sex were one of 151 groups showcased on two stages in front of 160,000 fans at the Sydney Opera House, along with Dragon and Split Enz.
In October 1979, Mi-Sex were one of 151 groups showcased on two stages in front of 160,000 fans at the Sydney Opera House, along with Dragon and Split Enz, as part of the Concert of The Decade. A month later, they'd be announced as TV Week/ Countdown's Most Promising New Talent and 'Computer Games' as Best Australian single.
Graffiti Crimes had sold platinum and the single went gold in Australia in 1979 and the LP was released internationally as Computer Games after the presentation of the record at CBS International Conference in London. In January 1980, Mi-Sex recorded their second album Space Race with Peter Dawkins in Sydney before returning to New Zealand for a well-received starring slot at the first Sweetwaters festival.
"We're not going to make any money out of the deal. We came here to play to New Zealand people who bought the album, to play to the people who listened to it, to show them our new songs and show what a Kiwi band is doing overseas. For them and for us," Steve Gilpin told RipItUp.
With 'Computer Games' as their distinctive calling card, Mi-Sex was now on the brink of international success. 'Computer Games' made the Top 10 in Canada, France, Austria, Italy, West Germany and South Africa, while the augmented Graffiti Crimes was released in most major markets as Computer Games.
For a brief moment, Mi-Sex's first international tour appeared to be in jeopardy when roadie Mark O'Donnell and drummer Richard Hodgkinson were arrested for possession of cannabis in Hobart, Tasmania. The situation eased when the trial was set for after the tour.
Canberra Times reported their international progress in a large piece on the group. "The band arrived in Los Angeles on Friday, April 4, and nine hours later opened for Iggy Pop at the Hollywood Palladium. Over the following weeks, they played the major West Coast cities both with Iggy Pop and The Ramones finishing up in Los Angeles headlining their own two shows at The Whisky.
"Mi-Sex then flew to the East Coast to perform five shows, one of which was Hurrah. From there the band embarked on a 16-day tour up the East coast to Canada where they played in Montreal and Toronto to standing room only crowds. The final leg took them to the Northern cities ending up at Bill Graham's club in San Francisco, The Old Wardorf. The band returned to Australia for a national tour to promote Space Race."
Just Drove Thru Town
Having returned from an eventful, but ultimately unsuccessful stint in Los Angeles, one of New Zealand's brightest hopes, street rockers Hello Sailor, found the planned return to the City of Lights was beyond their means. Australia seemed a good temporary compromise, enabling them to earn sufficient funds to get back to America.
New Zealand's finest arrived in Sydney in June 1979. High profile shows with Dragon in Sydney and Melbourne followed. Their classic single 'Blue Lady' was released by Big Mouth Records and promoted on Countdown on June 16.
But ultimately Hello Sailor's much-trumpeted arrival fell flat, deflating the band. Crowds were solid, especially where sizeable expat populations existed, but it was to be a largely desultory traipse through smaller live venues for the group. Not even 'Gutter Black', the second brilliant Hello Sailor single on Big Mouth Records, could save them.
When Hello Sailor returned to New Zealand in early 1980 for dates at Mainstreet and Windsor Castle, they were on their last legs. Heavy drug addiction and illness had weakened them personally and as a unit. Hello Sailor split in late February. Graham Brazier and Lisle Kinney soon returned to Australia, with Brazier intending to write songs for the Hunter Brothers' new label, Axel Records. Before he left, Brazier recorded two songs, 'Mr Asia' and 'One Bullet In A Six Piece Chamber' with Peter Urlich (drums) and Lez White on bass. The talented songsmith was still functioning even as his life spiralled out of control.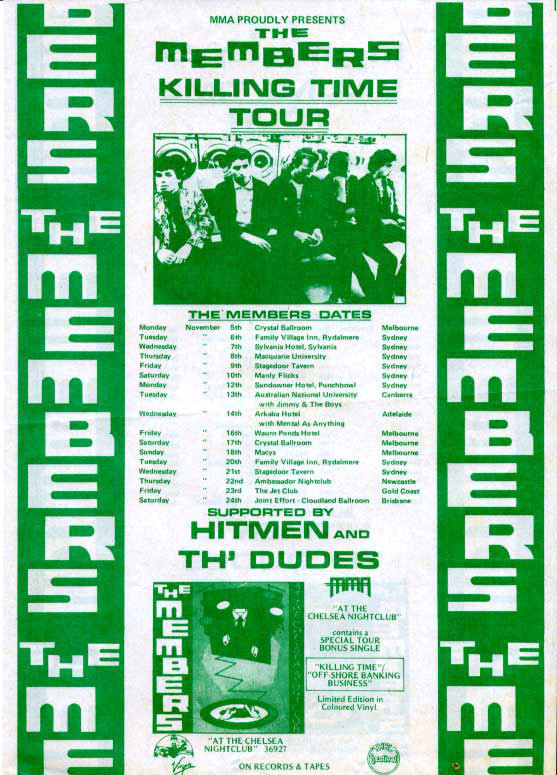 Yet another gang of New Zealand's best, Th' Dudes had an Australian experience just as bleak. Reigning pop-rock stars at home, the Auckland group arrived in Sydney and paired up for a mismatched four week tour with British punks The Members and Sydney's The Hitmen. Playing seventeen shows in nineteen days, Th' Dudes would find time to promote 'Be Mine Tonight' on Countdown on November 17 to coincide with release of their Right First Time album.
After three months of trying, the Auckland group threw in the towel. Two other strong Australian singles on Big Mouth Records, 'Bad Boy Billy' in 1979 and 'Walking In Light' in 1980 failed to help break them.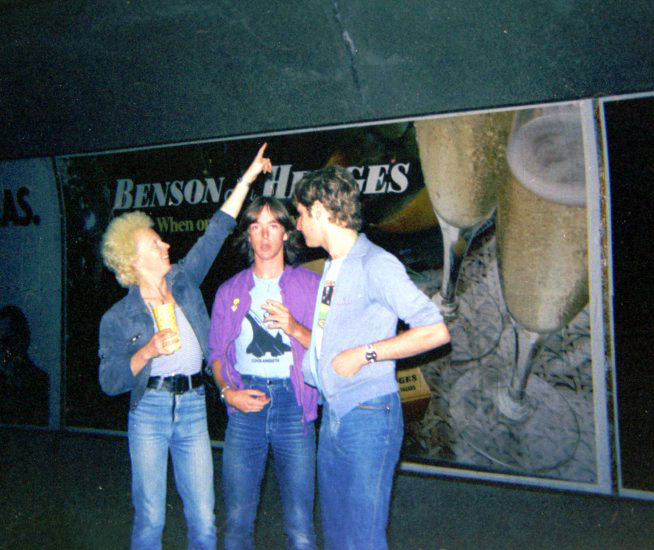 Citizen Band, yet another Auckland band with a Split Enz pedigree, arrived in Sydney after a raucous sold out Auckland Town Hall show.
Dave Dobbyn, one of Th' Dudes' main songwriters, returned there as guitarist in Sharon O'Neill's backing group and later in 1982 with his own DD Smash. On drums, DD Smash would have Peter "Rooda" Warren, whose band Lip Service had crossed the Tasman in support of their Australian-released Lip Service album and 'I.D' single, released in Australia in October 1980.
In early November 1979, Citizen Band, yet another Auckland band with a Split Enz pedigree, arrived in Sydney after a raucous sold out Auckland Town Hall show. The Chunn Brothers Mike and Geoff had both spent time in the Enz. The quartet was completed by drummer Brent Eccles and Greg Clark on guitar.
Citizen Band were a popular Auckland pop-rock group who toured nationally and released two albums, Citizen Band and Just Drove Thru Town, stuffed with originals and a few smart covers, including a take on the old Larry's Rebels hit 'I Feel Good'. Their most popular song, the hook filled long-selling 'Rust In My Car' seemed just right for the Australian market.
After two weeks in Sydney then two weeks in Melbourne, the trio secured regular live work at Sydney's Bondi Lifesaver (a Thursday residency) and the Strata (Wednesdays). While they were signed to CBS Records in New Zealand, that didn't automatically mean Citizen Band would get an Australian contract. Keen to have a new record out, the group rehearsed three new songs at CBS Waltham – 'Home Tonite', 'Chinese Children' and 'Roo Bars' before returning to New Zealand for the Sweetwaters festival in January 1980.
That's when Mike Chunn decided to leave (Greg Clark left before the first trip was over). Chunn's replacement was Roland Killeen, late of Sheerlux. After shows at Mainstreet, University of Auckland and in Titirangi, the new trio headed back to Australia in March 1980.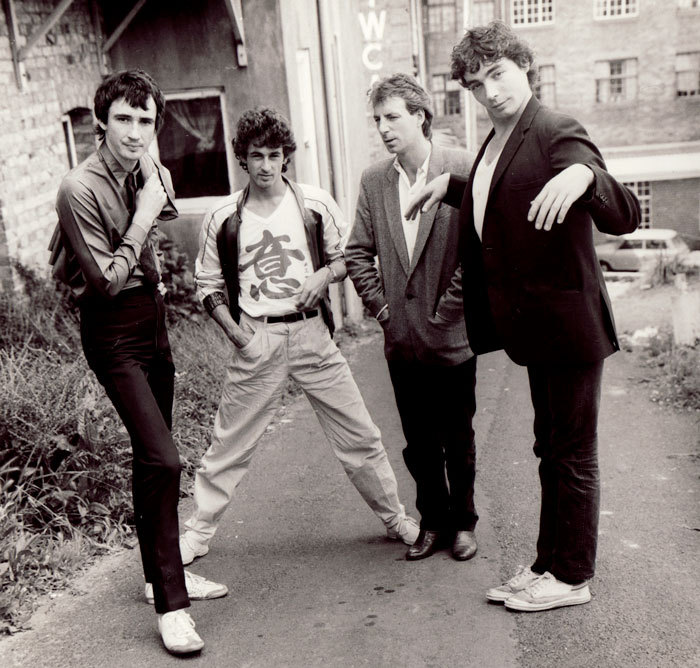 Sydney the second time was more of a struggle, forcing the group to be even more self-reliant. The new trio set about building a fresh following on Sydney's North Shore at the Mosman Hotel, establishing first a foothold, then a residency on Monday and Thursday nights.
"It's your basic rock n roll band," Geoff Chunn told RIU Xtra in December 1980. "You can't go any less, and, oddly enough, anything above it is just icing on the cake. You understand rock n roll better, and with three members you each have a tip of the triangle, and a portion of it to fill in. You find out what your ability is."
A new set dynamic was adopted for their new environment. Citizen Band dropped their slower songs and stuck to more upbeat rock numbers. As time went by and fan numbers increased, they reintroduced the slower songs again.
The cut down Citizen Band recorded five new songs and secured new gigs at French's Wine Bar in Darlington, The Astra, The Strata, Rose Bay Hotel and Mona Vale on the North Shore, as well as slots supporting Mental As Anything and Split Enz in July.
They were back in New Zealand in October 1980 to play the Hinuera Music Festival near Matamata (October 26) where fans got to hear new songs in 'Judy Are You Ready To Go Now (Roland sings)', 'Like Elvis', 'Modern Music', 'Do What You Dance', 'Rip Shit Or Bust' and 'Christ, The Man's A Wonder'. The Home Tonite tour followed.
Looking back on their latest overseas stint, drummer Brent Eccles said: "I wouldn't call Citizen Band established in Australia, we're on the verge of it. We haven't had any airplay. We're very much a cult band on the north shore with a strong regular following.
"Starting out in Australia is bloody hard. It's nothing like New Zealand at all. I think the only way to do it is to go in with as little expense as possible and start at the bottom. You might score a record company or agency deal, but you've still got to convince the Australian public that you're worthwhile."
In the end, the quartet would record their new songs in Auckland, but the trail had gone cold. Back in Sydney again in early March 1981 with new manager Peter Cunningham, they found they were treading water. The times had changed and Citizen Band fizzled out. They briefly reformed in 1983 for a national tour in March.
Counting Sheep
On air since 1974, the popular Melbourne-based weekly TV show Countdown, hosted by Molly Meldrum, was where you went to find the new sounds and songs and as such was essential for a group's progress and record sales.
New Zealand groups got frequent and continuing exposure on Countdown from 1979 through into 1982 and beyond.
New Zealand groups got frequent and continuing exposure on Countdown from 1979 through into 1982 and beyond. Mi-Sex was an institution there, first appearing live in support of 'But You Don't Care' on June 24, 1979. It was one of five performances of the song on the show that year. The previous week, a fading Dragon with 'Love's Not Enough' and Hello Sailor with 'Blue Lady' had featured.
On August 5, 1979, Tim Finn and Split Enz were guest presenters. Working a theme based around the energy crisis with the message of "Don't waste energy", the show opens in darkness, until someone plugs in an electrical cable to the camera. Split Enz performed 'She Got Body, She's Got Soul' from Frenzy and hammed it up between clips.
Mi-Sex were back on the box again on September 21, 1979 with 'Computer Games' and Steve Gilpin hosted the show the following week when they played the future No.1 live.
Other New Zealand performers to appear that year were Marc Hunter, who also presented a show, with 'Island Nights' from his first solo album. Mark Williams had 'I Don't Want You Anymore' while the new line-up of Dragon tackled the non-hits 'Counting Sheep', 'Motor City Connection' and 'Love's Not Enough'.
Steve Gilpin returned again the following year to host the March 6, 1980 episode, debuting new Mi-Sex single 'People'. All up they appeared eight times that year, promoting new songs including 'Space Race' and 'It Only Hurts When I'm Laughing'.
Split Enz might as well have taken up residence on the show in 1980. 'I Got You' ruled from beginning to end, following its debut on February 10. Neil Finn dropped in a month later to discuss the group's True Colours album and tour of New Zealand and Australia and to perform 'I Got You' live. The already defining track was played eight times on the popular show. Follow-up 'I Hope I Never' was first seen on June 1, 1980, on its way to No.18 on the charts.
In December, the non-True Colours track, 'One Step Ahead' got its first TV time on the way to No.5 in the Australian charts before returning a fortnight later for the end of year round-up. Other frequent flyers included Sharon O'Neill with the Peter Dawkins-produced 'How Do You Talk To Boys'. O'Neill's brilliant live version of 'Words' gave credence to her description of the relationship with her group as similar to that of Blondie's with Debbie Harry.
The photogenic Kim Hart had three songs showcased on Countdown in 1980 – the top 20 hit 'Love At First Night', 'You're The One' and 'It's Easy'.
When it came time to wrap up the year with a pre-Christmas edition, New Zealand acts dominated. Molly Meldrum interviewed Tim and Neil Finn, and Sharon O'Neill, who performed 'Asian Paradise'. Split Enz had two songs highlighted and Mi-Sex and Kim Hart, one. One step ahead already in 1980, the New Zealand contingent would find 1981 just as busy and rewarding.
Some of the albums and singles mentioned in this story
–
Part two of this story can be found here