In the first part of this overview we looked at New Plymouth's rock and alternative scene from 1980 to 1987. The story continues …
--
Aside from Sticky Filth, the most notable new development came not in the form of punk/ hardcore, but in a style that balanced perfectly between heavy metal and hard rock. Formed in 1986, and centred around the guitar virtuosity of Darren Broughton, who was also the vocalist, The Nod began as a three -piece, with Phil Parli on bass, and Les Robinson on drums, before adding Glenn Dawson on guitar. Dawson's guitar would form a genuine symmetry with Broughton's, and The Nod found it's defining line-up with his inclusion, taking things to a whole new level in terms of musicality.
The Nod appealed to the very core of Taranaki's musical heartbeat, and while their reach may not have extended as far as Sticky Filth's, their legend within New Plymouth and consequently Taranaki, grew to epic proportions; to many they are the most accomplished New Plymouth band (playing original material) to ever take the stage. In 1986 they released their self-titled debut cassette, which marked the beginning of a musical odyssey that has stopped (1998), and started (they played New Plymouth's Mayfair as recently as June 6, 2015).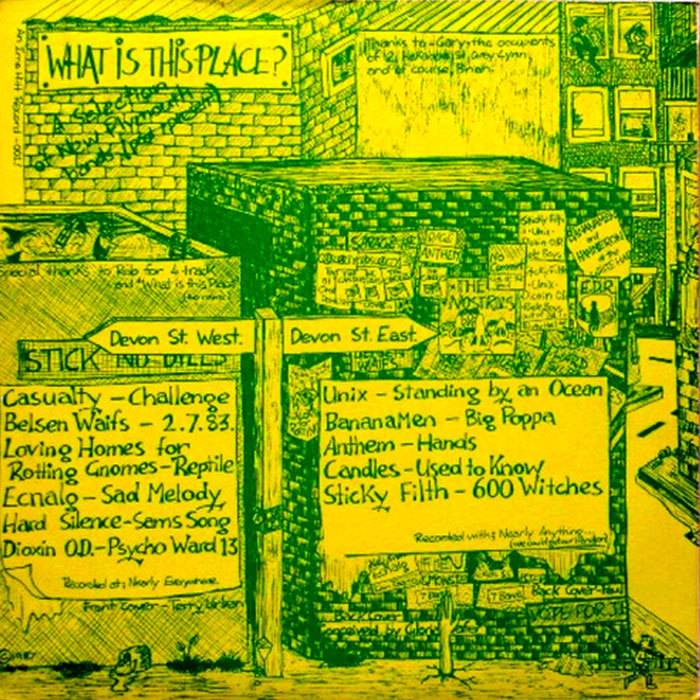 But nothing took pride of place in Taranaki folklore more than the compilation What Is This Place? released on Brian Wafer's Ima Hitt label in September 1987. Reading like a who's who of the New Plymouth alternative scene, the bands and song titles tell their own story. They include Casualty, Belsen Waifs, Loving Homes For Rotting Gnomes, and, of course, Sticky Filth. What Is This Place featured the catalogue number Ima Hit 001 (acknowledging its vinyl format), with the cover artwork depicting an erupting Mount Taranaki, situated behind the White Hart (New Plymouth's most famous, and long lasting venue), with a rampant group of dinosaurs and a dalek taking control of the foreground. It was a statement in itself, and was the beginning of an expansion by Ima Hitt, and especially Sticky Filth, into areas further afield than just Taranaki, or indeed, New Zealand.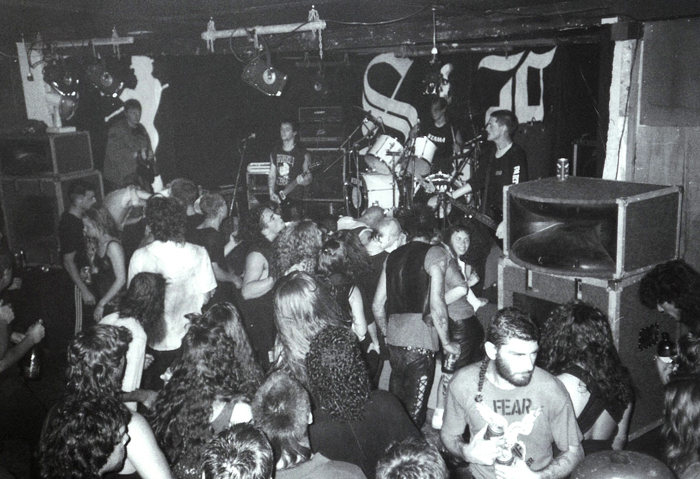 The same year saw Sticky Filth release their classic album Weep Woman Weep through Ima Hitt. Again the release was on vinyl. Weep Woman Weep sold well, and, more importantly, it sold overseas.
1987 also ushered in the debut of the Mushroom Ball, an idea hatched by Victoria Singh. According to legend the concept was conceived during an afternoon on mushrooms where everybody came dressed up. The actual gig, which was instigated by Peter Wood and Brian Wafer, saw 250 turn up to the now demolished Railway Hall in Morley Street. The line-up was Sticky Filth, The Nod, Dioxin OD and The Sounds Of Survival (a Taranaki Unemployed Rights Centre Government Employment Fund band).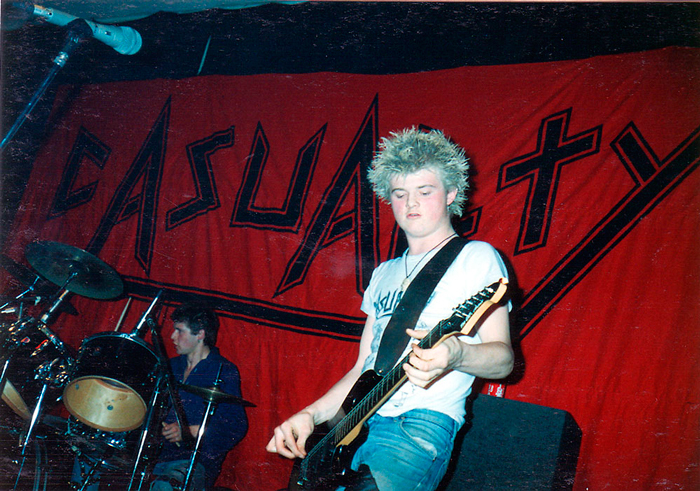 The Mushroom Ball was successful, but notorious, and attempts to hold it the following year at the Senior Citizens Hall in Liardet St were cancelled when the venue organisers became concerned over its bad reputation and the possibility of booze sales. The venue location changed, due to police pressure, on the day the Ball was to occur, and it was eventually hosted by the Breakwater Tavern. But the last minute alteration of the location didn't affect attendance in the slightest, and Sticky Filth, Harry Death, Post-Mortem Depression, Riff Raff and Toxic Avengers thrashed it out down near the port, never to be forgotten by those who were there.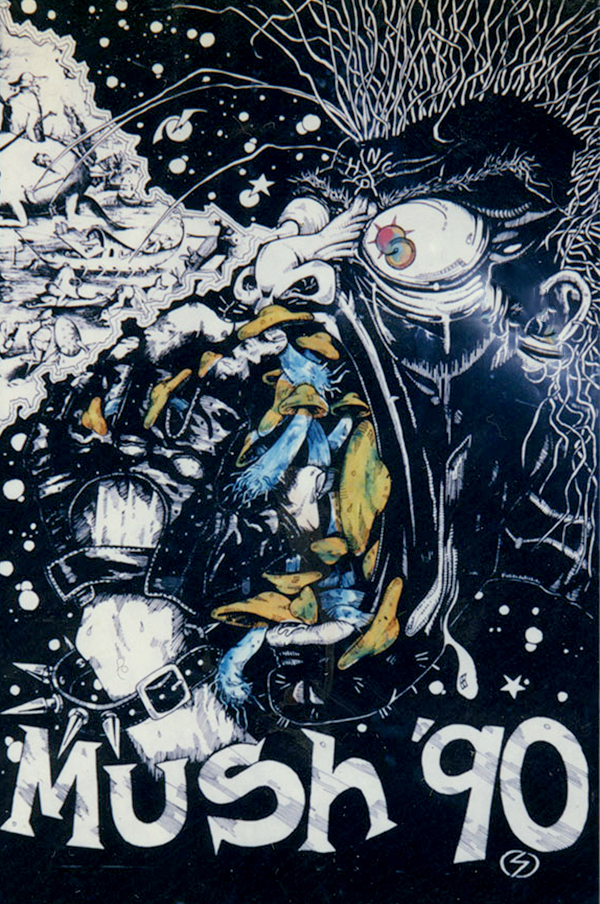 However the publican vowed never to book the bands again. Not that it mattered – The Mushroom Ball would rear its antisocial head again in May 1990, continuing to do so on an annual basis through to 1994. Some of the other acts to appear over the years included Nefarious, Rake, Flesh D-Vice, Das Unter Mensch, Meat Market and Warp Spasm. Sticky Filth would appear at EVERY Mushroom Ball.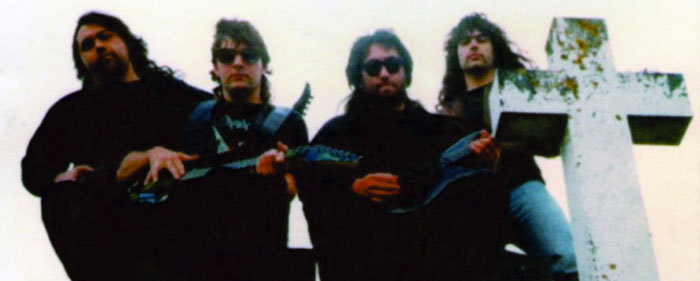 "New Plymouth Rocks", a major feature in RipItUp by Donna Yuzwalk in early 1992, showed how far the city had come in terms of establishing a scene that was viable, and, to some extent, understandable to the outside world. That same year saw the release of Thirsty Work by The Nod, who also secured a support slot for Iron Maiden when they played at the Logan Campbell Centre, in Auckland.
1994 saw Sticky Filth support Suicidal Tendencies, and release their acclaimed 7-inch 'Def Thru Misadventure', again through Ima Hitt Records. By this time the band's support offshore, and Brian's networking and ability to place Sticky Filth in appropriate international markets, saw their sales develop in a variety of countries, all of which enhanced their reputation in New Zealand. This, and their solid reputation as a live band, helped keep their following at home loyal and strong. 'Def Thru Misadventure' was also significant in that it was the first Ima Hitt Record to be pressed in the USA.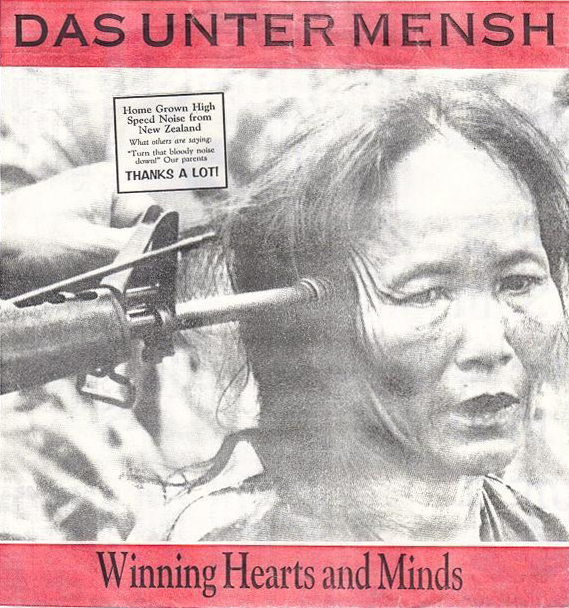 The word continued to spread, with the international RockHard magazine devoting four pages to New Plymouth music. The magazine's circulation was 100,000 copies per issue. The light was burning brighter and brighter. And then it burnt out.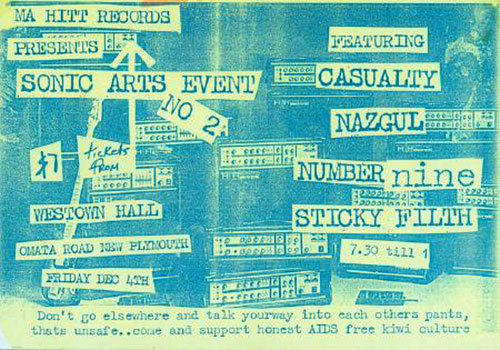 For reasons still not understood, Ima Hitt closed, leaving a dent in the local music scene that could not truly be repaired. The increase in CD sales, especially in the latter half of the 1990s, meant that although other outlets sprang up for the sale of new and second hand vinyl, those at the helm did not have the depth of knowledge, or years of experience that Brian Wafer had for keeping the various threads of New Plymouth's musical society interconnected, and bit by bit things began to splinter apart.
That's not to say there weren't some notable bands. Schizophrenia is one that deserves mention, and Jallal, the all-female band built round the songwriting talents of Anita Anker. Or Mad Cow, which hosted the talents of former Nod bassist, Phil Parli. The list is numerous.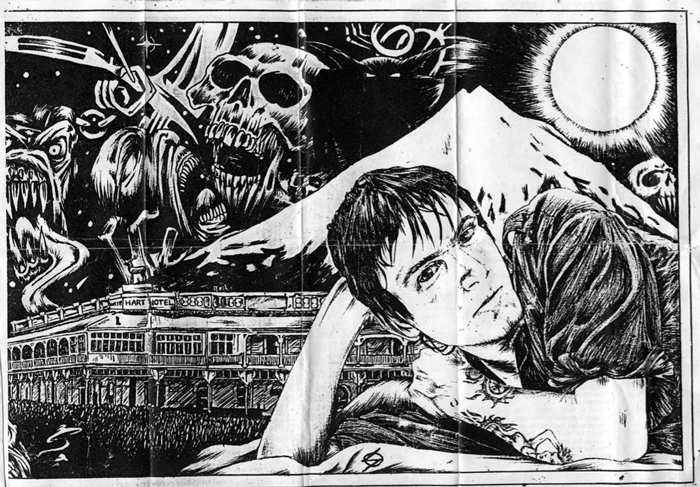 There would still be CD releases, and even the occasional vinyl release. But not often. The closure of EMI's pressing plant in Wellington, followed by the gradual demise of the few pressing plants left in Australia that could manufacture vinyl, had seen to that. Benzine's self-titled five song EP, pressed in a tiny edition at an independent plant in Geraldine, would be one of the few. But everything was now a satellite or outpost of something that had previously been intertwined and, to some degree, self-generating and self-sustaining.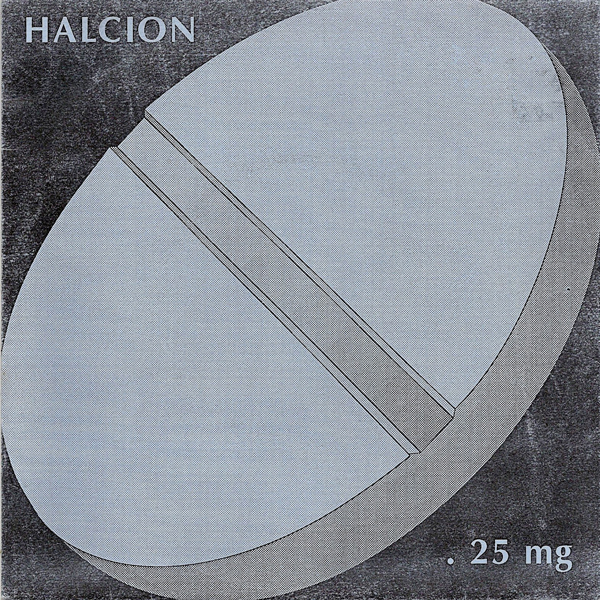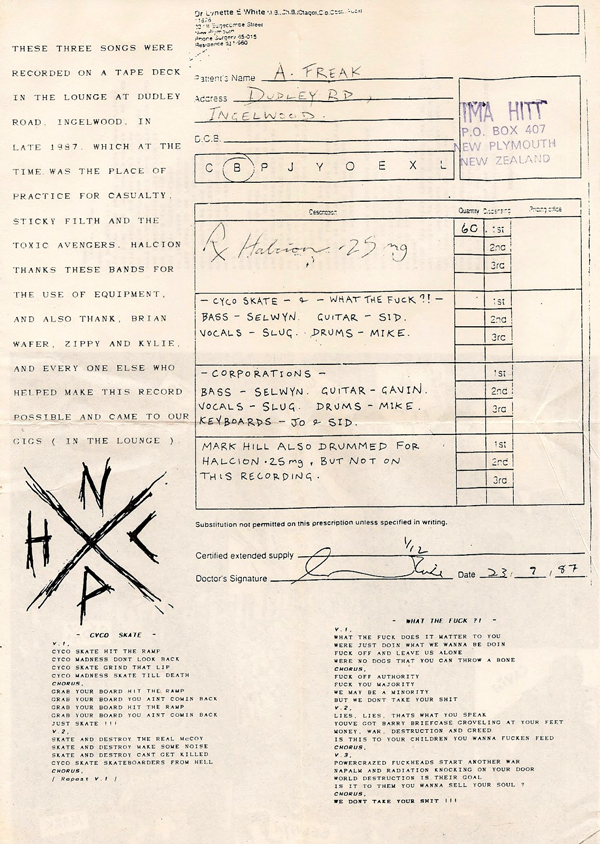 The only real scene to develop in the aftermath was so far underground as to be almost invisible to anyone above the age of 20. This scene was coming directly out of schools, with an audience that resembled, in age anyway, the type of fans who had previously gone to early Nocturnal Projections gigs. The whole thing was anchored by Rival State, a Spotswood College band composed of Nimal Fernando (vocals, guitar), Jo Einarsson (guitar), Stefan Einarsson (bass) and Salvi Stone (drums), who could draw crowds of 300-plus. Rival State played fairly regularly, and had a loyal fan base. They also had a contingent of bands around them that were developed enough to do short support slots, which not only filled out the gigs, but aided in networking the information between schools. In 2004 they were the first New Plymouth band in years to reach a national final at Rockquest, a feat they repeated the following year, when drummer Salvi Stone won the award for Best Musicianship.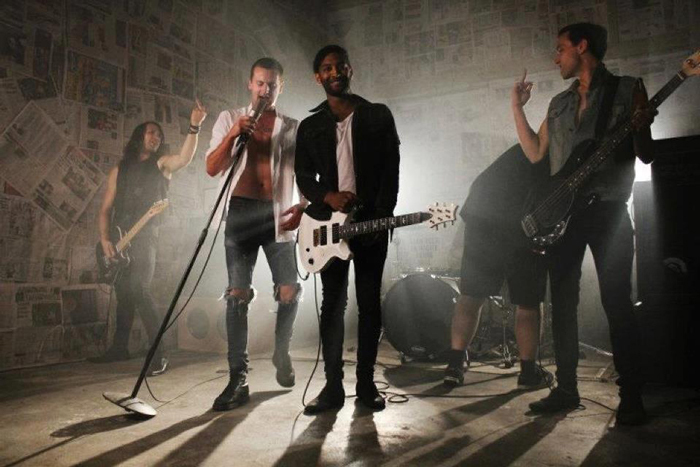 But by 2006 Rival State had departed for Auckland, embarking on the beginning of a journey that currently finds them overseas and well on the way to becoming one of New Zealand's hottest tickets on the world stage. Not that this was much help at the time to the fans back in New Plymouth, and even though Rival State would make regular journeys back to what had once been home-base, it would never be quite the same.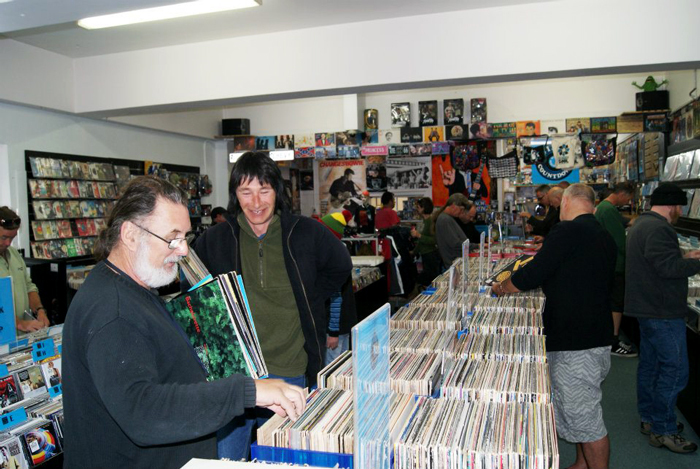 New Plymouth's music scene became the sleeping bear. Not dead, but not really awake either. CD outlets like Raw Music would attempt to fill the void, and you could still get second hand vinyl (except no one wanted it). And now there was karaoke too. What's in a performance, or indeed a medium for that matter? At the end of the day something was missing.
It would take many years (until the world came to its senses and re-embraced vinyl as its best form of music reproduction), before new Plymouth would start to resemble at least part of what it once had been.
–
Part 3: New Plymouth Scene 2007-2015 - it's the Vinyl Countdown