For a documentary maker like me, old music docs are a goldmine. Music, fashion, period cars, houses, and haircuts, but even more than that, colourful shots of crowds smiling with infectious joy. Looking back at the documentaries that tell our musical history, there's so much more than the big-name festival features, and sometimes we find nuggets in the films that meant little to us the first time round.
AudioCulture's sister site NZ On Screen offers a vast library of New Zealand-made music documentaries that are free to stream, and what follows is just a sampling. (Note: A couple of the documentaries mentioned here are only trailers or excerpts, but they can be viewed on demand elsewhere.)
The joy of music docs is often they're not just about music – they reflect culture, politics, and history. Finn for a Day (2001) captures a transition time in musical television, hopeful amateurs having a moment in the sun just before the proliferation of far more cynical, competitive, "star for a day" shiny-floor reality shows. Shihad – Beautiful Machine (2012) is about the band and its name change in the wake of the 2001 terrorist attacks on the US, but it's also about fame and the difficulty of coming from a small country, global policies and the American market. (NB: NZOS just has three short extracts of Beautiful Machine, but it can be streamed on DocPlay.) Finn for a Day (2001) captures a transition time in musical television, hopeful amateurs having a moment in the sun just before the proliferation of far more cynical, competitive, "star for a day" shiny-floor reality shows.
One of my favourite local music-watching moments happened on the way to Tahiti with a TV crew. Scattered around the plane, we tried to synchronise watching Herbs – Songs of Freedom (2019). I'd look across the plane and see heads bobbing to music, flipping back to laugh, or leaning in to the sad parts. I once asked a DJ in a Tahitian nightclub to play 'French Letter' during the 1995 nuclear tests. Flying back to the same island, smiling across the aisle at each other, transported me back, the DJ and I sharing a knowing grin across a dancefloor crowded with French soldiers and gendarmes. (NB: Songs of Freedom is trailer-only on NZOS, but can be rented at Google Play.)
We can map Aotearoa's reggae story through documentary, missing the bands we didn't document and celebrating the bands we do. TrinityRoots – Music is Choice (2010) tells the story of one of the bands that caught the baton from Herbs. Songs of Freedom uses archive, but Music is Choice has become archive. Staying in the reggae mood, Fat Freddy's Drop – Based on a True Story (2009) follows our festival favourites on their annual Euro-circuit. It's a contrast to the recent doco about Six60, Six60: Till the Lights Go Out (2020), and makes me wish documentaries had been made about more of our reggae pioneers, like Sticks and Shanty or Aotearoa.
The Power of Music (Te Kaha o Te Waiata) (1988) opens with a long helicopter shot down the East Coast, which takes us to scenes of Ruatoria life intercut with newspaper headlines about violence. Herbs' a capella 'E Papa' fades away and suddenly we're in a funky downtown Auckland so cool, there's a cut away of a smiling Tracey Collins. It's 1987 and while Aucklanders are busy being Aucklanders, Ruatoria is living with an active arsonist.
Herbs are launching their album Sensitive to a Smile, and there's only one place they're going to do it. "… everybody is doing it in LA, we're gonna do it in Ruatoria." This is a documentary that could only be made here. My favourite moment is the roadies setting up in the wharenui, while a group of youngsters on horses crowd around the door for a squizz. The Power of Music (Te Kaha o Te Waiata) is music, politics, and our heartland rolled into a 20-minute film. It captures Herbs' kaupapa beautifully. In Dilworth Karaka's words, "… to show New Zealanders the power of sharing, the oneness with our land, and the oneness with the Pacific …" The farewell at the end of the film is a triumph of love over headlines. A lesson we need to remember now.
Music can temporarily take us back to a time or place, but a music documentary can enhance that joy or sadness, and more importantly, take us into other people's memories, seeing history through a different lens.
One of my family stories came to me when I stumbled across 1970's Keep on the Sunny Side (1970), about The National Banjo Pickers Convention. My then-young mother detached her retinas riding her motorbike into the woodpile, The Hamilton County Bluegrass Band turned up in hospital to play for her and a friend. She's quick to point out she wasn't dating the mandolin player, but does admit they would have gone to a ball together if her temporary blindness hadn't got in the way. I'd heard records of the band, but being able to watch a documentary about them was like having the bandages taken off my eyes too. The documentary, with its 60s haircuts, Holdens, socks and short pants, puts me right there, and I'm confident I've seen some of the same cars and beards turn up at the Kumeu Folk Festival 50 years later.
It's not all good times. Sweet As (1999) follows two groups to the 1999 Sweetwaters Festival. One group is older and trying to relive their youth, the other is young, wanting to create their own memories. Sweet As explores the tension between the boozy in-my-day nostalgia and the excitement of the teens taking all natural herbal energy pills so they can dance all night. It subtly introduces a backstory of cancellations, unpaid bands, and financial mismanagement. The generosity of both groups, having the cameras along, lets us relive that contentious part of our musical history, so perfectly crowned with Chris Knox's ad lib to the audience, "and it's you that I love, because you gave 139 dollars each even if it didn't come to me in the long run."
In the festival theme, you can watch a younger Chris Knox on stage with Toy Love in Radio with Pictures – Sweetwaters (1980), or go straight to 1979's Nambassa Festival (1979) which opens with a long tracking shot to the festival site, where "60,000 people came when only 20,000 were expected."
Th' Dudes – Right Second Time (2007) turns its lens on Th' Dudes, another of our favourite pub rock bands, nostalgically following a 2006 nostalgia tour. The cameras weren't there the first time in the late 70s, but seeing it the "Second Time" is the next best thing.
Taking us further back to sunnier times, Song of the South Seas – The Life and Music of Bill Sevesi (1992) takes us back to the origins of the origins of Aotearoa's Pacific sound. Bill Sevesi's steel guitar and ukulele sound has echoed down through the years and found its way into some of our best and most distinctive hip hop.
Another OG, Dalvanius, gets the taonga treatment in Dalvanius (2002), which kicks off with the man himself telling us he was given five weeks to live, eight months ago. It's a cold shower of an opening, from the man who gifted us 'Poi E', a song that will never outlive its welcome. Yes there's been the great Poi-E film since, but this is Maui Dalvanius Prime telling us his story, with narration from a another of our legends, Don Selwyn.
Solidarity (1992) begins with a single voice chanting "Detroit, Detroit, Detroit, Farrakhan, Farrakhan, Farrakhan," and follows Upper Hutt Posse to the United States where they'd been invited by the Nation of Islam. Co-directed by Dean Hapeta (aka Te Kupu, D-Word), the doco has the sampled feel of the best of 80s rap, including a meet up with Abiodun Oyewole from The Last Poets. It's a chaotic, experiential gem; a love letter to music and political resistance. I was living without electricity the year it went to air, so discovering this doco was fantastic.
The Neville Brothers – Keepers of the Flame (1992) is another beaut wee doc from the year I didn't have a telly. Again, I'd never seen the doco, which follows Moana Maniapoto and her band to New Orleans to stay with the Nevilles, but I did see both bands at the Auckland Town Hall and remember their kids joining them on stage, so learning the Nevs are all about whānau is no surprise. It's an unusually intimate documentary and a buzz to see Moana and the Moahunters performing in te reo Māori at the 1992 New Orleans Jazz and Heritage Festival.
One of our most surprising documentaries is 1974's Rollin' thru New Zealand with Kenny Rogers and The First Edition – the content is well and truly what's on the tin. Rollin' scratches the itch comedians tell us we have, of needing to know what visitors think of New Zealand. It's a Texan Trojan horse, a documentary about Kenny Rogers, that is really a documentary about us through Kenny Rogers eyes ("the only thing wrong with New Zealand is, it don't have a McDonalds").
In 1976, we got our first McDonalds, goddamn, and then in 1984 we got Emmylou Harris and The Hot Band. It's not really a documentary, it's a performance film, filmed in TVNZ's Auckland studio. It's not even our music, and I'm not sure the live audience know how lucky they are, but it's our cameras and sound, and Emmylou is here, singing 'Grievous Angel', so that's worth a watch on its own.
In an era where half the country still watched our homegrown country music show That's Country, Emmylou would have been a hit. I'm not so sure about 1972's The Unbelievable Glory of the Human Voice, a dramatic celebration of singing that finishes with an microdosing mash-up of two decades of rock music with thousands of photos. It's a beautiful celebratory indulgence, and I can't imagine how it went down with … anyone really.
The music creation documentary is a sub-genre in itself. Watching Gareth Farr composing and rehearsing in Farr From Heaven (2005) is a window into a world we only ever get to see in documentary. We don't make enough of these.
Trawling through our musical history is a bit hit and miss. We have sporadic bursts of documentaries, when the stars, documentary funding, and network interest line up. Some eras, artists and genre are well covered and others are almost absent. In a perfect world though, we'd also be going on the road with young bands and artists, in the studio with the undiscovered, and in TV language, "shooting the shit" out of our musicians pretty much all the time.
--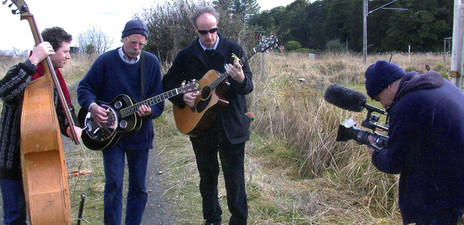 A search of NZ On Screen for music documentaries brings up over 200 titles (and growing). Among them is the trailer to Costa Botes's 2006 film about the Windy City Strugglers, Struggle No More. This image by Arthur Baysting, used for our homepage banner, shows three Strugglers being filmed for the doco: Nick Bollinger, Geoff Rashbrooke and Bill Lake.
Music documentaries on NZ On Screen
--
Dan Salmon is a multi award-winning director and producer of documentary (Made in Taiwan, Here to Stay) and drama (Licked, The Day Morris Left).