When Graham Brazier died on 4 September 2015 it was a shock – I thought he had had a longer lasting battery. Looking through the many photos I took of Graham over the years, I was amazed at how many there were and that I do not have a comparable collection of photos of any other musician. I was a fan of Hello Sailor and worked with Graham to record and release the East Of Eden album in 2004, but the longevity of our association does not explain why I have so many photos of the man.
To be blunt, Graham was into having his photo taken and in my case I think in the spirit of helping me take great photos. The cynical will say: "rock star poseur" but us photographers appreciate the assistance of the musician who can perform on and off stage. Most of the best photos I have taken are interesting because of what the people in the photos contribute to that moment in time.
Graham was aware of the arts, beyond music. He was a poet himself, his mother was a bibliophile actively running bookshops since 1933. He collected first edition books by writers such as Charles Bukowski, William Burroughs, Jack Kerouac, Raymond Chandler and James K. Baxter.
Graham could communicate with an audience in an emotional sense and a visual sense, in addition to his musical performance. Just as he had empathy for poets and writers he was not above helping a photographer to get a good photo.
After Hello Sailor played at the University Recreation Centre in early 1978, he was speaking to friends near backstage and I was lurking, doing my usual "fly on the wall" photographer thing. After speaking with friends, Graham asked me, "Do want to take a photo?" I did but didn't seem to have the balls to ask him. The available light was limited, so he moved to where I could take a photo. A couple of clicks and it was "thank you" and "goodbye". I have chosen that photo to lead off this series of photos I took of Graham over the years. On other occasions when I was nearby with my camera ready, I'd get that nod of approval from him, "Okay, this will make a great photo."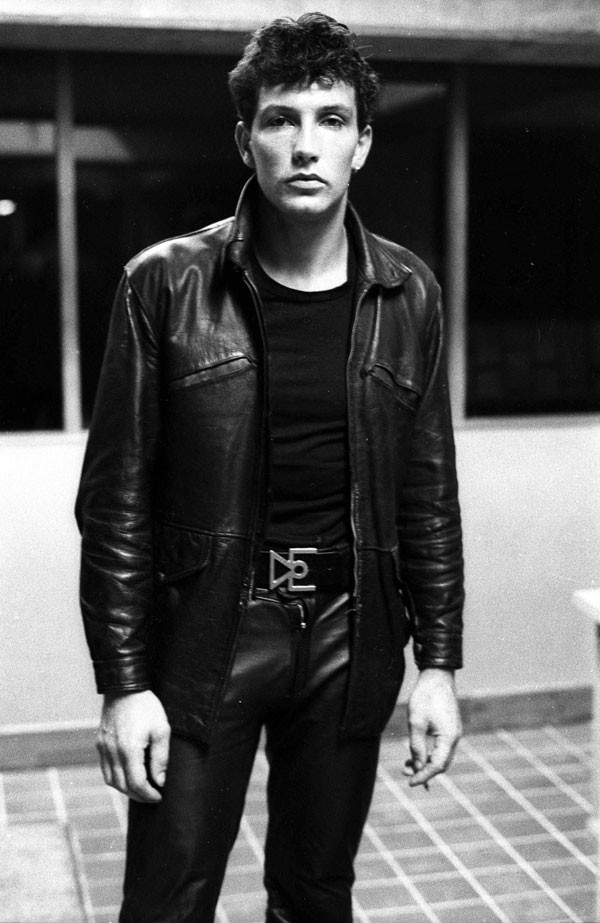 The after show backstage portrait Graham found time for after they had performed one of their finest shows at the Auckland University Recreation Centre, early 1978.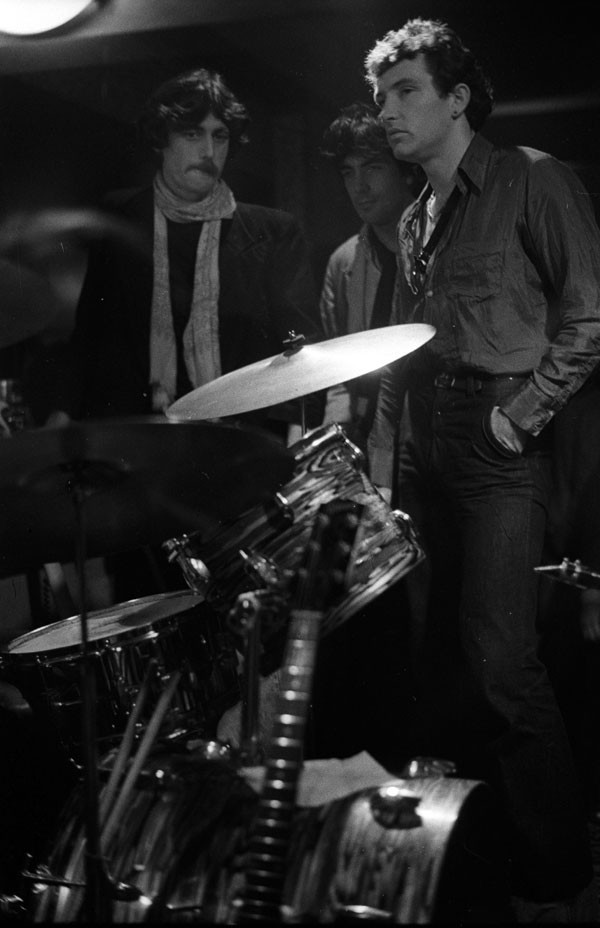 In simpler times, the Globe Hotel, Wakefield St, Auckland.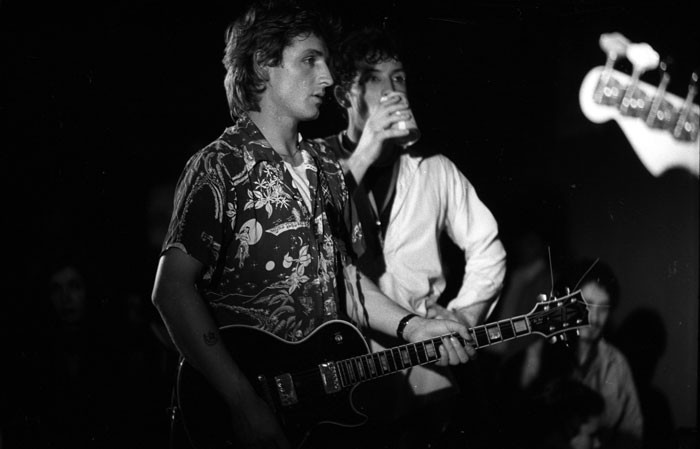 Waiting for something? Brothers in music, Dave McArtney and Graham on stage at the Gluepot.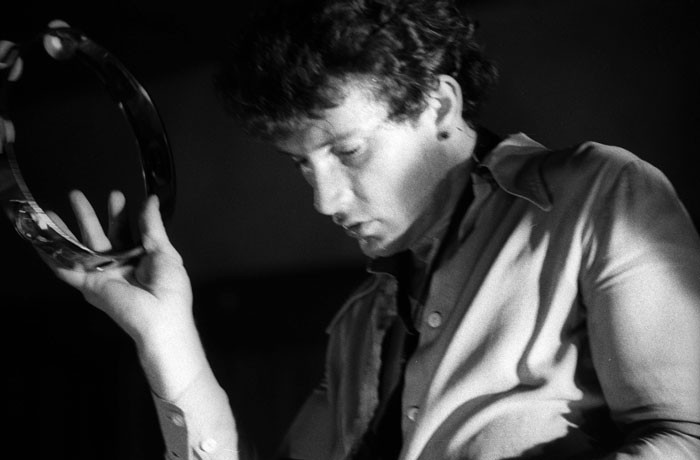 Mr Tambourine Man, playing Auckland University Café, 1977.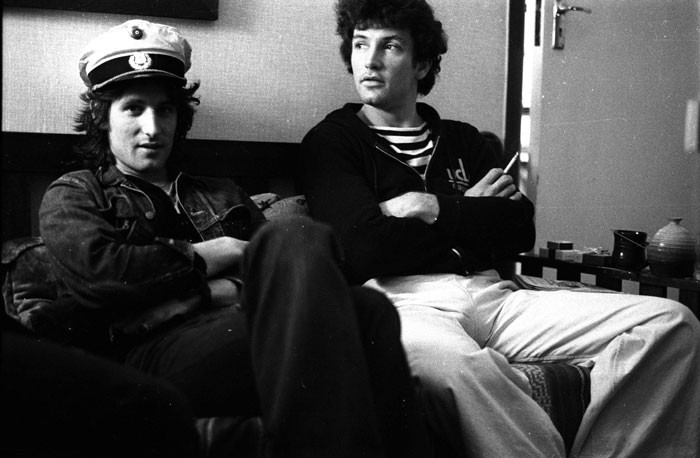 The first TV2 Telethon was nearing its conclusion as we interviewed Dave McArtney and Graham Brazier at their Jervois Road flat in July 1977. Their eyes glanced at the tele to check the skyrocketing Telethon total, during the interview. There were four of us from Rip It Up: a photographer, an editor, a writer and a girlfriend.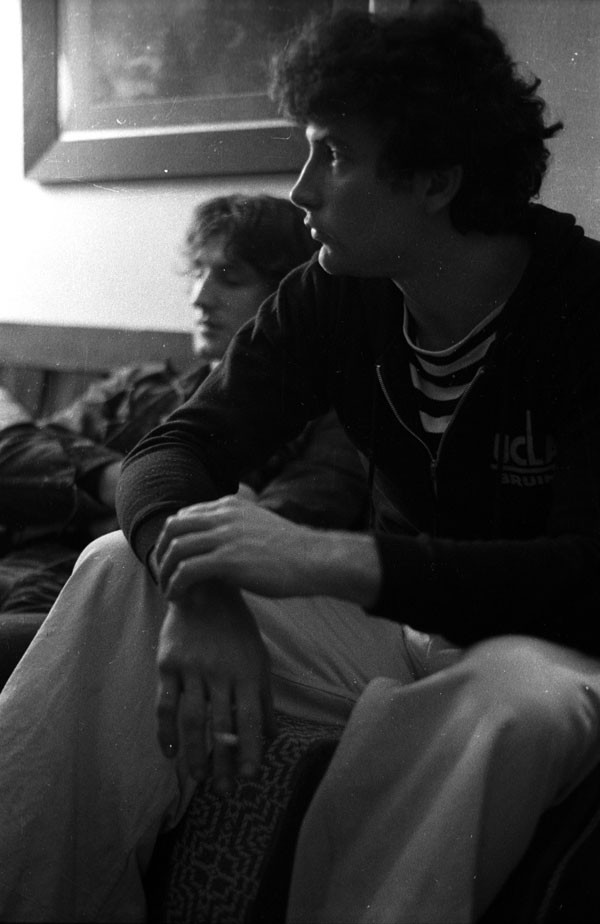 Graham looks young in this photo and is wearing rather casual, sporty attire on his day off.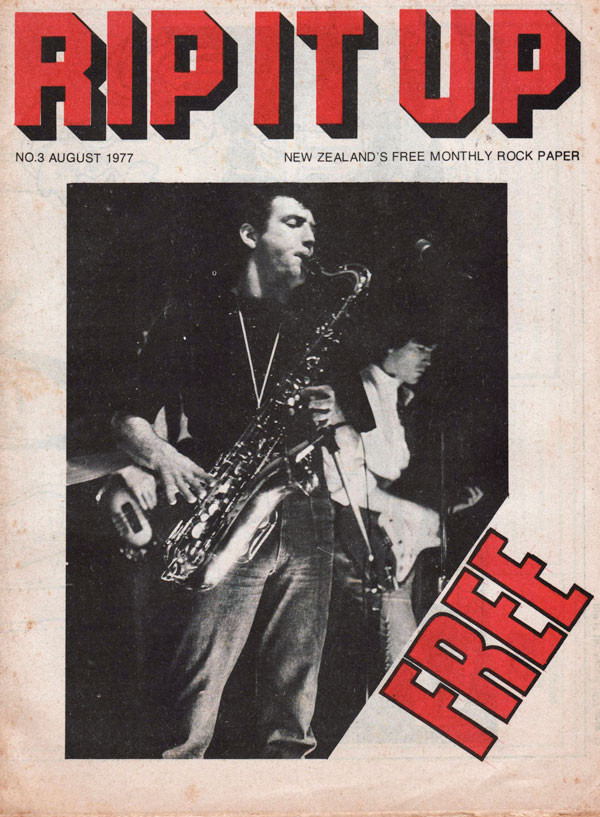 After Hello Sailor appeared on the cover of the third issue of Rip It Up in August 1977, Graham Brazier stopped by the magazine's office, above Snaps Gallery in Airedale Street. He thought we had a fine magazine. As co-publisher I had asked original editor Alastair Dougal, "Why are we putting a band that plays a small bar like the Globe on the cover?" He considered them to be as good as any band that played larger venues.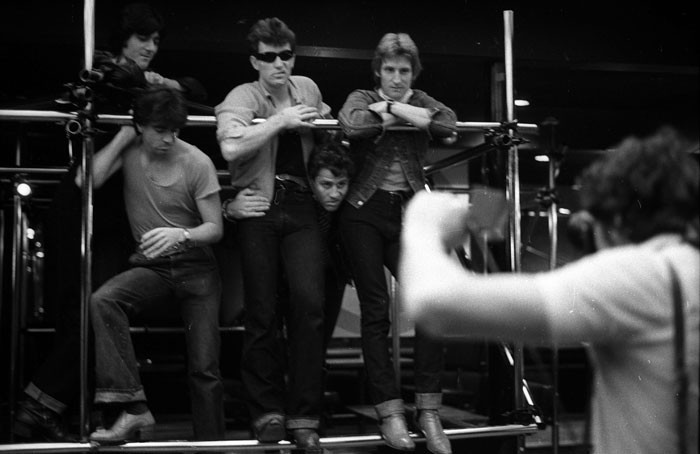 Hello Sailor doing a photo session for a Wellington newspaper at Slack Alice's nightclub. Also in town were the Suburban Reptiles. Buster Stiggs commented in 2013: "The old wave v new wave thing was just a way to get publicity, I did an interview with Graham, Harry and Dave with John Hood on Radio Windy where we totally slagged each other. Graham referred to us 'The Suburban Roof Tiles'. I renamed them 'Goodbye Sailor'. After the interview, we had a good laugh and partied on hard."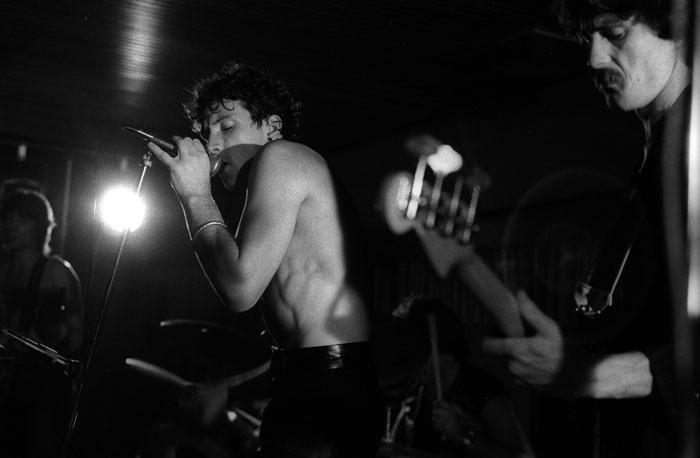 Graham and Lisle Kinney at the Gluepot, Hello Sailor's new home as their audience grew.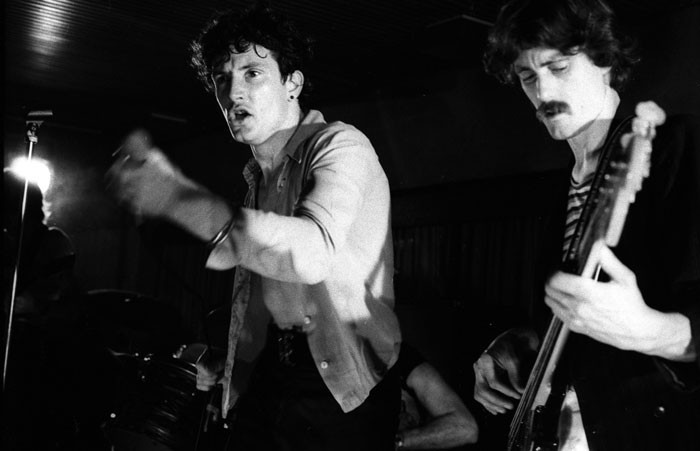 Graham and Lisle Kinney at the Gluepot.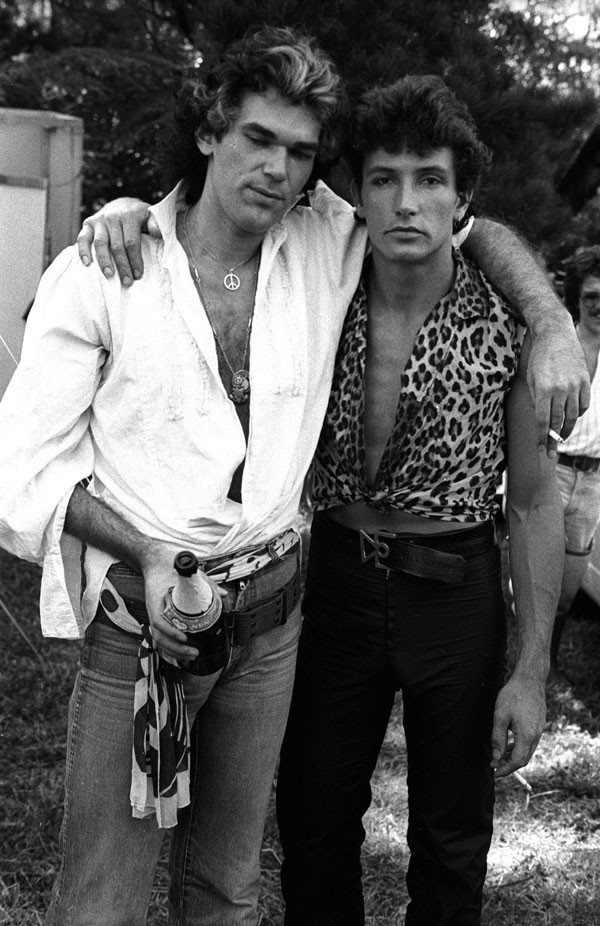 Marc Hunter of Dragon and Graham Brazier, Great Western Festival, 15 January 1978. Rip It Up called Hello Sailor "the chief crowd pleasers" on the day as many punters were bemused by Dragon's move from prog to pop.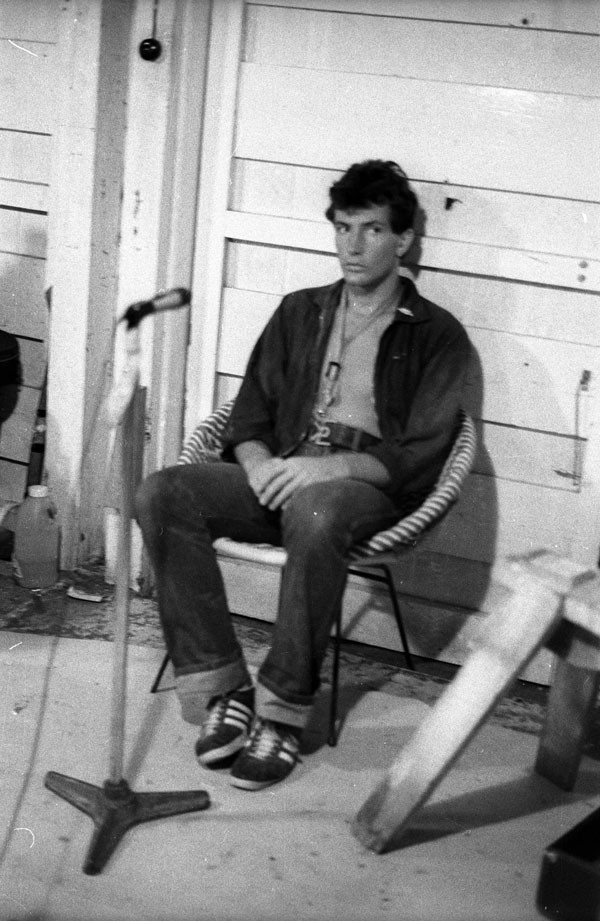 Dressed (and seated) to rehearse at the naval depot in Birkenhead.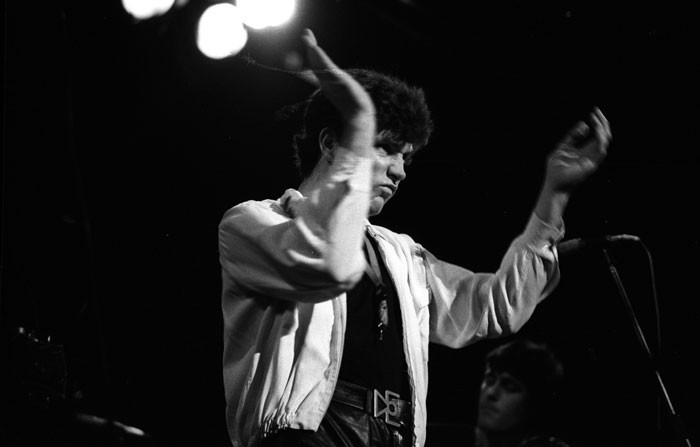 Graham on a big stage, the Auckland Town Hall.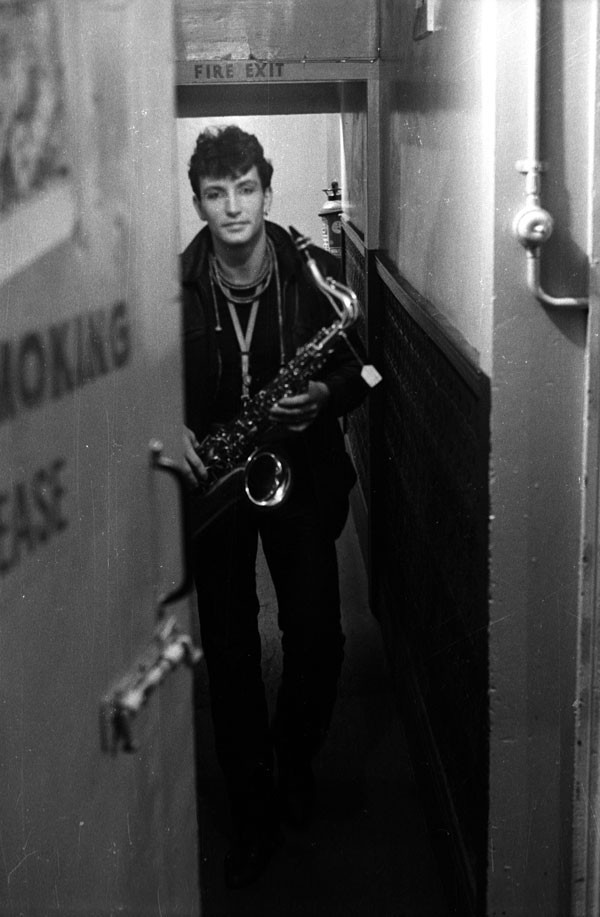 Graham heads for the stage, His Majesty's Theatre, Auckland.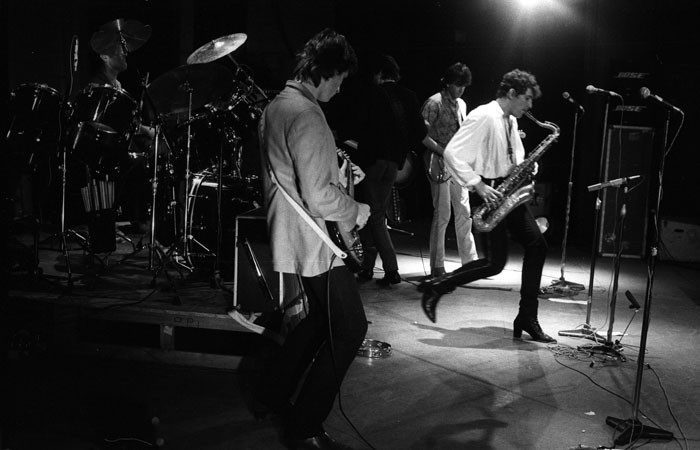 Those "Hello Sailor boots" had heels. This stage is probably His Majesty's Theatre.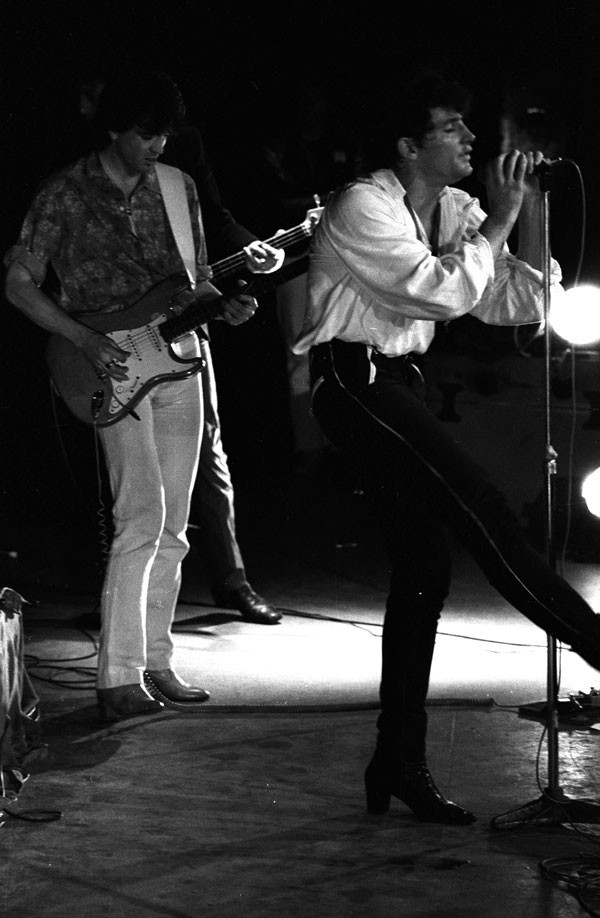 Graham's black pants with the red stripe were a wardrobe highlight.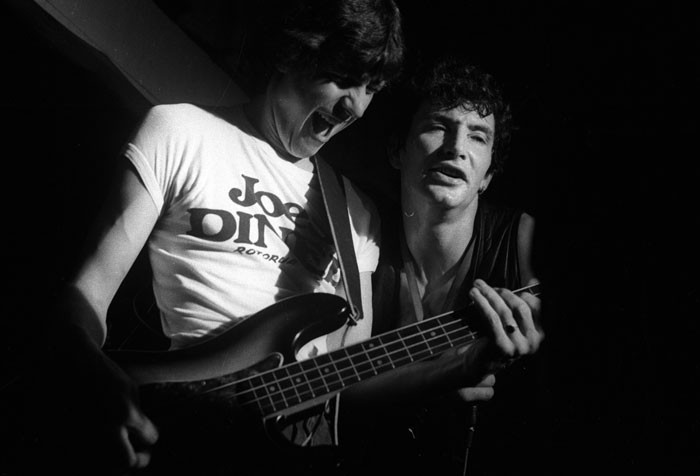 Graham is upstaged by Lisle Kinney, wearing a very cool T-shirt.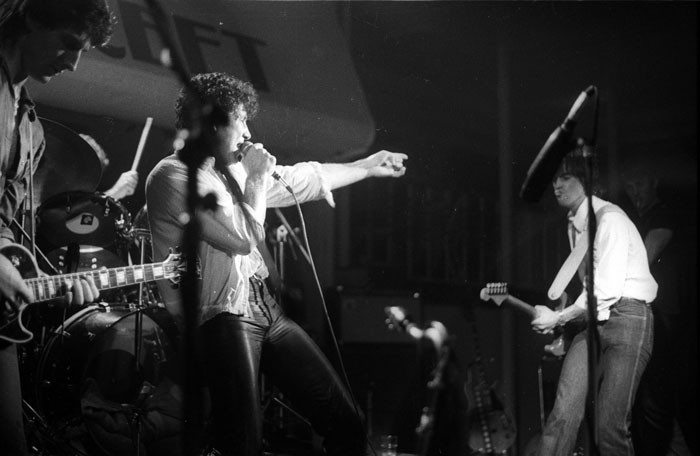 "Son of Sam, bam, bam, bam, bam" – I presume – at Mainstreet Cabaret.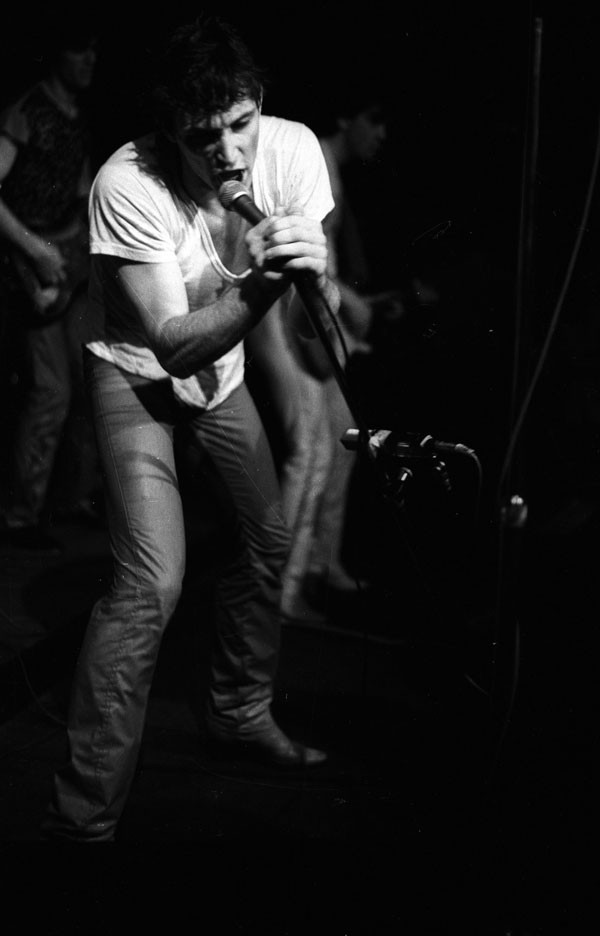 There was no lack of energy when Hello Sailor returned to their hometown from LA. I suspect Graham is wearing new, post-USA trousers.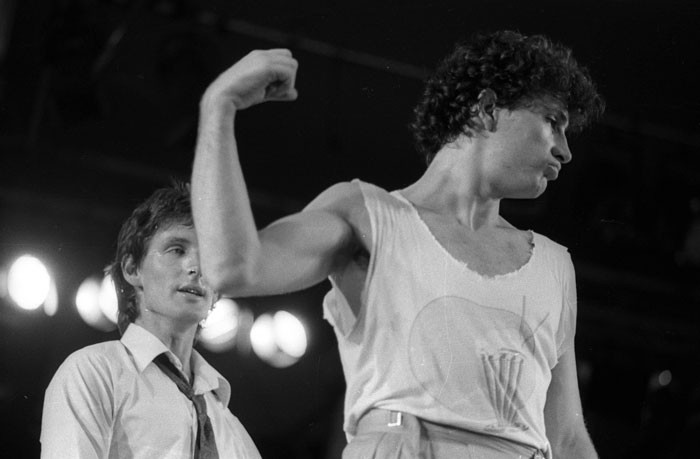 As the show ran late at the inaugural Sweetwaters Festival in 1980, the acts appearing later in the evening had had a beer or two, too many. Hello Sailor got bad reviews. This may have been the largest audience they ever played to.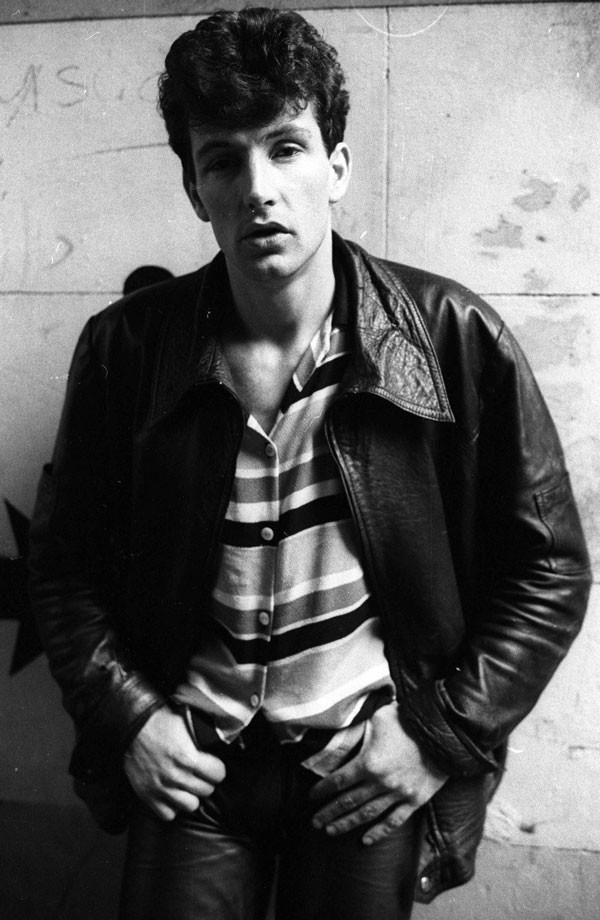 This 1981 Rip It Up magazine photo session was done in the old cobblestone lane that linked Darby Street to Victoria St, just downstairs from the Rip It Up office.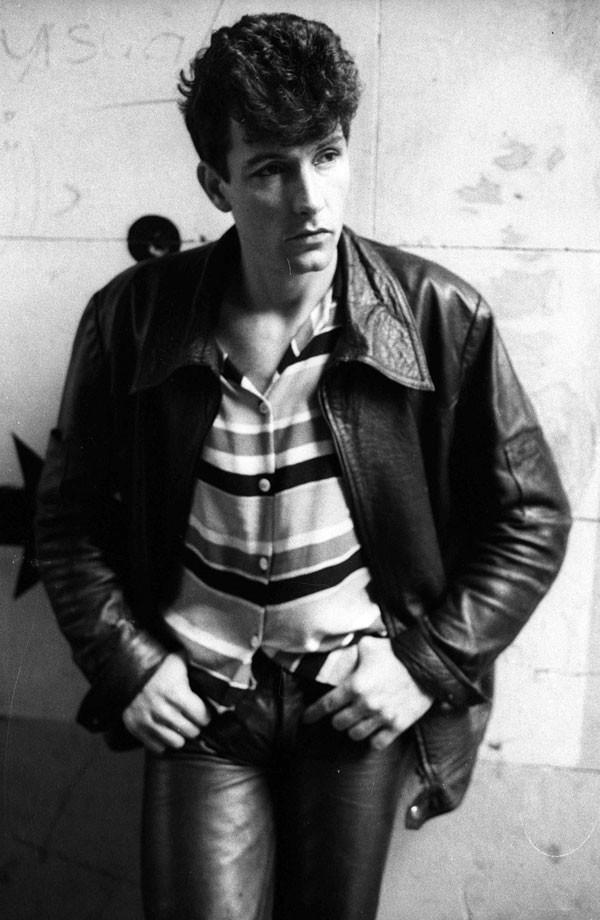 Black and white suits Graham big time. He was facing a criminal charge, something like loitering with intent outside a chemist shop.
The release of Graham's Inside Out album was on the horizon and this session included colour shots for a possible Rip It Up cover. Graham looks younger in colour.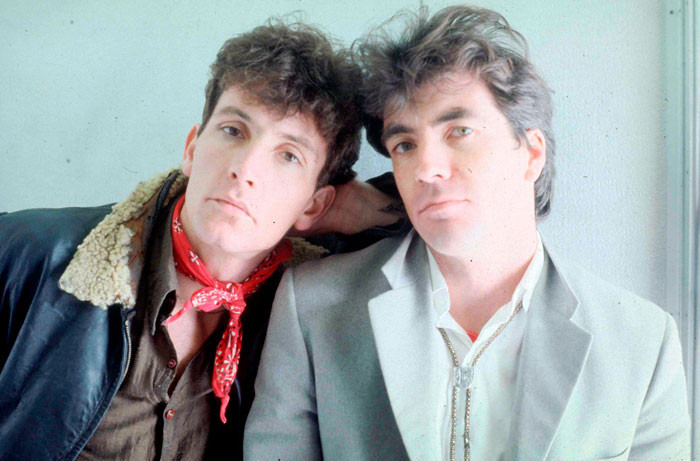 Stand by your man. An outtake from the Rip It Up August 1982 cover photo session.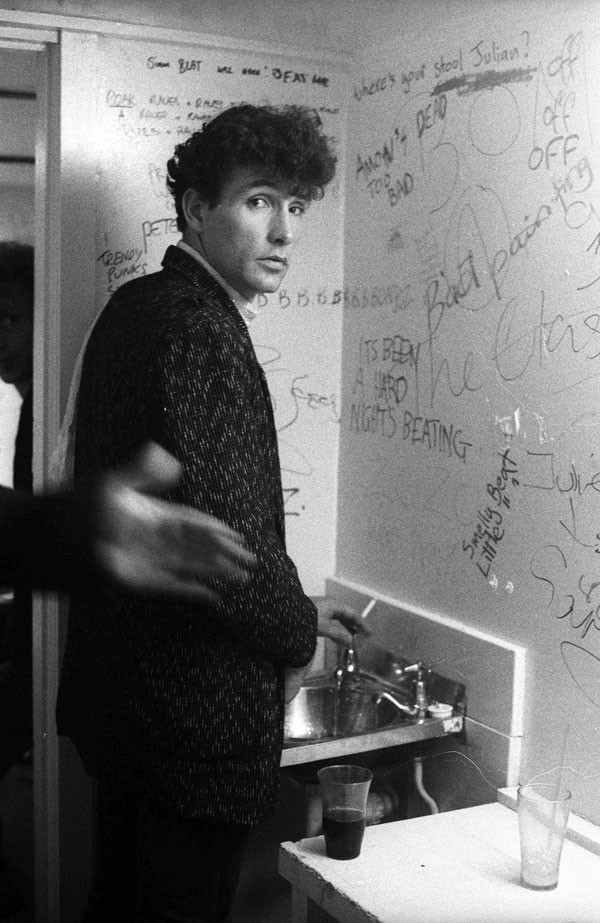 Multi-tasking. Graham could pee and take a fine photo at the same time. Venues are still being built with no backstage toilet for musicians.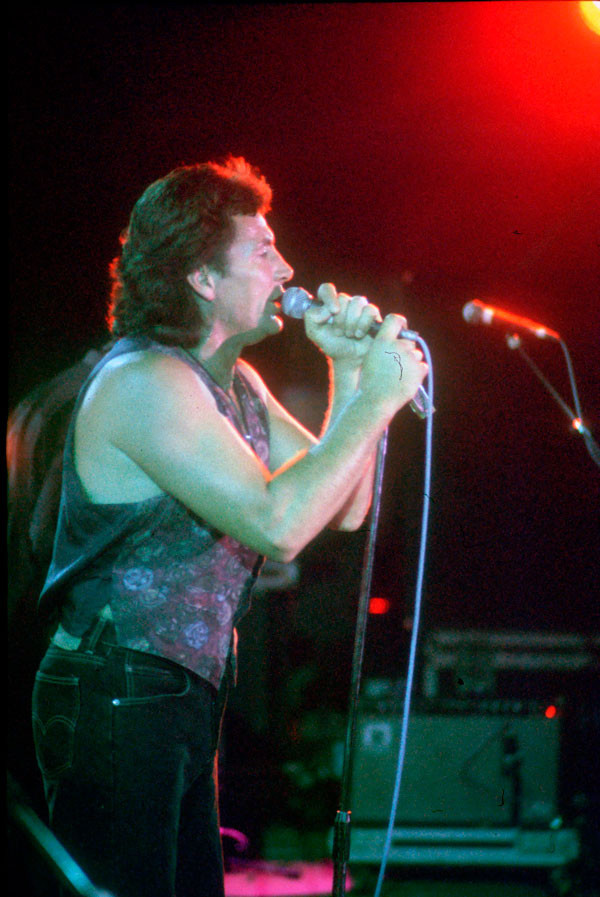 Hello Sailor played Strawberry Fields Festival, Raglan, on Sunday 25 February 1995, and got an enthusiastic review from Rip It Up's John Russell in the April issue.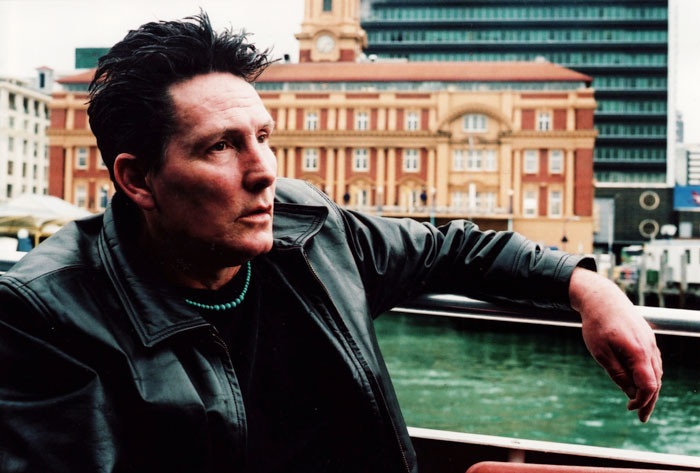 I thought Graham would live forever. He looked so strong a week before his death. I regretted being too busy to talk for hours with him, I regretted not seeing his poems published and I regretted my not taking many photos when I worked with him on the release of his 2004 album East Of Eden. This year I found a lot of photos I took during that time – I just forgot that I had taken them. Here's a favourite of Graham on the Devonport Ferry en route to work with producer Rikki Morris at the Depot studio.
–
All photos © 1977 to 2016 Murray Cammick, used by permission.