Mr Lee Grant's career was fast moving. Once it kicked into action with the success of 'Opportunity', a string of successful singles followed. The popularity of the TV show C'mon led to the C'mon Spectacular Tour, then the Golden Disc Spectacular tour.
C'mon, C'mon
Appearing on C'mon was not a one-day a week booking for the resident performers. On Sundays they recorded the audio tracks for the following Saturday's show. Monday afternoons the musical director instructed the band and vocalists on the songs chosen for the following week's show (not the upcoming weekend). The dancers rehearsed Tuesday and Wednesday; a 1967 NZ Listener story politely refers to the show's "ballet dancers".
On Thursdays there was a "dry run" rehearsal prior to the final set being in place. Saturday was the big day with a 10.30am start and repeated run-throughs. Late afternoon there was a full dress rehearsal, then a tea break and at 7pm the 30-minute show went live to air in Auckland on AKTV-2, in front of an audience of 150 teenagers. Videotapes were made for later broadcasts out of Wellington, Christchurch and Dunedin. Saturday nights, the crew and performers regularly watched a playback of the taping after the show went to air.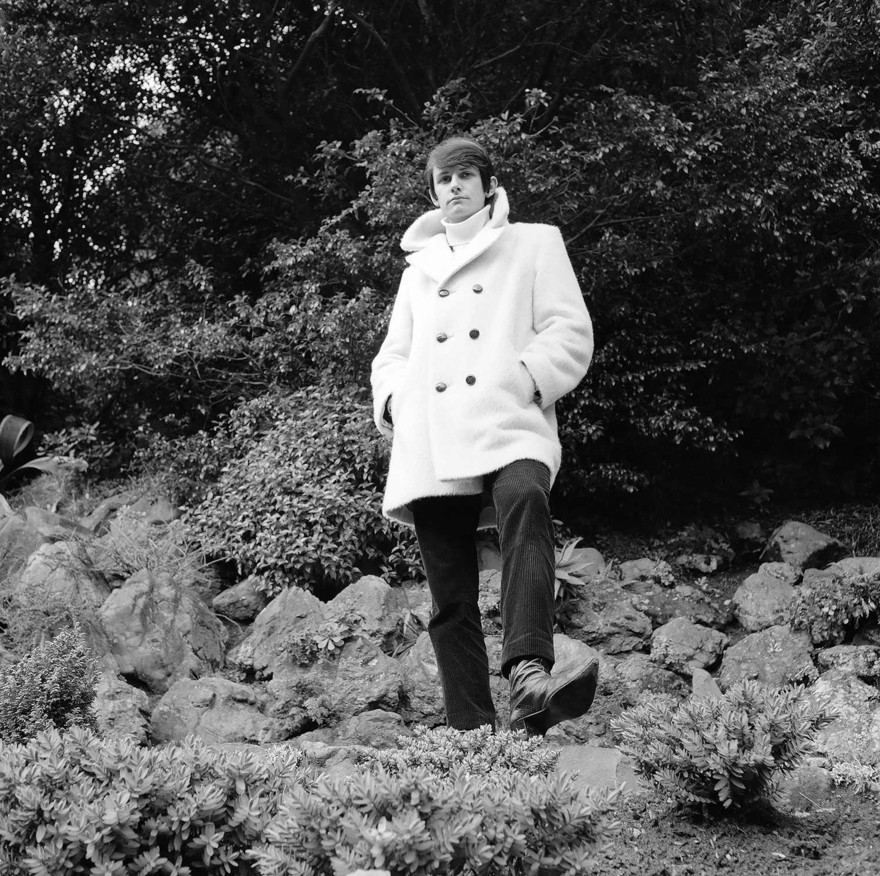 For this four-day week (including the weekend), Mr Lee Grant received £25 a week and the popular go-go dancers received £10. "The artists were paid appallingly," recalls Grant's manager Dianne Cadwallader, "and the C'mon tour paid peanuts."
The C'mon tour started 31 July in Christchurch and ended in Auckland on 8 September with top billing going to Peter Sinclair, Sandy Edmonds, Mr Lee Grant and Herma Keil. Guests included The Chicks and The Underdogs. The tour was a massive success, selling out Kerridge-Odeon movie theatres nationwide, with two shows most days. In September, the Auckland Star reported that the top NZBC current affairs show Compass filmed Mr Lee Grant on the C'mon stage show. "A forthcoming programme devoted to the pop world in New Zealand, is built around him."
Grant's debut album was released to coincide with a nationwide tour and his new single 'Thanks To You' entered the New Zealand Singles Chart on 11 August. It reached No.1, stayed in the top spot for three weeks, and remained on the chart for 10 weeks. From 1966 until 1970 places in the New Zealand Top 20 were determined by NZ Listener readers sending in a coupon with their votes.
'Thanks To You' was produced by HMV's new full-time producer Howard Gable. "In those days recording was very, very different," says Cadwallader. "It was 2-track. My recollection of all the recording sessions is that they were an ordeal. One of the things about recording then was the pressure of time. It was prescription recording. I remember the pressure from [record division manager] Graham Feasey. You couldn't waste a minute. There were some disasters. There's a French horn mistake on 'Thanks To You'. But that happened because they did something like 40 takes and the guy lost his lip. It's there. It's terrible. It's the only thing I hear when I hear the song."
Although advertised in the August 1967 Teen Beat magazine, Grant's debut album was not reviewed in Groove until 19 October. The newspaper was positive: "Mr Lee Grant's first album is packaged in an Op-Art cover which is unusual and original in design. Lee gives polished versions of such numbers as 'Yo Yo', 'Take My Hand' and 'Thanks To You'. Lee is given a full backing on all tracks and this, added to Lee's talent, makes an album that is excellent. A very good effort from this local lad – congratulations Mr Lee Grant."
Entertainer of the Year
In Radio Hauraki's September 1480 Club News, Mr Lee Grant denied two rumours: "He's not going into the Army and he is not going overseas, not for a while anyway." There were still achievements to pack in this busy year.
Three months after Grant topped the charts with 'Opportunity', the Entertainer of the Year award was announced on Tuesday 5 September 1967. Howard Morrison won the previous year; the winner of the 1967 award was uncertain. Grant, 22 years old, was a new kid on the block in respect to record sales and he had no foreign success. The Award was given by NEBOA (the National Entertainment Ballroom Operators' Association), which was primarily concerned with ticket sales at their venues. Long before he had a hit record, Grant was earning good money for ballroom operators around the country.
The night of the awards Grant was on the C'mon tour, but near to Auckland. Two hours after he stepped off the stage of Hamilton's Embassy Theatre, he stepped on the stage of Trillo's ballroom in Auckland to receive his golden statuette for Entertainer of the Year.
"Some show folk were critical," reported John Berry in the Sunday News. "They said his appeal was strictly to teenagers, that he did not have the background or the experience of many other contenders and that he had not ventured overseas. But to me, Lee was the logical winner for this reason: The Entertainer award surely must go to the entertainer who has made the most impact in that year. In 1967, no one has made more showbiz news in New Zealand than Lee Grant."
As the Golden Disc Spectacular tour progressed through the country, Grant's manager feared that the tour would continue in perpetuity, as Phil Warren had a hit show on the road. Other musicians on the bill were Sandy Edmonds, Larry's Rebels, The Avengers, The Gremlins, Herma Keil and Ray Woolf.
"The Golden Disc Show was negotiated for a very short period of time," recalls Cadwallader, "And while they were on the road Lee was given a new contract for an extension of the tour at the same pay and he was told I had seen it and authorised it and he was to sign it. I would never have let him sign it, ever. If that contract had got in front of me Lee's fee would have more than quadrupled."
Lee's departure from the tour was not in a manner anyone expected. "Pop singer unwell" was the headline in the Auckland Star of 5 October 1967. The story reported: "Lee Grant is suffering from suspected pneumonia and is expected to be admitted to Palmerston North hospital. Against medical advice he carried on with a performance in Palmerston North last night. Earlier in the night [5pm show] he had sung at Feilding, but twice had to leave the stage when his throat started to 'seize'."
"I remember I was standing at the back of the hall and he coughed," said Cadwallader. "I thought 'what a strange sounding cough'. Then I saw him spit on stage and I thought something is really, really wrong. Then I saw it was blood. It was terrifying because we did not know what it was."
"He had a great stay in hospital. He had thousands and thousands of cards and teddy bears and flowers. It was rest – he needed rest. There are people still to this day who think it was a set-up. There are people to this day who think his whole background of being born in a concentration camp was a set-up. It's all 100 percent true."
"It turned out that he'd had TB [tuberculosis] when he was very young in Germany. This calcified piece of his lung had ruptured a blood vessel in his lung. He did not have TB at that stage. He just had the harm to his lungs from TB."
Girls, Girls, Girls
Groove reported in October that Grant's fan club "is growing in membership by 100 every week. It's got to the stage where we have to address-o-graph the newsletters." His new cat was called C'mon. "We've lost it at the moment." Always the fashion icon, Grant had the latest suede lace-up boots. The writer, Dene Kellaway, noted: "They looked great with the lace-up on the side."
The singer compered his own national radio show. The Carousel Show was 15 minutes in duration and on 12 radio stations. Grant told the Sunday News that his style was to "just be himself", not a high-pressure DJ.
He had his same old car: "The fans keep scratching slogans like 'I Love Lee' all over it. We paint over the slogans, but they go and scratch them on again. The poor car has had a bashing."
New sounds? "I don't like psychedelic sounds but I like the new Beatles album." Grant's favourite track on Sgt. Pepper's was 'Lucy In The Sky With Diamonds'.
Kellaway noticed that as Grant left the Wellington reception, he was "fully occupied with two lovely girls, one in each arm, posing in front of the cameras for the umpteenth time."
Next time Kellaway did an interview, in November 1967, time was tight, so he spoke to Grant, "in a car as it sped towards Wellington airport." The singer was delayed at the gate of HMV's head office by fans wanting autographs.
Loxene Golden Disc Awards
A 1967 Loxene Golden Disc TV show was broadcast on the 2nd of November, two days before the ceremony. Funded by shampoo manufacturers Reckitt & Coleman, the "television spectacular" was directed by the NZBC's Chris Bourn, who made 10 individual film clips of each finalist in advance. These mean the acts had music videos decades well before the MTV era.
The winner ­– Mr Lee Grant's 'Thanks To You' – was announced on Saturday 4 November 1967 at a presentation in Wellington in front of an audience of 100 recording, media and advertising executives. The only finalists present were Mr Lee Grant and Wellington locals, The Avengers. The following day, a Sunday News headline read, "Did pop stars snub Gold Disc ceremony?" One of the organisers told the newspaper that all the finalists had been invited and, as with the media, they were not informed of the winner. Public voting had only closed on the 31st of October. When asked why the largely Auckland-based finalists were no-shows, the organiser said: "Possibly because they all knew who the winner was."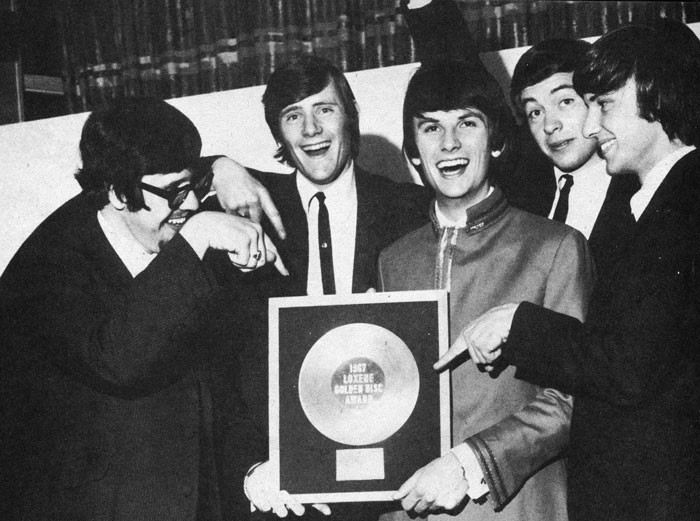 The Sunday News asked: "Don't fellow artists like Grant, or are they just bad losers?" The reality was that musicians would not give up lucrative weekend work to travel to a Saturday ceremony and even most eight-year-olds knew that Mr Lee Grant would win.
In New Zealand the Christmas 1967 chart battle was a three-horse race: 'Snoopy's Christmas' by The Royal Guardsmen vs 'Hello Goodbye' by The Beatles vs Mr Lee Grant's 'Movin' Away'. 'Snoopy's Christmas' won: Grant's single debuted on the Listener chart on 22 December and peaked at No.2 for two weeks. Groove magazine's less legit "Pop Parade" had 'Movin' Away' at No.1 on their February 1968 chart.
In 1968 Grant had three more Top 10 singles: 'Why or Where or When' entered the chart on 15 March and was No. 1 for two weeks; 'Rivers Run Dry' debuted on 14 June, peaking at No.5; and 'Bless You' entered the charts on 30 August , peaking at No. 6.
We Gotta Get Out Of This Place
In September 1967, at the height of Grant's success, manager Cadwallader said on the Compass current affairs TV show: "One unfortunate thing for the pop star in New Zealand, I fear, is that you rapidly outgrow the country. Lee's position at the moment with the Entertainer of the Year Award and other awards, he can possibly go no further. What we'd like to do is establish a name for New Zealand entertainment overseas."
Ten security men guarded the stage when Grant came on. "The crowd were asked to stand away from the stage otherwise he would not appear."
Did the relentless pressure from fans force Grant's exit? "To be honest, I don't know that life became unbearable for him," said his friend Alan Galbraith, the musician and HMV producer, in 2016. "I think he had just reached the end of what New Zealand had to offer him as an artist. He would have rightly chosen the UK/Europe as the right place for his talents rather than Australia or the USA."
Grant's overseas travel in 1968 was made possible by an excellent contra deal with Qantas. He received free air tickets to London in return for his promotion of the airline's new Pacesetter youth fares to London. "My recollection is that it was $10,000," says Cadwallader. "I think it was calculated in Business Class tickets and we asked for them in Economy Class tickets."
The taxi that Qantas brought to New Zealand to promote the Pacesetter fares appeared on the cover of his second album Mr. Lee in London, recorded in Wellington.
Increased security was evident at Grant's summer concerts and farewell gigs in late February 1968. One report said: "His visit to Nelson appeared to be highly organised and elaborate precautions were taken to ensure that he was not mobbed by over-eager fans."
In Napier he played the 700-capacity Top Hat Ballroom. The doors were shut at 9.45pm and the local newspaper reported that "more than 300 people were shut out". Some of those people tried to gain entry to the venue by climbing over the roofs of adjoining buildings. Ten security men guarded the stage when Grant came on. "The crowd were asked to stand away from the stage otherwise he would not appear."
Australia
Grant spent two weeks in Sydney in February 1968, appeared on five television shows, then returned to Wellington to complete the recording of his second album before his farewell tour. At his "G-I-G-A-N-T-I-C FAREWELL SPECTACULAR" concerts at the Auckland YMCA on 24 February he performed a 6pm and an 8pm show; also on the bill were Eliza Keil, The Real Thing (Alan Galbraith and Ken Murphy), the Clevedonaires and compere Rhys Jones. The newspaper advertisement for the shows announced "MR LEE GRANT FLIES QANTAS TO LONDON".
En route to London, Grant visited Sydney where he did further promotional work for HMV's release of 'Thanks To You' with 'Opportunity' on the B-side. While there, Grant and Cadwallader stayed with Dinah Lee and her personal assistant Bobi Petch.
Groove's Australian correspondent Lin Annabel wrote, "Mr Lee Grant, currently in Sydney, is getting good exposure and is becoming known to the Australian teeny-boppers. He made his Australian TV debut on Brian Henderson's Bandstand last week and also had his disc 'Thanks To You' played to the review panel on Uptight the same week. To a man the panel panned the disc. However, this panel has been wrong before, and after all it is up to the disc jockeys and the record sales whether or not a disc makes the charts."
Two weeks later, on 28 March, Annabel reported: "Mr Lee Grant was one of many show personalities present at the recent opening of a new disco in Sydney. Called Caesars Place, it is a welcome addition to the few places of teen entertainment in Sydney. Lee's first Australian release 'Thanks To You' is still not rating on any pop charts."
In the 1960s it was bizarre that small indie labels such as Zodiac (Ray Columbus and The Invaders, The La De Da's) and Viking (Dinah Lee) could have success in Australia, yet the dominant player in both markets, HMV could not (with one exception: Allison Durbin in 1968). I asked former HMV producer Alan Galbraith whether there was a bad relationship between HMV (NZ) Ltd and HMV Australia.
"The relationship wasn't great," he said. "I don't think HMV Australia took us very seriously. The problem was that everything had to be offered to them first, and HMV [Australia] were not too keen on dealing with other labels, who were also not too keen on dealing with HMV. I am not sure that much of what we produced was very suitable for the Australian market. Certainly Mr Lee would have been out of step unless he'd paid his dues at the RSL clubs first."
In New Zealand, however, there was no stopping Mr Lee Grant. His new single 'Why or Where or When' entered the charts on 15 March 1968, and stayed at No.1 for two weeks.
A year after Grant's departure, Groove magazine published the "Sad Saga of Mr Lee Grant". Dene Kellaway wrote that Grant's career's decline "shouldn't have or wouldn't have happened if he'd stayed in New Zealand", and that the singer's massive success in 1967 "led to a hasty, and soon to prove fatal, move to England. As from December 1968, Lee has yet to have a disc out or even make a public appearance in England. Lee again won the Groove Pop Poll, proving that if he'd stayed he'd still be tops. It's a sad story of a guy who was once great, but today is on the way out. A fine career down the drain."
Reading the 1969 story in 2016, Cadwallader – who knew the writer as a 14-year-old, fellow Levin resident – said, "It was steeped in ignorance. I appreciate Dene's article about the departure. But there was never any question that it was time to go. We either had to go to Australia, which really didn't appeal to either of us. The place to be was London. 1968. Where were you going to go? 'London!' There wasn't anywhere else in the great wide world at that stage."
Mr Lee In London
For Mr Lee Grant to have his first hit single in New Zealand it took three years of hard work. But in 1968, the local media appeared to have a three-day timetable for him to succeed in London. A few days after his arrival there, the Auckland Star wanted a report on his progress. Grant had been busy sightseeing: "I've seen everything from the London Palladium to the crown jewels." The singer does let slip that his manager was negotiating a release from his HMV contract, despite having a current No.1 single 'Why or Where or When' in New Zealand and a second album due for release mid-1968. Grant also says he has "a few offers for singing contracts but preferred not to mention names."
Grant also had obligations to the people of Manawatu, where he grew up. The Auckland Star asked whether he had delivered butter promised by the mayor of Bulls to the chairman of the Cowes Urban Council. "It's still in the fridge," Grant replied. "I'm hoping to get it to Cowes as soon as possible."
Grant's manager Dianne Cadwallader arrived back in Auckland in May, and told the Auckland Star that she was "happy with the way things have gone in the seven weeks they have been in Britain". The news item quoted Larry Kurzon of the William Morris Agency – who had signed Lee as a client – saying: "He has the potential of PJ Proby, Tom Jones and Gene Pitney rolled into one, and within 12 months will be making thousands of dollars in the United States."
Cadwallader had turned down an offer for Grant to become a folk singer. "I wouldn't turn Lee into a folk singer for anything," she said. "Lee has gone to England halfway up on the pop scene and he will make it. Artists must make a name in England, but must make money elsewhere because of the glut on the pop scene."
She said that Grant had commenced acting and speech lessons in London. This suggested that from day one, the singer intended to broaden his career into musical theatre.
Mr Lee Grant returned to New Zealand on 15 June 1968 for a three-week tour to promote his second album Mr Lee In London. The album was recorded in March, before he left the country. While in New Zealand he appeared on C'mon and made his own half-hour TV special with director Chris Bourn. On Grant's arrival home, his new single 'Rivers Run Dry' entered the Listener charts, where it reached No.5 and stayed for 10 weeks.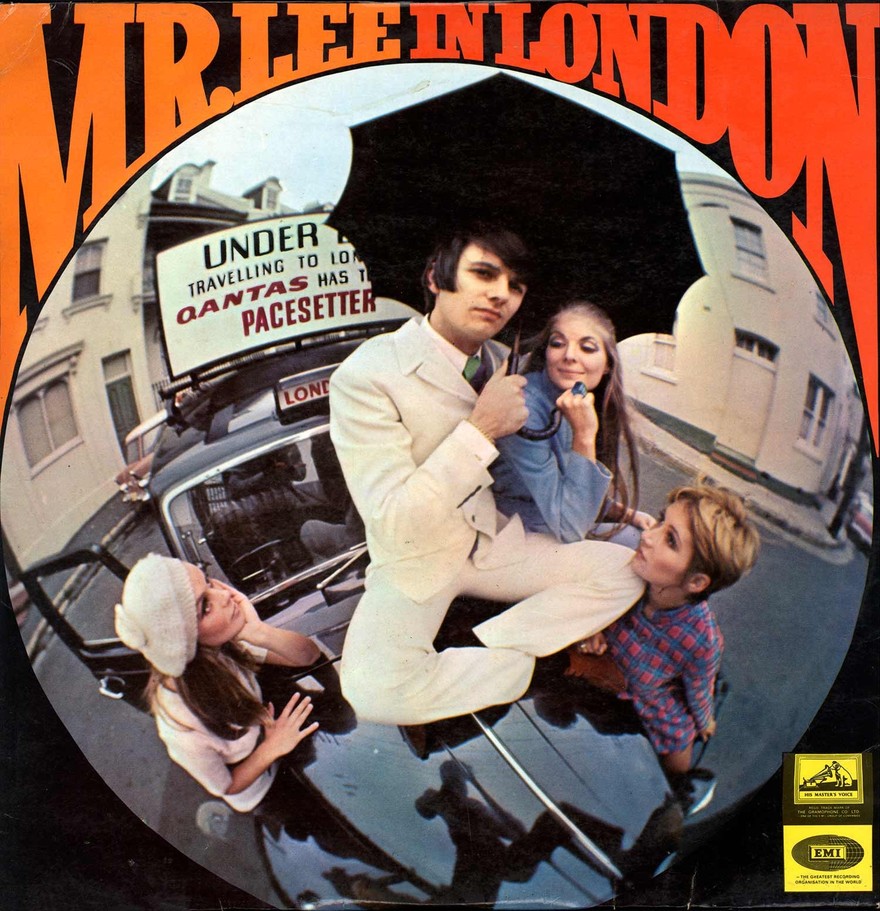 During his visit, an interview with the New Zealand Herald was headlined "Expecting Too Much Too Soon, says Grant". The singer seemed to be on the defensive: he was tired of the way he had been "rubbished" in his own country during the three months he had been away. "The fans haven't neglected me. It is mainly the managers and promoters of the other singers who are trying to push me out of the scene. In New Zealand it appears that there can only be one singer at the top at one time, in Britain there are dozens."
As Shane, the new star of C'mon 68, appeared on the cover of Groove magazine in July, Mr Lee Grant's fans maintained a mournful vigil in the "Letters to the Editor" pages of the magazine. They appeared to be very proud of their fan club membership numbers. Loving Lee Fan 1047 wrote: "Don't think me rude, but that reply you gave to Lee fan 1856, I disapprove of very much. I think Groove is a fantastic magazine and could you please print more and more pics of Lee, 'cause we Lee fans miss him very much."
With Mr Lee Grant back in London, HMV had their final Top 10 record with the singer, the 1968 Loxene Golden Disc Awards entry 'Bless You'. After entering the charts on 30 August, it remained there for nine weeks, peaking at No.6.
Upside-down Land
Ten years later, Grant reflected on his first year in London for a TV documentary: "I originally came over here knowing one company, Southcombe & West Associates," he said on Good Day in 1978. "My ex-manageress and I came over here, like two school kids, and we paid this company an exorbitant amount of money to publicise me, but it was a bit stupid, we'd have been better off to make a record. We didn't do that though."
In 2016, former manager Dianne Cadwallader was asked if the money spent on PR was a waste of time? "No," she said. "It got us some very good introductions." Another New Zealander they met was Selwyn Turnbull, head of promotions for Decca Records, who worked from the label's stand-alone promotions office in London's West End.
"We met this wonderful woman, Nina Myskow, probably through Selwyn Turnbull," Cadwallader recalled. "Nina became editor of one of the big teen magazines, Jackie. She loved Lee. She thought he really was going to be a huge star. She was really good friends with Reggie Dwight, as he was then. I remember Nina saying there's this man and he's writing songs, he's going to be a huge star. Nina put Lee on the cover of Jackie and got a huge response."
Mr Lee Grant featured in Jackie magazine on 15 June 1968, with the cover heading – "Lee Grant, the good-looker from upside-down land"– just above "Fish and Chips with The Beatles." Inside was a full-page colour photo of Grant, illustrating a story taking one-third of a page.
Cadwallader remembered meeting Bobby Hanna, the British singer who had recorded 'Thanks To You'. "He found us at a Jackie magazine party. He tore strips off Lee. He said, 'I'm so furious you had the hit with it. I should have had the hit with 'Thanks To You'.' It didn't occur to him that it was only a hit because Mr Lee Grant was such a huge star."
Departing HMV
Although HMV (NZ) Ltd had achieved a remarkable string of hits for Mr Lee Grant, his manager wished to end the contract so the singer could start afresh in England. Cadwallader had not liked working with HMV's record division manager Graham Feasey, and she knew that HMV in Wellington did not wish to help Mr Lee Grant succeed in London.
"Diane was a good manager and I'm sure HMV would have thought so," said Alan Galbraith in 2016. "She was way more music business savvy than most of the good folks running HMV. I don't think Lee going to UK was a career strategy, more of a career exit strategy. HMV would have missed having him on the label, but it wasn't long before they had Craig Scott and Shane. Everyone moved on. Don't forget that HMV management were not music people, this was all a bit of a mystery to them. That's why they put producers on staff."
An indication of the fast-moving New Zealand pop business is in a half-page advertisement HMV took in Groove magazine in September 1968. The headline says, "In the Loxene Golden Disc Award HMV present half the Top Ten". Among the songs listed is Mr Lee Grant's entry, 'Bless You', but the other HMV contenders are stronger tracks: Allison Durbin's 'I Have Loved Me A Man', The Avengers' 'Love Hate-Revenge', The Fourmyula's 'Come With Me' and The Simple Image with 'Spinning Spinning Spinning'.
Having burnt their bridges with HMV in New Zealand, if they wanted future success in their home country Mr Lee Grant and his manager had to sign with a London label that was not distributed by HMV in New Zealand.
Love And Understanding
In 1970 it was announced that Mr Lee Grant had signed with multi-millionaire talent agent Harold Davison, the man who broke The Dave Clark Five in the USA and who, in 1968, was representing acts as diverse as Jimi Hendrix, Dusty Springfield, Lulu, The Small Faces, and Paul and Barry Ryan. Davison was the also the stepfather of the Ryan twins.
One of the big singles of 1968 was the Barry Ryan's solo release 'Eloise', which reached No.2 on the UK Singles chart in late October. 'Eloise' was produced by Bill Landis, who was then hired to produce Mr Lee Grant. "He was supposedly the 'producer de jour' so we felt very pleased when we got to work with him," recalls Cadwallader.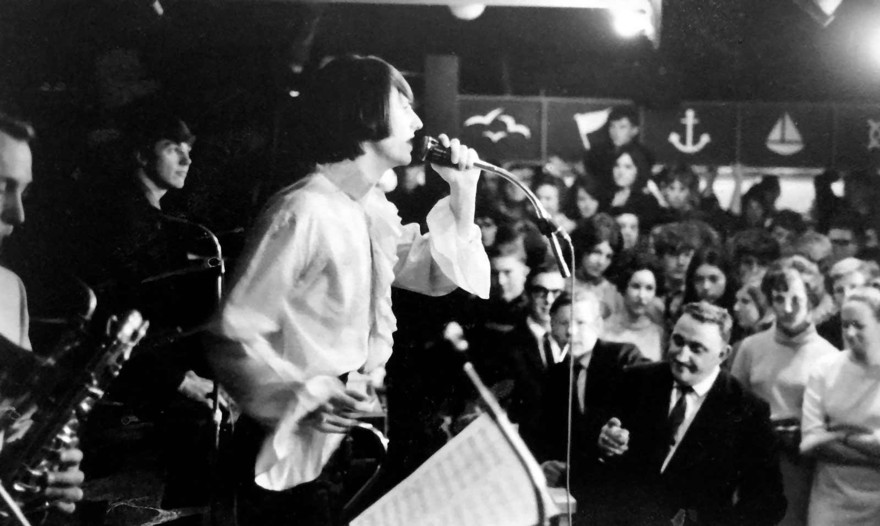 Two years after his arrival in London, Lee Grant released his first single, 'A Little Love And Understanding' on the Decca label with several backing vocalists including Kiki Dee and Reggie Dwight, who was about to break through as Elton John with Empty Sky (1969) and Tumbleweed Connection (1970).
"Lee Grant gets break at last" is the heading in the Auckland Star (27 April 1970). The singer told the Star, "I just can't believe that after all this time it really is happening." The newspaper reported that the song was "fast and up-tempo with a big backing of 26 musicians and 10 voices [and] written by three of Britain's top songwriters [Roger Cook, Roger Greenaway and Jonathan King]."
But the story focused on Grant's challenging times. "The best people, the people we wanted and waited for, are now behind Lee," said Cadwallader in 1970. "The break might have come sooner, Bill Landis expressed interest in Lee soon after he arrived in London – but a complicated web of contracts had to be broken first. It seems incredible that it took so long and moved so slowly."
The Decca label was released in New Zealand by HMV, so the fate of Mr Lee Grant's new single was in the hands of the label he had left 18 months earlier. During all that time, Grant gave no interviews to New Zealand media. "I've stayed silent because there's been nothing to tell people," he said. "I didn't want to build mountains out of tin cans. There's been nothing to tell them – until now." Grant's media silence was made more pronounced by John Rowles, who had two massive hits in the UK in 1968, 'If I Only Had Time' and 'Hush Not A Word To Mary'. Rowles made having a UK hit single look easy.
In London, Cadwallader took on another management client, the group Arrival, which had two Top 20 singles on Decca. Frank Collins, Dyan Birch and Paddy McHugh of Arrival did the backing vocals on Grant's second single 'What Am I Gonna Do?' (This vocal core of Arrival went on to form UK funk band Kokomo.)
In 2016, she reflected on the failure of Grant's Decca singles, 'A Little Love And Understanding' and its follow-up 'What Am I Gonna Do?'. "Lee's gift was seeing him perform," said Cadwallader. "He was mesmerising. He could work a stage. Things would have been different if we'd got him once on TV. I think we just waited and worked to get a song."
"I became a hermit, watching television and playing a guitar and feeling sorry for myself."
Did Decca promote the singles? "Clearly not enough," she said. "England, all it takes is one lucky break and we couldn't get it. It was kind of odd in London, we had quite separate lives."
When he had originally arrived in London, Grant had rented a flat for £25 a week, but moved to a bedsit when his savings began to shrink. "I became more and more depressed," he told the Auckland Star in 1970. "I became a hermit, watching television and playing a guitar and feeling sorry for myself. In the end I went to help a friend who runs and employment agency – I licked the envelopes."
Cadwallader arranged for The Fourmyula to be photographed with Decca act The Casuals, who had a 1968 hit single with 'Jesamine'. "I managed the Fourmyula for a while … they were unmanageable in that environment. I couldn't look after them. They had a terrible band name. They should have been a success in England. They changed it to Pipp. That wasn't any better."
Cadwallader's parents became ill in 1972, so she returned to New Zealand to manage their Levin fashion businesses. In 2016, she commented, "There was no greater distance on earth – than the distance between the London music scene and business on Levin's main street – but I owed it to my folks who had been so good to us. It broke my heart."
In December 1973, Grant was back in New Zealand, explaining to the Auckland Star why he had reverted to his birth name Bogdan Kominowski in the UK: "The current trend is towards silly names," he said. "Mine is a silly name so I'm sticking with it – it's as simple as that."
The singer had returned to spend a fortnight with his sick mother, then go on a five-week tour performing at soundshells and hotels. A New Year's Eve concert at Western Springs brought talent from several summer beach tours together for a one-night stand. For $1.50 the audience saw a line-up that included Mr Lee Grant and the stars of TV show Happen Inn: Craig Scott, Angela Ayers, Bobby Davis, Bunny Walters, The Yandall Sisters, and Noazark. The compere, of course, was Peter Sinclair.
Sixties archivist Grant Gillanders was there and noted that Grant played his 1970 Decca single, 'A Little Love And Understanding'. Trevor Judge of Noazark estimated that the Western Springs audience that night numbered 6,500.
Although he needed to visit family, Grant's presence in New Zealand must have been frustrating: just prior to leaving England he was offered the lead in the stage production of Grease. But, he told the Auckland Star, "I couldn't break my New Zealand contracts."

Opportunity Knocks (again)
In 1974 Grant appeared on the UK TV show Opportunity Knocks. Musical theatre had long been an aspiration, and his breakthrough came the following year: using his birth name Bogdan Kominowski he was cast as the lead hippie character George Berger in a touring production of Hair. The news received good coverage back home. The New Zealand Herald wrote, "Lee's main ambition lies with musicals and he is hopeful that Hair may become the stepping stone to a West End role." Speaking to the NZ Women's Weekly years later of the experience, Kominowski said, "They wanted someone big and brawny and I think I always wanted to act."
Kominowski's opportunity finally arrived to perform on London's West End in 1977, when he was signed to be an understudy to PJ Proby in Elvis, the Musical at the Astoria Theatre. Proby's role was to play the older Elvis Presley, who had died three months earlier. It was ironic that Grant was to understudy a performer who was once his idol. In 1967, he had named Proby as the singer "whose style probably influenced me most." In 1978 Grant replaced Proby as Elvis in the Vegas period, and continued in the role for a year.
While Kominowski was enjoying his newfound stage success in London, a TVNZ current affairs team was looking back at the healthy local pop scene of the 1960s. They were debating which came first, the chicken or the egg? The discussion went something like this: if C'mon was the chicken, was Mr Lee Grant the egg?
Mr Lee Grant's departure for London must have angered C'mon producer Kevan Moore in 1968, but a TVNZ Good Day documentary from 1978 looking at music TV and the music industry suggested that Moore may have been quite confident he could create another Mr Lee Grant with ease. Grant still topped the Groove magazine readers poll in 1968, but the following year Shane won, and his massive success with 'St Paul' was in part due to C'mon exposure.
In this 1978 documentary only Ray Columbus showed any real respect for music talent and Peter Sinclair made his most condescending TV appearance ever. Sinclair opined: "It was an era when stars were deliberately created in New Zealand. Let's take a name at random: Mr Lee Grant, who wasn't a very good singer, let's be honest. Although he's doing very well in London now, in the West End … he could work television very well. Well, he was discovered and quite deliberately by us, we set out to turn him into a teenage idol, which he was. He was a real phenomenon. It's hard to remember now – because he's virtually forgotten – but at the time he was huge."
Moore explained Grant's success politely, with no suggestion that the singer's hard work or talent contributed to his success. "He had a very active personal manager who really pushed him and was a real pain, but she did a tremendous job for him, called Diane Cadwallader. There was a very influential agent in the field and that was in the form of Philip Warren and also a record company HMV, that was really aggressively pushing his songs and investing tremendous amounts of money in them with a guy called Graham Feasey."
The comments of Graham Feasey, head of HMV's record division (who signed Grant before C'mon existed), were quite bizarre. "If he turned up and wanted to record and we heard him in the audition room, we would definitely say 'No'. But if he came to us … after 23 weeks in television with this publicity build-up, we'd say 'Yes we'll take you on.'"
Acknowledging the role of television, Columbus was succinct: "Mr Lee Grant was enormous in New Zealand, the biggest solo happening ever, before or since."
When it came time to reflect on the glory days of local music television, TVNZ brought Kominowski back to New Zealand in June 1985 to appear on its 25th anniversary celebration broadcast. But he didn't make the cut. Musician and TV producer Peter Grattan recalls helming the London link for the 1989 TVNZ Telethon when the stars of East Enders and Coronation Street showed up for the charity broadcast, as did Bogdan Kominowski. "Pip Dann and Phil Schofield were hosting, Andrew Shaw was in the van back in New Zealand and we were tight on time. New Zealanders hadn't seen Bog in 20 years, and Pip intros him, Andy says 'No time, crossing to Dunedin, CUT'. Bog was never seen."
Grant vs Grace
After getting his first London breaks with Hair and Elvis, regular UK acting work followed, on stage, television and in some films. Kominowski's roles included Count Dracula in Rockula, The Dentist in Little Shop Of Horrors, and Jesus in a West End resurrection of Jesus Christ Superstar. In 1993 he returned to New Zealand tour to play the Phantom in Stewart Macpherson's promotion of Phantom Of The Opera.
The serious (not silly) sounding name Bogdan Kominowski did lead to quite a few roles acting roles as European-accented villains including the villain Klotkoff in James Bond's A View to a Kill (1985) where he got to tangle (unsuccessfully) with Grace Jones. He has also done voice work, sung jingles and modelled for the advertising industry.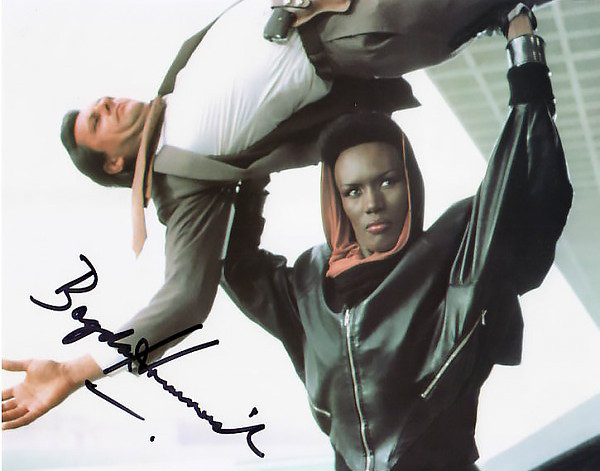 Meanwhile, Kominowski did not completely abandon pop life. A third single – billed as Bogdan Kominowski – was released on Decca in 1979, a cover of Roy Orbison's 'Blue Angel'. The single's biography described Kominowski as "a natural choice as a star of the resurrected Oh Boy series and he will be singing the song on two of the shows over July/August as well as appearing on Yorkshire TV's 3-2-1 show." The bio said, "it looks like a very strong chart contender" but the production credit is "John Owen Williams and Tax Loss for Black Snow Productions Ltd."
In 1980 Kominowski was a guest singer – as "Bogdan" – on the successful, Lulu-fronted rock and roll revival TV show Let's Rock. In 1981 came another Bogdan single, 'Who Do You Think You Are!', released on the Brilliant label with the catalogue number Hit 1. In the early 1990s, he sang on Sarah Brightman's 'Everything's Alright', which appeared on her album Sings The Music Of Andrew Lloyd Webber.
To close friends only, Kominowski will play a recording of his jam session with Tony Iommi when he auditioned for the singer vacancy in Black Sabbath.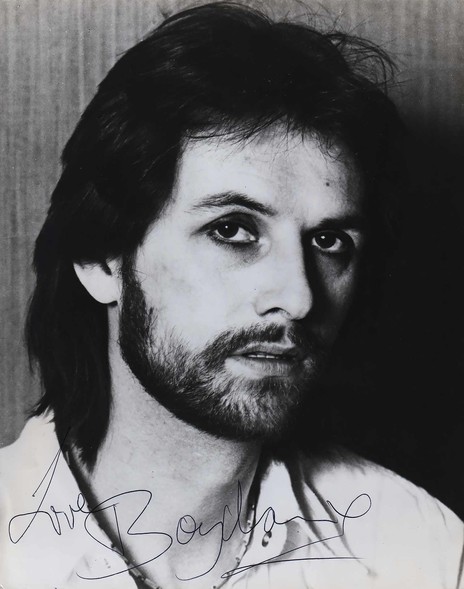 Bogdan The Builder
When not on a stage or set, Kominowski used his Kiwi do-it-yourself skills to master the art of renovation. In 1989 he was described by the Woman's Weekly's Julie Roberts as "a keen amateur ­property developer" as he had "restored and redecorated his beautiful half-million pound home with such style it's now sought after by film producers." The Townhouse, situated in tree-lined Acton, West London was used in a Buddy Holly movie made for UK TV. At the time the story was written, Grant was deciding whether to allow a Swedish crew to do a two-week shoot. "Which means I'll have to move out. But at £1,000 a day, it's a hard request to refuse," he laughed.
Moving out was not that difficult for Kominowski as he also had an apartment in central London. When the Women's Weekly talked to him, he was 44 years old, and three years into a relationship with Simone Parfitt. "Bog had just bought her a little surprise – a black BMW convertible. She's a top model and 21 years his junior. But slim and suave on the day in blue denim and black studded belt, Bog isn't exactly an aging hack."
When Kominowski met some very talented Polish artisans who could restore historic mansions but not speak English, he saw the opportunity to use his fluency in what the craftsmen call "posh Polish" to broaden his do-it-yourself sideline into a bigger enterprise that refurbished ailing mansions. The demands of the renovating business – the heavy touring schedule – stopped Grant signing up as the new singer for The Hollies, after Carl Wayne died in 2004. The touring schedule of The Hollies was too much for Kominowski.
Nearly 50 years after the heyday of Mr Lee Grant, Kominowski is not forgotten in New Zealand. He made a rare return to local gossip columns in 2013 when, at the age of 68, he married his longtime girlfriend Joanna Rowley, an executive at the National Geographic Channel. The Herald on Sunday reported that the newlyweds planned to honeymoon at their villa in Portugal.
--