Ken Cooke's place in New Zealand rock 'n' roll history is assured, as is that of the band he formed in 1977: The Scavengers. Ken is probably better known as Johnny Volume, guitarist, songwriter and a driving force behind the group that gave us 'Mysterex' and 'True Love', both songs that define the Auckland punk scene and have become New Zealand rock 'n' roll standards. 'True Love' has a fair claim to the best opening couplet in our pop history: "I met her outside the IGA / True love works in funny ways."
The Scavengers time was brief – from the start of 1977 to late 1978 – but Johnny and the band had a pre-history and then, after they moved to Australia, another life. In Melbourne, they changed their name to Marching Girls, and were managed by two legendary figures from earlier New Zealand rock eras, The Invaders' Dave Russell and Split Enz's Wally Wilkinson. They recorded a classic 45, 'First In Line', backed with a remake of 'True Love'. It was released globally, but at the same time, the band fell apart, with bassist-vocalist Ronnie Recent leaving to form the critically and commercially successful Dead Can Dance. Regrouping, the Marching Girls continued intermittently for some years.
Johnny – or Ken as he then was – was immersed in the Auckland band scene long before punk.
Your pre-punk history is largely undocumented and yet you were in bands from the early 1970s.
The first band I was in was called The Label, comprising Greg Lay, who later had some New Zealand TV success in a duo, Layton and Trent, Ray Lannie, at Northcote College with Greg and myself, plus John Forsman and Neil Coleman, both Rosmini College boys. Neil's brother Bruce was a member of The Hi-Revving Tongues.
I was 14 years old and didn't know anything about bands or musicians. I don't think I'd ever seen a band, but I'd been listening to pop music on the radio. I didn't really know Greg that well either, even though we'd been in the same classes. I was walking home from the school fair one Saturday afternoon when he approached me and asked if I played drums. I said I didn't but could try.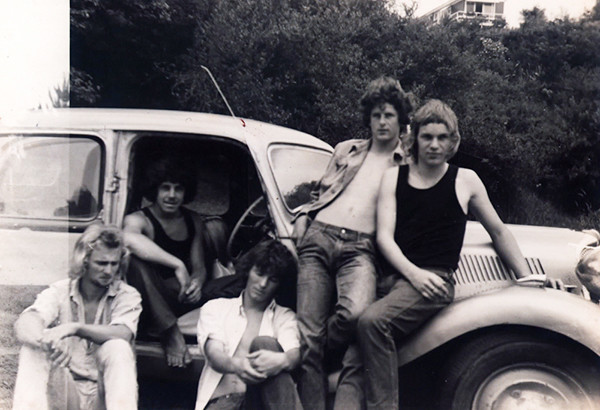 Greg told me about his band and said they needed a drummer. They'd decided I looked like a pop star and wanted me to audition. I said okay. We went to his house and he pulled up a barstool, handed me the sticks of two coat-hangers and told me to hit the stool in time to his playing… he plugged in the guitar and played and sang 'My Girl' by The Temptations, and Vanilla Fudge's version of 'You Keep Me Hangin' On', while I banged away on the bar stool.
He said I had perfect timing and I could be their drummer, but I'd have to buy a drum set. Impressed, I rushed home and told Mum and Dad I was in a band, then asked if they could buy me a drum kit. They said 'No,' so I sold everything I owned and went to Harmony House and bought an old kit comprising a kick, a snare and some hi-hats. It still had its original pigskins… cost me $30 and I didn't have a clue what to do with it.
The guys in the band gave me some basic lessons and I'd sit there and keep time while they played and sang. We'd practise every Saturday at St John The Baptist church hall in Northcote. Soon we'd learned enough songs to go out and start playing to audiences.
I played only two gigs with them. The first was at a hall in Greenhithe to a captive audience of various Christian youth groups having a get-together. We belonged to a youth group called Fingal's Cave. I think the other guys were all Christian, but I was just there for something to do. On Saturday nights they would have activities for us teenagers, like going on what they called a hayride. A church member who owned a truck filled the back with straw and about twenty of us would get driven places singing hymns and "nice" songs. One time we drove to Allison Durbin's house on the North Shore and sang 'I Have Loved Me A Man' to her mother, who came out onto the veranda and clapped!
The Greenhithe gig was a disaster. My drum set was in front of the band on the very small stage area and I was about two feet away from the audience. Face-to-face with a crowd of happy, smiling Christians. I freaked out and fucked everything up. Every time I looked back, the band was scowling at me. It was not an auspicious beginning.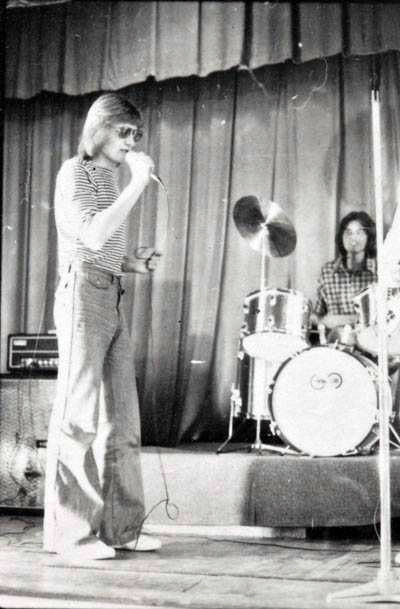 The next gig was in the hall behind St. Mary's Catholic church on Onewa Road, supporting The Disraeli Gears who were popular around the neighbourhood so there was a big crowd. I played slightly better and after we came off stage a girl asked me to dance with her. Apart from the compulsory ballroom and folk lessons at school, she was the first girl I'd danced with, if you could call my clueless moves dancing. After that, I was hooked on this musician thing.
Little did I know but the other guys had met a drummer who had a proper drum set that he could actually play, and he had long hair, which was a huge bonus back then. As a high-school student, I was subjected to weekly haircut inspections – if your hair touched your collar, you were sent home. I didn't stand a chance. Besides I was a shit drummer. That was the end of my new career for now.
The Label went on to come second in the Auckland heat of the Battle of the Bands… I gave my kit to Greg's brother Murray and never played drums again. Being the guitar player was what I was most interested in anyway.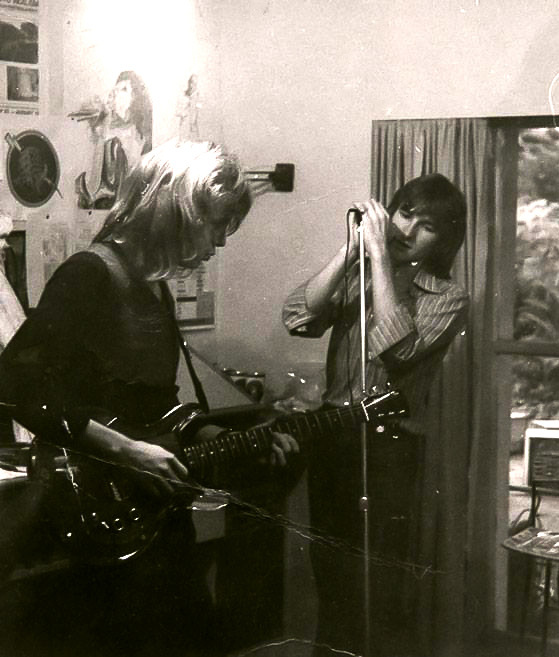 I left school, got a job in 1970 and the first thing I bought was a guitar. A beautiful double-bound sunburst Jansen Beatmaster – pretty much a Fender Telecaster Custom copy. The thrill of owning my first electric guitar didn't last that long when I discovered how hard it was to learn all those chords and lead bits. Peter Aptroot, a friend from school who lived at the top of my street, had spoken to me once about starting a band. He had a bass guitar and an amplifier. This was to be the start of my first band as a guitarist. It didn't go very far. We couldn't find a drummer but learned to play a very basic version of Crazy Elephant's 'Gimme Good Loving' and an equally bad version of 'I'm So Glad' from the first Cream album. One Saturday afternoon, we dragged the amplifier and guitars out on to the front lawn at my parent's house while they were out for the day and blasted the neighbourhood with those two songs, over and over. Strangely enough, no one complained. We were probably drowned out by the sound of Saturday afternoon lawnmowers.
I moved to Sydney a few months later, where my girlfriend at the time bought me an electric guitar. It was a see-through Dan Armstrong Ampeg copy. I used to sit around at home learning how to play it. After a year, I moved back to Auckland, working at a women's clothing manufacturer where I became good friends with a guy called Iain Anderson and we decided to start a band. He bought a Jansen Beatmaster bass and we bought a 120-watt Orange amplifier and 4 x 12 speaker box. Every weekend we'd go to Iain's house in One Tree Hill armed with a magnum or two of sparkling wine and a packet of those coloured cocktail cigarettes (because we were so glam), learning to play Bowie and Alice Cooper songs. I was starting to get okay at playing chords and little bits of lead, but Iain was a complete beginner, so progress was slow. The only song I remember us getting almost complete was 'The Prettiest Star' off Aladdin Sane. A few months later I started a new job where I met Greg Winkelmann. We became good friends. By then Iain had given up his rock dreams, so Greg and I decided to start a band.
You formed that band at your tertiary school. Over the years, we've seen them called The Darlings, The 1B Darlings and Darling? Where did you play and how often?
It was primarily the second two of those names. Greg and I had started to practise in his mother's garage in Blockhouse Bay. Glam was on its last legs. Greg had a Marc Bolan hairdo and I had platform boots. Although we both loved T Rex and Bowie, their music was too complicated for us to play so it was 'Sympathy For The Devil' over and over for the first few months. We were serious about it though and rented an amazing old ballroom with huge arched windows overlooking the city on Karangahape Road. It was on the third floor, reachable by an old lift or the stairs. It had a stage with curtains and a dance floor and lots of tables and chairs with salt and pepper shakers on them. It looked as if it had been suddenly deserted with everything left as was in the 1940s or 50s. Greg came up with the band name Darling.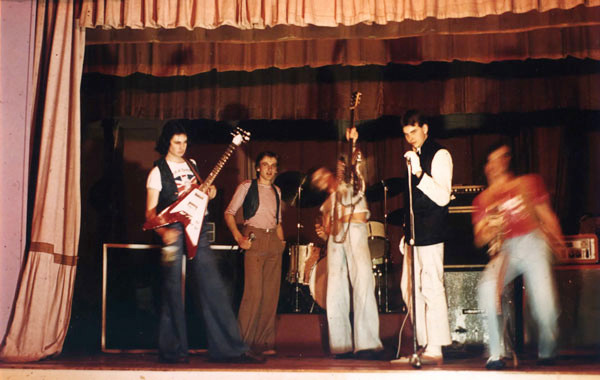 We practised and partied there for a few months and even progressed beyond 'Sympathy For The Devil' by trying to work out 'Brown Sugar'. For a while, we had a lead guitarist, a guy I knew from Northcote College whose name I can't recall. He had a 1960s Gibson SG that had been stripped of its original Cherry finish. He could actually play, and his little show-off piece was to play the entire guitar solo from 'Time Waits For No One' by The Rolling Stones – although that wasn't much use to us because I couldn't play the chords.
We tried out a drummer too. I think he was originally in Hello Sailor, but they had thrown him out ... Greg had talked to him at the pub and convinced him to join us. The lift [at the practice room] was broken and he had to carry his drums up three floors. Once they'd been set up, he said, "Okay. What do you do?" I promptly launched into our simplified version of 'Brown Sugar'. Halfway into it he stopped playing and said, "Is this all you do?" before packing up his drums and leaving with Greg yelling down the stairwell at him to fuck off. Ironically, the same guy asked me if he could join The Scavengers a few years later. He must have completely forgotten this earlier encounter.
We did actually play in public once. Greg and I went to the Occidental Hotel in Vulcan Lane one night. There was a tiny stage in the corner and Greg asked the band who were playing if we could get up and do a couple of songs during their break. They said okay, so we jumped up and did just that. It was a tough crowd. No one took much notice apart from a drunken heckler telling us to fuck off.
Then, one fateful day, I bought the New York Dolls' first album. I had read about them in English and American rock magazines and was very keen to hear them. Every payday, during my lunch break, I'd go record shopping in the city. That day their album had just been released in New Zealand. I took it home and was blown away. I rang Greg and said he should come over to my place to hear this album: that it was better than anything the Stones had done for years. He arrived and I put it on at full volume. About halfway through the first song he stood up, said, "This is shit," and walked out the door. We didn't see or talk to each other for years after that.
I was busy doing the graphic design course at the Auckland Technical Institute and forgot about bands for a while. Then, at the end of the first year, a very entrepreneurial student in the graphic design department, Sally Hollis-McLeod, organised an end-of-year party in the ATI Institute hall and each of the four classes had to perform some kind of act on the stage. Everyone in class 1B knew I'd been in a band and so I was elected to be our "act". I was friends with Mike [Simons, later Mike Lesbian] and Marlon [Hart, later Mal Licious] and they quickly volunteered to start a band with me. They said one of them would play bass and the other would sing. The trouble was neither played an instrument and they both wanted to be the singer. In the end, Mike became the singer and Marlon went and bought himself a cheap bass guitar. We still needed a drummer. A classmate said he knew a guy, Simon Monroe [later Des Truction aka Des Hefner], in 1A who had some drums and was learning to play them. A meeting was arranged at the Globe Hotel and Simon agreed to join our "band".
We practised every weekend in the garage at Mike's house in Glenfield. A repertoire was decided upon – three very stripped-down covers, as we were all still learning. They took weeks to master and to make up for lack of ability we compensated with image and attitude. A name had to be found. Marlon had come up with "The Electric Armadillos" and even designed and screen-printed a poster, but the rest of us hated it. As the date drew closer and there was still no name it was decided to use the name that Greg had previously come up with, with 1B added, and so we became The 1B Darlings.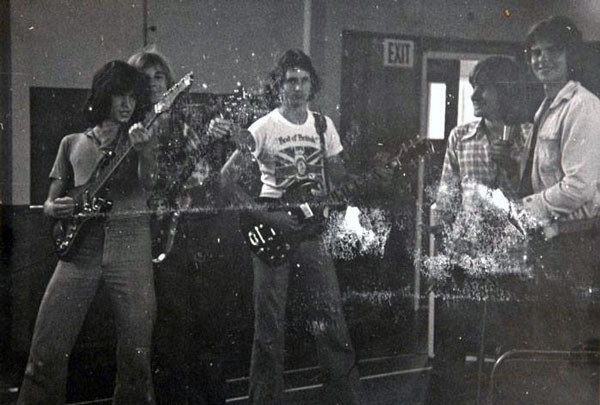 By the time the night of the party arrived, we felt ready. We'd made a few fake guitars from polystyrene and painted and decorated them with bottle-top knobs, tin foil and string. They were props made to be smashed on stage during the show. Unfortunately, the necks weren't very strong and needed reinforcing. Without Mike's knowledge, I glued pieces of wood to the backs to prevent them breaking before they were used. Mike had spent the afternoon driving around the city, collecting every guitar amp and speaker box we could borrow. We ended up with a wall of them. We wanted to be LOUD! The plan was to begin with the drum intro from 'Ballroom Blitz', over which we'd do an adapted version of The Sweet routine, "are you ready Simon?" "Ah huh." ... " Marlon?"… "Yeah." "Ken?"..."Ok."… "Alright, fellas let's go" at which time the drums would morph into 'Stranded In The Jungle', and the bass, then the guitar, would kick in.
Things didn't go exactly to plan. On before us were various acts from other classes including a poetry reading and a dance routine. We walked on stage dressed to the nines, plugged in, and Simon began drumming. The intro went well but the drums seemed to continue forever and still no bass arrived. Marlon had frozen – standing motionless, dressed in all white with a KISS/Aladdin Sane-type lightning bolt painted on his face. I began the guitar without him. Somewhere into the song, he snapped out of it and began to play. It had gone on so long that Sally, the organiser, had walked on to the stage.
Next was 'School's Out', at the end of which the "guitar" smashing was supposed to happen. Carried away in a show biz moment, Mike decided to take it a step further by running into the audience and smashing them over the heads of the audience… luckily no serious injuries were sustained.
The last song was Chuck Berry's 'No Particular Place To Go'. We had it all together by now and finished, feeling triumphant and convinced this was our destiny. In the dressing room it was decided that we'd had so much fun we would continue with the band. Marlon spoke to the Vicar at St Chads, the church at the end of his street in Meadowbank. The Vicar was a kind man and agreed to let us practice in the hall every Saturday afternoon in return for us doing work around the church… mowing lawns, painting fences etc.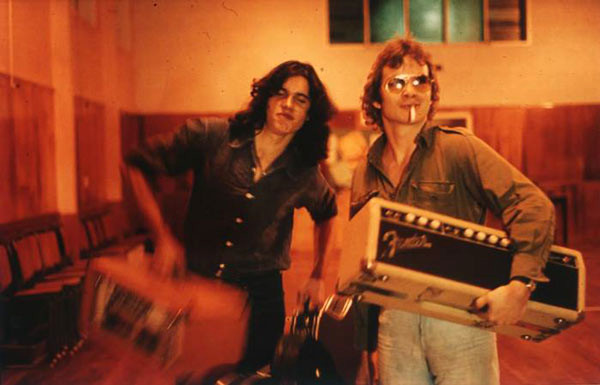 We learned dozens of songs with the aim of being able to do a whole night by ourselves. Marlon did most of the church maintenance work as he and the rest of the band thought it a bit beneath us. We now considered ourselves "rock stars".
Another classmate joined midway through 1976. Geoff Kelly could actually play the guitar. I think he thought we were all useless, but it gave him a chance to show off on his Gibson SG copy and amp. We were taking it seriously enough to buy decent equipment. Marlon bought my Orange amp and speaker box and a brand-new Ibanez copy of a Rickenbacker 4003 bass. I bought a 1963 Fender Bandmaster amp with matching speaker box along with a long-coveted Hiwatt 4 x 12 speaker box that had belonged to Mike Caen from Street Talk.
Everything was stripped back to basic major barré chords and usually sped up a bit to compensate for the lack of solos. We did a great version of 'Barbara Ann', some old Rolling Stones songs, a few by The New York Dolls and many others.
After a few months, we were confident enough to play a whole gig and asked the Vicar if we could use the hall for a concert. He said yes and so we set a date. 16th October 1976. Simon had a friend who had a band, Lucitania, and by now my old friend Greg Winklemann had got over us stealing his band name – he had his own band, The Adrenalin Band, which included [future Sheerlux and Techtones member] Jim Juricevich on guitar. Both bands agreed to play as our support acts. We had shortened the name to back to Darling. We had tickets printed that looked like those old wedding invitation cards with serrated edges and "THREE BAND CONCERT PARTY," with the names of the bands, the date, the address, and "BRING YOUR OWN REFRESHMENTS," "50 CENTS".
On the evening the hall was packed. Lucitania and The Adrenalin Band played their sets; I don't remember what they sounded like except they were much more professional than us. We came on all dressed up in glam gear and thrashed out our set as best we could, as we'd all drunk too much waiting for the other bands to finish their sets. By now, the floor of the hall was awash with spilled drinks and the audience were as drunk as we were. They seemed to "get it," yelling and screaming and rolling around on the dance floor among the beer and bottles. The other bands looked on from the side of the stage with bewilderment: "Why is the audience having so much fun to this bunch of idiots who can't even play properly?"
A few weeks after that we were booked to play in a hall across the road from Farmers department store car park in Hobson Street. The occasion was Simon's father's work Christmas party. We got suitably drunk and stumbled through our by now larger repertoire of covers; twice, without any incident or for that matter much interest. The audience was more interested in the free food and drinks. The most memorable thing about it for me was going back there in the morning to pick up our gear. There was an Alcoholics Anonymous meeting going on. We had already had a few beers for breakfast and had to tiptoe through the rather large crowd of alcoholics, gather the amps and guitars and drums and make our way back through them to Mike's Kombi.
We finished 1976 with another end-of-year graphics department party, held at Moller's Farm on the outskirts of Auckland. Apart from a DJ spinning disco hits and classic rock favourites, we were the entertainment. It was another alcohol-drenched performance, just like St Chads Hall, but on a tiny stage with the audience in our faces doing annoying stuff like putting out guitars out of tune while we tried to play. Things got angry and there was a fight on stage, which ended up with me smashing my guitar and Geoff quitting the band. I think the band actually broke up that night. Simon was the most upset about that – he thought his rock 'n' roll career had ended. But his 15 minutes was not yet up.
How did Darling become The Scavengers?
The Dylan Taite programme about the Sex Pistols and the London punk scene had been on television in November 1976. It began with Sid Vicious walking along the path outside Buckingham Palace looking like Dennis the Menace from Beano, wearing an orange T-shirt printed with a pair of female breasts. The theme song from 2001: A Space Odyssey was playing and Sid said to the camera, "I'm 17 and I don't wanna be 18." It caught my attention and I kept watching. By the end, everything seemed clear. This was us. It was what we had been doing for the last year and a half. Those guitars, that attitude, the energy… We were not alone.
The next morning it seemed everyone in New Zealand was talking about it. Most people thought it either disgusting or laughable, but there were some of us whose lives were changed. Geoff didn't get it, so we weren't too worried when he vanished after the Moller's Farm gig.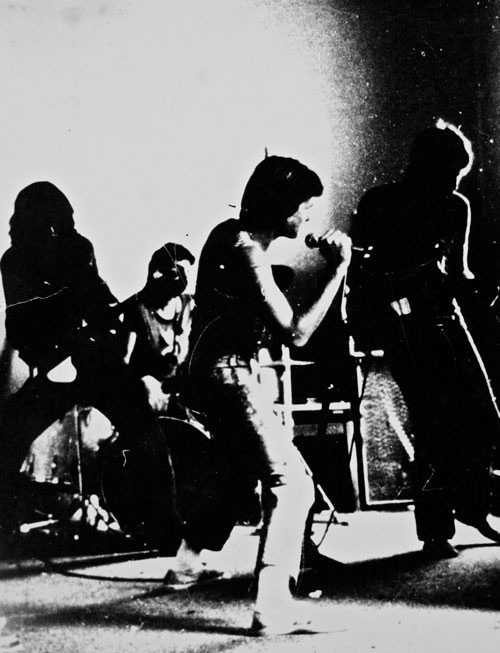 A new name was needed and a new place to practice as the Meadowbank Vicar had made it clear we were no longer welcome at St. Chads. Alan Kingsley-Smith offered us studio/office space in a Customs Street building a few doors from his shop. We were on the third floor and Living Force was on the fourth. There were some interesting punk vs Krishna sound battles over the next few months. We began rehearsing there at the start of 1977. It was named "Stately Wayne Manor" and it became the "band cave" where we could go to play really loud music, get drunk and sleep over if it was too late to go home. I was the only one not still living at home with my parents.
We were now playing a version of 'Anarchy In The UK' we'd put together from pieces of the soundtrack to the Dylan Taite program. Des had taped it off the TV on to his cassette player. There were no VCRs in those days.
It was summer so we'd always have the windows open. Soon a small crowd began to gather across the street to listen to us playing. One Saturday afternoon, we heard someone yelling and looked out to a guy asking if he could come up and talk to us. Justin Morse told us he'd just arrived in back in Auckland after working for a London record company and couldn't believe his ears when he heard 'Anarchy In The UK' walking down Customs Street. It had only just been released in the UK by EMI, who then dropped the band. He was now working at WEA NZ and asked if we'd like a tape of all the latest releases he had from London. A few days later he delivered a cassette with the Ramones' first album, 'New Rose' b/w 'Help' by The Damned, 'We Vibrate' by The Vibrators, 'Blank Generation' b/w 'You Gotta Lose' by Richard Hell and a complete recording of both sides of the Sex Pistols' 'Anarchy' single. None of this music was available in New Zealand. We had only read about these bands and this was better than we'd imagined. Within a few weeks, we could play all of those songs and did so as often as we could manage – we were now all working day jobs except Mike, who was doing a third year at ATI.
We'd found a name as well. Simon, Marlon and I were in Albert Park after one of those Jumping Sunday gigs they used to have in the 70s. We weren't interested in the music. We went there after the bands finished and the crowd was leaving, to scour the ground for lost money and cigarettes. It was a habit we'd developed as "poor" students. Sometimes we struck gold, or a half-empty packet of Rothmans at least. I bent down and picked up a packet and Des said, "you scavenger". At that moment I think all of us thought, "The Scavengers" – that's the band name.
We have the following recording dates listed for The Scavengers. Were there others?
Harlequin Studios, 1977 (with Mike and Mal)
Mandrill Studios, early 1978 (with Mike)
1ZM Live, 1978
Mascot Studios, September 1978
The first recording we did was at Harlequin early in 1977. It was a small studio, down a steep driveway off Mt Eden Road with sound-deflecting beach umbrellas on the ceiling. We did about six or seven cover versions. Maybe some songs by The Damned and a Sex Pistols number or two, and some earlier stuff we had learned like Dr Feelgood tunes. The sole purpose of the recording was to get work. Des [Simon Monroe] had been doing all the legwork visiting pubs and clubs to ask if they'd let us play. They all wanted to know what we sounded like, so we pooled our money and went to the Harlequin, as it was local and the cheapest studio around. A few years ago [collector] John Baker gave me a copy and I listened for the first time since the session. It was awful but at the time it did the trick… we were soon playing at clubs like Crofts/Moody Richards thanks to Des having an old school connection to Brent Eccles, drummer in Vox Pop, the resident band there. I think it was our first or second night there when the Sunday News sent a reporter and photographer to interview us. That Sunday we were on the front page with a "PUNK ROCK AND THE MAGIC WORD" headline. Soon we were playing The Globe and The Windsor Castle.
We recorded at Harlequin again with Mike and Mal in September that year. A version of the Sex Pistols 'Pretty Vacant' and 'I Don't Like You' – our first original. It was mainly written by Mal with extra words added by the rest of us. It was for TVNZ's Ready To Roll programme – New Zealand's version of Top of The Pops with most of the songs in the charts pre-recorded and mimed to by local acts. The Sex Pistols looked like they were going to have their first New Zealand hit with 'Pretty Vacant', so we were hired to cover it and were allowed to perform one original as well.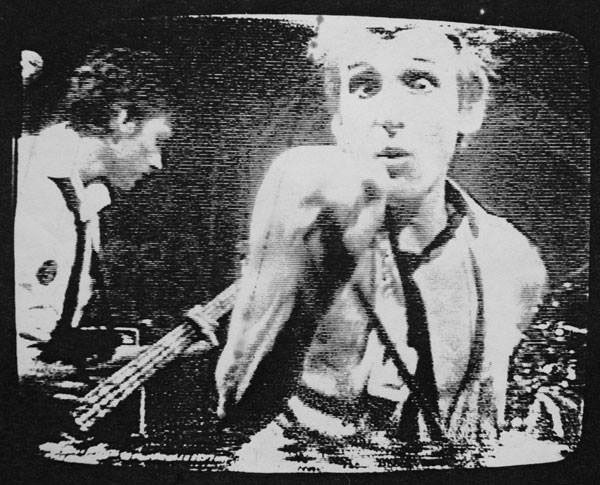 'I Don't Like You' had a very similar riff to the one we later used in 'True Love' but the lyrics went something like "So you think it's neat when you see me down on the street to push me around, you don't want me around… Said I don't like said I don't like you … " followed by a long list of everyone we didn't like.
I think we were all pleased with the recording and the TV appearance [on September 29, 1977] but unfortunately, both seem to have been lost forever.
We went into Mandrill in February 1978 after Dave Schofield had started managing the band. He said he was going to get us a recording deal with one of the record companies. We recorded 'Supported By The State' and 'Routine'. It was expensive and we were paying. This was the first recording that [new bassist] Brendan [Perry AKA Ronnie Recent] played on. Mike left the band shortly after it was finished so the tapes were of no use.
The 1ZM studio was around the corner from Zwines. There was a friendly engineer who worked there, and he would fix our amps and speakers – which we frequently blew up. We were rehearsing one afternoon in March, about a week after Mike had quit, when he said that he had the recording studio to himself and asked if we'd we like to record for free.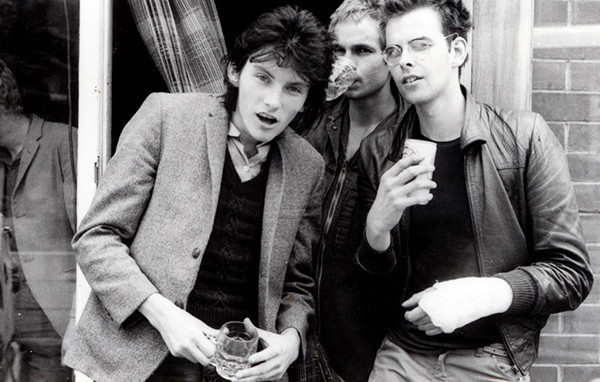 It was one of those big halls radio stations used to have. Big enough to fit an orchestra in with the control room up above. Everything was recorded live. We were grateful to be offered this opportunity as it gave us the chance to hear Ronnie's voice without the usual ear-splitting din. Unfortunately, I don't think he knew how to deal with our sound, and we hadn't had enough experience to contribute any ideas. The essential thing for me was playing the Les Paul Junior through my old Marshall 100-watt amp and Hiwatt 4x12 turned up nearly full ... No pedals, just overdriven amp and speakers. Ronnie played really loudly too, through a 100-watt Hiwatt head and a couple of speaker boxes. Des became a hard hitter so we could always hear him. The engineer kept asking me to turn my amp down until it got so quiet, I may as well have gone acoustic. We never liked the recording.
The Mascot recording with [former Invaders and Headband member] Dave Russell producing was the last we did in New Zealand, shortly before moving to Australia. We recorded 'Mysterex', which turned out great and was used for the [online] video, and 'True Love' which sounded almost heavy metal and so was never used again.
When we told Dave we were heading to England via Australia he said he was moving to Australia soon and that we should talk to him when we got there. He and Wally Wilkinson from Split Enz were moving to Melbourne to start a music production/management company and we should not sign with anyone until we talked to them.
Johnny Volume lives in London, where he moved in 2013 from Melbourne. He is a luthier who also trades and repairs classic guitars at http://guitar-yard.com

--