There are still, to this day, many musicians who confirm that The Gladstone and the Hillsborough were the best booked venues in the country, and it was a significant step up for a band's national attention to have a fan base in Christchurch. The street visibility of posters alone made for a significant factor in filling those venues and growing a fan base. The photocopier had developed by then so people were printing off thousands of posters and flyers.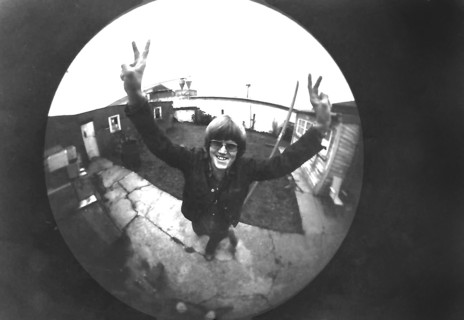 Jim Wilson: "Back then a band had a poster before they had a demo recording really, and those posters described everything about the band … y'know, if you look back on those posters from that period of time in Christchurch. The Pin Group posters, for instance, were stand-alone works of art." (RNZ)
Jim started bringing Dunedin bands to Christchurch before there was a Flying Nun recording label. "I brought The Clean up from Dunedin and put them in the Gladstone. There were just thousands of good bands coming from Dunedin at that time. There is something about that place that just generates good bands.
"So, y'know, if you brought up The Clean and put them in the Gladstone, which was a real kind of working-class venue, you're gonna get a fantastically good reception. And I tried to book the Gladstone to a theme of putting on new bands and what was really relevant at the time … and this whole thing was founded around writing our own music." (RNZ)
Hamish Kilgour continues to acknowledge Jim for giving The Clean their big break. Roger Shepherd, another face on the Christchurch music scene, worked at the Record Factory, 637 Colombo Street: a destination for musicians and music lovers. He was setting himself up to make an enduring contribution to New Zealand music history with his Flying Nun label. The label launched in 1981 with a single by The Pin Group.
Andrew Schmidt wrote in AudioCulture: "The Pin Group's Roy Montgomery (guitar, vocals), Desmond Brice then Ross Humphries (bass, vocals), and Peter Stapleton (drums) practised lots, but played barely a dozen shows in the Garden City … The Pin Group's first single, 'Ambivalence' backed with 'Columbia', dispensed with information entirely. Its black-on-black Ronnie van Hout screen-printed cover and labels gave nothing away on the new single's release in late 1981. The mystery deepened as the band routinely left their names off the records."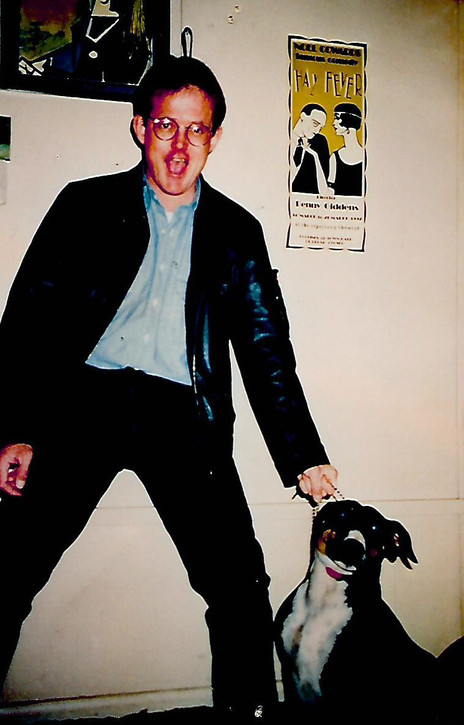 Jim: "Roger Shepherd lived next to me … we had a villa, and he had the left-hand flat and I had the right-hand flat ... Roger has great ears and worked in a record shop so he heard things in these bands that I didn't hear, and he put them on record, along with Chris Knox and Doug Hood. Doug Hood, in my opinion, is the greatest promoter New Zealand has ever seen, really ... He was a real gentleman, and Chris is a genius, so they started recording these bands with Roger and off it went, really." (RNZ)
Roger Shepherd, in his book In Love With These Times: "The Christchurch music pubs welcomed the bands because local promoter Jim Wilson saw the potential. Originally from Dunedin, Jim had a long history of putting on shows. He was an astute promoter who had spotted the rise of The Enemy and had booked Toy Love into the key Christchurch venues he oversaw: the Gladstone in town and a bigger, suburban barn, the Hillsborough. Jim had heard the fuss about The Clean when they started to gel as a band – when Robert Scott joined – and had travelled to Dunedin to see them play, subsequently booking them into the Gladstone in 1981. By 1982 he also oversaw the Star & Garter on Oxford Terrace near the Barbados Street intersection, and he was more than happy to book in The Clean, Tall Dwarfs and other Dunedin bands while they were in town recording."
Ian Dalziel: "I first properly met Jim in the lounge of our Bealey Road flat, when he came round to meet up with Toy Love who were crashing at our place … this blond hyper-hustler with his briefcase and non-diminutive 'minder', Tiny. I had of course seen him about at the Gladstone, Hillsborough and other places, things happened around Jim. Christchurch was open to things happening."
Ian Dalziel: "I first properly met Jim when he came round to meet Toy Love … this blond hyper-hustler."
Jed Town, singer-songwriter and visual artist, played in The Features and wrote the seminal Fetus Productions song 'What's Going On?' He writes: "Going back to the early 80s Jim Wilson helped organise The Features tour in Christchurch and Dunedin. We played punk music at local bars and in a few prisons there, and had a ball. The music was fast, loud and screamed out for justice with police and government policy change. We were young and aspiring musicians with no money but lots of attitude, this agreed with Jim and does so to this very day."
Russell Brown, Auckland-based writer, originally from Christchurch: "The thing that made the Christchurch music scene so fertile in the early 1980s was the extraordinarily vibrant live scene – and that was largely down to Jim. After he took over booking the Gladstone, there weren't only gigs on Fridays and Saturday, but as many as five nights a week.
"This didn't just benefit local bands, but touring acts. The early Flying Nun acts played to bigger audiences in Christchurch than they did in Dunedin. The Propeller acts could arrive from Auckland and be sure of a crowd. On one night, you could have The Swingers packing out the Hillsborough and The Androidss breaking a bar record at the Gladstone. Compare that to Wellington in the same period. Yes, there were licensing issues, but also – no Jim Wilson.
"One thing I recall – and maybe this is just a thing with a nascent scene – is how accessible everyone was. Even before I became a journalist and had a reason to talk to Jim, my teenage mates and I knew him and Peter Waller to talk to. They were physically present at the venues they booked. He was very much a go-to when I did start covering music for the Christchurch Star, and very helpful."
Back in those days, friends and believers of the band often took on de-facto band management duties because there just weren't many managers around. And every band needs a representative. Without one they can't get ahead. Jim spent more than a year crafting the Dance Exponents before they got a record deal with Mushroom Records.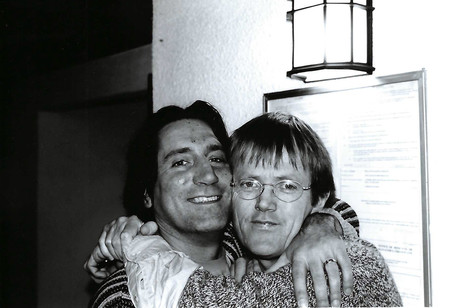 Jim, talking to Simon Sweetman for his On the Tracks blog: "The first thing I did with Dance Exponents was send them out of town because they were playing the Aranui Hotel on a residency basis and it wasn't working, probably because the songs were original songs, and it was a covers band venue. I sent them to the Old Mill in Timaru and I remember going down there to see them play this gig. Steve Cowan, who was the loveliest guy in the world and was the guitarist, who died, was beside me at the door. I was checking the door take and the money, and Steve was standing there beside me pissing into a long-necked bottle of beer so that he didn't have to leave … there were people lining up to pay to get into the gig right in front of him ... The Dance Exponents just had fun."
These days Mike Chunn is the head of the Play It Strange songwriting initiative, but in 1982 he was working for Mushroom Records. "I was tipped off by Jim Wilson, who ran the Hillsborough Tavern venue," Chunn told Stuff's Vicki Anderson in 2016. "He said, 'You have to come to see this new band Dance Exponents!' It was a full house. Looking like a bunch of excitable schoolboys they started to play. I was mesmerised. They reached out and took the room. I went backstage afterwards and said, 'Hi, I'm Mike from Mushroom Records. Can I sign you? Let's make a record'. They said, 'sure'."
What Jim actually told Mike, which must have clinched his interest, was: "The lead singer's name is Jordan William Hunter Luck. With a name like that, and songs like his, nothing can stop them – not even the New Zealand music industry." (On the Tracks)
Christchurch was booming and so was business. Jim formed the iconic business Phantom Billstickers in 1982 to complement the music he was putting into Christchurch venues. Phantom Billstickers is a poster and promotion company like no other in New Zealand.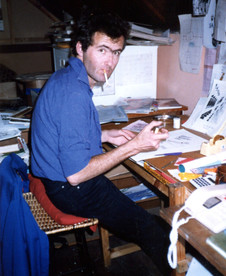 Jim: "Ian Dalziel – another talented graphic designer responsible for [a] Flying Nun logo – named the company Phantom Billstickers. Ian was a graphic designer at Rip It Up and (previously) he was a roadie for Toy Love. He is still a very good friend of mine and inspiring to me to this very day."
Ian Dalziel: "The name Phantom Billstickers was mooted when I met with Jim Wilson and John Greenfield who were animatedly fielding names for their postering enterprise. My suggestions of 'Up Against the Wall MF (Mass Flyers)' and 'Slap Happy' fell on stony ground. I then alluded to their need to be 'ghosts walking in the night' – leading to 'Phantoms' – a seed was sown. It seems to be a name that has stuck well."
Jim has always subscribed to the power of the poster. His personal motto remains "keep your glue-bucket dry". By the time he started Phantom Billstickers he been putting them up for more than a decade.
Jim: "I'd always been putting up posters, ever since the late 1960s when I was booking bands and, around about 78 to 85, I was booking the top venues in Christchurch. I managed The Dance Exponents and so I was always putting up posters. I remember screen printing 1000 A1 posters for Dave Dobbyn on my lounge floor and putting them up around Christchurch when Dobbyn first left Th' Dudes. I always liked just going out in the middle of the night and putting up posters. I just loved it. It clears your head, it got you moving and you did something where you could see immediate results." (Stop Press, May 2018)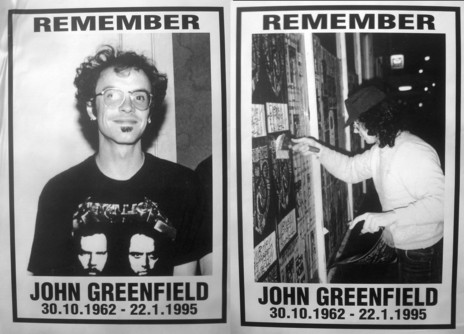 However, in 1986 Jim sold the company. "I sold Phantom to John Greenfield and Tony Smith in 1986 because I was too busy. Plus, I really like John. I sold them the business for $10,000 but they couldn't make it work and I only got paid $4000, maybe less. I let them off with the balance."
With Phantom Billstickers sold, Jim changed tack. He set up a chain of Wilson's Army and Navy stores around the country selling military clothing and equipment, hunting and camping gear. It ran into financial difficulties. This also proved to be something of a life lesson.
Jim: "I think the thing is that it was under-capitalised. I expanded too quickly and I got into a dreadful argument with NZ Customs, and on October 19, 1987 there was 'Black Monday' (when global stock markets around the world crashed, including Wall Street) and I remember that my turnover went from $50k a week down to $10k a week between the four or five different shops I had at that point of time … and then I had a container-load of German army parkas due to arrive early in August and because of a wharf strike they didn't get released to me until November and I couldn't sell them in the summer. In the meantime, I was destructive, using drugs and not a very good manager." (RNZ)
Life deals some tough blows and often out of nowhere. Shortly after the failure of Jim's army navy stores in 1989, two of his sisters died of cancer within a month of each other. That's when Jim decided to attempt to change his life. He was inspired by what William James called, "A huge emotional and spiritual displacement" – wherein some things came to mean more and other things came to mean less.
Jim: "Depression is the hardest game in town. I have been at the stages in my life where I've found it difficult to keep moving. These stages were more pronounced back when I was booking the Hillsborough and the Gladstone. I'd get a very bad headache that would last for months and then I'd end up on methadone. The prevailing feeling I had about myself was that 'nothing will make it better'. In other words, I couldn't see any way out of my misery."
In 1990, Jim decided that the way to deal with his "recovery" was to leave New Zealand and relocate to his "spiritual home" of Tennessee. This proved to be one of the most defining and satisfying periods in his life journey.
"I had a sponsor in the 12-step programme who had been on the road with the Allman Brothers Band as [guitarist] Dickie Betts' personal manager, and he just told me every day for about a year, 'Don't give up five minutes before the miracle'. At this time, I worked on a farm and was paid cash under the table. The guy who I worked for had been a lieutenant-colonel in the US Army, and every time I got frustrated, because in the heat in the South when you're digging or trying to build a rock wall, planting trees or trying to mend a fence – which I'm not very good at – it's easy to get frustrated. He would just throw me the keys to the gun room, and I'd take a Winchester nine-shot, pump-action shotgun down to the creek and let off steam.
"Here I was down in the South, driving pickup trucks and talking to people who spoke funny – and [I was] getting strong again. The guy who had the farm was still fighting the [Civil] war between the States, and we built this huge great big compass into the ground, and it didn't have a North on it."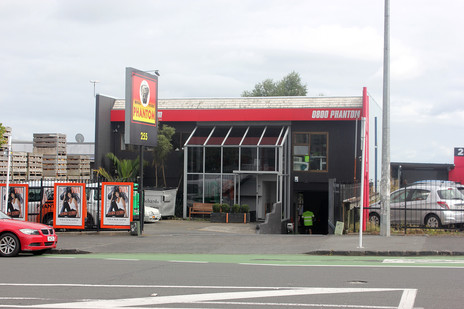 When Jim returned to New Zealand in 1992, he purchased Phantom Billstickers back from John Greenfield for $2000 and set about rebuilding the company to what it is today.
Jim: "John had had enough of Auckland promoters yelling at him, he was also working at Echo Records, so he was operating Phantom Billstickers part-time. He wanted to do something different. He was a lovely guy, John. He got along with everybody, but there was a lot of drama in putting up posters back then. I bought the company back off him and I wanted the poster business to be accountable. I wanted everything contracted and I wanted to be paid on time … I just wanted to install some better ways of doing it." (RNZ)
And over the years Phantom has succeeded in finding a better way of doing things. It's a hard-working hungry business that appreciates how, without the artist, there isn't a business.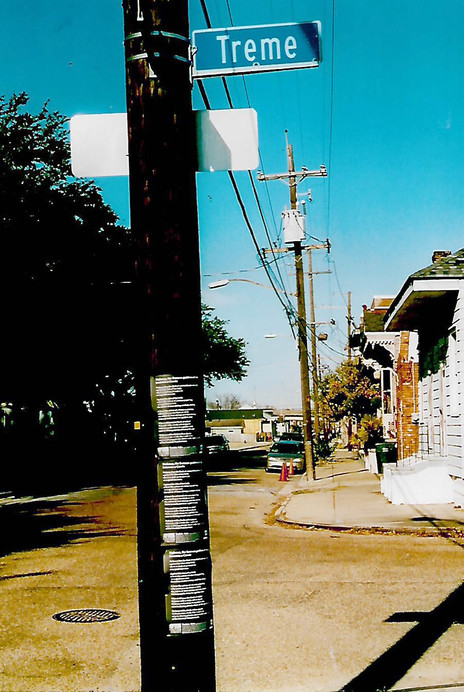 Phantom's posters of New Zealand poetry have appeared on lampposts, poster bollards and shop windows all around the world. Jim never leaves the country without a heap of Phantom's in-house literary journal Café Reader and a roll of A4 poetry posters. He takes a photo of them and then moves on.
Jim: "I did a truly gratifying poster run in Baltimore and got the real word out there for a lot of people. It can be done and it's very satisfying." (A Tinker's Cuss)
Jim delights in telling me that he is the only person I know who has been escorted off the grounds at Sing Sing Federal Penitentiary in upstate New York for trying to put up a poem poster. He walked in through a back gate and the next thing he and his American wife, Kelly, were being escorted out. Then the sergeant doing the said escorting started talking about poetry. There's a poem in that right there.
Jim tried the same thing at Parchman Farm in Mississippi, which you're not allowed to do. He got away with that one with his Kiwi accent. "Sorry, mate."
He also read a James K Baxter poem to Johnny Winter – in the albino blues guitarist's tour bus in New Hope, Pennsylvania – and Winter said at the end of it, "Man, that cat can write."
Yes, Baxter could write but as Jim says, "We are all stranded in paradise in New Zealand and the arts is a very difficult game here because the country is so small. We don't have scale and we don't really have the Government assistance that we should have. A lot of musicians and other creatives don't have health insurance, don't own property and don't have any real income." (RNZ)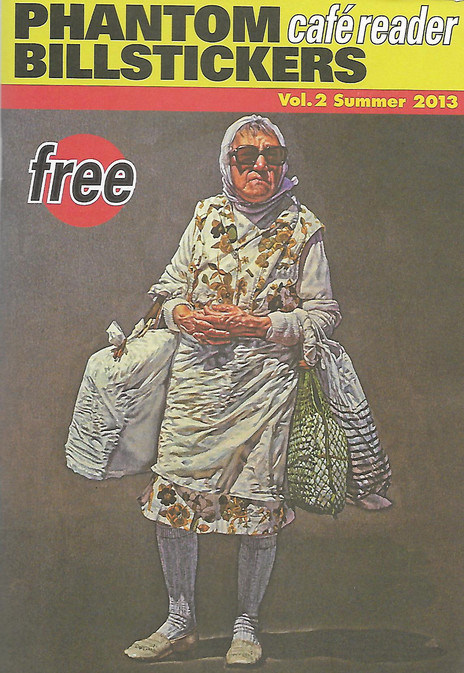 The Café Reader isn't the action of a businessman. This is motivated by pure passion. So why does Jim do this? In his regular blog post A Tinker's Cuss he explained: "Phantom Billstickers was built, quite unashamedly, on going against the tide. That's what I prefer to think it still stands for. For me, it is some kind of gnarled fist against the forces of mediocrity and bureaucracy. It has now survived several earthquakes and so many strange occurrences that it would take me all day to write about them and possibly all year. It has survived many plagues of locusts, do-gooders, hanger-ons, crooked accountants and lawyers, and huge egos split so many ways that they make the Southern Cross seem small. I'm dead proud of it and I'm dead proud of the team currently working to take poetry to the world and gigs and music to the streets of New Zealand. So I start the day by putting up a simple poster. And I try to keep my feet on the ground."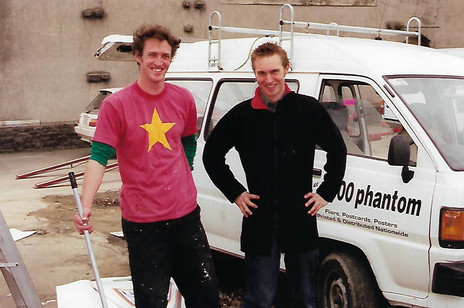 In 2012, Jim and Kelly put together a poetry reading in New York City that included the work of eight New Zealand poets who Jim flew over for the event. Jim couldn't make it as he couldn't get a visa. The gig pulled 300 people and was held in Manhattan at Saatchi and Saatchi's art space. A second reading took place in New Hope, Pennsylvania about two years later. One of the eight performers at the New York event was Pamela Gordon, Janet Frame's niece and executor of her literary estate.
Pamela Gordon: "The Janet Frame Literary Trust and I have had a long and happy collaboration with Jim and Kelly Wilson on their poem poster project. I admire the philanthropic work they do to promote New Zealand poets. Phantom has produced seven beautiful Janet Frame poetry posters since the first one ('The End') that was released at a Christchurch event to commemorate Janet's 85th birthday in 2009.
"It was my privilege to take part in the 'Kiwi Poets in New York' gig in February 2012. It took a bit of convincing to persuade me to accept Jim's invitation but he insisted that I'd be the right person to represent Janet Frame. Jim and Kelly are both devoted Janet Frame fans and they wanted her poetry to be a special part of that event. New York was a city that Janet loved, and she stayed there many times. I accompanied Janet on her last trip to New York in 2000 and she delighted in showing me around. The gig flew the Kiwi flag in a unique and authentic way.
"As befitting his music background, many of the poets Jim had invited to New York were also musicians: Hinemoana Baker, Sandra Bell, Jay Clarkson and Otis Mace were joined by Tusiata Avia, David Eggleton, Jeffrey Holman and American poets Jeffery McCaleb and Gerald Stern. It was a multi-genre, multicultural event with some surprising and haunting musical interludes and a Māori perspective located at the heart of proceedings, and the New Yorkers I spoke to afterwards were blown away by the mix."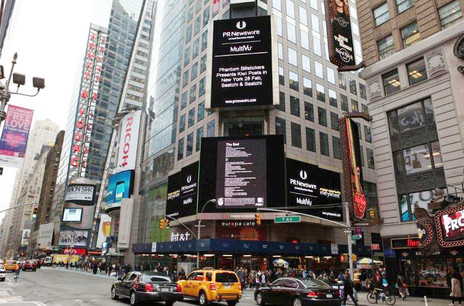 Pamela adds: "One of the big highlights of the whole New York event for me was seeing a Janet Frame poem on a huge electronic billboard in Times Square."
Jim is a friend to many, and he's given a lot back. He's never left his post and is ample proof that a quitter won't ever win. What Jim has learned is to keep it simple. That's what he learned in Tennessee, as he just put one brick on top of the other.
He is a man who has often run the gauntlet, but he will never crawl out of this life begging for forgiveness.
--
Read: Jim Wilson: an oral biography, part one
Further reading
Christchurch post-punk story map
Christchurch 1978-83: Viva Vauxhalls and other stories
Diary of a Billsticker, part two
Trevor Reekie interviewed Jim Wilson for RNZ in 2018, and by email in 2016 and 2018. Phil Brennan, Russell Brown, Murray Cammick, Ian Dalziel, and Simon Grigg comments via email, 2018.