For a smallish city, the Christchurch music scene has always been remarkably diverse. Pop, rock and blues bands and clubs dominated in the 1950s and 60s, with several well-patronised working men's clubs and restaurants/bars for jazz lineups and covers bands. After punk hit with a thump in the 70s and music genres seemed to multiply exponentially, venues sprang up to accommodate, grunge, metal, Latin stylings, punk, art rock, country, trip hop, hip hop, trance, every kind of electronica and so on.
More low-key styles have had their own outlets and expression. There has long been a thriving, but quieter folk scene in Christchurch, and acoustic or semi-acoustic soloists or ensembles have played background in restaurants, been hired for weddings and conventions, or in concert for decades.
From the mid-1980s onwards, when Harry Harrison moved to Christchurch to take up music-teaching posts at Christ's College and St Andrew's College, the scene has been through some radical changes, from both without and within.
When Jody Wright founded the New Zealand International Jazz & Blues Festival in 1995, the city's extant or specially created venues provided a great platform for local performers and international artists alike and the Christchurch Arts Festival opened it up further. The city's creative arts scenes were flourishing, and original New Zealand music coming out of Christchurch was gaining renewed attention on and offshore. That is until the events of September 2010 and February 2011 when the whole process was derailed by those two massive earthquakes.
What was the music scene like for you in the 80s?
"When I first moved down from Wellington, about 1985, I found the Christchurch music scene to be really conservative and dull compared to Wellington. There were a lot of jangly original bands, for lack of a better description, following the Dunedin Flying Nun template, so just the kind of boozy bars. It didn't interest me at the time.
"But since then it has evolved into this really amazing [scene]. There's just so much talent here, so much variety of music being performed or created, and a lot of venues. It's a real thriving little place. I've heard more than one person who visit from overseas say they're astounded by the quality of the music here."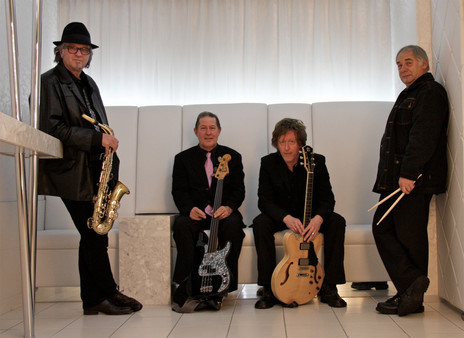 What sort of venues were there then?
"When we [Sneaky Feet] played at the Dux de Lux we had quite an eclectic repertoire. We did Pink Floyd and obscure artists' covers. But after the Dux we became more or less a wedding band and a pub band.
"When I started with Sneaky Feet, it was almost the end of an era, where prior to that bands used to make good money on the door, doing cover charge. The cover-charge scene by mid-80s had started to disappear.
What were the 90s like for you?
"From my perspective, I started to see that it was getting a bit easier for original bands to find a venue to play at. I was starting to change directions musically. I was still doing a bit of music with Danny [from Sneaky Feet] and then I left and joined the Blue Swing Quartet and started playing jazz. I was into more of the venues that hired jazz bands or duos and trios etc. There was Mainstreet Café, The Club, Café Bleu and some places in Cashel Mall that for a time had the European styling. And then we played at Coyotes on the Strip and the Civic on Manchester Street."
There seemed to be plenty of variety in the pre-quake decade with places like Fat Eddie's and Poplar Lane.
"Yeah, yeah. I played there lots. I think a big change in the 2000s for me was I was no longer with Danny, and I started to play in funk bands with horns, doing classic funk covers – James Brown, the Meters etc. One band was called Dirty Harry, and then when that started as an original band we called ourselves Oval Office. We did a lot of instrumentals, but I used to sing and then eventually, in Oval Office, we got a lead singer. Her name was Sacha Vee."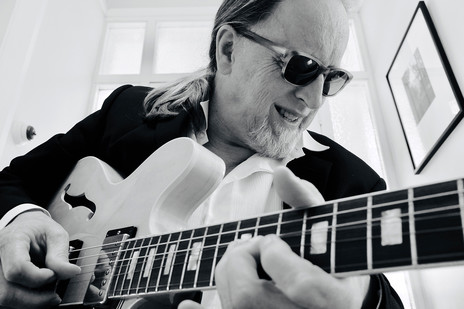 Things were thriving in the 2000s and then the quakes happened in 2010-11 and everybody's world fell apart. All the venues came down or were closed indefinitely. What happened for you during that time?
"Financially I was okay, because I was working at Ara and had some teaching. I might add that mostly, all my original music has never generated much income, so that's always done for love, but any of the cover music bands I've been in, they've always been a supplementary income and love, too, to a degree. I survived on teaching and then, just gradually, venues started to open up and clawed my way back into getting some gigs."
After the disastrous quake of 22 February 2011, a renewed music scene rose up through the ruins and the Lyttelton push was right at the vanguard. Adam McGrath of The Eastern and his muso pals spread out into the community, portside and over the hills, and played lots of places for nothing to lift people's spirits. That tuned up everything, really. Would you see that as a proper summation?
"Yes. I guess the thing about being a musician is that you're separated from other musicians because you work in a field where there's not a lot of overlap at times. But I did connect with Adam, actually. I had him on one of my roots programmes. The Eastern came on and did a few tunes and I jammed with them. In general I didn't belong to that sphere, but I totally agree with what you say. Out of the earthquake came this amazing creative surge that seemed to be centred over there [Lyttelton] and it was kinda rooted in that alt-country.
Or roots-folk/folk-roots?
"Yes, but I think there were also some other things happening that Adam's world didn't really connect with, and that's the louder original bands playing electric guitars and what-have-you. There was stuff happening there as well. That's why I feel that Christchurch has such a rich and diverse music culture. It's quite amazing."