The annals of New Zealand music rarely, if ever, mention Christchurch group Flying Wild. To the uninitiated they don't exist; to the initiated, they are merely a footnote in the Ragnarok story.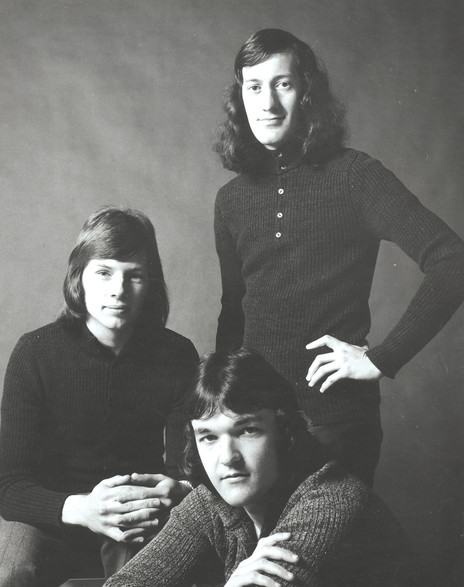 They were the first group to be given carte blanche access to Eldred Stebbing's Jervois Road studio, six years before Th' Dudes and Hello Sailor. And while they weren't the first New Zealand act to write their own rock opera, they were the first local band to perform their own opera in public. Their story is unique, as is the career of front man John Fielding.
The Flying Wild story began at Christchurch Boy's High School, where students John Fielding, Ross Muir and one other forgotten member formed a band. Fielding recalls: "Ross was a boarder at school, we used to borrow a speaker from his hostel as it was bigger than anything we had. At some stage we put an ad on the notice board at Begg's for a drummer and Andre Jayet turned up. We thought he was as bad as us, and we could all develop from the same level. In the early days we played the songs of The Yardbirds and The Kinks with more enthusiasm than musicianship. But we managed to get regular gigs around Christchurch, Timaru and Ashburton and even backed English comedian Warren Mitchell – aka Alf Garnett from the Till Death Us Do Part TV series – for a gig at Mt Cook."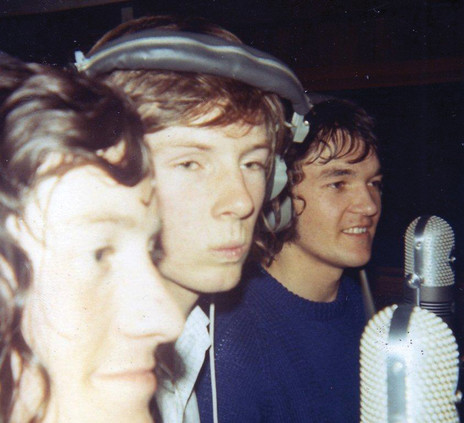 Inspired by The Who's Tommy rock opera in mid 1969, the group wrote a four-act, 24-track, 90-minute rock opera titled Jones: The Birth and Death Of. The performance was based on the traditional Chinese opera with no movement or scenery between songs, and narration between the musical items. They described it as a biographical study of futility and loneliness, in which Jones, a utopian drifter, fights in the Vietnam War and then struggles with his life afterwards. "Looking back at it now it was fairly bleak,", says Fielding.

Permission was granted by the Christchurch Council for the group to perform the opera on the banks of the Avon River, near the Hereford Street bridge. "All I really remember was that it was a beautiful night and it sounded great in amongst the trees on the banks of the Avon," says Fielding. "There were a few noise complaints, so a few council officers arrived halfway through along with the mayor, so we performed the last half at half volume, which still sounded okay."
The group's intention was to find an interested promoter to stage the production and a record label to hopefully record it. The opera was even mentioned in the nationally distributed Playdate magazine, but no one in Christchurch had the ability to market it. Like the central figure in the opera, Jones: The Birth and Death Of died, never to be seen or heard from again.
By 1970 Flying Wild was including originals in its act alongside cover versions of The Who and Led Zeppelin and the current hits of the day. The group relocated to Auckland in mid-1971 after receiving encouragement from Lou Clauson (Lou & Simon). Clauson invited them to stay with him until they were set up and, more importantly, introduced the group to Eldred Stebbing of Zodiac Records. Stebbing was impressed with the band and the fact that they wrote their own material and immediately offered them free studio time in his new and recently opened Jervois Road studio.
"We actually never signed anything that I can remember," says Fielding. "They just gave us studio time when it was free, basically, and released stuff when we finished anything that we were happy with. They did have plans for an album and for us to be the next big thing in Australia, following in The La De Da's footsteps."
The group recorded six songs during its first session with engineer Tony Moan. 'Help Us Help You' – an anti-pollution song – was released in October/November. They had recorded the B-side, 'Upside Down', as a demo at Robbins Recordings Studio in Christchurch the previous year. The initial Stebbing recording session saw four other tracks recorded: 'Ride My Pony', 'I Am', 'Rosanna' and 'Call My Name', all of which remain unreleased.
In a bid for possible commercial success the group released a second single, 'She's A Devil' b/w 'Night Child/Home', in April 1972. With its strident guitar sound punctuated with stabbing brass refrains, and a catchy "No no no she's not" chorus it seemed destined for success but the single quickly sunk without trace.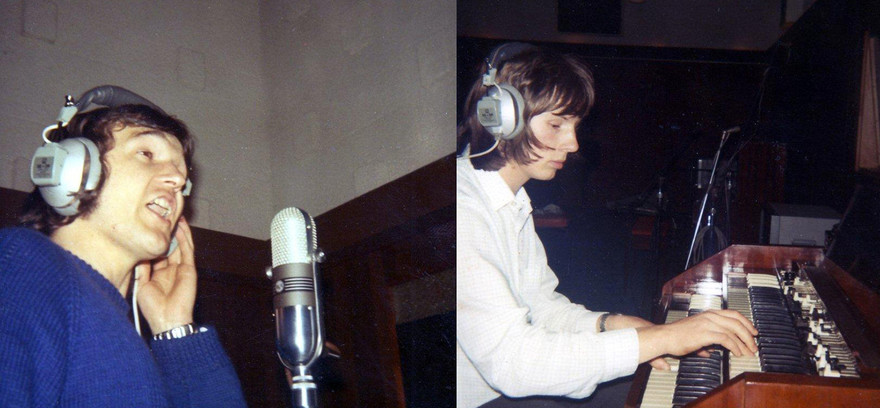 For several reasons, Fielding decided to go to the UK. The band wasn't actually signed to a label, his parents were heading to the 1972 Olympics in Munich, and they invited him to travel through Europe with them. He sold his gear after a South Island tour, and two days later was on the plane.
"There was no musical plan once I got to the UK, I was just going to wing it. I arrived in the UK in October 1972 and the only Kiwi muso that I knew in London was Gary Thain, although it was a vague connection that amounted to a couple of 'giddays' backstage at the Plainsman Club in 66-67, when he was with The Secrets. I managed to track him down as he had just started with Uriah Heep. We arranged to meet but when I got there he was pretty much out of his head and in a scene that I wasn't comfortable in."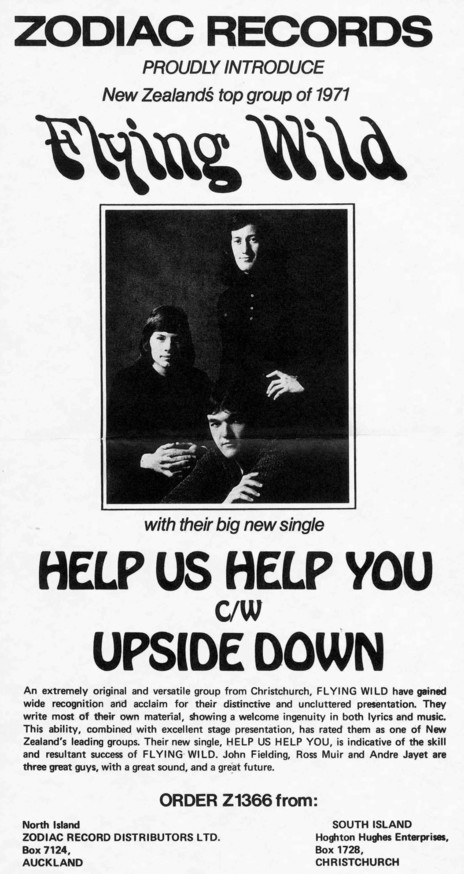 In January 1973 Fielding started working on a building site, and a few weeks later went to Paris to for the weekend to see the All Blacks play France. They lost, Fielding missed the ferry back to the UK, didn't get back to work on the Monday, and was fired. A week later he saw an ad in the NME for a tour manager. "It turned out to be for the New Seekers. I was interviewed by a Kiwi and got the job."
He learnt on the job during the New Seekers' tour of the UK, culminating in a headline gig at the Royal Albert Hall. The New Seekers, says Fielding, "had a mixed crowd of screaming teenagers in the front and mums and dads at the back."
In about May 1973 Fielding accompanied the group as it embarked on a six-month tour of the United States, including appearances on the Johnny Carson and Helen Reddy TV shows, and gigs at Disneyland. "I quit after two months as I couldn't hack the actual manager of the New Seekers, he was a bully which didn't go down with me … In hindsight I should have maybe pitched some of my songs to the group but I didn't really have anything at the time that I felt suited them. I was writing 'Never Gonna Leave You Again' – they heard sections while I was working on it, and liked it – but they didn't pick their songs."
Returning to Britain, Fielding was signed as a songwriter to a new label called Ocean Records. "We went into CBS studios in London and put down three of my songs with session musos. Brian Bennett, the Shadows drummer, arranged the tracks and played clavinet not drums on the session."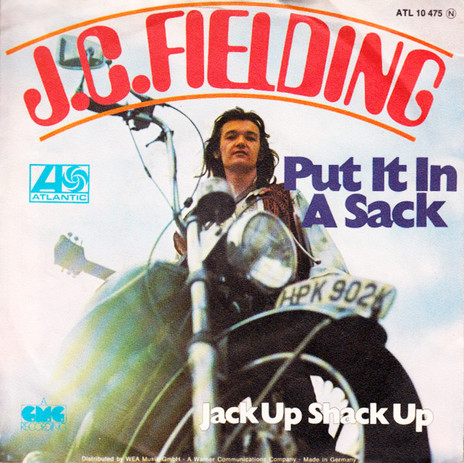 A single, 'Put It In A Sack' b/w 'Jack Up Shack Up', came out on Ocean in April 1974, after a delay of six months due to the impact of oil crisis on the availability of vinyl. When it was eventually released in the UK "it was competing against 104 other single releases that week. It got a little bit of airplay in London with Emperor Rosko (a popular DJ at the time) but mainly because of a song plugger paying to get it played which was legal at the time." The single was also released in Germany, on Atlantic.
Fielding was working on the third song, 'Never Gonna Leave You Again', while working with The New Seekers. Ocean added the vocals of a singer called Bryan Taylor and released it as a single in May 1974. It didn't chart.
For 18 months Fielding gigged as a solo artist and with his own band. At the end of 1974, Ocean was winding down, and Britain was going through an economic crisis, so he and his fiancée decided to return to New Zealand. "We got married in January 1975 and then moved to Wellington. When I arrived back Andre, Ross and my replacement in Flying Wild, Ramon York, were all in Ragnarok and were just about to start recording their debut album at Stebbing's.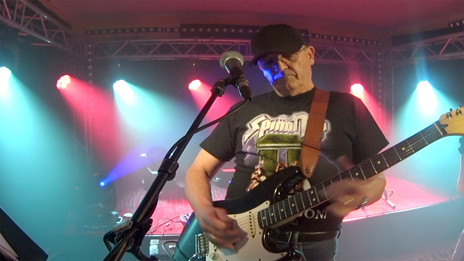 Fielding joined Marmalade Studio, in Wellington, as a producer. His first assignment was producing The Heartbreakers' debut single 'Beachcomber' b/w 'Heartbreak', and he produced a now-forgotten song for Shona Laing. He formed the group Torpedo Gene, playing lead guitar and singing, plus Neil Inwood on keyboards, Graeme Ward on bass and George Magoulas on drums.
"Most of the songs I released as Torpedo Gene were funded as jingles. The first Torpedo Gene single, 'Time To Head South', was originally a jingle for 45 South whiskey; a 60-second film commercial for theatres was made featuring Fred Dagg. The second Torpedo Gene single, 'Think Drive', was part of a road safety campaign and featured Beaver on lead vocals."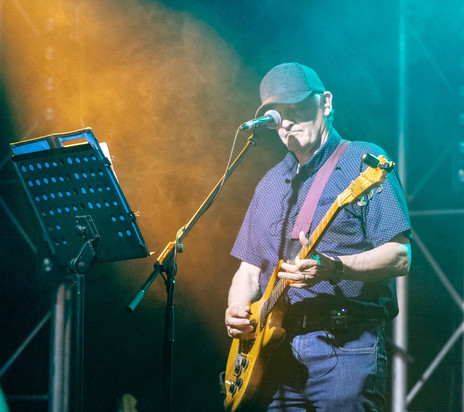 In June 1976 Fielding moved to Brisbane. Two years later he won the Australian section of the Pacific Song Contest with his song 'Why Did You Take My Love' (he returned to Christchurch to see it performed in a TV special by Linda Keene.) From there he played in cover bands in Queensland and New South Wales, worked as a radio announcer, and produced advertising commercials and promos. He remained in radio until his retirement in 2015, while continuing to perform in Queensland.
In 1994, as part of a duo with singer Ruby Slipperz, he wrote all the songs for a self-funded CD, Sweet Smell of Success, which won five Queensland Sunnie music awards. Another song by the duo, 'One Night in Goondi', won best country song in the same awards in 2000. Fielding continues to perform as a guitarist and singer, and produce songs and videos for a local band.
--
YouTube clip of the Pacific Song Contest performance by Linda Keene