2018: It's a sweltering mid-summer evening on a Monday in London. I've just picked up tickets from the Eventim Apollo, the rock and comedy mecca previously known as the Hammersmith Apollo, and I'm sure I won't be the only one proffering a New Zealand passport as ID at the box office. After all, on that broad marquee in big red letters: "FLIGHT OF THE CONCHORDS."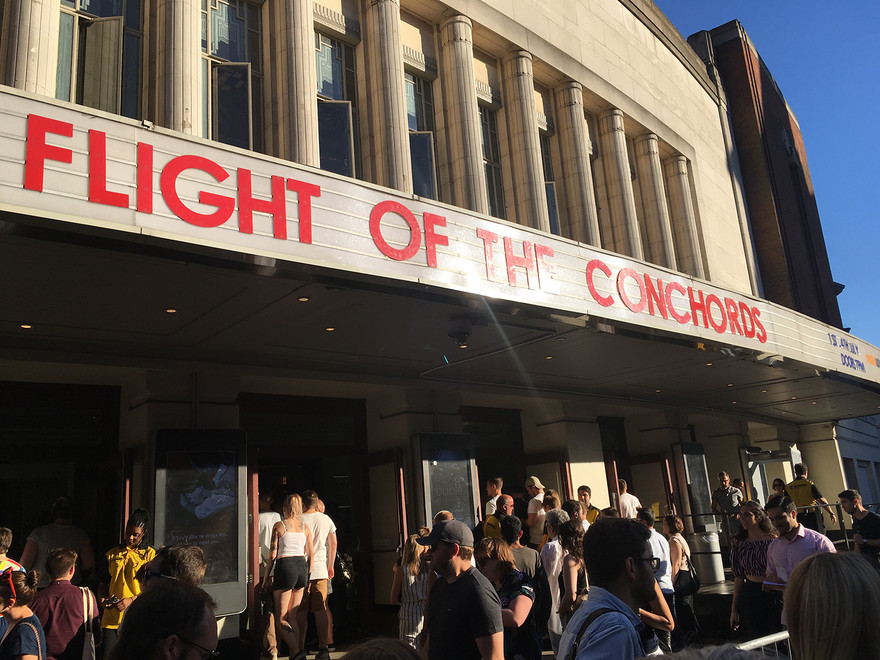 As I wait for London friends and showtime in a cafe-bar nearby, which, judging by the name "Antipode" and its drinks list, appears to have Australian proprietors, I overhear an Aussie accent in animated conversation with the barista: "Yeah we're going to Flight of the Conchords ..."
"What is that?" replies the staffer in a voice from somewhere else in the EU.
"Flight of the Conchords? You really haven't heard of them?"
"Is that like a movie?"
"No. It's these two guys from New Zealand. They're really famous. They do songs and stuff. Flight of the Conchords. Wow. Can't believe you haven't heard of them. They're like ..." Oz's answer to Mel, the TV show's resident superfan, looks around, catches my eye and gives me a look that says "you there, fellow Antipodean, help me explain the significance of these two guys …"
"You're on your own, there," I reply. She laughs and orders another wine.
But as a heaving Eventim Apollo attests, many in London have heard of Flight of the Conchords, the New Zealand music-comedy duo of Bret McKenzie and Jemaine Clement, and still love them nearly a decade after the end of their HBO sitcom.
The 3500-capacity venue is sold out, as it will be for two more nights on the last dates of the UK-Ireland Flight of the Conchords Sing Flight of the Conchords Tour.
The Apollo gigs are being recorded for a live HBO special and accompanying album. As the house lights dim, someone in the TV crew issues instructions to clap and laugh loudly. It's not needed.
The pair, supplemented by cellist Nigel Collins – who, every gig gets introduced as the New Zealand Symphony Orchestra – soon have the audience hanging on every deadpan punchline, sung or spoken.
After opening with the relatively new 'Father and Son' – a sentimental ballad of shared custody that might have been a Seals & Crofts hit in a former life – Clement says: "Now that the lights have come up a bit you'll see it is us and you'll probably notice we're a bit older. We're not ill."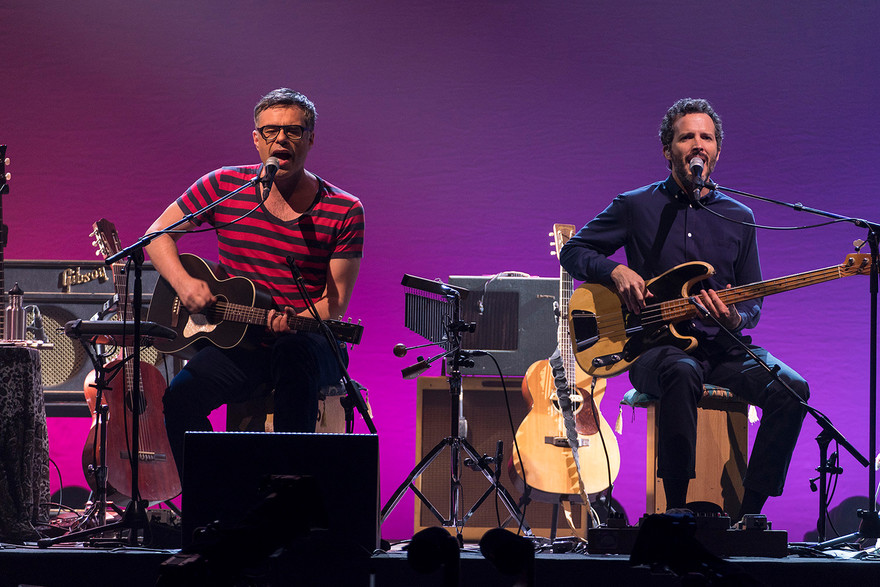 McKenzie: "We've been trying to stay young. Trying to preserve ourselves like those sexy manboys that you saw 10 years ago on the TV."
Towards the end of their set, they put on a straight face to dedicate the affectionate send-up of 'Bowie's in Space' to its late, great inspiration. It goes unnoticed that Bowie famously announced the retirement of his alter-ego Ziggy Stardust on the very same stage, a day short of 45 years ago.
A standing ovation wins the audience a four-song encore as it will again on the following shows, though the next night is a little strange, McKenzie tells me later: it coincides with England playing Croatia in the World Cup. There's random cheering in the middle of the songs from those watching the game on their phones.
"I think a lot of people on that night didn't really want to be there. But one person in the relationship forced them to go."
The Apollo is the final venue on a tour which has mostly played in bigger ones. Much bigger.
That's included three nights at the 20,000-capacity O2 on the other side of London. There have also been five-figure arenas in Dublin, Glasgow, Manchester, Birmingham, and Liverpool, which – with a rough calculation of sell-out numbers and average ticket prices – suggests FOTC has played to 160,000-plus on a tour with a gross near $NZ14 million. It is indeed business time, despite it being almost 10 years since the pair were on television together.
But, as McKenzie says, it's not just telly-nostalgia that has driven their British audiences to the country's biggest indoor venues, there's a deep affection for FOTC in the UK which goes back to their pre-TV days. Before HBO came calling they played Edinburgh Festivals, toured and made a six-part 2006 radio series for the BBC which ended with an episode entitled "Neil Finn Saves the Day". This acted as something of a demo tape for the New York-set sitcom.
"We are actually bigger in the UK than anywhere else … we toured there for years. We had a really solid fan base before the TV show. So I think there is a lot of ownership."
As well as the HBO TV special, the Apollo dates spawn a live album on famed Seattle label SubPop to which they have been signed since before their television days. SubPop released the Grammy-winning EP, The Distant Future in 2007, followed by two albums – the Conchords' self-titled debut in 2008, and I Told You I Was Freaky in 2009.
The Live in London album offers seven previously unrecorded songs, plus something of a greatest hits collection and plenty of between-song comedy.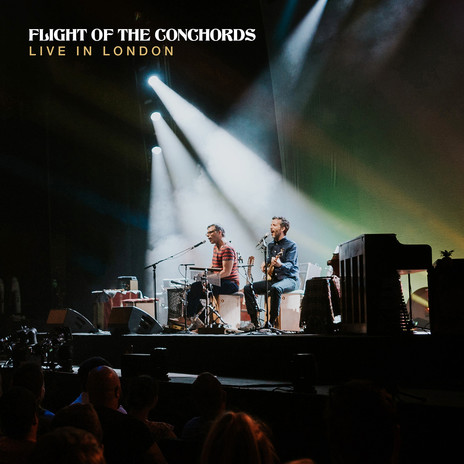 The inclusion of 'Father and Son' in the HBO special gives them another kind of encore. It is nominated for an Emmy (for outstanding original music and lyrics) to add to the sitcom's 10 nods in various categories. Again, though, there are still no Emmys in the FOTC trophy cabinet.
By itself, the massive UK tour confirms that the decision to quit the sitcom has worked out. Walking away could have easily consigned FOTC to pop culture history. But looking at the pair's varied creative lives since and their undiminished live appeal, it could be said the series has been more a cornerstone of the duo's careers rather than the pinnacle.
In New Zealand, they haven't performed on stage together officially since a triumphant – if that word can be applied to the famously self-deprecating duo – tour in 2012. The tour began as 10 theatre shows but added arena dates in Wellington and Auckland to meet demand.
But throughout the 2010s, McKenzie and Clement have become fixtures in Aotearoa's cultural life. While they've each accrued plenty of trans-Pacific air miles for work in the US in past years, sometimes they've brought Hollywood home.
Saying goodbye to the show
The FOTC television show might have made the pair internationally famous but it was hard graft. After two seasons, of 12 and 10 episodes respectively, the pair had had enough.
"When we were doing the TV show, we worked 100 days consecutively for 10 hours a day, McKenzie told the New Zealand Listener. "In terms of creating ideas, you need surprises, things the other person doesn't know."
Work-life balance adjustments were needed. Tellingly, the second season finished with them back in New Zealand, somewhere in Taranaki twanging a tune on a farm fence recalling the Country Calendar spoof from 1977.
"It basically stopped being fun," said McKenzie of the show. "It really wasn't a decision about money. It was definitely a decision about enjoying our lives."
They also recorded two albums in studios stretching from Wellington to both US coasts. Clement and McKenzie – a multi-instrumentalist who recorded with The Black Seeds and under his own Video Kid moniker before FOTC took off – don't share the same enthusiasm for recording as they do for writing and performing.
"The touring is fun and anything else to do with albums with stuff ... I don't really like studios," Clement told me in 2015. "Bret likes studios. He's really taken to it. I just like playing guitar in front of people. That is more immediate and exciting."
Still, their 2008 self-titled album topped the New Zealand charts then stayed in the top 10 for much of the year. It also allowed them to sweep the 2008 New Zealand Music Awards, winning four Tuis, including "breakthrough artist of the year" and "international achievement", both of which arrived just 14 months after their earlier Distant Future EP won a Grammy for best comedy album.
Setting out solo
Both McKenzie and Clement started families during the run of the series, and by the 2010s they hadn't flatted together in real life or on the small screen for quite some time. Still, back home in Wellington they found it amusing when people were surprised to find they weren't joined at the hip.
"People used to come up to me on the street or at parties and go, 'Where's Jemaine?' It started off cracking us up," McKenzie told the Listener. "Then it would drive us a bit crazy. We were like, 'It's not a documentary.'"
"In some ways we've become more workmates."
The pair, who had played slackers who were perpetual outsiders to the entertainment industry, became project-juggling Hollywood regulars. Clement picked up character acting work, playing scary monsters and super creeps in blockbusters such as Men In Black 3, Steven Spielberg's The BFG and Moana. He also continued a run of indie-comedy oddball characters he began with his lead role in Taika Waititi's debut feature Eagle vs Shark.
Alongside Waititi, he starred in, wrote and produced the low budget What We Do in the Shadows movie about Wellington vampire flatmates which later spawned an American television series and domestic spin-off Wellington Paranormal.
McKenzie also took on some acting roles, notably as the mulleted "Nige" in Robert and Duncan Sarkies' 2012 Southland-set black comedy Two Little Boys. His Lord of the Rings bit-part silent elf, christened "Figwit" by charmed fans in the first Middle-earth trilogy, returned with some actual lines and a real name, Lindir, in The Hobbit films.
Charity begins at home
In 2012, a few months after their national tour, FOTC topped the New Zealand singles charts with the charity single 'Feel Inside (And Stuff Like That)', a song they wrote for the annual Red Nose Day appeal for Cure Kids.
Creating lyrics from the answers to questions they put to five and six year-olds about how best to raise money for sick children, Clement and McKenzie assembled a vocal tag-team to deliver a 'We Are the World' vibe. With the knowingly earnest performances of Brooke Fraser, Dave Dobbyn, Boh Runga, Savage and many more, the result was as hilarious as it was effective as a fundraiser.
The song's assorted parts were recorded with American producers Printz Board and Deryk "Sleep Deez" Mitchell. They had been in town being well paid for working on the ill-fated album for new New Zealand resident and internet tycoon Kim Dotcom at Neil Finn's Roundhead Studios. The charity song was the only hit generated by the producers' well-paid time in Auckland.
The song's formula of kids' lyrics sung by a supergroup was repeated in 2015 for Team Ball Player Thing, a song again benefiting Cure Kids but being part of an All Blacks marketing campaign for that year's Rugby World Cup. The star-studded song was produced by Joel Little and came with a Taika Waititi video which briefly featured Clement in his Distant Future robot costume. But it didn't touch the same spots, or tickle the funny-bone, quite as much as 'Feel Inside', which remains the greatest charity record in New Zealand music ever, no question.
A not-so-grouchy Oscar
It was screen music and musicals where McKenzie found his post-FOTC niche. On his first solo songwriting job, he won an Academy Award.
When Disney agreed to a new Muppets movie, it brought in English director James Bobin. As co-creator of the FOTC television show and director of most of its episodes, Bobin had a mix of comedy and musical experience that suited a cast of humans interacting and singing with Kermit and co.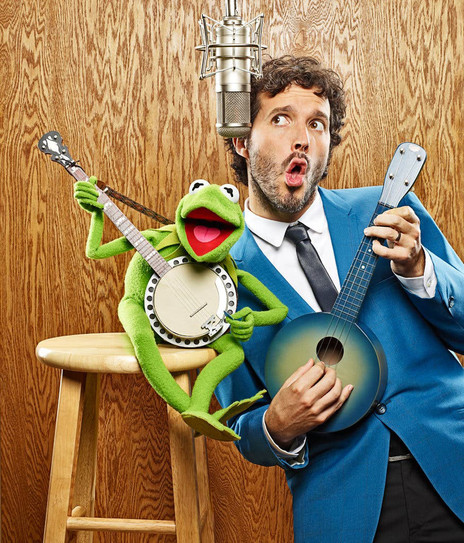 Bobin, in turn, suggested to McKenzie that he submit a demo. One number he sent in, 'Life's a Happy Song' eventually became the biggest earworm in The Muppets. Hired as music supervisor, McKenzie contributed four original songs for the 2011 film, while working with the franchise's veteran arranger, Chris Caswell.
McKenzie had to play by some Muppet house rules, such as penguins and chickens only being allowed to squawk and not sing words. Plus there was a certain other pressure of writing for Jim Henson's beloved ensemble.
As McKenzie told The New York Times: "So many people would say to me: 'You're doing music for the Muppets? Hmmm. Well, you're not going to write anything as good as 'Rainbow Connection'. And I'd say: 'Yep. You're right.'"
He did go one better, in a way. His 'Man or Muppet', an existential-crisis piano ballad ("If I'm a muppet oh I'm a very manly muppet ...") earned McKenzie the 2012 Oscar for best original song. It was the hit movie's highest honour.
Paul Williams' 'Rainbow Connection' for 1979's The Muppet Movie had only been a nominee in the category (the winner was 'All That Jazz').
McKenzie had been a little lucky as the only other Oscar original song nomination that year was a track from the avian animated comedy Rio, in which Clement voiced "Nigel", a parrot with a mean streak.
McKenzie returned to his music supervisor role on the 2014 sequel Muppets Most Wanted. The cameo-heavy second film meant that among those singing McKenzie's tunes were Lady Gaga and Tony Bennett (both on the opening 'We're Doing a Sequel': "We're doing a sequel/ There's no need to disguise/The studio considers us a viable franchise") as well as Celine Dion, Ricky Gervais, and Tina Fey.
Among the few in the film who didn't sing a McKenzie number was Clement. Instead, he led a chorus of gulag prisoners in a rendition of 'Working in a Coalmine', the Allen Toussaint song which had been a hit for Lee Dorsey and, later, Devo.
If the second movie lacked the charm of the first, it still meant McKenzie joined an exclusive club of those who had won a Grammy and an Oscar. A few months after bringing his statuette home from the 2012 ceremony he was made an Officer of the New Zealand Order of Merit for services to music and film.
Touring the US
The 2018 British tour followed the pair playing a two-month stint in North America in the northern summer of 2016. The US-Canada tour took in mostly sub-10,000 capacity amphitheatres and included famed music venues such as Red Rocks in Colorado (the setting of U2 Live at Red Rocks: Under a Blood Red Sky from 1984) and the Greek Theater in Los Angeles (scene of Neil Diamond's mega-selling Hot August Night from 1972). In LA, Rhys Darby as the group's manager Murray wandered on stage mid-show to call a band meeting.
"There's a lot of people here," he said, "I don't want to admit this but I think we might have gone to the wrong venue. This seems insane … I actually booked the Geek Theater. I thought they would be into the novelty."
The strongest brush with music mythology was at the 2016 Newport Folk Festival. Founded in 1959, the festival was famously where Bob Dylan underwent one of his Dylan-goes-electric controversies in 1965.
The event had long embraced non-folk acts in its 21st century incarnation, with occasional comedy-crossover acts like the banjo-pickin' Steve Martin. Still, as Friday night headliners of the three-day, 10,000-punter event (the other nights were Patti Smith and Alabama Shakes) it seemed New Zealand's fourth most popular folk parody duo had now hit the folk music bigtime. The irreverent pair went down a treat, according to reviews, getting praise from Paste magazine for adjusting their dubstep/nightclub number 'Too Many Dicks on the Dancefloor' into something the folk-fest crowd might enjoy – "a two-headed Bob Dylan impersonation."
Māui, meet Bowie
The end of 2016 saw the release of Moana, Disney's Polynesian princess movie and adaptation of Māui mythology. Its voice cast was heavy with New Zealand talent, among them Clement using his well-honed Bowie tones to voice Tamatoa, the treasure-hoarding giant crab monster whose song 'Shiny' was a glam-rock standout on the soundtrack.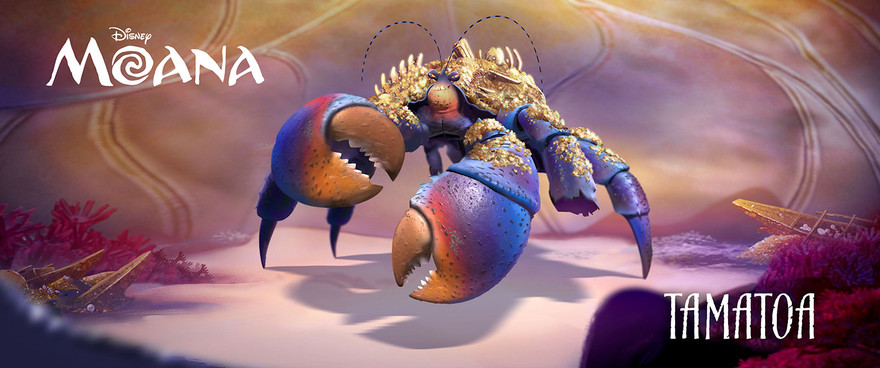 The song's writer, Broadway star and Hamilton creator Lin-Manuel Miranda, was influenced by Bowie, who had died early in 2016. But Miranda got the idea of making Bowie meet Māui from an early encounter with FOTC.
His hip-hop group had opened for FOTC in Aspen, Colorado, in 2004. When the duo played 'Bowie's in Space', it stuck in his memory. With Clement cast, Miranda thought Tamatoa's song could do with some (Ziggy) Stardust.
He said, "Their Bowie tribute, which they did back at the Aspen Comedy Festival was so brilliant, I said 'Oh, I'm writing that.' The world had already been mourning Bowie, I'd been listening to Bowie on a loop. I was like, well I'm writing a glam rock tune for this crab, this jewel-encrusted crab."
The following year Clement (Ngāti Kahungunu, Rangitaane) returned to the studio to re-dub his scary creature's dialogue and song for a te reo release of the film. If anything, his second performance of 'Piata Mai Nei' drives the high camp of 'Shiny' even higher. It was a rare chance for Clement to funnel his Māori heritage into his work. Singing the song in te reo, he said later, was "the trickiest part" and "he wero" (" a challenge"). He had encountered Māui before, when he toured with Taika Waititi as comic duo The Humourbeasts, whose play The Untold Tales of Maui toured local theatres in 2003-04.
The te reo version of the film, in which Waititi was involved, was released in time for 2017's Māori Language Week, a month after Clement was named an Arts Foundation Laureate, as was the film's te reo musical director Rob Ruha (Ngāti Porou, Te Whānau a Apanui).
The Muppets take Wellywood
A few weeks into FOTC's mammoth 2018 British tour which began in March, McKenzie fell down some stairs, broke some bones in his left hand, and had to postpone the UK jaunt until mid-year.
It wasn't just because he needed time to heal. He had another major commitment. He was the felt-free face of a three-week celebration of all things Muppet and creator Jim Henson in Wellington.
The festival of films and workshops ended with a McKenzie-fronted tribute concert, The Jim Henson Retrospectacle. With the characters from The Muppet Show, Sesame Street and Fraggle Rock all on stage (with their puppeteers visible beneath) it had fans of the Henson televisual universe in raptures as McKenzie joked and sang with Kermit, Miss Piggy, Fozzie the Bear and a Muppet version of himself. The musical backers for the show included long-time Muppet music maestro Chris Caswell and the New Zealand Symphony Orchestra. This was the actual NZSO, not just Nigel the cellist.
Two years later, McKenzie was in ringmaster mode again as one of three guest curators – alongside New York art-music doyenne Laurie Anderson and choreographer Lemi Ponifasio – at the 2020 New Zealand Festival of the Arts, where he booked an array of family-friendly entertainment and contemporary local music acts.
The festival also staged a show of his own: a work-in-progress run-through of the stage musical adaptation of American writer author George Saunders' short story The Brief and Frightening Reign of Phil. McKenzie was tapped by producers at Britain's National Theatre to write some songs for the tale, described by its author as "a kids' story about genocide".
"I was just excited by how different it is and how political it is," McKenzie told the Listener. "And, weirdly, it was written more than 10 years ago. But it's just so eerily relevant to current politics, and I love that it's something a lot darker than the stuff I've done in the past."
McKenzie is still a very muppety man, though. Among his next projects is scripting, writing and possibly directing the music for a remake of Emmet Otter's Jug-Band Christmas, based on a 1977 TV special which Jim Henson adapted from a children's book of the same name by Russell Hoban.
Back to their roots
Six months after the London end of the FOTC tour, McKenzie was back on the road in New Zealand: this time in venues rather smaller than the O2 Arena, but in a band twice as numerous. When Congress of Animals, the Wellington folk-rock supergroup of singer-songwriters Age Pryor, Justin Firefly, one-time TrinityRoots drummer Ben Lemi, and former occasional FOTC cellist Nigel Collins headed out on The Strange Caravan tour in support of their self-titled debut album, McKenzie went along as bassist and backing vocalist.
Ahead of the tour of small theatres and country halls, McKenzie told the Listener he was relishing the chance to cap off 2019 just playing music with some friends without needing to worry about keeping the audience laughing.
Clement also put in a rare musical appearance, sort of, in the 2019 video to Lawrence Arabia's 'Everybody Wants Something'.
Arabia/James Milne had done some music for What We Do in the Shadows and with Clement and others was co-creator of The Mysterious Secrets Of Uncle Bertie's Botanarium, the 2016 comedy podcast series starring Clement as Joseph Banks and Milne as his long-suffering assistant, Sydney.
In the 'Everybody' video, Clement plays an overbearing keyboard player in Milne's wedding band. The clip by director Loren Taylor was, said Milne, inspired by the video to Paul Simon's hit 'You Can Call Me Al' in which comedian Chevy Chase stole the show from the singer.
Considering Clement had played a faux Art Garfunkel to McKenzie's faux Simon in the second season of Flight of the Conchords – in an episode which also starred the real Garfunkel – it was a point where Clement's musical-comedy career had come full circle.