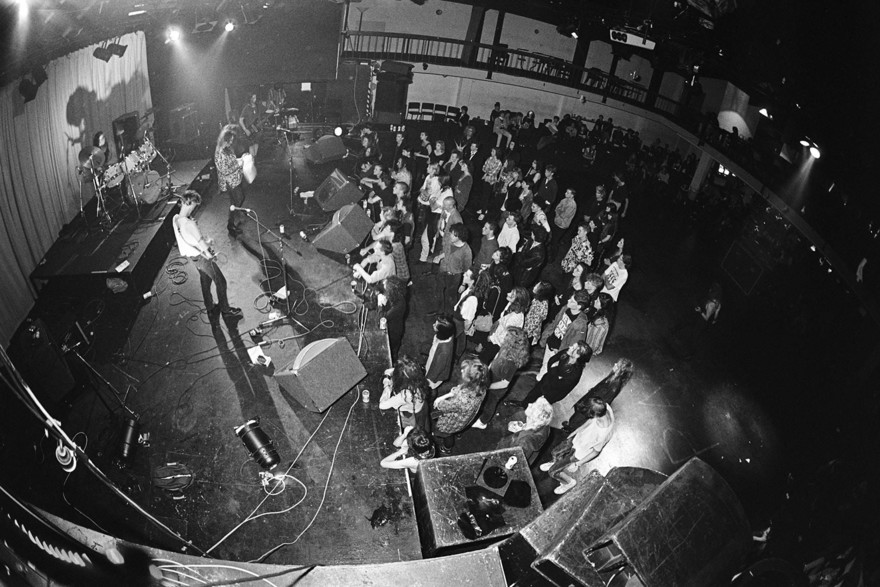 A set of photos, taken by Stuart Page, of Fatal Jelly Space playing at the Powerstation in 1989 was recently digitised by Auckland Library. Here are some thoughts from Sarah Cole (aka Bob), the Fatals' keyboard player and vocalist from 1989 to 1991.
When this great set of photos taken by Stu Page of the Fatals playing at the Powerstation in 1989 first appeared online, my name was omitted. So, I am making up for that by sharing some of my memories of this gig, along with some thoughts on gender in the alternative music scene at that time.
We played the last set of the night, at midnight after a long line-up including the Headless Chickens, who had been really supportive of us as a band. They invited us to dance on the stage during one of their songs, which was all a bit terrifying for me at that time and I remember thinking that we looked like some pretty freaky dancing girls. Fortunately, we were joined by some dancing boys during one of our songs too, including the lovely Stanley Manthyng.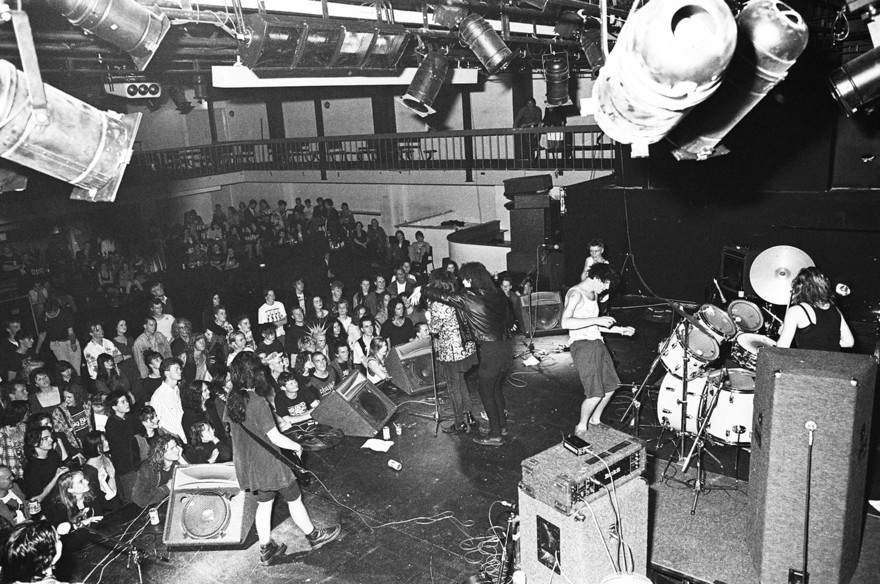 It was so late by the time we started our set that a chunk of the crowd had left and then, to make matters worse, the house lights were turned on. But the band had already gathered a loyal following who stayed on to the bitter end. You can see everyone in full view under the full glare of the house lights in some of the photos.
This was quite early in the band's existence and some commentators seemed a bit baffled about us and where to place us in terms of genre. At the time the band was playing some light-hearted punk-pop, including 'Hair' and 'Cut off Your Boyfriends Head' – penned by Jacinda Klouwens – and the ironically titled 'Serious Nihilistic Song' which included the line "white collar Johns call me crazy". The band also played some darker themed, post-punk industrial-sounding grunge like 'Aliens', alongside social commentary on themes of sexual violence 'Death of a Rapist', suicide 'Kitchen Floor', anti-mass consumerism 'American Dogfood', and songs of love, addiction, and heartbreak like 'Moonlit Track' and 'Miseriah', intercut with cracking jokes and trading insults with the crowd.
I think our existence as an all-women band playing the way we did and the kind of music that we liked to play, was confronting to some. It was definitely gender-non-conforming for the time. One review described us as "a bunch of feminist ball-bashers" which we thought was pricelessly funny. Why we didn't get T-shirts made with that phrase on it I will never know.
Even music journalist Graham Reid who was a fan of the band, still felt obliged in one review to describe the band's guitarist and vocalist Frankie Hill as "… the wonderful Frankie who – although tattooed and with a shaven head – was far from a ferocious personality off-stage". My strongest memory of Frankie performing was the way she held the crowd with her powerful and emotional vocals in 'Moonlit Track', along with her clever and quirky guitar playing.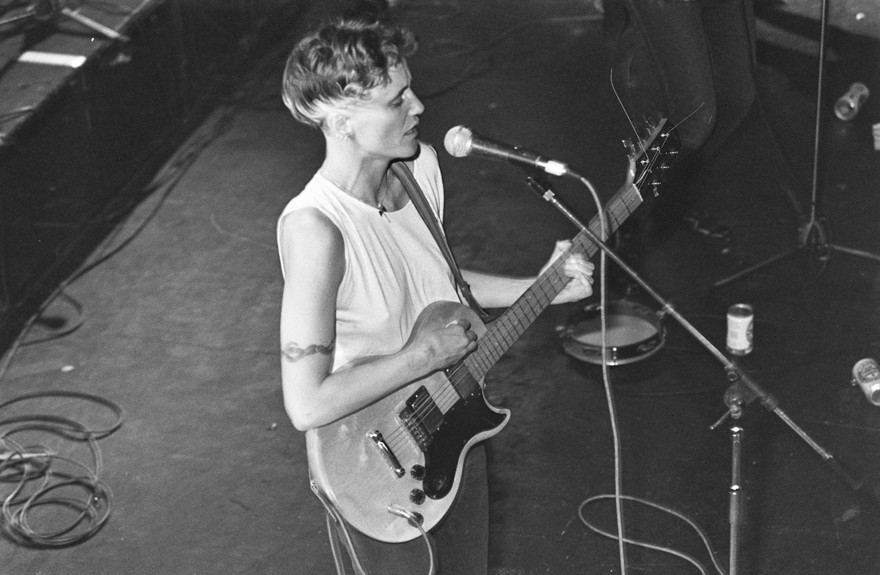 We were frequently asked about being an all-woman band and were very happy to be that, getting on really well as bunch of good friends who had a great time playing music together. Although there was a sizeable "Women's Music" scene in Auckland in the 80s and 90s, with bands comprised of all women such as The Dolphins, The Blue Marbles, Cassandra's Ears, The Pikelets and Dead Famous People. The Fatals were unusual at that time in being an all-women band who loved playing louder, harder, grungier sounds. We enjoyed playing alongside bands such as S.P.U.D., Venus Christ, Drill, Straitjacket Fits, Jean-Paul Sartre Experience and Bailterspace and felt that we had more in common with them musically, but those bands would never have been asked why they chose to play solely with men.
We resisted being pigeon-holed in terms of gender, but it was a bit of a challenge for us to be taken seriously as a band, especially when we started out. I heard a story that it was Dominik Nola from bFM and Chris Knox who convinced Roger Shepherd to sign the band to Flying Nun after he asked them, "Is this good?"
Later, during one interview, the band was asked by Jackie Clarke from When the Cat's Been Spayed about their armpit hair, somewhat ironically after a performance at the Women's Music Showcase in Wellington. There's a great photo of the girls examining each other's armpit hair in response.
With the benefit of hindsight, I think we were unknowingly part of a wider global movement of all-women bands who were also playing punk and thrash together, among them The Raincoats, The Slits and L7. I love it that there is now the Girls Rock movement with band camps for girls, trans and other gender non-conforming youth to be loud and proud in developing their skills as performers and writers, supported by others to do their thing. If we accidently encouraged any younger women at all to get up and play music live, then that's a great thing. This band was a great thing to be part of and I have lifelong love for everyone involved.
– Sarah Cole, February 2022
--