Ebony Lamb – having experimented with and expressed herself through a variety of disciplines – might be described simply as an "artist". She is best known as a musician, fronting alternative country band Eb and Sparrow. And now, her profile as a photographer is building to be equally as significant.
She was given her first camera at the age of 15 by her father. It was a Zenit, a 35mm film camera from Russia, and Lamb is quick to clarify "it was the 90s, film was the only option". Taking photos quickly became a passion, but it was one of many for Lamb, who also loved to paint, dance and attend live music. In those early teen years Lamb photographed her family life, her fellow dancers and the alternative music scene she was embroiled in ("I was a complete grunge-head"). As her interest grew, she attended night classes, learnt how to process photos at 17 and completed a large photography project for her final year at high school. However it wasn't until 2016, when she returned to study photography as an adult, that Lamb began to pursue it earnestly as a career.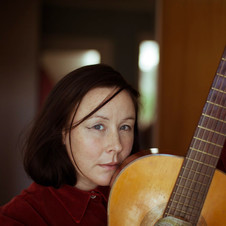 In the years that followed leaving high school, Lamb continued to photograph for pleasure, as she travelled the world and "had almost every job imaginable". By her early 20s, Lamb was back in New Zealand and focused on her new family life.
"I ended up having my baby at 21, and because of that, it kind of put a bit of a stop to art in a lot of ways. My early 20s were like, I just exempted myself from modern culture ... And then as she [my daughter] slowly got older, I started to get into it. But then I didn't know anything. I was quite experimental. But I always knew I had an eye, and I was supported in that."
Lamb decided to enrol at the Photo School in Raumati Beach – a course she had actually applied for when her daughter was six months old, before changing her mind. Attending the school in 2016 was a profound time in her life. Not only was it "Eb and Sparrow's biggest-ever year," she also did phenomenally well in her studies, earning a 100 percent grade on her final project: a first in the history of that course. Lamb also made a life-long friend and mentor in Mel Phillips, head of the school, a relationship Lamb describes as a "touchstone".
In the past five years, Lamb has amassed a fantastic catalogue, with a special interest in portraiture and artists. Lamb very often photographs her peers and friends from the music world, and has built a rich collection of album covers, live music and artist promo images. For Lamb, music portraiture is a strange juxtaposition of being both personal and public, and she strives to find a balance between the subject's outward persona as an artist, and their inner life ­– "I really try to get to a middle ground. Where it's one".
1. Aldous Harding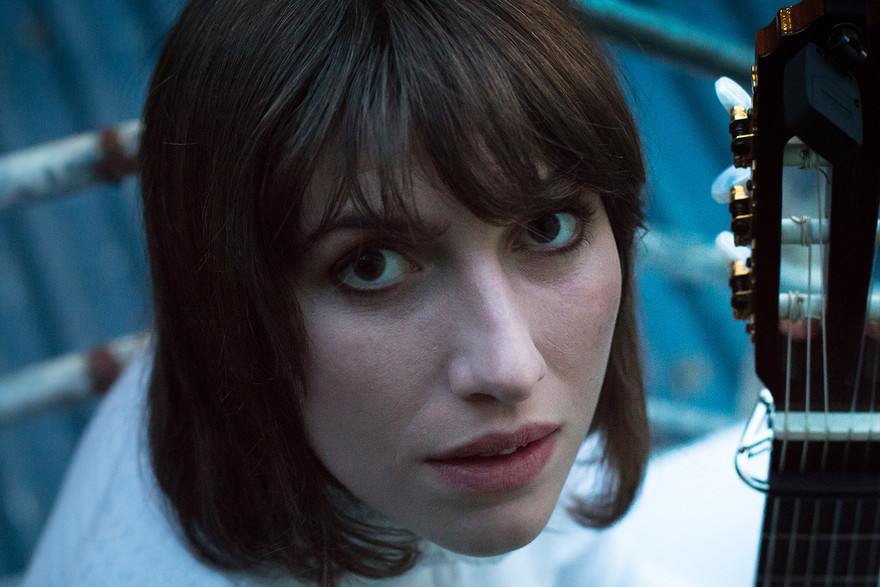 This was taken at San Fran, out the back on the fire escape. It was incredibly low light. It was just before she went on. It was pretty special because it was very close, there wasn't a lot of room. We knew each other really well at that time, so it wasn't difficult. And she's always incredibly nervous before shows. A lot of musicians are very, very concerned about the show, and what a terrible time to take a photograph! But what a beautiful photograph. She does know how to photograph … it's actually a real pleasure to work with someone like that. I mean, it wasn't so much that I was working with her, I captured her. This is just before she put out Party, her second record. It was a real pivotal time in her career, because she was going from being known in New Zealand to really being known overseas.
2. Barry Saunders and Delaney Davidson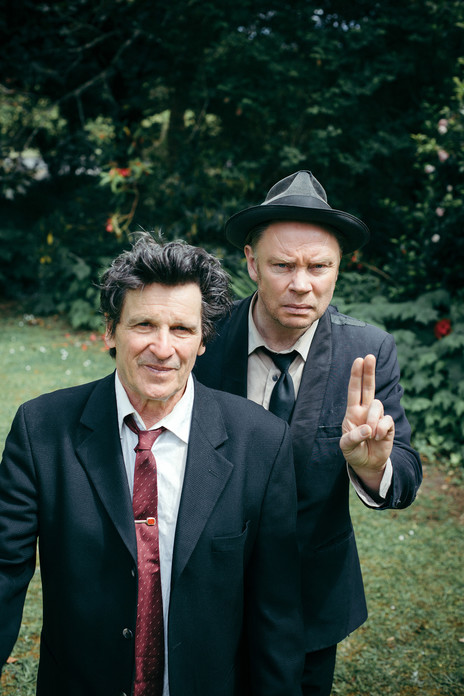 Barry and Delaney had done a show at the Featherston Kiwi Hall. I'm quite close with Barry, and I said "if you ever want me to take photographs, let me know." And he said, "how about tomorrow at 10 o'clock?" We had about one hour, in his garden. I noticed their bond actually, when I saw them after that church tour, I was like, "man, those two should make a record." And they did. They have a real sparkle in their eyes and a kind of saltiness to who they are. Someone like Delaney has a really strong personal aesthetic, and it was cool to be able to work with them and bring Barry into that aesthetic, because he has always had it, but sometimes it's not captured. So that was pretty cool. I got it.
3. Shayne Carter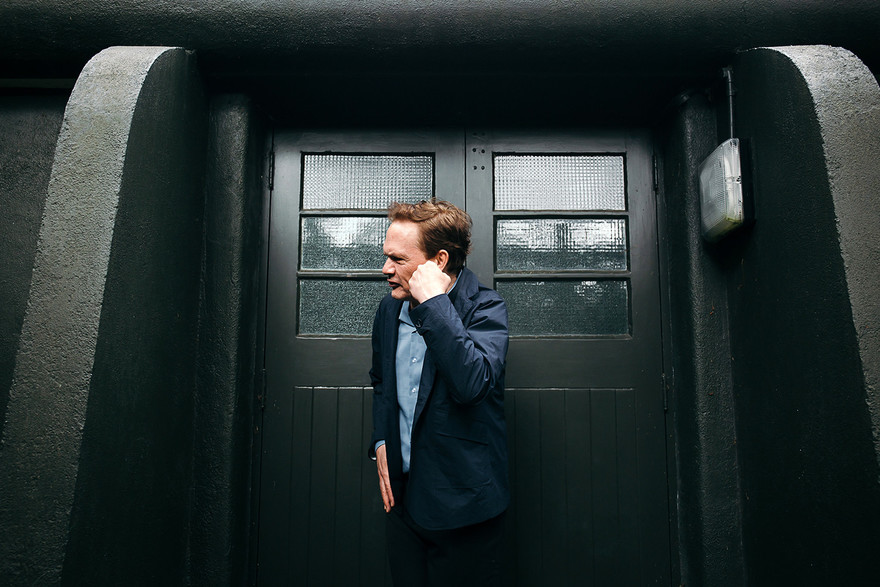 I'd gone around the back of the soundshell at the Wellington Botanical Gardens, where nobody really goes. If you're an artist and you play there in the summer, that's where everyone's hanging out. It's this really beautiful dark green. I photographed Shayne for the publicity of his book. We'd gone on this big walk through the gardens, and we ended up there. We wanted to get some of that movement in, because sometimes it can get a little bit stagnant if you're just standing there. He just did it [punched himself], and I just shot it. It was as simple as that! I said, "I don't know, do a random move," you know? Because every now and then [all you need] is just a hand move, like, it's just a little point of interest to show that this person is alive. He's very much alive.
4. Phoenix Foundation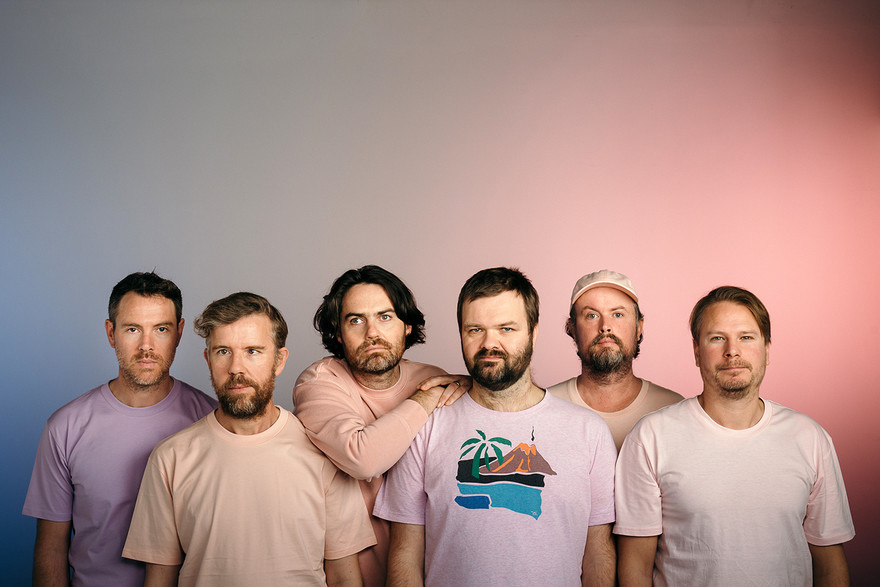 That's the cover of the album, which is called Friendship. I've known all of the Phoenix Foundation for a while. They put the word out, and said "we are looking for a photographer for our record, and we are, wherever possible within this process hiring women." It is that thing of really starting to be like wake up, like, we have to make the effort … That day we spent all morning in the studio shooting, and then we went outside in the beautiful tricky rain of Wellington. And Sam Scott's wife, Jessica, she alerted me – we were shooting and shooting and shooting, and then she looked at me and she said, "stay there!" I looked over and they were all like that, mid-conversation, just hanging off each other. It was kind of a little bit like Friends. They all look like themselves. That was really important to them … that was the point.
5. Tiny Ruins and Nadia Reid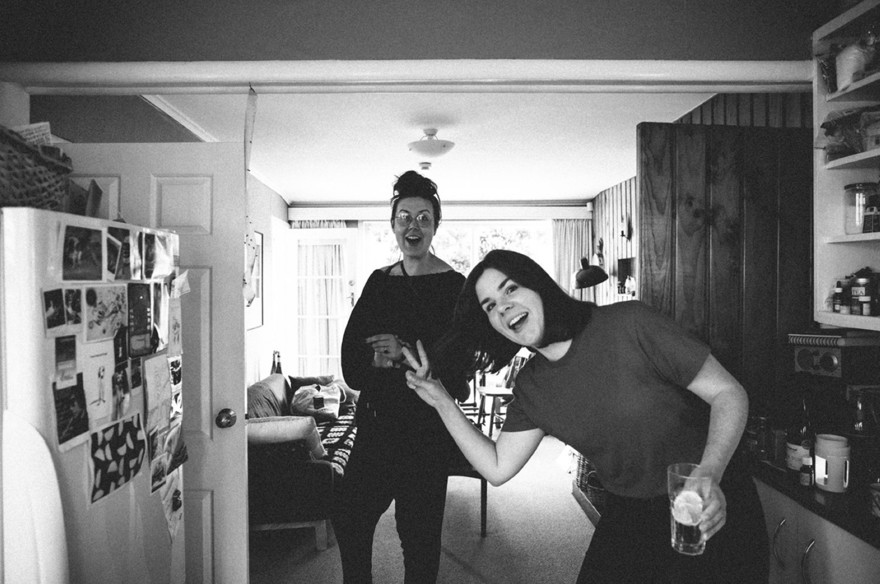 In 2018 Nadia moved back up to Auckland, and was flatmate for a summer in Titirangi with Tiny Ruins' Hollie Fullbrook. I'm really close with Nadia. We've known each other a long time and I photographed her for the second record cover, Preservation. That was just me in the kitchen, they were just mucking around. I did photo shoots with both of those girls. You know, I slept on the couch, to hang out with my girls. I think sometimes black and white just pops the image better because there's so much going on with colour. That photograph is so busy, if I had it in colour, I feel like that cheekiness that they have would be pushed back, you wouldn't see it.
6. Ariana Tikao and Al Fraser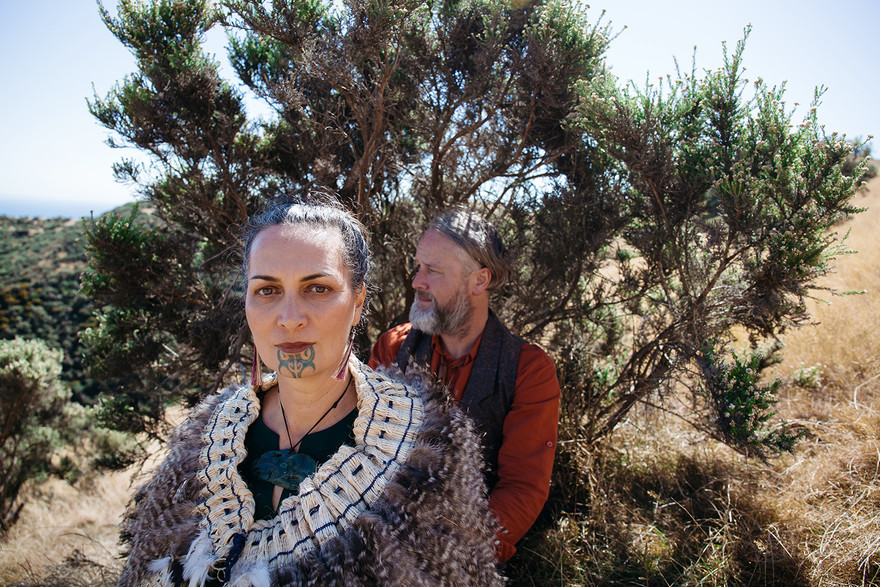 That's shot on a hillside near Makara. It's up on one side of a hill near a wind farm. And it's a really, really stunning place. Ariana and Al Fraser, they have a collaborative relationship through the contemporary modern Māori music they do together. It was about combining that traditional Māori – the sacredness, really of traditional Māori music – but in a contemporary way. The thing I love so much about that image is that she's so compelling, but she's not alone – there's a consciousness that is really present.
7. French for Rabbits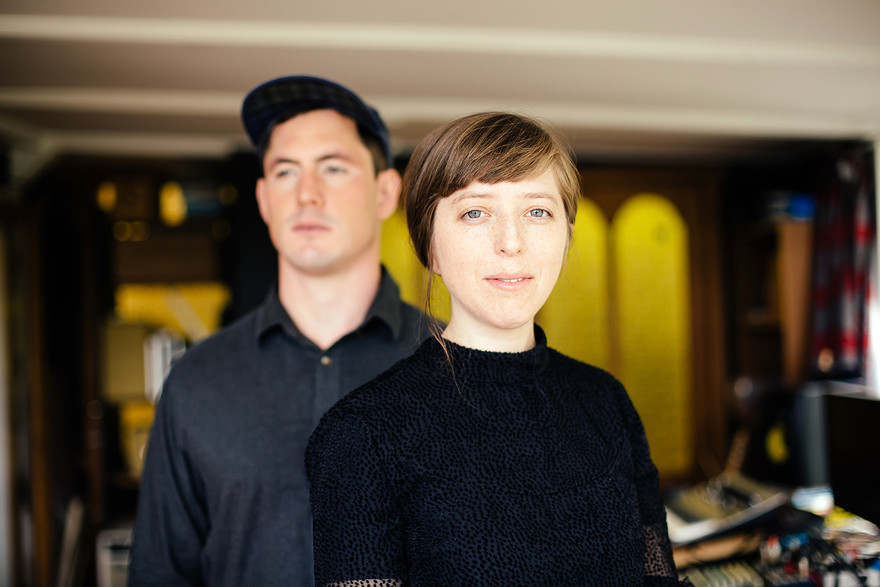 That was – at the time – my working studio for myself and my partner, so there's sound equipment all over the place. And so it's a nice, natural fit. For a long time, French for Rabbits were a duo of John Fitzgerald and Brooke Singer, and of course it's now five people. For whatever reason, they couldn't get the whole band together. And she's like, "Well, it's just a representation of the whole band." [Having other band members out of focus] is this really strong presence of what the music represents. You get this kind of other figure, or this other person as part of it, but they don't have to be in focus for you to understand that it's more than just them.
8. Marlon Williams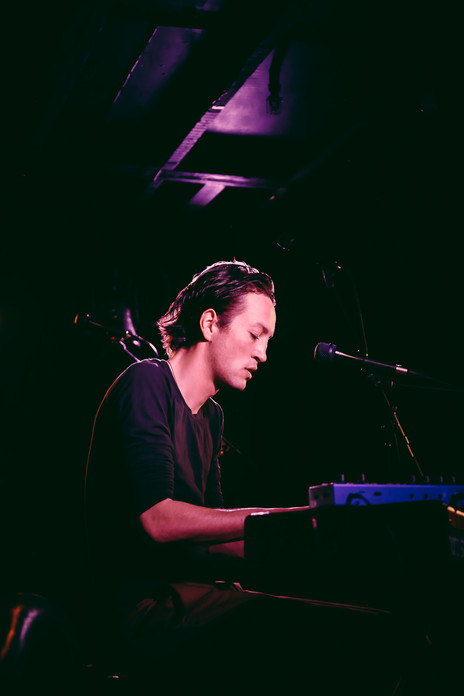 That was at San Fran and they had great lighting … I am lucky enough to know Marlon and his whole band. So I messaged and said "can I come and take photographs of the show?" I really wanted to, because he was on this massive trajectory. It was a magnificent show. Before that, he had done touring on his own and smaller outfits, and that was kind of like seeing him with the band. He's an incredibly easy person to photograph – he's pretty good at playing to a camera. He might not know that he did, but he always acknowledges your presence. You feel like that when you talk to Marlon, he's really listening.
9. Pashtag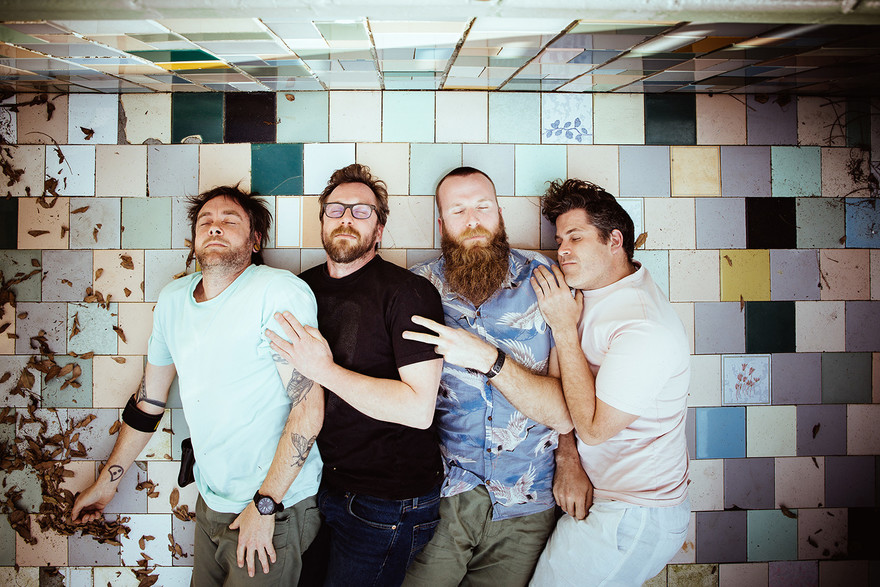 My partner Gram Antler is part of Pashtag. They're an art-rock band, and they're sitting on a record which has not been released. This image will be part of that. One of the members of Pashtag is Tom McGrath, who lives in Newtown, he built his own swimming pool and it's so beautiful. I'm standing on the edge of the pool shooting down and they're lying on the bottom of the pool. It shows the connection; they're really, really close. There's a democracy in the band, which is everybody's equal. That connection, I think it represents what a lot of bands become. If you're a part of a band, you just end up being in each other's pockets. They are all very emotionally engaged – they all agree on everything or it doesn't get done.
10. Kim Bonnington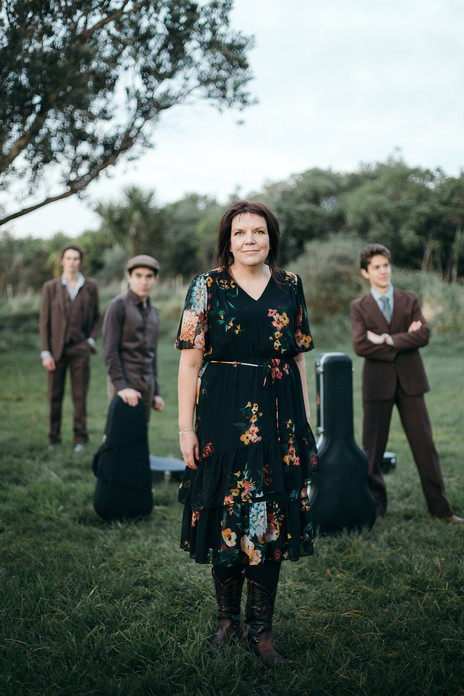 I have a really strong soft spot for country musicians, because I come from that kind of alternative country. Kim has an incredible voice, like you think about Patsy Cline or someone like that: she's really got it. We talked [the shoot] through quite a lot, because it was important to her that she had images that really made her feel beautiful, and also were totally in keeping with what she really wanted to show about her work. So we made it simple. We went up to the top of Brooklyn, it's actually a park I'd never been to, Tanera Park. We went there in the afternoon, and we were watching the sunsets. It was just really fun, you know, out in the field and getting them all to stand in a particular way.
--
Website: Ebony Lamb Photographer