The Sidewinder
Richard Lee could not believe his ears. It was the beginning of 1979 and the tall, good-looking electric violin virtuoso and singer-songwriter had just been asked to join Australia's top band, Dragon.
Dragon had secretly asked Marc Hunter to leave.
Dragon founder Todd Hunter and his wife and songwriting partner Jenny Hunter Brown were in Melbourne to catch Richard with his band Sidewinder. Todd told Richard that Dragon wanted to change their direction slightly and broaden out musically and they wanted him aboard.
They had met previously when Sidewinder had opened for Dragon at the Bondi Lifesaver and received two encores. Later, Todd had Richard contribute violin to two tracks on Dragon's platinum-selling O Zambezi LP – 'Politics' and 'Company', both written by Todd and Jenny, the former with Robert Taylor.
Sidewinder had been a big drawcard in Melbourne with their classical-influenced heavy rock but a demo recording had proved too radical for EMI. Richard put together a "more recordable" version of Sidewinder but that was hastily dissolved in favour of a place in Dragon.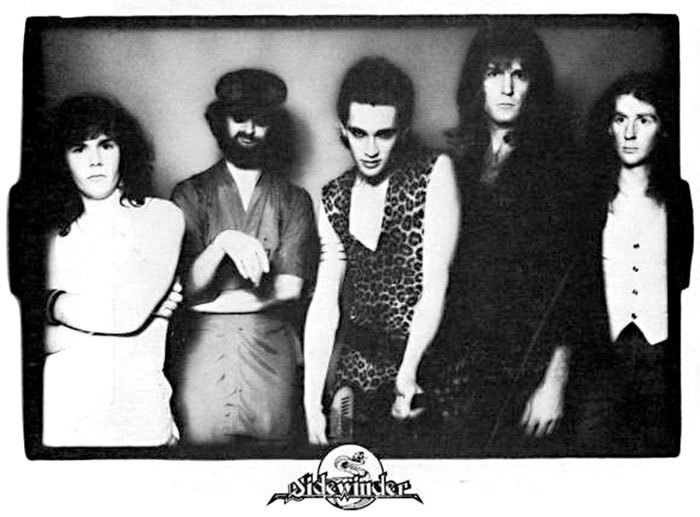 Happily married with a newborn son, he was relieved to not have to continue to subsidise his career by playing big band music with the likes of the ABC Melbourne Showband, not to mention that Todd wanted Dragon to do some of Richard's songs.
On February 8, the news of Dragon's new addition featured in The Age newspaper. Richard told Patrick McLoughlin he had no worries in reverting from the main personality in Sidewinder to taking a back seat to Dragon frontman Marc Hunter.
"I've always admired Marc – he's the most charismatic lead in Australia – but I will still be plugging to have violin solos," he said. "I'm quite happy to sit, not in the background, but to let him go."
Marc Hunter departs
But what Todd Hunter wasn't telling Richard Lee was that at the culmination of a disastrous US tour a month earlier Dragon had secretly asked Marc Hunter to leave and were continuing with him just long enough to clear some "deferred bills" before revealing the split.
Dragon had endured a tour of the Southern states opening for The Johnny Winter Band. Marc partied so hard at the start of the trip that he had lost his voice just days into it, and the band felt he had let them down when they were trying to get a foothold in the American market.
In New York, the rest of the band summoned manager Sebastian Chase to a covert meeting where they divulged they no longer wanted anything to do with Marc. It was as much an attempt to save the singer's own life as to prolong the existence of the band.
The US tour opened their eyes to the wondrous possibilities of a global career – that they could return there not as a band with a Doors-like frontman but as a musicians' band. They were happy not trying to seek pop stardom but to find their own niche in the US market.
Chase reminded the band that they had lost money on the Running Free tour of Australia earlier in the year and had deferred payments in order to take the US opportunity. He said that was no big deal because Dragon's earning capacity in Australia was so good that all they had to do were some quick dates to pay the bills off. So it was crucial not to get rid of Marc until the band had done that.
But not long after touching down in Sydney, Marc's partner in crime in Dragon, principal songwriter Paul Hewson, confessed the wicked plan. Marc immediately confronted Sebastian Chase – "What's all this about me being kicked out?"
Overnight, the prospects of paying the bills evaporated with Marc demanding exorbitant amounts of cash before taking the stage. When it was announced that Richard Lee would be joining Dragon, rumours began to circulate that Marc had been sacked.
This was the scene that greeted Richard when he arrived in Sydney for rehearsals in the middle of February. Although he was not yet gigging with the band, Dragon performed alongside Split Enz, The Angels and Kevin Borich Express at a free 2SM concert for 80,000 people at Victoria Park.
Three days later, February 21, at Sydney University, Marc Hunter performed for the last time with Dragon, leaving the stage before the end of the show.
Three days later, February 21, at Sydney University, Marc Hunter performed for the last time with Dragon, leaving the stage before the end of the show and thus forcing guitarist Robert Taylor to continue on lead vocals.
Chase Management confirmed the departure in a media release, saying that Marc would not be replaced and that "each member of the band will now take the function as vocalist for their own original compositions." It continued that Dragon would be preparing new material for their fourth Australian album and that they would "undoubtedly utilise the writing talents of Richard Lee" on that album.
The new line-up
The debut of the new Dragon was revealed as March 1 at Pleasures in Kogarah, Sydney. But all was not well within the band. It became clear to Richard there were two factions in the group – Todd Hunter and his wife Jenny on one side and Robert Taylor and Paul Hewson on the other – and that there hadn't been proper consultation before he was asked to join. Drummer Kerry Jacobson was content on the fence.
While Todd was keen to explore a punk, new wave sound, Robert and Paul much preferred a blues rock route and they had just the man in mind to come in as singer. They weren't enamoured of Richard's pure, clear singing tone and were after someone with a bit of grit – someone like Billy Rogers.
Dragon had first encountered blues singer and saxophonist Billy Rogers in Perth in October 1975. They were on their first national tour, supporting Status Quo, and were stranded on the west coast where they happened upon Billy's band Last Chance Café.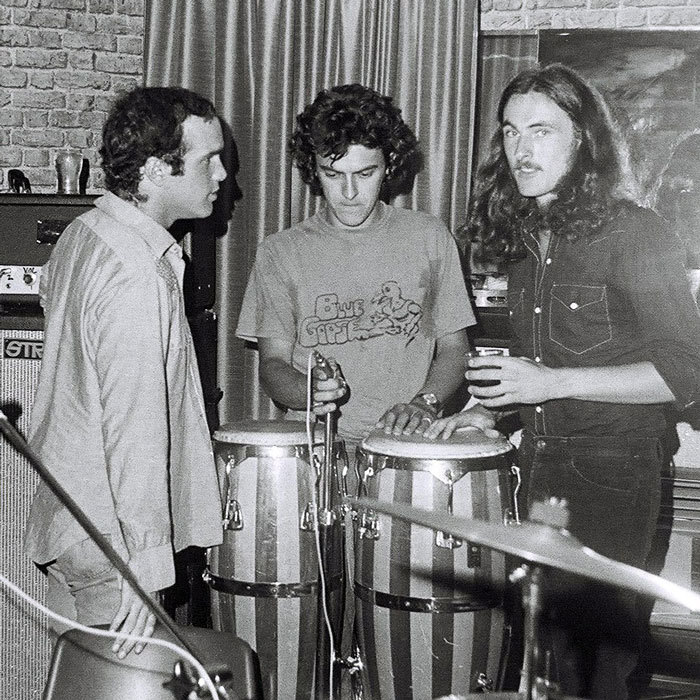 Their paths would cross on the road over the next three years after Last Chance Café relocated to Melbourne and even came under the Chase Management umbrella, but by late 1978 they had burned out and disbanded.
Sebastian Chase tracked Billy down to his sister's farm south of Perth and gave him a call. "Are you straight?" he asked. "Yeah, I'm straight." Chase revealed Marc had been booted out of Dragon and would Billy be interested in sharing the frontman role in a revamped line-up.
He had no hesitation and immediately travelled to Sydney with his new girlfriend Jessica Kenny. The pair had met the previous New Year's Eve and, although she was eight years his junior, Billy had fallen head over heels.
When they arrived, and unbeknownst to the new members, Chase, Todd Hunter, Robert Taylor and Paul Hewson were in a crisis meeting over the future of the new Dragon. It basically came down to whether Richard Lee and Billy Rogers thought they could get on in the same band.
With just days until their debut gig at Pleasures, the band got down to rehearsing. Musically, the potential was enormous with Richard's electric violin and his ability to slot in on rhythm guitar and Billy's saxophone and harmonica enhancing the already established Dragon sound.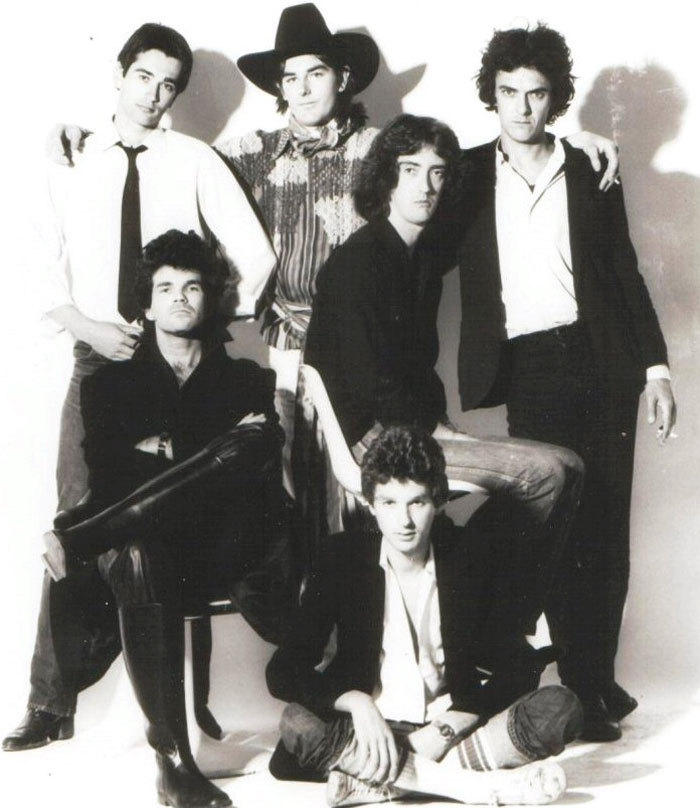 They dropped their entire repertoire, all their well-known hits, and started building a new one. Billy brought in the likes of 'Help Me' by Sonny Boy Williamson, 'Can I Get a Witness' by Marvin Gaye and 'Sex & Drugs & Rock & Roll' by Ian Dury. Richard made several suggestions but the band worked up only violinist Sugarcane Harris' take on 'Directly From My Heart To You' which had appeared on The Mothers Of Invention's Weasels Ripped My Flesh.
Oddly enough, with their spokesman Marc Hunter gone, the band thrust the articulate but softly spoken Richard Lee forward to talk to the press on the eve of their debut gig.
He told Penny Kearns in her Scene '79 column that the old R&B covers were only a temporary measure. "Until the audiences have got to know our music better it wouldn't be fair to do all new numbers," he said. "Besides, Billy joined the band only this week and we have had about five rehearsals. It will give him the chance to settle in."
The relief of getting the first gig out of the way was palpable – and Billy was buoyed by some encouraging words from one of the Air Supply frontmen who was in the audience – and so followed a run of Sydney dates before breaking out to the rest of the country.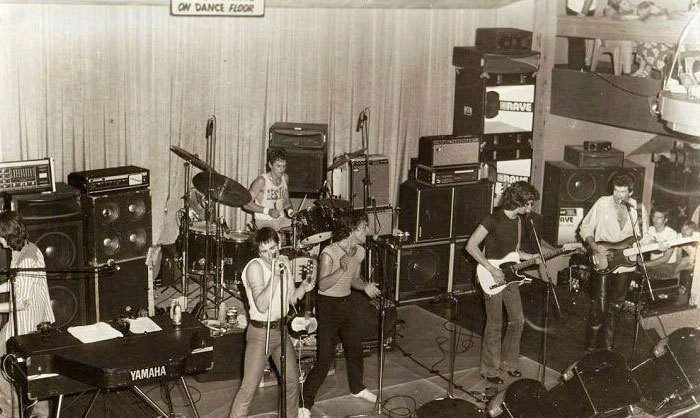 Dragon were $60,000 in debt from the deferred bills of the Running Free tour and audience numbers for the new line-up indicated things were going to get tougher.
Financial strife
The true state of Dragon's finances had by now been exposed to Richard, a commerce graduate. He had initially been told he could remain living in Melbourne with his wife and son and fly to Sydney for band commitments. However, Dragon were $60,000 in debt from the deferred bills of the Running Free tour and audience numbers for the new line-up indicated things were going to get tougher.
Richard decided he'd better find the family somewhere to live in Sydney after he hitchhiked from there to Melbourne and discovered his son had learned to crawl during the two months he'd been away with Dragon.
Having already dropped the band after the disastrous American visit, their US label Portrait Records did the new version of Dragon no favours when they released Greatest Hits Vol. 1, featuring the hits of the Marc Hunter era.
Although the crowds weren't big, the band was forging ahead and gelling as a live unit. Their previous single 'Still In Love With You' and 'Man Gone West' from Running Free had found their way back into the playlist, but Richard was still struggling to get any more lead vocals.
The new line-up's first single was sung by Billy – the Paul Hewson-written 'Love's Not Enough' – accompanied by an in-performance video featuring CBS artist development and relations manager John Sackson dressed up as Paul, who was too sick to appear. The B-side was the instrumental jam 'Four Short Solos', credited to Jacobson/Lee/Rogers.
In an attempt to save money and with the fees they could command diminishing, it was decided Richard would double as tour manager when the band went out on the road. He would drive the bus, collect the money at the end of the night and control expenditure, on top of playing in the band. He and Todd were usually the only ones straight enough to drive anyway but Todd hated doing so.
Long hours on the highway were playing havoc with Paul's back problem and whenever he was flush with a royalty payment he would fly while the others drove. He was also becoming more eccentric and contrary as he descended further into the same drug haze that had seen Marc Hunter let go.
And there was something else simmering that threatened to unhinge the band – Billy Rogers' girlfriend was falling for the charming and charismatic Paul. The relationship had grown from deep discussions over Arthur Janov's The Primal Scream, which Jessica had introduced to Paul, into something much more than platonic.
Surprisingly, the romantic entanglement didn't impact on Paul and Billy's friendship and when it came time to write material for a new album Paul encouraged Billy to contribute. He told him all of Dragon's records had gone really well and he would likely make some money from songwriting royalties.
Recording Power Play
Unfortunately nobody was affording Richard Lee the same courtesy and, after the blatant rejection of his singing, he was far from confident in aggressively pushing his own songs when the band entered Studios 301 with producer Peter Dawkins in June.
CBS flew Texan Howard Steele out to engineer the record. Steele had mixed O Zambezi in Hollywood at Studio 55, which he owned with Richard Perry, producer of Harry Nilsson's Nilsson Schmilsson and Ringo Starr's Ringo, among others.
On his first night in Sydney Dragon got Steele "shit-faced" before he realised the beer was stronger in Australia than in the US. On another night he was dropped back at his hotel in Kings Cross and spent the evening talking to Iggy Pop, who was the only other person in the bar.
There was a wide range of new material gathered for the sessions and the odd squabble and strong opinion about what would be recorded. It was decided early on not to include 'Love's Not Enough'.
The team of Todd Hunter and Jenny Hunter Brown had been writing a lot of experimental stuff on a Portastudio, much of it with little commercial regard. Todd made his debut on lead vocals on two of their contributions, 'Motor City Connection' and '3:33', and Billy sang the harmonica-driven 'Crying Shame'. A fourth from the team, 'Now That Daddy's Home', was held back as a B-side. Murray Burns, of Mi-Sex, was brought in when Paul showed little interest in adding synthesiser to Todd's efforts.
Robert Taylor sang lead on his self-written boogie tracks 'Bus Stop' and 'For Free' with Billy singing 'Same Old Lies', which they had written together. Billy also took the lead vocal on 'Counting Sheep' and 'Time Of The Year', which he'd written with Paul, as well as the Hewson-penned 'Crooked Highway'.
After coming up with the structures and themes, Paul exhorted Billy to inject some of himself in the songs, which he did in naming his nephews Matthew and Ben and WA's Kojonup in 'Time Of The Year'. Paul also managed to slip in a nod to his son Daniel in the lyric.
The musical tour de force was an instrumental track Todd named 'Gans En Farben' (meaning 'in full colour'), which was credited to all six Dragon members and gave each of them a chance to prove their musical chops. It soon became the regular show opener.
Todd Hunter told Duncan Campbell in July's Rip It Up that Dragon hoped to get back to the States during the American summer of 1980. "We restructured the band to see if we could get something that would be more acceptable to American audiences. Playing and arrangements seem to go over much bigger there, compared to the pop star trip that works in Australia," he said.
most punters turned up to hear 'April Sun In Cuba' and 'Are You Old Enough' only to be confronted with this entirely different beast.
"The new songs are less poppy and, I think, less accessible. It takes a bit more listening to. At the moment we're getting real good audiences, and they seem to be a bit older, coming more for the music than the pop star trip. For the first time, people are having to face the fact that the band can play. It definitely isn't a pop band anymore."
New Zealand audiences were about to find that out in September when Dragon undertook their first national tour there since 1975. From Auckland to Invercargill most punters turned up to hear 'April Sun In Cuba' and 'Are You Old Enough' only to be confronted with this entirely different beast.
On one night the band were debriefing after their encore when they heard organ sounds from the stage. Paul Hewson stood like a statue playing alone for a good two minutes until the rest of the band reappeared and joined in before playing one final song and departing. On another occasion, they had a live 1ZM broadcast cut short when Billy Rogers dropped the C-bomb.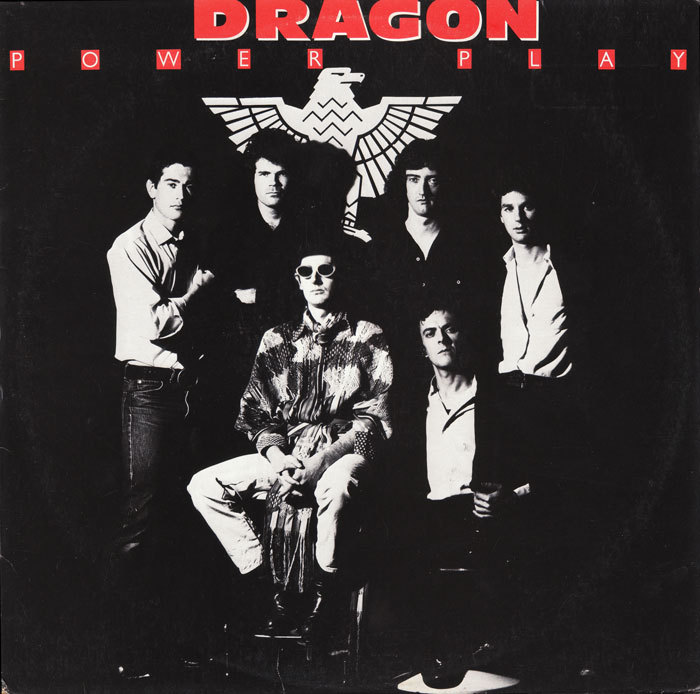 Release and reception
In October, the new album Power Play was released. The Todd Hunter-conceived sleeve was a hint as to the treacherous behaviour of the camps emerging in the line-up. On the front was a pensive band shot while the back cover showed all but Paul clutching knives, a baseball bat, a meat cleaver and a chain behind their backs.
The photoshoot had had to be rescheduled when Paul failed to show at the studio the first time. The following weekend, a taxi was organised to pick him up and the driver arrived and asked the band to help the worse-for-wear pianist from his car. No wonder Paul was seated with dark glasses on in the photo.
When the record struggled to No.64 on the Australian chart and the singles 'Counting Sheep' and 'Motor City Connection' both failed, the writing was on the wall.
It even got to the point where guitarist Robert Taylor and drummer Kerry Jacobson had started to lose interest and didn't turn up for one gig. Luckily Hello Sailor were on the same bill and Harry Lyon and Ricky Ball filled in, Todd shouting chords to Harry as they went.
Marc Hunter had performed the odd guest spot with the band over recent months and he was there for one final highlight when Dragon featured on 2SM's Concert of the Decade at the Sydney Opera House Forecourt along with a host of others – including Sherbet, Max Merritt, Split Enz and Skyhooks – on November 4.
Paul's health had deteriorated further as a result of his drug dependence and, still heartbroken over losing his girlfriend to his mate, Billy was heading down the same path. Soon after the decision was made to break up in December, Paul was admitted to hospital with hepatitis B.
A couple of weeks before Christmas, CBS threw a party for the band at The Strata Inn in Cremorne. Although not invited, Paul apparently ripped the drip from his arm and jumped out of a hospital window to attend. Also in attendance were Marc Hunter, original guitarist Ray Goodwin, members of Cold Chisel, producer Peter Dawkins and an army of CBS executive staff.
The band performed the Power Play album before being joined by Marc for 'April Sun In Cuba', an ad-lib number and their old show closer, The Velvet Underground's 'White Light/White Heat'. Dawkins even joined in on tambourine at one point.
After the show, CBS presented Dragon with a plaque for earning a million dollars' worth of record sales. Todd Hunter made sure to mention on mic that the band had seen exactly none of that in royalties.
Aftermath
Even the indomitable Todd had to admit defeat. The day after the party, he told RAM magazine founder Anthony O'Grady, "After Marc left, disintegration was inevitable, but there was a remarkable lack of trauma and I think anyone with real insight would have seen the inevitability of the band's demise while Marc was still there.
"At least the new band did what it wanted to do, which was to make an album we were happy with. When it became obvious there was a severe rift between the songwriting styles of myself and Jenny Hunter Brown and Paul Hewson, there could be no agreement within the band upon a unified direction."
Dragon fulfilled their remaining bookings, finishing up at Selina's on New Year's Eve 1979. Marc would reunite with Todd, Paul, Robert Taylor and Kerry Jacobson in 1982 and Dragon would go on to greater success, but Richard Lee and Billy Rogers would never enjoy such a high profile again.
In fact, Richard Lee was so disillusioned by his tenure in Dragon that he didn't play for four years. He had no further contact with his Dragon bandmates apart from a few phone calls from Todd asking him to come and see his new band XL Capris, which he did.
Broke, he fell back on his commerce degree and was invited to go to work for Dragon's external accountant. Richard's time in control of the band's expenses on the road had helped them half their debt by the time of the break-up. He went on to look after the financial management of young bands starting out, including a fledgling INXS, and dabbled in a bit of producing.
In 2003, Richard suffered a spinal injury in a terrible car crash and has been in a wheelchair since. He has taken up wheelchair tennis but is no longer stable enough to sit up and play the violin.
Billy Rogers was relieved when Dragon finished and he was able to get away from the emotional turmoil of Paul Hewson taking up with his girlfriend. He spent two months playing saxophone with John Paul Young's Allstar Band, supporting Fleetwood Mac through Australia, before returning to Perth.
He joined a country rock band before forming The Essentials, which also included Paul Hewson for a time, and toured with and appeared on recordings by Cold Chisel including a starring role on sax on the single 'Saturday Night'. Since 1992 he has been part of The Zydecats with former Asleep At The Wheel pedal steel guitarist Lucky Oceans.
Looking back
As for Power Play, it's unfairly treated as Dragon's red-haired stepchild, an ambitious moonshot sandwiched between their greatest commercial triumphs O Zambezi and Body And The Beat. It and the live collection from 1985 (Live One) are the only albums from Dragon's Australian years yet to be digitally available and it was never released as a CD.
With the benefit of hindsight, Power Play is actually a very good album. Its songwriting diversity, seen as a negative at the time, is one of its strong points. Todd Hunter was already starting to display the compositional strengths that would lead him to 'Rain' four years later while Robert Taylor provided the record's rockier tracks.
The Paul Hewson material stands the test of time better than previous poppy efforts such as 'Get That Jive' and 'Konkaroo'. He purposely toughened up his writing and reverted to a pre-Dragon love for The Band. His 'Time Of The Year' would certainly sit comfortably alongside anything on The Band's eponymous second album.
The truth is Marc Hunter and Dragon were too intrinsically linked in 1979 for the band to survive his sudden departure. Perhaps the error was to continue under the Dragon name. The contrasting writing styles, variety of vocalists and rich musicianship of Power Play would have proved a strong debut under any other band name. Maybe it would have been nice to hear Richard Lee sing a song, too.
Throughout two lengthy Dragon reunions since its release – 1982 to Marc Hunter's untimely death in 1998 and with Mark Williams as vocalist from 2006 to the time of writing – the band haven't revived any Power Play tracks. Quite simply … "Oh, it's a crying shame."