Ray Goodwin was the guitarist in Dragon from its first public gig at The Great Ngaruawahia Music Festival in January 1973 until late 1975. He composed the group's first Australian single, 'Star Kissed' (Vertigo, 1975). This account of the group's three-week residency in a Fijian nightclub was written for Auckland-based magazine Hot Licks in November 1974.
The tour images following the article are from the collection of Rachel Stace.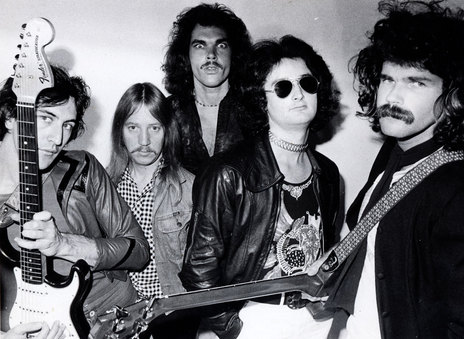 A two-hour wait for the wheelchairs to be loaded on board, a Paraplegics' World Tour, so a salivating octogenarian tells me, and then it's "No Smoking & Fasten Your Seat Belts", Flight EKZ45 is taking off for Nandi, Fiji.
Nope, this ain't no "sci fi" crap, neither is it vital history, well it is in a sense, to those who care to be involved. But back to the subject in hand which concerns seven people who set out on a trip to Fiji to take up a three-week playing engagement at the Golden Dragon Nite Club, Suva.
The seven (magnificent) will be referred to as DRAGON. The same Dragon that's been churning it out down at Granny's, Durham Lane, for the past five or is it six months. You may or may not have noticed. Although no Carnegie Hall or perhaps Ronnie Scott's, the Golden Dragon (from here on referred to as GD) struck us with a sense of good quality sleaziness not to be found in this "Retired Peoples' Paradise". I mean a 28-stone bouncer; a multi-racial team of "skid the glass down the bar without spilling a drop" type of bartenders; an ageing Hula dancer for a floor-show; a herd of whores that makes Roma seem like a Vatican documentary; and, to colour it up a little, a Fijian soul group led by a Chinese version of Sly Stone whose repertoire varied from Tower of Power to 'Isa Lei'.
After the initial cultural shock we settled down to a feeling not unlike bewilderment, and began to experience our new surroundings.
Firstly, we had to have accommodation. We had previously been promised a large house with servants but the club manager insists it was a mere slip of the tongue, so from the goodness of his heart dispatched us one of his "boys", a Tongan dude named "Money".
NB: We discovered the meaning of his name two weeks later when we realised he'd managed to borrow at least $90 from different members without any sign of repayment.
Money managed to find a real swell whorehouse or, as we say in New Zealand, "brothel", owned and operated by two Indian brothers who rented beds at $2 a night. Money also seemed to know where one could purchase anything illegal at prices that would make you drop your roach-clip in disbelief. Strange thing about the local dope in Fiji is that one needs to smoke 28 joints before you get a buzz, if not from hyperventilation then from the tedious of rolling that many numbers.
Getting to grips with the heat was the next major issue. 80˚F – normally so "haute couture" – went by the boards for things more ethnic.
We had, by this stage, got to know where there might be anything slightly amusing in the city and coasted through the first week no sweat.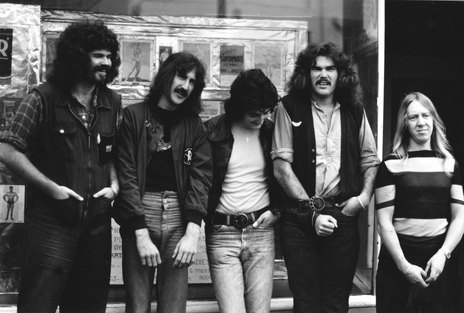 We commanded a wee bit of attention, mainly for being from New Zealand, which made it all the more humorous I suppose. People stopping you in the street with questions like, "Do you know Vishnu Erraum, he's my brother who owns the Fruit Shop in Auckland". The Fijians, apart from a leaning towards servility, which is probably due to all that tourist bullshit (for example a tour guide for Fiji contained statements such as "When in Fiji, stop a friendly native in the street and ask him to show you how to play the Oolongoola Drum" and fallacies similar) were content and pally. We didn't achieve much in the way of sightseeing apart from an excursion to a typically south seas paradise isle, lagoons and palm fronds plus a huge "all island" feast of crab, turtled, assorted water mammals and fresh fruits, coconut juice au naturel and kava, all-in-all a dream come true: if you're romantically inclined, that is.
Some of the highlights of the GD were the infrequent guest appearances of a local queen who gave renditions of 'Lovely Hula Hands' in an operatic falsetto not unlike that of Tiny Tim's, and the odd outbreak of highly polished violence, thankfully directed away from us. But the real climax – if you'll excuse the word – came from our highly publicised 1st SUVA ROCK CONCERT, with such greats on the bill as The Country & Westerns, a duo made up from our Manager and Roadie dressed in cowboy gear of course, and Millie, the GD's famous hula dancer. We performed with little compromise and generally seemed to impress people with unusualness more than anything else; it was no financial epic but not to moan as the sense of occasion ruled our somewhat heavier principles, and after three weeks of it, headed back to Auckland, via three days in Nandi, laden with duty-free goods and stereo equipment having cut the ice, as it were, in the South Seas.
Our immediate plans are to exist solely on our "self-run" concerts and dances. Stating with a series of suburban dances in places like Te Atatu, Lynfield, Otahuhu, Mangere, Takapuna and the Cameo Theatre, Grey Lynn, and generally any area with lots of kids with little to entertain them. A sort of Social Conscience you might say; but this is the sort of thing, we feel, that contains the true element of "rock drama".
The first dance, held last week in Te Atatu, drew punks of every description and the overall atmosphere was exciting and sort of violent, due to a small confrontation with the local gang; but we performed our concert with very sympathetic reactions.
We start recording our second LP in November plus a 45 – due for release in January – and the record company has granted us more time (six days) plus control of the mixing; a very rare thing indeed.
We start touring on December the 6th, covering cities and towns from Kaitaia to Invercargill over an eight-week period. We have recently invested in a reliable bus and a roadie, so look out Ken Kesey or Bruno Lawrence, whichever you prefer. Our next major Auckland gig is a Buck-a-Head on November 3rd and a concert in the Cameo Theatre, Grey Lynn on Wednesday, October 30th, with supporting acts.
--
© Ray Goodwin. Originally published in Hot Licks, November 1974. Republished by permission.