"I'm beginning to see diversity as a handicap the more I speak to people in the United Kingdom. Repetition and familiarity are what ensnare people in pop."
It's September 1989 and New Zealand bard Bill Direen was deep in conversation with the Glasgow Herald's David Belcher. Having talked up his indie label South Indies and its recent distribution deal with Rough Trade Records, Bill went straight to the heart of his creative dilemma: his incessant need to keep music interesting and challenging had distanced him from the sound and audience which laid the foundation of his cult reputation in New Zealand and overseas.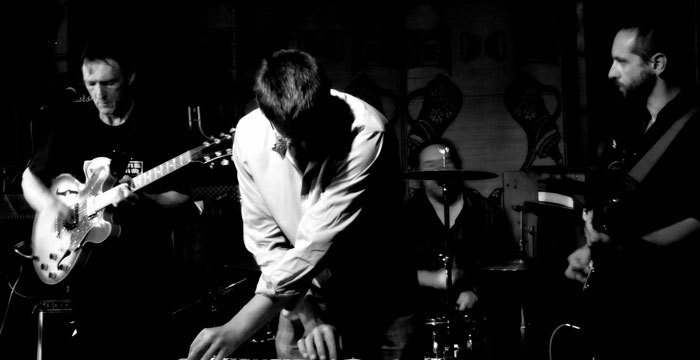 Bill Direen was in Scotland, the birthplace of his then wife and creative partner Carol Woodward, prior to October shows in London and New York with The Chills and The Verlaines. Inevitably, one of the questions he fielded concerns a song written and recorded with his first group Vacuum in Christchurch in the late 1970s. 'Love In The Retail Trade' is, as Belcher says, a fine Velvet Underground influenced riffer. It is included on Divina Comedia, a 1988 Direen compilation released on his South Indies imprint.
He continued to seek new collaborators to write, record and release music and other creative works.
The dilemma may have vexed Direen, but it never stayed his hand or overly dictated his output. In the following years he continued to seek new collaborators to write, record and release music alongside what has become a sizeable body of literature, poetry, thought and theatre work. His early canon is often present in his sets, but increasingly, the songs have been stretched, messed with and occasionally abruptly dismissed.
Cut to mid-1980s Christchurch, where Direen is tidying up his affairs ahead of a return to Wellington at the foot of New Zealand's North Island. He shrugged off a less than satisfactory relationship with Flying Nun Records and was already self-releasing his music through Full Moon Publishing and the new South Indies independent label. "The original idea of South Indies was that it would be a collective for independent labels so that we could all work for each other's mutual benefit, but it didn't work out as each label wanted to keep its own identity, and that's fair enough," he recalled in 1987.
The first LP on his new imprint, The Builders' C0NCH3, is a diverse 1985 collection that fondly remembers his previous band incarnation, Above Ground. One track, 'Night', was recorded with Above Ground in 1983 with Maryrose Wilkinson singing.
Captured in Christchurch and Auckland, C0NCH3 points the way forward for Direen by exploring funk, calypso, free form and even jazz on 'Holydays'. To help, Bill grafted contributions from Jay Clarkson, Chris Todd, Carol Direen and John Chrisstoffels to his core trio of Greig Bainbridge and Stuart Page. Album highlights include 'Dublin,' a fine piece of melancholy folk on which Direen's ethnic and musical roots show, and 'Bride Of The Wheel', another compelling theatre song.
Neither was as popular as 'Alligator'. With Peter Bannan's colourfully staged video adding a layer of allure to the catchy and swinging tune, 'Alligator' chalked up mainstream airplay, which was rare for a New Zealand indie release.
On tour in 1985, The Builders had Michael Tan drumming, Karl Holdorf on trombone and Greg Bainbridge on bass and were packing out venues like the Windsor Castle in Auckland. Bainbridge's bass added funky propulsion to a sound that was more fluid and contemporary than before. 'Ginger Jar', The Builders' 1986 single recorded in Wellington's EMI studios, has this line-up. A video was made for the single's flipside, 'What A Hoobah'.
Let's Play, the release Direen once referred to as his "disco album", arrived in a handmade sleeve later that year. That made it four albums in four years. Direen revisits and often reinterprets his songs 'Magazine', 'Kicks', 'Inquest', 'Johnny Devlin's Shoes', 'Sunday News' and 'Payline' on a record with a track listing that's typically culled from past and present Builders line-ups. Of the new songs, 'Opium and Gold' stands out. A second version of Let's Play exists with a new black and white cover and a track listing that drops 'Johnny Devlin's Shoes', 'Mouth of Sound', 'Rubbish In The City', 'Mehikol' and 'Sunday News' and adds 'Buildings For Crumbling', 'Colours In The Gutter', 'Aku Aku' and 'State Of The Play'.
The Expendables' Jay Clarkson caught Bill Direen and new offsider bassist Barry Stockley at Christchurch State Trinity Theatre in late July, noting the venue's clear sound and great surroundings, and versions of 'Pale Blue Eyes' and 'Sweet Jane' and Randy Newman's 'Simon Smith And His Amazing Dancing Bear' in the set, alongside 'I Drink' and 'Johnny Hall.' 'Alligator' was the encore.
The new full Builders line-up toured nationally in September 1986, taking in Wellington's Electric Ballroom, Palmerston North, Hamilton's Hillcrest Tavern and Auckland University's Shadows bar. Dates at Christchurch's Gladstone followed in early October.
Theatre, always a part of the picture, became more central after his move to Wellington in early 1985. It was an activity that Direen's growing family could all participate in. The capital's cultural diversity had always appealed.
"I moved there because of its community of musicians and because they are not married to one group as much as they are in the South Island. They cross-pollinate ideas and thoughts more," he told NZ Herald's Graham Reid. "One of the joys of listening to regional music in the 1980s is discovering its diversity and regional variations."
Meanwhile, the South Indies catalogue was expanding. A small and diverse collection of new groups such as The Trephines, Sparky's Magic Baton and Free Radicals was added to the roster. Direen brought them all together on Bread and Board, a wide ranging 1988 compilation, featuring many Direen associates, including Barry Stockley and Stuart Porter and older names such as Jessica Walker (Shoes This High/ Fishschool/ Sparky's Magic Baton), Richard James (Mainly Spaniards/ Pterodactyls/ Letter 5) and Lesley Maclean (The Letter 5). The Verve, Three Men Missing, Paul Sutherland and Neil Jones rounded out the track listing.
Auckland's Bifim magazine caught up with Bill Direen in early 1988 for a March/ April cover story that got to the essence of Direen quickly. "He mixes music that is "fringe, unlistenable to some people," with his more accessible songs in the hope that people will open their ears to his more "unlistenable" music. This can be seen on C0NCH3 with 'Alligator', "key catchiness" as he calls it, and on Sound Cues with 'Caroline Bay', (which is) more extreme and way out there."
Direen wondered aloud about the effect of the closure of the EMI Pressing Plant in Lower Hutt. Bad timing as South Indies was selling more records overseas than in New Zealand. Having just opened for Sneaky Feelings at Shadows bar on campus for a university Orientation tour, he mentioned a new collaboration ("feels not songs") with Allen Meek, who was living nearby in Wellington.
1988 saw the arrival of 'Divina Comedia', containing Builders songs from 1982 to 1987.
1988 saw the arrival of Bill's first overview collection, Divina Comedia, containing Builders songs from 1982 to 1987.
There was one final 1980s album from The Builders, released in 1989. We Are The Coolest Cats In The World, recorded at Writhe Studios, presented 14 songs anchored by John McDermott (drums), Jonathan Besser (keyboards) and Greig Bainbridge (bass/ percussion) with help this time from David Edmundson (saxophone) and Tania Pekelharina (vocals).
In New York in 1989, Direen gathered up some old faces and voices for new recordings as Bill Direen and The Hat. Hamish Kilgour, Allen Meek and Tony O'Blaney were the core group for the resulting South Indies tape, released in 1990. Some of the songs reappeared nearly 20 years later as New York Sack on Powertools Records. Highpoints include the sonorous 'Trees'. German reissue label Unwucht Records also dipped into the sessions for NYC 1989 in 2013.
Theatre group Soluble Fish continued to be an outlet for Direen's wider talents. He already had the short VHS Home Movies release when Sound Cues appeared in 1988. A full album's worth of adventurous sound, it is one of Direen and Woodward's most challenging releases. Soluble Fish: A Musical with Bill Direen, Chris Orange, Paul Lee, Lucy Berrett and Carol Woodward, ran at Auckland University's Little Maidment Theatre from June 7 until June 17 in 1990.
Come mid-September 1991 and Bill Direen was in Dunedin at the Crown Hotel wearing a large black trilby and with a new Builders line-up of Kirsten Wineera (keyboards) and Brian Tressider (drums). At home in Wellington, he could be found every second Saturday night at Trekkers in the inner city.
After a productive period in New Zealand's capital during which he toured Europe and the United States and had his work compiled over four CDs by Flying Nun Records in 1993 and 1994, Bill Direen chose to reside in Berlin.
Before leaving, he staged Raoul Prince of Jeans and premiered a new work, Cigarillo, with Derek Champion on percussion, describing the piece as "sonic surrealism, with sharp beats, seductive mystery tunes and urban tales of white heat". One of his last New Zealand shows was Mountain Rock in January 1994, a new music festival in the lower North Island, where fans witnessed an agitated Direen.
"There was a misunderstanding and the Irish in me came out and I got angry. They (the stage crew) got angry and eventually we ended up in a fist fight in front of 20,000 people," he recalled. The misunderstanding was patched up and Direen was compensated with recording time.
Bill Direen recorded a full album's worth of new songs at Volt studios in Dunedin in 1994. He called it Cut. Dressed in a Ronnie Van Hout designed cover, the 18-song IMD release contained some fine new songs like 'Do You'. Onboard this time were Derek Champion, Alastair Galbraith, Stephen Kilroy, Victoria Singh and Rob Thorne.
That set the pattern for what was left of the 1990s and for the beginnings of the new century: local releases together with overseas collaborations and tours dotted Direen's time in Europe.
Roy Montgomery, another key Christchurch musician of the early 1980s, snagged Direen to play keyboards on his revisit of The Victor Dimisch Band's 'Its Cold Outside' for a sublime double single on Siltbreeze Records, recorded in San Francisco in 1994. Bill already had two of his best early tracks in 'Alien' and 'Skulls' plucked for a rare one-off single for American indie label Hecuba Records in 1991.
Direen's next album length outing was Human Kindness, on Swiss label Corazoo Records in 1996. In listing the record's many songs, Direen used a series of revealing descriptions. 'The Pop Song', 'Another Strange Apartment Song', 'The 1-Chord Freakout', 'The Anti-Arms Song', 'The Instrumental', 'The SF Story Song', 'The Broken Piano Song', 'The Cheap Keyboard and Runaway Moog Song', 'The Electric Jam', 'The Electronic Handclap', 'The Pop Song Reprise' and 'The Unexpected Extra Song' are all found within.
The following years were full of activity for Direen, but more often than not it would be centered on small run publishing. I heard little of Bill Direen in that time, but come the middle of the first decade of the new century, and there he was again, flitting back from his new home in Paris to perform, teach and take up literary residencies. I contacted him again in 2006 for the historical early years Mysterex piece that makes up the first part of this profile. He was as always friendly and approachable and interested in what others were up to.
When news got out of an upcoming show at a bar on the top end of Ponsonby Road that year, I dragged myself along to see him and his new group with Powertools Records' Andrew Maitai on drums, niche publisher Brent Cross on bass and Andrew McCully on keyboards.
Up before the small audience, Direen did what he had done so often through the years. He pulled a brilliant, seesawing show from a group of comparative musical novices. At the evening's heart was the brace of compositions that began his now substantial myth – 'Alien', 'Dirty and Disgusting' and 'Girl At Night' amongst them. He retained the new core group for his next tour and the 2008 album Chrysanthemum Storm by Bill Direen and The Builders, recorded in June 2008 at Gravel Road Studio in West Auckland.
In 2007, Bill Direen sent a still unreleased cover of a moving Irish folk song, 'Carrickfergus', down the line. A traditional crying-in-your-whiskey immigrant's lament, the song harked back to his rare Live At The Gladstone tape from 1984. Except those were European and American folk songs and this drew directly on Bill's Irish heritage. Shortly afterwards, on June 29, he played the Wine Cellar in Auckland.
At yet another of the small underground New Zealand venues of the type that have seen him so often in his long creative life, Watusi Lounge in backstreet Wellington in early July 2010, I found him again.
I was early as usual, finding Bill standing at the bar, so I stopped for a chat. We talked about his writing residency at Devonport in Auckland, his North Island tour so far, and the times he lived in Wellington. Bill introduced me to Greig Bainbridge, who played bass that evening, as he did when I saw them at Waikato University in 1985 promoting the C0NCH3 album.
There was a surprising turnout for what was a bitterly cold and wet Tuesday, a different mood to the music from the last time I saw him, with lots of words and jazzy guitar in the air and Greig Bainbridge's bass colouring the sound. I heard 'Clifford Flats', 'Sunday News' and other tracks from C0NCH3 and Let's Play. 'Iceberg' too, then 'Alien', 'Dirty and Disgusting' and 'Moderation'. At one point, Bill recited some passages from an unfamiliar work, a rich and lyrical revelation.
The next four years were full of activity and releases. The excavation of Direen's back catalogue began again. German label Unwucht Records assembled four re-mastered 12" EPs based on Direen's brilliant early quartet of releases – Six Impossible Things, Soloman's Ball, Schwimmin In Der See and High Thirties Piano.
In 2014, Unwucht dug deeper into Direen's early years for the live compilation, Fiat Lux. The new record essays a Lightside and a Darkside where covers of 'Gimme Danger', 'Waiting For The Man' and 'Roadrunner' sit next to early Direen classics. American indie Siltbreeze went there as well, exhuming Above Ground's Gone Aiwa for vinyl release before dusting down the Vacuum archive for two EPs of early songs.
In New Zealand, Powertools Records had the live Parisian Friday with Direen and Nikola Kapetanovic as Bil et Le Killer, culled from 2009 French performances. Mindful with Dave Allen, Fred Morvan, Jon Evans and T.T. (Thom Thom) Geigenshrey, recorded in Berlin in March 2008, came next, followed by Meantime with Richard Anderton and help from Stuart Page and Brett Cross. The Brooklyn-recorded The Flavour Of The Meat appeared in 2014 on Grapefruit Records with assistance from Hamish Kilgour, Miggy Littleton and David Watson.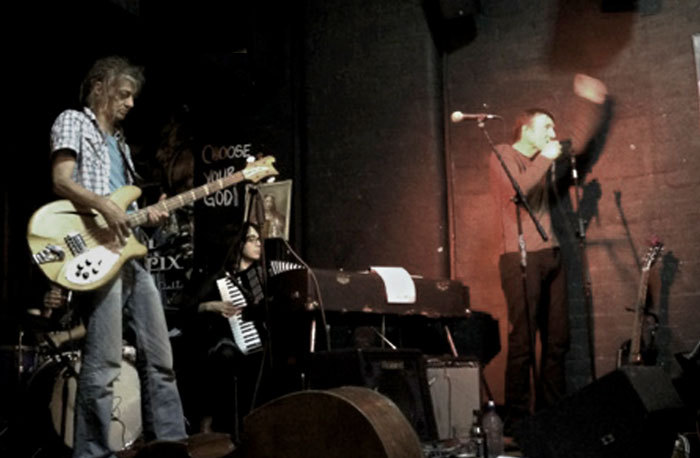 By 2013, Direen could count three versions of The Bilders. One in Australia with Barry Stockley, Tama Stockley and Jess McCann, one in Auckland with Stuart Page, Andrew McCully and Pete Scott and other guests, and a Germanic outfit with Thom Thom Geigenshrey and drummer David Wukitsevitz with New Zealanders Louise Johns and Mark Williams. All three groups were brought together on The Bilders' 'The Utopians' single for US label Smart Guy Records in August 2014.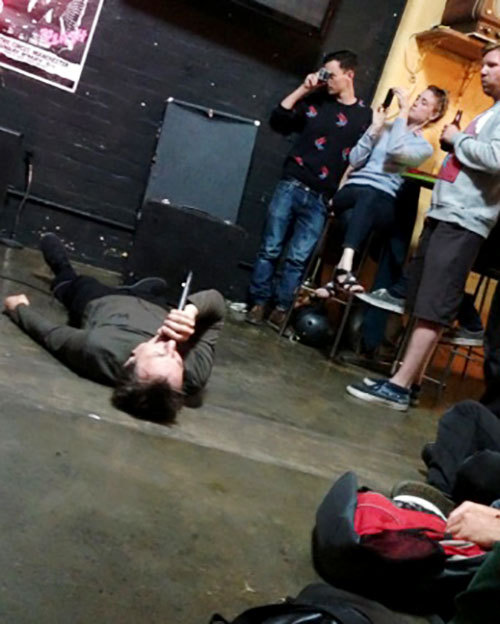 It won't end there. Having, in his own words, "formed band after band: hard-folk, electronic music, freak-form and independent-or garage-pop, story-songs of despair and endurance and played in New Zealand bars or theatres and in underground venues overseas," Bill Direen is back home in New Zealand again, living in Middlemarch in Central Otago.
-
Part one of the extended Bill Direen profile is here.