"Dig the hiss, it comes at you like the glint of a switchblade. This is the sound of rock and roll gutters," teen punk scribe, Garth C (Garth Cartwright) wrote describing No Tag's first EP, Oi Oi Oi, and catching just right the threat and sound of street punk circa 1982.
"Play with fire and you will get burned," he saged wisely. And they did. No Tag – Andrew Boak (guitar, vocals), Mark Sullivan (bass), Carl Van Wetering (drums) and Paul Van Wetering (vocals, guitar) – were dogged by violence and the Nazi/Oi controversy coming out of England after the group naively tied themselves to the street punk movement.
No Tag guitarist Andrew Boak, now based in San Francisco, talks about his punk years in New Zealand and the group's little reported London era.
You were in The Regulators, a North Shore mod trio, who put out one side of a single ('Neat Boy') with The Ainsworths ('Coin') in 1981.
The Regulators were not strictly a mod band, more angry young man stuff, but we were from the North Shore and hung out with and played gigs with The Ainsworths, The Killjoys and The Screaming Meemees so we got lumped in with them. We lasted for about two years playing at all sorts of halls and parties, even did a Battle of the Bands at the Windsor Castle. We once supported Dave McArtney and the Pink Flamingos at the AUSA cafeteria for Orientation.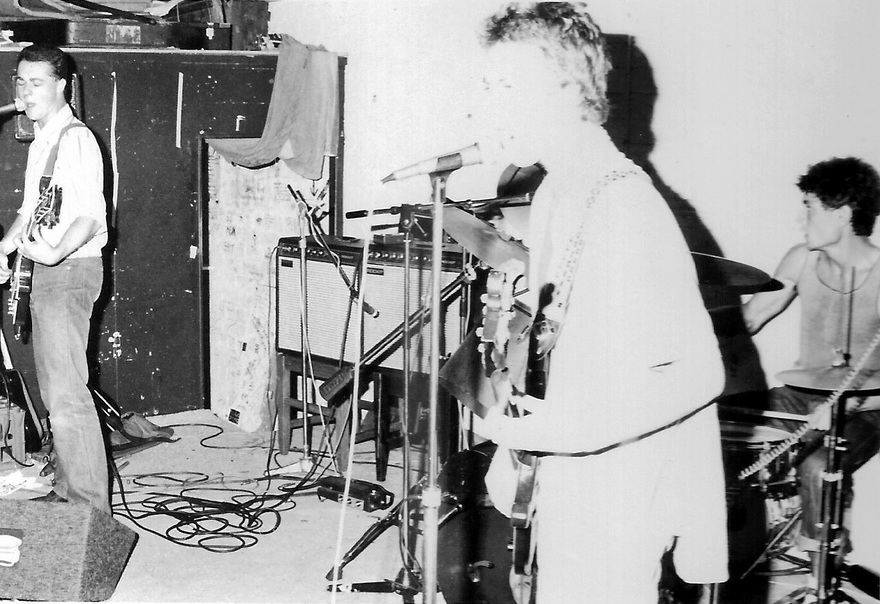 Who were the other band members? Geoff Hayden – future Dabs?
Geoff was the bass player. When we first started we had Steve Thorpe (Dabs/Mockers) (RIP) as our drummer, but he left to play in a heavy rock band, and we got a great guy called Richard Foulkes (he had a good rhythmic feel).
What did you play in the group?
Strictly guitar, my $200 Ibanez Les Paul that I still use! Plus a decent amount of lead vocal.
Mark Sullivan was in North Shore punk group The Flicks. Who was in the band?
They had a guy on drums called Gerald, and Don and Simon on guitars. Simon wrote 'What a Great Cunt'ry' and it always used to be The Flicks' pièce de résistance. They recorded it at Harlequin Studios, but it never came out on vinyl.
How did you guys meet?
I met up with Mark at a Screaming Meemees show at a hall at Rosmini College. He was in The Flicks by then and we just hung from then on. Again it was within that whole group of North Shore punks/mods/bands.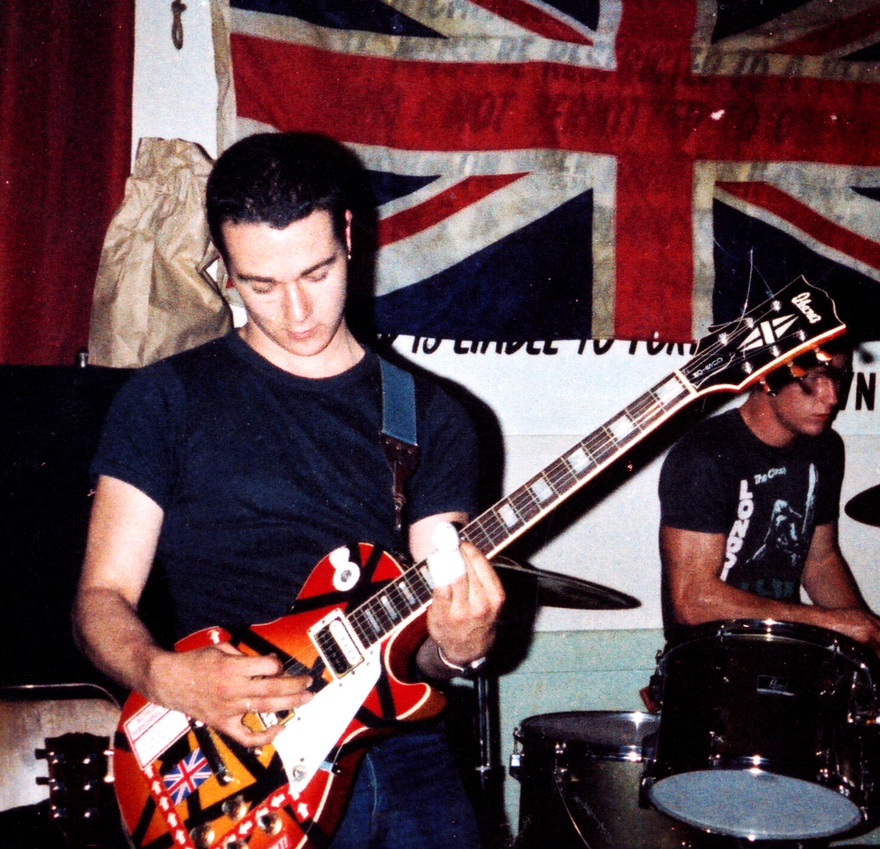 How did No Tag form?
After the decline of The Regulators, I ran into Mark, who told me The Flicks had disbanded, [he] was looking to play with someone. We had a good relationship with Progressive Studios back then. We used to go and jam every Saturday afternoon between two and five religiously with a six-pack of Lion or DB (whichever was on special at the bottle store) and our amps as loud as we could play 'em. We jammed for about six months until Mark met Paul and Carl Van Wetering and we all got together for the first jam at a building that some friends of ours had. Things worked out great, everybody had a great feel with each other. In fact, I think we wrote about six songs in about two weeks!!
When?
I was only 18 at the time, so it must have been around late 1979.
Did the Van Weterings have any previous group experience?
Paul and Carl had come up from Wellington and both had done some playing before, but in covers/pop bands, as far as I know.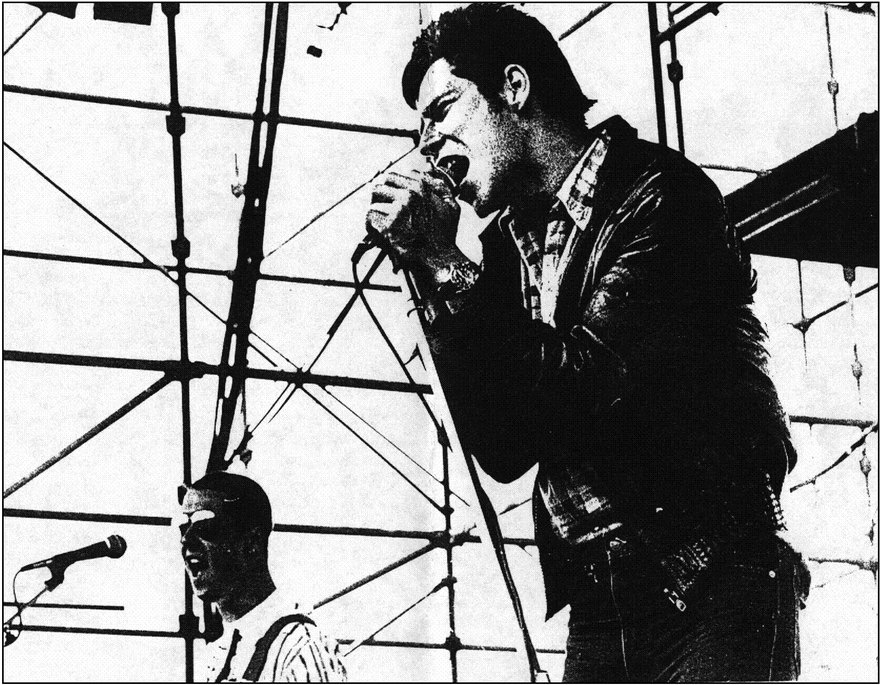 You played a lot around the West Auckland Hall punk scene in the early 1980s with The Henchmen, Vicious Circle, et al, at halls such as the Owairaka Hall, Mount Roskill Municipal Hall, and Mount Albert Primary School Hall. Were these your first outings as a group?
We [also] played at many parties at our friend's places and got a few gigs at clubs.
What are your memories of the shows?
We would make no money because a PA cost so much and people would get smashed and the power would go out. One time the cops closed down a show early before we played which really pissed us off as the people putting on the show had hired a massive PA and we were surely deprived of some sonic-ness that evening. From then on, we made it band policy to always play in the middle of the line-up at hall shows.
Do any shows stand out in your mind?
I can remember one around Christmas where I played with a broken finger. I had been hit by a bottle on my left (chord) hand on the tip of the ring finger when we were doing our last song at a particularly rowdy show at the Reverb Room, which had become one of the only clubs or pubs who would book us, but they loved us cause all our supporters came and drank copious quantities of beer. We never had the attendance record, but we broke the bar-take record every time we played. Anyway, we had committed to the person doing the show and we didn't want to cancel, so we went through all of our songs and determined how many I could play if I tuned my guitar to an "open E" and played with just one finger making the chords with the other three fingers strapped with tape to stop me from instinctively trying to use them. Unfortunately, there were only seven songs that we could do from a repertoire of about 20 to 25 at that stage, but we did them anyway. We played them slightly slower than usual, but it felt real good being able to overcome the obstacle and still do the gig for the people putting it on.
What songs were you playing at these shows? Covers? Originals?
Mainly originals. We would try to write at least one new song every couple of weeks, so we were able to take out any older songs that we didn't feel were up to scratch. We would have a few covers to throw in to pad out the set length if necessary, generally changing them every couple of months.
Who wrote the songs in No Tag?
All of us. Someone would come to practice with a basic idea and we would just jam and arrange and comment on each other's parts until we got something together. It really was the best way to work, because as we became better players, the songs also got better.
Your first record, Oi Oi Oi – 'No Tag', 'Legalised Dogs', 'Mistaken Identity' – was released as a 12-inch EP on Propeller Records. It debuted in the NZ Top 40 on September 3, 1982, reaching as high as No.15. "Manic full flight rock for the anti-everything brigade," Murray Cammick called it in RipItUp.
Good old Murray.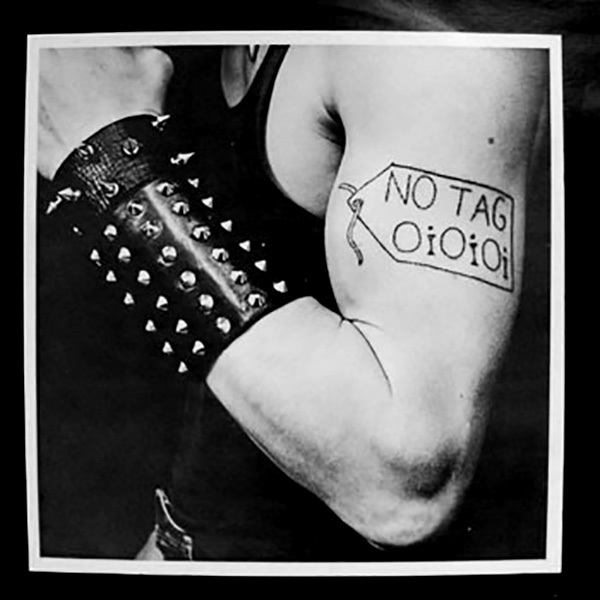 It still sounds as hard and rocking as ever to my ears (especially 'Mistaken Identity') – how well did it sell?
I believe we sold around 1500 pieces overall.
Why did it come out on Propeller Records? The label didn't have any other punk acts at the time.
Basically, they saw the potential market and as we were prepared to pay all the recording costs, we came to an agreement that suited both sides. It was never meant to be called Oi Oi Oi – that was put on the spine without us catching it. The guy who did the jacket artwork just assumed that that was the name of the record. We wanted it to be No Tag – No Tag.
What do you think of it now?
It sounds a bit dated, but it remains one of the better records I have ever been lucky enough to be a part of. Steve Kennedy did a great job on the production. I still remember standing in the very small tape room at Harlequin Studios with a brand new Gibson L6 [guitar] I had borrowed off a roommate, and Rowan from The Killjoys and The Dabs' Marshall combo cranked up to the max doing chord (with feedback) overdubs.
How did 'Mistaken Identity' come to be on the soundtrack album for the 1986 kiwi teen flick Queen City Rocker?
We knew the people who were making the movie and as they wanted to keep the soundtrack local. They approached us about using it and we said yes.
I can't remember which scene it backed?
It was when the lead actor came home after a long night and sat and stared at his blank TV set with his walkman on. It's kinda funny. I found it at a video store over here the other day and rented it for some nostalgia. It's called Tearaway here in the United States.
I felt it was probably the most accurate song about street life in that era on what was a poor soundtrack and a confused movie.
Thank you.
You also played in town at the Reverb Room, Rumba Bar and Mainstreet. What was the attitude to punk amongst the venue bookers at the time?
They would rather have the more watered down "pop" bands any day of the week but we were able to find certain places where we could play every month or so.
Was it particular punk groups who were banned?
No. I think it was just a stupid blanket policy that certain clubs and pubs used depending on the owner and booking agent.
What sort of crowds did you get?
All dependent on the venue and night. Thankfully, we managed to get enough of a following that we would make enough money at the door to pay for the P.A. and lights and soundman and lighting director.
Numbers? Fans?
Generally about ninety per cent regular followers.
No Tag appeared at the second to last Sweetwaters three-day rock festival in January 1983. Memories?
We had to really hassle our way onto the main stage (we had played the second stage about three times in a row) so Paul Rose (Auckland promoter) pulled a few strings and we managed to get a spot on the Monday afternoon – when everyone leaves, of course. We had a great time hanging out backstage mixing with both the Kiwi and overseas bands.
On Monday, a strong wind blew up and was tearing right down the valley into the main stage. The sound crew were really worried about the speaker stacks, which were swaying pretty heavily in the breeze, and they weren't sure whether we would even play. As it happened, we were the last band for that year (about three in the afternoon).
The sound guys told us to wear sunglasses as there was so much dust and debris being whipped up by the wind and flying onto the stage. We played a pretty tight short set, but all I remember was the wind making the lighting trusses above Carl's drums sway so hard I was scared they might fall on him. Every now and then the wind gusts were so strong that the sound coming from my amp (about 10 feet away) was being blown away before it reached my ears making me think I'd unplugged myself or lost power. Quite unnerving. I saw a plastic toilet seat travelling through the air over the front crowd area!
In the photos of us taken for the Auckland Star, you could tell that the wind was so strong because Mark, Paul, and myself are all leaning forward on a 45 degree angle just to stop from being blown away.
You toured New Zealand in March 1983. What was the reaction?
Everybody who cared came out to see what the hell we were about.
The reviews were good. S.J. Townsend noted in RipItUp in April 1983 just how precise everything in the musical attack was when No Tag played the Star and Garter in Christchurch: "They begin with 'Legalised Dogs' and from then on it's blitzkrieg bop violence at towering intensity. Their tone belies a value and necessity of discipline. This is no forced ramble of rocka-rolla tirades, it's precise, channelled, controlled. Out front, Paul is all startling bellicosity, a tight knot of passion and fury. Behind, Mark, Carl and Andrew provide the fuel for his wrath."
By this stage, we were at our peak. It was the tail-end of the tour. Doug Hood was doing the sound. We were so tight with every song, and the Star and Garter was so packed on all nights, that we couldn't get to the bar in between sets, so the crowd just kept handing us jugs of beer up the front. It was great, hot and sweaty and just giving our all, definitely one of the highlights of the tour. It saved us from certain financial ruin in regards to the tour costs.
Where else did you play on the tour?
Auckland, Wellington, Greymouth, Dunedin, Christchurch, New Plymouth and Palmerston North.
What were the highlights?
The Christchurch show and hooking up with all the Flying Nun Records bands – who all still lived in Dunedin back then. I stayed with David Pine from Sneaky Feelings. They all came to the show. It was really nice to be given some Southern hospitality.
I also remember Greymouth. We had been told that as the pub we played there was the only live venue in the area, people would come and see us, but unfortunately there was a big outdoor show a few miles up the coast on the Saturday night, so we played to an audience totalling 14 paying people. We were all very cash poor by then and had to keep enough money for gas to get to Dunedin, so we started doing cover versions in exchange for jugs of beer. It was really quite fun. Other memories – staying at Southfork in New Plymouth with some of the people in Nocturnal Projections, playing with Flesh D-Vice in Wellington and hanging out with Void and all the rest of the Wellington punks and continually having to fix the Bedford van. Thank God, Carl was a mechanic, and Mark knew his way around engines as well.
The Boys On The Box.
The TVNZ show was for Radio With Pictures. They asked us to invite a bunch of our friends and followers to one of the studios at Shortland Street and play a whole set. They made the place up to look like a pub and bought a couple of dozen Lion Red to sup on, just to add that realistic effect. Unfortunately there was no PA, just a small monitor system.
We got into it after a couple of songs, trouble was with our supporters, a couple of dozen Lion Red lasted about five minutes so everyone got bored. We did a full set, about 15 songs, of which TVNZ picked five, and showed them a couple of weeks later.
I need to mention the Oi thing, at least to shed some light on what was an incredibly politicized era in music and the country in general. It is obvious that the group weren't racists, but why the Oi Oi chant and symbolism? Was it an easy label or were the band into the groups making that street punk sound in England?
You hit the nail on the head in regards to our English influences. At the time we believed that Oi was all about punks uniting and being one. Unfortunately, we were mistaken, due to the attitude of certain individuals.
Massey University student paper Chaff noted that during your 1983 national tour you dropped the Oi Oi Oi refrain in 'No Tag', and were playing a "wicked version of The Four Skins' 'Evil Evil Evil'?"
We dropped the Oi's in 'No Tag' as we realized that not everyone thought the same way as we did about Oi and the punk community. We played 'Evil Evil Evil' because we thought it was a great song to cover, not because of the lyrics.
Was this a reaction to the publicity surrounding Oi's reputation in England?
You could say that.
How did the controversy effect No Tag's ability to get shows?
Made no real difference, we were a punk band in the long run, and the promoters looked at us that way.
The live album's title, Can We Get Away With It?
We knew we were doing this on the cheap as Propeller Records could not afford to put us in the studio, and neither could we, so it was an experiment if we could do a DIY album. Unfortunately, the final production was not as good as we wanted, but hey, what do you expect when you do it cheaply and record it at a place called the Reverb Room. At least we were able to get a lot of our songs out to the world.
I like the original title announced in RipItUp – A Night Out With The Chaps – why was this dropped?
Because once we had finished the post-production, "Can We Get Away With It?" was the real question on our minds.
Was the live album your set at the time or did it draw on your career so far?
It was pretty much our set at the time.
Any favourites on the record?
Our version of 'What a Great Cunt'ry', 'The Thrash', 'To Be', 'Hang On' and 'Fire On The Fifth Floor' – which was going to be on the first EP, but we ran out of time and money to record it.
Can We Get Away With It? reached No.42 on the New Zealand charts for one week in April 1983. What do you think of the live LP now?
Sounds awful, but brings back memories.
Then?
Nice songs, shame about the recording.
Where was the live 'What a Great Cunt'ry' on the 1984 live punk compilation, Capital Kaos, recorded?
It was taken straight from Can We Get Away With It?
You played with The Dead Kennedys at Auckland's Mainstreet on Saturday August 6, 1983. What can you remember of this show?
When I first heard that they were coming over I contacted the promoter to get the support slot as I thought we were the obvious support act at the time, and was told that The Dead Kennedys had asked for "non-punk" bands as support acts, as their shows in Australia had been pretty crazy.
When the band came into town, I asked them about it, and their tour manager reckoned that was the biggest load of crap he had heard for a long time, and that they would never say that. So even though we didn't play the Friday show, they demanded that we play the Saturday show as their support act.
At that time, unfortunately, we had stopped playing gigs – it had been about three months at that stage – as a protest against the few people who would cause trouble and pick fights at our gigs. We had threatened to do it many times and then finally said: "Okay, that's it, we warned you," and did it.
So we hadn't really practiced any of the regular set for quite a while and Mark was leaving to go to the United Kingdom, and we really needed to have a quick practice to refresh our memories and work out a set.
I knew the house soundman at Mainstreet and luckily he was going in to work on the PA on Saturday afternoon, so we were able to rehearse on the stage with full monitors like a three-hour soundcheck. I remember how easily the songs came back to us and how sonic they were sounding by then, so we were very lucky and delivered what was probably our best gig ever as the support act. The Dead Kennedys liked it, at least.
What did you think of The Dead Kennedys' performance?
Brilliant – just brilliant.
Mark Sullivan departed for England soon after and No Tag ceased to be. Andrew Boak played in a band called Infectious with Yoh from the Screaming Meemees on drums and Tony Ryan from Danse Macabre (original version) on bass.
It was a tribal/goth/noise thing – we even had a Korg Poly 1 keyboard – but it never got completely off the ground. We played a few gigs out and about, but we slowly disbanded.
I seem to remember Mark Sullivan played in a punk group in Britain?
Mark played with a few bands over there, both before and after No Tag got over there.
In late 1985, Mark Sullivan returned to Auckland and No Tag reformed. "Auckland hasn't had the energy for a while. It seemed like the right time," Boak told the Auckland Star. No Tag played the Windsor Castle on October 4 and 5 with six new songs and a promise to throw out the old and concentrate on the new after the first two shows, and to stop playing if the violence rekindled. "We deplore the whole (skinhead/Oi) thing. Any aggro at our gigs and we just won't play again," Boak stated. You had six new songs in your set?
When we reformed back in New Zealand in 1985, we wrote a bunch of new songs.
Were they recorded?
A couple of them were recorded as demos in a media studio in Auckland – we put the drums in the voice-over booth and played our guitars directly into the desk using pre-amps to try and get a decent sound. We played around with it a bit, but essentially it still sounds like a demo.
I love the quote you gave Auckland Star describing No Tag as a more modern Hello Sailor. You obviously intended the group to endure and grow.
I always believed that we had some decent songs and a great sound and it was worth getting out there and playing some punk rock and roll to people.
You were hinting that you'd drop the old material after the initial two shows?
We may have wanted to do that, but I think we knew that there were certain songs that we could never drop as they were too dear to our hearts and they still rocked even after all the years such as 'Mistaken Identity', 'Fire On The 5th Floor', 'The Thrash' and 'Legalised Dogs'.
Also that you'd stop if the violence continued?
We did.
In November 1985, No Tag were banned from the Windsor Castle. They affected the numbers in the other bars for up to two weeks later, the manager reckoned. In mid-1986, the group left in dribs and drabs for London. Andrew and Carl went via San Francisco. Did you play in San Francisco?
The only thing we did musically there was some backing vocals on The Dead Kennedys' album Bedtime For Democracy when we stopped off in San Francisco on our way to meet up with Paul – and that was just Carl, Blaze (Carl and Paul's younger brother) and myself. Mark followed a couple of weeks later.
It was just because we were in the right place at the right time. We were hanging out in the Alternative Tentacles Records office about the time that the row with the PMRC about the Frankenchrist poster Penis Landscape, and Jello came out and asked us if we were available that night to do some vocals. We had nothing to do and were chuffed that he even offered, so that evening we spent a couple of hours in the studio with Jello and an engineer. Klaus Fluoride was producing another band in the same studio complex, so when we had finished we went and said hi to him and he took us out for a drink at a local club. It was a great experience.
Was it the group's intention to set up overseas?
Absolutely, the main reason we left New Zealand in mid-1986 was because we realised that although we had a good scene – even with the lack of venues and other bullshit – there was no way that we would ever get any bigger and better if we remained in New Zealand. Not wanting to do the trip across to Australia, we chose England instead. It helped that Mark had been living there for two years and basically came back to get us to go back with him.
Where did you play and live while overseas?
We lived in London, rehearsed religiously, at least once a week, and played out very occasionally – about once every two to three months – at places like Dingwalls and the Sir George Robey.
What was the reaction?
We had a good Kiwi support group, but we didn't get much of a following from the locals. As we were told once: "Every night in London, there's a hundred bands playing and another thousand practising."
You recorded one song in London?
As a demo only because a friend was doing a course in recording, so we got the studio for cheap.
When did you give up for good?
I think it was around early 1989.
Why?
We weren't all seeing eye to eye on musical direction and had become a bit bored with practising constantly and never getting gigs. In hindsight if we had just gone and recorded and released stuff, it would have given us a bit more momentum.
How many shows had you played by then?
We probably played about two dozen shows in London.
What were the disappointments of No Tag's premature demise?
I don't think it was premature. I think we had a decent innings and it was a pity that we didn't get the breaks we needed to make it into the big time. I miss it a bit, but all in all, it was a totally worthwhile experience and would like to extend my thanks to everyone who helped us.