The following article appeared in Rip It Up magazine, August 1982.
–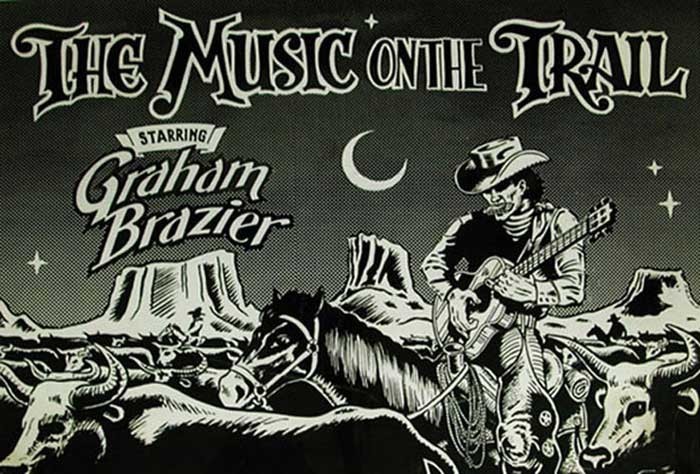 The night of The Legionnaires' gig for Highway 61 at Mainstreet, an hour before the show: Graham Brazier bounds out of the bath in a yellow Indonesian sarong. His bedroom looks like a walk-in wardrobe, with photos of his pretty girlfriend pinned on the wall. Graham clears an ashtray harbouring two half-smoked havanas, conjures up coffee, sprays Yves St Laurent Opium scent in his armpits, rims his eyes with kohl on a fingertip, politely wards off the sycophants sticking their heads round the door, slithers into glove-like glazed cotton jeans, supplies me with cigarettes, talks and answers questions with constant courteous attentiveness, head cocked on one side.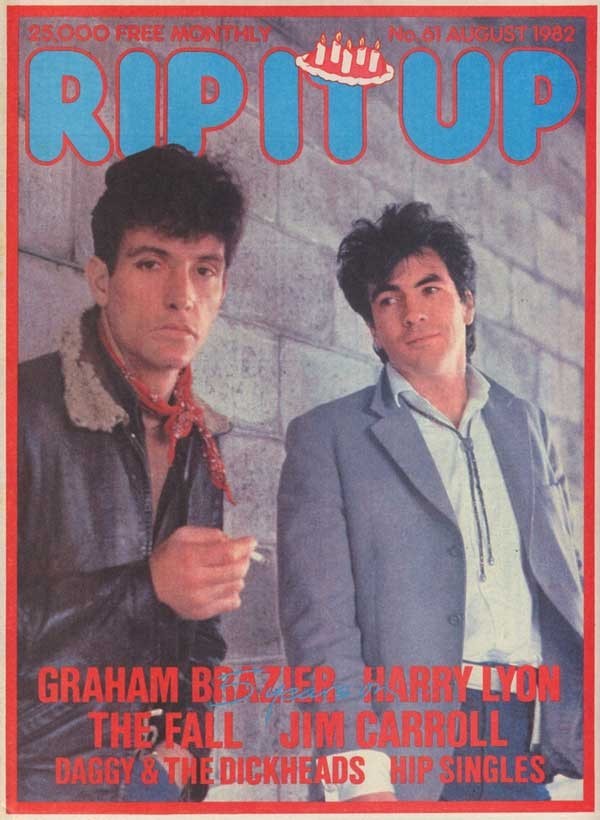 He's naturally graceful as well as gracious, a key to his charisma as a performer. I've never known this man to be arrogant. He sees himself a songwriter principally, and a man of the people.
"My music's directed to people who question society and the way it works. That's reflected in the lyrics. There is a lot of injustice in society. I think every songwriter has tried through music to point out the injustice ... people locked in prisons, not knowing why they're there ... I think I'm possibly a budding socialist."
Does he make a pet of the underdog?
"Yeah, I always back the underdog – underdogs got more soul than winners. An underdog's only got one way to go and that's up."
Graham confesses he likes the image of the rebel outsider, "James Dean and Marlon Brando, you know, but sees his place in an unjust society as "the meat in the sandwich really. I can't change it, but I'd like to think society can change. I'd like to see our generation, and the one coming up, make the world a better place.
"I'd like to make people happy, or think – or cause some sort of alteration or reaction, otherwise it's not worth doing. 'Billy Bold' – people react to that song all over New Zealand – to the live performance." ('Billy Bold' is slang for 'soldier', the song is about riots in Toxteth, Liverpool.)
"It's really a song about oppression," Graham says.
It's not the best song he's written, but he's right, the audience responds to its emotive power.
"Being an entertainer comes naturally," he says, "I feed off an audience, if an audience is with me there's no limits. If they're against me I've got to win them."
Graham is a great frontman, even when he's blocked with chemicals, dancing, prowling the stage, clapping a wet mist off the palms of his hands, miming, pulling faces, hurling his voice at the audience. He compels attention and adulation proven by numbers – record sales, door sales – he can do it. He acts the jovial sideshow hustler playing up to the crowd, urging them to sing up and radiating warmth with the wisecracks. He can get away with falling over, throwing up and howling a displaced stanza of William Blake's 'Jerusalem', and he can deliver marvellous jazz singing, rapping, crooning and accomplished transitions within songs.
His songwriting reflects his life, he says. "I don't write songs from outside my experience." He pauses to make exception for 'Six Piece Chamber', which was inspired by the movie The Deerhunter. "I put myself in situations where I see things that other people don't see and through my songs comment on them.
"I'm fascinated by the twilight zone. A lot of my friends that are average everyday people would be shocked by people I know. I get bored by routine, I need to see and do things – anything. But I don't go around creating trouble so I've got fodder for songs to write. I'm constantly looking for inspiration."
He finds much of it in romance, he says.
Graham himself emanates an almost swashbuckling combination of sensitivity and sentiment. He seems recklessly receptive to experience. He describes the synthesis of experience and songwriting as cathartic.
"When I write a song it's like getting a piece of poison out of me, or laughter, something inside me that's coming out. What happens then depends on the arrangement, the way it's recorded, and the live performance. For every one song I write and use there's 20 l throw away. I think most of the stuff I do is good. Songwriting is hard to talk about because it's like a magician's trick. It's something that comes and goes. If you don't catch the inspiration for the song when it's there you don't get the song. If you miss you miss. I don't direct it, it directs me.
"If you want to write, you read, if you want to paint, you observe, if you want to make music you listen. I'm trying to do all three. Is it possible?"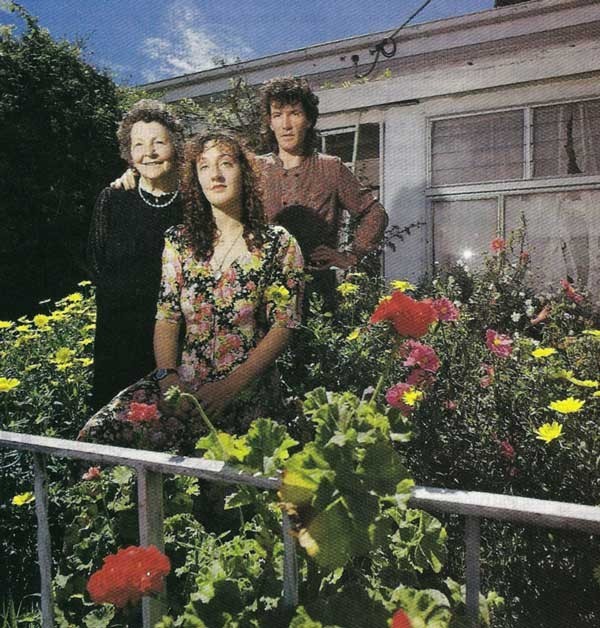 His favourite performers? "Tim Buckley, Nick Drake, they're both dead." He admires their songwriting and vocal style, Drake's lyrics, Buckley's delivery.
"Ian Hunter's solo album Short Back Sides – the people from The Clash are very good – the Stranglers' 'Golden Brown', I could listen to that song 50 times over, it gives me a feeling of ... adventure. Though it's not an adventurous song, it's the best song I've heard in the last 12 months."
His own favourite song: 'Organisation', a magnificent vocal workout from his Inside Out album. "It's a song about people having to band together to survive, constructing their own frame of reference, like the Cosa Nostra," Graham says. "People like I'm playing for tonight." (Highway 61.)
Who are his songs for? "Inside Out is an album for subcultures."
I mention that on the album he dedicates a song to people who've never had a chance. Graham interrupts: "It's not an album for people who own restaurants, not that I've got anything against restaurateurs, it's for the sort of people that – I'd like to think guys working in factories would listen to that album, but it's a real underground effort, it'll never chart. Most people in New Zealand don't even know I've made a solo album."
Why not?
"It gets political. The album was paid for independently." (By Graham's manager Chris Cole.) It wasn't a normal signing contract. It was a tape-lease."
Polydor, the recording company, were not prepared to invest in promotion for the album. Graham suggests that his uncertain future was the reason.
He becomes vehement when I suggest that he's been lucky. "Seven years I've done my apprenticeship (in rock'n'roll). A year seems like forever ... I've never had anything handed to me by the music industry on a plate."
The transition from being Hello Sailor's front man in the late 1970s to current recognition as a performer in his own right has been a survival struggle in a business notorious for its short memory.
The breakdown and split of Hello Sailor left Graham with a confidence crisis, he says.
"From about three months before Sailor broke up to a year afterwards, I severely questioned whether I had any talent. I wasn't working. I was lying on my back watching Dangerman on TV. it's all I did. I was being selfish ... I was having a holiday. [He had hepatitis. He did work in the studio with Marc Hunter who used a Brazier song on his album, 'Casablanca Holiday'.]
"At the end of 1980 I came back here to start a band, it didn't happen. I had another period of slacking round. My manager Chris Cole asked me if I wanted to do a solo album if he financed it. I'd thought about it before. It took a while to get the right songs together."
Graham's future plans are to write and record more material as a solo performer.
"I'm releasing an EP through Festival, current writing. 'Madonna Falls', 'Forlorn', 'Motorway'. With the interest from Festival and Harlequin, there's a 75 percent chance I'll be in the studio for the next couple of months recording."
The Legionnaires are taking time off after playing the gigs they're committed to.
"I've got to stop because it's been like – will he play, won't he play, will he be there? I can't be touring, every Saturday I'll be chopping down trees." (Graham is serving a six-month P.D. sentence.)
On Drugs?
"I always dread doing interviews because I know it ends up talking about drugs. I was a very upstanding, respectable, property-owning citizen before, in the first three years of Sailor."
What changed?
"I did I think. I changed according to my occupation. The pressures of having to front a band six nights a week tends to lead you into some unusual situations – if you give so much of yourself away to an audience there's not much left for you." I'm going to spend the next six months writing. I wouldn't have time if I was touring. The music that comes out of the next six months depends on what happens to me in the next six months. I'm going to use that time to get my health together, get very, very fit. I want to get a part-time labouring job – money, I want to get some money.
"I've got everything I need to write songs, record, perform ..."
–
© Rip It Up, used with permission.