First published in Rip It Up, November 1979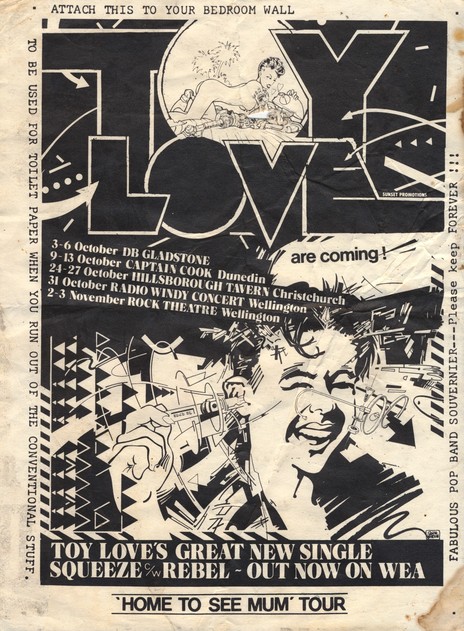 Toy Love had been back to Dunedin once since they'd replaced Mick with Jane and Paul and stopped being The Enemy. But the week of October 9-13 was the real homecoming. The band not only had a single out this time – a six-weeks-in-the-charts-successful single even – but it was playing the Cook.
The Cook is somewhat resignedly rated as the best place in town for a band like Toy Love to play. The sound is white-noise fanatics only at the front, and intercom-dreadful at the back, but in the middle it can be okay. And the right sort of people for Toy Love music come through the door. (Without breaking it down on the way.)
The Cook is, more importantly, where Chris Knox used to sit – night in, night out – grinding his teeth at the succession of mediocre to malfunctioning bands that passed across its tiny stage. He used to break things from time to time.
So The Enemy was formed. Chris, Mick Dawson, Alec Bathgate and Mike Dooley. Those with leather-bound volumes of early Rip It Ups will have a report of their very first gig, in fact (the December 1977 issue).
But things were still being broken. The Enemy, which hardly ever played at the Cook, still drank at the Cook. The manager denies it, but the ban was still there when Toy Love made its first return to the city earlier this year. And it wasn't until October that Mick Dawson's new band The Heavenly Bodies was allowed in to play because (mild-mannered) Mick had been in The Enemy.
"It was mainly directed at me, and also at the crowd The Enemy used to attract. We used to smash a bit of glass and stuff," says Knox.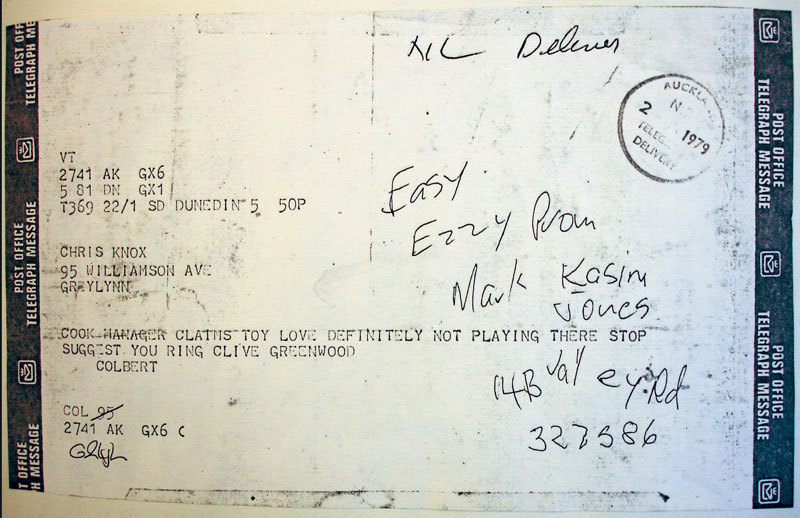 TUESDAY
First nights can be awkward, and Tuesday is no exception for Toy Love. The fans are there expecting too much, the cynics and the local band musos (often one and the same) are there hoping the singer will trip over the bass player and the drummer's eaten too much acid. Or at least that he will be out of time.
The sound hasn't been worked out yet.
The musicians are really nervous. But 'The Crunch' is designed to drive nerves right into the floor. It's a great song for a welcome-back opener.
The old Enemy songs – and the cover versions – are just so fast. Great songs, but I close my eyes and I see Knox beating a flaming piece of prime steak to death with a huge mallet.
You can't hear the keyboards. But the new songs – phew! New to me anyway. 'Ain't It Nice'. A killer first time. 'Death Rehearsal'. 'Queueing'. (Mick, who can't get over how much Toy Love sound like The Enemy, really likes this one). (And the covers 'No Matter What' and 'People Are Strange'.)
Bathgate and Dooley have made astounding progress since Knox enticed them away from Polytech two years ago. Dooley hammers away at his tom-toms like a little street fighter cornered in a back alley. The two of them used to almost race each other to slow down during such demoralizingly quick exercises as 'Pull Down the Shades'. But no one slows down in this band any more. 'Pull Down the Shades' has got a good deal quicker.
Bathgate is a walking advertisement for the potential of Ibanez guitars. Has he ever tried the real thing?
"Yeah, I played a Les Paul once. Didn't like it much. I had a Stratocaster too, but I prefer the Ibanez. Though I don't think they've quite got the same lifespan. The older one I've got doesn't sound quite as good as this new one I'm trying out."
Those who know the Harlequin demo tapes wonder where the thrust went – guitar principally – the single version of 'Squeeze'. Bathgate agrees it was missed. "I wanted more guitar. I hope to get it on the next one."
Tuesday has been decibel-dangerous and overpowering, but memorable. The kids, who couldn't pass for 20 even inside coal sacks, have spent the night on the pavement outside. They seem happy as everyone moves out.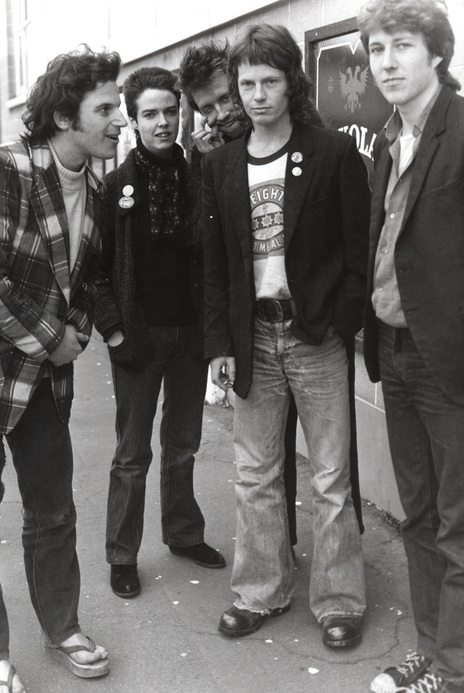 WEDNESDAY
Musically, Wednesday was the one. You could hear Jane, and with everyone moved around (Alec atypically playing on the left) the sound wasn't too bad at all. In fact, as good as I think Toy Love could ever expect at the Cook.
"Have you seen their mixer?" asks Ewan, a fellow steeped in hi-fit. "I think they must be saving on wires."
"Pretty loud," I reply, keeping it technical.
"Very. I've got the old cotton wool in though," he says. In a voice that says, hasn't everyone.
The covers are distinct tonight, and 'Arnold Layne' and the 'Yummy Yummy Yummy'/'Postively Fourth Street' medley (medley?) isn't to be done better all week. The band blaze into the night with 'Squeeze', which people are calling out for ("they never do in Auckland", says Knox), and a numbing 'Death Rehearsal'.
I retreat home with an Island of Real cassette clutched in my hand, thankful I won't have to wait another 24 hours to hear 'Ain't It Nice'. And 'Sheep'. And …
THURSDAY
A chance encounter in a second-hand record shop. An old friend, school maybe, excitedly stumples upon Knox poring over a box of old singles.
"Chris! Chris Knox!!! How's it going? I hear you're in a band." The guy looks like a young missionary.
"Yeah," replies Knox. A winning smile.
"Must be a real interesting life."
"Aaaahhh … yeah. How about you? Still at Cadburys?"
"Oh yes, still there."
"You must be, ummm, moving up the hierarchy a bit by now," enquires Knox tactfully.
"Oh, not really. I haven't got any big ambitions or anything."
"We'll be seeing you at the pub then?"
"Maybe. Better go – late for work. We'll see you Chris – good luck with the band."
"Ta."
Thursday night was a bit aggressive. It was probably best the young missionary stayed home with his chocolates. It was a feature of the week that every night brought a different audience, and the Thursday edition seemed rather intimidatory.
Knox of course loves this sort of atmosphere. So does Iggy Pop: "Anger is great to work with," he told me in Christchurch. "You can turn it into anything you want."
Knox asks the crowd if they'd like to know about the Auckland scene. Derision drowns him out. He sticks a safety pin in his cheek.
And then, at the end of the night, he decimates a beer jug. Teeth-gritted but happy (again) the punters file out into the street.
The bouncer at the Cook is a former wrestler, Tiger Taylor. He can be really friendly. Just don't every try and remove a thorn from his paw.
He strides angrily through the Cook debris as the band packs up, clutching the base of the jug in one hand, the other clenched tight (there is precious little difference between the two).
"You call that singing?" he shouts to absolutely no one in particular. "I'd like to ram this right up his f---king arse."
Knox apologises to Tiger later. Hand meets paw in guarded friendship.
FRIDAY
The band returns to the second-hand record shop. Over a large brown bag of rotting takeaway food, we get down to some fundamental interview material.
I recall Chris and Mick arguing about cover versions back in The Enemy. Chris was adamant they wouldn't do them. No point. Even wrote a rather fine song called 'Cover Version'.
So what's with all these cover versions, then?
"Because we didn't have enough songs as Toy Love," says Knox, simply.
"And also because these songs are really good songs," adds Paul Kean.
Toy Love has no contract with WEA, which seems to suit both parties. But Knox says there will be a follow-up single to 'Rebel'. Regardless of who it's for. And, hopefully, an album.
It's quite essential that Toy Love does get to do an album. It's not just that the band has enough songs – and enough really good songs – but an album is crucial to their future. Toy Love is eyeing England, as opposed to Australia or American, and at this stage Knox thinks their best chance of getting over there is through someone hearing the album, and being sufficiently impressed to back up praise with dollars.
"Australia has an air of inevitability about it," says Knox. "Most bands come back from there worse. More bland. It sucks the balls out of you."
Kean says the band only sees America in terms of getting to England. "In terms of the energy coming out of the countries at the moment, England is definitely the place."
But if someone – record company or whoever – sink a lot of money into the band, there could be some demands.
"We want to be free. That's why it's good having one song on WEA and another on the Bomp compilation. We won't compromise," says Jane.
"If it looked like we were being sucked into a corporate deal, or something like that, I think we'd recognise it and pull out," says Knox.
Who would the band like to produce the projected album?
"Someone who's never produced anyone else," suggests Dooley.
"No New Zealand producer seems to be able to get that power the English bands get on their records," says Knox. "I was listening to something the other morning and I thought, 'Shit, what's this?' And it was 'A Must to Avoid' by Herman's Hermits. Stupid old Herman's Hermits. But it had that sound."
Everyone seems pretty happy with the general forward momentum of the band, but there are drawbacks to the increased touring and playing.
"We're not getting much time to practice, write songs, or rearrange old ones," says Knox.
"Pubs only let you practice first thing in the morning, and that's no good," says Kean.
What are the good pubs? The good cities to play in?
"The Cabana in Napier is an amazing place," says Knox. "Hastings was good, and Wellington was great at the Town Hall concert. All those kids just went straight to the front of the stage from the start. They were giving us phone numbers and everything."
"Every place seems to have the same sort of punks, too," says Kean. "Like a blond one, a fat one. And every place has their Sid Vicious copy."
Discussing bands, Toy Love are less than complimentary.
Predictably the name recording bands come under a lot of fire, though it should be pointed out too that while 'Rebel' was enjoying its six weeks in the charts, the vaunted competition from Citizen Band ('Rust in My Car') and Th' Dudes ('Walking in Light') was nowhere to be seen.
"We liked the Vacuum and The Androids in Christchurch," says Knox. "In Auckland, ummm, The Furys and Snipes. And Proud Scum are learning 'Rebel' and 'Squeeze'. They've already learnt 'Swimming Pool'. They haven't got any shame."
On Friday night, there are crowds right down the stairs by 8pm. No one inside is leaving, so those on the stairs are in for a long wait. But they do wait.
Tiger smiles as we enter, pointing to his ears, above the cacophony of 'Arnold Layne'. It's another good night thought the news from Auckland that the single has dropped out of the charts might just have taken a thin edge off the top of the performance. Maybe.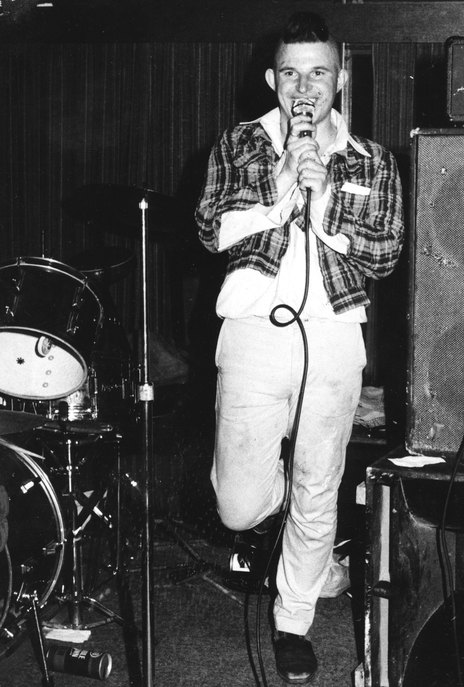 SATURDAY
The afternoon has been set aside for nostalgia and fun. A few Heavenly Bodies and maybe even a Mother Goose or two will be singing and playing a bit. There will be the reggae version of 'Pull Down the Shades' Dunedin hasn't heard. And possible even, gasp, an instrumental run-through of 'Smoke on the Water'.
But the bar is absolutely packed (it's free this afternoon and all the Under 20s have sneaked in as well) so the original plan is thwarted somewhat. A packed Cook isn't going to be interested in a herd of miscellaneous bimbos playing 'Sweet Jane' when they've come for more Toy Love.
So we get a brief "greatest hits" set from Toy Love at the end, after a most enjoyable hour of musical chairs. Jane on drums (very good), Mike on guitar (not as good as Jane on drums) and Mick back on stage with The Enemy doing back-up vocals. But in spite of some cajoling, no bass playing.
Saturday night is again different – for the audience. And again it's a full house. The songs, new to many at the start of the week, have assumed real shape for those who have been most nights, so it's an evening of confirmation.
Behind me, a voice.
"Shit, that's Chris Knox. Remember him?"
"Yeah," comes the reply. "Mad bastard."
Toy Love leaves the Cook with a fittingly blistering version of 'Frogs'. Cray-zee, cray-zee. The words hang in the air long after the band has finished.
By now I've gone beyond thinking Toy Love is a great band. I now think its member are very lucky – I mean, there's not only the fact that most of them are completely raw to the whole rock band circus, but the chemistry seems almost suspiciously fine as well.
Knox smiles. And agrees the whole thing really has come off remarkably well so far, since The Enemy was assembled indecently fast at the end of 1977.
"Paul always wanted to play bass, but he wasn't happy when he did join and Phil Judd was still in the band. Then when Phil left and we asked Paul back, he said Jane had to come too. I guess we have been pretty lucky."
And how does it feel to be back in the Cook – performing for money this time?
"Vulnerable," he replies. "I was shit-scared the first night, but it's been a good week hasn't it?"
Not bad. Not bad at all.
Live, Toy Love need to be seen a few times. For a whole lot of reasons. But the songs are there. Everyone shares in the writing, though Knox writes most of the (excellent) words, and these songs seem to have come from the right places.
The Beatles sit above Toy Love's writing as a sort of Godfather influence (as in the idea of "The Good Song") and they've harnessed that to the surge and thrust of all the best late 70s punk/wave bands. It's a very logical sort of hybrid to lead us into the 1980s, but all too few bands seem to be awake to it. Or doing it well.
After returning home from hearing the Pistols' first album, Knox rang up the people who had previewed it to him and screamed "SEX PISTOLS!!!" through the phone. And hung up.
The record made its mark. As did quite a few before it. The Beatles, The Velvets, The Kinks.
What you're hearing now in Toy Love is partly the result of all that. But you're also hearing the musical reality of what seems to be a wholly communal instinct and understanding of just what a good rock band – a good exciting rock band – should be.
I really do think they're world class.
--
© Rip It Up 1979 – reprinted by permission