Tommy Adderley with Max Merritt and his Meteors served up a wonderful, rocking version of 'Whole Lotta Shakin Going On' on the flipside of 'I Just Don't Understand', the latter of which was a chart success for Tommy in 1964, in both the USA (on the Chess label, no less!) and Canada. 'I Just Don't Understand' had previously been a hit for Ann-Margret back in 1961; it was also covered by The Beatles in a BBC live session.
It was released in NZ and Australia by Viking Records (VS156), who licens­ed it to Chess in the US – they released it on an associated label, Mar Mar (Mar Mar 314) then moved it to Chess (M314). The song also came out in Canada on Quality Records (1672X), which led to a contract dispute over who had North American rights. Both companies stopped pressing it, which led to the single rapidly dropping off the Canadian charts.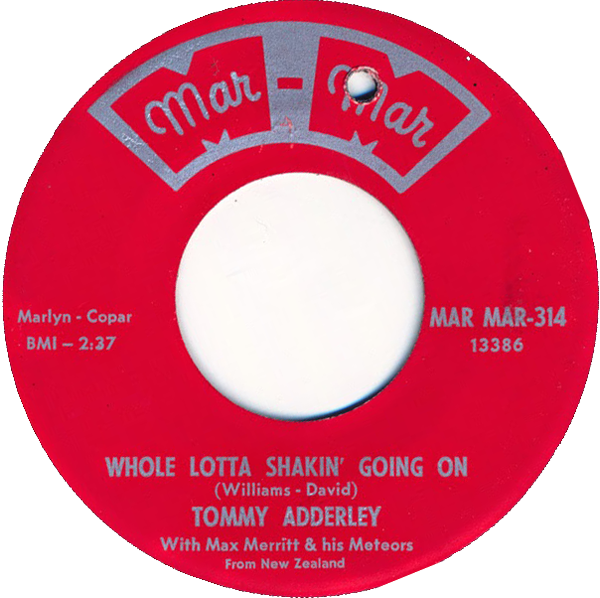 In her 2003 biography of Adderley (Tommy Adderley 1940-1993), author Christine Mintrom describes how the session came about:
"Max Merritt and the Meteors were the house band at Viking Records in those days. Tommy suggested to Max they cash in on the Liverpool mania and do a Liverpool waltz. Tommy had a Brummie accent, but he could do 'Scouse' ... he was performing lots of Liverpudlian hits, taking on the whole persona, and wanted 'I Just Don't Understand' done Freddie and the Dreamers-style, with a kazoo.
"Tommy, Max and the band put down the track in about an hour at the Viking Studios, in a studio 4.5m by 1.5m. Johnny Dick, the Meteors drummer, obliged with a kazoo solo. The single received a lot of airplay in New Zealand and was reasonably successful. Another version of this song was recorded [Live On The Peter Posa Show, 1963].
"Viking had done a deal with Chess .. a package of three New Zealand records went to Chess for release in North America. [Chess released the Adderley record, along with 'Sweet And Tender Romance' / 'Giddy Up A Ding Dong' by Max Merritt and the Meteors, while Peter Posa's 'White Rabbit' was on Interphon].
"Well-known New Zealand journalist and music writer John Berry observed the song's progress on the American Cashbox listings. He rang Tommy when it was hovering just under the Hot 100. Tommy was informed as the single got on to the Cashbox listings and got to a position in the 80s. It has variously been noted as getting to No 86, 83 or 81. Chess Records often did well on Cashbox.
"'I Just Don't Understand' was released simultaneously in Canada and went to No.2 there, when 'A Hard Day's Night' was No.1. For some unexplained reason the single, which was released on Mar-Mar, a subsidiary of Chess in the States, was released on Quality, a Canadian label in that country [the Quality label above states they had licensed it 'By arrangement with Mar-Mar Records New Zealand', which clearly isn't true]. It sold over 150,000 copies.
"Unfortunately there there was a dispute over who owned the release rights in North America. This contractual dispute meant neither company would release any more copies of the single, and its chart success stopped, quickly, just as it had started."

Christine Mintrom notes however that in the course of researching the book, she had been unable to verify the Cashbox listing or the Canadian chart placing. She notes that someone made money off it, just not Tommy:
"Graham Dent, was managing Tommy then: 'They made a hang of a lot of money out of it. Tommy never got a cent'. ... Right up to the time he died, Tommy stirred Graham about this every time he saw him: 'Never got those bloody royalties, Gray.'"
"When he related this story for his oral history tape [recorded in 1992 with Roger Watkins, a year before his death], Tommy sounded indignant; both that he got little money from this successful single, and that he had received no press coverage in 1964 for having a hit which was doing so well overseas. He said he tried to find out what happened, but 'Only got lies and bullshit'. And then Viking Records folded."
Source: "Tommy Adderley (1940 - 1993): The man and his contributions to pop, jazz and rock music in New Zealand", by Christine Mintrom, published by iUniverse Inc, 1993.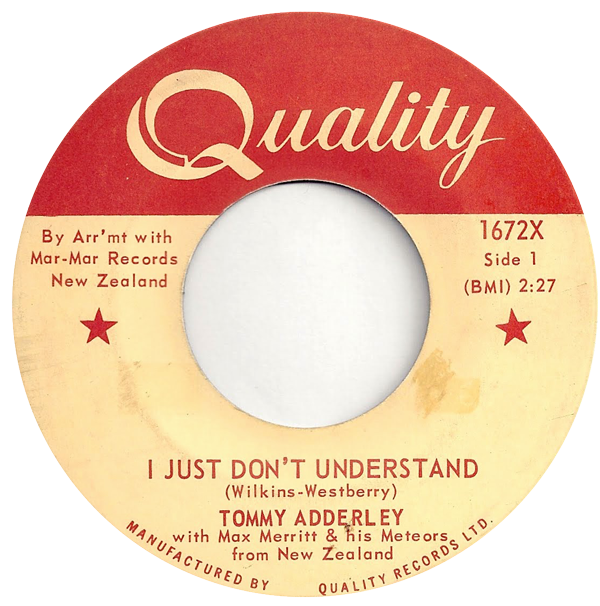 Mintrom notes that Adderley wanted to do 'I Just Don't Understand' 'Freddie and the Dreamers-style', Interestingly, poparchives.com.au lists Freddie and the Dreamers as doing a cover of that same song also in 1964 – did Tommy hear that version before he did his own? Who knows? The Freddie and the Dreamers record may never have been released in NZ. Poparchives lists Adderley's version as charting in Melbourne. The Beatles played it for a BBC radio session in mid-1963. Maybe Tommy heard that?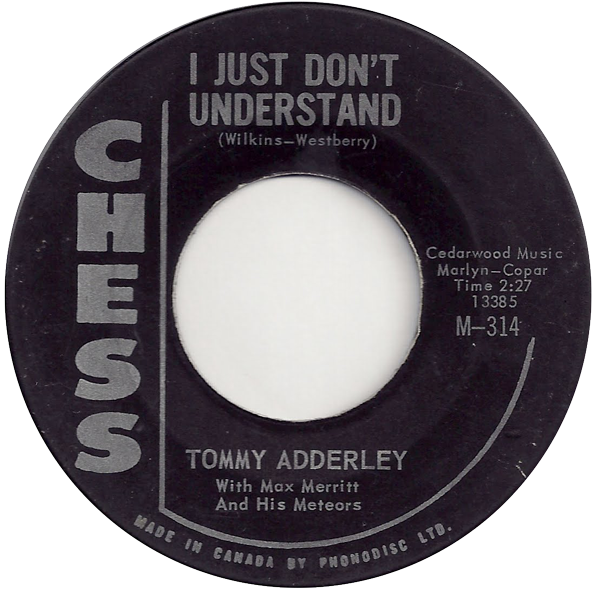 This page lists USA and Canadian radio stations playing Adderley's song [note: link no longer available]. The Canadian charts of that era available online show The Beatles with 'A Hard Day's Night' (mentioned above) at No.2 in September 1964, behind the Supremes, but no listing for Tommy. This archive of Canadian singles charts suggests that around the time the song was getting radio play in Canada (Oct/Nov 64), it failed to impact the charts, although the archive for 1964 charts is incomplete.
This piece original appeared on DubDotDash (April 9, 2014) © Peter McLennan