When The Warratahs formed in 1986, it was not as a band of young hopefuls getting their first taste of the music biz. No, they comprised already seasoned veterans of some of New Zealand's best and most successful rock bands. Group principals and songwriters Barry Saunders (vocals/guitar) and Wayne Mason (keyboards/vocals) had honed their considerable skills in bands in New Zealand, the UK, and Australia, and both had tasted real highs and lows along the tough rock and roll road facing New Zealand musicians of this era.
Saunders Formed his first band in Christchurch in the early 1970s: Orange.
Just as it did for so many young New Zealanders of his generation, it took some overseas experience to help cement Barry Saunders' sense of national identity. It also spurred his musical creativity and his songwriting, as would become fully apparent when he formed The Warratahs. Saunders got his musical feet wet on the Christchurch club circuit in the early 1970s in a band he formed called Orange. On his website, he notes that "we grew overnight from a blues band with wailing harmonica and endless guitar solos, to virtually a pop band ... We were getting paid and playing to good crowds ... This was a pivotal time for me as I had begun to think of myself as a musician, without too much thought for anything else."
Saunders then followed his muse to England, setting sail on the Australis. "My drummer friend Richard Burgess recommended me to an Irish country band, to play guitar and drive the van," writes Saunders. "Soon I was to meet a man called Jack McCarthy, he had a traditional Irish band called Dingle Spike. He took me on playing bass guitar and singing. This was like landing somewhere in my past, and it still amazes me how the music was genetically in me from my Northern Irish roots on both sides. The songs fell out of me like they had always been there: beautiful Irish ballads, angry, sad rebel songs, and sentimental country songs – music that made you thankful to be part of it. I began to see direct connections between the traditional Irish and the country music that I had grown up with by way of my parents' records, but it was to be a while before I could make this into something of my own."
The Rockinghorse connection
Upon his return to New Zealand, Saunders joined the band Rockinghorse in 1977, taking over the lead vocalist role from Carl Evensen. Rockinghorse was one of the most important and popular New Zealand bands of the 1970s. On his website, Saunders writes that "I moved to Wellington, where Rockinghorse were based. The band didn't have much life left in it, but before folding we did some good things, like nights with the Red Mole theatre group and a couple of good tours."
in ROCKINGHORSE SAUNDERS BEGAN a creative collaboration with Wayne Mason.
At the end of their career, Rockinghorse performed regularly at Wellington bar Last Resort, coincidentally co-owned by the group's bassist Clint Brown (later to have a stint in The Warratahs) and reportedly opened initially to give Rockinghorse a home venue.
Saunders' stint in the band was also significant in that it marked the start of a creative collaboration with Wayne Mason that would fully flower in The Warratahs. A founding member of Rockinghorse, Wayne Mason was a keyboardist and songwriter who already had a very impressive resumé in New Zealand music. In fact, his song 'Nature', was, in 2002, voted the most popular New Zealand song of the previous 75 years by members of APRA (Australasian Performing Right Association). 'Nature' had been a huge 1970 hit for Mason's group The Fourmyula, one of the biggest New Zealand bands of the era.
Mason left The Fourmyula in late 1970. Alongside Carl Evensen, he formed a short-lived band called Flinders in England, releasing one single, 'Riverboat Song'/'I Know', on Parlophone in 1972. The pair returned to New Zealand in 1973, forming Rockinghorse.
Although Rockinghorse called it quits in late 1978, Saunders and Mason soon reunited to form The Tigers in December 1979. The were joined by guitarist/saxophonist Steve Lunn, drummer Mike Knapp, and bassist Nick Theobald (the latter two would both be future members of The Warratahs). The Tigers notched a couple of Top 30 singles in New Zealand, 'Red Dress' and 'Heart Don't Stop'. By coincidence, both singles peaked at No.28 on the NZ Singles Chart. Local touring included a performance at the Sweetwaters festival, but Australia was a prime focus.
As Saunders recalls on his website, "In 1980 I went to Sydney with The Tigers and walked straight into the Australian music industry and all that comes with it – mostly endless touring. We did what seemed like a very big tour with Eric Burdon, but I was very aware that I still hadn't found my voice either as a singer or a songwriter. Although I had a pocket full of songs, I needed to find a place to work out who and what they were." In a 2012 Radio New Zealand interview, Saunders explained that "while I was in Australia, I formulated what I wanted to do musically."
The dawn of the sound
A few years down the track in 1986, that turned out to be The Warratahs. Saunders and Mason formed the band for all the right musical and personal reasons. Certainly, starting a band deeply rooted in country music was hardly the ticket to fame and fortune back then, but it was something they both felt driven to do.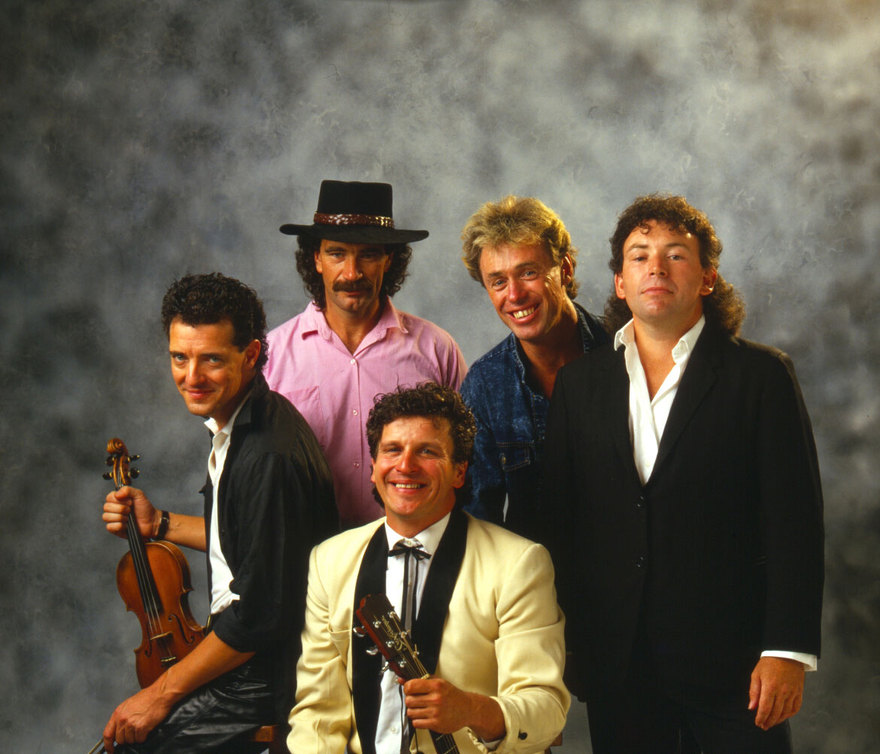 On his website, Wayne Mason reminisces that, "I put my love of traditional country music into practice when I co-founded The Warratahs in 1986." Writing on his website, Barry recalls the origins of the group. "For the last few years I had been listening almost only to country records of the kind that was pop before the country tag came along; Hank Williams, Hank Snow, Jimmie Rodgers, early Elvis, Chuck Berry; the music of my parents and my childhood. It was becoming clear that in order to go forward I needed to grab a handful of the past to take along." As Saunders told Radio NZ, those country influences "rubbed up against some of the rock and roll I'd been playing in Australia, and then there was the combination of the voices in the band."
There were no initial expectations beyond a bunch of mates getting together to play their favourite music for a few weeks. Saunders explains that, "the name came from bassist John Donoghue and was just a working name that stuck."
John Donoghue was already something of a veteran with a fascinating musical history. He'd been a member of notable bands The Dizzy Limits and The Human Instinct in the late 1960s and early 1970s, and as leader of the band Timberjack he scored a hit (and aroused controversy) in 1971 with a version of the song 'Come To The Sabbat'. His 1973 folk-rock album Spirit Of Pelorus Jack (under the name Timberjack) scored serious acclaim. A video for the title song was filmed by Roger Donaldson, who went on to become a major international film director.
Rounding out the line-up alongside Saunders, Mason and Donoghue were violin player Nik Brown and drummer Marty Jorgensen (replaced by Rob Clarkson in 1988). The Warratahs set up shop at Wellington's Cricketers' Arms Hotel (in Tory Street), with Saunders recalling that "the gig was on a Thursday night in front of seven people. I'm pretty sure the first song we played was a cover of 'Drivin' Wheel'."
From the first night at the Cricketers arms, The Warratahs had a life of its own.
Despite the inauspicious start, the band settled into a residency at The Cricketers, playing spirited versions of country classics from the likes of Jimmie Rodgers, Lefty Frizzell and Hanks Williams and Snow. There were folk influences in there too, something Saunders now attributes to his experiences playing in Dingle Spike in the 1970s. "We played in London on the Irish and folk circuit and that did become in some ways a big part of the Warratahs sound."
The pub crowd took to The Warratahs seamless blend of country, folk and rock and roll like cats to cream. "From the first nights at Wellington's Cricketer's Arms it was clear that The Warratahs had a life of its own," Saunders wrote on his website. "The songs liked the instruments; fiddle, piano, acoustic guitar, mandolin. It was almost like they played themselves and we were somehow in the middle of it all." Saunders recalls that things clicked instantly within the band as well. "I was always aware from when I first got the band together that it seemed to be solid quite quickly in those first few years. I remember thinking this could be around forever," he told AudioCulture.
The rest would become New Zealand music history. From humble beginnings, The Warratahs launched a career that has spanned 27 years, sales of some 100,000 albums and a hard-earned reputation as a genuinely populist band that has woven deep and richly colourful threads into our cultural fabric. You know a band has gone the distance when they've released not one but three Greatest Hits/Best Of collections (1994's The Best Of The Warratahs, 2004's The Collection, and 2012's 25 Year Collection.
The residency at The Cricketers' Arms lasted two years, attracting a very diverse crowd of regulars. In a 2012 Radio New Zealand interview, Nik Brown remembered it as "a great audience, ranging from ballet dancers, like little crocuses, to older grumpy local guys and advertising and film people. The place would be packed, and they loved what we were doing. That really spurs you on." Barry Saunders added that, "it brought people together from many segments of Wellington, then from throughout New Zealand. It remains very diverse to this day."
Saunders and Mason gradually introduced their original songs into The Warratahs set. As Saunders told Rip It Up writer Chris Bourke in the October 1987 issue, "One thing about this band is that we're constantly producing new material, though we still do a lot of covers. Once you don't write, you're on a downward curve. It's alright to play covers, but you have to say something yourself."
Describing the band's sound to Bourke, Saunders noted that "This 50s style suits Wayne and I. We've stayed away from truckin' country or the heavier sound of Joe Ely, say. We've always used a drummer with brushes, to avoid getting too heavy – people respond to the gentle swing. We stand or fall on the songs – we don't do too many instrumentals, to get out of the 'hot licks' syndrome. It gets in the way of a song."
Saunders expanded on this theme to AudioCulture in April 2013 . "We were real outsiders in every way when we started. For instance, we played drums with brushes, not sticks. We had acoustic piano and violin, and nobody was really doing that. So we had a powerful vibe to it, but it was quite quiet, like a 50s band. I play electric guitar now for five or six songs, but electric has never been a big part of our sound."
If not strictly the only game in town, The Warratahs didn't have a great deal of competition in the country-rock stakes in New Zealand early on. Homegrown country artists at the time tended to stick to more mainstream and orthodox country and western stylings, as the so-called cowpunk movement in the USA (led by bands like Jason and The Scorchers, X, and Green On Red) had very little impact on the New Zealand scene.
The band's relationship with country music purists in NZ was an up and down one. "They warmed to us, then they went off us," Saunders reflects. "We became part of the national landscape and they moved onto something else. We don't really see them at gigs anymore. I compare it to the early British blues bands like the Rolling Stones. The blues aficionados quickly went off them 'cos they had a pop aspect."
"This band seems to have created a need in people's lives"
– Wayne Mason, 1988
The connection The Warratahs quickly built with the non-purist audience was strong and deep, however. In a 1988 interview with Chris Bourke for Rip It Up, Wayne Mason analysed this bond. "This band seems to have created a need in people's lives. Each time we play, we're basically the same, we're consistent. People have integrated the feeling we create as part of them. We're not exceptional in that we don't change their lives, but if we've been away they seem to find it reassuring to have us back, because they've missed the feeling we generated. It's quite an unusual feeling."
Empathy within the band was another key characteristic of The Warratahs, right from the beginning. As Nik Brown told Bourke, "We listen to each other on stage and enjoy each other's playing. I've been in bands where people don't talk to each other for months, and I don't want a bar of it again. Also, this band is entirely committed – they enjoy it, and have a respect for the music."
The next step was to take their show on the road. National touring for The Warratahs in 1987 included a trip to Gore for the New Zealand Gold Guitar Awards, the major country music competition in NZ for the past four decades. That was a memorable encounter indeed, as Wayne Mason later reminisced to Chris Bourke (Rip It Up, February 1988). Describing their arrival in Gore, Mason says "it was like the classic movie of a gunfighter coming down the street, with everyone peering through their curtains. Five of us drove into town in this van packed with gear. That looked odd for a kickoff – it looked well organised! And we were all dressed in black, with our suits on, and the ties and Nik's big leather belt ... it was like we'd come to deal death to Gore!" Reminiscing with AudioCulture, Saunders joked that, "I think they thought we were going to start firing pistols down the main street!"
Saunders told Bourke that they were deadly serious about the competition in Gore. "They see the awards like a big School Certificate, a big competition. That's a very traditional approach. The joy of music ... would be three or four down the list." There'd be no denying the black-clad interlopers from the North, however. The Warratahs left town with a couple of awards, for Best Street Performance and the coveted Best Group trophy. "They thought, 'Woo, these boys are serious but obviously they're not country, because we don't know them and they don't come from down here"."
A highlight of their Gore visit came when legendary Southland country band The Tumbleweeds joined them onstage. "It was amazing," said Saunders. "They're all quite old now, and they play real straight country ... Cole Wilson played steel and violin. I think he's around 70, but he's still an entertainer. He's really dressed up, and he has a sort of aura, and he likes to be taken seriously and be respected."
By the middle of 1987, The Warratahs were a well-oiled machine, more than ready to hit the studio.
By the middle of 1987, The Warratahs were a well-oiled machine, more than ready to hit the studio. They had already secured a record deal, with Auckland-based label Pagan Records, headed by Trevor Reekie. He recalls that "I heard about The Warratahs from a friend in Wellington, John Pilley, who at the time was running a second-hand record shop called Solid Air. He told me about this strange little band that had got together called The Warratahs who were at that time playing a sort of corner bar residency (free entry) at The Cricketers in Wellington.
"My friend has a pretty sharp musical instinct, but I must confess, I had next to no interest in country music. I knew nothing about the genre over and above that I wasn't really a fan. However, the interesting part of the conversation that attracted me was that the band included Wayne Mason, who is a songwriter of considerable pedigree. That sounded promising. My friend also noted that the band had a second writer, Barry Saunders, who I didn't know, but he assured me that Barry was also a fine songwriter blessed with a great voice. The band at the time also included John Donoghue on bass. Donoghue was a one-ime member of a band called Timberjack, who released an incredible psychedelic gem called 'Come to the Sabbat' in the early 1970s. Also in The Warratahs was a violinist who I knew was a great player because I had seen him perform in his previous band. Nik Brown is a formidable musician. By this part of the conversation I was genuinely interested, because my friend told me that The Warratahs were writing originals and had already attracted the interest of Radio New Zealand.
"I remember coming down to Wellington and meeting The Warratahs as well as watching them play a wonderful and semi shambolic gig that was not only entertaining, but shifted all my preconceptions of country music. I thought they were fantastic, and they had a cool repertoire that included a couple of original songs that I felt could translate to a wider audience. There was also an incredible chemistry between Wayne Mason and Barry Saunders that was a combination of hilarious and incredibly musical. Barry is a natural storyteller who could write a novel about going to the corner dairy, and he has a wonderful sense of humour. I felt this was a band which had too many ingredients to dismiss as niche. I loved the fact that they already had a vision and were seasoned touring musicians, and already were well connected. I'd rung a few other Wellington musos and quickly ascertained that in one way or another The Warratahs were well known and well regarded even before they started charging an entry price to their gigs. And so our journey began!"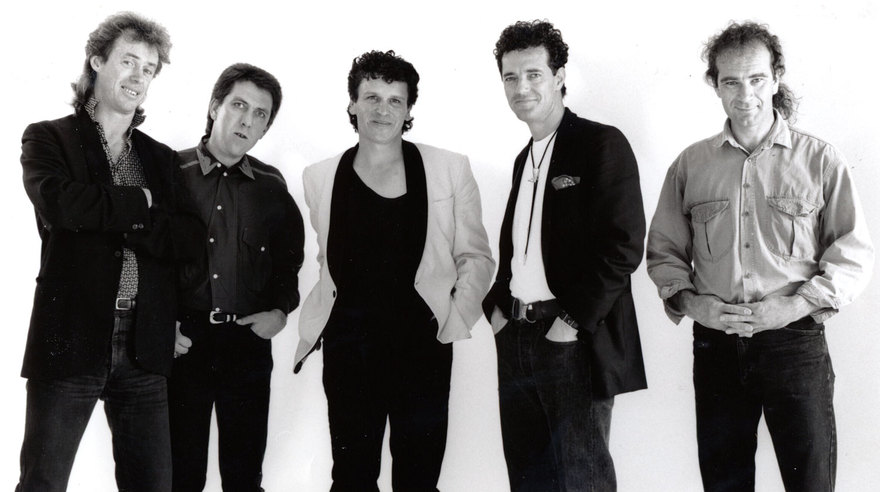 The relationship between Pagan and The Warratahs was a long and successful one. Pagan was distributed by Virgin and then EMI, and this proved productive in getting the records into the stores. "They were very supportive," says Saunders. "We had the freedom too. Trevor [Reekie] went with anything we did really. In hindsight a couple of things should have been knocked on the head. We probably recorded too much in those first years. We should have had two or three albums instead of three or four, but that's just me." For his part, Reekie explains that, "I quickly learned that Barry has incredible instincts. His acumen for what works is finely tuned."
The Only Game In Town
The Warratahs set up shop in Radio New Zealand's Wellington studio to record their debut album The Only Game In Town. "It was pretty much recorded live and with no frills," recalls Reekie. Their first single, the Mason and Saunders composition 'Hands Of My Heart', came out in September 1987, preceding the release of the album by a couple of months. "We aimed it first at the student stations and also attracted quite a bit of press," says Reekie. "With so many 'names' in the band there was a great press angle. We had a great photo that showed up everywhere. A friend of the band [cinematographer Waka Attewell] shot a brilliant video which took a while to lock in but when it did it started to be used as a filler. Every time TVNZ had a space between programs they played this clip despite it never appearing on the pop chart shows." 'Hands Of My Heart' peaked at No.36 during a chart run of four weeks, notching airplay not just on the student stations but on Radio Windy and 2ZM in Wellington and in Christchurch.
When The Only Game In Town was released, it found an audience throughout the country. It remained on the charts for 26 weeks, peaking at No.14, slowly but steadily racking up gold sales and confirming that The Warratahs were now a national, not just local, success.
Some creative marketing by Reekie helped the cause. "The biggest coup was that we made a 15 second TV commercial and booked the commercial for very cheap rates region by region, mainly around the afternoon 'soaps'," Reekie remembers. "I didn't have a clue about media spend or demographics or anything. I was so naive that I never even told our distributors Virgin Records that we had booked these ads. We got lucky. It fired the spark for a big-selling album."
TV would play a big hand in bringing The Warratahs national success. "We had big access to TV back then," says Saunders. "You'd make a video clip and they'd play it. It was just that simple."
'The Only Game In Town' ALBUM confirmed The Warratahs as a force to be reckoned with.
A second single from the first album, the Barry Saunders-penned 'Maureen', scored solid airplay and hit No.46 during a short two week stint on the charts in June 1988. 'Hands Of My Heart' and 'Maureen' have been the biggest chart hits for the group, and they have remained an integral part of Warratahs sets since the early days.
The consistently strong The Only Game In Town confirmed The Warratahs as a force to be reckoned with. They included fresh versions of four country standards alongside original compositions that more than held their own. As the group's songwriters, Mason and Saunders relished this challenge. The fact that the two shared a house in Mt. Victoria, Wellington, at this stage likely helped fuel their creativity too.
In his interview with Bourke, Mason noted that "the theory we have about writing is that we've got our songs up against, basically, Hank Williams. I don't think anyone's surpassed him, ever. I really believe it. Well, I've got to try and write them as good."
Barry Saunders stressed that they aimed to avoid country song stereotypes. "It's very easy to write a cliched country song. A lot of modern country albums, the songs sound as if they've been written by advertising people. It's very important that they sound sincere. We try and keep away from drinking songs and things like that. I always think they're a cop out."
The second Warratahs album, Too Hot To Sleep, was released in 1989, and it spawned two singles, 'St. Peter's Rendezvous' and the instrumental 'Bruno's Last Ride'. By this stage, the band had trekked across the Tasman, finding a warm welcome at gigs in Sydney and Melbourne. "After getting quite popular in Australia, we had to make a decision as to whether to live there or not," Saunders explained. "We chose not. I'd been touring Australia for years. I liked New Zealand, and that was a decision we made. We could have worked out of Australia and possibly gone to Europe, stuff like that. This was in days of New Zealand bands not really doing that, with the exception of Crowded House and that was from Melbourne. Young bands from here are going everywhere now, it's unbelievable."
Saunders now recalls the group playing Australia's biggest country music festival, Tamworth, "three or four times. It was good to play there, but we couldn't really find a place at it. The inner-city gigs in Melbourne and Sydney were a bit more enjoyable. The Warratahs are always better when we're a country band playing to a rock and roll crowd."
In the earlier phase of their long career, The Warratahs also briefly tested the water in Music City itself, just to see how their sound might fly Stateside. "We took a trip to Nashville, but we never played there. Just spoke to people," says Saunders. "They'd say 'we love what you do but it's a bit between the cracks'. We were always between the cracks in America. It's about the marketing there. Then, you were either the kind with the neatly trimmed beard and the belt buckle, or you were outlaw country in the big black coat, and they'd send you to a photo shoot accordingly. It freaked me out completely. I always saw us as more like the early Stones where you are a hybrid of things. I thought it was strange they couldn't see that too."
The Inter-islander jingle was like "a MISSILE THAT WENT into middle New Zealand"
– Barry Saunders
Saunders is justifiably confident about the fact that The Warratahs music does travel well. "You could take The Warratahs anywhere and I think people would take notice of us. We would not just be dismissed as just another country band. It has edges to it that are different."
On their home turf, The Warratahs received a career-changing boost in 1990 when they were asked to come up with an original song to be used as an ad for the Inter-Islander ferry. The tune (and commercial) they came up with, 'Sailing To the Other Side', resonated deeply with the television audience, taking the band to an entirely new level. "That first ad looked geat, and it was shot by [famed NZ cinematographer] Alun Bollinger," says Saunders.
"Before that ad, we had been a working country/folk/rock band. Then that came along like a missile that went into middle New Zealand. Even now, a couple of times a week someone in the street will mention it. Quite unbelievable!"
Back then, there was something of a stigma about artists doing commercials, and The Warratahs thought carefully about the move. "It sounds a bit self-serving now, but I remember talking to Wayne [Mason] and saying 'is this the right thing to be doing?'," says Saunders. "We'd been offered a lot of things. People want to hitch their wagons to you. But Cook Strait was part of our Highway One, so it wasn't like advertising something you don't use or are not part of. Even now, the ferry crossing is one of my favourite things to do. I'm certainly not ashamed of it, plus we got paid for it."
A second Warratahs Inter-Islander song/advert, referred to as 'Easy Come, Easy Go', aired in 1998. "That was also big but had a bit less impact as I don't think it was shown nationwide and it didn't have the look of the first one," Saunders now recalls.
In December 1990, The Warratahs were featured on the cover of Rip It Up, coinciding with the release of their third album, Wild Card. In the story, Wayne Mason expressed annoyance at a review of Too Hot To Sleep that criticised them for being "just like The Warratahs".
"If you are yourself, you get slagged for being yourself. I find that amazing: 'No surprises here, just like them!' What do they want, a Sergeant Pepper's full of backward vocals? But this album is a bit different ... it doesn't lie down 'til the end," he said.
Reflecting on success, Mason then told Rip It Up writer Chris Bourke, "We were really modest when we started, we did it for fun and didn't expect anything. When we were first asked to do a gig out of town it was very risque, an exciting thing to do. Our expectations were so low. Then that changes. That threshold rises and it becomes a bigger, more serious business. But playing and writing is still the same for me. I get a great kick out of that. It's what I've always done."
Producing and arranging Wild Card was Ian Morris (Th' Dudes, DD Smash, Tex Pistol) and he took a hands-on approach. Barry Saunders told Bourke, "I know Ian very well, but when we got in there he was definitely producing the album. I thought it'd be like 'Okay guys, let's have a play and we'll turn on the tape'. But he really took control of it, right from the start, in a really positive way. Highly organised." Morris also produced The Warratahs 1993 album Big Sky and Barry Saunders' solo record, Long Shadows. Wayne Mason described the sound of Wild Card as "more up ... it has a live sound with virtually a seven-piece band. We had more energy than on the last album and didn't have the tension, the worry."
In his story, Bourke pointed out that "another unusual thing is that they actually get fairly regular airplay – 'the ZBs and YAs have been kind,' says Saunders. 'Obviously the FM stations aren't interested. There's no point in complaining about it, we're just not their cup of tea. It'd be silly to go in there banging the table.'"
Highlights of the album included Mason's 'Down Your Street', the Everly Brothers-inflected singalong 'Meantime', and the evocative instrumental 'Akautangi Way', a number Bourke described as "dripping with Kiwiana".
On the road again
By this stage, The Warratahs were seasoned road warriors, touring constantly. Bourke wrote that "In the past year the band have continued their tours around New Zealand, playing small towns that haven't seen a gig since Rick Bryant was regularly on the road. They've made brief forays to Australia and New Caledonia and next year they're tempted by the idea of touring Ireland."
The Irish trip never materialised, but in 1991 the band toured as opening act to Billy Joel. "We opened up for him in Auckland, Wellington and Christchurch," says Saunders. "That was our first big tour and it worked really well. A quiet band through a big PA will sound great, with all those acoustic instruments really wound up."
Soon after, and more fittingly, The Warratahs opened a couple of tours for country music supergroup The Highwaymen (comprising Johnny Cash, Willie Nelson, Waylon Jennings and Kris Kristofferson). "They really liked us," notes Saunders with pride. "The sound guy and I went to Nashville for a spin about six months later and we ran into them there. They told us how much they loved us. It was quite touching actually, a nice connection."
in the old theatres, says Saunders, "It's as if the ghosts of all the people who have performed there are watching you."
The New Zealand audience for The Warratahs was large and loyal enough in the early 1990s that they graduated from the pubs to the theatre circuit. In a June 1993 Rip It Up feature on the band, Barry Saunders noted that the band typically drew crowds of one to two thousand at the towns they visited. "We really like playing pubs, we're a bit of a pub band really," he said. "With theatres people come along to be entertained – you've got to work a lot harder to win them over." On the plus side, he noted that, "there's so much history in some of the theatres that you can feel it when you're playing. It's as if the ghosts of all the people who have performed there are watching you."
Their fourth album, Big Sky, came out in May 1993, and again it drew criticism for being immediately recognisable. "I get annoyed when they say 'oh just more of the same,'" Saunders told Rip It Up. "It's true that the same chords do crop up, that's the way country music is, but if you listen to the lyrics on Big Sky, you'll find they are about things we have never written about before." Contemporary 90s themes tackled on the album included economic recession, unemployment, and media misinformation. "We can make people think and give them a good time as well," stressed Saunders.
For a North Island band, The Warratahs continued to be well received on the southern side of Cook Strait. They sold out West Coast shows on their Big Sky tour, and the album reached No.7 on the South Island charts, compared to No.15 on the national chart. Big Sky was to be the last album to feature Wayne Mason, as he left the band in 1994.
At that stage, in fact, it looked as if The Warratahs were over. Barry Saunders and his bandmates needed a long and well-deserved break from the rigours of the road. Few New Zealand artists have logged as many miles on the highways (and back roads) of New Zealand as the band did during those first eight years. In a 2012 interview with Radio New Zealand, Saunders noted that, "places became our homes then. Places and place names were our life. We were like gypsies." He later told AudioCulture that "because we were living on the road then the landscape came into the songs quite considerably. It just crept in there. There wasn't much else going on in our lives [laughs]."
Saunders remained creatively active as a songwriter during this period. He released two solo albums, 1995's Weatherman and 1998's Magnetic South, both out on Pagan Records, home of The Warratahs. On his website, Saunders writes that, "Weatherman was my first proper solo album. It was putting a foot on a new land with 11 new songs and using the Hammond [organ] and electric, which was different for me. The landscapes were darker and more expansive, some quite broken."
Recorded in the Polish Refugees Hall in Greytown, Magnetic South featured strong vocal accompaniment from Caroline Easther (Let's Planet, The Verlaines, The Chills). "It has quite a folky feel to it," writes Saunders. "It has taken me to a lot of places, Australia, Japan, the Bob Dylan show." Magnetic South also won him a NZ Music Award for Best Country Album.
Together again
The Warratahs reconvened in 1999, with Alan Norman joining then on piano and accordion. Barry Saunders recalled that, back in 1994, "I didn't think we would play again. After doing those two solo albums, I missed our sound and it didn't seem to go away so, here we are."
The Warratahs then teamed up with kindred spirit Sam Hunt on the very successful The Drivin' Wheel tour. Barry Saunders recalled to Radio New Zealand recently that, "we did good spirited tours with Sam. He makes you raise your game." Hunt made an appearance on the new Warratahs album One Of Two Things (released in November 1999), as did Caroline Easther. The album won a New Zealand Music Award for Best Country Album.
As a recording unit, The Warratahs slowed considerably in the 2000s. Their career retrospective The Warratahs Collection came out in 2003 and 2006's Keep On was the only studio album they released in the first decade of the new millennium. They remained in demand for live performances the length and breadth of New Zealand, however, and that has always been the lifeblood of the band.
Barry Saunders solo
Barry Saunders continued to record as a solo artist, releasing the well-received albums Red Morning (2002) and Zodiac (2008). Both those albums were produced by David Long (Six Volts, The Mutton Birds). When Red Morning came out, Saunders ventured to Austin, Texas, for the very important South By Southwest festival and conference (SXSW). "I played a terrific show in a little theatre there, along with a great American singer/songwriter Tom House," he recalls. "I felt my songs were as good as anyone's there. People from [noted American record label] Lost Highway came along. They really liked the album, but said 'you'd need to have a band and need to be here.' My daughter had just been born and I did not really want to go back to America."
Saunders has always been determined to keep living in New Zealand rather than chasing the dangled lure of potential international success, both with The Warratahs and as a solo artist. The quality of his songwriting and the strength of The Warratahs would certainly have made him/them real contenders, but the New Zealand scene has greatly benefited from the band remaining here.
One unconventional but fascinating project involving Saunders took place in 2010. Saunders released a compilation of his solo albums, Far As The Eye Can See, and Wellington's Exhibitions Gallery came up with the idea of asking some prominent NZ painters to come up with works inspired by songs on that collection. A feature story in The Dominion Post explained that, "Far as the Eye Can See has also become a lightning rod for a collection of visual art. When Saunders mentioned the record to Exhibitions curator Ron Epskamp, the latter suggested a portrait could be part of the album art. After Saunders assented, Epskamp had another idea – to send out all 14 songs to different artists and see what they could come up with. 'I've never had such an enthusiastic response,' says Epskamp. 'I sent out an email and got responses within minutes. Everyone was so keen.' For his part, Saunders liked the idea, but didn't think it would happen. But it worked and people started coming back with stuff. I turned on the email and saw pictures of my songs on the screen. It was extraordinary."
As well as the portrait of Saunders by Stephen Marty Welch (later bought by Barry), other works included a surreal photomontage by Bill Kearns ('Black-eyed Girl'), a landscape for the title song by Kevin Dunkley, and a naked figure floating over Cuba St by Ewan McDougall ('Rescue Me'). Reflecting on the exhibition now, Saunders says, "I never thought I'd get involved in something like that, but it was so good!"
"It is still great to play. Playing music gets rid of a certain kind of energy in a way that nothing else I know of can."
– Barry Saunders
2012 marked the 25th anniversary of The Warratahs as a recording band, and it was celebrated in fitting fashion. Another career retrospective, 25 Year Collection featured remastered versions of 19 choice Warratahs cuts, along with a five-track EP of new material that included the single 'Kupe's Tears' (named after a place in the Wairarapa). "That album sells really well," says Saunders. "It'd be exaggerating to say 'Kupe's Tears' was a hit but it has been played enough for people to know it, and that's cool. That's about as much as you can expect these days. I don't even know what a single is anymore. When we first started, you made a single and took it down to the programmer, put it on his desk and they played it. Now it goes up into the sky and god knows where it goes. Times have changed."
In recognition of those changes, Saunders suggests that in the future The Warratahs "may just keep putting out songs rather than albums, plus make the odd video." News that they will continue to tour will please their loyal legion of fans. "We do tour a little less. Once we get wound up, usually after a couple of gigs, it's great. It's a little bit harder to get us out of home but we're still always available," says Saunders, with a laugh. "It is still great to play. Playing music gets rid of a certain kind of energy in a way that nothing else I know of can."
Reflecting on the anniversary to Radio New Zealand, Nik Brown summed up The Warratahs career as "a lot of music, a lot of miles, a lot of laughs ... This has been a platform for me to lose myself in music."
In 2012, the line-up of The Warratahs comprised original members Saunders and Nik Brown alongside the rhythm section of bassist Nick Theobald and drummer Mo Newport. Saunders and his comrades stuck to the initial Warratahs mandate of always moving forward, rather than resting on their laurels. As he explained, "We still have new songs and we record stuff so we haven't got into that thing of looking backwards all the time yet. There is no doubt the band has had a heyday but it is still creative. It is still a home for the songs. We have never gone out there without something new."
Thirty years on from their humble beginnings at the Cricketers' Arms, The Warratahs remain a valid and valuable part of New Zealand music. Their legacy is one in which they can take justified pride. Writer/broadcaster Chris Bourke eloquently summed it up when he wrote "The Warratahs have earned their reputation by playing what seems like a tiny wooden hall down the end of every gravel road in New Zealand … like the Main Trunk Line and the Edmonds Cookery Book the place wouldn't be the same without them."
In 2015 a "new" four-piece lineup of Nick Theobold on bass, Mike Knapp on drums, and perennials Nik Brown and Barry Saunders went in to Devonport Studio to record some demos and came out at the end of the day with a new album.
"For some reason we were just all lined up that day, we were out of town and felt good together," said Saunders. "It was just one of those days, and they're not all like that."
Runaway Days became their most successful release since The Only Game In Town and featured two strong singles 'Little Flame' and 'Mt Victoria Rain'.
The Warratahs celebrated their 30th anniversary in 2018 with a 25-track career spanning compilation Driving Wheel, a new single 'Fast Train' and nationwide tour with the tag line, "On the road with the band of national significance."