First published in Rip It Up, April 1984.
--
It's been a long time coming. Six years, four moderately successful singles and several line-changes on, The Mockers have completed their first album, Swear It's True.
We're entering familiar territory here. New versions of the three earlier singles are there, together with the new one ('Swear It's True') and eight other equally accessible numbers.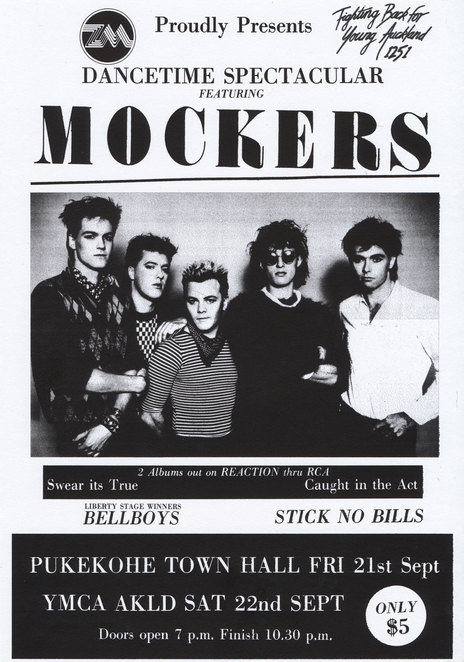 According to lead singer Andrew Fagan, it's a "milestone" for the band.
"It amounts to what we've always wanted to achieve. In 1977 when I started out with the Ambitious Vegetables we simply could not write melodic songs. It wasn't like we were brilliant musicians who jumped on the bandwagon when punk came along, we just could not play! Our aim was to write good pop songs and we've reached that goal."
Swear It's True was recorded at Mandrill and is out on the studio's Reaction label. Fagan feels producer, Trevor Reekie, has come up with a far better sound than the band could have got themselves.
"My only criticism, and it can be a good point too, is that the album's down on raw live energy. With records the music is the main thing, you can incorporate live energy but it can cause problems. We don't want to be raucous on record because that's what we used to be – a thrash guitar band."
The Mockers' career has been repeatedly interrupted by line-up changes but Fagan seems confident that they've struck the right combination at last.
"To have some awareness of what constitutes a good song is really important. In the past, we had a lot of conflicts and that was our downfall. Now, everyone has the same idea. If a new song feels right, it just gels and everyone goes for it."
They have a new recruit on keyboards, Tim Wedde, who Fagan describes as an "18-year-old whizz kid."
He feels the music has matured. "The arrangements are much more intricate than they used to be."
The lyrics are his department and his favourite themes concern the sea (probably his main passion – he lives on an 18ft yacht moored at Herne Bay) and the unsung hero.
"The way society works is really false. The people who are pushed to the public eye are the ones people respect which is a shame because often they're worthy of very little. It's the lone adventurer types who fascinate me. They're the ones people should say, 'What a wonderful person' about, not some drugged-out rock star who does fuck all."
Fagan is hopeful that Swear It's True will provide the big break the Mockers have waited so long for. The timing of its release augurs well, The Dance Exponents have left New Zealand and the country's youth are hanging out for a new pop idol.
"That gap hasn't been there before and if we persevere with what we're doing then we probably will start doing a lot better in terms of crowds."
Mention the Exponents and Fagan is instantly fighting the green-eyed monster. "There's obviously an element of professional jealousy. I've got nothing but respect for the Dance Exponents, they're the only band in the history of New Zealand music who've managed to use the industry for themselves and not get used. But they've had good guidance. Things fell into place, the timing was right and it all happened."
The Mockers somehow got left behind. "You get frustrated when nothing happens in terms of chart success and while it doesn't really worry me, chart success is important to people in the industry who can further your career."
He clearly feels his band has had a raw deal. TVNZ's handling of the 'Swear It's True' video is a case in point.
"According to the powers that be, it's quite a lightweight song so it doesn't get on Radio With Pictures. If the single does well it'll get on Ready To Roll. If it doesn't you're on a 15-minute programme called RTR Video Releases and as far as exposure goes that's minimal. You get a bit worn down dealing with that side of things, especially when you see what could be happening if you had all those elements on your side."
Fagan's been forced to change his personal view of success. "I used to think that success was to have a number one hit. Now that I see how many other factors are involved in a hit single, I realise that you have to confine your own visions of success to just writing a good song that you're happy with, and that's it.
"Like with this album. I've done my bit and I'm happy with it and if it does well the guy to pat on the back is the guy who markets it."
That rather despondent view of the industry aired, what keeps him in the business? "Partly taking for granted the music and performing … that and competitiveness. Sometimes I think, 'Shit, we've got good songs, why aren't ours getting played, why aren't we drawing big crowds?'
"I don't think in terms of money anymore. I used to, y'know, we all have our master plan. The Dance Exponents lived mine and did it so well, the big bite from Mushroom … a big bite would have made it so much easier for us.
"But if we persevere, things will definitely happen. Split Enz are the great example, you just have to keep believing your day will come."
And when it does, the next step has to be overseas.
"After the album tour, beyond about August, we can't sustain it here anymore. We'll have toured the country so many times, had the biggest bullshit we've ever had from the album, after that we'll never have that much hype again.
"But we want some bits before we go. It'd be ridiculous to start from square one again."
--
Read Ancient Times: The Mockers live across Auckland 1984–1985 here