After a heady 18 months on the band circuit holding their own as a headline act and narrowly missing out on chart action, The Human Instinct decided to head home. Dave Hartstone didn't have the money for a return fare and decided to stay in London.
Hartstone had built up some great contacts in the music business and was convinced he could get drummer Maurice Greer involved in another good band. "He was always on the phone drumming up some sort of business and he booked me in for an audition with The Jeff Beck Group," says Greer.
After considering his options, Greer chose to return home with guitarist Bill Ward and bassist Frank Hay. Hartstone thought he might score the bass job with The Moody Blues but that never eventuated so he found himself in a jam, left in the old band flat on his own, with no band and no income.
Between the four of them they owned a stack of Marshall equipment, including a PA system with four columns.
While efforts were made to ensure he wasn't left with any outstanding bills there was disagreement about equipment, and the small matter of the bailiff payment made by Ward and Greer so he could get on the Fairsky for the trip over in August 1966.
Between the four of them they owned a stack of Marshall equipment, including a PA system with four columns. Ward and Hay each owned a Marshall 200 watt amp with a couple of stacks of speakers as did Hartstone.
"We suggested he take over the gear and Transit van payments totalling about £280, a lot less than he owed us. We would take our own amps plus the PA … and he seemed pretty happy with that," recalls Bill Ward.
A week before they were flying out the boys arranged transport with the shipping agent and delivered the PA, lighting and amplifiers to the container dock. Greer packed his drum kit separately. The trio then flew back to New Zealand.
After borrowing equipment from Jansen for their return gig at the Galaxie nightclub in Auckland and immediately impressing Auckland audiences with their professionalism and new repertoire, The Human Instinct were excited about the imminent arrival of their sound equipment.
They would be the envy of the circuit. When the ship docked and everything had cleared Customs they just stood there, hearts broken, mouths open.
"When we investigated we discovered Dave Hartstone had his own plan. I don't know how he did it but he was a smart man. It was a bit of a shady move really," says Greer. Ward and the late Frank Hay remained angry about Hartstone's underhanded move decades later.
Hard lessons
Greer tried to confront Hartstone about the equipment in 1969 when he returned to London during the second Human Instinct visit with Billy TK on guitar and Peter Barton on bass, but he didn't want to know.
"He was quite a blunt kind of a guy, his attitude was, 'well you learnt a lesson there, never lend anyone money', which was all very well, but not pleasant."
Regardless, Greer admits it was Hartstone who kept the early The Human Instinct going. "He was one of the reasons we kept pumping because he was kind of ruthless. We looked up to him because we thought someone has to help us out. He would get us out of anything. I sort of admired him and I always will."
In London, New Zealand session guitarist Doug Jerebine was living directly above the band's old flat, now occupied by Hartstone. The Human Instinct MKII moved in for two months and were impressed by the songs Jerebine had been recording with Hartstone on the band's old reel-to-reel.
The Human Instinct didn't pick up any gigs but they did immerse themselves in the next wave of British rock, purchasing the latest sound equipment and fashions and finding inspiration for their future direction. They spent all their money on Marshall equipment, survived by renting it out to other bands then headed back to New Zealand to embark on the most popular phase of their career, including two prog-rock albums.
Burning Up Years and Stoned Guitar featured many of the tracks from Jerebine's as yet unreleased album Guitar Absolution In the Shade of the Midnight Sun, which was eventually released without his knowledge in 1969 under the name Jesse Harper.
Two sides to a story
While there are two sides to every story, Hartstone admits he couldn't resist the temptation to hijack the group's equipment. "The rent was due on the apartment, so were the phone and gas. It was all left for me to pay, based on the fact that I owed Bill about £100. it's funny when I think back how little an amount that is."
Hartstone claims he was served an "absconding debtor's writ" by former band manager Peter Newbolt for the balance owing on the equipment and Transit van the day after the others left in April 1968.
Greer, Hay and Ward insist they'd left Hartstone the van and his amplifier and speakers on the condition he met the final payments.
Hartstone says he and his wife Sally were kicked out of their apartment the next day, owing about £1500. "All our furniture and our belongings were tossed out on the street. I remember asking one of the bailiffs for two pence to make a call, but he kicked me up the arse and told me to go back to where I had come from."
The other bailiff was a little more forgiving so Hartstone called Arnold Finer, Peter Newbolt's lawyer, who also acted for the Playboy Club, Frank Sinatra, and Sammy Davis Jr's lawyers in the UK.
"I'd been introduced to him when Human Instinct worked at the Playboy Club. To make a long story short he fixed everything, and we were immediately placed back in our apartment with the phone and gas reconnected," said Hartstone.
That's when he contacted the shipping office, telling them that the band had one more gig. "They bought it – I went and collected the gear. When I got there I showed them the absconding writ, and they let it go."
The equipment was soon being rented by Hartstone to groups gigging around London including Free, and eventually promoter Maurice King helped him get into the serious sound hire business.
Best sound around
International Entertainers Services (IES) was soon on a roll, supplying the live needs of bigger bands playing larger venues. "Every concert used my sound. It was the best. I had 600 employees including the best technicians money could buy. Everything was new. We had a large research and development facility in London."
Hartstone's ruthless determination saw him consorting not only with famous artists but also with the heavyweights behind the scene.
Along the way Hartstone's ruthless determination saw him consorting not only with famous artists but also with the heavyweights behind the scene. Increasingly it became about money and if you didn't have the cash, or tried a rip off, there were consequences.
On one occasion when the owner of the Marquee Club failed to pay £1000 for equipment hired for Juicy Lucy, a gun and stand over tactics were involved. Hartstone went with a 6' 3" underworld type to get his money back.
When the receptionist ignored a request for an audience with her boss the first casualty was an IBM golf ball typewriter, which Hartstone claims broke into small pieces as it bounced down the stairs.
A further refusal resulted in a pistol being brandished and the money being handed over in double quick time. Hartstone then gave explicit instructions for the sound equipment to be returned to his IES Regent's Park factory as soon as Juicy Lucy had finished with it.
News of that incident quickly got around. Hartstone was not someone to be messed with. Among those who heard about his methods was Peter Grant, known by most simply as Big G, the head of Superhype Music publishing, management for Jeff Beck, Led Zeppelin, Lulu, Donovan and other artists, mostly in conjunction with producer Mickie Most.
Big G was "500lbs of solid muscle", an ex-wrestler and former heavy with Don Arden Promotions, who managed The Small Faces. He wore jeans, calfskin boots that went halfway up his legs, and a brown suede jacket with strips hanging around the shoulders. "He was mostly bald but had long strands of grey hair running down his back," says Hartstone.
An historic Christmas
According to Hartstone, Don Arden had, earlier in the 1960s, summoned Big G into his office one Christmas and announced there would be no bonus but to show his appreciation gave him an unreleased recording and all the related rights.
Big G took it to Mickie Most and in return got The Yardbirds, who only had a couple of minor hits at that stage. The single Most released was 'Winchester Cathedral' by The New Vaudeville Band, which became an international No.1 hit in 1967.
Aside from a closed circle, no one knew who actually played the instruments on it but it made copious amounts of money with endless cover versions released.
And as everyone knows, The Yardbirds spawned major recording talents including Jimmy Page, Jeff Beck and Eric Clapton.
Big G knew the business and from his acquisition formed The Jeff Beck Group, and with Jimmy Page set up his own company, Superhype, which gave birth in turn to Led Zeppelin. A separate deal was done to move Eric Clapton off to the Robert Stigwood Organisation.
Joint venture with US
St Louis, Missouri-based Heil Sound, which had been doing the sound with Grateful Dead since 1970, formed a joint venture with IES Systems in order to use its Mavis mixer, which owner Bob Heil describes as "the first truly modern FOH [front of house] desk" with modular circuitry design and external power supply.
"It was an amazing console, though only four were ever made — they weighed 300lbs each," Heil told Performing Musician magazine in December 2008. The two companies standardised key interfaces of their systems including speaker connectors so they could use each other's gear on both continents.
After working with Grateful Dead and supplying sound to large venues, Heil's next big project came when he got a call from The Who management, after they had a bumpy start to their Who's Next tour in 1971. "We did the Who's Next tour for a year and a half across the US, to Europe and back again."
The Who's guitarist Pete Townshend asked Heil to help produce the quadrophonic sound system ahead of the release of their Quadrophenia tour in 1973.
"We set up two 15-channel Mavis consoles together, put speakers in four corners and we were able to fly Roger [Daltrey]'s voice around the room. When we did Madison Square Garden with Quadrophenia, the PA was enormous. I think we had on each side six to eight 15-inch speaker bins, six to eight radial horns, and about a dozen tweeters. We could get about 110dB to 115dB on that stage before feedback. And the Who loved it, man, because it was loud, and they loved loud."
Today one of Heil's IES Mavis mixers, and many other "firsts" Heil brought to the industry are on permanent display in the Rock and Roll Hall of Fame in Cleveland, Ohio.
The Who's chief sound engineer and mixer Bob Pridden told Sound On Sound: "It was a fantastic mixer but it weighed a ton! It was really just like a Neve – not as good, but along those lines. We bought one of the first ones they built and used that. We ended up with two in the end, which we put together and used for years."
It was, he says, the first step into real front-of-house desks. "We used a Mavis mixer when we made the album Quadrophenia [1973], for mixing the cans in the studio so they could have their own four different mixes."
Meanwhile, Hartstone's sound equipment was in demand whenever a major event was in the offing. The 1974 Knebworth one-day concert, the first of many in the grounds of Knebworth House, London, featured The Allman Brothers Band, Van Morrison, The Mahavishnu Orchestra, Tim Buckley, The Sensational Alex Harvey Band and The Doobie Brothers and what one commentator described as the loudest PA in England.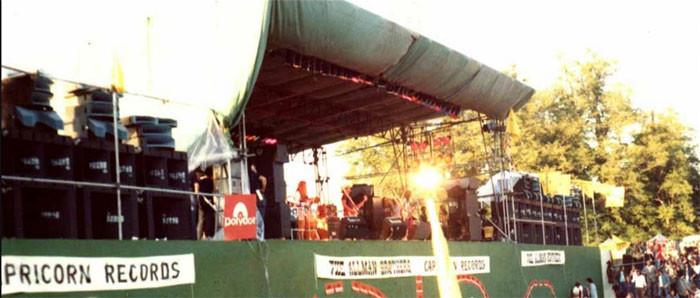 The concert attracted a crowd of around 60,000. Chris Quayle, a mixer-designer who worked with Hartstone in London from May 1974 until late 1976 commented that the "state of the art and incredibly loud" PA came from IES.
"All the speakers, horns etc were by JBL, with w-bins for the bass and racks of Crown DC300 amplifiers driving them. The mixing desks were designed in-house and were rugged custom designs in shielded cases to stop RFI [radio frequency interference]."
Ultimately Hartstone's company designed and built 22 modular systems for different sized venues.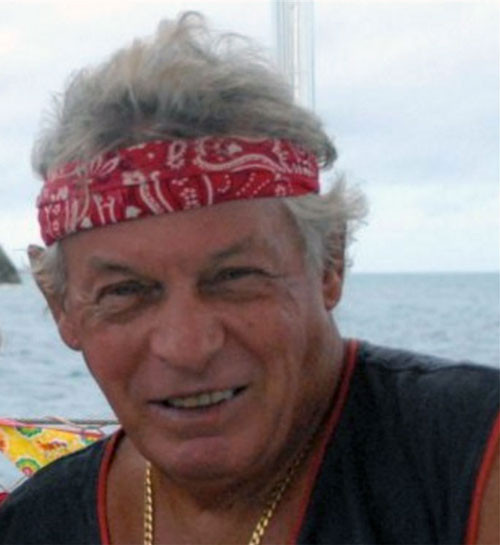 Reflecting on his success, Hartstone said, "I did pretty good after the rest of Human Instinct left. I had 600 or more employees for about eleven years. I finally walked out and hid in the Bahamas for four years, lost most of the money, and finally went chartering the $NZ4 million [81 ft] yacht Taboo in the Caribbean. I've done pretty good at that too."
--
Read The Dave Hartstone story - part 1 - here
--
Sources:
Excerpts from Keith Newman's unpublished Rock from the Edge manuscript
Interview with Dave Hartstone and excerpts from his unpublished manuscript ELP Brain Salad Surgery
Sound On Sound, March 2015: 50-years with The Who