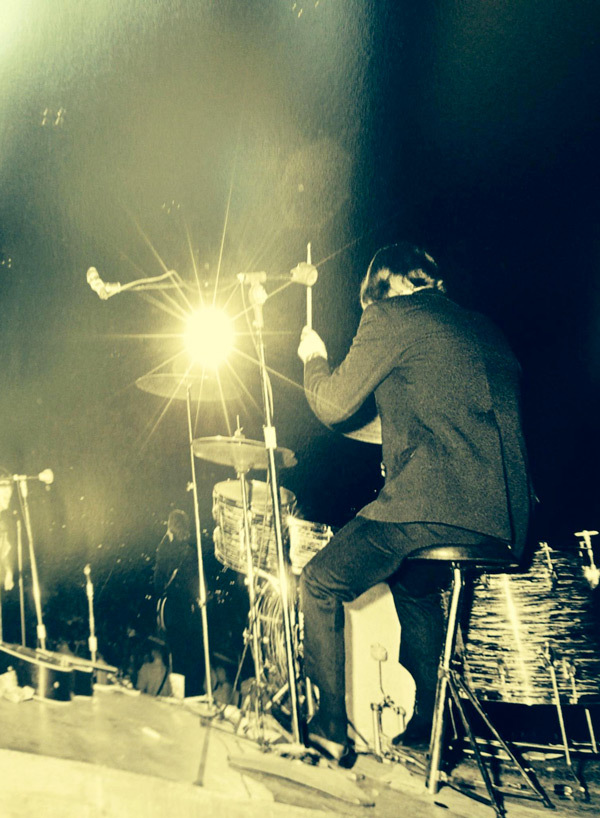 I've written bits and pieces about my early experience with Ringo Starr. I was about 16 years old in 1964 when The Beatles came to Wellington. I was in bands as drummer/singer. Most Kiwi bands played Beatles songs as I imagine groups all over this planet did. They were a phenomenon even then.
My day gig was at HMV record warehouse; we supplied records to the record stores (there were such things then) and 99% of our orders were for Beatles. So many that fifty years later I still remember the tag number; for The Beatles it was PMCM 1202 (Parlophone) I think With The Beatles was PMCM 1206. Boxes of them going out.
We'd only seen a few clips of them on TV — black and white — but at the Embassy Theatre down the road, a short colour film of them playing live was showing. I'd seen that a few times ... An aside here; for some reason Carl Wilson from the Beach Boys came into the HMV office. We also supplied their records. We talked a bit about the Beatles and I asked if he'd seen the short; he hadn't, so I took him to see it. He was rivetted. The Beatles had broken through in a huge way in America on the Ed Sullivan Show in February 64.
I was literally six feet behind Ringo, a dream spot for a drummer; I could watch his bass drum patterns.
Their visit to Australasia was booked early in their career apparently for a fraction of what they could now make. Anyway … I bought tickets and was going to see my heroes. I'd asked my girlfriend if she wanted to go, she said she wasn't that keen on them so I rocked into town and swapped one of the 6pm tickets for one to the 8pm show.
The first show I was in the stalls and when they came out the screams were deafening. It was insane. You could only just hear the music. Not made easier by the antiquated sound system. I looked around at the bedlam and lo and behold, there up in the side balcony was my girlfriend and her buddies screaming their heads off. How could I be pissed off? What a bummer it would be for her to sit next to me and not feel able go ballistic. She'd have had conniptions and exploded. Besides, I was drinking it all in in my way.
For the 8 o'clock show I had a seat which was actually on the stage, behind the band where the orchestra usually sat. I was literally six feet behind Ringo, a dream spot for a drummer; I could watch his bass drum patterns. I knew them all anyway but it was a buzz to see him up so close. He's a basic, solid, no nonsense player. I loved his style. His fills that night on 'Long Tall Sally' were astounding. I remember John passing him a microphone to Ringo so he could sing 'Boys' — which I sang in my band The Corvairs.
But here a darker element crept in. Here was where the compassion of one drummer to a brother drummer dimmed. Ringo had been sick for the first part of the Australian leg and a drummer called Jimmy Nicol filled in for him. So I'm sitting there and forgive me but I started to have impure, unsupportive thoughts about my fellow drummer. Thoughts like; "Fall off that f...n stool and I'll be up there so fast. I know all the songs..." You get the picture; In my mind I see Ringo fall off the stool and before he even hit the floor I would leap up onto that stool — maybe with a Kiwi copy Beatle boot to the throat for good measure — not miss a beat and the Beatles would say … "That's the feel we've been looking for!!" Yeah, I know... Not pretty.
To tag this, years later I happened to be in Cannes for the MIP festival promoting the TV series I was in called Fire. From there I later found myself in a church hall in Monaco where lo and behold again, I'm a few feet from Ringo. He said hello. We shook hands. I didn't fill him in on the gory details about what had been on my mind in 1964, just said something like, "Hi I'm a drummer, saw you in Wellington in 64 (Didn't wish you well...) Love your work." He was a lovely fella.
And in retrospect it's just as well my fantasy stayed a fantasy — leaving aside the heartlessness involved — because I'd never have come up with that wonderful drum pattern in 'Come Together', let alone 'Rain', and the music world would be all the poorer for it.