Dr Ian Chapman, music lecturer at the University of Otago and Dr Glam after hours, considers New Zealand's flirtation with glam in the 1970s.
Let's face it, New Zealand and glam rock are not natural bedfellows. At the beginning of the 1970s when the glorious tinsel Brits Marc Bolan (T Rex) and David Bowie (as Ziggy Stardust) shone like revolutionary beacons of hope, New Zealanders can hardly be said to have been natural acolytes. Tragically, the national preference was for gumboots, not platform boots; for black singlets, not sequinned capes. Batting your eyelids and mincing about while singing "We just haven't got a clue what to do" – à la Sweet bassist Steve Priest – was pretty much as far away from the prevailing Kiwi male template as you could possibly get. Yet, despite the considerable odds, glam rock made its sparkling presence felt 12,000 miles away from the land of its birth – and it brightened up our music scene no end in the process.
Some background to set the scene: glam rock never achieved anywhere near the dominance in New Zealand that it enjoyed in the United Kingdom in its heyday, between 1971-1975. A summary of New Zealand singles chart entries by the top overseas glam acts tells the story. Compared to the UK where glam reigned supreme, here the singularly most successful act, by far, was Sweet, who had eight top 10 hits.
Five of these songs reached the top four: 'Blockbuster' (No.1, 1973), 'Ballroom Blitz' (No.1, 1973), 'Coco' (No.2, 1971), 'Fox On The Run' (No.3, 1975), and 'Hell Raiser' (No.4, 1973). Not bad, you might think, and you'd be right.
But other big-name glam acts struggled in comparison to their UK successes. The king of glam, David Bowie, was the next most successful act but only managed three entries in the top 10: 'Sorrow' (No.1, 1973), the decidedly un-glam 'The Laughing Gnome' (No.3, 1973), and 'Space Oddity' (No.6, 1973). T. Rex also achieved only three top 10 hits: 'Hot Love' (No.7, 1971), 'Metal Guru' (No.7, 1972), and 'Ride a White Swan' (No.9, 1971). Wizzard was in the top 10 twice: 'See My Baby Jive' (No.4, 1973) and 'Angel Fingers' (No.7, 1973).
UK mega-heavyweights Slade reached the top 10 on just one paltry occasion with their uncharacteristically soft ballad 'Everyday' (No.4, 1974). In a somewhat bizarre twist, of the 11 Slade songs that charted in New Zealand, eight peaked at No.21 – a far cry from their huge success at home. Gary Glitter also managed just one top 10 hit in New Zealand with 'Rock 'n' Roll (Part 1)' (No.8, 1972), while Roxy Music also achieved the feat only once with 'Virginia Plain' (No.6, 1973). Of the US glam acts, pre-eminent glam-ghoul Alice Cooper reached the top 10 just once with 'School's Out' (No.9, 1972), and none of Suzi Quatro's efforts reached the upper echelons of our charts.
But this limited chart success demonstrates that glam rock had a presence upon the New Zealand popular music scene. Also, there were highly successful tours to New Zealand by the era's top international glam acts, among them Sweet, Lou Reed, Suzi Quatro, Slade, Roxy Music and Gary Glitter.
Now: to the task of isolating 10 moments in NZ glam rock. I make no pretence of balance or neutrality in the following highly subjective selections and concede that some of my choices might be deemed fringe glam at best. Nevertheless, growing up so far from the epicentre of the style, they somehow formed part of my glam rock journey - and surely many others shared these experiences.
Space Waltz 'Out On The Street' Studio One/New Faces, 1974

For all its MOR schmaltz, the whole damned nation used to tune in to New Zealand's pre-eminent television talent quest in prime-time to see what oddities it would throw up each week. No one had ever seen anything like Alastair Riddell before. How could he possibly be a New Zealand male? As he puckered, pouted, posed and sucked in his cheeks for the cameras, bemusing and dividing the judges, he lit fires in the young hearts and groins of both males and females from the top of the North Island to the bottom of the South that couldn't be put out by the disapproving glares of parents who tut-tutted and reached with trembling fingers for the reassurance of their Kamahl and Nana Mouskouri records. Meanwhile, the stomping glam-rock chorus with its brilliant shift from 4/4 to 12/8 time (à la 'Can the Can', 'Blockbuster', 'Jean Genie') seared its mark on our popular music history to become commonplace on classic-hits airwaves even 45 years later. The collective eyes of the nation's youth widened that night in recognition of newly expanded horizons, a fact not missed by EMI who signed the band immediately, released 'Out On The Street' as a single and watched it soar to No.1. Problems, implosions, and dashed dreams would follow for Space Waltz, but nothing will ever change the impact they had on that culture-shaking 1974 night. Without doubt this was New Zealand's finest glam rock moment.
The Space Waltz album, 1975
Okay, a lot of the material was more prog-rock than it was glam, with the compositionally and instrumentally complex songs averaging an un-radio friendly five minutes each (two songs even stretched to the decidedly un-glam length of eight minutes!). But the brilliance of 'Out On The Street' was matched here by gems such as 'Fraulein Love' – the band's second single, which only reached a disappointing No.20 – 'Scars of Love' and 'Beautiful Boy'. Never mind the prog/glam hybridity, this remains New Zealand's finest glam album.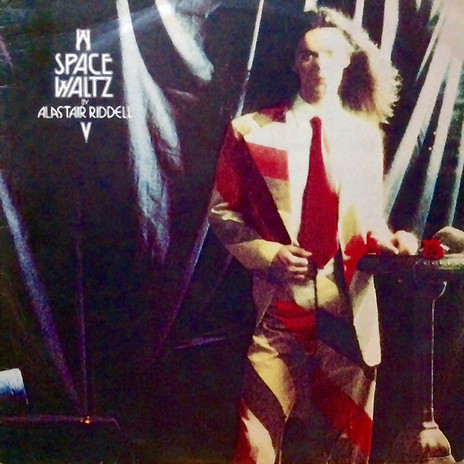 Odyssey on The Grunt Machine in 1975, performing Lou Reed's 'White Light, White Heat' and 'Vicious'
Letters of complaint flooded into TVNZ and to newspapers after Christchurch's finest glam sons created outrage on national telly. All typically glammed up to the max and hamming it up in the tradition of the best glam artists (you shoulda seen 'em live!), Ronnie Harris, Jeff Stribling, Rob Gray and Mike Scheele took local glam to a new level of visual excess. Mike, in particular, raised tempers, temperatures, and heart rates nationwide with his decadent fetish ensemble of cape, brief (very) lurex undies … and nothing else except for the crowbar that he brandished threateningly above his head. And when he discarded the cape altogether he made Frank N. Furter look tame by comparison. Pure theatre. Pure calculated genius. Thanks, Odyssey. Guitarist Ronnie Harris says their preference was to use rats in the performance to add an appropriate measure of menace, but this presented logistical problems and hence just the crowbar was employed. He also added that the band had their own pet rat that they named "Vicious". Nice.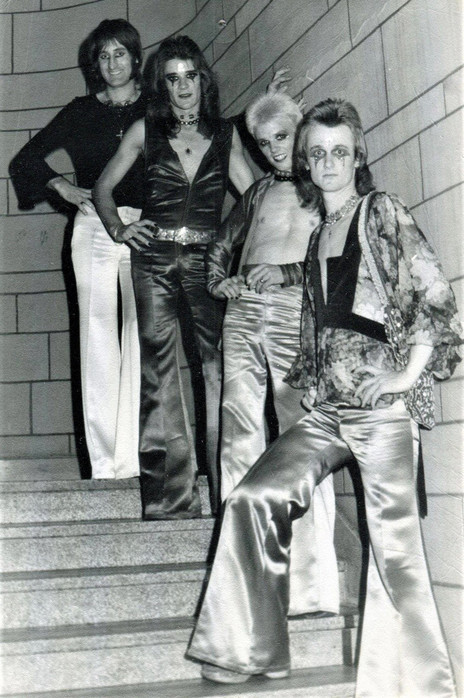 Alastair Riddell's 'The Wonder Ones' single, 1977
While getting late in the day for glam as far as the timeline went – punk had by now spat and pogo-ed its way to the front of the gig, and popped glam's party balloons with its safety pins – this super-catchy solo effort by the ex-Space Waltz frontman is superb, being full of his trademark glam-esque vocal affectations and pretensions despite the fact that he'd given away his glam image by this time. When listening to the song, it is admittedly hard not to think of both Split Enz (in their Dizrythmia period) and, okay, David Bowie (the oft-hurled accusation against Riddell). Regardless, and despite its comparative lack of success, 'The Wonder Ones' remains a fine Kiwi glam rock moment.
Slade (and Status Quo) at Te Rapa Racecourse, Hamilton, 1973
Actually, this one is a bit embarrassing to relate because I wasn't even there. Although living just down the road in the living hell of Hamilton East, I wasn't allowed to go to the concert because my parents deemed me too young. This despite the fact that Slade were my absolute idols and my bedroom walls were plastered with pics of Noddy, Dave, Jim and Don. I'd like to say that I went to the show despite their crushing parental decree; that I cleverly sculpted an upper torso and head from butter, string, and figs, put it beneath my bedcovers and then snuck out, catching and riding the neighbour's Alsatian dog to the gig where I delighted in smashing my head repeatedly against the front of the stage to 'Cum On Feel The Noize'. But I didn't. I stayed home and cried. Still, the fact that Slade (fricken' SLADE!!!) played a gig on the outskirts of unfashionable Hamilton when they were at the peak of their careers must rate as a top 10 Kiwi glam moment. I do know a few people that went that day actually, and they had their tiny minds blown. (Read more about Slade at Te Rapa at the blog From Roots to Boots.)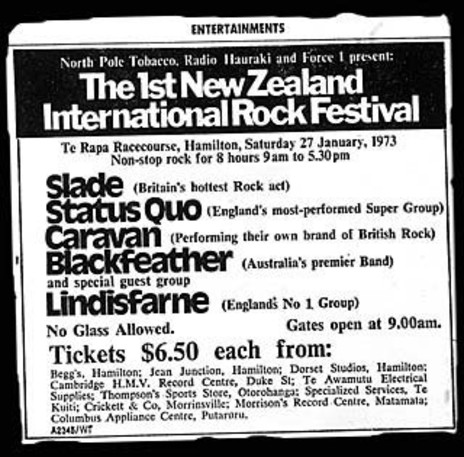 Alice Cooper at Western Springs, Auckland, 1977
There will always be those who rail against Cooper being labelled glam at all, but to my mind Love it to Death, Killer, School's Out, Billion Dollar Babies and Muscle of Love are all part of the enduring early 1970s glam rock canon, and 'School's Out' remains one of the preeminent glam rock anthems. So it was with enormous excitement that I trekked north, crammed in the back of a Mk I Escort to see this dream-come-true show right here in Godzone. With black shoe polish around my eyes and a Kodak Instamatic in my pocket, I was ready to rock. Sure enough, Alice's show delivered and then some. It was pure rock pantomime writ extremely large, as a succession of ghouls, demons, black widow spiders and a lumbering cyclops all tried to dispatch our mascara'd hero to the sound of distorted guitars and thumping drums. "Look out behind you, Alice!" But the ghouls all lost out because it was the blade of the guillotine that sealed Alice's fate that autumn night. Well, until the encore anyway. It had all been a trick! Phew. I fell hopelessly in love with rock theatre that memorable night. For me, music would never again be something to merely listen to. I would from here onwards demand music that merged sound and vision in equal measure.
Ragnarok in concert, anytime 1974-77
As drummer Mark Jayet told me when I quizzed him about the band's glam leanings a while back, "We did 'Ballroom Blitz', 'Can the Can', 'All the Young Dudes', 'Jean Genie', 'Suffragette City', 'Telegram Sam', and all that kind of stuff mainly just as crowd-pleasers. We did enjoy playing them, I mean you glam it up and you have fun. We'd start off the night with 'Nights in White Satin' and all the slower stuff, including the originals, and then as the night wore on and people got liquored up and wanted to go for it we'd do the glam stuff. Andre [keyboard player] would jump on a second drum kit and that was great for all that glam stuff. We were wearing blue satin hot pants and leotards and gym boots with stars painted on them and goggles and stuff, and we'd come out firing, leapfrogging over each other on the dance floor and then we'd do 'Ballroom Blitz' with dry ice and lights flashing and … it was a show. The people would stand on the tables to watch." Ah yes, you could get a great fix of glam from attending a Ragnarok gig. Nevertheless, and as Mark confirmed to me, their true aspirations lay in their original progressive rock. Glam was a means to an end for them rather than their focus, regardless of how well they carried it off and how well it was received. Which is why, hugely important though they are as primo Kiwi prog-rock ambassadors of the era, they will never usurp Space Waltz or Odyssey in the glam stakes. But they can't be left out of a list such as this either.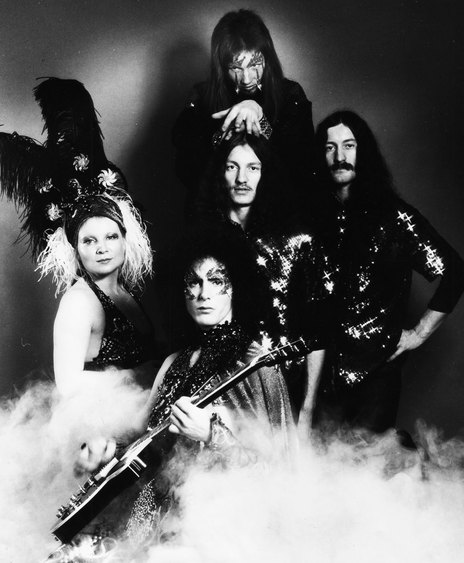 'Captain Fagg' from the album Nooks, Ragnarok, 1976
Meant as a complete piss-take of glam rock and hammed up to the max with all the posing and pouting and affectations the band could muster, how deliciously rich is the irony that the song today sits as something of a glam rock gem amid the brow-furrowing, chin-scratching pomposity of the superbly performed progressive rock that surrounds it on all sides. 'Captain Fagg' is a fleeting 1'53" of pure tinsel. Yes, thank you Ragnarok, I am – as you put it – glad that "Captain Fagg can boogie-woogie in drag".
Lou Reed at the Founders Theatre, Hamilton, 1977
Too young for Reed's tours of 1974 and 1975 – but a huge fan of the Bowie-influenced glam masterpiece that was Transformer – I made damn sure that I wouldn't miss out a third time. In unlikely support at Hamilton's Founders Theatre was the wonderful Lea Maalfrid, ex Ragnarok. She was a revelation. The power of one woman sitting alone at a grand piano singing a bunch of great original songs (such as 'Lavender Mountain', for which she won the 1977 APRA Silver Scroll award) was a huge eye-opener for me and I loved her set. Regrettably, many, even most, of the audience took a very different view and treated her badly, baying loud and long for the arrival onstage of the rock'n'roll animal. I suspect many of the assembled throng were experiencing altered states of consciousness – part of Lou's attraction, right? Nevertheless, it was pretty disgraceful; considerable applause ensued when Lea finished her set but mostly for the wrong reasons. Reed was everything we'd hoped for: all of the classics, all of the attitude, and the absolute epitome of effortless cool. We got treated to his famous grumpiness when the theatre management stupidly intervened and insisted that the dancing stop and we all resumed our seats. Reed got spitting mad about it and it even seemed that he might not continue. Finally, though, he got it together and acerbically offered to play a ballad so we could all jerk off in our seats instead of dancing. He then spent the rest of the gig moody and dark. Which was fine. What a legend. Stupid management. Did they really think we'd be able to stay sitting down during the likes of 'Sweet Jane'?
Mark Williams, circa mid-late 1970s
No one could ever eclipse Mark Williams in terms of his glam image. It was magnificent and it was superb. Ground-breaking fashion, actually – quite apart from the music. No one threatened the Kiwi male stereotype more than he did: I recall only too well the homophobic vitriol directed his way within the grounds of Hamilton Boy's High School during his wonder years of sold-out tours, an almost constant presence on TV, and a succession of chart-topping hits. Always far more soul/pop/disco than outright glam in terms of musical style, Mark nevertheless epitomised how glam in New Zealand often crossed over into other stylistic areas. With our charts influenced in approximately equal measure by the UK and the US, Mark Williams appeared out of nowhere like the love child of Soul Train and Top Of The Pops, unexpectedly born in a remote outpost far from either shore. Had Mark not been a part of our Kiwi music scene, our mid-late 70s would have been far less sparkly and interesting. Thanks, Mark. And, might I just add, you took such stick back in the day, no one can blame you for jumping the ditch, mate.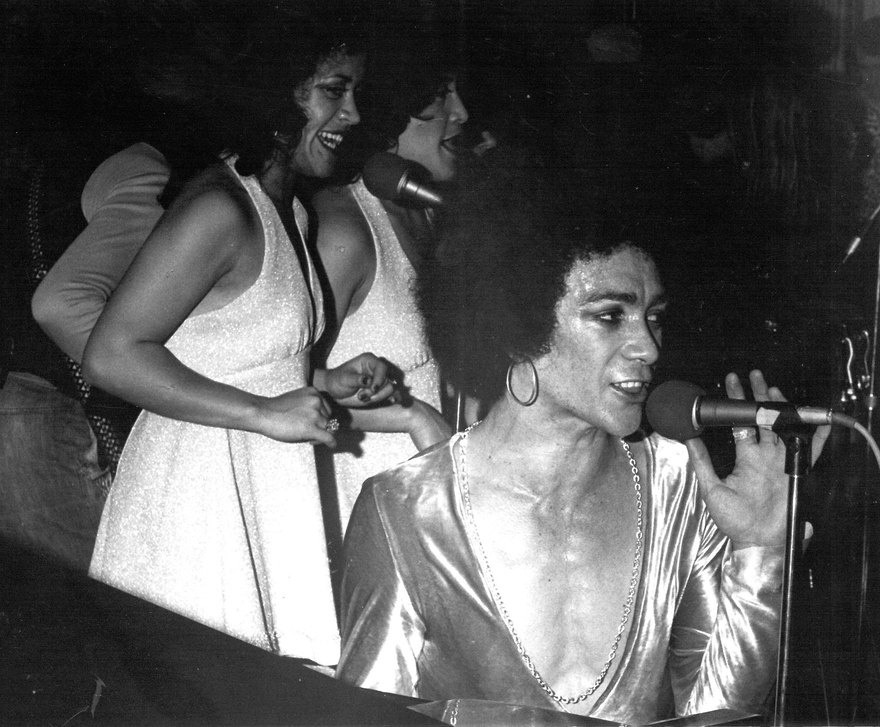 And that's an apt final point. Being glam in New Zealand in the 1970s took gonads the size of watermelons. In those polarising days – when one's style allegiance was all-important in the trenches of the socio-cultural youth milieu – brickbats came from all angles, and not just the punters. In the words of Odyssey drummer Jeff Stribling, "The trouble with being a glam band … you just got written off as being no good as a band. That was a lot of the problem. You still had the overhang from the early-mid 70s where there were these muso bands, you know, your Yeses. All those bands that were considered to be the muso bands … I mean, glam came out and all those guys just attacked you and said, 'You're not musicians, you're just dressing up.' It was all really exciting, but yeah the worst part of it all was the shit we took from the other bands."
So all power to those whom I've named here in this article, and to those that I haven't but who also served. I take my hat off in your direction and sit in wonderment and gratitude that you gave us a local glam history at all. Thanks.
Honorable Mention Department
Note: We couldn't close this discussion without sharing this image of Christchurch band Link who decided a bit of face-painting was in order for their only single, which appeared on EMI in 1973.