New Plymouth and Taranaki have a long musical history that goes back well before the Bell Block, the White Hart, the Magogs' clubhouse, and the Ima Hitt label; before Bari and Midge broke away to Wellington, or Colin King and his Harmonisers held court across the province in the 1950s (briefly recruiting Hawera novelist Ronald Hugh Morrieson as a double bass player). In the 1930s Bert Vinsen's Ambassadors played dances all over the North Island in the 1930s, including 300 gigs in one year.
Allan Thomas's fascinating 2004 micro-history Music is Where You Find It concentrated on the music of Hawera in 1946, but showed how there was music all over the province, hundreds of dance halls, plus dance, brass and bagpipe bands, choirs and solo singers. In Hawera before World War I, there were two competing opera companies. And Morrieson's novels have music running through them like a hepcat's soundtrack.
New Plymouth's museum Puke Ariki has an eclectic collection of photographs of Taranaki musicians, of which this is just a sample. Thanks to Puke Ariki for permission to publish them here; the links go to the original pages.
"If you knew musicians like I know 'em," says a character in Morrieson's Came a Hot Friday – surely a surrogate for the reprobate novelist himself – "you'd know only no good bums ever play any good." This page suggests otherwise.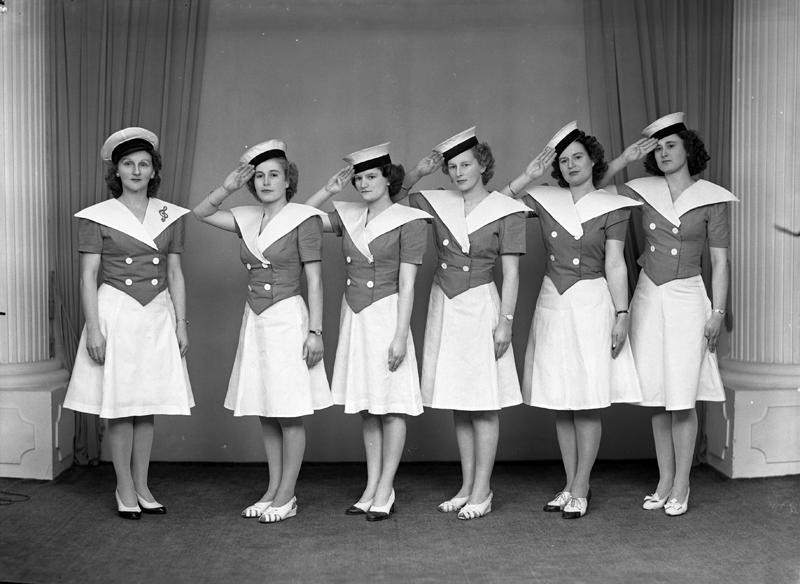 Hello, sailor: it was all hands on deck during World War II. The Melody Maids of Okato, a small town about 30km south of New Plymouth, created several sets of elaborate costumes for their wartime performances. Troop leader Vi Scott stands with, left to right, Rona Lynch, June Beckworth (née Quinlan), Myrna Moverley, Gwenda Kibby and Myra Hardgrave. The photograph was taken in a series of promo shots for billboards before a tour in November 1945.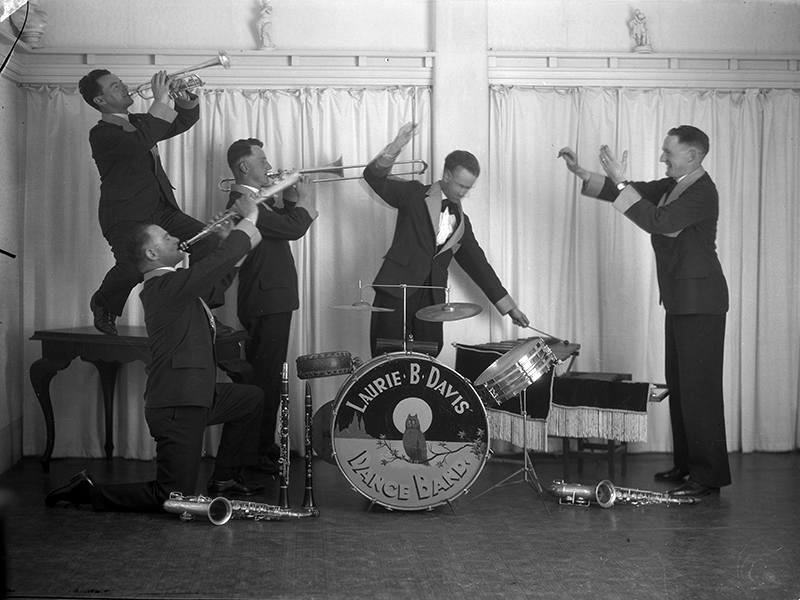 The Laurie B Davis dance band knew how to make a party jump in the 1920s, tossing down their saxophones for a quick burst from the brass. The drummer was a wise owl with a magnificent bass drumhead: he played standing up, like Maurice Greer of The Human Instinct. The trombonist has been identified as Ted Feek.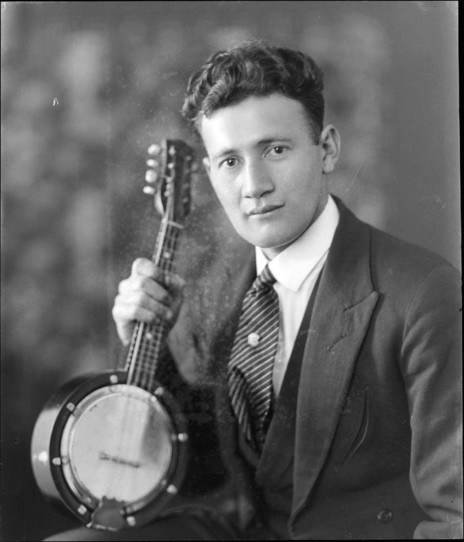 Waka Leatherby's mandolin-banjo is as elegant as his necktie. Also known as Walker Leatherby, he was performing in Taranaki concerts just after World War I – there is an account of him singing at a Rahotu school concert in 1919 – and died in 1980.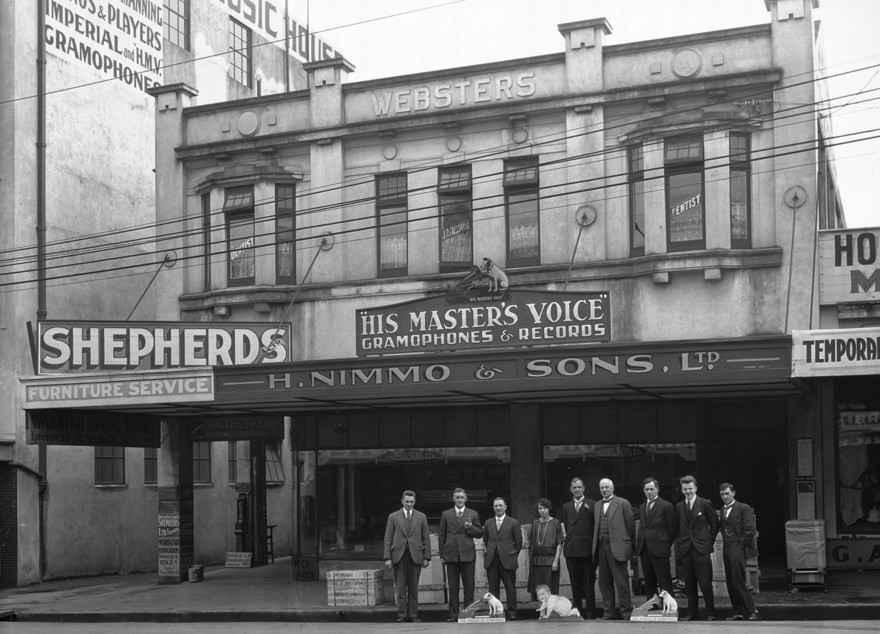 Happy days are here again? Not quite yet. As the Depression began, selling music in New Plymouth was a serious business. The local branch of H. Nimmo and Sons's music stores, on the northeast corner of James Lane and Devon Street, opened in 1927. In this photo, about three years later, its employees stand with banners of two of the most popular products: Nipper the dog, for His Master's Voice discs and gramophones, and a chubby baby, for Gulbransen pianos. Beside Nimmo's is the imposing building of a major competitor, Collier's Music House, established in the 1880s. Perhaps the rivals met for high tea at Waratah's Dining Room, upstairs from the lane which separated their businesses. Websters Building, which housed Nimmo's, still stands, and its tenants specialise in a more tactile form of wellness: a massage parlour and two hairdressers.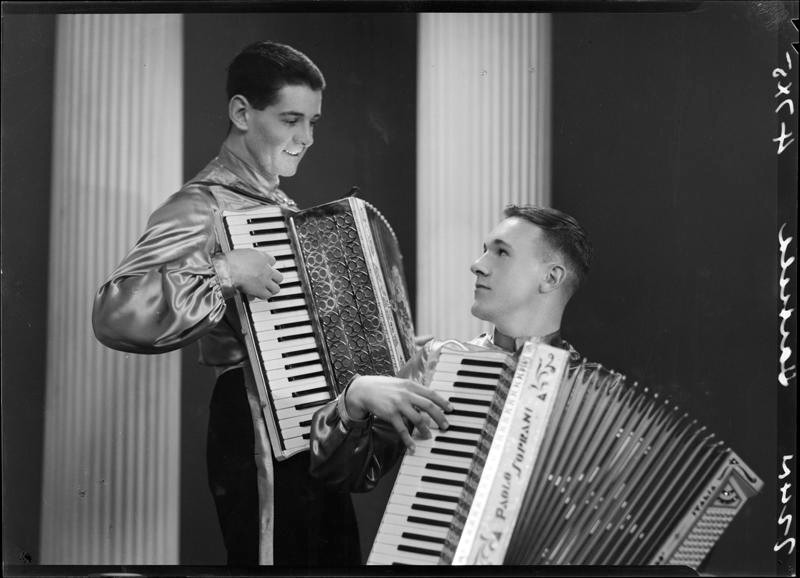 This classical pose from piano-accordion duo Hatfield and Hawkins is a long way from the beginnings of the instrument on the right, a Paola Soprani accordion from Italy. Soprani was a farmhand from Castelfidardo who made his first accordion in 1863, after seeing one played by a transient Austrian who stayed overnight with his parents. Soprani became one of the first industrial manufacturers of the piano-accordion in the 1870s. When this photo was taken in 1938, Hatfield and Hawkins were likely oblivious to the crash in accordion manufacturing that had just taken place in Italy, due to the Depression. The Soprani firm survived when many others failed or merged, and they still manufacture accordions today. Who the stylish Hatfield and Hawkins were, though, is lost to time. Despite such a professional portrait, they have left no trace in New Zealand's newspapers of the 1930s.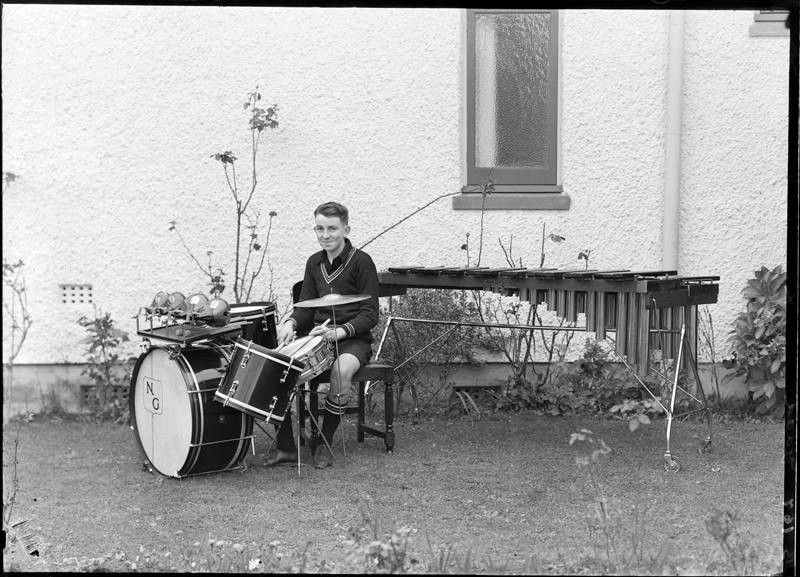 Norman Gadd put in the practice. Aged 14 in this photo, he would become the principal percussionist for the New Zealand Symphony Orchestra, of which he was a member for 33 years. His drum kit is already that of a professional: note the line of Chinese temple blocks and traps shelf above the monogrammed bass drum, and his military grip. The xylophone is equally impressive. Gadd, who also ran his own percussion studio, died in 2012 aged 80. It is unlikely that he was related to Steve Gadd.
A couple of years after this photograph, Piko Rangitaawa would be a professional guitarist, playing in the Harmonisers, the band led by Colin King "the dance band king" of Taranaki. King was just 16 years old when he was leading a trio at the New Plymouth Town Hall. Rangitaawa lived nearby, liked what he heard and said, "Mind if I come and join you?" He would bring his guitar and amplifier along to the hall and sit in. "We became bosom pals," recalled King; Rangitaawa was in his band for many years, with 'Guitar Boogie' his specialty. (Another member, though only briefly, was Ronald Hugh Morrieson, author of Came a Hot Friday. "He was a good bass player," said King, "if you could keep him off the grog.") In 1963 when Louis Armstrong toured New Zealand, King hired a DC3 to fly his musician friends to attend the Auckland concert. Backstage afterwards, Rangitaawa gave Armstrong a family heirloom, a carved box for holding feathers. A photograph of the New Plymouth musicians – and promoter Harry M Miller – presenting Armstrong with the box appeared on the cover of the Auckland Star.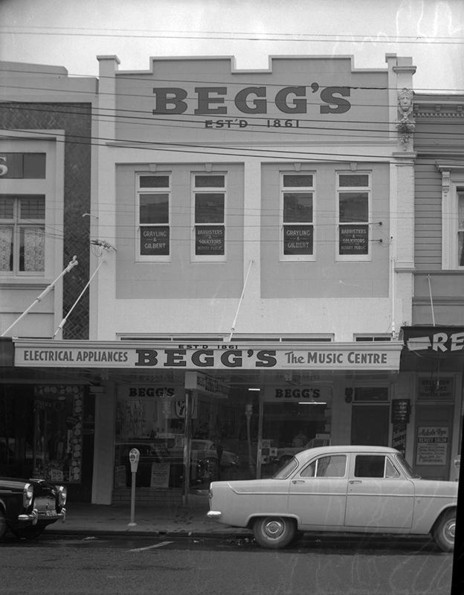 Picture Midge Marsden looking through the window, eyeing up the latest Hohner harmonicas. Begg's New Plymouth branch had just come out of its wrapping when this photo was taken in 1960. It opened in 1959 – the same year as branches on Auckland's K Road, Takapuna, Riccarton and Waimate. It was the beginning of a period of expansion for the company, when the sales of television sets boomed. Begg's was about to celebrate its centenary, however the family atmosphere of the company was on the wane. Television made a lot of money for the company but, according to Clare Gleeson's history of the firm, "became a fundamental factor in its demise".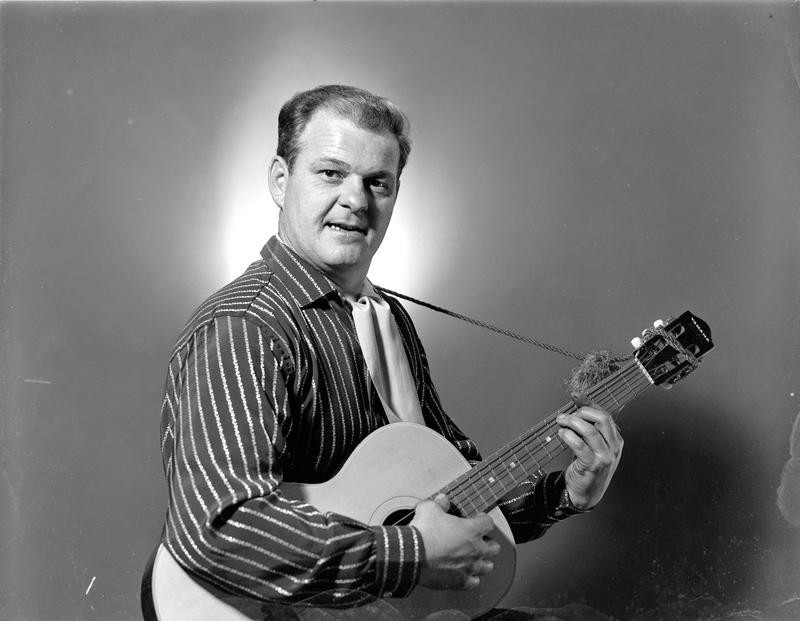 Born in 1928, Bernie Brown grew in Whanganui and settled in New Plymouth after leaving school. Inspired by the American folk revival of the late 1950s, he and his wife Denise would host musical get-togethers once their five children were in bed. Their son Stefan recalled, ""Often these would go on all night with various relatives, friends and neighbours, playing fiddles, guitars and piano accordions." This 1962 photo may have been taken when the Brown family moved to Upper Hutt: Bernie's departure was noted with sadness in the Taranaki Daily News. He began performing at Wellington folk clubs and cafés such as the Monde Marie and Chez Paree. He recorded an album for HMV in 1965, Folk … But Happy! Bernie Brown has a full profile on AudioCulture written by Chris Caddick.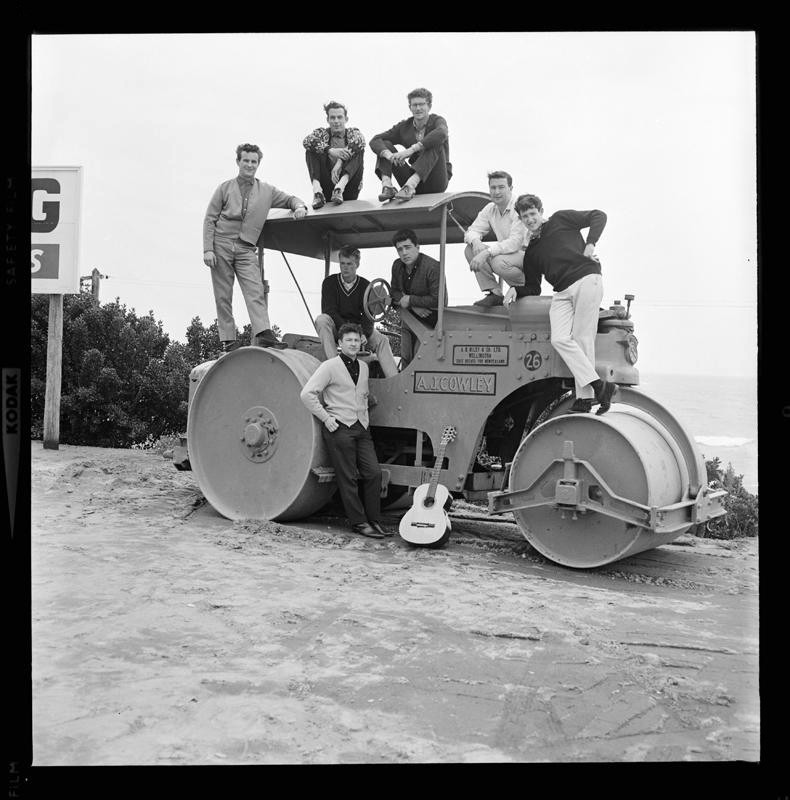 The Nite-Lites were a big attraction in Taranaki in the early 1960s, playing the current hits and old-school dance numbers at the region's leading venues. Among their members were Bari Gordon and Dave Orams, who later formed Bari and the Breakaways after, writes Roger Watkins, "being exposed to the more deadly and insidious influences of rhythm and blues by the band's gopher, one Keith [Midge] Marsden." They continued with the Nite-lites, while forming the Blue Diamonds with Marsden on the side, a group which evolved into the Breakaways. Also in the band was New Plymouth music stalwart Errol Taylor, and Lionel Page. In this photo – taken the week Rubber Soul was to appear in Devon Street record stores – the Nite-Lites kill time on a roller owned by A J Cowley, a New Plymouth landscaping firm that still exists. According to Puke Ariki's caption, they are (L-R) Barry Gerard, Nobby Clarke, Ray Hopkinson, Jim Fitzsimons, Rob Bradshaw, Alan Wadden, Brian Chamberlain and Bruce Lynch (who would later have a prominent career in the UK and Auckland as a bassist, producer, husband of Suzanne Lynch of The Chicks, and father of Zed's Andy).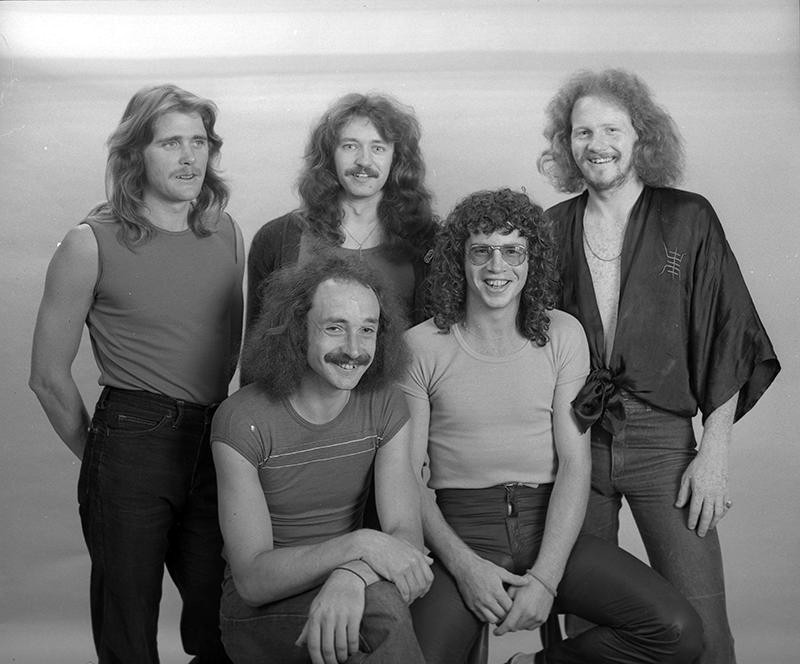 Why Cruze, a touring professional covers band from Dunedin, decided to stop off in New Plymouth and have a portrait taken is a puzzle. But the image does capture a moment in time, a last gasp when pubs were packed with punters dancing to international rock classics, played by locals in long hair, moustaches, tinted specs and sleeveless tees. And at 10pm the sirens would start blaring, forcing everyone out on the street to find out where the parties were. There is a good profile of Cruze on the great Kiwi Circuit Bands website, which tells us that Cruze started touring in 1979, the year of this photo, and continued into the early 80s. "Generally unheralded against the fledgling alternative 'Dunedin sound' of the time, Cruze built a reputation as a top-class rock cover band". The band was formed by guitarists Chris Davies and Barry McConnachie in the mid-70s after serving time in bands that included some future members of Mother Goose. Other early members included bassist Neil Henderson, guitarist Jim Taylor and drummer Graham (Gizmo) Moore. On their home turf, they regularly played the Captain Cook Hotel and the Gardens Tavern. With Robin Murphy taking over on bass and Brian Seque as singer, Cruze hit the highway on the Lion Breweries pub circuit for three years. In 1979 Barry Blacker had a short stint on drums: he would become well known as an Auckland music manager in the 90s.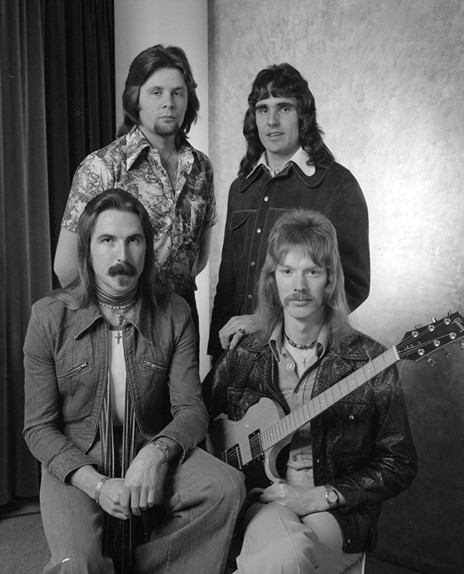 This splendidly coiffed mid-70s band is an enigma. The name may come from Queen's deeply unpleasant 'Flick of the Wrist', released as a double-A side with 'Killer Queen' in 1974. There has been a suggestion that the fellow at the bottom left is a stalwart of the New Plymouth music scene, but the man in question says he has never been in a band or heard of Flick of the Wrist. "That is funny though. I hope we were good and played 20+ minute pieces of psych/glam rock." Update – friends of Brian Wafer have named three of the Wrists as: Kenny Williams front left, Andy Coombe front right; Tom Feilds back right. The man in the patterned shirt, back left, is yet to be identified.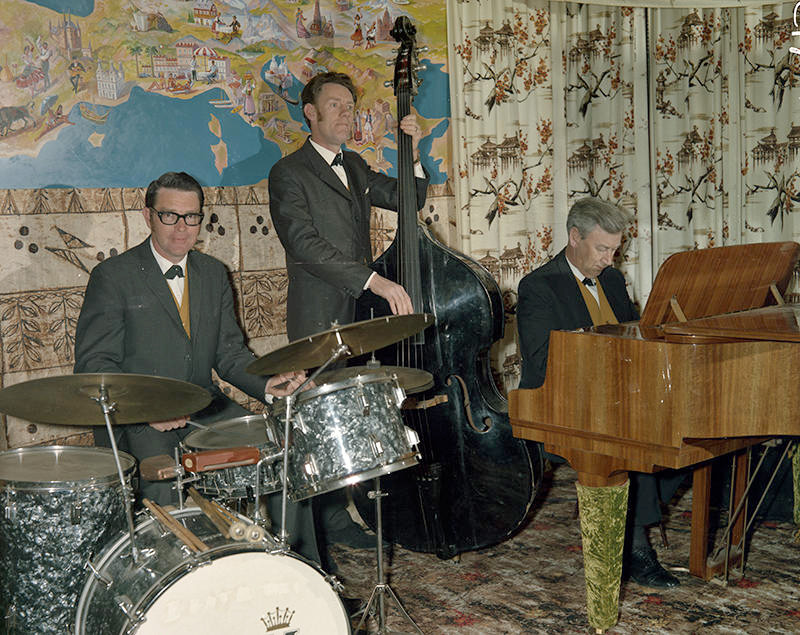 They look like a band for a chicken-in-a-basket bistro, but this trio had some serious chops. Resplendent in bowties, suits and matching waistcoats, so as to not distract from the curtains, carpet or mural at the Bali restaurant in 1970, is the Norm Cumming Trio: Bill Hartigan on drums, Galvin Edser on double bass, and Cumming (playing a piano wearing a curious green velvet leg-warmer). The Trio, which played all over Taranaki in the 1950s and 60s, released two albums of jazzed-up contemporary standards: Yesterday (Thyme, 1970), and Swing Lightly Through Latin and Western (Ode, 1972). During an early – pre-Johnny Devlin – rock'n'roll tour of the South Island in 1957, with Merv Thomas and Bernie Allen in the band, Galvin Edser was acclaimed for throwing himself into the required rock'n'roll antics, learnt from Bill Haley films. Edser would ride his double bass like a cowboy, or play it while on his back. Recalled Allen, "Merv, Galvin and I would always be trying to do some sort of act that was going to be better than the last time, or better the next guy." It was the year of Sputnik, and Edser, a hairdresser by day, notified the Soviet Legation on Wellington by telegram that if Russia wanted to send a manned rocket to the moon or Mars, he was prepared to go. In 1970, the same year as this photo, Edser and Hartigan accompanied Kiri Te Kanawa performing pop standards at the Bowl of Brooklands, and Hartigan drummed with Jass Jazz in New Plymouth in the 1980s.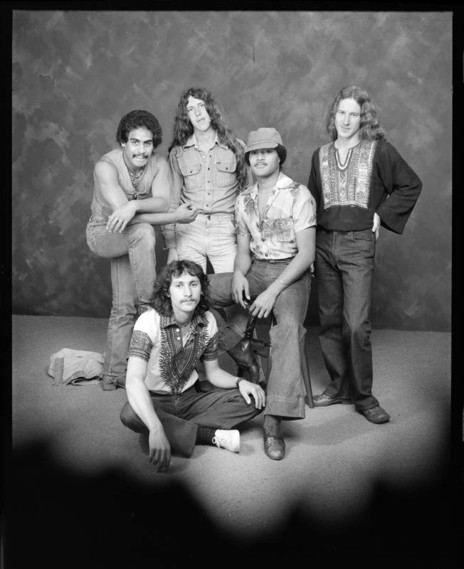 This one is a complete mystery. Is the band called Gelling – the name at the top of the Puke Ariki page featuring this photo – or is it called Mantis, as mentioned on the same page? If the latter, it is doubtful that it is the Fijian funk band who recorded an album at HMV's studios in Wellington in 1973 – as covered in the AudioCulture profile of Mantis. During its six-month stint in New Zealand, Mantis performed at Ali Baba's and Ziggy's, two leading Wellington rock clubs, but Teneti Ririnui's profile suggests they did not venture further north. Answers on a postcard, please, to info@audioculture.co.nz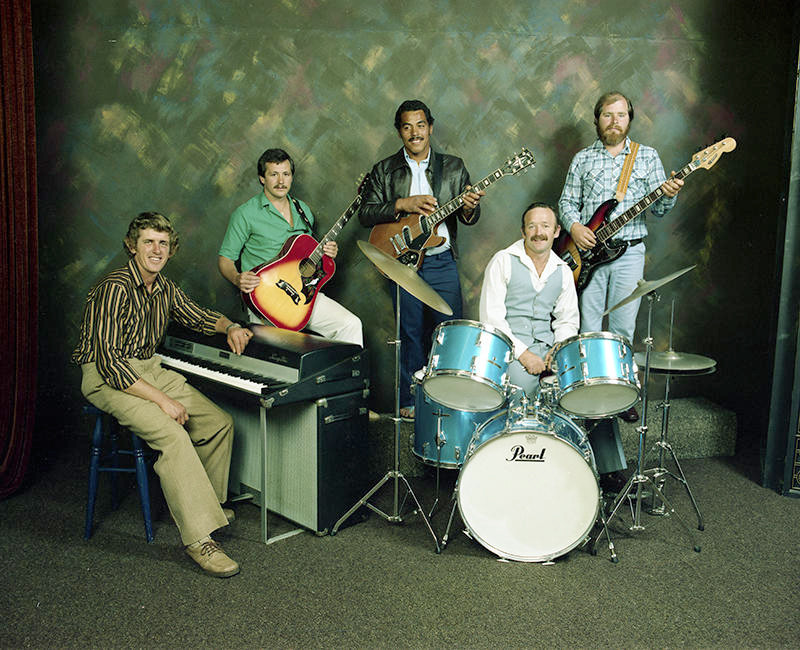 The transition to new wave is underway. Another curiosity, but at least these musicians' names are known – and they deserve inclusion because of their shirts. Alex McQuaig is at the Fender Rhodes piano (he was also the lead vocalist), acoustic guitarist Brian Quin is in the green shirt, the guitarist in the leather jacket is Paul Tito, the drummer in sky-blue waistcoat and flared collar is Paul "Noddy" Curd, and the bassist in plaid is Nick Haakma.