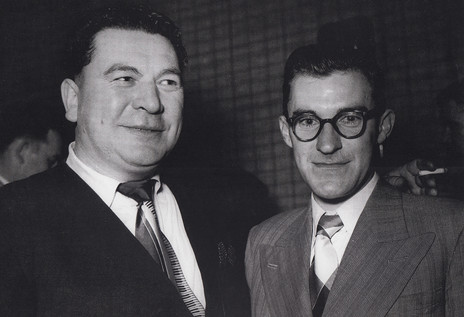 Martin Winiata appeared to me to be "Mr Personality". Auckland had Crombie Murdoch, Wellington had Don Richardson and Dunedin had Julian Lee. Martin was a notable character and could play lots of instruments pretty well and he could write arrangements, because he was naturally talented. … [On Winiata playing two saxophones at once]: It's a party trick. You can't do the Flight of the Bumblebee with two saxophones, but you can do Cockles and Mussels, because a lot of it's in parallel thirds. … you have a limitation of the keys you can play and you get to the bridge and wish you hadn't started. But he was pretty good at it and it was very much a crowd-pleaser.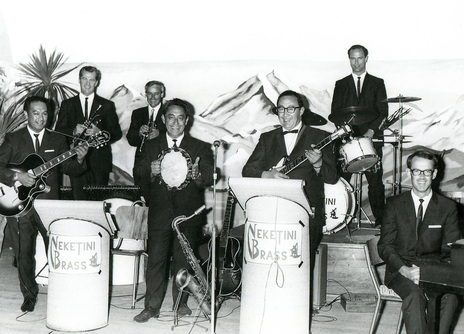 Nick Nicholson was a first cousin of Martin's. There was a whole family … from Levin or Foxton: the Nicholsons, the Tatanas and the Winiatas, all first cousins and all extremely good, natural dance-band players.
Nick Nicholson was very important. When I first heard him he came in and played as guest artist with the Brian Marston Band in 3YA in 1960. He played that tune [sings], '… people will say we're in love'. He played solo guitar, with all the backing chords and the stops – he was a very good rhythmic natural, futuristic jazz guitarist. He associated with a whole lot of American servicemen. I remember going to the Crystal Palace, well previous to 1960, and seeing all the heavies there – Julian Lee and Colin Martin and Frank Gibson, and Nick as a guest guitar soloist. He was a great player, by my standards.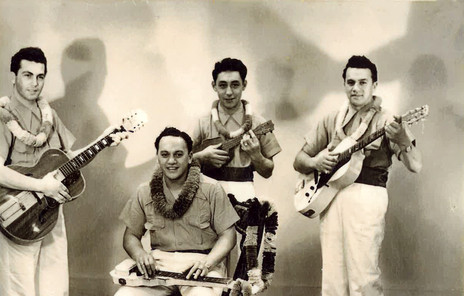 Kahi brothers Tommy, Mark, and Alec Kahi, too – I've got a little 78 of myself with Alex Kahi and Nick Nicholson [playing tin whistle on the Robbins Recordings label]. Tommy, Nick and Alec Kahi, the elder brother of the three Kahi brothers, all of whom came from Rawene. They were naturals also. I think there are groups of families who have a pretty big gene pool. There were the Campbells in Auckland – Lou, George and Phil Campbell – and they were remarkably capable musicians, because some ancestor or other was loaded musically. Tommy was a very good entrepreneur. He could put a band together and take it to Temuka or Stoke or Picton and clean up. He didn't pay very well and there was whole lot of dissent about the amount of money they got, but my response to that is that he's the one who took the risk and did the job and everyone got some employment.
Vocalist Coral Cummins always went down very well. She was a natural, musical singer with a presence, and she was very feminine, very attractive to blokes – everybody's talking point. Esme Stephens was the equivalent in Auckland, with Dale Alderton and probably Pat McMinn, but Coral was the equal of most. … If you had Coral in the band, it was an additive.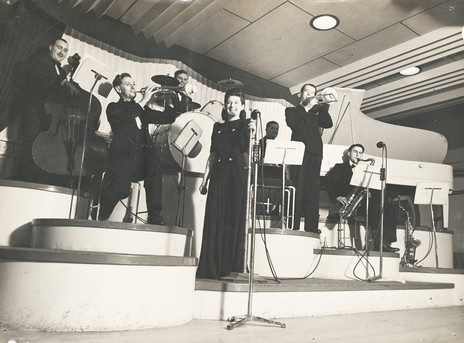 Brian Marston Band Gerald [Marston] was always the first trumpet player – for a quarter of a century, the best lead trumpet player we had. It's no longer that case now, because people have evolved because of the jazz school. … The standard is much higher than we ever achieved in our era. Doug [Kelly] wrote original tunes. I don't know that Brian did. They could both arrange, copy off discs. I think Brian mainly copied off discs, an approximation of Count Basie or Woody Herman or whatever, because you couldn't get charts. Brian did them in pencil, and he had a very flowing hand. It was not done for its beauty, it was done for the money. He was very good at it. Then Doug [Caldwell] came along and got special pens for it, and wrote originals.
Doug Caldwell He's written hundreds, if not thousands, of originals, a lot of which I've played. They look beautiful and, when you play them, you find out they're just about as nice as they look, because he's pretty damn good at it.
There are just so many! Bop City Bounce, The Sphinx – and Spanner Crabs was another one, because he'd just had a holiday in Queensland. There are hundreds of Doug Caldwell originals that I'm hoping someday someone will pause over and have a go at reproducing, because it's excellent music.
Making Tracks, the album (on Jack Urlwin's Peak label) That was Jack's idea. I went to Sydney in the middle of it, so the last couple of tracks are by Barry Markwick … I've always thought that you need to turn the highs down and the lows up in order to get it vaguely resembling a decent recording. But it was done in Jack Urlwin's lounge – close micing. Somebody was over the other side of the bench with a drumkit … As a matter of fact, Jack was very good to me, because at one stage he labelled some of the discs the 'Fowler Buchanan Quintet'. Goodness knows what's happened to them. We played a tune called 'Limbo Rock' ('Desafinado' is on the other side], and we did that quite successfully. On one of Pat Vincent's recordings there's a magnificent 16-bar chunk by Doug Caldwell on a lovely, sparkling piano.
Rongo "Pat" Nihoniho I used to work with him. He was a local and a pretty good guitarist – jazz flavoured, but pop oriented, I think. And just down the road from me is a fellow called Tangi Williams, nearly 80. He's a Rarotongan guitar player of considerable capability … I can remember him telling me various stories about doing tours of the North Island with Mike Nock and a Māori guitar player called Johnny Cooper, and starving to death because nobody ever got paid for it … Nick Nicholson was very good guitar player, but he used Tangi constantly as an accompanying guitarist, and that's one of his wonderful strengths – his ability to accompany very effectively and really understand changes.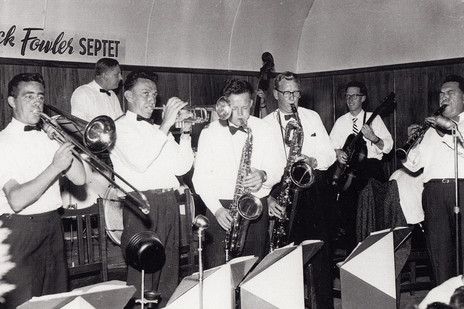 Rod Derrett had his own band, called the 99 Club in the Papanui RSA. Chook Fowler was the piano player. Rod was a very good guitarist and entrepreneur, and understood how to please people. He wasn't just interested in music, like most musicians, but in selling it to people, and consequently he was pretty successful. He became a satirist. He wrote 'Rugby, Racing & Beer', and all sorts of things that satirised the behaviour of the Kiwis and it was pretty well done. He died in NSW not long ago.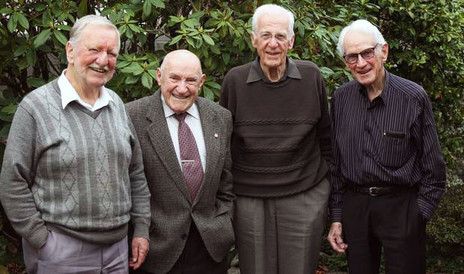 Harry Voice The guy's very nearly 90, and only a couple of weeks ago the local [Christchurch] jazz and blues festival featured what they called the Icons, or something. Doug Caldwell renamed us the Senility Five – five of us on stage at the jazz school and we put Harry on drums. It's 25 years since he played drums. He played drums constantly on the Wellington scene, from round about the time of Don Richardson and those guys, and he did the radio band gigs here for another quarter of a century, apart from the fact that he's a really good piano player. His strength – and probably his obsession in a way – is metronomic timing … fabulously musical as a drummer. If anyone's a microsecond out, timing-wise, that's the one he gets rubbished on, not the fact that he sang out of tune.
Bob Bradford I worked for Bob Bradford for a considerable time in the Carlton Hotel, which is no longer there because the earthquake took care of that. He was quite a commercial success. He used to have a band that worked there every Tuesday night and we used to pack 'em in. And the same derelicts would walk past the band carrying two jugs chockful and never spill a drop. I don't know whether he was a hugely capable pianist, but he was certainly capable of getting employment to a lot of people. I regard him highly.
Pete Davey I recall him telling me, before I ever came here, that he was 20, 30 years in the tenor saxophone chair in whosever [sic] band was on radio. He switched to alto in later life. I don't think he practised for 50 years, but when I first came to Christchurch, I heard him playing at this place called the Jazz Inn – Doug Caldwell, Lester Winfield, Baz Carroll, Pete Davey on alto saxophone. You must take into consideration, when you are young and probably naïve, you were probably overwhelmed by the adequacy, which turns out later to be mediocrity. I'm not sure about that, but Pete really impressed me as a very capable, swinging saxophone player. … He was an inventor, an interesting conversationalist, a raconteur. He had a white Jaguar; he was a motorcar freak. … he was a very important component of my life. He befriended me when I came here and I really admired him as a musician. … He lived to 92.
--
Stu Buchanan's comments are largely excerpted from an interview with Chris Bourke for Radio New Zealand, April 2012