The earlier parts of this series looked at the show's creation, evolution, and role in producing and promoting New Zealand music videos. This part examines Radio With Pictures' relationship with fans and the record companies, especially regarding the promotion of international music, and the arrival of Dick Driver as host.
International videos and interviews
Radio With Pictures was tasked with covering and promoting international rock stars when they toured New Zealand. Usually, this involved an interview and at times some concert footage. On very rare occasions it included shooting a music video, such as Iggy Pop's 'I'm Bored,' which was shot in Wellington in 1979, partly outside the newly-constructed Beehive and partly at a TVNZ cocktail party, where Iggy had a drink tossed in his face.
Peter Blake: International artists' appearances were always organised via their respective record companies. This was normally to get a guest on set for Radio With Pictures or to be interviewed on location somewhere, however we did shoot a video or two. The 'I'm Bored' Iggy Pop video, if I remember rightly, was shot at an industry promotion for his New Zealand record release at the now-General Practitioner restaurant [on Boulcoutt St] in Wellington. What would happen was that international companies would send their artists out on promotional trips when it was time to release a new record or alternatively when the artist was about to tour New Zealand and they would make them available to all media. But in most instances because of that timing – a new record, a new tour – there would be freshly shot new videos available so there was no necessity or desire for the artist to do anything beyond what they already had made overseas.
Brent Hansen: There was John Cale shot here in Christchurch. Did 'Heartbreak Hotel' and a couple of other two camera things. So occasionally it was done, usually if we were doing an interview or if local news were doing an interview, because that was also another way in which source material would come. Not for Radio With Pictures specifically but for exposure on television. Whether or not you call it music videos or whether you just call them … they were pretty basic and usually fairly roughly put together. But if I was doing an interview with Robert Plant and we were at Western Springs, we were probably allowed to shoot maybe one song and we would get some cutaways and knock it together and that would go around. So there would be material but whether or not we would play it as a music video – fairly unlikely. Most of them didn't want to shoot anything here because they were under the video promotion people who they were signed to in whatever country.
Peter Blake: There were a number of live studio performances from international bands however. In the 1970s, the Bay City Rollers, Gary Glitter, and The Byrds appeared on Ready to Roll. In the 1980s, RWP featured Stevie Ray Vaughan and Midnight Oil at Mainstreet. There were endless international interviews including Tom Petty, David Bowie, Lou Reed, David Byrne, Billy Idol, Malcom McLaren, Robert Plant, Mark Knopfler, Siouxsie Sioux and many local artists.
Brent Hansen: Remember this is also the time for international acts when, up until relatively recently, no musician would ever tell you the truth. They never had to do the interview – they could refuse. They could be difficult, and they usually just holed up in their hotel room and they didn't have to deal with you. If you were lucky you might get a five-minute interview. So it wasn't … now people have to be honest and straight forward to keep their audience, and this changed completely – the whole nature of the relationship since the record company structure has fallen apart. But in those days you could sign a three-album deal and I mean you were in limos and five-star hotels. So by the time they got to New Zealand, quite often they just didn't want to leave their room so you didn't get much cooperation. We got plenty of interviews but we didn't shoot many videos or anything like that. So like I said, we were lucky if we got a couple of songs off the sound desk and some cutaways that we could cut in and around to make it work. That was about it.
Karyn Hay: In terms of my own interviewing skills, I wasn't very good at it when I started. It took me a long time to get over the fact that I had so many cameras and so many people watching me and I really wasn't completely focused on the person I was talking to. I think I'm very good at interviewing now because I've had a lot of practice. But when I started I wasn't. With some of the big names in music there would be a lot of lobbying going on. Brent Hansen really wanted to interview David Bowie. He lobbied for that, behind my back I have to say [laughs]. If there was an interview that somebody really wanted to do, they'd probably just lobby Peter.
Brent Hansen: The general rule of thumb was that we got Karyn to do the interviews but sometimes it was easier for me to do them, if I knew more about the band or for whatever reason. So then I also pulled in other people like Keith Tannock and the odd person that would do something. He did the Lou Reed one for me and the Cramps one for me. I was pretty keen, I have to say. I was probably a bit of a handful to deal with. I didn't feel like I should do the interviews over everybody else but I have to say that out of all of the people in the office I was probably the one who was into most of the music and especially the serious international stuff. So where possible we got Karyn to do it but sometimes … she lived in Auckland a lot of the time so sometimes it was a matter of who was available.
Keith Tannock: Brent Hansen was a friend of mine and I knew Karyn Hay as well. They put in a bid to have an interview with Lou Reed and got it, and Karyn graciously gave way, knowing I was a big Lou Reed fan. She thought I might do a better job, I guess. Same with the others – Nico (1986) and John Cale. Nico – what a piece of work she was. There was something quite wonderful about her, but she was so out of it, drunk. And then we couldn't get rid of her! The band basically dumped her on us. James Young wrote a book about his time with her [Nico: Songs They Never Play on Radio, 1992], which I looked through with trepidation; I was pleased and not pleased at the same time. She was drinking and smoking; we did the interview and then she wouldn't let us leave. She kept luring us in with these lurid stories, and then she'd say in a very low voice: "do you know where I can get some heroin?" [Laughs]. We replied: "No." The best quote from that, which didn't get recorded unfortunately, was: "Jim Morrison always said I dropped too many names!"
Tannock's interview with Lou Reed was noteworthy for its relative warmth, given Reed's reputation as a prickly interviewee; as the Listener put it, in a vast understatement, he had "a reputation for being a tad blunt with the press." Going in "a bit tense across the shoulders," Tannock judged the interview a success on the basis that "he didn't put me down at all." Tannock's was the only interview Reed gave while in New Zealand for his 1985 tour. In retrospect, Tannock is pleased with the piece.
Keith Tannock: I got to know Lou Reed's cousin, who saw it, and he said "that's the real Lou Reed; you can tell he's enjoying it." It felt like it was going quite well when I was doing it, but when I saw it later it looked quite tense. I saw it again recently and it didn't look too bad – there are much more tense interviews of Lou Reed out there! Many years later – maybe 1996 – Brent Hansen was at an MTV Europe dinner party and talked to Lou, who said "you're from New Zealand, aren't you? I did an interview out there years ago, but it wasn't you who interviewed me; it was a smaller guy." So I must have made some kind of impression! [laughs.]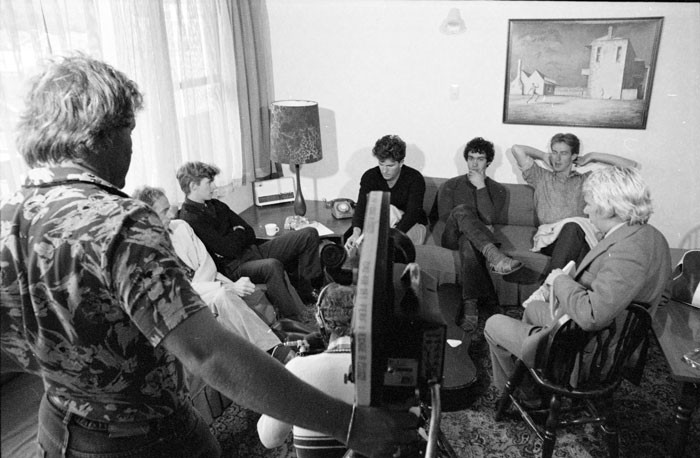 Karyn Hay: I do remember one which was quite a shock to me and that was Neil Young. Harvest was the first album I'd ever bought … it was such a surprise to me that the art could be so different than the artist who was making it. That was a real lesson because at that time he was a real Ronald Reagan supporter and he was talking about being a huge fan of Star Wars [a missile defence system, not the movie], which he subsequently denied, but he was in tinpot New Zealand where nobody was ever going to hear what he said. A lot of artists thought like that when they came to New Zealand. They couldn't get away with it now because of the world is so connected, so global. And also he had an entourage who were sort of really sycophantic and laughing at everything he said, and it really shocked me because I thought he was this … I thought that, because of his music and lyrics, that he was going to be a really sensitive deep person, and he possibly is but he wasn't in that interview. And David Bowie was the same; his behaviour in New Zealand, and a lot of those artists' behaviour in New Zealand, was so outlandish, the way that they treated people when they were down here.
Record company lobbying
Although there were many music shows on TVNZ in the mid-1980s, there were always more video clips than available slots in the shows, and the stream of international videos intensified as the 1980s advanced. This led to a lot of jockeying among record company representatives to ensure their label's releases reached the airwaves.
Peter Blake: Nearly all videos were despatched to us on arrival at the New Zealand record companies. We would assess and hold until release dates of records and we did not pay for them. They were regarded as promotional material thus there was intense lobbying to me and later Brent Hansen, director Simon Morris and presenter Karyn Hay about screenings. It was common to arrive at work to a backlog of phone calls on hold from company executives with their priority playlists and hype strategies. As volume of clips picked up, we couldn't screen all, especially in the pop genre. Hence I started new series RTR Video Releases, which covered the overflow from RTR, Heartbeat City covered the area between RTR and RWP and 12 O'Clock Rock covered international concerts. This was introduced by Gary McCormick and simulcast in stereo.
Liam Ryan (keyboardist, The Narcs): The five major record companies used to pitch really hard to TVNZ about who was going to be on those shows, so because we were assigned to a major [CBS New Zealand] we were pretty sure that if we recorded a video it would be on Ready to Roll which was the one you really wanted to get on. Not everybody did, I mean the indies wouldn't want to be seen dead there for a while.
Karyn Hay: Coming in to the office, trying to bribe you with trips overseas, sending a gram, no [laughs]. Yeah anything they can think of, champagne to cocaine. They wined and dined, they did everything they could and they had a big budget. They wanted you to champion their stuff, and I mean it was just more general as opposed to a specific "I have this particular video that I want you to play." It was just an endless, all year round, 1980s excess. You know, "We'll send you over to see Bruce Springsteen," thinking that later in the year you might repay the favour with something else. That was not a mindset that I bought into, though, and that's probably another reason why the show worked so well because we never really bought into it.
Relationship with fans
Radio with Pictures' remit was to reflect as broad a palette of "edgy" music as it possibly could. Its playlist policy – described by Simon Morris as "if you like this one, you'll hate the next" – was unlikely to find universal favour amongst audiences, and many fans seemed masochistically drawn to the show's ability to stoke their ire. The show's hosts were often the target of this dissatisfaction.
Barry Jenkin: Nine-foot-tall people would come up to me in the street and say "I hate you! What happened to Led Zeppelin, man?" It could be difficult. And I got rich, I mean it was $65 a week, for God's sake. Anyway, I did complain about the money and they said "well, look at the exposure!" And I said, "you can't eat exposure." But you got notorious, which, I suppose, there's a positive as well, and there were people who loved me rather than hated me. A bit polarising, though.
Simon Morris: Karyn would say "Here's so-and-so playing such-and-such." Five weeks later, she'd get total strangers coming up to her and saying either, "You rubbished my favourite band whose name I can't remember right now. I hate you" or "You raved about that lousy rip-off band, what's-their-name. I hate you."
Karyn Hay: I had so much mail it would come in by the bag-full, absolutely literally bags of it, those big bags of it. I do remember I'd get a lot of mail from guys in prison! But I had so much mail and I tried to reply to a lot of it, one day a week or one afternoon a week I would spend on correspondence. Of course, in those days it was not an email, someone had to type it up, so I'd hand write it, they'd have to type it up and post it. So that was a big job that I had and I just couldn't keep up with all of it. And the most mail we ever got was after the infamous New Year's Eve in 1984; it was broadcast live-to-air while a lot of drinking was going on. The complaint mail was quite something! The mail bags were coming in for weeks, because we were so out of it. I used to get a lot of complaints actually about my accent, about the fact that I was a female, you know that it was too rock and roll. There were a lot of complaints from middle-class New Zealand, who were still watching anyway.
Simon Morris: People would kind of complain a bit but mostly I think we were the only game in town largely and so I think probably, even if you didn't like the show, you probably wouldn't be nasty about it because you wanted to get your clip on. So you know "you guys are so awesome", or in our case they just didn't say anything.
Stuart Page: Everyone watched Radio with Pictures because it was such a cool thing to watch but I remember thinking how it was really mainstream mostly. In 1986 I met a guy called Thomas Hartlage from Hamburg and he actually wanted to come out and make a film about Flying Nun bands, so I ended up helping him do all the pre-production. It was all set up, we had camera crews and everything all ready and art directors and then in 1987 the stock-market crash happened and the guy that was going to front it all was some German from Munich and sort of a finance guy. He just lost a lot of money but pulled the plug and that was that. I mention him because he was bringing over tapes of what they were seeing in Europe on TV, like crazy music stuff – like Einstürzende Neubauten, Lydia Lunch and all that kind of stuff and they were seeing it on TV in Europe. Over here – forget it. The wackiest stuff you might see in New Zealand would be The Pixies or something.
Dick Driver hosting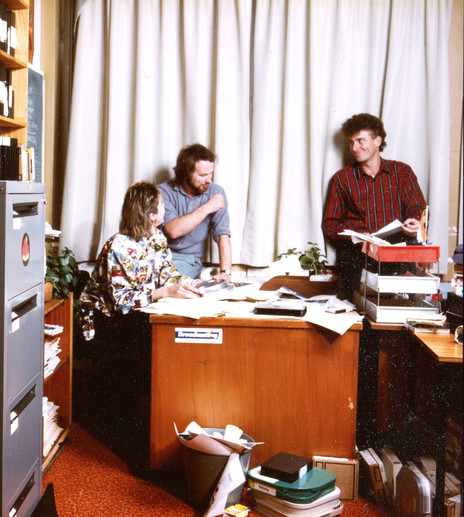 At the end of 1985, the longest-serving host of Radio With Pictures, Karyn Hay, stepped away from the show.
Karyn Hay: I just felt that I'd learnt it, I knew how to do it, it had been such a huge thing, it had such a massive impact on my life from being pretty anonymous to being catapulted into the public in New Zealand at that time. Because it was a different landscape, into the sort of major celebrity mode which I really wasn't prepared for. I handled it but I didn't really find it that appealing. And job-wise I felt that I knew it; you know, "I can read the autocue, I can write these scripts, I can introduce this video and that video."
Hay's last time hosting the show was December 15, 1985, and she waved goodbye to TVNZ on the 1985 New Year's Eve special (though not hosting this time), before moving to London with her partner, Andrew Fagan from The Mockers. The new host for the 1986 season was Dick Driver, formerly known as Johnny Abort of Christchurch punk band The Doomed; by the early 1980s, he'd been lead singer of the more mainstream pop groups Pop Mechanix and Hip Singles. Driver wasn't a stranger to Radio With Pictures, having filed occasional reports from Christchurch, but his hiring was more down to good fortune than prudent career planning. While working for his uncle's trucking business in Africa, Driver sent a "Hi, how are you?" postcard to RWP producer Brent Hansen, who replied, "Thank you for your application for the job." He was introduced to the audience as the new host during Hay's last show, where he "felt like a bit of an intruder."
Dick Driver: It was really difficult following in Karyn Hay's footsteps. She had five years where she established herself, she established the idea of having a New Zealand accent as opposed to a BBC Voice Performance Course 101. And she was a big music fan, quite knowledgeable. It was difficult to step into that role, particularly when there were a lot of people who wanted the job. And I didn't particularly look like a good candidate on paper. After playing in live rooms and getting up in front of live audiences, there was a real energy there, and it was really difficult to sit back in this really lazy couch and read an autocue. My energy levels just dropped, and it was really hard. I suddenly had a huge appreciation for the craft, that is being a television presenter. I'm not a natural born broadcaster; ie, I hadn't been yearning for the job, I hadn't been auditioning for years to get a television gig.
Driver's first solo hosting appearance was on February 9, 1986. He was in the job only a few weeks when, in April, the show was severely disrupted by a battle between TVNZ and the recording industry over payment for music video clips.
--