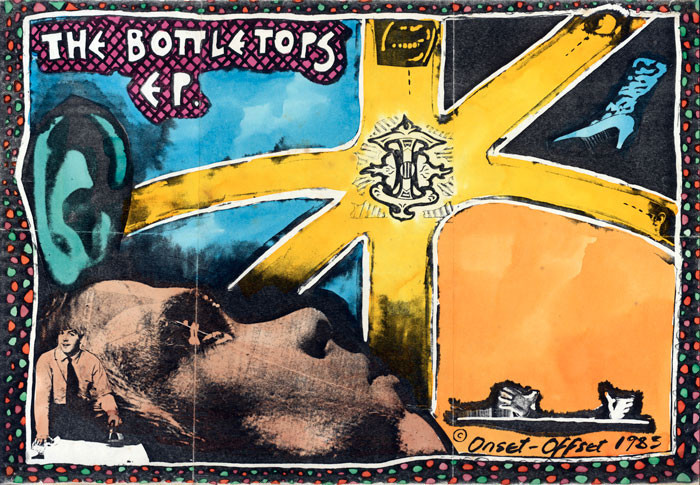 Christchurch indie label Onset/ Offset Records always undersold itself. The label's initial release – a cleverly named compilation LP, 20 Solid Krypton Hits, slipped quietly out in May 1982, announced only by a series of small ads and an enthusiastic Chris Knox review in RipItUp.
The album's plain cream sleeve revealed little more than the title in colourful 1970s fonts and the track listing refused further enlightenment by being a collection of instant or little known bands formed, it seemed, solely for the project. With no sleeve notes or song credits to shed extra light on the project, 20 Solid Krypton Hits remained an intriguing anomaly.
It was the distinctive presence of Bill Direen, who chipped in four key songs from his bulging songbook: 'Surprise', 'Red Sky', 'Caligula' and 'All The Rest', credited to Max Quitz, Cherry Smash, Crowd Scenes and Ritual Sex that gave the game away. Quitz was already a known Direen pseudonym.
Onset/ Offset, named for a method of printing, turned out to be the brainchild of Campbell McLay, the bass player in Bill Direen's Urbs. McLay would contribute some fine bass to The Builders' landmark Beatin Hearts album and was now playing in The Bottletops and The Riptoids.
Sometime in late 1983 the small fanzine I edited fired off a list of questions about the new label to Campbell, at his request. "We distribute on the wandering musician principle," McLay replied, referring to the ad hoc method small South Island indie labels were using to get their wares into the nation's more discerning record shops.
"Independent record labels have got a pretty sweet position," he added. "There's a lot of musical potential, a lot of artist involvement. But there are practical problems such as financing and a lack of organisation." The indie label dilemma in a nutshell.
20 Solid Krypton Hits was designed to fit as much music as possible onto a single LP and originally featured 21 songs, although one had to be dropped because of overcrowding. A second Onset/ Offset record followed in August 1983; a shambolic EP single from The Bottletops called The World is Jiving.
Formed at the sessions for 20 Solid Krypton Hits, McLay (bass, guitar, percussion, vocals) had tapped his late 1970s band mate Jim Nicholson (bass, guitar, percussion, vocals) from The Sliders for his new Bottletops project.
Sarah Richards, a writer and poet who performed with Soluble Fish, Court Theatre and Repertory Theatre, and Richard Coburn (guitar, main percussion), an artist who got caught up in punk and later released the Eidetic Image cassette, completed the musically anarchic ensemble.
The next letter from McLay advised the fanzine not to mention the full names of the band members as Department of Social Welfare staff were monitoring the media and cutting the benefits of musicians performing live in Christchurch venues.
The Bottletops went on to release the Spaceship cassette in October 1983, Moan, a 16mm promo film in December 1983, The Bottletop Cassette in February 1984, a split single (The Flipside) with Stephen Tobeck's Toerag (in which McLay also played) followed in June 1985, chased a month later by the Defunct tape.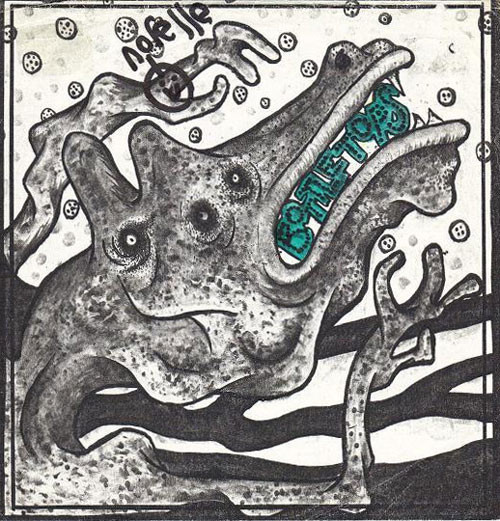 Onset/ Offset's next two records upped the song quality considerably. After a four song EP (recorded in June 1982 at Nightshift studio) was abandoned following mastering, new trio We Too plucked 'Crushed Velvet Morning' from the Nightshift 8-track for release. The November 1983 single of We Too's 'Crushed Velvet Morning' backed with another ex-Slider William Dobinson-Dobbler on 'Lydia' proved a spooked listen.
The We Too core of Rex Visible and Norman Dufty with McLay on bass were part of a vibrant local scene that burst into life in Christchurch in 1983 after an uncertain 1982 that had been marred by the lack of venues, in part due to the stalwart DB Gladstone having had second thoughts about indie music. Key groups including The Newtones and regular Dunedin visitors The Clean broke up that year as well.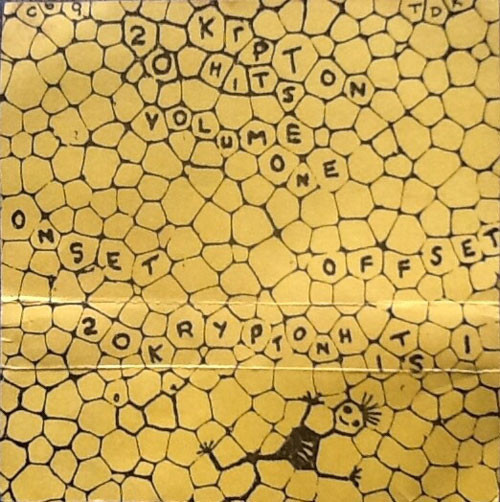 20 Krypton Hits Volume One, a new tape compilation from December 1983, bristled with little indie gems.
20 Krypton Hits Volume One, a new tape compilation from December 1983, bristled with little indie gems. This time, the groups were all real and functioning on the Christchurch scene. Standout songs, included the first airing of The Bats' 'I Go Wild', Rex Visible's next group Not Really Anything's 'Jungle Walk', They Were Expendable's 'Stuck & Starved', Scorched Earth Policy's 'Calcutta Rail', AXEMEN's first song on tape 'Axemen Story', Drowning Is Easy's 'Spoons Fur Christ' and The McGoohans' 'Psychedelic Texas'. Bill Direen, still in disguise, contributed 'Blenheim Song Number 28' as Billy Caxton and the Pamphleteers.
On December 1, 1983, Onset/ Offset headed to the Star & Garter for The Krypton Entertainment Night with Toerag, Jim & Campbell and Scorched Earth Policy providing the music to celebrate a busy year. The same month RipItUp featured Onset/ Offset in a piece on the nation's rising tape based labels.
As The Riptoids, Nicholson, McLay and Coburn gathered up five more songs ('The Beekeeper', 'Devil Paid A Visit', 'Om', 'Ragtail' and 'Helicopters') for the In The Pocket EP in May 1984.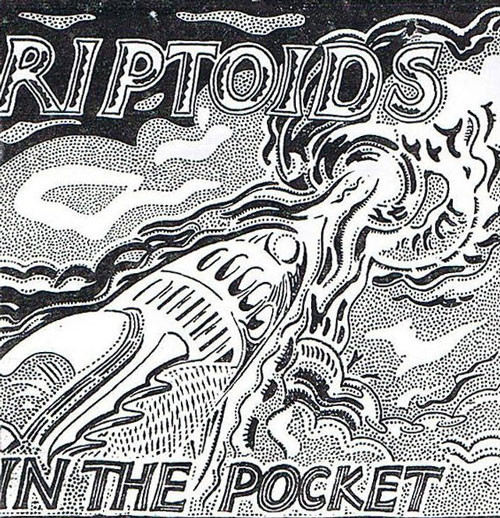 But it was the release of three new mini-compilation cassettes, Krypton Green (September 1984), Krypton Red (October 1984) and Krypton Amber (November 1984) that impressed with strong recordings from The McGoohans ('Arson'), Ritchie Venus & The Blue Beetles ('Forbidden Planet'), Scorched Earth Policy ('Foaming Out') and The Chance ('Love Lies Bleeding'). The last song was plucked from yet another doomed EP that never appeared.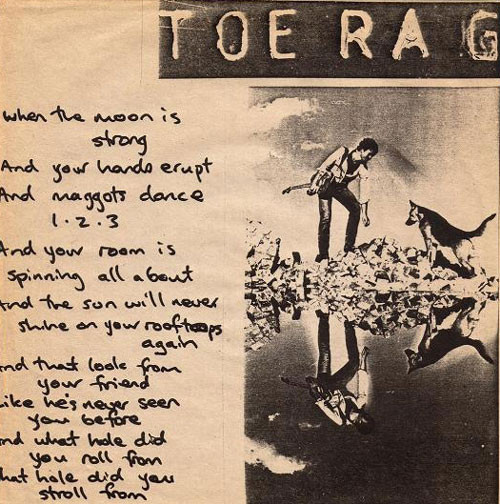 The Chance was a promising new Christchurch trio of John Segovia (John Markie), Desmond Brice (bass) and Jeff Carey (drums). Arriving from Gisborne where he left behind a schoolboy punk group called Leprosy, Markie had moved to the southern city for art school. There he saw the brilliant ensemble, Vacuum, an eerie guitar band that spawned Bill Direen, Allen Meek, and The Terminals' axis of Stephen Cogle and Peter Stapleton and seemed to plug right into that crusty southern city's mystical underbelly.
Markie played bass in Vacuum from 1979 until Direen, organist Alan Meek and drummer Malcolm Grant split to form Kaza Portico. The only recorded evidence of his time in the band turned up on Split Seconds, Bill Direen's 1984 collection that included Vacuum-era recordings. Markie played bass on 'Inside' and 'Remember Breaking Up', captured at the converted garage studio of Robbins Recordings.
Segovia took two of Direen's best compositions, 'Girl At Night' and 'Bedrock Bay' to his next band, The Volkswagens, who'd been running at the same time as the latter-day Vacuum.
Segovia: "We started [The Volkswagens] to back this guy we'd met – John Throufull from Hawke's Bay. He was older, eccentric. I don't think he'd played in bands before. His nickname was Johnny Devo, given to him by Johnny the Slasher, a Christchurch identity who used to slash himself on the dance floor – which I fortunately never saw – he used to pin badges to his chest, a total utter punk.
"We did some of John's originals and a whole bunch of 1960s covers. An Italian guy, Stefano, played bass. I played drums for them originally then we got Norman Dufty on drums. We played the Victorian Coffee Gallery, the only late night joint in Christchurch. Everybody would go there and get really gone. The Volkswagens played there quite regularly.
"When Norman [Dufty] came in on drums, we were going to make it a regular rock band and do pubs. We ended up having this big argument because Johnny Devo wouldn't tell us how many times he did things in a song. He thought we should just be able to peel it. He walked out.
"After Stefano left, Blitz (Martin Ellis) played bass. He was from Gisborne. Never played before. No one took it seriously. I wouldn't do it now, but we'd do things like go tripping all night and stay up all the next day and do a gig."
With the addition of vocalist Liz Wyllie, the V'dubs started to write originals and recorded a song for the ill-fated Gladstone compilation that was intended to highlight the strong Christchurch independent music scene of the early 1980s.
Segovia: "The two women who booked the Gladstone at the time, Rose and Laura, were going to put out a compilation album and got everyone to record. We were one of the first to go into Nightshift studios and start recording a song. The album got canned. Arnold Van Bussel (Nightshift engineer) later erased the master tapes.
By 1983 Segovia was playing out with The Chance, a new outfit powered by the song writing partnership he'd developed in the V'dubs later days with early Pin Group bassist, Exploding Telephone Booth and Hard Sums member Desmond Brice, who as LR Chamberlain had contributed lyrics to songs performed by The McGoohans and Ritchie Venus.
The new trio recorded five Segovia/ Brice compositions, 'Love Lies Bleeding', 'This Evil Dirge', 'The Scream of Engines', 'House Of Secrets' and 'Planes Over Thailand' for a Flying Nun Records EP release that didn't eventuate.
Segovia: "I told them not to release it. The band had split up, but Roger [Shepherd] said he'd have no trouble selling it. In hindsight, I wasn't happy with the songs."
The Chance lasted just over a year and played only in Christchurch. Next up for Segovia was Swamp Beat, a covers band (who did 'Strychnine' by The Sonics) and played a handful of gigs, including a weekend in Dunedin, and would also contribute a song to the Krypton Hits series.
Elsewhere, Segovia's ears and fingers had tuned in to another genre, country music. He'd checked out Merle Haggard when he was in Gisborne and thought it was good, but never really pursued it. The group that resulted from his revived interest was The Connoisseurs, who would contribute songs and film to Onset/ Offset releases.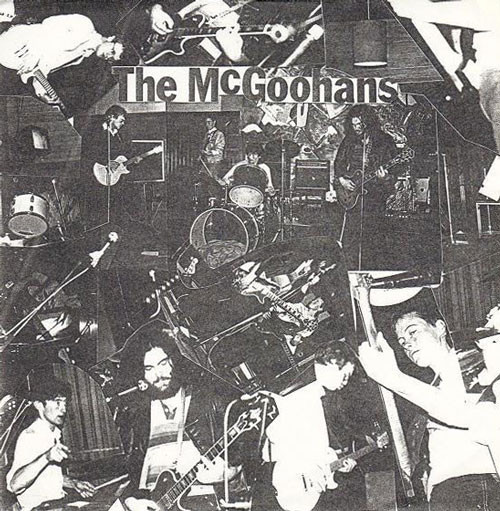 1985 found the Christchurch indie with two Toerag cassettes to flog alongside The McGoohans' impressive LP, The McGoohan Touch (September 1985), that counted a couple of genuine Kiwi garage rock classics in 'Loup Garou' and 'Joe Orton' amongst its track listing. Chasing their 1984 EP single, Ultra Violet, The McGoohans were the Christchurch quartet of George (Wade) Churton, Norman Dufty, Ian Blenkinsop and Susan Heney.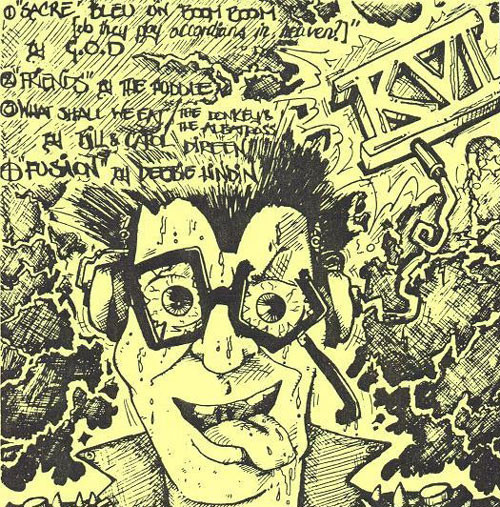 The KV1 7-inch EP arrived the next month and presented Bill & Carol Direen, Debbie Hindin and G.O.D alongside George Henderson's The Puddle, whose first release ('Friends') under that name promised much.
The first compilation of its kind to emerge from New Zealand, Get Up and Go, an Onset/ Offset VHS compilation appeared in November 1985 with film of The Bats, The Connoisseurs, The McGoohans, Nicola Donovan, Scorched Earth Policy and Ritchie Venus & the Blue Beetles.
From there on out, Onset/ Offset Records racked up a surprising number of album releases.
From there on out, Onset/ Offset Records racked up a surprising number of album releases. The Primates from Wellington unleashed Tales Of Mr Conductor in 1986. Ziggy Stardust Band's eponymous Ziggy Stardust Band followed in 1987, as did the split Junkanoo/ Dillinger's Brain LP and Ritchie Venus & The Blue Beetles' Rebel Blood.
The Blue Beetles were Ritchie Venus's able backing group, who had long included John Segovia on guitar.
Segovia: "Roy [Montgomery] told us about [Ritchie]. He said, he's got all the licks down, does all these 1950s songs, but he plays with this really lame backing band. You guys would be good with him."
Cue a marriage of two eras. A retro rocker backed by the offspring of punk. Having a singer up front and singled out in the punk era was rare, let alone a 1950s style rocker like Venus.
Segovia: "The act was based on 1950s and 1960s covers with our own stuff thrown in. We did a couple of really good shows at the DB Gladstone. When Blitz went overseas, we kind of dropped it, but we got offered a Troggs support in the South Island and Mick Elborado (Scorched Earth Policy, The Terminals) joined on bass for the tour. We carried on playing with him over the years."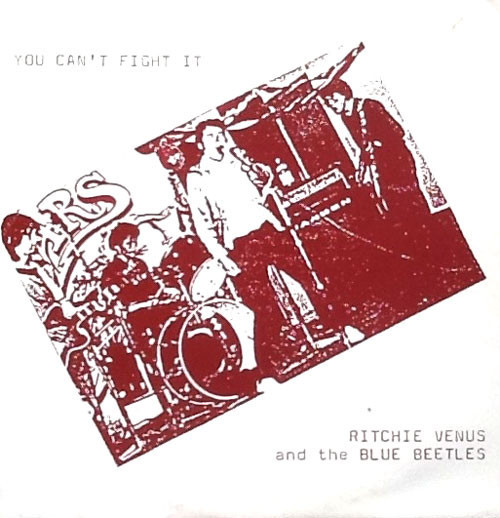 You Can't Fight It, a collection of classic rock and roll covers from Ritchie Venus & The Blue Beetles was released in 1989, chasing the group's 'Candy'/ 'The Lighthouse' single from 1987. Keeping it in the family, Ritchie Venus would eventually assume stewardship of the Onset/ Offset label from Campbell McLay.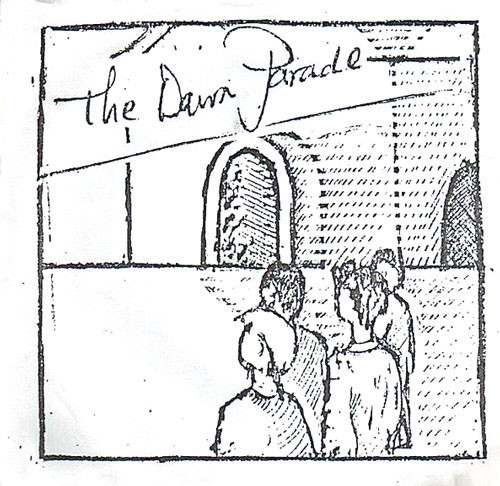 The Christchurch indie hadn't entirely abandoned singles as a medium. The Riptoids' Dawn Parade and Brothers Gorgonzola and Toerag's You Are were released in 1986 and the women's mini-compilation Off Our Shoulders in 1987. But by the end of the 1980s, the label's head of steam had dissipated with few releases thereafter.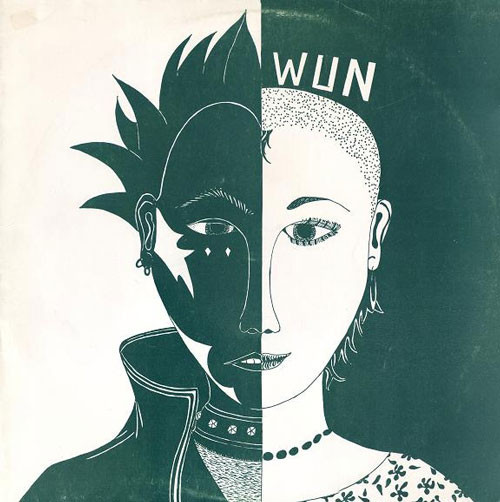 And that's where it rested until southern German reissue label Unwucht Records staged a welcome revisit in the second decade of the new millennium. Drawing on the small Christchurch indie's surprisingly rich back catalogue, Unwucht brought into focus a vital strand of the Garden City's music past on the double retrospective LP Krypton Ten in 2011.
Christchurch had missed out on an early 1980s compilation that showed the complexity of its post-punk community. Auckland had AK79 and Class of '81, Wellington had **** and Wellingtonzone and Dunedin had the Dunedin Double. But an album compiling the strong Christchurch post-punk crop playing the DB Gladstone had foundered, leaving one of the country's most vibrant music scenes without a central document and site of memory.
Collections gathering Christchurch recordings of the time since then have largely been artist based, too broad or just plain poorly put together, making it hard to get any real sense of the wider indie creative milieu or community in the city outside that surrounding Flying Nun Records. Missing were the musicians that you read about in Wade Churton and Dwayne Zarakov's writing in the 1990s and 2000s.
Their words always needed music and it was the large and wildly variable catalogue of Onset/ Offset Records that would provide it. There were many undeniable gems there, and just as many under-realised songs so it would require a sharp ear and a music-first approach to make an Onset/ Offset Records compilation work for the listener. Krypton Ten displays both attributes on a fine showcase for the low-key label.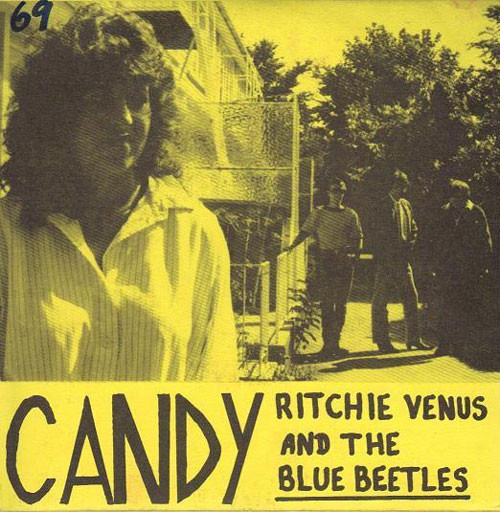 Straf's (Campbell McLay) 'Jamming ZM' is a real find. A challenging opening track, which speaks loudly of Lilburn and the avant-garde and European film soundtracks, it is a precursor of filmic sound-shapers to come. Then it's straight into the dark and upbeat 'Red Sky', Bill Direen's interpretation of The Accent's psych-punk nugget. They Were Expendable's 'Stuck & Starved' is a typically strong and airy piece of angular post-punk. G.O.D shrugs off a reticent vocal with an impressive take on Velvets rock in 'Girl It's You' then it's Bill Direen again as Ritual Sex with an eye-popping 'Caligua'.
Side B of the first disc starts and ends well with We Too's dreamy (if a little overlong) psych ballad 'Crushed Velvet Morning' and some primitive early George Henderson ('Abstinence Kicks' (excerpts)) top and tailing with Slick Nick's sinister 'My Friends (The Flowers)' and The Chance's 'Love Lies Bleeding.'
Alec Bathgate's first solo track, 'B Side', opens the third side leading to The McGoohans' finest in the spooked garage rock of 'Arson: The Flames Of Passion' (1984). Dillinger's Brain kicks shit out of 'The Great Kiwi Clobbering Machine' before giving way to Ritchie Venus and The Blue Beetles' garage rock masterstroke, 'Forbidden Planet' (1983), which would be covered to fine effect by The Renderers. The McGoohans' 'Psychedelic Texas' (1983) is an appropriately crude and successful echo of 1960s garage punk.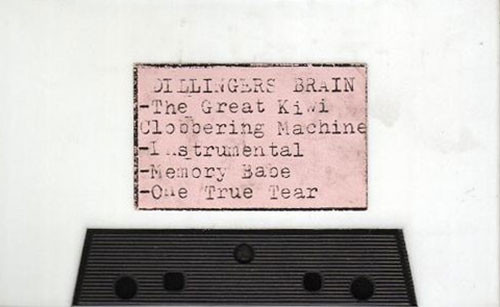 Gordon Bell (also G.O.D) is a little seen name in Christchurch's music history, but on the back of Omar's Price's fine 'Coffee Calling', an eerie viola and spoken word piece with words and viola by former Vacuum member Peter Fryer, more needs to known.
Tucked away on the final side of Krypton Ten are quality unreleased tracks in Drowning Is Easy's bonkers instrumental 'Lost Without A Map' and the full Bilder Bergers' version of 'High Thirties Piano' (both from 1982), featuring spacey jazz piano from Allen Meek and a mesmerising reading in French from Carol Woodward, before Direen asserts himself in the song's final stages.
That leaves three garage stormers: The Puddle's messy and psychedelic 'Friends' (1985), Scorched Earth Policy's EP outtake 'Foaming Out' (1984) and their rattly, clacking 'Calcutta Rail' (which only just stays on the tracks) rounding out what is a fine addition to the select group of great multi-band New Zealand compilations.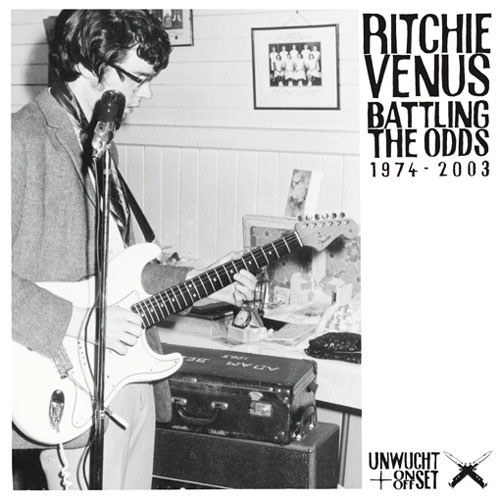 Unwucht Records would go on to curate and make available the previously unreleased EP from The Chance; a new version of Off Our Shoulders; all of Bill Direen's early EPs; a live Builders album and reissue of Direen's The Hat recordings; a Ritchie Venus compilation, Battling The Odds: 1974-2003; Robert Scott's The Creeping Unknown; a Drowning Is Easy EP; and a vinyl reissue of The World's 1983 tape – leaving New Zealand and overseas listeners with easily one of the most impressive reissue efforts of recent times.