First published in Real Groove, June 1994
--
The Warratahs are touring again this month, starting in the deep south and reaching Auckland by July [1994]. They're promoting their just-released album Best of the Warratahs – 20 tracks and a bonus newie – that show why they have become, over seven years, something of a national institution.
But the trouble with national institutions is one tends to take them for granted. Then, just when you expect them to be around forever, they're gone. Well, be warned – this could be the last chance you get to see this particular institution for a long time. After this trip the Warratahs intend to park up for a while, with at least one member quitting the highly successful band.
Keyboard/accordion player Wayne Mason feels it's time for him to strike out and, after the tour, he will begin recording a solo album. Mason feels constrained by the band and looks forward to writing material for himself.
"The Warratahs audience is such that you can't go too wide. A band is only a framework for a certain style and once you go beyond that style I think you're probably pushing it."
Vocalist Barry Saunders says the split is the sort of thing you get when there's two songwriters in the band. "It's just like two people trying to paint on the same canvas, you know, it can be done for a while, not forever."
He adds that their different songwriting approaches were reflected in the last album, Big Sky. "I feel we were just too diverse – we were going from being Cajuns to being balladeers."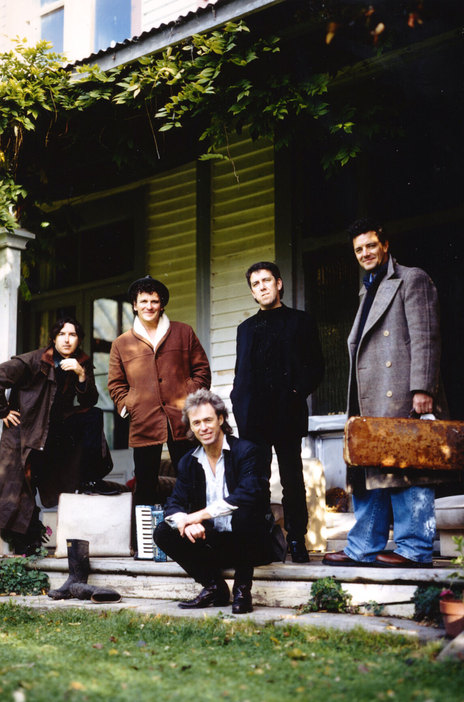 He says that up to the last album he felt comfortable with the music. It had the elements of good country, combined with folk and Irish music. "That's the triangle I like to work in and I guess … we got outside of that and I thought, I'm off my turf here."
Mason has plans to record with Mutton Birds drummer Ross Burge and Warratahs bass player Clint Brown. His album will be a "not quite so angry" continuation of the stuff he was doing about 10 years ago with Burge under the name Two Armed Men. "Pure unadulterated me" is how he describes it.
He adds it will be darker than songs he has written for the Warratahs, the imagery a bit more neurotic: "the emerging dark poet bloody thing, like [Don] McGlashan."
Those who have had a preview of Mason's solo material liken it to John Hiatt. Mason says it has elements of all his work, his 1960s stuff with The Fourmyula, Two Armed Men and the Warratahs. The album will be recorded during July and August and will mark Mason's return to guitar playing.
Although Saunders says the band hasn't broken up, his comments are tempered with uncertainty.
Immediately following the Warratahs tour Saunders will go back on the road for some solo shows with Sam Hunt. He feels no need to rush into the studio, preferring to wait until he has an album's worth of material ready. The songs on Saunders's album will perhaps have a larger element of Warratahs in them than Mason's, but he would like to use an upright bass, a bit of steel guitar and more harmonica.
So what of the Warratahs? Although Saunders says the band hasn't broken up, his comments are tempered with uncertainty. "I certainly like to think that we'd tour every now and again. I don't know if we'll record again. I certainly wouldn't slam the door on anything. I'd prefer to close it gently. I feel I need to do an album of my own.
"People probably think that we're going away forever but it isn't true. It may happen that way but I very much doubt it. The bottom line is you get a certain amount of shit around any family and a band that's been together for eight years is a family, albeit a dysfunctional one.
"I still very much like to go out with the band every year or two. I wouldn't even say I wouldn't record with the band any more. After four albums, like it or not, you're part of the landscape, you can't cut them all up and drop them in Cook Strait. You couldn't walk away from it even if you wanted to, and I certainly don't want to."
Mason has a different view. "My theory is that the band has done its dash. It might get wheeled out again – not immediately, in a year or two."
But he hastens to add that if the band does tour next year and asks him to guest, he'll play.
Through extensive touring they have picked up a fan base not just limited to the country community. They have also avoided the comfortable country trap that has seen others play easy-listening covers to the suit and sequinned set.
"I think," says Saunders, "we've done it through continually writing new stuff and picking what we do. I like to think I've got a feel for these sorts of things. I really think if we ever look like we were regurgitating things, then sure, just say, never again."
Mason and Saunders both agree that the Warratahs haven't lost their spirit and are still a great live band. They have made themselves an institution in this country and – to a lesser degree – in Australia. At the moment it's time for other challenges. As Saunders puts it, "I just want to write songs, make records … hopefully have the space and be happy doing it.
"Happy and unhappy, you can't be happy all the fuckin' time. It's important to go forward and write and record. It doesn't have to be a big deal."
--
Reproduced by permission of the author.