In 1986, with former Radio With Pictures host Karyn Hay, Auckland record company manager Annabel Carr led a campaign to get a quota for New Zealand music to be played on local radio. In the short term, the issue received a lot more airplay than the music it championed, but awareness was raised. Annabel Carr looks back at that time.
--
In 1986 radio was king. Spotify, iTunes and YouTube weren't even a twinkle in a yet-to-be- exec's eye. If you listened to music, a lot of the time you listened to it on the radio.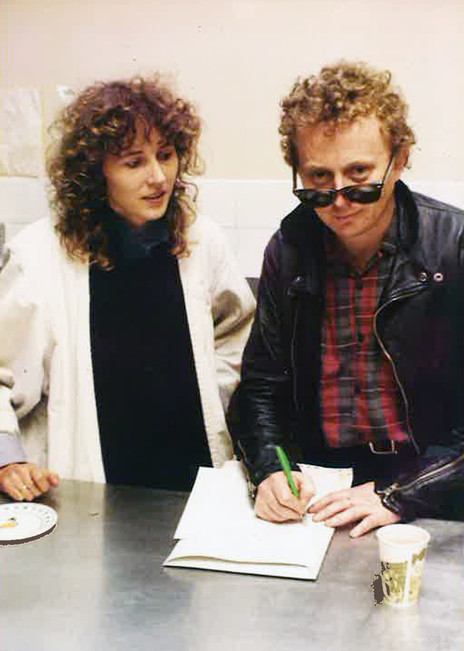 That year, I was living in Parnell with flatmates Karyn Hay and Andrew Fagan and working for Virgin Records as a sales/marketing and promo manager.
Part of my job was to go out to radio stations, meet with the programmers and introduce them to the latest offerings from Virgin, and the associated labels Virgin distributed.
Radio was the major link to sales. Singles went to radio. Radio played the singles. Record retailers sold the singles. The singles went up the charts. TVNZ's weekly chart show, Ready to Roll, played the video. Album was released and sales continued. Everyone happy.
Somewhere along the way radio had aligned itself with US radio stations and unless the offering you were presenting was being played on the station they were aligned to, the chances of getting it played on the local New Zealand station were slim.
Virgin's releases were mainly UK artists and therefore it was difficult to get radio play. I was used to beating my head against the impenetrable wall of a radio programmers' constant rejection. Enlisting the help of sympathetic retailers could help a single up the charts, but unless it fitted the stations' narrow format, airplay was still a battle.
In 1984 Virgin signed Netherworld Dancing Toys. They were a Dunedin band, originally signed to Flying Nun Records but they never really sat well in the Flying Nun catalogue. They were a university/pub band which played university orientations and had a reputation as a fun, raucous band which could pack out a venue. But despite their popularity, they never got any commercial radio play until their now-iconic hit 'For Today' hit No.3 on the Charts.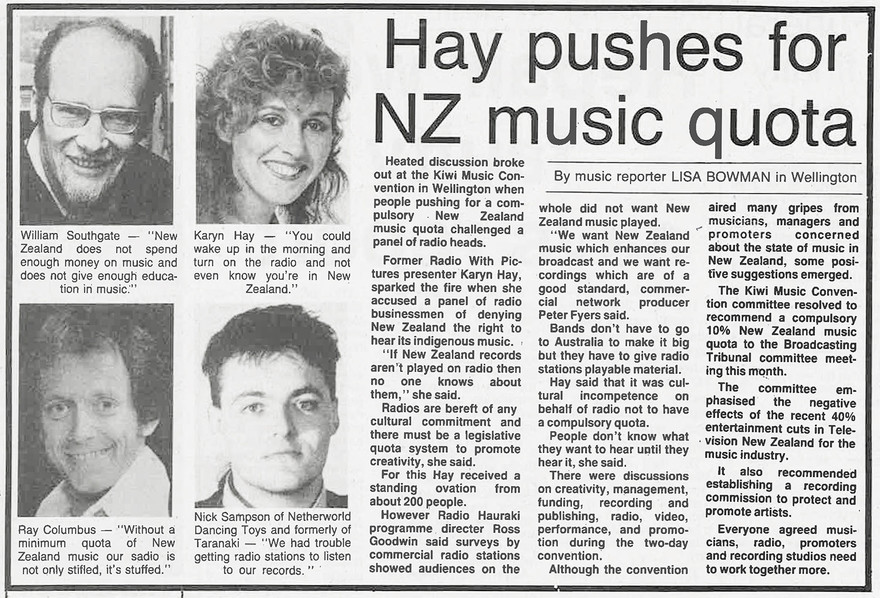 Back at the flat there were increasing conversations about radio's lack of support for local artists. A sense of frustration was fermenting away. Karyn was angry and I was getting concerned that the Netherworlds' album release was going to be less than it should be with little radio support.
When I was a child, our family started a local petition to get the nearby wasteland filled in and a park installed. We took it all around the neighbourhood and talked everyone into signing it, then – with much pomp and ceremony – we presented it to the Wellington Mayor, Sir Francis Kitts, and we got a park. I knew the work of a few could make a difference.
And so, the idea of a petition emerged. Twenty percent local content on all New Zealand radio stations.
Karyn was the driving force, and I added the practical elements. The petition was formatted. Karyn wrote a detailed page on presentation to our demographics and why this initial communication and presentation was so important.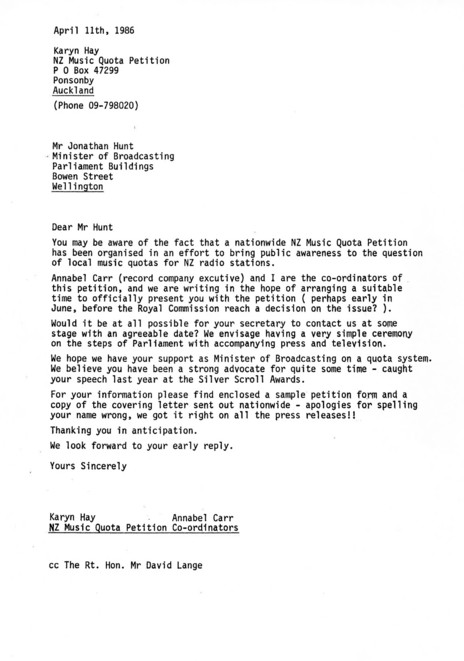 Brian Pitts – MD at Virgin – turned a blind eye to the vast increase in photocopying that was going on after hours and at the weekends. His silence was a useful and appreciated contribution.
At the flat, working parties enveloped and sent copies of the petition to every record retailer, high-school music department, university, country music club, student radio station, recording studio – and anyone else we thought could help. And would care. There was a six-week campaign period. The pack also included a stamped, return envelope so there was no excuse not to mail the petition back.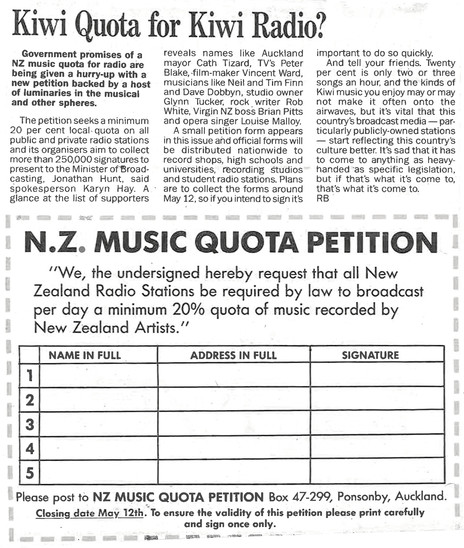 We contacted all our friends in the media. Karyn did interviews with everyone and, literally within a very short period, the Music Quota Petition became a heated national media debate.
On our side: musicians, student radio, music journalists. In the days when newspapers were a daily read in every home, support from Colin Hogg (NZ Herald), Murray Cammick (Rip It Up), and Paul Ellis (Auckland Star) – among others – really pushed hard to get the petition to the front of people's minds. They helped turn it into a national conversation.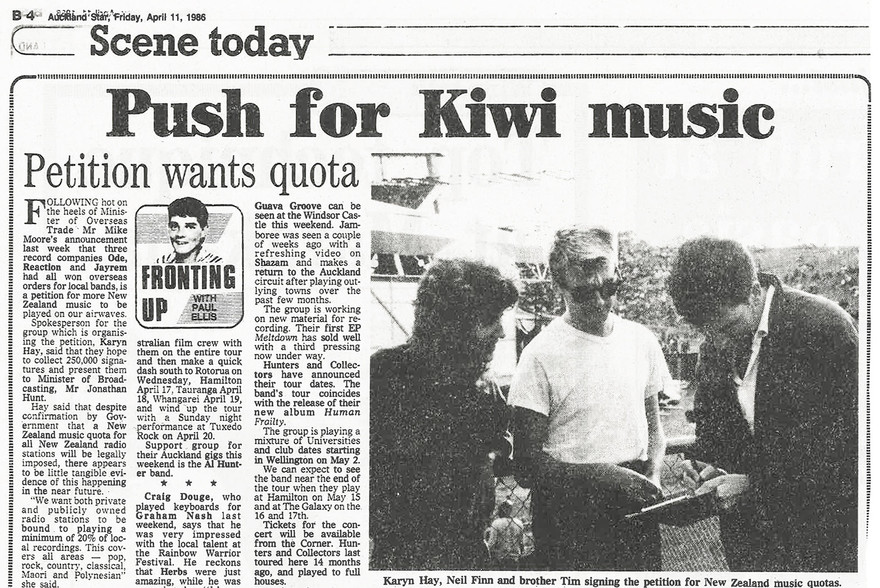 In the other corner: commercial radio
The head of a metropolitan station – and a former colleague of my boss, Brian Pitts – rang Brian and suggested that he fire me. Thankfully Brian simply passed on that the conversation had happened, but it pushed home how much noise we were making.
RIANZ, the Recording Industry Association of New Zealand, did not have a formal position on the quota but they did not come out in support of the petition.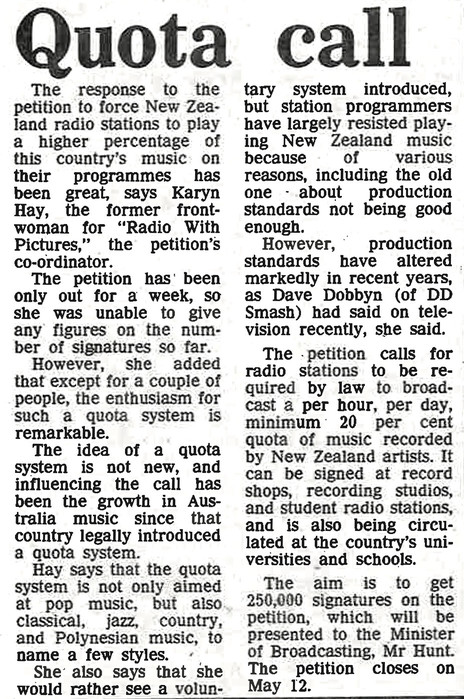 Apart from mailing the petition out to everyone, Karyn and I set up a trestle table at music venues and spent Thursday, Friday and Saturday nights getting signatures. Yes – we were committed.
And it was costly. Paper and postage alone were more than we could afford.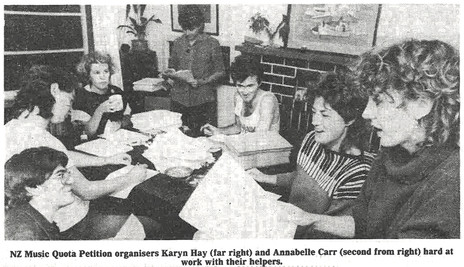 Musicians and promoters kindly came to our aid, giving what they could to help cover our expenses.
Promoted by Paul Walker and hosted by Neville Purvis (Arthur Baysting), a gig at Ponsonby music institution The Gluepot in support of the quota included performances by Marc Hunter (Dragon), Trudi Green (The Neighbours) Mike Caen from Blind Date and Street Talk, Harry Lyon from Hello Sailor, Charlie Tumahai and the rest of Herbs, Ardijah, and Soul On Ice.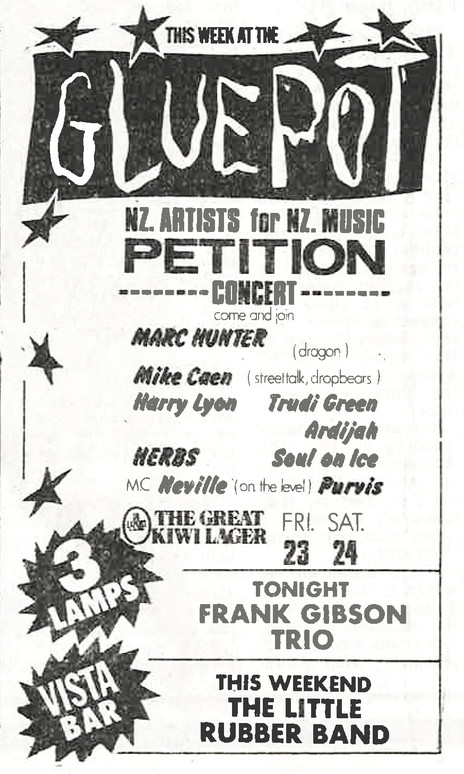 On the other side of town, in Parnell, Doug Hood and Paul Rose set up a Windsor Castle gig featuring Bird Nest Roys, Chris Knox, Andrew Fagan, Goblin Mix, Martin Phillipps, The Merkins, Jay Clarkson, Crunchy Something, and Sombretones.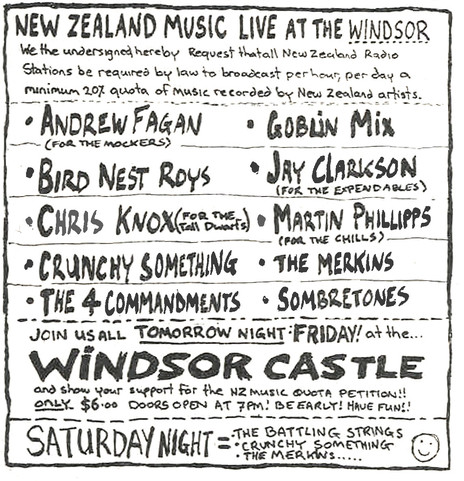 The Petition gathered more than 200,000 signatures and was presented to the-then minister of broadcasting, Jonathan Hunt, at his New Lynn electorate office.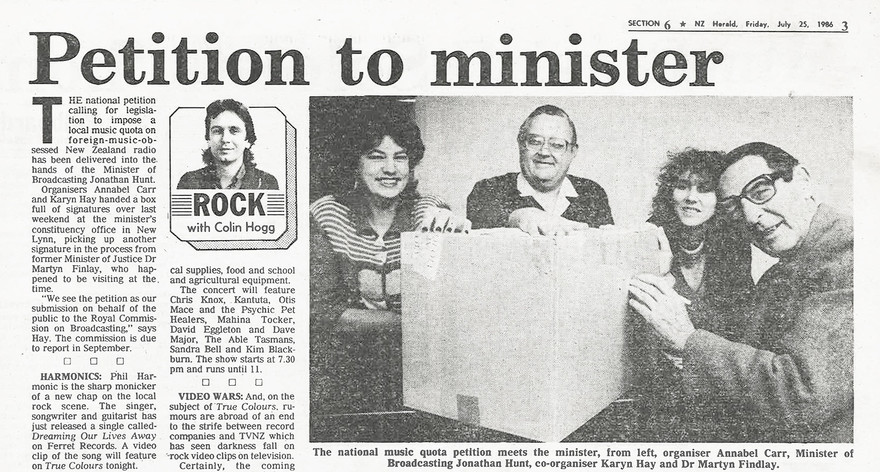 The petition opened the conversation about the cultural importance of New Zealand music on New Zealand radio.
A New Zealand music convention was held in 1987 – the first of its kind – and it was attended by all interested parties. Radio reluctantly agreed to a voluntary 10% New Zealand music content for its playlists.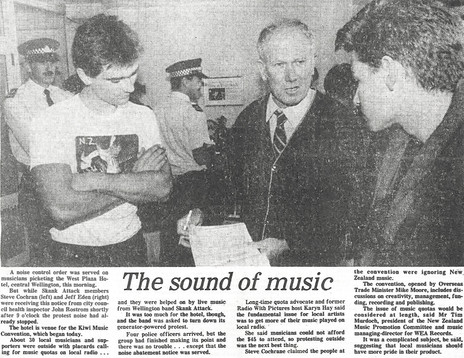 Did we make a difference? I think so. I'd like to think the quota petition challenged the status quo and made a small contribution to New Zealand's cultural landscape. We also had a lot of fun attending so many gigs …
--