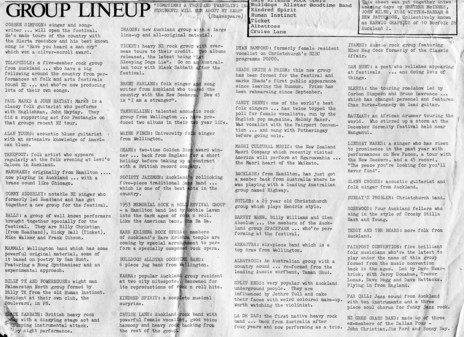 --
"Sometimes a thousand twangling instruments will hum about my ears" – Shakespeare.
Corben Simpson: singer and songwriter … will open the festival. He's made tours of the country with the BLERTA roadshow and his best-known song is 'Have You Heard a Man Cry', which won a Silver Scroll award.
Tole Puddle: a five-member rock group from Auckland … who have a big following around the country from performances at folk and arts festivals round NZ … and who're now producing lots of their own songs.
Paul Marks & John Hayday: Marks is a classy folk guitarist who performs with Englishman, John Hayday. They did a supporting act for Pentangle on that group's recent NZ tour.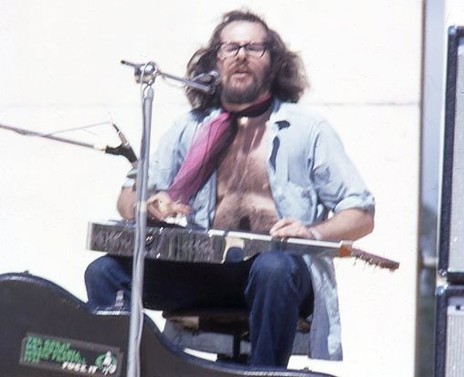 Alan Young: acoustic blues guitarist with an extensive knowledge of American blues.
Treefoot: folk artist who appears regularly at the folk evening at Levi's Saloon in Auckland.
Mandrake: originally from Hamilton … now playing in Auckland … with a brass sound like Chicago.
Tommy Adderley: notable NZ singer who formerly led Headband and has got together a new group for the festival.
Balls: a group of well-known performers brought together specially for the festival. They are Billy Kristian (from Headband) Ricky Ball (Ticket), Mike Walker and Frank Gibson.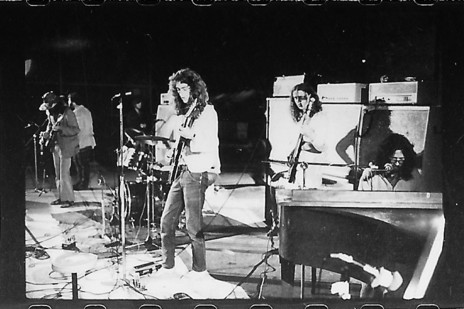 Mammal: Wellington band which has some powerful original material, some of it based on poetry by Sam Hunt. Featuring a Moog synthesizer and an experimental approach.
Billy TK and Powerhouse: eight-man Palmerston North group formed by Billy TK from the old Human Instinct. Resident at their own club, the Boulevard, in PN.
Black Sabbath: British heavy rock group with a dizzying stage act and a thumping instrumental attack. Sunday night performance.
Dragon: new Auckland group with a large line-up and all-original material.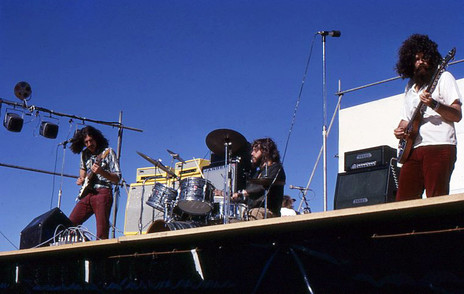 Ticket: heavy NZ rock group with overseas tours to their credit. Two albums released, the latest being Let Sleeping Dogs Lie. Go on an Australian tour with Black Sabbath after the festival.
Brent Parlane: folk singer and songwriter from Auckland who toured the country with the New Seekers. New 45 is 'I am a Stranger'.
Tamburlaine: talented acoustic rock group from Wellington … have produced two albums in their two-year life.
Wayne Finch: university folk singer from Wellington.
Shane: two-time [sic] Golden Disc award winner … back from England for a short holiday before taking up a contract with a British record company.
Society Jazzmen: Auckland's rollicking five-piece traditional jazz band … which is one of the best acts in the country.
1953 Memorial Rock'n'Roll Revival Group: a Hamilton band led by Robbie Lavën into the dark ages of rock'n'roll. Like the American band, Sha Na Na.
Hare Krishna Rock Opera: members of Auckland's Hare Krishna temple are coming by special arrangement to perform a specially composed rock opera.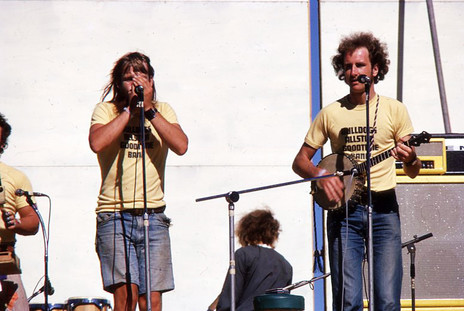 Bulldogs Allstar Goodtime Band: six-piece jug band from Wellington.
Karma: popular Auckland group resident at two city nitespots. Renowned for its reproductions of rock'n'roll hits.
Kindred Spirit: a complete musical surprise.
Cruise Lane: Auckland rock band with powerful female vocalist, good voice harmony and heavy rock backing from the rest of the group.
Dyan Bamford: formerly female resident vocalist on Christchurch's NZBC programme Popco.
Shade Smith & Prism: this new group has been formed for the festival and marks Shade's first public appearance since leaving The Rumour. Prism has been rehearsing since September.
Sandy Denny: one of the world's best folk singers … has twice topped the poll for female vocalists, run by the English pop magazine, Melody Maker. Was vocalist with the Fairport Convention … and sang with Fotheringay before going solo.
Maori cultural music: the New Zealand Maori Company which recently visited America will perform at Ngaruawahia … the Maori heart of the Waikato.
Backlash: from Hamilton, has just got a member back from Australia where he was playing with a leading Australian group named Highway.
Butler: a two-and-a-half year old Christchurch group which plays Hendrix style.
Harvey Mann, Billy Williams and Glen Absolum: the members of the Auckland group Spacefarm … who're performing at the festival.
Arkastra: six-piece band which is a top draw from Wellington.
Albatross: an Australian group with a country sound … re-formed from the leading Aussie surf band, Tasman Shud.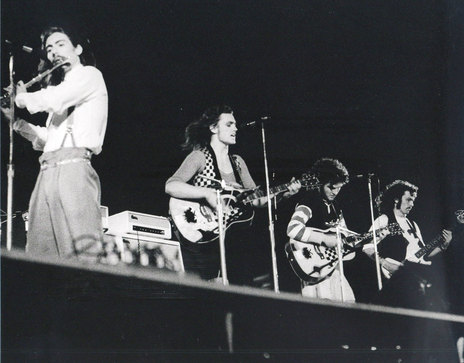 Split Ends: very popular with Auckland underground people. They are influenced by Jethro Tull and cake their faces with weird coloured make-up. Worth watching the violinist.
La De Da's: the first native heavy rock band … back from Australia after four years and now performing as a trio.
Itambu: Aussie rock group featuring NZer Reg Cook formerly of The Classic Affair.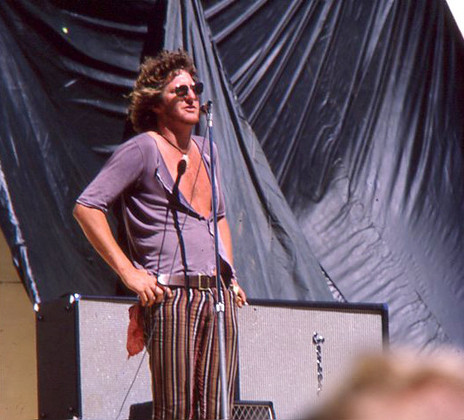 Sam Hunt: a poet who relishes appearing at festivals … and doing lots of things.
BLERTA: the touring roadshow led by Corben Simpson and Bruno Lawrence … which has changed personnel and features Chas Burke-Kennedy on lead guitar.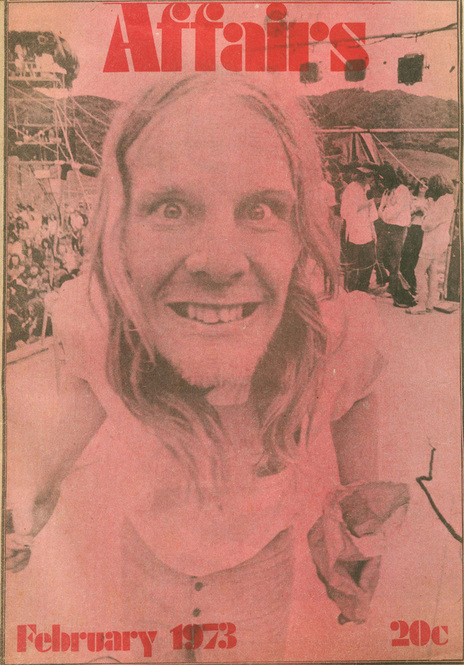 Bauxhau: an African drummer touring the world. Who stirred up a storm at the December Serenity festival held near Wanganui.
Lindsay Marks: a singer who has risen to prominence in the past year with performances on New Faces, a tour with the New Seekers, and a 45 record, 'The Peace You're Looking for You'll Never Find'.
Glenn Crosse: acoustic guitarist and folk singer from Auckland.
Sunday's Problem: Christchurch band.
Rosewood: four Auckland fellers who sing in the style of Crosby Stills Nash and Young.
Teddy and the Bears: more folk from Auckland.
Fairport Convention: five brilliant folk musicians who're the latest to play under the name of this group, formed from the music convention back in the ages. Led by Dave Swarbrick, with Jerry Donahue, Trevor Lucas, Dave Pegg, and Dave Mattacks. Flying in from England.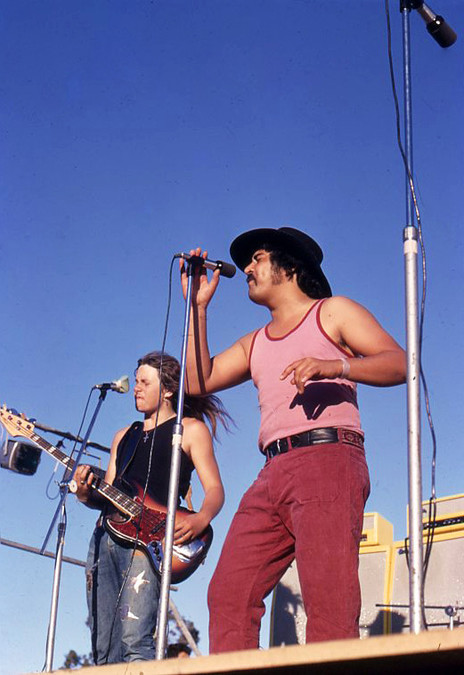 Far Call: jazz sound from Auckland with 10 instruments and a three-piece soul chorus for funky jazz rock.
NZ Green Grass Band: made up of three ex-members of the Dallas Four – John Christian, Jim Ford and Sonny Day.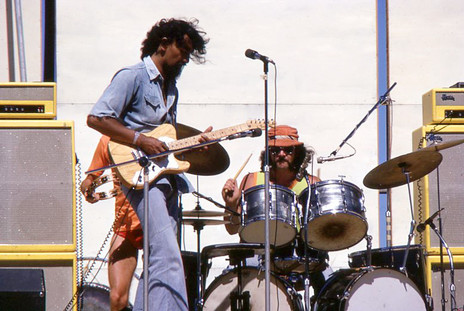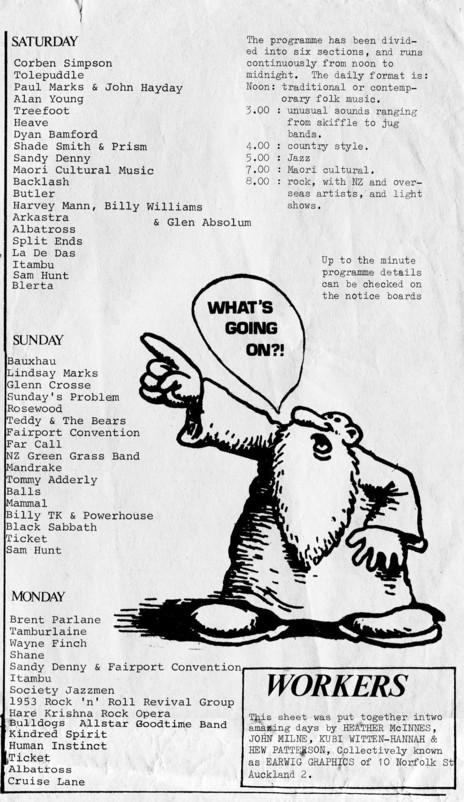 The Great Ngāruawāhia Music Festival – Nick Bollinger