A selection of New Zealand acts that went to the UK to record in the 1960s.
The Harbour Lites – Run For Your Life (Fontana, March 1966)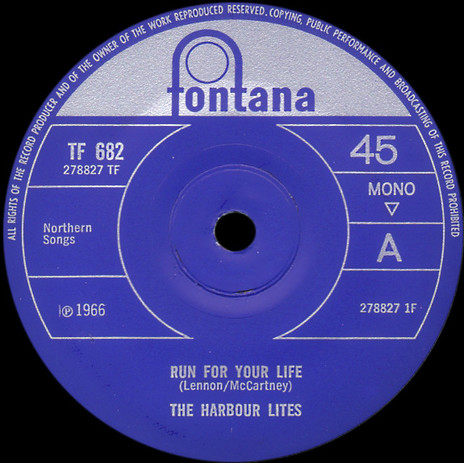 Wellington folk trio The Folkstone Three left New Zealand for the UK in January 1964 after releasing their This Land Is Your Land EP on the Kiwi label. Renaming themselves The Harbour Lites, the trio built up a reputation for showmanship and three-part harmonies. Within a year they were signed to HMV Records, releasing two singles, 'Come Back Silly Girl' in May and 'I Will Give You All' in September, both in a folk/pop style. By the end of 1965 they signed with Fontana Records.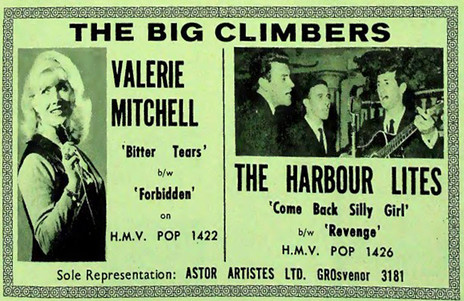 It was decided that the group would cover a track from the forthcoming Beatles' Rubber Soul album. They chose to record 'Norwegian Wood' and were booked into the studio for the following Thursday morning. They rehearsed the song on Monday, only to be told that another version was already in production. On Tuesday the group went to plan B, and decided 'Nowhere Man' would perfectly fit their style, but two other versions were well underway. The group swung into plan C, a cover of George Harrison's sole contribution to the album, 'If I Needed Someone' – but a version by The Hollies had just been rush released. At 3am on the morning of the session – and with less than seven hours before their studio booking – the group settled on 'Run For Your Life'. The session was produced by Derek Lawrence, who later found fame as producer for Deep Purple. Although no session notes remain it is likely that Lawrence used guitarist Ritchie Blackmore for the session. Engineering duties fell upon the up-and-coming studio whiz kid Mark Wirtz. With a nagging guitar riff duelling with the brass section, the single was aimed at the discoteque and club scene, a far cry from their folk roots in the smoke-filled coffee lounges of Wellington.
Listen to The Harbour Lites – Run For Your Life
Dinah Lee – I Can't Believe What You Say (Aladdin, June 1965)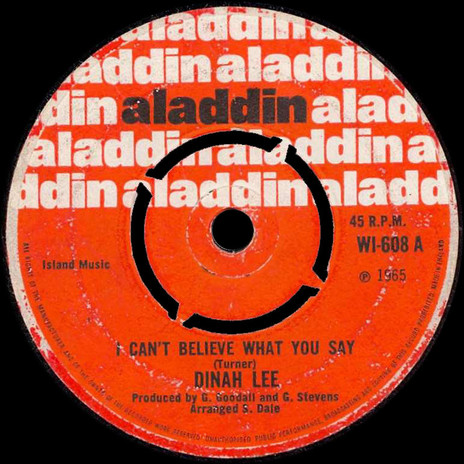 Millie Small toured Australia and New Zealand in early 1965 as part of a world tour on the back of her massive 1964 hit 'My Boy Lollipop'. Dinah Lee and Millie Small became friends during Millie's tour of Australia, as did Dinah's manager James Haddleton and Millie's manager, Island Records boss Chris Blackwell. Dinah and Millie performed together during the shooting of a Bandstand TV special based around Melbourne's Moomba Festival in early March. Meanwhile, Haddleton persuaded Chris Blackwell to record Dinah in London after she returned from a 10-day US promotional tour. Blackwell had just started a new label, Aladdin, to release records that didn't fit the ska style of his Island Records label. Dinah arrived in London in May 1965 and stayed with Millie in her Kensington flat while Blackwell lived next door. Within a few weeks of arriving, Aladdin released the New Zealand-recorded single 'I'll Forgive You Then Forget You' b/w 'The Nitty Gritty', which gave them time to decide on what to record next for Dinah. It was well received by the reviewers.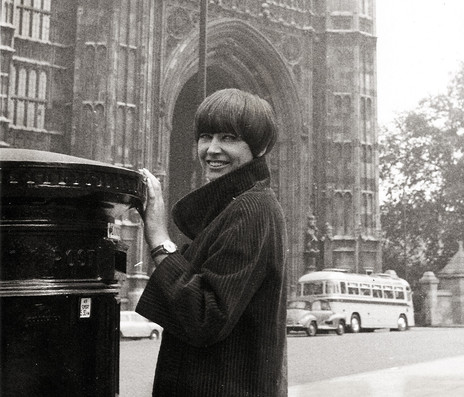 Following its release, Haddleton secured an appearance for Dinah on the TV pop show Thank Your Lucky Stars on 3 July, followed by Scene At 6.30. Dinah spent most of her time in England either sitting around in Millie's flat waiting for the phone to ring or sight-seeing. Haddleton turned down several offers including a European tour, a three-week tour of Scotland and Northern Ireland and a short season at a Blackpool holiday camp. Dinah Lee: "We had to stay in London in case it took off. We thought that if it made the charts, we could accept those offers and newer ones for better money. It was a gamble but it was our best option."
Blackwell arranged four tracks to be recorded with Dinah – 'I Can't Believe What You Say', 'That's It I Quit', 'Pushin' A Good Thing Too Far' – and one other track that has remained unreleased. Of these, 'I Can't Believe What You Say' backed with 'Pushin' A Good Thing Too Far' was released as the single. It was produced by songwriter and producer Geoff Stevens (who was also producing Donovan at the time), engineered by Island Records co-owner Graeme Goodall and arranged by the experienced and forever reliable Syd Dale. After it failed to chart, there was little point in staying in the UK, as Dinah reflects: "The bank account was being depleted. There was a discussion about my chances of breaking through with the overall feeling was that nothing was happening. It was costing me a lot of money while we were fielding good offers back in Australia. I don't know whether Chris Blackwell was prepared to release a third single or not, so we decided that I should return home." Blackwell closed his Aladdin label within a few months, after less than a year.
Johnny Devlin – Hurtin' (CBS, May 1967)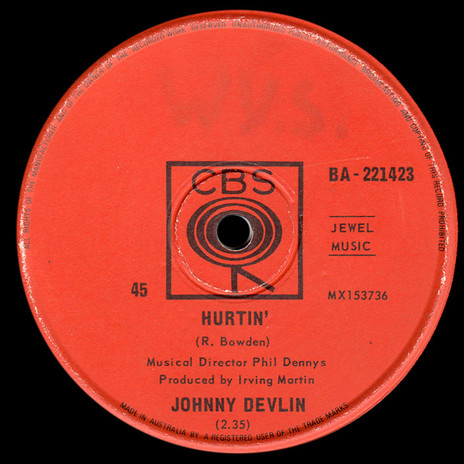 It was the encouragement that Johnny Devlin received from Brian Epstein and Beatles press officer Derek Taylor during the 1964 Beatles tour of Australia and New Zealand that brought him to England 15 months later. The original plan was for Taylor to help Johnny, but that plan fell through when he broke away from Epstein a short time later. Within a few weeks of arriving, Johnny secured a residency at the prestigious Empire Ballroom in Leicester Square, London. The residency required Johnny to work six nights a week – Monday night as the club DJ with the rest of the week in front of the Ken McIntosh 16-piece band plus backing singers. A recording deal with CBS followed shortly after, which saw Johnny release four singles in a 12 month period.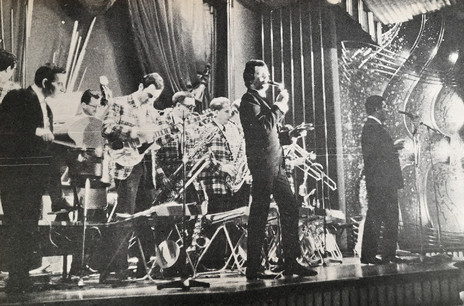 Johnny's first single was the Goffin/ King big ballad 'Hung On You' in June 1966, which sailed under the radar. His second single 'My Strength, Heart And Soul' fared a lot better and made the top 10 on the Radio London charts, its popularity leading to a guest spot on the popular TV show Juke Box Jury with fellow guests Adam Faith and actress Rita Tushingham. By the time of Johnny's third single, 'Tender Lovin' Care', at year's end, trouble was on the horizon. Johnny was now on borrowed time after being granted a second three-month visitor's visa extension on 6 February which gave him time to apply for a longer extension. When it wasn't granted and expired on 6 May, Johnny was ordered to leave the country, which he refused to do, putting himself in the dubious position of potentially becoming the first New Zealander to be expelled from the UK under the then-new laws. Johnny was adamant about staying and told the London press, "I am going to sit here and stick to my guns and keep working, if they say I have to go to prison then I'll bloody well go to prison."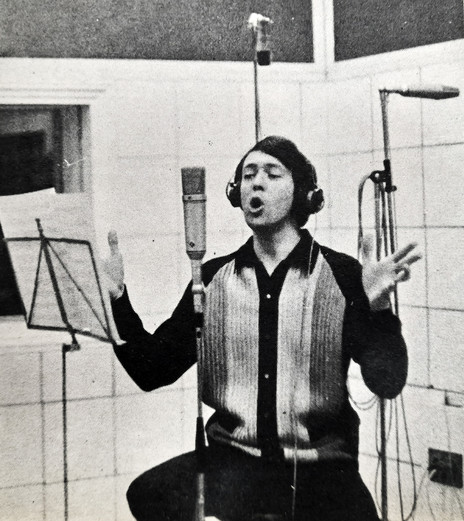 While his London fans were endeavouring to get 10,000 signatures on their petition, the subject was being discussed at ministerial level between the British, Australian and New Zealand governments, albeit to no avail. With the writing on the wall Johnny hung around for another few days to see the release of his fourth and finest recorded UK disc, the brassy mod soul track 'Hurtin'', complete with a stunning brass arrangement courtesy of Phil Dennys and Irving Martin. Johnny returned to Australia with the intention of returning to the UK in six months, only to find himself in such high demand that he stayed in Australia.
LIsten to Johnny Devlin – Hurtin'
The Human Instinct – A Day In My Mind's Mind (Deram, December 1967)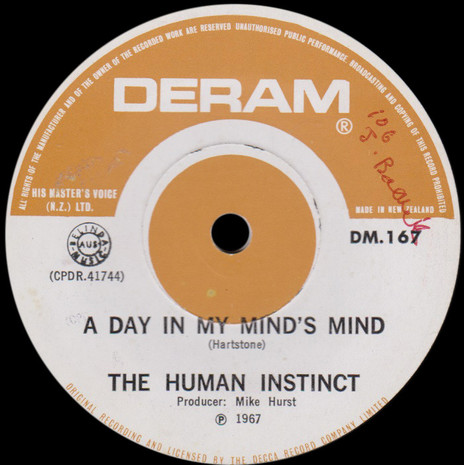 With their Mercury contract up after three singles and with fewer than six months before their two year work visas expired, The Human Instinct were forced to take drastic steps in a bid for success in the UK. Manager Peter Lindsay arranged a meeting with independent producer Mike Hurst, who was behind Cat Stevens' early hits for Deram Records. Hurst remembers it differently: "I don't recall a meeting being arranged but they managed to get into my office, Dave Hartstone sat on the edge of my desk and told me how great they would be for me (it's usually the other way around), I was impressed by their confidence and decided to give them a chance."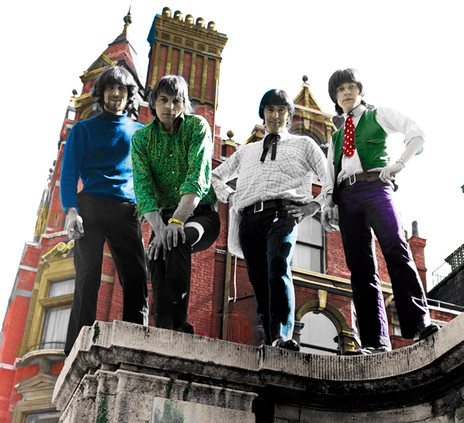 Their first recording session with Hurst was at London's Olympic Studios where the Dave Hartstone original 'A Day In My Mind's Mind' was recorded. Mike Hurst: "We had Morse code in the intro and thought that it would be fun to have it spell out 'f#*k off Decca'. Only problem was that none of us knew Morse code so we instead took great delight amongst ourselves that that was our intention." 'A Day In My Mind's Mind' was released on 8 December 1967, not a great time of year for a song with such promise to be released. Record Mirror magazine reviewed it positively and made special mention of Mike Hurst's excellent production, noting "everything was in place for a possible chart chance", while NME described the record as having "a storming beat with reverberating twangs and delicious harmonies".

Bill Ward: "We were approached by this guy just before the record came out who reckoned that for 1500 pounds he could get us into the UK Top 10, so we thought about it and said 'Well why not? Things are going pretty well for us at the moment and we will probably get that back in a week anyway' so we went ahead and coughed up the money and nothing happened. Our next single was released a few months later and the same offer came through from the same bloke, so we told him: 'Well nothing happened last time … ' and he replied, 'Well nothing happens the first time but it works on the second time around' which sounded plausible to a bunch of gullible Kiwi blokes so we forked out another £1500 and again nothing happened."
The Brodie Brothers – If You Only Loved Me (Columbia, January 1967)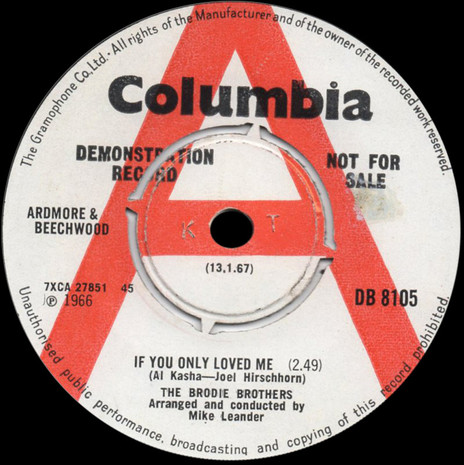 When the Brodie family (Mum, Dad and sister) decided on an extended holiday in the UK to visit relatives, the family's singing sons known as the Brodie Brothers (Brent, Paul, Brian and Ron) decided to tag along and have a crack at the UK scene. The family arrived in April 1966. A few days later the brothers auditioned for future Led Zeppelin manager Peter Grant who signed them on the spot. Peter soon had the brothers touring with Tom Jones, Dusty Springfield, The Searchers and a host of others. A few months later Peter Grant arranged a one-single deal with Columbia Records. The track chosen was 'If You Only Loved Me' which was based on Rubinstein's 1858 'Melody in F'.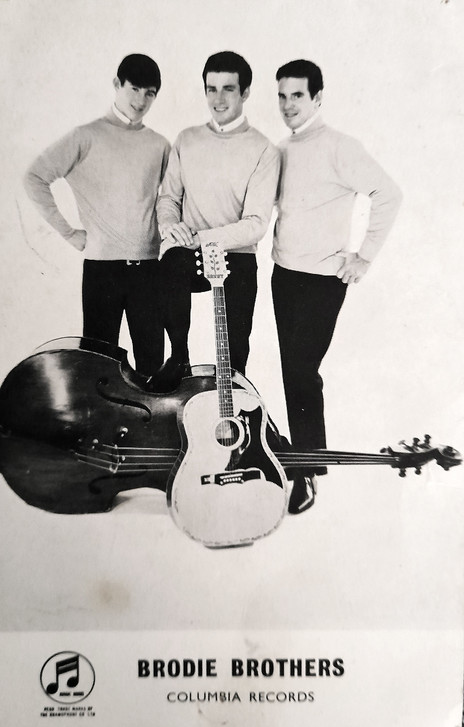 The session at EMI Studios in Abbey Road was produced by Mike Leander with Norrie Paramour's orchestra. Brent Brodie: "Paul Jones had the 12 to 5pm session and was recording his next single, 'I've Been A Bad Bad Boy'. We had the two-hour session after Paul with the same orchestra and producer and if you listen closely you can hear a few similarities in the arrangement." After another 15 months of gigging and with their work visas about to expire the family returned home en masse, the brothers intending to return after the six-month mandatory stand down period for new work visas. The brothers never returned to the UK as careers, girlfriends and marriages put paid to the group's future plans, which left Brent to start a successful local career during the 70s.
Listen to The Brodie Brothers – If You Only Loved Me
John Rowles – If I Only Had Time (MCA, February 1968)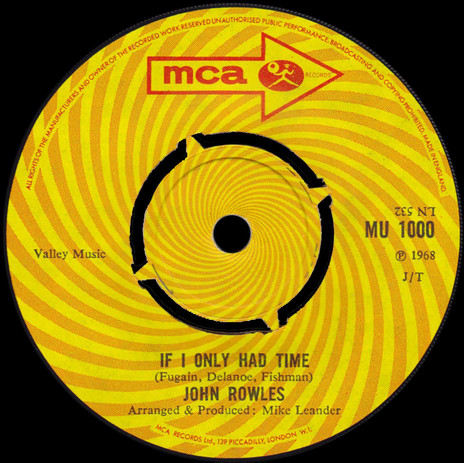 Peter Gormley was an Australian manager who had done well in the UK by successfully managing Cliff Richard, The Shadows and Frank Ifield. He parted ways with Frank Ifield in mid 1967, opening the stable door for a new signing, which led Gormley to the Coogee Bay Hotel on a trip back home to check out a possible replacement for Frank Ifield. John Rowles recalls meeting him after the show. "After introducing himself to me, he asked if I would like to come to London to sing and record. 'I'd love to,' I replied and that was that." Gormley teamed Rowles up with songwriter Nat Kipner and they arrived in London in October 1967. He placed Rowles with MCA Records, an American label which was just about to launch in the UK. Gormley had his eye on a French ballad 'Je n'aurai pas le temps' which he had translated into English as 'If I Only Had Time'. Producer Mike Leander, who had worked with many of the UK's top acts, was brought into arrange the song.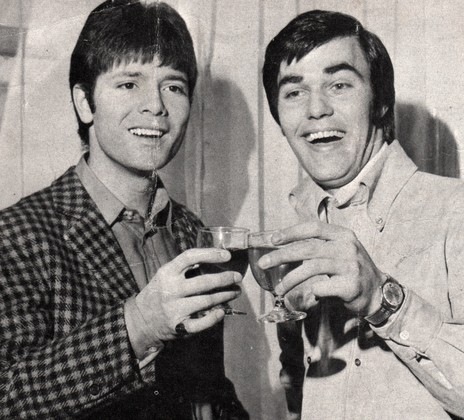 'If I Only Had Time' was released on the 16 February 1968, with Rowles finding himself on the cover of two of the biggest weekly music papers, NME and Disc, which ran ads for MCA's first batch of UK releases. Record Mirror wrote "A new Australian find and in with very good chances for a great performance. Highly recommended."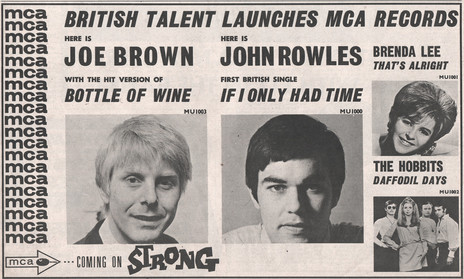 Four weeks later John Rowles slipped into the UK Top 50 at No.40 where he stayed for two weeks. Press reports started filtering back home about a young Kiwi singer sneaking up the UK charts. Singles had been released in New Zealand under the name "JA-AR" but with little fanfare or airplay, so most Kiwis had never heard of JA-AR or John Rowles.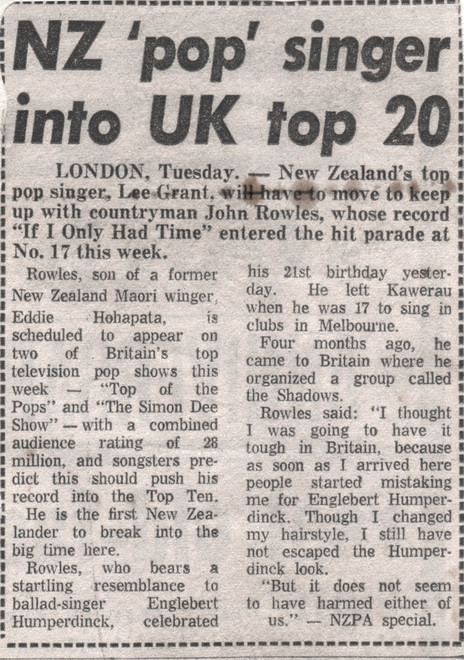 The headlines got slightly bigger as the song moved up to No.18 after an appearance on the television show Top of the Pops. Local press started speculating on whether the record could make it into the UK Top 10. Tension mounted during the following week as it moved up to No.11 – he was now front page news back home. We all rejoiced and the tension mounted as he moved up to No.5 the following week. 'If I Only Had Time' peaked at No.3 the following week and was only kept from the top slot by Cliff Richard's 'Congratulations' and Louis Armstrong's 'Wonderful World'. The British music press fell in love with John. Rave magazine described him as "a sensible young man, looking like the image of 1968, and a welcome newcomer with talent, conceit and manners". NME's Keith Altham wrote "there are three good reasons why John Rowles must become a big star, firstly his manager, secondly Mike Leander and thirdly John himself, he has quality written all over him."
Tony Summers – Make Time Stand Still (Parlophone, September 1968)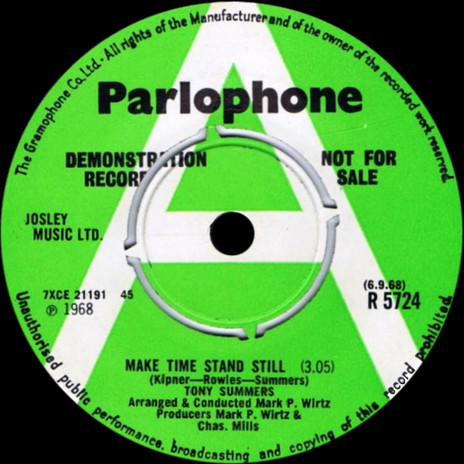 Wellingtonian singer Tony Smith – also known variously as Tony Summers and Hayden Wood – arrived in the UK after a short career in Australia during 1966. His one and only Australian single, 'I'm On The Right Side' on the Spin label was produced by Nat Kipner. Tony arrived in the UK to find Nat working with John Rowles, who was riding high in the UK charts with 'If I Only Had Time'. Tony made contact with Nat and John and was invited to join them at their shared flat to help write songs for John's debut album. One of the trio's collaborations was a song called 'Make Time Stand Still'. John's manager Peter Gormley was impressed with the song and Tony, and arranged for him to record the track for Parlophone with producer Mark Wirtz at EMI Studios in Abbey Road.
The single was released in September 1968. It was a typical everything-including-the-kitchen-sink production from Mark Wirtz – psychedelic pop meets Phil Spector's Wall of Sound. The record was well received and Peter Gormley was able to place Tony with NEMS Records for future releases. The Simple Image also recorded a version of 'Make Time Stand Still' as the B-side to their local No.1 hit 'Spinning Spinning Spinning'. Once at NEMS Tony changed his name to Hayden Wood after Haydn Wood, the 19th and 20th century English composer and violinist.
Listen to Tony Summers – Make Time Stand Still
The Fourmyula – Lady Scorpio ( Columbia, July 1969)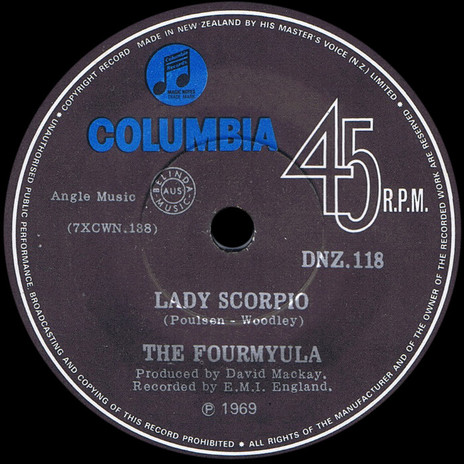 On February 8, 1969, The Fourmyula sailed to England on the Fairsky as part of their prize for winning the 1968 National Battle of The Bands. Strangely enough their debut Kiwi single 'Come With Me' was released in the UK while the group were in transit and unable to promote it from the middle of the Atlantic ocean!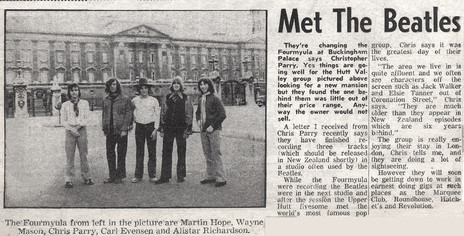 Part of their prize was a recording session at Abbey Road. EMI put Australian producer David MacKay in charge of production duties and the session was to be a 16-hour, all-day Sunday booking on 7 March.
The session produced three songs for possible UK release, the instrumental 'Orphan', a remake of their recent New Zealand single, 'Home', and in a bid for a commercial pop hit MacKay introduced the group to 'Lady Scorpio', written by his friends Hans Poulson (who wrote the Larry's Rebels hit 'Everybody's Girl') and former Seekers member, Bruce Woodley. The single was not released in the UK. Australian group the Strangers released their version in Australia at the same time and the writers put a block on the UK release even though The Strangers version was never released there. 'Lady Scorpio' was released only in New Zealand. The sessions were nearly overshadowed by the group's interactions with The Beatles who were recording in the next studio.
The Groove – The Wind (Parlophone, 20 June 1969)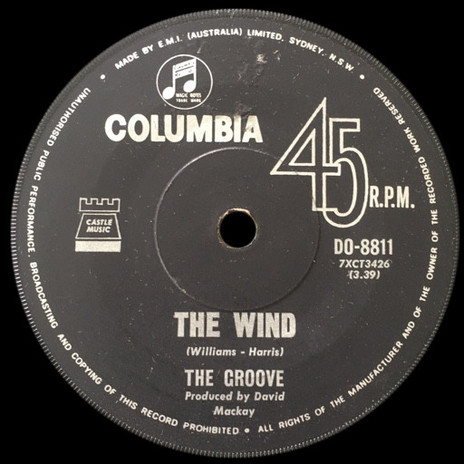 The Groove were regarded as an Australian soul band, but with two of the members being New Zealanders – Peter Williams, ex-Max Merritt and The Meteors on vocals and, Rod Stone, ex-The Librettos, on lead guitar – then technically we can classify them as an Australasian band. As the Hoadleys-sponsored National Battle of the Bands winners for 1968, The Groove won a trip to the UK. After building up a sizeable nest egg the group sailed for the UK in March 1969.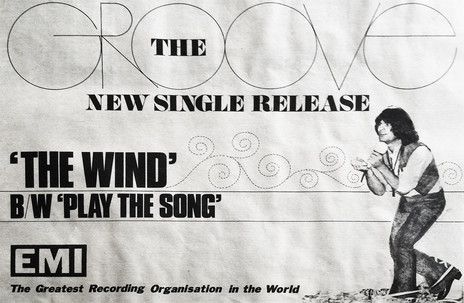 Peter Williams: "EMI looked after us really well and booked us into Abbey Road to record a song written by Mickey Most's brother David and Clive Westlake (who wrote the Dusty Springfield hit 'I Close My Eyes And Count To Ten'). The song was called 'How The Web Was Woven'. At first they loved our version then changed their minds before eventually pulling it." The song was eventually placed with Jackie Lomax ,who released his version of 'How The Web Was Woven' six months later, on Apple Records as produced by George Harrison. Elvis Presley released a version on his album That's The Way It Is in 1970. Unperturbed, Peter Williams and Tweed Harris set about rewriting the song using the same structure and chords and named it 'The Wind'. They recorded it a few weeks later with David MacKay producing, Alan Parsons engineering and Little Pattie and The Cookies on backing vocals. 'The Wind' was released simultaneously in Australia where it reached the Top 40 in Melbourne.
The La-De-Da Band – Come Together (Parlophone, October 1969)
The La De Da's had always planned to head to the UK and they eventually made it – a year or so later than they hoped to. This was to be a new beginning for the group after nearly 18 months of setbacks and treading water bringing their Happy Prince rock opera to fruition. Guitarist Kevin Borich succinctly summed up their UK sojourn in a 2012 NZ Musician article.
"We saved $3000 spending money and got on a plane. The only meticulous pre-planning done was that the plane was heading for England. EMI had us come in to play our original material to them which got them thinking that we were a very good band, so they offered us the chance to record – BUT it had to be a Beatles song we had to choose off their yet-to-be released album, Abbey Road."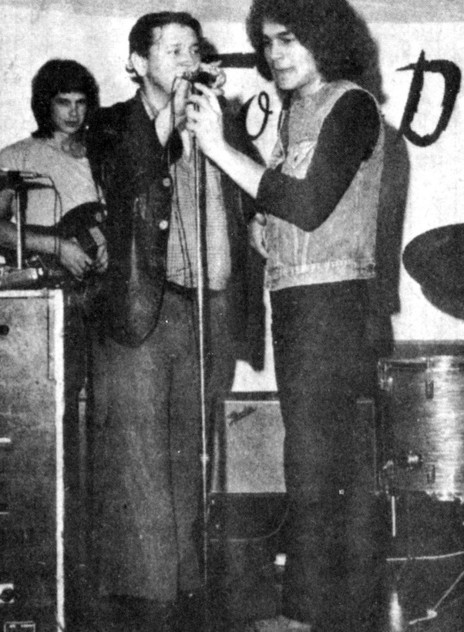 Abbey Road was released on 26 September 1969 and while other artists scurried around recording versions of the album's poppier moments the Da's plumped for one of the edgier and rockier tracks, 'Come Together'. Norman Smith (former Beatles engineer up to and including Rubber Soul) was on production duties and within a week the single was in the shops.
Kevin Borich: "We did a great version complete with the muted tom fills ... we were happy about the outcome but would have much preferred to play an original song. It got regular play on BBC1 and Radio Luxembourg, but we chose the wrong song because The Beatles released it a few weeks later, so – kaput! Didn't bother us because we thought it was a stupid idea anyway, but we couldn't pass up the Abbey Road opportunity."
The group only did a few gigs after that, including an ill-fated 24-day French tour backing Gene Vincent. Gene had a distrust of French backing bands who had let him down on previous tours and requested a non-French band for the tour. Luck is not a word that can be used in conjunction with The La De Da's' career after 1967 – in early 1970, a dejected La De Da's limped back to Australia to face even more turmoil.
Listen to The La De Da Band – Come Together