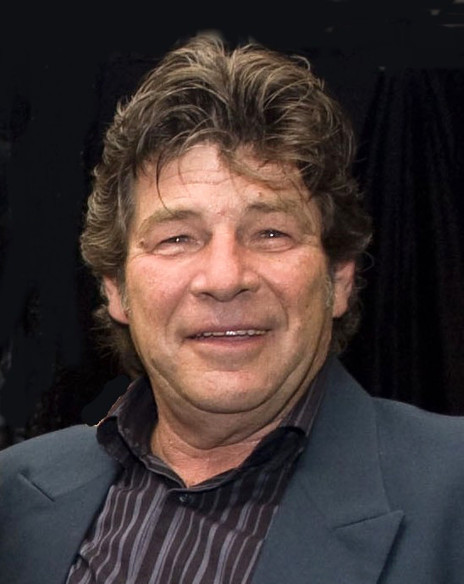 Larry Morris was everybody's friend, and it's an honour to be asked to compile a memorial page for AudioCulture. As the tributes and anecdotes started rolling in, there was nothing for me to add that hadn't been covered. But I have a few personal memories that everybody will be able to relate to.
As a fan, my association started at approximately 7.03pm on Sunday 4 December 1966. It was Radio Hauraki's first official day of broadcasting and Larry's Rebels were the studio guests between 7.00pm and 7.30pm. Out of the 7.00pm news break, Larry's Rebels came blaring like a clap of thunder with their brand new single 'I Feel Good' – a song that became the soundtrack to the summer of 1966/67. I was young and naive enough to think that I was the only one that knew about Larry's Rebels, but I wasn't. Half the country had taken notice – including the Chunn, Finn and Hunter brothers, along with Brazier, Lyon and McArtney – and everyone else that formed the next generation and beyond of Kiwi musos.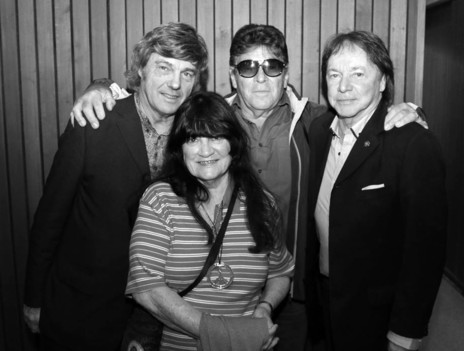 My first encounter with Larry was in February 1993, a few hours after he returned home from the United States to be with his gravely ill soul mate, Tommy Adderley. Larry had been living and working illegally in the US for 10 years, and made an instant decision to leave everything behind, knowing there was no way he could ever re-enter. He left behind several fledgling business interests, but all that mattered was returning home to support Tommy during his final battle.
Tommy passed away while Larry was on the plane crossing the Pacific. Larry was distraught and quickly threw himself into helping organise the Tommy Adderley benefit concert. Before Larry's arrival, my wife Carol and I were invited onto the organising committee, after volunteering to videotape the concert at the Gluepot. Larry was quick to introduce himself and let us know that as far as he was concerned, anybody that would volunteer to stand behind a camera for 10 hours – so that his best mate's parents could watch the show in the UK – "then you'll do me, doy".
A friendship with Larry was like no other friendship, it was total commitment from Larry: you became an important part of his life, and vice versa. But I wasn't special or the only one to receive his all-encompassing friendship, this was offered to anyone in his life that he deemed worthy of it.
In the intervening 30 years it has been an honour to work alongside Larry, John, Nooky, Terry and Viv – aka The Rebels – on numerous projects. These included four separate CD and vinyl releases, a solo anthology and helping with his last two CD releases 13 and Amigos. Highlights were a-plenty and we managed to get most of the releases onto the national charts, and in doing so, the legacy was kept alive. This meant everything to Larry – after family and friends.
Grant Gillanders, January 2023
--
Terry Rouse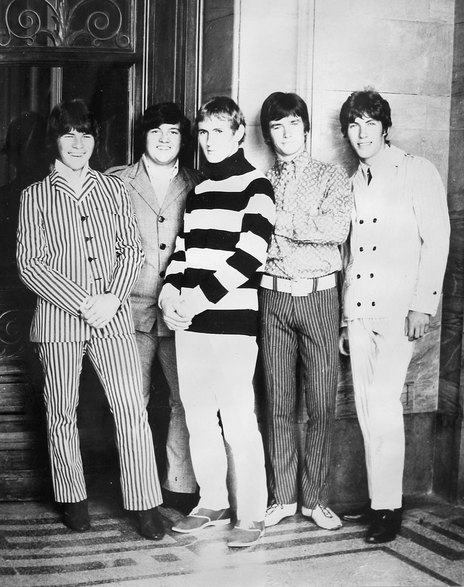 I met Larry for the first time in a recording studio off Grafton Road: John Williams, Nooky Stott and myself had formed a band. We were there to do a demo tape, instrumental only, and our manager asked us if we would back this singer who was also doing a demo session. He sounded just like Cliff Richard so on the way home when Larry got a ride with us we asked him if he would like to join our band. He agreed and from there on, we were the Rebels with a lead singer. The name Larry's Rebels was used because there was a group in the States with the name Rebels, so Russell Clark suggested Larry's Rebels which we all agreed on (as in Herman's Hermits). The group became very tight like a family and we all considered each other as brothers, even to this day. Larry will always be my "brother from another mother" – most groups form a very strong bond musically as well as socially – he will be sadly missed.
John Williams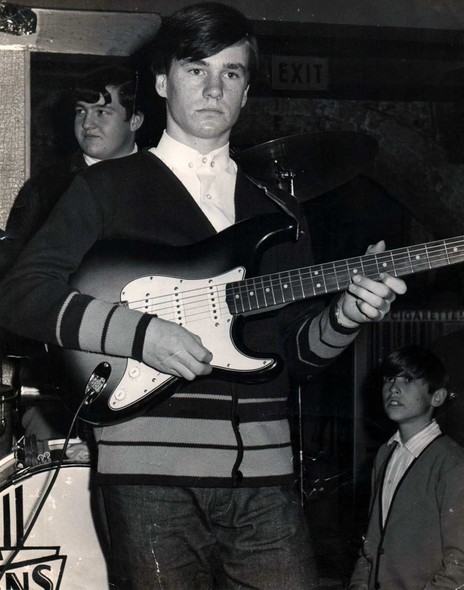 Schoolboy dreams to Music Hall of Fame is how I see my life and times with Larry. While I was still at school – and dreaming of having a hit recording band – a chance meeting with Larry, while recording a demo, changed that instantly. He was the right one to complement the early Rebels, and after that day he was recruited as front man – and Larry's Rebels were born. A stunning career in New Zealand and Australia with the Rebels, and the invitation to tour Australia with the Easybeats' homecoming tour, cemented his popularity in Australia, while the band made a career in both countries. The 2020 induction of Larry's Rebels into the NZ Music Hall of Fame was another credit to Larry and the band for a long and highly successful musical journey. Their hit records are still as popular today and played on radio frequently. I remember saying to Robert Stebbing (of Stebbing Studios) while still at school that with this new singer we were going to be the biggest band in New Zealand. He just laughed, but I knew that with Larry. We had the right line-up and, as the saying goes, the rest is history. Larry and I formed a great early bonding in our songwriting collaboration (Morris/ Williams), as he always had lyrics noted down on paper. We spent many great times writing so many songs featured on the band's recordings, and one of the best was the classic song 'Dream Time'. His voice was one of the best, and he could sing ballads so well – just as he could sing all styles. He was a true, professional performer who just loved what he did, and to this day he remained great friends with myself and every member of Larry's Rebels. It's a shame we never got to play the planned reunion concerts that were discussed. Larry was a true brother to all of the Rebels. It's a friendship that remained as strong as it was all those early crazy fantastic times we had being part of the rightly named Larry's Rebels. He was a legend ... and a true loss to New Zealand music.
Denis "Nooky" Stott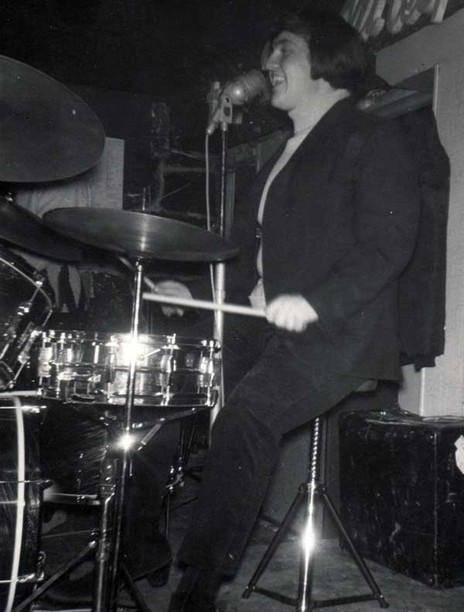 It has been very sad over the last 18 months: behind the scenes, all five original members were discussing and planning a number of concerts in New Zealand as Larry's Rebels. This was a chance to get back together, rehearse, enjoy each other's company and thank our loyal fans, for one last time. Larry was extremely excited about these plans. However as Covid took its grip and the furore that followed, on top of Larry's failing eyesight and medical reports, which were becoming more disappointing as the months went by. And now we have run out of time. Rest in Peace Larry, my dear friend.
Russell Clark
Larry Morris had a powerhouse of a voice, as lead vocalist of Larry's Rebels and later as a soloist with hits like 'Bad Moon Rising', 'The Hunt', 'The Game' and many more. Larry was a towering figure on stage with a formidable stage presence, but it was off stage where he displayed his real personality. He had a big heart and a generous friendly nature. Who could ever forget that huge warm smile as wrapped his arms around you and gave you that crushing hug? I was proud to be his manager during the days of Larry's Rebels, as well as later when he went solo. Larry has left us far too soon and he will be missed by us all.
Ray Woolf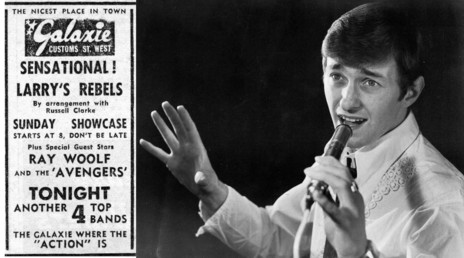 Larry Morris occasionally served behind the counter in his parents' dairy on Jervois Road, Herne Bay, around 1963-64. I was living just round the corner and would often see him there and we would chat about his dreams about being a singer. And next thing we're on the 1967 Loxene Gold Disc award tour together. Larry's Rebels had just come back from Aussie and were on fire and gave a master class of stage presentation to the rest of us on the bill.
I don't think they even got past the first three songs in their set before the kids were going crazy and invading the stage. It was in Dunedin where the fans smashed through the orchestra pit and the show had to be stopped. We also toured together supporting Johnny Farnham. Larry had a massive stage presence and was no wilting violet off stage either with his well publicised pranks over the years. I got him a gig in Caroline Bay a few years ago and he did lots of his old stuff from the Rebels days and it was really great to hear it all again – and he did it so well. A great singer and performer. He will be sadly missed.
Rob Paterson
Larry Morris: a man with a big voice and a heart to match. Both Richard Anaru and myself joined Larry to form the Larry Morris Band in 1993 when he returned from the US where he had lived and worked for 10 years. He had a unique sounding voice, like a well-oiled gravel pit, and an impressive range to boot. He was also pitch perfect.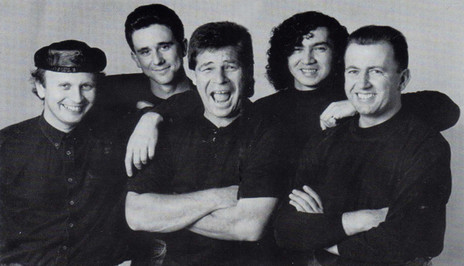 Larry had the ability to charm audiences with his amusing banter and anecdotes (of which he had many). While living in the US he went under the radar with the pseudonym Larry Dramas. There was never a dull moment with him, dramas a-plenty.
I mentioned his big heart. If we were touring and he saw someone in trouble he would always stop and offer assistance. He was also tough, with big hands and a vice-like grip. You didn't mess with Larry. He once launched himself off the stage at the Gluepot, mid song, and sorted out a bully who was terrorising the people on the packed dance floor, and the band played on.
Larry was a loving family man as well. He took in his ailing parents and took care of them until they passed away.
Brian Cadd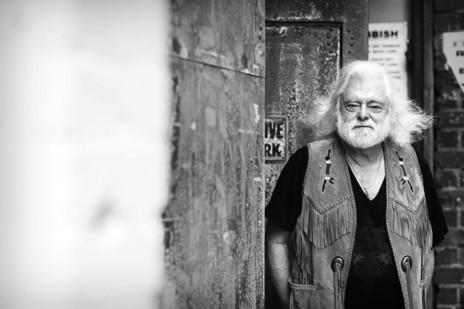 It seems like I've always known Larry Morris. He came across from New Zealand with Larry's Rebels in the 60s when Australian rock music was young. And we all saw what he did with an audience. But his other trick was what he did before and after the show, when he was always the most happening guy backstage. When he was the brightest, loudest rock guy in the room. There was never anyone ahead of him. He led – and everyone else followed. And we all had more fun because he was there. Time moved on and we all separately went overseas to pursue our careers. Larry and I ran into each other next in Los Angeles towards the middle of the 80s. He was running a publishing company and doing a million other things. But he was always up for a conversation, a phone call or a drink. He was permanently on "11". We got to know each other very well during that period, with the help of Max Merritt. We could have been the three musketeers – maybe we were. Richard [Anaru] and I recorded three albums with Larry. I am so grateful to have done this with him as they are his legacy, he will always be in our minds and hearts. So much fun. So many adventures. Then we went our own ways and didn't reconnect until he was back in New Zealand and I would stop through on the way from Los Angeles to Australia. We were always the same. Full on rock and roll. So the years rolled on. We didn't always stay in touch, but we always knew that we could re-ignite everything with one phone call or one drink. He was my friend in a time when all the world was crazy and friends were hard to measure. We will all miss him. Because there aren't any more of him. Thanks for the adventures and the memories. You were definitely one of a kind. Rest in peace my dear friend.
John Farnham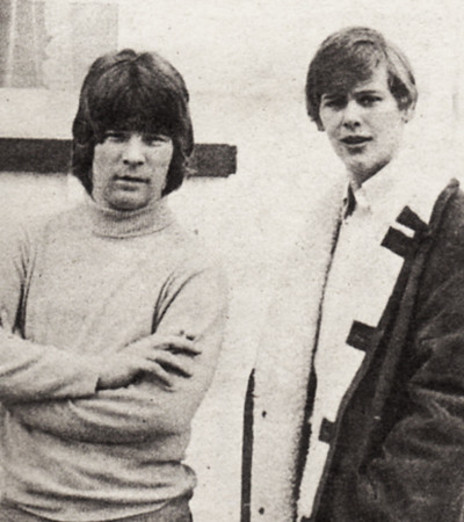 My first major tour was in New Zealand during 1968 with Larry's Rebels. I was a whipper snapper with (then) one hit record behind me, but I've never had that much fun on any subsequent tour during my career. Larry was the ring leader and the instigator of everything, including the cast-and-crew soccer games in each port of call. He took me aside and taught me a lot about stage craft, advice that served me well throughout my career. (2019)
Mike Chunn
I first heard Larry and his band Larry's Rebels in 1966 on the transistor radio out at Bethell's Beach, West Auckland. My brother Geoffrey and I heard 'I Feel Good' and became transfixed. We hung over that radio waiting for it to be played again. That song became an important pattern in the fabric of our lives. It wasn't long till other Larry's Rebels singles drove themselves back onto that trannie and we were then simply arch fans.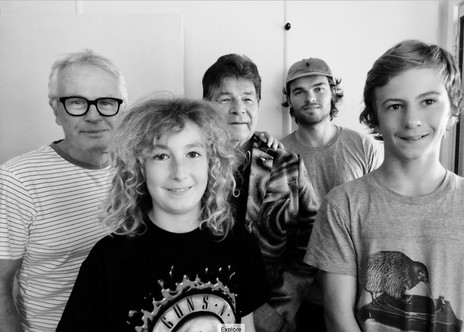 I walked into the Auckland YMCA to see the Larry's Rebels performance on the Blast Off '68 concert. This was the reality: where great songs with sublime performances weaved together, and the audience summed it all up with sheer joyous response. The evolution of my focus on Larry became a serious endeavour and I kept my eyes and ears on that man for each rolling year.
But it was when I played with him in 2017, at my old Sacred Heart College in Auckland, that magic came to the fore. We put on a concert where we featured young teenage performers with many from the spectrum – OCD, autism, Tourettes, Aspergers and so on – in their new auditorium, The School of Imagination. I had a plan. I walked down the road from my home in Hapua Street to Larry's house – also in Hapua Street – and asked him if he'd like to feature at that very show. He introduced me to his parents who were very cool people, and I introduced them to two 12 year olds (guitar, drums), a wonderful SHC vocalist, Jake O'Callaghan, and it was all systems go.
At that concert, up on the boards in the bright auditorium lights and beaming out through the cool Chris Tate-driven PA system, the real Larry Morris triumphed. Larry owned the stage and his vocal power mesmerised the entire audience. To play 'Let's Think Of Something', 'I Feel Good' and the rest with him, to witness the audience in their frantic love of his prowess ... it was unique and unforgettable.
Mike "Spike" Walker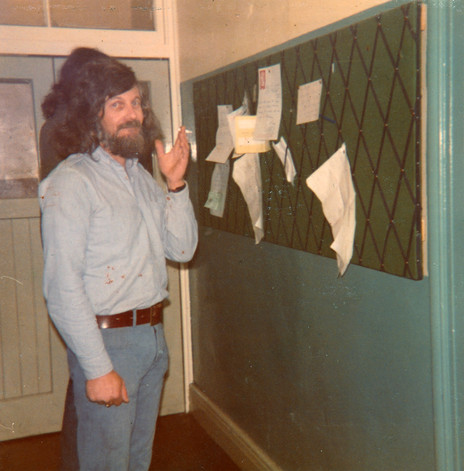 Larry and I had many musical and personal adventures together over the decades. One lasting personal memory for me highlights Larry's total commitment as a friend. It was nearly 40 years ago, my wife was in labour with our daughter, Kate. We had been told that it would be a difficult and long birth. Larry turned up, with Tuhi Timoti, and sat with me in the waiting room knowing that it was going to be an overnight vigil, which it was in the end. Larry ignored my offers of, "It's okay Larry, go home and get some sleep, I've got this." Larry wasn't going to have a bar of that, he stayed with me for close to the longest 12 hours of our lives. As far as he was concerned Wendy and I needed support and he wasn't going anywhere.
Kirk Adderley
A few years back at the beginning of COVID, along with a lot of the population, I felt a little empty and that a piece of me was missing. I wanted to learn more about my father, Tommy. I recalled seeing an article Larry wrote titled "The Adderley Rule."
I was intrigued by this so naturally I kept reading. What I read I was blown away by. In a nutshell, Larry described my late father giving a young 14 year-old Larry Morris the time of day and what he detailed as "free advice".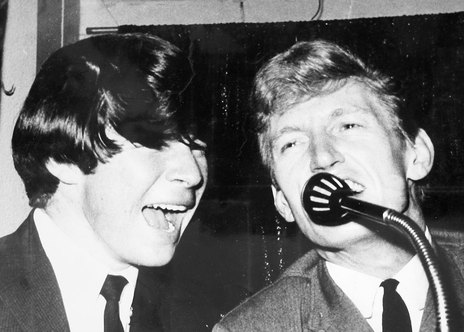 Larry finished the article by saying he'd love to give his own free advice to any aspiring New Zealand musicians in order to preserve the rule.
Prior to reading this, I was unaware of the close relationship my father had with Larry so I emailed him and introduced myself as Tommy's first son. Larry got back to me within a few days and we arranged to talk over the phone.
Within a few sentences I knew that Larry and Tommy were almost twin souls. I've never heard anyone talk about my father the way Larry did and I'm forever grateful to have his perspective on life and most importantly the bond he shared with my father.
Larry spoke fondly of his family, the love of his wife and children and of course his elderly parents. Larry wasn't backwards in coming forwards and if anyone shot it straight, it was Larry. He also expressed curiosity about my family and highlighted how much Tommy would have loved having a grandson.
We spoke, laughed and it appeared that Larry was almost on the verge of tears when detailing stories of him and Tommy, that's just how close they were. I only met my father once before he passed away, but Larry made me feel closer to him through his stories.
At the end of our talk we promised to meet in person, once COVID had settled down. I am truly sad Larry and I never got to fulfill our agreement but I am forever grateful for the time he gave me through his voice and emails we shared. Larry completed a large piece of the missing puzzle for me – thank you Larry!
No doubt Larry and Tommy are jamming somewhere, sharing stories and a few other things (I'm sure we can use our imagination).
Sadly, I don't have a musical bone in my body. However, I'm confident that Larry carried out his promise to Tommy and there are still ample musicians from his era that are preserving "The Adderley-Morris Rule".
Suzanne Lynch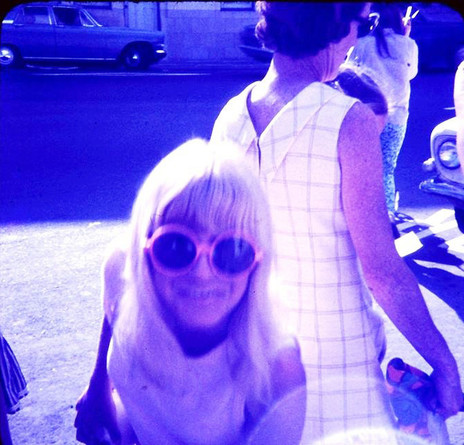 I was 15 when I first met Larry Morris on the set of the C'mon TV show with Larry's Rebels. We instantly became great friends, he had a such wicked sense of humour and was always known as the loveable rogue of the music industry. However where I was concerned he was always very protective and would go so far as to ask any guy that came up to speak to me what exactly his intentions were … it's very funny looking back. My dad had asked him to look out for me as I was so young and he certainly honoured Dad's wishes. He became a special lifelong friend. Larry led a colourful life but had a heart of gold. He was a great singer and entertainer and will be sadly missed.
Glenda Law
Knowing Larry Morris for a half a century ensured that I got a good grip of who and what the man really was because you can't hide yourself for too long. Larry never tried to. Musically he always gave 100 percent, whether it was a stage in front of a huge audience, or a small bar with less than 50 people. I have heard him turn down lucrative amounts for gigs saying it didn't fit right and on other occasions he would travel and sing for someone's wedding for nothing! Larry could be difficult (who knew!) however this was because he was a perfectionist. He knew exactly what he wanted and he made sure he got it – musically he always nailed it.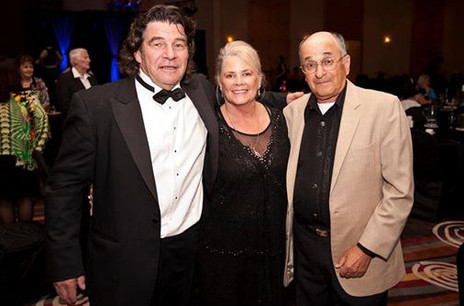 Personally, if he liked you he was a friend for life. Once he loved you, he had your back and was a staunch and loyal friend forever. I was lucky enough to be involved on both sides of his life. Organising many gigs and concerts over the years – and also enjoying a personal friendship – I experienced loyalty like I never had before. Larry called a spade a bulldozer – I loved that about him. If he had an issue you heard about it face to face. He didn't back-stab. He was straight up.
His family meant the world to him – he would have given his life for any one of them if need be. His true friends will know the soft side of Larry. He was emotional. He wore his heart on his sleeve and was not ashamed to tell people he loved them or apologise when he knew he was wrong.
He was one of New Zealand's greatest singers. The mould has been broken. I will miss him as long as I live.
Dave Miller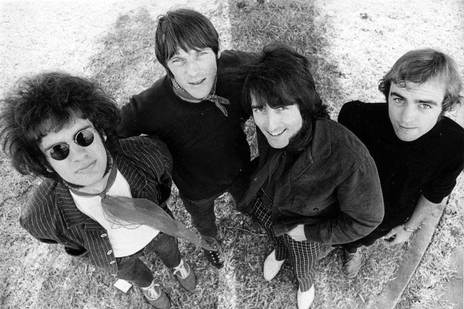 Great talent. The Rebels were a good band. I was glad they were Melbourne based, while The Dave Miller Set were based in Sydney, they were a tough act to follow.
David Stone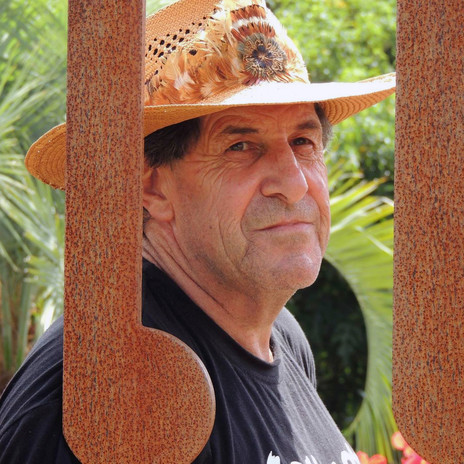 I first met Larry Morris in 1965 and our friendship grew from there right up to his passing, 57 years later. When Larry went off to live in the US in the early 80s, I used to go up and visit him every three to six months and spend a lot of time with him and various music people living in LA. We decided on one of my trips that we should promote Kiwi songs written by Kiwis to the American music publishing world.
I would source newly written material by local artists and put them on cassette and then travel up to LA where Larry and I would sift through them and choose the best ones to present to the publishing houses. We had songs by Liam Ryan, Mike Farrell, and Ardijah to name but a few.
Larry was extremely passionate about New Zealand music and was always talking to people he knew in major LA radio stations about the quality of Kiwi artists. We even got Dave Dobbyn's 'Slice of Heaven' played on KMET FM, and 'Time Makes A Wine' by Ardijah played on Stevie Wonder's station KJLH FM (Kindness, Joy, Love, Happiness) in South LA, targeted at the extensive black market.
Even though the interest in our catalogue was strong we never managed to place any songs with major artists. But we did come close with Lyle Lovett who was keen on a Mike Farrell song, and Irene Cara who wanted to record 'Time Makes A Wine' (but at the 11th hour found something she liked better). We also came close with placing a few songs with Kenny Rogers.
Larry returned to New Zealand shortly after Tommy Adderley passed away in 1993 and formed a great band to play at the benefit concert we held at the infamous Gluepot Hotel in Ponsonby.
Larry was a major part of my life and we shared many wonderful adventures both here in New Zealand and abroad. His passing has left a huge hole in my heart.
Pete McGregor
Larry was one of the most loyal people you can imagine. He was the total professional and poured his soul in to every song he sang. One of the few vocalists that could make a hardened backing band cry when he sang from the heart. He was generous, always happy to put up his hand for a fundraiser. I booked Larry and band to open for America at the Town Hall.
Larry's band was so hot that America asked them to play on longer because they liked the band so much. If I asked Larry to sing a special song that I thought would suit him for a concert I was organising he would always do it. I recall him singing 'Lady' (the Lionel Richie song) for one concert I had organised. He just nailed it. Wow, it was great to be there and part of it with Spike and Bruce [King]. We were crying at the end of the song. There are not many vocalists that can do that to hardened musos.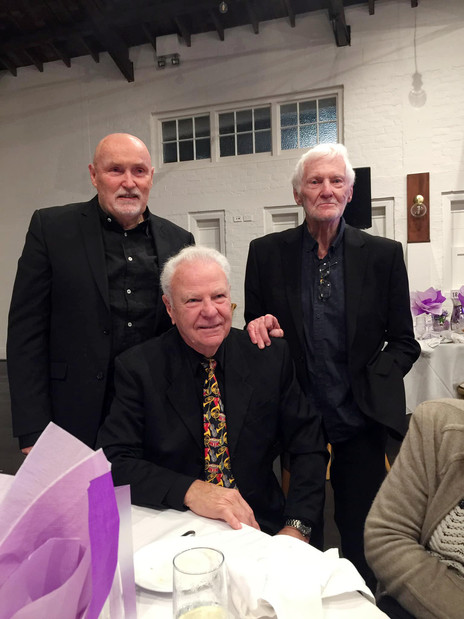 And another unforgettable moment was when at a fundraiser I organised for Larry, his mum got up and sang her party piece "with a little sniff and a little sniff" etc., totally stole the show and Larry stood there with the greatest look of affection on his face. He loved his mum and dad.
The World and New Zealand are worse off for the loss of our Larry
One of a kind
A man who stood up for what he believed
And he believed he could sing
And man he could!
RIP Larry Morris
One of New Zealand's greatest musical icons
Go in peace our friend
Tom Sharplin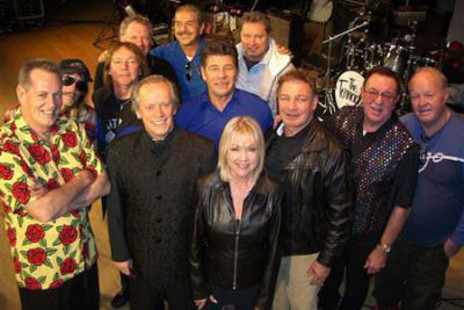 Larry's Rebels were the band of the day in the 60s when I was first starting off. They appeared and sounded like an overseas band. Over the years I've worked alongside Larry and become a close friend.
One of his great assets is his fearlessness. He has no time for fools and will let you know it. Inspirational always as a performer, he sang from the heart in full voice and owned the stage. Another great asset of Larry's was to pick the very best musicians available to work with. Larry always presented himself well onstage – a true pro.
Boy could he tell stories ... such an engaging story teller.
Gray Bartlett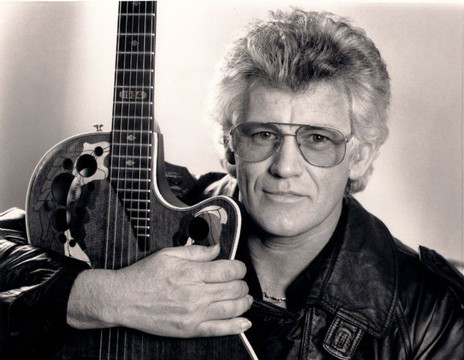 A sad time losing my old music mate, Larry Morris. I recall some great times with Larry, especially when Ian Magan and I toured Best of the Best, with New Zealand's very best rock stars. It was a hugely successful tour, and Larry was most definitely one of the star turns!
In later years, Larry and I regularly caught up ... and in 2020, we were on our way to Whitianga for the Beach Hop special concert, when I grabbed Larry to ask him if he would like to try an idea I had for him with the great Sarah McLachlan track 'Remember Me' and although it was never finished it remains as his last recording.
Harry Lyon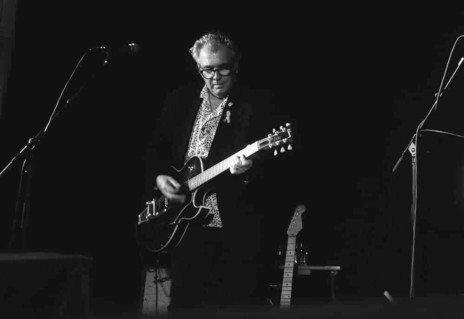 Really sad to hear about Larry Morris. I was a regular at Auckland's Top 20 in 1965-66 when he and the Rebels played there a lot. They impressed me and I thought Larry had a great voice and was a star. On 17 June 1967 I met my wife Maggy at a Larry's Rebels dance at the Takapuna RSA. I told Larry when we were both boundary riders at a social cricket game in the 1980s. "I love that mate," he said, and whenever we saw each other or spoke he would always say, "How's that beautiful wife of yours?"
A very lovable rogue and great company. RIP.
Shane Hales
We travelled many miles together, Larry and I. In the early days we shared the same hopes and dreams of pop stardom. We both achieved it and soaked up the amazing energy of the 1960s pop music revolution while living the dream. The dream coming true with Larry's recording career being a well-deserved success, as a soloist as well as with Larry's Rebels.
Looking back, I feel extremely fortunate I was there to share many of those heady days with him on stage, on TV shows, and live tours. After 50 or so years of friendship we shared countless hilarious memories of life on the road together – the stories of which are probably best left there.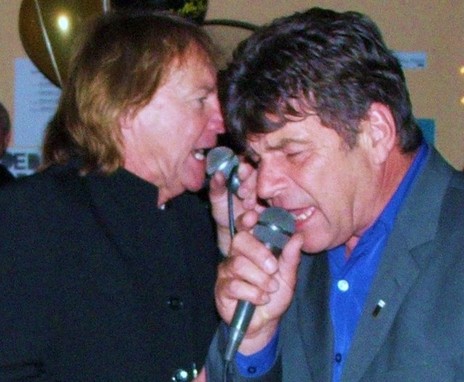 Being that close to Larry, I saw a serious side, a will to succeed, a will to utilise his great talent, which he did in no short fall. He was a man of great humour, loved playing pranks, telling jokes. His infectious laughter always making the stories even funnier.
If he had something to say he didn't hesitate to tell anyone to their face which – although being an admirable trait – could sometimes, for a short while, put friends on a different page. But a few hours later all was forgotten.
There was a gentle side to Larry which was not often on display and I was lucky to witness that side of him when he happily spoke of his love of his children, his wife and family.
Larry was a trouper, a pioneer, a pop star, a rock star, a talent – and above all a friend. He will remain influential in the history and culture of New Zealand pop music.
Doug C T Thomas
Larry and I have been great mates since the mid 1960s, even though our respective bands were completely different genres. Our friendship remained very strong throughout the years. When I last moved out of Auckland eight years ago Larry drove the furniture truck to my house in Taranaki. He just wanted to help out, which sums him up.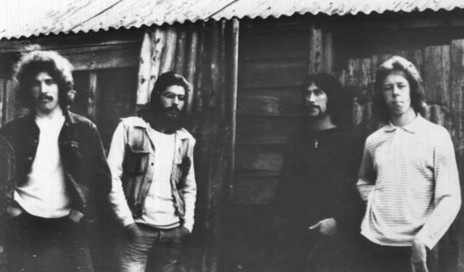 Many great parties and fun over the 55 years we knew each other. Many we can't speak of here – lol. He recorded about six songs of mine with 'Reap What You Sow' featured on highly rated Pacific Coast FM USA over the last month. On his last CD Amigos he recorded 'Mr Rock'n'Roll Guitar Man', which Darren Broughton and I wrote as a tribute to Jimi Hendrix.
Larry was a very loyal best friend who contributed greatly to the New Zealand music scene. He will be missed dearly. Rock on Larry brother. We'll see you on the other side.
Maurice (Mo) Mensky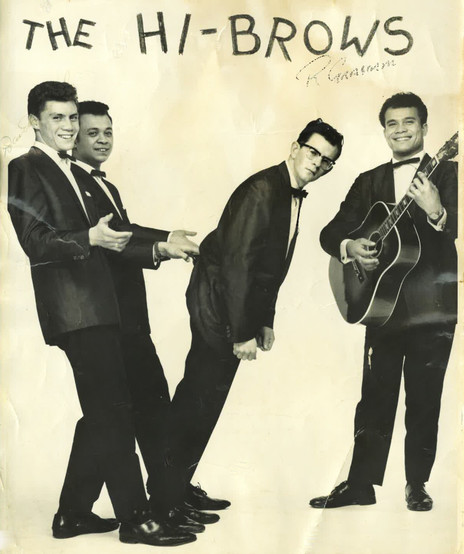 I was the comperé at Auckland's Top 20 in early 1965 when Larry's Rebels played their first gig there. Larry and I clicked immediately, possibly because we were both were quite similar even though I was a lot older. Larry was the most loyal person you could ever meet.
During 1993 I was the secretary for the Mangakino Workingmen's Club. We were left in the lurch when the band that we had booked for New Year's cancelled just a few days beforehand. I rang Larry in a panic in the hope that he was free. "No problems me ol' mate, leave it with me, I can put a band together, slip us some petrol money and find us a bed and we will be there." Mangakino absolutely rocked that night, it was a swinging from the rafters kind of night – literally – and like no other night that I experienced during a lifetime of working in the club scene both in New Zealand and Australia. The club made more money that night than the whole of the year and Larry and his band were happy with their petrol money, a bed and a feed, as it was all about helping me as a mate out of a jam. I was dismissed from the club during the following year and the incoming board approached Larry for the following New Year celebrations and offered an insane amount of money. Larry's reply back was short and simple. "No Mo – no show".
Larry Killip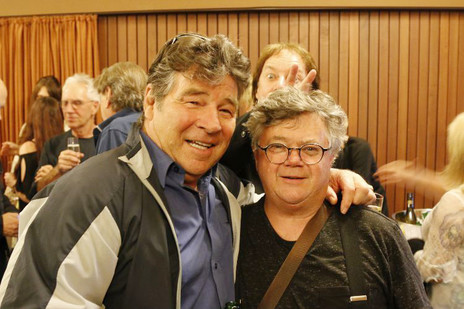 Back in the 1970s, I didn't personally know Larry. I performed on Radio With Pictures one time with my band Larry and The Ladders. The next day at work, the phone rang and it was Larry telling me how much he enjoyed the track. I don't know how he got my number, it was a remarkable thing to do and perked me up no end. I went on to know Larry and in fact just before he became ill I was involved in what would be his last session. It was a cover of the Sarah McLachlan song 'I Will Remember You, Will You Remember Me' ... we sure will, dear friend.
Bob Smith
I met Larry at a gig we shared in 1969, we were both playing at The Top Hat in Napier. I took the opportunity to ask him if he knew of any bands in Auckland that needed a keyboard player and he kindly gave me Jimmy Ford's number. Which led to me joining The Dallas Four and beginning a long musical career. The addition of John Kristian kept me connected to Larry through their friendship and association with Hugh Lynn.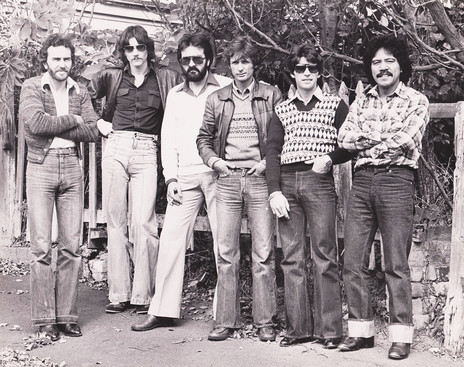 Many shenanigans later, we lost contact. Then, when I was about to return from the UK in 1979, an offer came to join Larry's new band Shotgun which, in the end, proved to be a brief reunion. He was always larger than life and proud to be so. One day the charming rogue, the next his own worst enemy, he was always generous, adventurous and above all, ever hopeful. Farewell Larry Morris Sturdy, and thank you.
Chris Caddick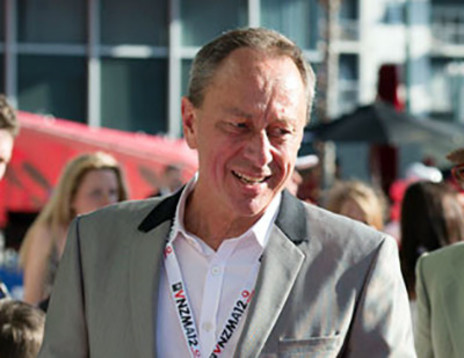 I had the great honour of being part of the team at Recorded Music NZ that inducted Larry's Rebels into the NZ Music Hall Of Fame. Of all the inductees over the years, I would say Larry was the single most delighted individual ever to be inducted.
His enthusiasm in recalling the heyday of Larry's Rebels was delightful, the stories fascinating and the legacy a great source of pride for Larry. And rightly so. It is only in the last decade or so that the band's place in the pantheon of New Zealand's music legends has become appreciated. Larry was what I would call an old-school Kiwi. In my dealings with him over the years it was always a matter of looking him in the eye and shaking on it. Your word was your word. In conversations with him you could not help but imagine that powerful voice up on stage belting out hits with unbridled joy, a thrill that stayed with him for life. We have truly lost a legend of New Zealand music with his sad passing.
--