Luthiery has been a growing interest for Graham Wardrop since the late 1970s, early 80s when he lived on the Barrenjoey Peninsula, north of Sydney, with his then wife, Fay, and their two children.
The rocky bays and golden beaches of Sydney's northern beaches on the peninsula provide prime surfing breaks – a far cry from the icy waters of Otago Wardrop had been used to. The beauty of the area has long attracted both surfers and creatives of all types: those catching waves, others photographing or filming them catching waves, and still others writing about them.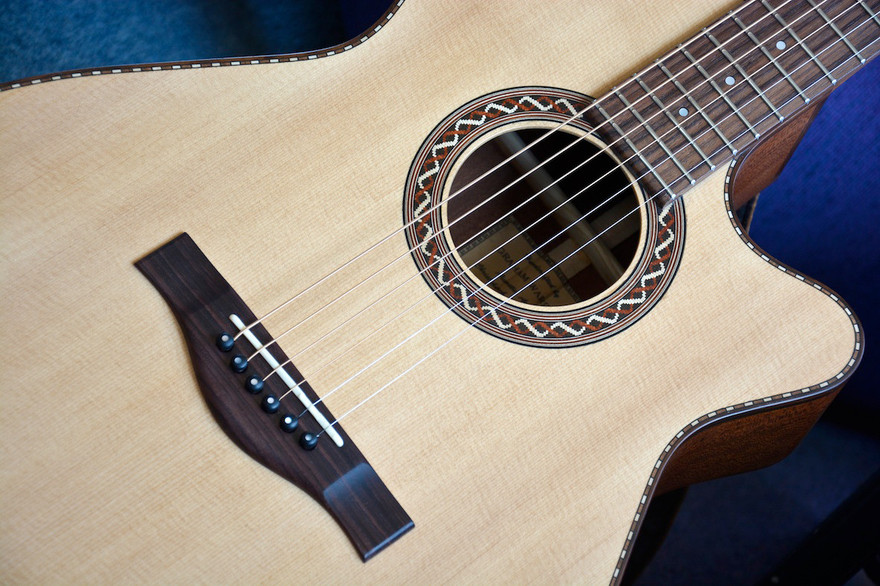 Less than an hour's drive from the big smoke, it's far enough away from the city to feel like Vacation Central, yet close enough to show up for work when booked to do solo or band gigs and recording sessions. These were halcyon days for him and his larger circle of friends, a like-minded an influential clique of talented designers, photographers, artists, artisans and musicians. With them it was live music for breakfast, lunch and dinner, then surfing, golf or tennis and more music or just chewing the fat until work called.
It was where he started what would become a favourite offstage pastime – trying his hand at crafting a couple of instruments – because he needed or wanted them, and also just to see if he could. In the years since, in down time between gigs and tours, he has built some 30, increasingly well-honed instruments, from a nylon-string guitar, a couple of dulcimers, a mandolin and a psaltery he designed with and made for his sister, to solid-body electric, bass and lap steel guitars and a clutch of acoustic steel-string guitars.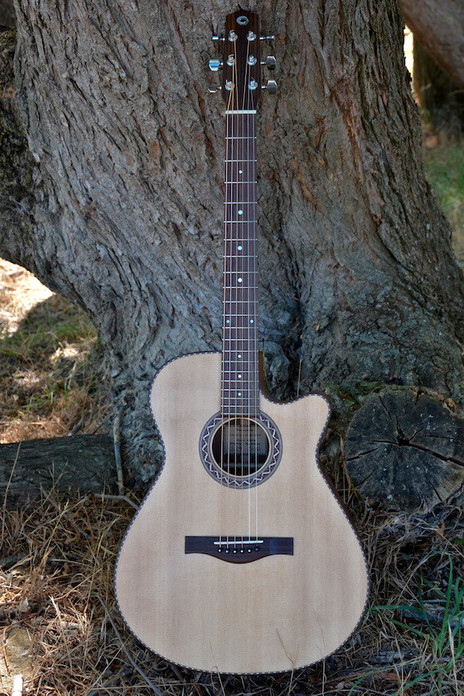 The steel strings are his major focus. He has built some for family members, some to order for musician friends, and others for his own use, selling them on if they were superceded by a later model. Former Kiwi cricketer-turned-balladeer John Wright has a Wardrop guitar, as does Tony Tyler, the former CEO of Cathay Pacific and later IATA (International Air Transport Association). Hong Kong government minister Ronald Arculli bought one for his daughter, and US Navy Commander Al Jones, former head of the Antarctic base in Christchurch, took his Wardrop guitar back home to Virginia after his New Zealand service finished.
Electric guitar and bass were Wardrop's main instruments in his early professional years in Lutha and other Dunedin bands, but the acoustic guitar is his enduring love. A little Martin started it: "That little Martin is part of my spirit. In some ways it is my spirit," he says. He has owned this guitar since he was young and the guitar was still new.
"It was made in 1962 and brought to New Zealand by someone in Mosgiel who was going to learn on it. They never played it and advertised it in 1971 in the Otago Daily Times. I saw it, fell in love with it and my mum bought it for me for $300. It's a Martin 018 – small-bodied, spruce top, Honduras mahogany sides and back, rosewood neck. It's a short-scale length – 14-fret neck, 632 millimetres – and a sweet-sounding guitar. I've probably written more music on that guitar than anything else.
"It was my only acoustic guitar for years and years. It's quite marked, but I know that every mark on that guitar is mine, and it's now 55 years old and still plays beautifully. There are certain songs when I record that that's the only guitar they sound good on. It's a gorgeous little instrument."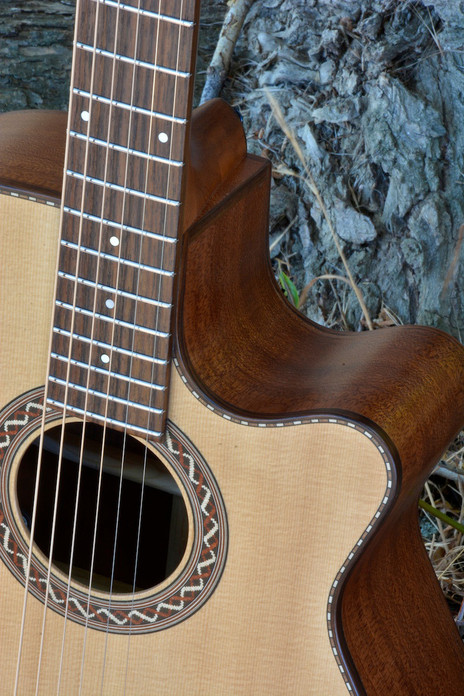 Before he begins to make an instrument, Wardrop ponders it for a long time, envisaging the look and sound of it and the wood he's going to use. He taps the pieces with his musician's ear to find their sweet spot, then puts the various stages of it together slowly in a combination of artistry, mathematical precision and old-world craftsmanship.
In luthiery, he defers to the knowledge of full-time artisan Lyttelton's Peter Stephen, celebrated for his expertise with guitars and double basses in particular. Wardrop trusts Peter Stephen above all others if there is a gnarly problem needing to be solved in making a guitar or if the wood is particularly special, as much of it is these days.
His 29th guitar, which he built in 2014, was all his own, but his most recent one was a collaboration with Peter Stephen; Wardrop was without a workshop while his earthquake-damaged house was being rebuilt, he was on tour much of the year and, most importantly, he felt that "because of the nature of the woods I would rather pay Peter to assemble it, because he is a professional and I am a hobbyist".
"The woods in this guitar are precious. The back and sides are perfectly quarter-sawn Brazilian rosewood that has been air-drying in New Zealand for over 25 years. Peter brought it back from Germany. You couldn't bring it in now ... the World Bank placed an embargo on Brazil and stopped it exporting logs, and then they were allowed to export, but only rosewood that they'd milled themselves."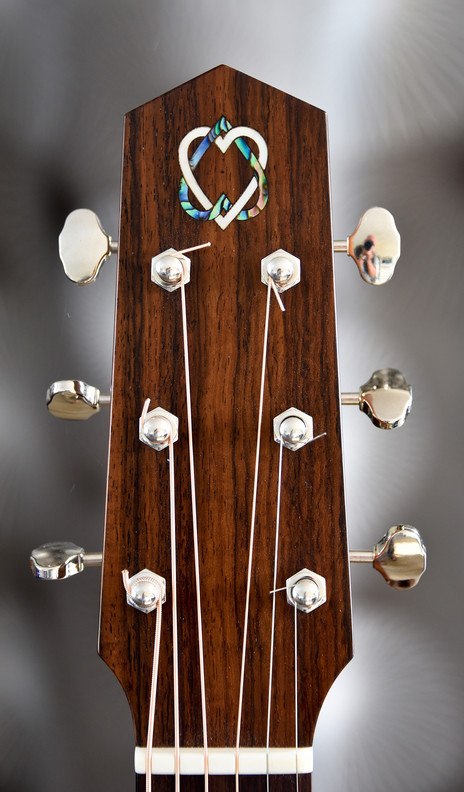 Brazilian rainforest is being cleared at an alarming rate and rosewood, a slow-growing wood, is a finite resource.
"This wood is the most renowned wood for stringed musical instruments there is. They export it to America milled, but America won't allow it beyond their borders – they want it all."
Wardrop built the guitar to a certain stage then handed it over to Peter Stephen to complete. "Peter's such a great craftsmen. I can't compete with his joins. And the last thing you want to do with wood that precious is muck it up. I think I would've made a reasonable instrument, but what Peter's made is a brilliant instrument.
"The top is Sitka spruce that I imported nearly 30 years ago from Martin Guitars, and when I saw this top I vowed I would not use it with anything but Brazilian rosewood. Finally it happened. I did the inlays and joined the tops and backs … and had a lot of input. It's got Peter's label in it, but I've written on the label 'with and for Graham Wardrop', and it's got my number – SS30, steel string 30."
Although unintentional, perhaps, his inlaid pattern of interlocked mother-of-pearl hearts on the machinehead reflects the duality of care that went into making this guitar.
Unlike other electro-acoustic workhorse guitars Wardrop has made or bought for the road, SS30 is purely acoustic. This guitar is for him to play and record with, and perform with in situations not needing amplification.
"I'll never put electrics in it. I wanted to get the most sound that I could get out of this wood, and if you put a pickup in between the saddle and the bottom of the bridge, it's an interruption to the sound. It's probably so minuscule that you couldn't detect it, nevertheless any interference is going to detract from the ultimate sound. And there's a few little tricks in there, like angling the saddle back a few degrees to get everything seating on the saddle slot … just stuff that I've seen and it works. It's a beautiful sounding instrument.
"To most people, a guitar is a guitar is a guitar, but I'm the equivalent of a wine-taster when it comes to guitars and the sound of this is developing all the time. Every time I play it it sounds slightly different and over a period of time, maybe several years, it will reach its potential."