An oral history of what might be called Auckland's scungiest venue, which somehow still managed to spark a flourishing scene of young acts who reinvigorated the local scene.
Matthew Crawley: "I was living in London from 2000 to 2002 and I would just constantly go to gigs and club nights. I loved my social life in London and when I got back to New Zealand I immediately thought, there are some big gaps here."
Jo Galvin: "I arrived back to NZ a few months after Matt did. I had started my degree at Whitecliffe and Matt was working at Real Groovy, which is where we bumped into each other again. I expressed my boredom and frustration at the Auckland 'night life' (I'd been working in various indie clubs in London, as a promo and door girl). Matt has always had great taste in music had already come up with the concept for a Kiss and Make Up club night with a friend of his, but wasn't sure if he would go through with it as that friend was moving away. As chance would have it, I drunkenly met the guy who was booking Paradise Bar at an art exhibition downtown. He had his diary on him and I booked the night."
Matthew Crawley: "Paradise Bar was owned by John and Anna, who were a middle-aged Chinese couple who didn't even really know how to run it as a tiny karaoke bar. A guy called Wayne Gordon was booking bands but there was an infamous Mint Chicks gig where it got shut down for being overcrowded and after that Wayne just quit I think. The owners asked me to come on. There wasn't the notion that it was a venue, it was just a fun and cheap place to have this little indie night where people could come and dance to records, and then we'd occasionally have some bands play."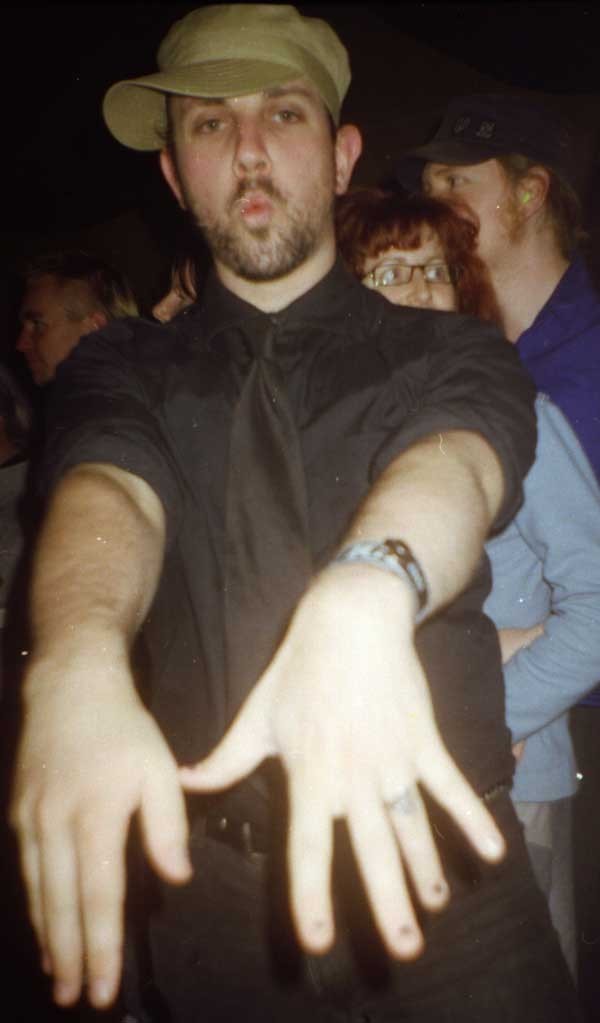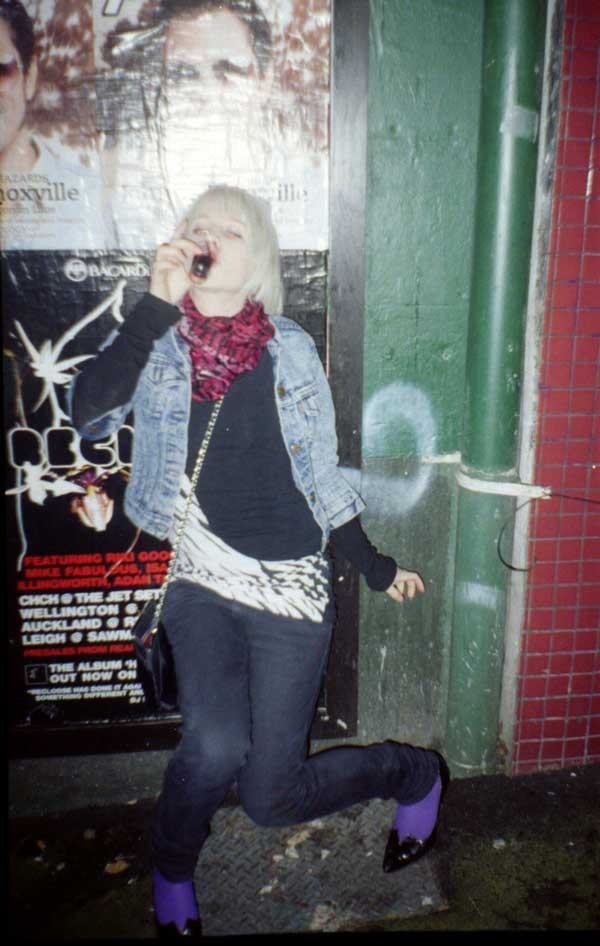 Blink: "My first 'proper' show in Auckland was at Paradise Bar on K Road. Matthew Crawley was one of the few people in the country who gave a shit about booking underground acts at the time and I met him because he recognised me walking out of Real Groovy on Queen Street. I hadn't even done anything at this time, maybe a couple of issues of my Xeroxed zine. He gave me a tour of Paradise Bar and I booked the very first A Low Hum magazine release party there with Batrider and Die! Die! Die!"
Matthew Crawley: "I worked at Real Groovy and I would be constantly identifying people with tastes that lined up with mine and loading them up with tons of CDs, rather than just being 'next, next'. I was always getting in trouble for interacting with people and encouraging a community."

Eden's Bar
Matthew Crawley: "Eden's Bar had the same owners as Paradise Bar and started up down the road. They tried to fight the capacity issues at Paradise Bar, but they just couldn't so they opened Eden's Bar instead. I wasn't the first booker – that was Melissa Phillips – but she handed it over to me when Paradise Bar shut down. So we moved Kiss and Make Up down to Eden's Bar there and started having more bands."
Jo Galvin: "It was so loose, and attracted a cool group of like-minded people who didn't really have anywhere else to go. We loved that it was a shit hole. It was OUR shit hole! We created a fun vibe. We had theme parties and new bands and great DJs."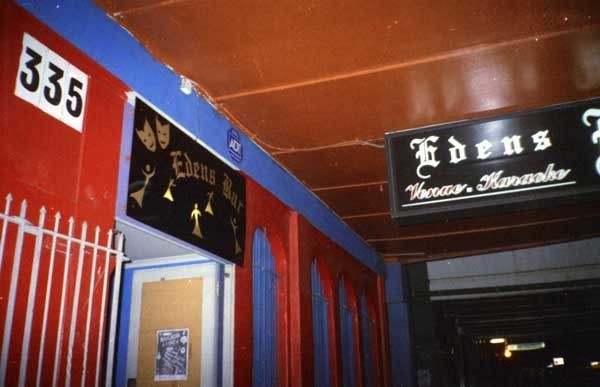 Matthew Crawley: "It's important to mention Fast and Loose. It was the front shop in St Kevin's Arcade and, whether Tony [Downing] and Charlotte [Rust] wanted it to be or not, it was a real HQ for what was going on. When I was working there, people would constantly be catching up with me there and I'd tell them to come along to Kiss and Make Up. It was actually a pretty cool time. Pre all this social media bullshit that is taking up all our time. People would actually come and hang out. I have some fond memories of pre-internet."
Kim Martinengo (The Blunts): "John, who owned both Eden's and Paradise was a fishing mad engineer with no idea about running a bar, so he kinda let Jo and Matt and all of our friends take over. When he sold Eden's, he went back to China to build motorways. The new owners didn't change the banking details on the EFTPOS machine when they took possession and John was still getting the proceeds of the bar for a few weeks after they took over!"
Matthew Crawley: "The toilets never got cleaned from the start, but they got worse over time. John and Anna just disappeared one day and the bar was owned by these much younger guys who really didn't care about basic hygiene, there was never any toilet paper. Though the bathrooms were a great place to bring your own booze into, because they were quite big. We talked them into doing four-dollar drinks most of the time – it was such a cheap place. It was grimy, dirty, dark, but a nice big size and super odd. Because of its completely unpretentious setup, people just let their hair down, got crazy, and would dance until we closed. Back then, late nights were – whatever! We'd stay up all night, practically. Kiss and Make Up was on a Thursday night so it was just full of people who either didn't have to work the next day or didn't care."
The bands
Vincent Lum (Whipping Cats): "We'd been jamming for a few months – Chanel [Bristow] hadn't even played drums before. Then Straton [Heron] started dating this girl Anna [Blackburn] (now his wife) and she knew Jo Galvin. They were in the middle of moving Kiss and Make Up to Eden's Bar, so Jo kind of bullied us into playing there even though in our own opinion we sucked real bad. Maybe they were hard up for bands, but I think we were the first band to play at Kiss and Make Up at Eden's Bar."
Matthew Crawley: "It was 2003 when Eden's opened and it didn't register half the time that we really needed a proper PA. The sound desk was where the DJ booth was, which was behind where the bands would actually play so the sound engineer was behind the band. If we even had a soundman, usually it was just me doing my best. Bands would constantly vow to never play there again, but we would still get killer shows."
Kim Martinengo (The Blunts): "Yes the PA was shit, though the bands did back each other and stick together. But what I really appreciated was that the venue really did seem like it belonged to the kids, and the kids wanted to dance. If you wanted to slay Eden's you needed to bring the party. After facing the chin stroking crowds and 'serious' career bands at the Kings Arms this was a revelation. The Blunts created our Weapon of Mass Destruction cocktail (Cheap sparkling wine, Raro and Nurofen-plus) and debuted it at Eden's as a way to get the crowd up to the stage front and give them an excuse to go crazy. It worked every time!"
Matthew Crawley: "The Checks played the first really massive show at Eden's Bar. They were supported by Velez (a band that my sister, Lisa Crawley, sang in) and James Milne played his first show as Lawrence Arabia. It was the first show I did that was hugely in demand. I remember The D4 and the Datsuns being there, as well as John Baker. The word had gotten out about The Checks, thanks to them playing on the bFM breakfast bus at Takapuna Grammar. Their mums and dads had to be there for the show because they were underage. It was a really exciting show."
Henry Oliver (Die! Die! Die!): "I was initially predisposed to disliking Eden's Bar. Its rise to prominence in the indie-nightlife at the time was due to Paradise Bar changing its focus away from a bunch of 18-22 year olds who brought in cask wine in coke bottles and did whatever they pleased, towards paying karaoke customers. As I warmed to it, it become clear Eden's was perfect for the live scene at the time. It was small, cheap, sounded terrible and smelled of urine. Like Paradise, you could get away with almost anything, but the drinks were so cheap some people I knew actually paid for them."
Ryan McPhun (The Ruby Suns): "Mostly what I remember about that place is trying to fit six people playing at least two instruments each into a six channel desk, drums sans mics and cymbals blaring, and a really tight relationship between feedback and foldback. But it was still a great and a fun time in Auckland music."
Stephen Hart (The Crabbs): "We mostly did covers when we started but we never really learnt songs because we thought they'd be good at Kiss and Make Up, we just learnt stuff that was easy and that we liked. It was a happy coincidence that people at those nights were on the same wavelength. It never seemed like a particular scene, just a fun party. Although we did get heckled by The Coolies..."
Chelsea Nikkel (Teenwolf): "The first two venues I remember playing were the Wine Cellar and Eden's Bar. Eden's Bar had a terrible PA and I believe only one side of it worked properly. The toilets were appalling. However, that didn't really matter to any of us at the time. It felt like everyone that went to Eden's Bar formed a band or a performance art group or contributed in some way to the arts scene that had been centred around K Rd since the 90s but had continued to evolve with our generation of newbies. In Eden's Bar I remember seeing short-lived pop-up bands like The Secretaries, and Robot Tigers, who only played a handful of shows but formed a band because they could. Then there were bands like the one I was in, Teenwolf, and our friends the Whipping Cats, who were kids from out of West Auckland that must've felt like they had found their art school crew in the central city. I remember it being an exciting time for everyone – and a little scary for me, a Jehovah's Witness kid from the suburbs busing into town."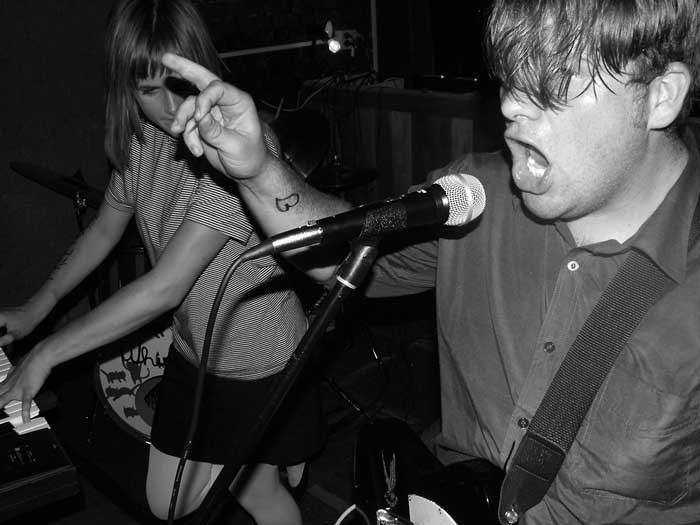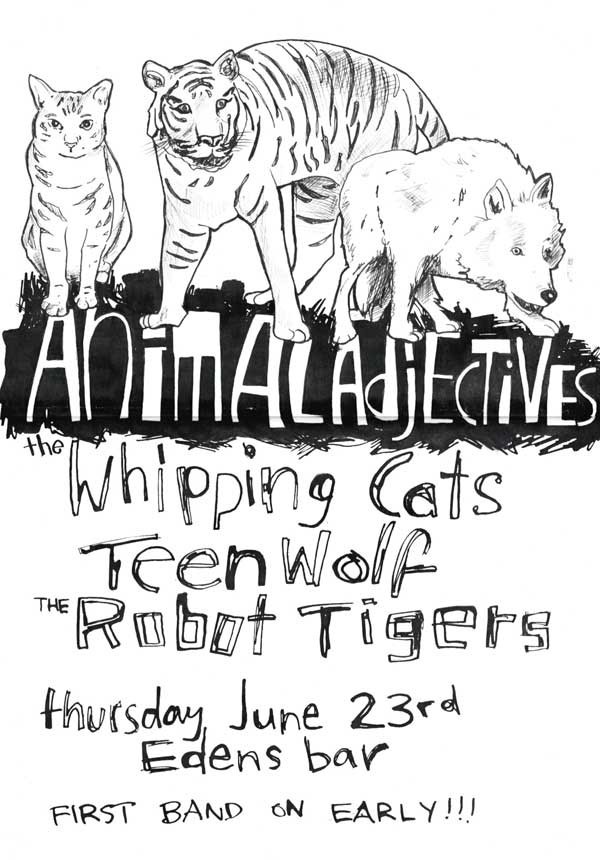 Chris Cudby (Golden Axe): "The audience was pretty much at least 50 percent composed of people who would play there, it was like everyone was taking turns to provide entertainment. Our decision to play on the floor was inspired by a bunch of things including practicality – ie, how shitty the house PA was. It was kind of easier and more reliable to bring our own PA and play on the floor. Plus the vibe was pretty loose, it felt like people were open to trying new and different things. Special shout out to the sweet artist perks of playing at Eden's Bar, the rider was $2 off beers before 11pm!"
Phillip Hadfield (Nova Echo/Shaky Hands): "Because of its character, I remember playing Eden's Bar more so than other venues of the time. In Nova Echo we'd regularly gig alongside bands such as Teenwolf, Malenky Robot, the Whipping Cats and Robot Tiger. It was small, central and grimy and there were hip drinks specials – a perfect venue for young people who liked live, loud and raw music to congregate. After we started Shaky Hands, there were places for Nick [Johnston] (our singer) to climb and with the stage being so close to the ground it made for a real connection with the audience."
Matt Scheurich: "Nick from Shaky Hands climbing and jumping from roof into crowd was one of the scariest moments I saw there. The second scariest was state of the toilets."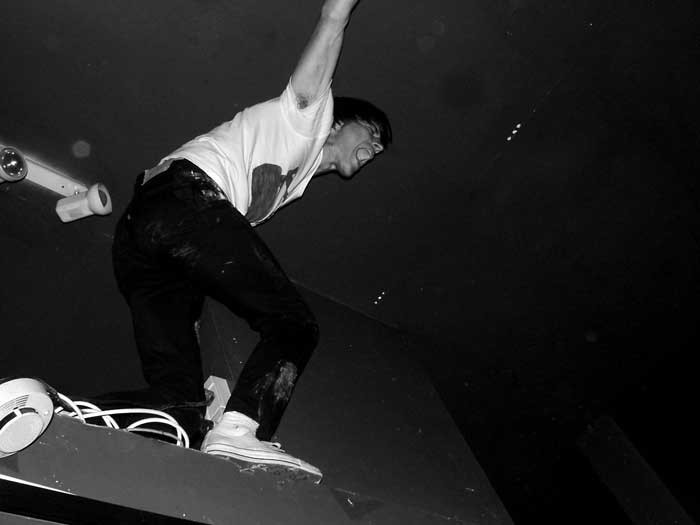 Capturing the scene
Jo Galvin: "I took photos on my little red Hanimex snap shot camera every Thursday night. I'd use my share of takings to buy film from the creepy guy at the dairy across the road, and make zines and display some of the photos in the club. We could dance all night to our favourite tunes and make new besties in the ladies room and this would be how my band Musche was formed. We did our first gig at a Kiss and Make Up night at Eden's. I don't know what we were thinking. We had a lot of fun hanging out and making up songs, but we never actually practised and would drink a whole bottle of Tequila or Jägermeister (or both) before going on stage. I would forget what I was doing up there, get distracted, stop performing and start taking pictures. Poor Imogen, who actually has musical talent and experience, had to hold it all together."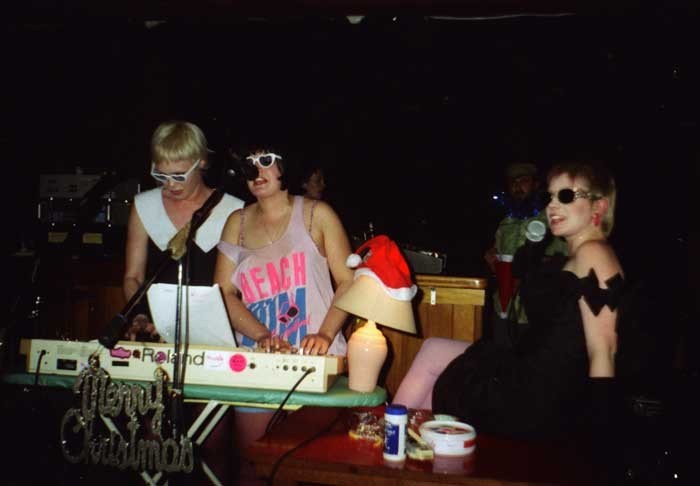 Bands from out of town
Matthew Crawley: "We did eventually start having some bands from out of Auckland. Lady Luck from Wellington. Batrider too – though they rang me as soon as they arrived at the venue to complain about the PA. They were pretty angry about it! There were even a few international shows – Lakes from Melbourne played and Xan from Mystery Girl arranged for Moving Units to play at Kiss and Make Up, which was really awesome. And Blink brought his Low Hum tour there."
Blink (A Low Hum): "Matthew Crawley was the only venue booker in the country actively engaged with what was happening, he was chasing down bands and you knew that any band playing his Kiss and Make Up club nights was worth checking out. He was perhaps one of the few people whose opinion I trusted and I booked Golden Axe to do a bunch of shows on my third tour, solely on his recommendation. Wherever Crawley booked the next decade would be the venue to watch. A huge scene was building in Auckland around Eden's Bar, one where people didn't give a fuck about how good a musician you were or what sort of gear you had. It was a scene of misfits, art students, acts who just started the week before and just plugged a mic into the shabby mixing desk and played full volume struggling to hear what the others were playing. There were, of course, the seasoned veterans, but there was no snobbery and though from the outside it looked exclusive, it was far from it. I was the "anti-Eden's" – a hippie from Wellington (dub-city) – but the bands I brought to town were welcomed with open arms. The bar was tiny and abysmal; I struggle to think of any bar since that comes close to it in terms of being an actual 'dive'. I used to say that Puppies was a 'dive bar', but it wasn't – if somebody took a crap in the urinal, I would have removed it, but not the staff at Eden's. It really was a piece of shit, but for once, and one time only, it debunked the adage that you can't polish a turd."
Ben Thomson (Amy Racecar/ The Clerics): "Eden's Bar always felt like a really inclusive atmosphere. All the bands hung out in the green room and drank the dodgy Eden's Bar tap beer (which was probably 50 percent pipe rust). There was very little snobbery. We'd definitely drive up from Hamilton pretty late on a Friday, drink a bunch of Red Bull, play, wrap up around 3am, get halfway back to Hamilton and sleep in a carpark in Ngāruawāhia..."
Karl Smith (Amy Racecar/ The Clerics): "Yeah, do stress the importance of the Red Bull! The main thing I remember about Eden's was that the bouncer was fucking rad. I remember late one night some guy came up to him outside and started abusing him. This guy was pretty drunk, screaming in his face. The bouncer was super cool, calm and collected. He just told him to move along and took the abuse for a good couple of minutes without touching him. Then the aggro guy pushed him in the chest, and that was all he needed. He took the guy out in seconds, and then called the cops. I was like, 'you're a cool motherfucker'. He really dug the indie rock scene too. Cool guy."
Matthew Crawley: "Thomas the bouncer was a legend – chilled as. As long as everyone was having a good time, he was happy."
Mainstream recognition
Jo Galvin: "Barney from Pavement liked what he saw of my photos and gave me the back page in his magazine, which was a huge deal for me at the time. This led to Universal purchasing some images for an indie compilation CD. I believe this can still be purchased at The Warehouse."
Matthew Crawley: "Pavement was really supportive in a good way. That led to Carter and I writing lots of music stuff for them. Then The Whipping Cats ended up on the front cover of Sunday magazine in the Sunday Star Times [19 June 2005], with Vincent's then-girlfriend who hardly ever sang with them up the front while the rest of the band were in the background. That was hilarious. I wasn't blessed with a Strokes style haircut so I've always been very amused by 'coolness' and I continue to be. That's why I loved Eden's Bar because it was so stupid. Everyone just had stupid fun. Everyone got super drunk. It was a really positive time, it really did feel like something was happening in the local scene so it was cool to have that Sunday magazine article. But I also think that it was quite funny, it didn't get it quite right..."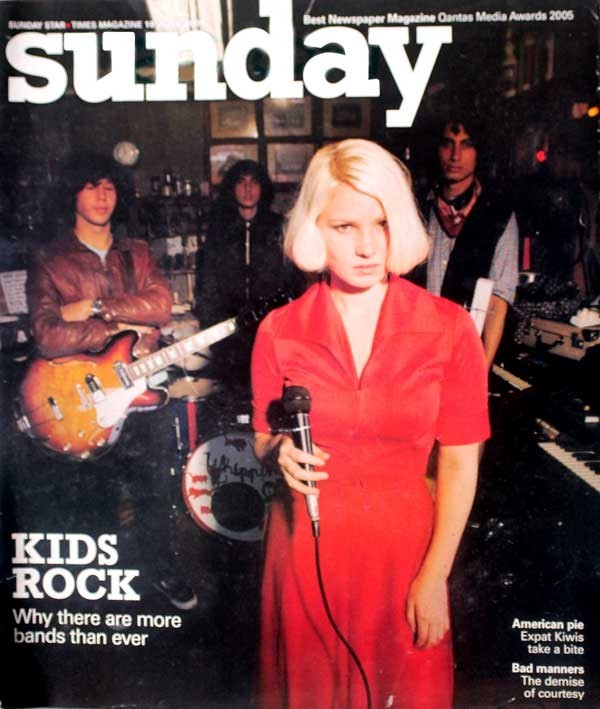 Vincent Lum (The Whipping Cats): "That was stupid, that whole article was lame. They misquoted people, got names wrong, and cheeky Crawley named bands that didn't even exist! Hannah May [Lee] who was shown on the cover with us was my on-again, off-again girlfriend at the time and I felt bad for the other guys, like my personal life was muscling in on our band and we were being misrepresented because of it. In short it was embarrassing, the classic case of a reporter/ media not getting what they wanted and writing just whatever. It sort of added up to nothing really."
Matthew Crawley: "I remember we had an interview with Camilla on her C4 show. Jo and I decided we'd go full ridiculous and wore really outrageous stuff. Basically I remember saying, 'we want to make Auckland more pretentious'. It was funny to say, but there was some truth to it in the sense that we really did want to get a scene started."
The end
Matthew Crawley: "I got fired eventually. This guy called Jack came along from Australia. He had an emo haircut and he was a real big talker and could get people behind him, at least for a wee while. He talked Eden's Bar into hiring him, because he had a couple of successful hardcore shows and packed the place out. They were like – 'finally, people are coming to Eden's Bar again' – so they fired me! Then they fired Jack about two weeks later because they realised that the hardcore crowd that he was getting in were all straight-edge and they didn't actually drink. They fired him and called me, asking me to come back and I said, 'no way!' "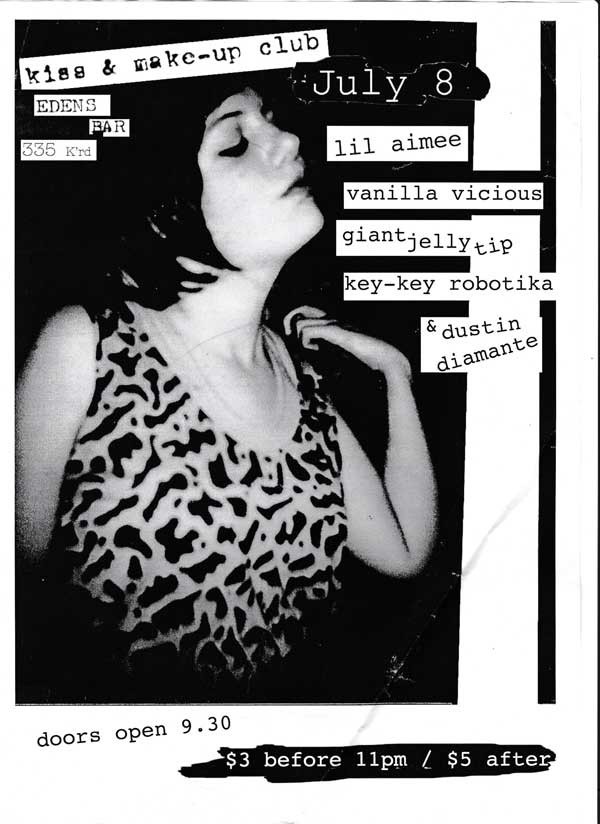 Steve Mathieson (Lunavela): "No other venue/ bar/ club quite captured the cultural ambience of the New Zealand alternative music scene quite like Eden's Bar. It makes me feel incredibly old to reminisce about it, but I have the fondest memories of that bar. The mid-week club nights provided a vehicle for people to indulge themselves in whatever musical endeavours pleased them. More than just a place to get wasted and listen to music, it was a community of idealistic, and energetic individuals. Having said that, it makes me cringe thinking how seriously I took music back then. Some great lifelong friendships were formed there. I released a tape compilation called "Analogue Attack" with Nigel Wright, pashed girls blatantly on the dance floor at Kiss and Make Up club, and had an avenue to pursue my musical dreams, which I'm grateful for. We always snuck booze in via an amp or a bag. It was a place to get weird and have fun, and I was far less cynical back then."
James Dansey (The Sneaks): "The Sneaks played at Eden's a bit, but everyone played at Eden's. Me and my flatmates used to go down a couple of times a week to dance, drink, see bands. It was a bit of melting pot for fledgling talent. I remember sort of meeting Vincent Lum as he was slumped against the outside wall smoking. He was in Whipping Cats and Teenwolf then, and I say sort of met cause he seemed pretty intimidatingly cool, so I don't think we said much to each other. But he and I write music together now in Hang Loose (along with Chelsea Nikkel, but I met her at a Fleet FM party, another great early 2000s Auckland institution). I met Matthew Crawley there too and we ended up touring Europe with Lawrence Arabia together, and I worked for him in a couple of his promoting guises – at Cassette and then Golden Dawn. And I met Chris Cudby after seeing Golden Axe for the first time and he has been incredibly integral to the running of the Audio Foundation. And artists that used to hang around there – I used to go there with my flatmate Conor Clarke, now a Berlin-based photographer. I remember seeing Simon Denny there too. All have gone on to wider, grander things. Saw a bunch of great bands, met a bunch of great people. The sound was awful, and the mixing desk was behind the stage, but it everyone was smashed drunk so it didn't really matter. It was shitty and awesome!"
James Milne (Lawrence Arabia/ The Reduction Agents): "Eden's was where I felt the first flushes of exhilaration from realising that my music could connect with people in a genuinely entertaining way, like actually make people dance and scream. What an amazing power to discover in yourself! Both that first solo show with The Checks and especially our first Reduction Agents headline show that we had at Eden's had that feeling. It was cool. Possibly, applying extreme amounts of hindsight to it, it was life changing. Obviously you didn't do number twos in the toilets there though."
Jo Galvin: "I finished my degree in 2006 then moved into Cross Street Studios, curated some shows, worked in a lab and photographed bands for bFM and started pop up gallery: Liberty Gallery. Then in 2009 I moved back to London for a couple of years, worked various art, clothing and photography related jobs and have been settled here in Auckland since 2012. I continued independently curating and working with artist-run spaces for a while and now work from my studio at home in Kingsland with a focus on ceramics and sculpture. I still take pictures but not as obsessively as I did in those days. I also have a kitten and am expecting a baby girl with my favourite hairy man friend [Kim from The Blunts] in November."
Matthew Crawley: "Schooner Tavern popped up on the radar just as I left Eden's and the owner, Peter Fletcher, had already asked me to book for them. I went from Schooner to Whammy to Cassette, and finally Golden Dawn, leaving a trail of destruction behind me. Anyone who wants to hassle me for working at a bar that has 'expensive drinks' can get lost – you had your cheap drinks back in 2003! I also started Strange News early on, around 2005, bringing over bands that weren't that popular, which is still something I occasionally do. So Eden's was where it all started for me. It's quite terrifying to me that I'm still doing essentially the same thing as I was doing back then!"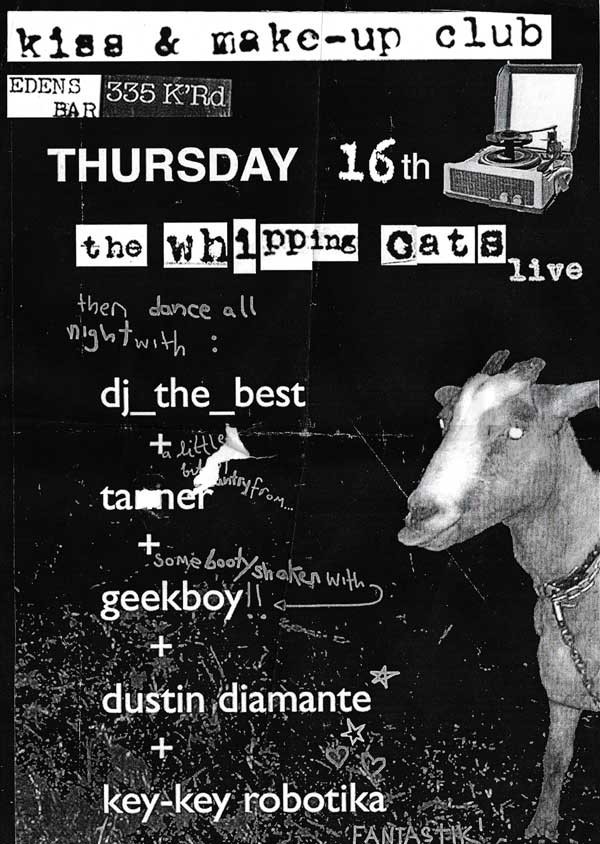 Where are they now?
Benjamin Thomson (Amy Racecar/ The Clerics): Currently lives in Melbourne and makes hip hop under the name So Much Lasagne, as well as working for Vice / Noisey in Melbourne.
Chelsea Nikkel (Teenwolf): Toured internationally as a member of The Brunettes from 2008-1010. These days she's better known as Princess Chelsea and also plays bass in Hang Loose.
Chris Cudby (Golden Axe): Golden Axe lives on and Chris also makes music as Power Nap. He helps run the Audio Foundation and works at the Depot Art Space in Devonport.
Henry Oliver (Die! Die! Die!): Henry left Die! Die! Die! after the release of their first album and later started his own K Rd bar, D.O.C. He says, "We wanted to create a space where people could hang out on a Tuesday evening as well as party on a Saturday night. I can't imagine anyone ever went to Eden's for a quiet drink and a chat…" He now works a writer and critic.
James Dansey (The Sneaks): The Sneaks lasted over a decade and Dansey went on to tour internationally with The Ruby Suns and Lawrence Arabia (as well as touring as soundman with The Brunettes).
Karl Smith (Amy Racecar/ The Clerics): Eventually gave up on the Red-Bull-motivated drives to Auckland and moved to Melbourne.
Kim Martinengo (The Blunts): Currently runs his own record label, 1:12 Records, and plays with Andrew Tolley (Kato) in Smokin' Daggers.
Matt Scheurich: Went on to play in a bunch of Hamilton bands, including Dynamo Go, Firecats, and Damsels, though he is probably best known for his solo hip hop project, MC Stormtrooper and the project Bow Arrow that he started after being almost killed by an arrow in Papua New Guinea.
Phillip Hadfield (Shaky Hands): Continued playing in Shaky Hands, which became Cut Off Your Hands. These days, he mainly plays in She's So Rad.
Stephen Hart (The Crabbs): Toured internationally in The Brunettes. He and his Crabbs bandmate, Peter Crabb, were also the songwriting team behind Crawley's indie soul band, The Cosbys (before the allegations about Bill Cosby ruined that band name). The Crabbs still perform irregularly in bars around Auckland.
Steven Mathieson (Lunavela): Formed Collapsing Cities after Eden's Bar closed and released two albums with this band, which toured extensively in the UK. Lately he has returned to making music as Lunavela, though it's more synth-based pop than the noisy outfit it originally was.
Vincent Lum (Whipping Cats/Teenwolf): Currently plays with Matt Crawley and Brad Fafejta (Teenwolf) in the Conjurors and has his own band, Hang Loose.
Ryan McPhun (The Ruby Suns): The Ruby Suns went on to release albums through Memphis Industries in the UK/ Europe and Sub Pop in the US. McPhun is currently based in Norway.
James Milne: Lawrence Arabia has since become one of the most well-known and critically lauded acts in New Zealand.