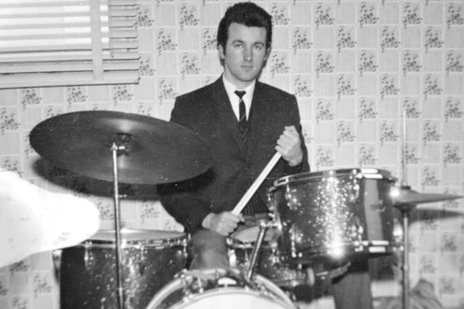 TV reporter John Dylan Taite is recalled as an authentic Kiwi rock icon: immaculately unkempt, shod in Beatle boots, granny shades, skinny jeans and shoulder-length hair (he'd famously never had it cut since the 1960s).
And though he found glory as a journalist (first at TVNZ, then TV3), few people know he started out as a mop-topped teen star in '60s Auckland, at the height of Beatlemania. He always insisted he preferred the hipper Stones.
In 1994 the grizzled veteran agreed to a brief interview looking back 30 years to the 1964 Beatles tour when, over six days, local teens exhibited pure, unthinking mass hysteria. It was a moment that in many ways dragged New Zealand – kicking and screaming – into the modern era.
He recalled the six days of mayhem that began in midwinter sunshine on the afternoon of Sunday, June 21, when a TEAL Electra carrying the Fab Four arrived at Wellington airport. Police – like many older New Zealanders – were openly hostile. In Auckland, the unprotected band was mobbed in a hotel garage, one fan ripping a clump of hair from Lennon's head.
Taite confirmed he'd heard the shocking stories of how Auckland police refused to assign more than a few constables to the Royal International Hotel where hundreds of hysterical, fainting fans lay in ambush. Lennon was so angry at the lack of security that the Auckland shows were nearly called off.
"[Beatles manager] Derek Taylor told me thought Lennon would be scalped – one fan had his hair in his hands, and wouldn't let go," he said.
Taite added, modestly, that he had subsequently met George and Paul, and had even gone on to film a musical interlude with Ringo in Paris.
But in 1964, Taite was eyewitness to a revolution. He had already seen the Beatles in his hometown – and rated them. He arrived in Auckland at the start of 1964, a pimply 17-year old with a Scouse accent. He had applied for – and got – a job drumming with a band of Beatles lookalikes at a downtown club.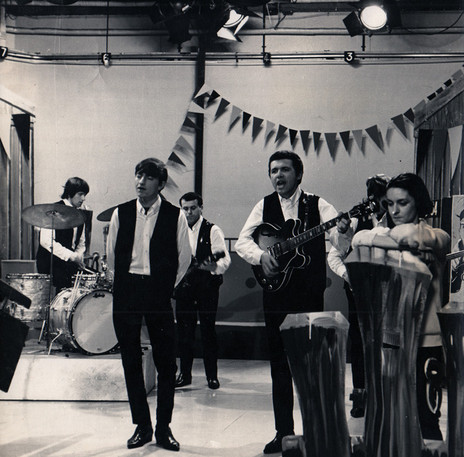 Auckland was in the grip of Beatles fever, with lookalike contests at local dance halls. Early in 1964, music promoter Phil Warren (later Auckland city councillor and deputy mayor), opened the Beatle Inn in Little Queen Street with resident band the Merseymen, three of whom had the all important British credentials.
Always up with the pop culture references, Taite called himself Jett Rink, after the James Dean character in the film Giant.
Our discussion about 1964 was brief:
What brought you to Auckland?
I was holidaying with my parents, aged 17 and I'd just finished my A-Level exams at the time. I was busy learning the drums – my heroes were jazzmen Max Roach and Art Blakely. I found Auckland a pretty quiet place.
How much did you know about the Beatles?
I'd seen them back home in my hometown of Liverpool. I always believed they'd be as big – if not bigger – than Elvis.
How did the Merseymen come about?
I'd not been in Auckland long when I went for the audition. I looked the part and grew my hair. I got the job as the drummer. I thought it would only last for a month or so, but there was a real Beatlemania thing happening.
There were crowds going around the block: they packed them in at the Beatle Inn like sardines. Not only were we playing gigs at night, we played lunchtime sessions as well.
Did you attend the Beatles shows in Auckland?
Yeah, I was at the town hall shows but I remember very little except the screams.
To be honest, I always preferred the Rolling Stones; I prefer the dark side. I couldn't stand stuff like 'Please Please Me'; it just left me cold. I couldn't really handle those three and four part harmonies.
Did you enjoy playing with the Merseymen?
The band were more musical parrots than anything else. We played six or seven nights a week; in between we'd rehearse. After a while it got quite tiring, and later in 1965 I'd had enough. That was the end of Jet Rink. I looked the part and grew my hair but I never intended to stay or to play a lot of pop music.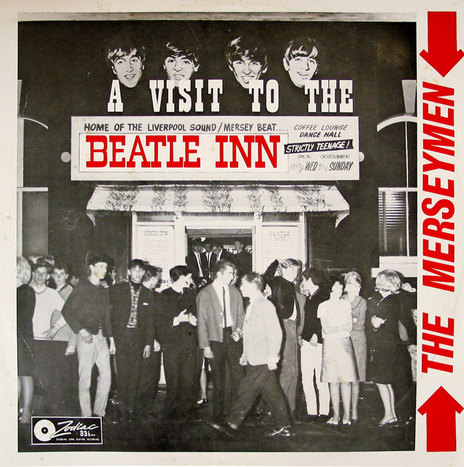 In early 1995, six months after that conversation, Taite suddenly quit TVNZ. The move generated banner headlines. The lifelong Everton fan – famous for kicking a ball around with Bob Marley in a Parnell park – used a soccer analogy to describe the "signing" to TV3.
"It was as though you were George Best playing for Manchester United and all of a sudden you're playing at Wimbledon," he told the Sunday Star-Times, adding that he was "on a different planet" from TVNZ management.
For decades, Taite had enjoyed the now-unthinkable plum role as pop music reporter for television. He had become famous for persuading Sex Pistols manager Malcolm McLaren to sign his band's controversial record contact outside Buckingham Palace in March 1977.
The highly staged ceremony became a watershed of punk history, making headlines around the world, allowing Taite to send home an exclusive TV report (even if TVNZ news executives didn't quite know what to do with it).
Two years later, he gained another exclusive, securing access to a track-suited Bob Marley in Auckland, an encounter that generated rare footage often used in documentaries.
When Taite switched to TV3 in 1995, an admiring colleague at TVNZ said, "He has the best contacts in the business and could get hold of Mick Jagger if he wanted to. 'He does fabulous work and is always pushing boundaries."
Promising that his best work lay ahead of him, Taite famously harnessed his love of technology. Insisting that the television interview was "dead" he set out his journalistic philosophy: "You have to be post-modern even in the filming. I see music reporting as more of an audio-visual construction. Otherwise you just get the same answers from the same people."
As many remember, the result was unforgettably lurid clips on TV3's Nightline, often filmed in the lift, the camera wildly spinning.
Dylan Taite closed each item with a regular, snarly line (parroted by many): "Nice to see ya, wouldn't wanna be ya."