Luke Rowell started 2008 touring New Zealand with Supergroove, before opening for the US mash-up DJ Girl Talk at Auckland's Whammy Bar – and, with what would become a tradition, playing that year's edition of Camp A Low Hum. Two weeks later, he headed to Melbourne for his first-ever Australian shows.
Australia and Europe
By this stage, Rowell was living with Ward at Skyranch in Wellington. They planned to head to Melbourne for a week to network and hang out, but once Jorgensen got wind of the idea, it became a mini-tour, six shows in five days. They decided Ward should VJ at the shows. "We were just trying to have a bit of fun," Rowell remembers. "We didn't think about it too much. The first couple of shows were a little standoffish, but I managed to whip them into a frenzy by the end. But yeah, it wasn't as strange as what I would encounter later on in the Czech Republic."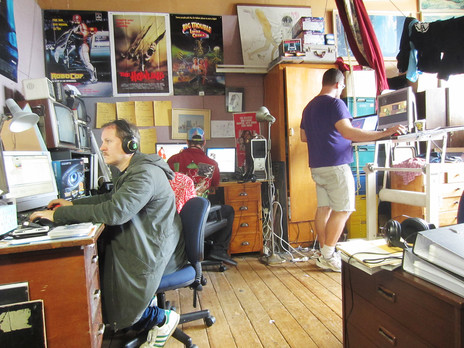 Later that year, the Cologne, Germany-based DJ, producer, writer and lecturer Hans Nieswandt invited Rowell to represent New Zealand at the Worldtronics Festival in Berlin, alongside Nick D, Simon Flower and the Recloose live band. Rowell and Jorgensen seized the opportunity and contacted Wellington dance-punk band So So Modern's European booking agent, who arranged 10 additional Disasteradio bookings for Rowell across Europe and the UK. As Rowell remembers, it was bootstrapped but glorious.
"It was me on an Interrail pass carrying all my gear, and getting on and off trains," he says. "It was slightly nerve-wracking to be in places like France and Germany for the first time, but it was amazing." While he was there, he played an afterparty for the German electronic music composer and producer Señor Coconut and gigged alongside the British indie-dance band Fujiya & Miyagi. His dreams were coming true.
Europe and America
In 2009, Rowell, Jorgensen, Ward and their partners left New Zealand for an eight-month Disasteradio world tour. The year beforehand, Jorgensen had spent five months touring overseas with New Zealand singer-songwriter and producer Nik Brinkman's Over The Atlantic band. He was keen to do it again.
"I knew that if there was anyone I could spend six months in a car with, it was Luke [Rowell]," Jorgensen writes. "We'd already spent close to that just travelling around New Zealand. Also, I knew that Luke could handle the realities of touring as an unknown artist overseas. Small audiences, sleeping on floors, etc. I didn't have to worry about hurt egos or bands arguments. Luke and I did this for love and have always been on the same page, so it was pretty clear cut. Being friends is pretty much the most important aspect when looking for who you want to tour with. I'd much rather tour with a friend and be eating two-minute noodles every day than [being with] a bunch of eggs and staying in five-star hotels."
Beginning in Los Angeles, they made their way from the west to the east coast of America before heading through the United Kingdom and Europe for 53 live shows. They toured through the US, Scotland, England, France, Slovenia, Greece, Slovakia, Austria, Germany, the Czech Republic, the Netherlands, Belgium, France, Spain, Norway, Luxembourg, and Poland. On the second night of the tour, Rowell and his partner at the time, Chris Hroch, got married in Las Vegas.
Rowell remembers performing at an array of nightclubs, gallery spaces, festivals and bars, but over a decade later, very few specific details spring to mind. "The big thing I remember about that tour is not being online," he recalls. "Ian had a phone that could email, but we didn't have smartphones. I only really got on email every couple of weeks to send these massive emails to my family and friends."
Charisma
After the 2009 world tour, Rowell and Hroch moved back into the Skyranch warehouse flat in Wellington. By this point, Rowell, Ward, Brooker and their friends Kenny Smith and Richard Pilkington had come together as a music video production unit. Ward had taught Rowell how to use the Adobe After Effects special effect program and they set up a green screen in the warehouse. "It sort of became a party zone and creative drop-in centre," Rowell recalls. 'We were only paying $100 each a week for rooms and not having to stress out about the rent left us with a lot of free time to do things like spending eight weeks working on $4000 music videos."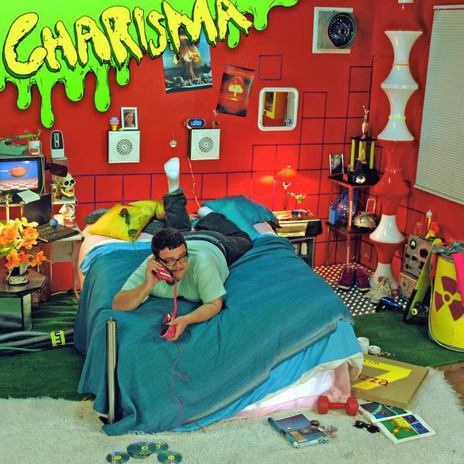 Halfway through 2010, he released his signature Disasteradio tune, 'Gravy Rainbow'. Gloriously colourful and exuberant, it quickly became Rowell's banger of bangers and pulled everything into focus. Given how well Visions had been received and the work he'd put in over several years of overseas touring, it was time for another Disasteradio album, Charisma.
While he was recording Charisma, Rowell found himself procrastinating by programming a series of 8-bit video game music covers of anthems by the US yacht-rock group The Doobie Brothers. He released them as Super Doobie Bros. "When I tried to go to university for the third time in 2008, I had a good musicology class with this lecturer, Chris Tonelli," Rowell remembers. "He spoke a lot about camp aesthetics, pastiche and all these kinds of things that solidified my thinking about characterising culture. I became obsessed with the idea that camp was the lie that tells the truth. Super Doobie Bros was part of that."
That year, he also collaborated with New Zealand composer Jim Langabeer to perform a cover version of sonic artist Chris Cree Brown's SOUNZ Contemporary Award-winning piece 'Inner Bellow' at the APRA Silver Scroll Awards.
In October 2010, Jorgensen's A Low Hum label released Charisma on CD, vinyl LP and fittingly – given Rowell's mp3.com origins – a pay-what-you-like digital version. "I like the statement that pay-what-you-like makes," Rowell says. "You put your faith in people. I don't know what sort of market forces I believe in, but if it's a digital release, I don't think one should necessarily have to pay for it."
To celebrate Charisma's release, Rowell and his collaborators created a series of short video trailers. Around the same time, he went on a four-show New Zealand tour before playing several shows with Ryan McPhun's indie-pop group The Ruby Suns and headlining a New Year's Eve show in Wellington at the Garden Club venue.
Auckland music writer Stevie Kaye says, "Charisma seemed an event, a victory lap and culmination of a live show honed on the A Low Hum circuit and ecosystem. Visions' handful of vocodered pop gestures came to maturity on Charisma, a confident Hutt Valley bildungsroman, digesting Devo in the abject 'Gravy Rainbow' and 'No Pulse', while 'Computer Whiz' proved an adolescence hanging out at hardcore shows teaches that you can garble clever lines as long as you have a lyric booklet."
In March 2011, Rowell uploaded a music video for 'Gravy Rainbow' on his YouTube channel. Created in collaboration with Simon Ward, Don Brooker, Kenny Smith and Greg Oswald, the 'Gravy Rainbow' video mixed animation with puppetry, green-screen shots and dance moves. Unexpectedly, or perhaps inevitably, it gave Rowell his viral moment. "I got mentioned in this awful, awful quote-unquote comedian Tosh.O's Friday WTF feature where he makes fun of videos he finds online," Rowell recalls. "That was the thing that blew me up online." As of 2021, the video has had over a million views on YouTube.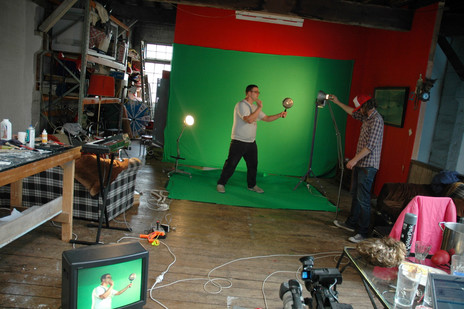 'Gravy Rainbow' was followed by psychedelic-dystopian music videos for 'No Pulse' (featuring guest vocals from Hroch) and 'Drop The Bomb'. Ward remembers: "I think we were reaching a high point in the music video making processes and our group wanted to put a lot of effort into pushing Luke [Rowell's Disasteradio] album. It was like living in a construction set for a few months but it was super great."
While they were working on the Charisma-era videos, Ward introduced Rowell to a then-emerging genre of music called vaporwave. It was the 2010s version of Muzak, the American brand of library music which was played in retail stores and other public establishments for decades. "When I heard early vaporwave, it was kind of like a big-bang moment for me," Rowell reflects. "I saw it as net art music, the album covers were all sans serif font, italics text, clean 3D art, this utopian virtual thing. A lot of it was made of samples, but I realised it could be made from scratch." He was intrigued, but for the time being, filed his thoughts away.
Not long after, Rowell and Jorgensen embarked on another world tour. This time they traversed Europe, America and Australia, where Rowell opened for the Brisbane rock band Regurgitator on an 18-date national tour. "After the 'Gravy Rainbow' video came out, people started expecting something crazy from me at the shows," Rowell says. 'I decided that I was going to give it 150 percent and it was going to be funny." On that tour, Rowell came out of his shell and started having fun. It was transformative.
Looking back on it, Jorgensen remembers the 2011 world tour as one of his favourite runs from the extended A Low Hum experience. His relationship of 17 years was ending and the trip had rocky moments, but the experience is laser-etched into his brain.
"The trouble with any creative industry is you're always hoping for the next thing or trying to get to the next step," Jorgensen reflects. "Sometimes it's hard to just sit back and enjoy what you're accomplishing, but I made sure to do it with that tour." As Rowell performed to thousands on festival stages across Europe or packed house parties in the US, Jorgensen got goosebumps thinking about what they'd accomplished together. "Seeing him have the same impact on people all around the world as he'd always had on me was so refreshing," he says.
Following his performances, Rowell would hop into the audience and hand out records and CDs for pay-as-you-like donations. After all the badly attended shows Rowell had played around New Zealand over the previous decade, that run felt like a beautiful, legendary time. "We were never satisfied, but I also feel we were never desperate for more," Jorgensen continues. "We just took everything as it came, put on the best shows we could and hustled the best we knew how."
Enter Eyeliner
When he returned to New Zealand, Rowell started writing songs on an early Korg synthesiser. These tracks became the basis of a new project, Eyeliner. This incarnation saw Rowell diving deep into his interest in vaporwave. Beyond that, he also drew from the broader histories of Muzak, library music, and synth-ambient in the tradition of Tangerine Dream member Klaus Schulze's German record label, Innovative Communication.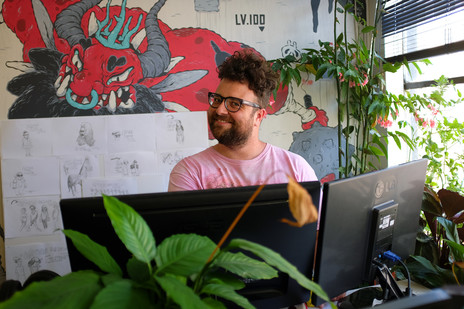 As Chris Cudby aka Power Nap sees it, Rowell had – intentionally or unintentionally – been on the road towards this new project since his Visions days. "You can definitely hear hints of his later innovations as Eyeliner in Visions' closing tracks 'Dancing Fantasy' and 'Virtual Sunset'," he says. "The hyperreal ray-traced cover artwork and even the title itself were well ahead of the curve."
In 2012 and 2013, he released two Eyeliner albums through the now-shuttered Sydney (and later Wellington) based record label Crystal Magic, High Fashion Mood Music and LARP of Luxury. Between Eyeliner projects, Crystal Magic also released Electric Blanket, his eighth studio album as Disasteradio. At the time, Rowell said, "2012 finds me as a more complete person: running daily, exploring fine vegetarian cuisine, men's health and fashion, and the meaning of Real Love."
"I put the first Eyeliner album [together] in two weeks," Rowell says. "The idea was to do something really quick, like as quick as I possibly could, just to see what happened." Zac Emerson, founder of open-eared Los Angeles record label Doom Trip, remembers being struck by how pleasant High Fashion Mood Music was when he first heard it. "Each track seemed to capture the spirit of some high-class leisure activity that I couldn't quite put my finger on."
After releasing High Fashion Mood Music, Rowell travelled to China to play a dozen Disasteradio shows from Beijing to Chengdu. Not long after returning home, he suffered a major knee injury during a live show in Wellington at Jorgensen's Puppies venue. Ward was at the show. As he remembers it, the accident was horrifying to watch and the aftermath wasn't much better. Rowell was on crutches for months and ended up in a six-month fight with ACC to secure coverage for surgery. The whole extended situation put Disasteradio on ice, but there was a silver lining: it gave his Eyeliner project the space to grow.
"I was sort of stuck, unable to work, unable to play live, but then still doing Eyeliner shows just kind of sitting down and having to do this kind of Mr Bean sort of facial thing and work my way around the knee injury to try to perform," he remembers. "The idea at the time was simple. If I can't jump around while playing keyboards, I'll do the opposite." Fittingly, his first-ever Eyeliner performance was a booking for his old friend, Kerry Anne Lee.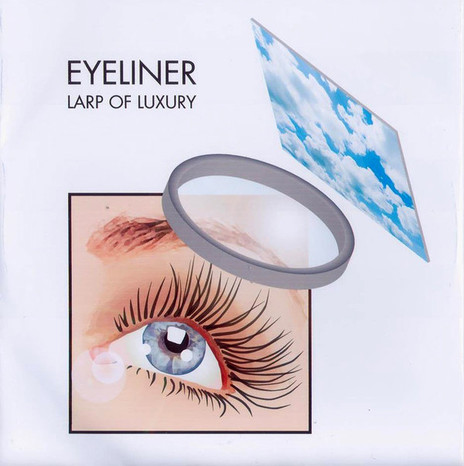 Like the storyline of any 80s soap opera worth its salt, there were more plot twists yet to come. "In the middle of the knee thing, I got dumped by my ex-wife," Rowell explains. "I ended up caving a bit, to be honest, at least until I got knee surgery in 2013." After the surgery, Rowell started dating New Zealand jeweller, artist and furniture maker Chloe Rose Taylor and completed his second Eyeliner album, LARP of Luxury. "I was in a new relationship, beginning to be able to walk and dating a woman that can drive, so I was listening to a lot more nice music while driving around in summer," he remembers. "LARP of Luxury was me blossoming out of depression."
Around the same time, Keith Rankin, the Columbus, Ohio-based electronic musician who records as Giant Claw and co-runs the prestigious experimental record label Orange Milk, heard Rowell's Eyeliner music for the first time. "It hit a really specific sound I loved, the general MIDI, keyboard-demo, or library music feel," he says. Rankin started paying attention to what Rowell was doing, and so did an extremely online generation of vaporwave music enthusiasts across the globe.
Buy Now
Through 2013, 2014 and 2015, Rowell continued to perform around New Zealand as both Disasteradio and Eyeliner. At the same time, Jessica Hansell, the Auckland writer and musician better known as Coco Solid, approached Ward, Rowell and their music video unit about a project. She wanted to adapt Hook Ups, her weekly comic strip about two musical siblings, into a web series. They were in, and NZ On Air came to the table with funding.
"None of us knew how exactly to make a cartoon, but we knew we could figure it out, cause that's how we usually worked," Ward recalls. "Luke [Rowell] was doing a lot of backgrounds mostly, so he'd inject the funny drawn elements you see in the sets." Rowell also did some music and a bunch of audio mixing and sound effects along with Jizzmatron and Sam Moore (from Badd Energy). "It was the same sort of thing as we'd done in the past but, instead of waking up and making music videos, we were making cartoons," he says.
In 2015, Rowell connected with Beer on the Rug, an American vaporwave label from Lawrence, Kansas. That year, they released his third Eyeliner album, Buy Now. After it came out, Rankin aka Giant Claw got in contact with Rowell to discuss music, laying the foundations for the 2020 release of his fourth Eyeliner album through Orange Milk.
At the time, Buy Now received a four-star review from prestigious experimental music blog Tiny Mixtapes and garnered a cult following on websites such as Reddit and Rate Your Music. Since release, it's been re-pressed twice in vinyl and cassette formats by A Low Hum and the Portland, Oregon-based American label Midwest Collective. "I feel like there was something special in Buy Now that I discovered in terms of programming funk," Rowell reflects. "Buy Now was a pure expression of what I was doing at the time."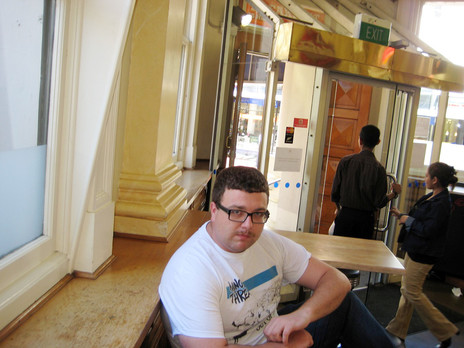 That year he also took part in a six-date New Zealand tour opening for Wellington rock band The Phoenix Foundation. As Jorgensen puts it, "He [Rowell] became the king of support acts. Everybody wanted him to play with them as he was such a great way to warm up a crowd, and his setup was so simple. He didn't need to use any of the band's backline, and he could just set up in front of them."
Just as things were settling into a comfortable flow, Rowell et al were informed that the Skyranch building was due for demolition in 2016. Rowell resumed his animation work on the second web season of Hook Ups, now renamed Aroha Bridge, and with his partner, Chloe Rose Taylor, moved into the iconic Mediterranean-inspired Athfield home and office building complex in the Wellington suburb of Khandallah. He continued to perform around New Zealand regularly.
Sweatshop
Rowell began 2017 by playing live shows around New Zealand and Australia before travelling to the US to play a special vaporwave concert as Eyeliner for the University of Pennsylvania's Institute of Contemporary Art in Philadelphia. That year, he self-released his ninth Disasteradio album, Sweatshop, and worked with Ward to create one of his career's most ambitious music videos, the space travel-themed CGI opus, 'Oh Yeah'.
Sweatshop was supposed to be the return of Disasteradio but, as Rowell admits, he didn't really return. "I'd taken too long of a break," he admits. "Sure, I put out Electric Blanket in 2013, but that was a bunch of MIDI puzzle music that I wrote while I was going through a breakup. If I'd released Sweatshop two years earlier, I think things would have gone better, but I didn't."
While local coverage of Sweatshop was virtually non-existent, it was covered by a few overseas blogs, notably Stupidity Hole and Too Much Love.
"In the end, his versatility was the very thing that hurt him," Jorgensen reflects. "He wasn't conventionally pop, punk or electronic, and his touchstones were too obscure for the mainstream. Neil Young's Trans album, Hüsker Dü? How do you communicate this sort of music to a modern alt-rock radio station? Luke's fans tend to be other musicians. These people can understand the musical innovation while also soaking in pastiche. Still, musicians also tend to be the hardest people to find support from because they need so much of it themselves."
That all said, even if Sweatshop was underappreciated, Eyeliner's star was rising. Rowell found himself playing Eyeliner and Disasteradio shows at the 2018 New Zealand Festival of the Arts, gigging in Australia and playing eight Eyeliner shows in the US to promote the vinyl re-release of Buy Now. Jorgensen: "Luke [Rowell]'s Disasteradio shows inspired a generation of electronic music producers in New Zealand, and through websites like Reddit, his Eyeliner releases did the same across the world in a new genre."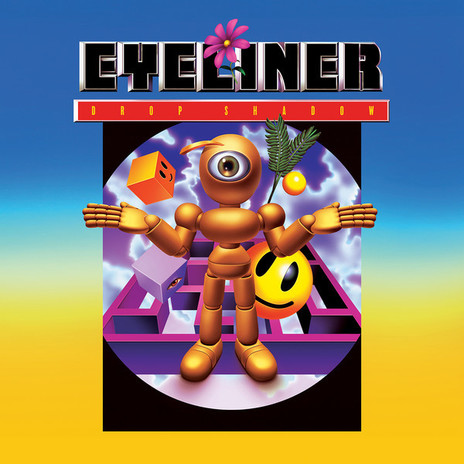 That year, again with NZ On Air support, Rowell, Ward et al worked with Hansell to create a third season of Aroha Bridge, produced by Taika Waititi and Carthew Neal's Piki Films collective, and broadcast through Māori Television in 2019. As Rowell puts it, season three was the first regular job of his adult life, and it opened up new possibilities for him as a film/tv score composer, animator and 3D modeller. "It felt like a very adult sort of thing to do," he says. "It was difficult, regular and extremely lofty and rewarding to get Aroha Bridge onto TV."
In 2019, Rowell performed an Eyeliner set at the prestigious Electronicon vaporwave festival in Los Angeles.
Drop Shadow
At the start of 2020, just weeks before the Covid-19 global pandemic set in, Rowell uprooted himself from Wellington and moved to Hong Kong to live with his partner, Chloe. In August he released Drop Shadow, his fourth Eyeliner album, through Orange Milk Records. "Drop Shadow is heavy for me," he says, "because of things that happened around the time, but the reviews have been very good."
After its release, Brooklyn, New York-based writer David Wilikofsky called it "the perfect music to soundtrack anything: our past, present and future," in a review for the Undrcurrents blog. Fittingly, given Rowell's internet obsession, writer Amelia Berry reviewed it with a series of gifs for New Zealand music-news website, Under The Radar. Much like his previous Eyeliner releases, it took on a life of its own on discussion websites like Reddit and Rate Your Music. Rankin from Orange Milk commented: "I can only speak from my limited perspective which is mostly dealing with Eyeliner fans, but I think he's viewed as one of the most well-loved artists continuing that style of MIDI composition."
Although the limitations of the pandemic mean Rowell hasn't seen nearly as much of Hong Kong as he would like to have, he's optimistic about the future once vaccinations have fully rolled out and restrictions are lifted. "It's basically just been Chloe and me hanging out and eating spectacular food. I've been doing some animation work as well, but it's mostly been lunches and dinners."
Once they can move around freely again, Rowell will get back to what he's spent most of the last two decades doing. Finding inspiration in unexpected places, entertaining audiences, and using low-tech gear to create high-tech sounds that reflect the sci-fi futures of the past and futures yet to come.
--
Postscript 1: While I was in the final stages of this article, Rowell was contacted by the New York-based R&B singer Jenniva. She'd bought a beat on a marketplace which, without her knowledge, sampled 'Pinot Noir' by Eyeliner. She wanted to do the right thing publishing wise and cut Rowell in on her 2021 single, 'Soul Searchin'. As always, his music continues to find a way.
Postcript 2: In June 2021, Portland, Oregon's Midwest Collective record label re-released Eyeliner's High Fashion Mood Music, LARP Of Luxury and Buy Now albums in a limited edition MiniDisc boxed set. The collection sold out in days.
--