Auckland, 1987: Last year the years of hard work finally bore fruit for Dave Dobbyn. There have been many highs since 'Slice of Heaven' hit No 1 in October, but the most satisfying moment came in New Plymouth at New Year, when Dobbyn was back on stage with DD Smash. In the middle of that song he'd had a hair-raising sail in a dinghy on the Bowl of Brooklands' moat, and was pleased to get back on terra firma to finish the song.
"I was terrified," he says, laughing now. "I was on the lake, singing with a cordless mike. [Road manager] Mike Knapp was rowing, with only one oar, so we were going round in circles getting closer to the audience. I thought there was bound to be a drunken hoon who'd tip the boat over, and I was desperately whispering 'Get back to shore!' – which was coming over the PA. Then Hello Sailor came on to do the harmonies, da da da da-da, with the audience singing along. We went off stage, towelled off, had another drink, and walked back on with the audience still singing it. That was a very satisfying feeling a real boost of confidence."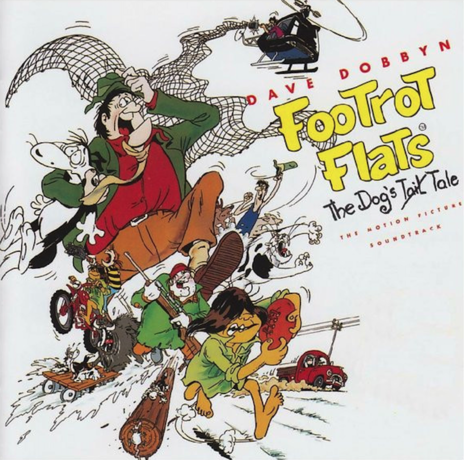 Dave Dobbyn is not someone you'd think needed such reassurance, but the success of the Footrot Flats material live capped off a year in which he has proved a lot to himself musically. Dobbyn had thought the producers of Footrot were kidding when they asked him to do the music. Then, after realising they wanted more than a couple of pop songs and feeling flattered, he got started, although at that stage there was no animation, only a script. "I wrote a few ditties that were parochial and cartoony, and the producers said, 'No. Hold on. We want your music' so that was okay. I got stuck in and wrote how I'd normally write, not thinking about the movie at all."
He was asked to write a song for each of the main characters, plus he suggested a few themes and touches like having a finale, "after the sad bit to make everyone happy again. I'm glad I did that because I saw a couple of kids crying at the premiere... which was nice, cos I wanted to do that! It's right at the end when 'Slice of Heaven' turns up, and then the credits roll. So it's not an integral part of the movie, it's like Butch Cassidy – 'Raindrops' has nothing to do with the film, but suits it –'Slice of Heaven' fits in with the flavour of the movie, which is distinctively Kiwi: Taihape or Foxton."
Getting that New Zealand flavour didn't happen the obvious way. Dobbyn abandoned the idea of getting out in the field to capture Kiwi sounds on tape, and instead invented them at home on his Emulator. By sampling the sounds of various ethnic instruments and mixing and treating them, he was able to synthesise a stylised New Zealand sound.
"From various disks I'd put together an ensemble of sounds. For example, an Indian tabla and the low notes of a piano – I'd put them on tape, slow it down, change the curves, get technical, doctor it all afternoon, and by evening I'd have the sound I wanted to hear."
The earthy woodwind on 'Slice of Heaven' is a treated Japanese flute, and a tuned African drum called a djembe is used throughout the film, including 'You Oughta Be in Love.' "That drum had a pastoral quality about it. The last thing I wanted to do was get all stringy with swooping violins, because that's not the New Zealand countryside. I thought, what's a distinctively New Zealand instrument, and apart from a guitar that's slightly out of tune going chungaslapa chungaslapa, there's nothing – except for Māori singing and hakas."
At the beginning of 'I Dream of Rugby' the haka of Dobbyn's old school Sacred Heart College is heard, and to sing the hymn to the game, he recruited 30 choristers from the college. "That was an hilarious moment, because here's all these guys really into rugby, and I'm not – I used to like the game, but everything that surrounds it I can't stand and they're singing these ridiculous lyrics, 'Kill them, maim them,' really violent." Behind the choir is a cathedral organ, and among the voices is that of Dobbyn's mother. "I needed a quivering churchy voice in there; she did it rather well." Mrs Dobbyn also gave the boys a lesson in articulation.
While writing the songs for the film came relatively easily, mastering the techniques of composing incidental music took a little longer. Also, although Dobbyn found the synthesiser a bit limited as far as dynamic feel went, by using his guitar he could avoid the vast expense of hiring an orchestra. "I used more guitar than I'd thought. I could get some power and threat into that, and get expressive without being necessarily proficient or technical. I'm not a technician, I could just look at the screen and get a certain guitar sound."
Crucial to the flavour of the Footrot Flats music are the backing vocals of Ardijah and Herbs. "Ardijah have a really light touch," says Dobbyn. "I couldn't believe their proficiency; when they started singing the blend was perfect. The harmonies here are very distinctive. Herbs on 'Slice of Heaven' broke all sorts of rules technically – that uniquely Māori harmony of sevenths, ninths and 13ths all together. Here them on their own, and the harmonies work against each other. Together, in context, they work. Everyone tends to vibrato at the same time; they sing as a vocal group rather than a bunch of vocalists."
The way things worked out with 'Slice of Heaven', it seemed there was some very clever thinking going on behind Footrot Flats. "People were saying, 'Smart move getting Herbs,' as if it was all contrived and marketed. But not at all," says Dobbyn. He had seen Herbs perform in Sydney on the way home from last year's Pacific tour, "the first time since that fateful day in Aotea Square, and I was super impressed with their a cappela vocals. All I had of 'Slide of Heaven' was the riff and the title, but I knew I wanted a vocal group on it, rather like Ry Cooder's approach on Bop Till You Drop. Herbs were the only people I could use, apart from complete strangers in Australia, and I didn't want to do that. And then it snowballed."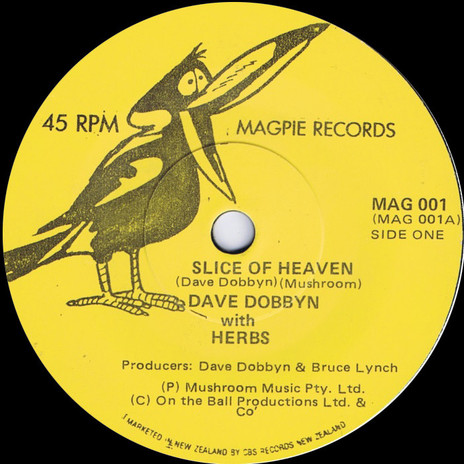 The first promo video of Footrot was supposed to use Wal's song ('You Oughta Be in Love'), but the animation was late. "I thought we I were giving away too much of the film anyway, with three minutes of just animation, it was a ballad and would have felt wrong – it was a real risk. It would have been the wrong thing to do."
So at a production meeting Dobbyn suggested they do the still-uncompleted 'Slice of Heaven, and film the making of it in the studio. Wellington's Marmalade Studios was the only place available at such short notice, they flew Herbs there from around the country, and in two days they made the record and filmed it simultaneously.
"It worked because of its freshness, it was very spontaneous. It was a risk for the producers to do that, it wasn't cheap to get the film crew in there and it could have looked stilted and horrible. It was good timing and good luck. If anyone gives me any 'contrived' bullshit, they can just stick it. I don't work like that."
It was a smart move of the producer though to take advantage of the "unfortunate" video embargo and trail the clip through the cinemas. That meant the song was a hit before the radio stations had chosen to "high rotate" it. Then, they were forced to by public demand. Radio people have been scratching their heads, says Dobbyn. "On the one hand you had some programmers saying, 'We can't play 'Slice of Heaven, the production's terrible. In the past our sound was too hard. With 'You Oughta Be in Love,' it's 'too soft, too MOR'. It doesn't matter now – it's everywhere!"
However Dobbyn says he doesn't intellectualise about the vagaries of radio play any more, or get angry, as "it's the public that ultimately decides." And that's been the year's greatest reward – that his musical instincts have been vindicated. The 'Slice of Heaven' clip is now trailing through the cinemas of Australia. "I just know it's going to work," says Dobbyn. "People are going to go for it. That should change things for us over there."
He corrects himself. "It's going to change things for us." Forever the optimist. "This year's done a lot for my confidence, so I'll start getting more confident off stage as well as on." Watch out!
--
From Rip It Up, January 1987, and republished with permission.
Read more: Film Music Aotearoa, part 4 – the late 80s