No one can say precisely when the blues first breached New Zealand's borders. It found its way here on early jazz records and printed sheet music sometime in the 1920s and has been with us ever since. From Māori showbands to self-styled juke jivers, local variants have been numerous and diverse and, despite the blues' southern US roots, have taken on an identifiably local character. Here's a handful of blues that could only have come from Aotearoa.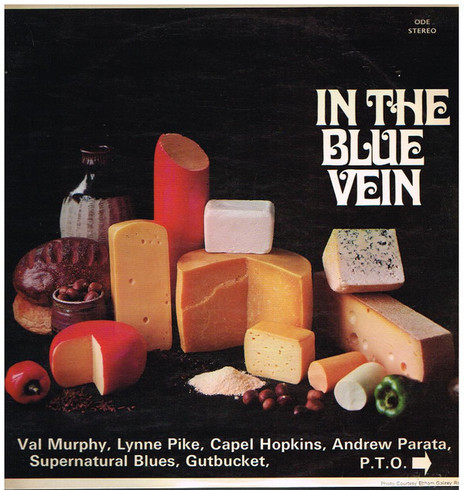 The Quin Tikis – Guitar Boogie Shuffle
Arthur "Guitar Boogie" Smith was a country guitar picker from South Carolina who had a worldwide hit in 1948 with his adaptation of a classic boogie-woogie piano blues. The tune became a longstanding favourite with New Zealand musicians and was recorded by artists as varied as Peter Posa, Prince Tui Teka, The Māori Volcanics and The Supersonics. For a local take that maximises the tune's opportunities for showboating, it's hard to look past the version seen in the 1966 film Don't Let It Get You.
The Underdogs – Sittin' in the Rain
New Zealand boomers in the 1960s caught the blues from the Brits. John Mayall wrote and first recorded this tune as an undistinguished mid-paced 12-bar, but when Auckland band The Underdogs came to record their cover they had a secret weapon: a homemade fuzzbox belonging to guitarist Lou Rawnsley, which gave the song's lead guitar line the ear-grabbing hook Mayall's recording lacked. Mayall could have used some of the New Zealanders' humour, too. While he had plaintively evoked the pathos of his protagonist, "sitting out in the rain ... hoping you'll come back to me", The Underdogs seemed to regard the damp outcast more as a figure of fun, with lead singer Murray Grindlay collapsing into giggles in the final verse while what sounds like a pot party rages in the background. An NZBC video, directed by Christopher Bourne, helped this oddity become an unlikely local hit.
Val Murphy – Special Rider Blues
Val Murphy was signed to HMV during the great folk scare of the early 60s and made two albums of mostly traditional songs showcasing her powerful dynamic voice. But she was drawn to blues for its earthy subject matter and the chance it gave her to express a stroppier side of herself. By 1969 she was belting it out in local blues clubs, sometimes backed by Wellington band Capel Hopkins Blues Dredge. The only recordings from her blues years are two tracks on the 1969 local blues anthology In The Blue Vein. 'Special Rider Blues' originates with the Bentonia bluesman Skip James, but Murphy's arrangement comes by way of left-field Memphis band The Insect Trust.
Gutbucket – Wild About You
The sole single released by this New Plymouth-Wellington blues band (also included on In The Blue Vein) is notable, among other things, for being the first ever recording of singer Rick Bryant. Though Bryant always disparaged his own performance, which starts out shakily but builds to an aching intensity, the track is equally notable for the stinging guitar of Bernard Schmidt, and the spacious, understated feel of bass player Steve Hemmens and drummer Mike Fullarton, who would both have long careers in local blues and jazz, Steve with Smokeshop and the Boptet, Mike with the Golden Horn Big Band and the Jive Bombers.
Midge Marsden – Struck Down By The Blues / Travellin' On
The name Midge Marsden has become synonymous with blues in this country. For more than 50 years he has been a tireless champion of the music he loves. In the 60s he hosted national radio show Blues Is News, and he has since taught blues courses at universities and polytechnics, and toured such authentic blues figures as Johnny "Big Moose" Walker, Willie Foster and Ronnie Taylor, while continuously playing blues of his own. He composed this meditation on the vicissitudes of a bluesman's life – "rained on in Raglan and burned out in Dallas" – with the late guitarist Mike Farrell, and it first appeared on his 1990 album Burning Rain. But the way he performs it has become more heartfelt with the passage of time, as you can hear in the acoustic version from 2007's Travel 'N Time.
From the same album comes 'Travellin' On', which started life as a television jingle for Europa petrol but has practically become Midge's theme song, and he often closes his concerts with it. Written by Murray Grindlay, formerly of The Underdogs.
Hammond Gamble – Whistlin' the Blues In The Rain
Lancashire-born Hammond Gamble first caught the attention of local blues-lovers when he began appearing around Auckland with his band Street Talk in the mid-70s. While it was easy to hear the influence of Eric Clapton and Peter Green in his guitar playing, he quickly emerged as a singer and songwriter with his own distinctive voice. This 16-bar blues from his self-titled 1981 solo album starts out conventionally enough, but turns on a series of unexpected chord changes while the lyric tells a hapless tale of chance, fleeting love and the eternal verities of the blues condition.
Mangaweka Viaduct Blues Band – Rain At My Window
You could hardly choose a name that located you more specifically in the New Zealand landscape than the Mangaweka Viaduct Blues Band – or simply the Mangawekas, as they became known. A fixture on the North Island pub scene from the late 70s to the mid 80s, the Mangawekas were primarily a vehicle for Dougal Spier, of whom Gary Steel noted in a May 1980 In Touch review "has a perfect blues voice, soft, mellow and expressive. His beautiful guitar playing complements this excellently. He somehow cajoles mellow low-down deep-throated and sweetly understated notes from his axe, as though just summoning from some spring of liquid gold." Despite clocking up thousands of kilometres on the hubodometer, the Mangawekas released only one album and a single, 'Rain At My Window', which starts out as a typical 12-bar-boogie but goes through some unexpected modulations before peaking with the semi-metal riff of the chorus.
Jan Preston – The Boogie Woman
Trained from childhood in classical piano, Jan Preston caught the boogie bug as a young adult when she saw pianists Leon Russell and Billy Preston in the movie The Concert For Bangladesh. Though her diverse career has seen her accompanying radical theatre troupe Red Mole, playing New Wave with Coup D'Etat and Aussie rock with The Tribe, it is as a proponent of boogie-woogie piano that she has made her name on the world blues circuit. This autobiographical song might be her mission statement: "I play with a band and sometimes on my own / make you shake, rattle and roll, scream and moan".
Willie Dayson Blues Band – Ivan's (147 on the Street)
In the early 80s, Monday night was blues night at Auckland's Globe Tavern, and regulars the Willie Dayson Blues Band were drawing full houses. Though their repertoire included a good number of classic blues covers, this ode to the legendary diner in pre-gentrified Ponsonby asserted their local roots. While they make Ivan's sound more like a southern rib joint than a classic Kiwi greasy spoon ("real good grits that can't be beat") they at least get the Ponsonby Road address right ("147 on the street"). A popular song in their live set and an excellent vehicle for the electrified harmonica of Brian Glamuzina, the song featured on both their 1981 Live At the Globe and the following year's studio album Rogues and Fools.
Darren Watson - Too Many Millionaires / Ernie Abbott
Darren Watson was just in his early twenties when he made his name with blues showband Smokeshop, and has since gone on to become a respected elder of Aotearoa blues, admired for his subtly nuanced playing, whether on electric or acoustic guitar, and his bold expressive voice. Acutely aware of origins and traditions, he tips his hat not only to the original southern masters (hear 'Marion', his tribute to harmonica virtuoso Little Walter) but also his local blues heroes. A recent album included an ode to Rick Bryant, 'That Guy Could Sing!', while its title track 'Too Many Millionaires' is a song by Bill Lake, one of the country's most distinctive blues writers.
Though grounded in Mississippi Delta traditions, Darren's own songwriting has increasingly addressed local subjects, often with a political slant. 'Ernie Abbott' mourns the unsolved murder of the Trades Hall caretaker in the 1984 Wellington terrorist attack.
Windy City Strugglers – Snow on the Desert Road / Kingfisher
Rick Bryant's signature song might be the most singular blues ever sung in this country. Modal and irregular in structure, the mood remains unmistakably blue as Rick invokes a parade of Greek mythological figures, Latin maxims, drug metaphors and urban legends, always returning to that central piece of found surrealism familiar from national weather reports: snow on the desert road. Full disclosure: I played the bowed bass on the recording. 'Kingfisher' is an example of the kind of personal, distinctive song Bill Lake can write while remaining true to the vocabulary, both musical and metaphorical, of a Robert Johnson or a Skip James.
Bullfrog Rata – Second Cousin Blues / Lockdown
Manawatu bluesman Tura "Bullfrog" Rata started out as a busker but before long was co-fronting shows with Midge Marsden and leading his own band, The Undergators. In time-honoured blues tradition his songs make an ironic commentary on personal struggles, and though the reference points are recognisably local, the scenarios suggest that the worries of a blues singer are much the same wherever in the world they come from. 'Second Cousin Blues' sets the scene for another night of trouble in a bluesman's life: "I hear the music blaring / all up Courtenay Place / she was my second cousin's friend / a Upper Hutt hot redhead …" while 'Lockdown' finds Bullfrog "walking the empty streets of Island Bay" and wondering how a travelling musician is going to survive a pandemic with "no planes flying overseas / no bars open / no slot machines …"
Coco Davis – Haunted House Blues
Actor / singer Colleen Davis has made just one album in her guise as blueswoman Coco Davis, but it is unique in its resetting of classic blues songs as 21st century gothic. Aptly titled Old Haunts, the 2016 collection has a focus on songs with a supernatural theme, many of them dating back to early last century. On Bessie Smith's 'Haunted House Blues' Coco sings like Peggy Lee in purgatory, and gets a suitably spine-chilling accompaniment from guitarist Tom Rodwell and pianist Art Terry.
Kokomo - Driving After Midnight
Bay of Plenty bluesman Derek Jacombs formed Kokomo Blues in the early 90s as an acoustic trio specialising in covers of pre-World War II blues, but over the years the group has evolved into a vehicle for everything from the Bob Dylan songbook (from which Kokomo has recorded an entire album) to Jacombs' own songs. There are no specific local signposts in 'Driving After Midnight', from Kokomo's 2022 album Workhorse, yet it is a recognisable New Zealand he evokes in this atmospheric piece as he describes a late night drive, presumably post-gig, through "darkened towns" that "keep on sleeping… nothing in the world / just the road and the headlights tonight."
--
Aotearoa Blues playlist