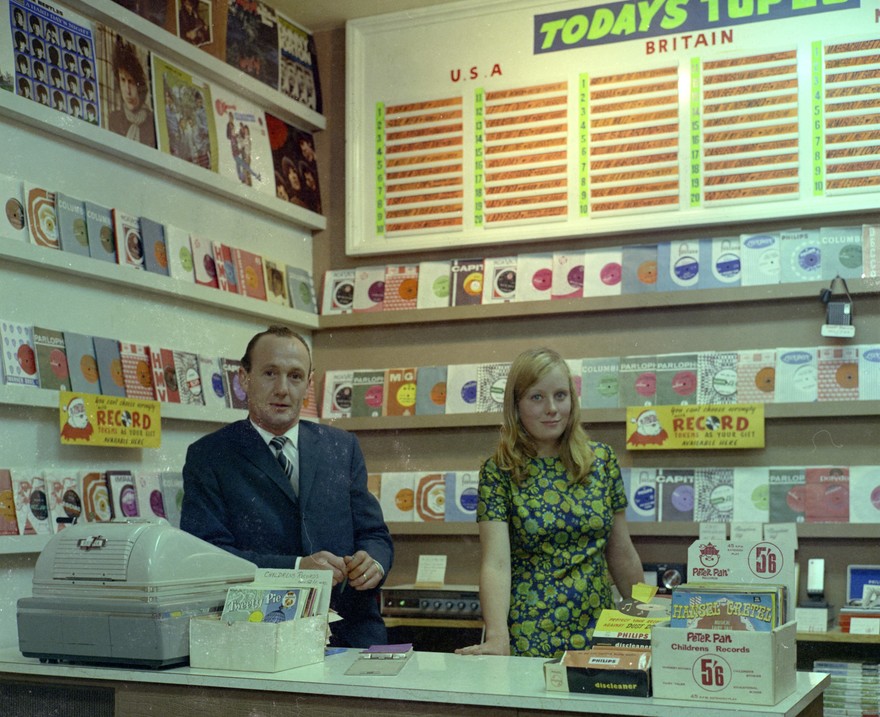 Sound of Music: An Upper Hutt store that opened on 26 October 1966 in Geange Street, owned by Bob Batenburg (above, with assistant Stephanie Wimms). The photo also shows, at the top right, the store's New Zealand chart before Christmas, 1967. At No.1 is the Bee Gees' 'Massachusetts', followed by the Move's 'Flowers in the Rain', then Traffic's 'Hole in My Shoe'. According to Brian Pearce, when Batenburg returned to Holland in September 1976 the business was taken over by John and Donna Heginbotham. On 10 April 1978 they moved the store to 173 Main Street, opposite the BNZ (a subsidiary at 1 Lion Court, Sound & Around, closed in May 1976). The Sound of Music moved during the 80s to 113 Main Street, and in May 1993 was taken over by John's sister Kate and her husband Jose Alonso. In March 1995 it became a branch of Tower Music. Dedicated music fan Dave Jenkins remembers other Upper Hutt record stores have included The Lamphouse (123 Main Street, 1960s-late 70s), Bandstand (83 Main Street, run by Wayne Gee, late 70s), and Revolution Records (120 Main Street, run by Steve Cochrane, 2013-2018).
Direction Records: A short-lived Wellington branch of the successful independent Auckland store that existed in the early to mid-1970s at 106 Cuba Mall. (See Simon Grigg's Auckland record shops article). Christopher Read remembers it as being "uncompromising, hip, cool and wild" and "playing Ted Nugent albums very loud. This was not a shop for Mums and Dads." The EMI Shop replaced it at this address.
The Majestic Cassette Library: Not strictly a shop, but at the mid-70s peak of the cassette era this enterprise operated out of Cubacade, just across from the bucket fountain which can be heard splashing merrily in Corben Simpson's 'Cuba Mall' song on his classic Up With The Sun album.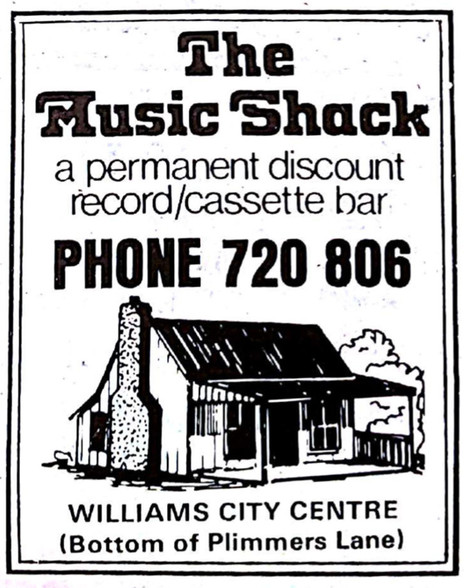 The Music Shack: Originally run by George Bell, brother of Chelsea founder Peter Bell, this shop in the Williams Centre, Plimmer's Lane, ran from late 70s until well into the 90s, focusing on mainstream and Top 20 and, later, discounted CDs.
Tiffany's Record Boutique: At its peak in the 1970s there were three stores, at 89 Courtenay Place, 276 Jackson St, Petone, and 200 High St, Lower Hutt. The latter two were co-owned by James Moss (later owner of Chelsea Records, and the Jayrem label). Behind the counter at the Courtenay Place shop in the mid-70s were Colin Morris and Debbie Brown, later a team at the first Colin Morris Records store at 54 The Terrace.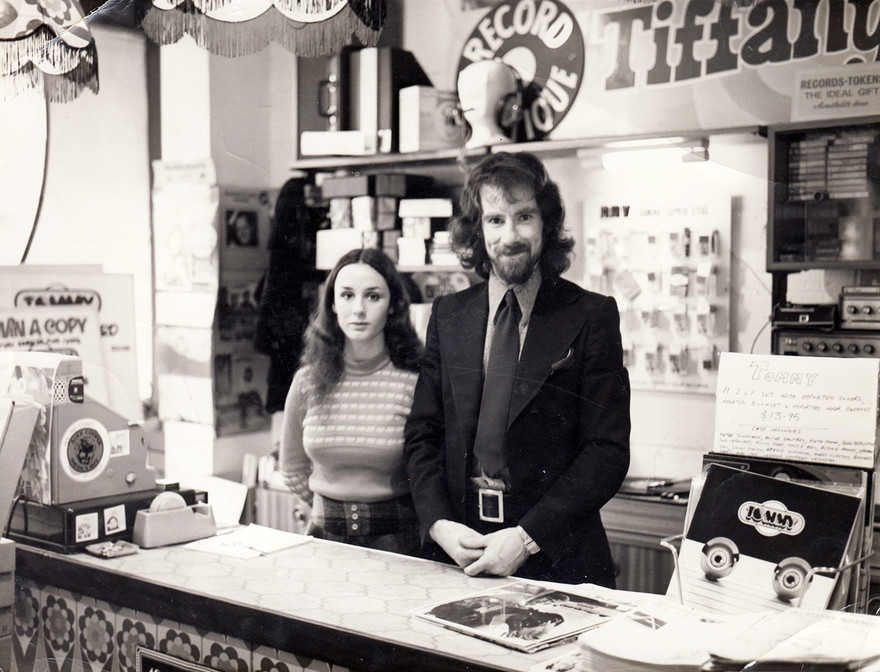 Wonderland Records: Though not strictly a lost store as it continues to operate in deepest Wainuiomata, Wonderland is remembered as fixture of the Hutt Valley vinyl scene of the 80s and 90s. It was started when a local real estate agent bought the former Spaghetti Records, and operated out of a series of central Lower Hutt locations, including 9 Margaret Street. It was then bought by 60s rock enthusiast Kevin Shaw (favourite album: Jethro Tull's Stand Up) to trade in secondhand records and, eventually, CDs. Shaw had been operating his own Sixties Records store in Alicetown; his father Aubrey ran the Easy Listening Record Shop just a few doors away. In the mid-2000s Shaw packed up and moved to his current location at the bottom of Moore's Valley Road. Visiting in 2015, Hutt News reporter Andrea O'Neill described it as "a darkened cave with the faces of icons staring out from thousands of records, posters, tapes, CDs, T-shirts and postcards."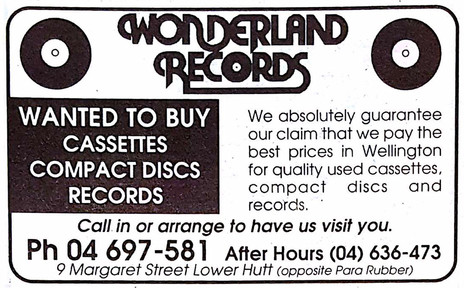 Waterloo Sunset: Located at 11 Hardy Street, Lower Hutt, close to Waterloo railway station, and run by record collector Colin Linwood. Waterloo Sunset was primarily a secondhand shop with an emphasis on vinyl, plus a curated selection of new records and CDs. Linwood had bought the store as Sixties Records in 1996 from Mark Jackson, who had bought it a couple of years earlier from Kevin Shaw, and initially operated from a premises in the Naenae shopping centre. After a nearby bank was robbed in 1997 leaving a teller dead and the community in shock, Linwood moved to the Waterloo premises. Though originally operating six days a week, for the couple of years leading up to its closure in 2006 Linwood opened on Saturdays only. The store became something of a hangout for local collectors and helped Linwood build his invaluable database of New Zealand recordings.
Spaghetti Records: Secondhand stores in Lower Hutt and Palmerston North in the 1980s. In 1987 one of the Spaghetti founders, Bill Munta, opened a branch on the corner of Allen Street and Courtenay Place, trading some of the rarer used records sourced from their other stores. The shop was short-lived and no one can remember its name, if it even had one.
The Record Centre: Stores at 83 Willis St. and His Lordship's (aka Goodwin's) Arcade, Queens Drive, Lower Hutt from the early to mid-70s. The Hutt store prospered in its almost-chic alley until The EMI Shop arrived on nearby High St.
Flipside: This dance and electronica specialist shop opened on Victoria St in 1994. Original owners John Jameson and Andrew Hawkes focused on dance and alternative rock. The company also sold DJ hardware. After shifting to Willis St in 1997 the shop shifted away from alternative rock in favour of a more electronica-based style. They moved to Bond St in 1999 after Willis Street's high rents became unsustainable. The business was sold in 1999 to Jeremy Lawson and closed in 2003.
Electric City Music (ECM): Lambton Quay, Manners Street and Lower Hutt. Part of an Auckland-based chain of stores which operated from 1995 to the mid-2000s.
Sounds: Described by Simon Grigg as "the last of the mega chains," the company had its roots in Auckland's Sounds Unlimited and had up to 50 stores in New Zealand during the 1990s. It bought the EMI/HMV Wellington shops in the mid 1990s.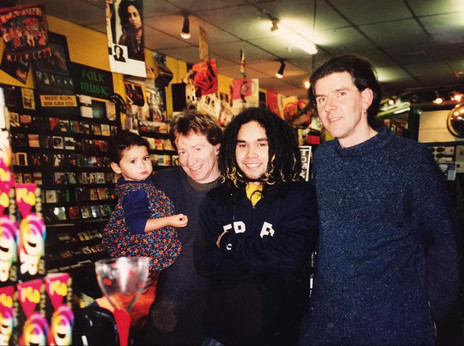 Madness Music: Located in the Newtown Mall, the shop was opened around the mid-90s by Ciaran Sloan. His personal enthusiasm for folk music, particularly that of his native Ireland, was apparent from the jigs and reels that greeted the visiting customer over the sound system. But Madness also specialised in world music of all varieties. It stocked what was surely the largest range of Māori and Pacific Island music in Wellington, as well as the electronic, new age and dance music of the era. Founded at the height of the CD age, the store never dealt in vinyl though it always sold a wide range of cassettes, particularly of local and Pacific sounds. The shop briefly opened a branch in Karori as well, but closed its doors in the mid-2000s.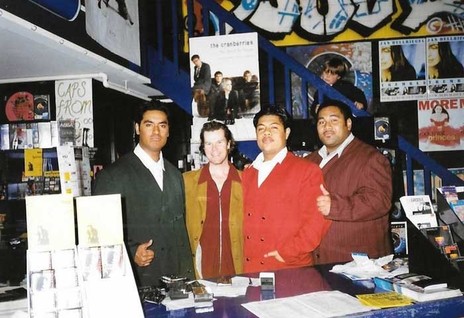 Soul Mine: "Established in 1985 by Tony Murdoch, The Soul Mine was based in the satellite suburb of Kilbirnie. While that location was both a blessing and a curse at different times throughout the 21 years of the shop's existence, The Soul Mine defied all of the stereotypes ... it quickly became a hub for aspiring DJs to meet and hang out." For more, read Michael Hollywood's story about Soul Mine.
Troubadour Records/Fish-Eye Discs: Originally located in the Wakefield St. Market, Troubadour became a hub for the DJ and dance set during its tenure in the old James Smith's building on the corner of Manners and Cuba Streets between the mid and late 90s. Zen Yates-Fill, who worked there during this time, recalls the store importing and selling hundreds of copies of groundbreaking trip-hop CDs by the likes of Kruder and Dorfmeister and Nightmares On Wax. After the owners ran into difficulties, Seamus Kavanagh (ex-EMI, Tower and Sounds) bought the lease along with Troubadour's fixtures and fittings and rebranded the store, bringing Colin Morris to work alongside him. As Fish-Eye Discs the store quickly developed a reputation for great service built on the depth and breadth of the pair's musical knowledge, but folded a few years into the new century when changing formats saw a decline in physical sales.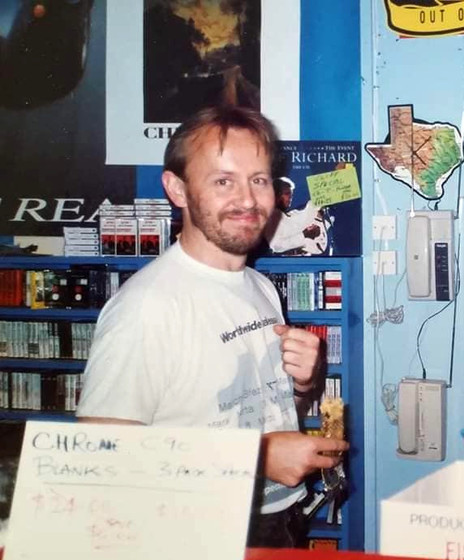 Roots Music: Having worked in several record stores around town including Colin Morris's, Dave Gemmell was known and respected in Wellington record retail when he launched Roots Music in Courtenay Place during the late 90s. Though it was short lived, Roots is fondly remembered by customers who began their alt-country collections with purchases from the aptly named store.
The CD Store/Marbecks: Operated on Lambton Quay in the 2000s. Part of an Auckland based chain, it rebranded as Marbecks after it bought the iconic Auckland retailer. The Wellington store closed in 2012.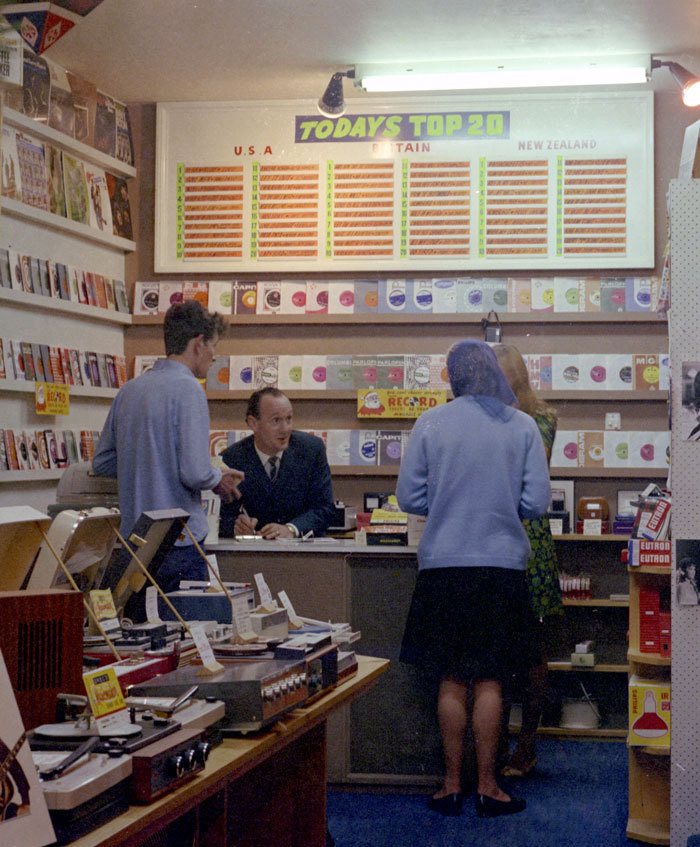 More Wellington record stores, 1964 on ...
Allegro Records, 36 Courtenay Place; Cubacade Cassette Library, World Trade Centre, Cuba St; Death Ray Records, Wilson St, Newtown; Jenness Appliance & Music Centre, 173 High St, Lower Hutt; Platinum Records, Coastlands Mall, Paraparaumu; Porirua Music Box, Jeans Junction Arcade, Porirua; Rainbow Records Ltd, 238 Lambton Quay [see Colin Morris]; Silver Lamp, 214 Fergusson Dr, Upper Hutt; Sixties Recycled Record Shop, 63a Victoria St, Lower Hutt; Sound & Around, 1 Lion Court, Upper Hutt; Sound Tracks, Maclean St, Paraparaumu; Spectrum Exchange, 143 Featherston St; Tawa Record Centre, Tawa Mall, Tawa; The Disco, Coastlands Mall, Paraparaumu; The Music Centre, Wainuiomata Shopping Mall; Wellington Audio & Record Co, 15 Manners St; Whizz Records, 3 Maidstone Mall, Upper Hutt; World Record Club, cnr Farish & Bond Sts, also 3 Margaret St, Lower Hutt.
Other shops we would love to know more about include Music Express (Margaret Street, Lower Hutt) … the record departments of the D.I.C., Kirkcaldie's, James Smith's and other department stores… and any more now lost in the Yellow Pages of recent history. Please email info@audioculture.co.nz
--
Read: Wellington's early record stores
Read: Wellington's lost record stores: a personal introduction
Read: Wellington's lost record stores 1 – the Golden Mile
Read: Silvio's – the accidental record store