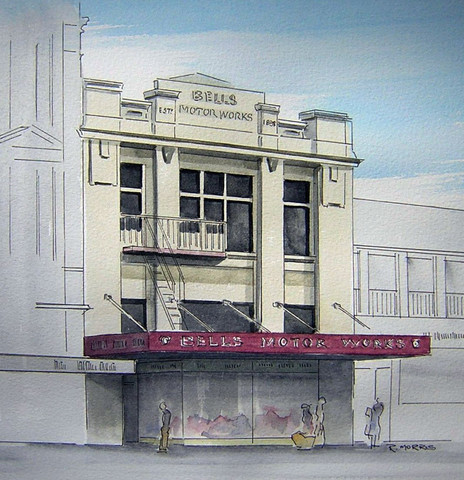 With its top bands, playing US hits straight from the States, air-con innovation, and a hot-pink Mercury with op-art as a moving billboard, the Plainsman nightclub in Christchurch was at the vanguard of youth-based nightspots from the early 1960s and it pulled in the crowds.
Proprietors Doug "Hank" and Heather Cowan opened the club in 1962, alluding to pioneering days with rough-hewn logs fronting the stage and other touches. "The Plainsman décor is the spirit of early Canterbury", announced the early advertising.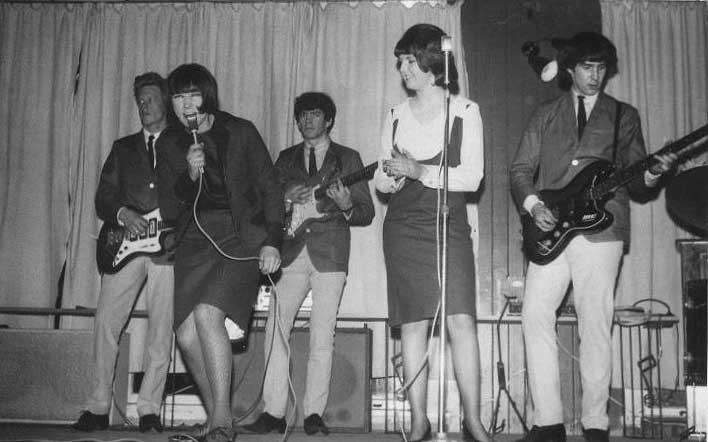 The no-alcohol club, a coffee lounge and steak house, was upstairs at 110 Lichfield Street in a Luttrell brothers-designed building no longer extant since the earthquakes. The room was rectangular, with a long L-shaped bar, alcoves down each side, a coat-check near the front door, and a sprung dancefloor to placate the owner of the auction rooms below.
There was minimal lighting and the house PA comprised small column speakers on each side of the stage with, three or four mics for vocalists – laughable by today's standards, but adequate back then. And bands and patrons alike appreciated the Plainsman's rudimentary but efficient air-conditioning system, which consisted of small fans in each of the alcoves to blow air across the dancefloor and a massive extractor fan in the ceiling that kicked in at certain times to draw out the cigarette smoke.
The club was an on-stage training ground where bands practised their chops and polished their presentation before leaving to further their careers. Ray Columbus grew his stage legs there with the club's first resident band, the Drifters, previously called the Downbeats and later to become the Invaders.
Peter Williams, longtime guitarist with Max Merritt and the Meteors and still working periodically, went to see Ray's band there before joining the Meteors.
"I recall seeing Ray Columbus and the Downbeats there in the early 60s. It might've been pre-Max days. It was pre-Invaders … The atmosphere there and the whole 'beat boom', or whatever you want to call it, had a freshness about it, and bands playing were extremely trendy. If you think about it now, 50 or 60 years later, it's been done to death with bands for years and years."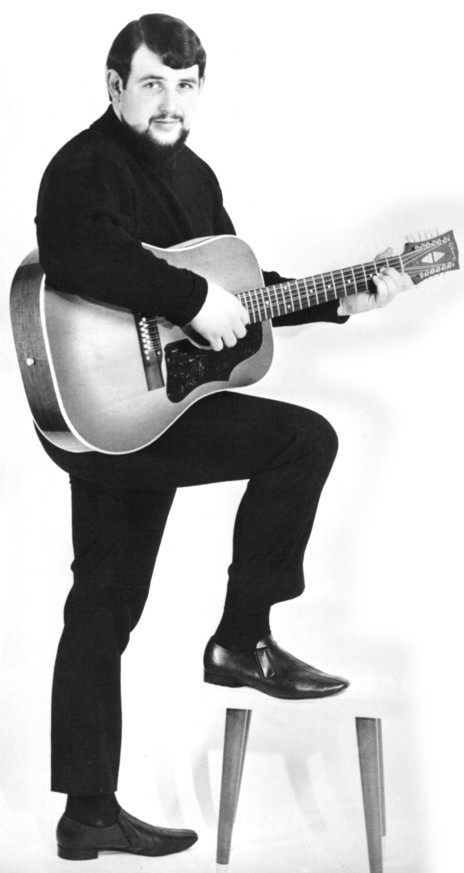 The Plainsman eased into the decade in a somewhat polite fashion. It had a "semi-formal" dress code, floorshows by popular vocalists such as Dinah Lee (then known as Diane Jacobs) and Rochelle Vinsen and pop bands like that of latter-day folklorist Phil Garland with the Playboys. It invited patrons to "complete an evening entertainment" with dinner or supper and dancing to its big stars, "Christchurch's own stage and television star RAY COLOMBUS [sic] and the Invaders".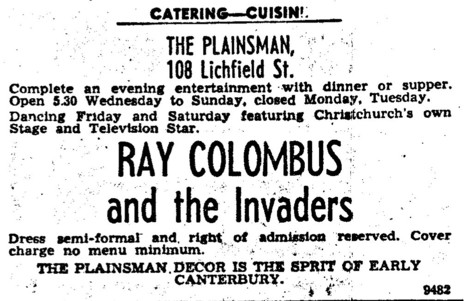 Alongside Columbus, Dave Russell on lead guitar, Brian Ringrose rhythm, Mac Jamieson on bass, and drummer Peter Ward were viewers' favourites on the Club Columbus TV shows. Eager at-home audiences could now see the moves the light-footed Columbus had finessed to the latest jukebox hits brought in by the US servicemen at the Operation Deep Freeze base. The Americans frequented the Plainsman for their steaks, toasted sandwiches and Cola Kists, and befriended the bands that played there.
Columbus and the band were encouraged to head north by Howard Morrison, who was in town headlining with his Quartet. He saw them perform and told them said they'd knock 'em dead in Auckland. They left town and The Dynamics stepped into the gap as club residents.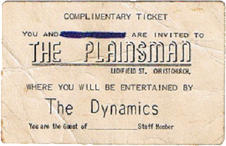 The Dynamics – in separate iterations with different line-ups and repertoires – held down two residencies there, first as a rock band in the mid-60s and later as a three-piece soul band at the end of the decade.
Initially, The Dynamics had Derek Wright on lead guitar, Dennis Moir on rhythm and vocals, and Peter Hansen on bass. Drummer Graham Hanham left and Wayne "Biggy Rat" Allen (currently Krakkajack bandleader) was asked to join after jamming with them on New Year's Eve 1963.
After a short stint at Eddie Chin's Sunset Strip club in Dunedin, they were back at the Plainsman in 1964, their name changed to The Secrets. Moir and Hansen had left, and they now had Paul Muggleston on rhythm and vocals and Gary Thain (1948–1975) on bass.
"When I first joined the Dynamics," Allen says, "Dougie Cowan, or 'Hank' as they called him, said to me, 'Now, when you're in this game you gotta look professional, outstanding, for the people to see you', and we had uniforms given to us: T-shirts with 'Les Dynamics' printed on them, red cardigans and grey trousers."
They sharpened their act with the name change and ditched the cardigans. "We went down to Borrie's Tailors in Chancery Lane. He was a regular customer and did us a good deal. We had these beautiful charcoal Italian-style suits made, which looked bloody smart."
Like The Invaders, The Secrets also had a lot of contact with the US servicemen, who made sure they were plugged in to the latest hits.
"They brought the latest stuff in from America and gave us the records to learn. We would do Wayne Fontana and the Mindbenders, Four Seasons, Beatles, the Shadows, Cliff Richard, surfing music like 'Bombora', and 'The Crusher', which had a lot of drumming in it.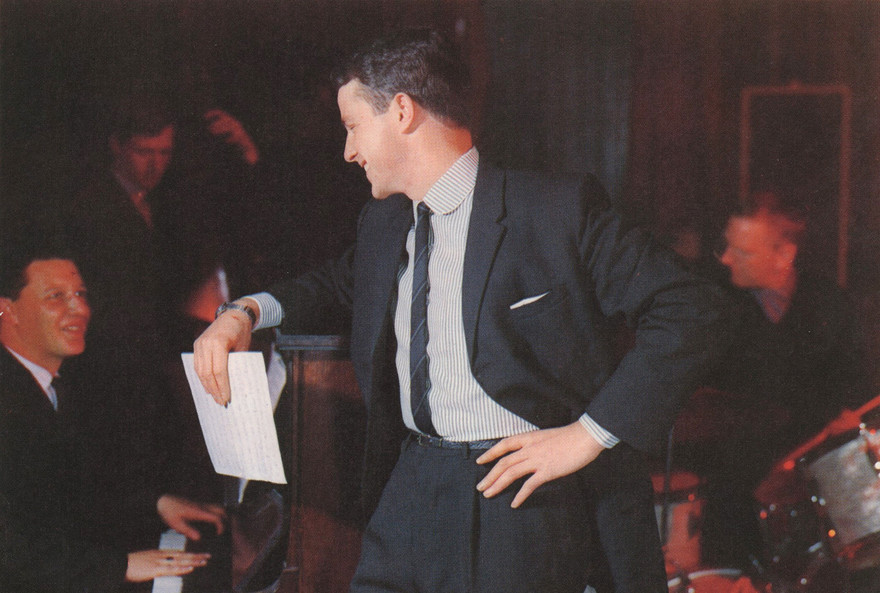 "They had their own little alcove down the back. Every Sunday they'd bring a truck out to the Plainsman, put all our gear on it and take us out for the afternoon to entertain them at the base. We got paid, fed and there were a few little cocktails.
The Dynamics in 1964 were one of the first bands in New Zealand to have Fender amps and Stratocasters. "We got them from the American base before they were even on sale through the shops. There were quite a few musos involved in the forces in those days and they used to jam with us. We asked them, 'What's the chance of getting amps?', and they said, 'Whaddya want? We'll bring them through next time.' So, the guys put their orders in and Hank and Heather actually paid for them, which was really neat. There was a photo in the paper of the boys and their new amps. All the musos came out and were drooling over us – 'Fender amps – wow!'"
Gary Thain had joined The Secrets from his first band, The Strangers, before leaving for England with Paul Muggleston in 1966. They were both in Me And The Others there and the New Nadir, then Thain joined the Keef Hartley Band. He is on six of their albums and was onstage with them at Woodstock before moving on and replacing Mark Clarke in Uriah Heep in 1972.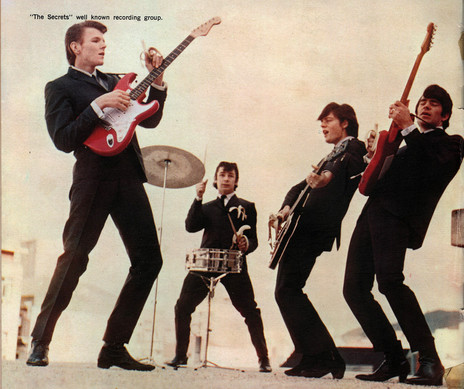 Invercargill-born guitarist Brian Dean was now in The Secrets and a teenage Robbie Carpenter was delighted to join them at the Plainsman and make an adult wage as bassist after Thain left. "I was 16, earning £45!" he says [it's about $800 now].
The Secrets released Muggleston's "It's You", their only single, in 1966 before splitting up. After Thain and Muggleston went to England, Wayne Allen and Robbie Carpenter joined other bands, including The Echophonics and, in Allen's case, The Funny Feeling at 1480 Village at 152 Lichfield Street along from the Plainsman.
"It was owned and run by Clarrie Light, a great music teacher and guitar player, and [it] had a revolving stage," Allen says. "We were there for about 12 months and then disbanded." He re-joined The Secrets at this point.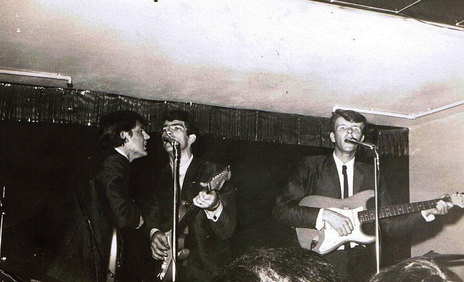 Plainsman proprietor Doug Cowan had found himself in a little legal bother in December 1963 when he was fined £5 for opening the club for entertainment without permission. He pleaded guilty, but maintained he had a city council permit to open until 11pm, and that on that night a visiting jazz player had offered to play for a private function. Required to register the club before March, he finally registered it in November 1964.
He made the papers again the following November, but on the opposite side of the ledger, when he faced the man who had assaulted him one night on the premises, around 1am during clean-up after the club had closed. He had asked the visitor to leave some dozen times before showing him out. The man took exception to it all, there was a scuffle, and Cowan had his shirt and jacket ripped. The man was convicted and ordered to pay £5 for costs and retribution.
In 1966 Cowan sold the Plainsman to Leo Jensen, who ran it with the help of Peter Sowden, the original drummer of Max Merritt and the Meteors. Sowden had remained in Christchurch when the band left for Auckland in 1963 in order to stay at NAC (National Airways Corporation), his career-long day job. He has continued playing at various times, in outfits such as his own Peter Sowden and the Embers, and About Time, a show band he formed with Brian Ringrose.
"I met Leo through a couple of go-go girls that Hank had brought over from the Whisky a Go Go in Sydney," Sowden says. "I was dating one of them for a short time and met Leo through that. He spent time going back to Denmark, so I ran it in his absence, and when he was here I paid the guys and did admin like that.
"We brought Johnny Farnham, in his 'Sadie the Cleaning Lady' days, over from Australia. We didn't play him in Christchurch, but took him on a bit of a tour to Ashburton, Timaru, Oamaru and Dunedin."
Jeff Cavender, bass and vocals, had revived The Secrets name and with Stan White on Hammond organ had taken up the residency at the Plainsman, focusing on soul and Motown. Wayne Allen was now its drummer. They backed Farnham on tour and did their own North Island tour, recording two Top 10 charting singles, 'Soothe Me' and 'Fool on the Hill', for Festival Records in Auckland.
As the decade segued into the flower-power era, Jensen and Sowden painted black-and-white squares in diminishing spirals on the club's walls and played rotating coloured spotlights on them in a rudimentary psychedelic lightshow.
"We did the same to Leo's big American Ford Mercury," Sowden says, "painting spirals on the bonnet, roof, boot and sides, with 'The Plainsman' written on the side. It was a big left-hand-drive and I drove it when Leo was in Denmark."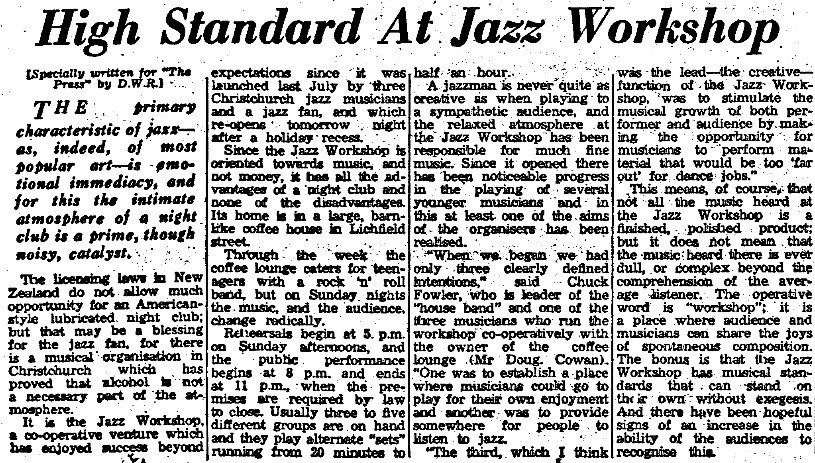 During the decade the Plainsman was in operation it featured other acts outside of resident bands, such as folk singer Christine Smith, the Band of Hope Jug Band, and Chants R&B. On Sundays Chuck Fowler ran the Jazz Workshop and in 1964 The Press reviewer deemed it "a place where audience and musicians can share the joys of spontaneous composition". DramaSoc (UC Drama Society) staged two one-act plays there and on other Sundays saxophonist Stu Buchanan's Quintet played dance music.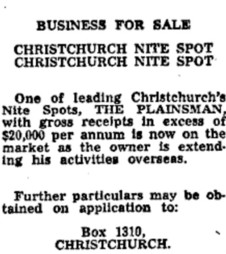 Lost & Found columns of the day were dotted with please-return classifieds, such as the "Lady's Cream Mohair Coat" and the "black and white houndstooth check Poncho Coat", both presumed to have been "taken by mistake".
Wayne Allen left for Sydney in 1969 where he joined The Simple Image. The Secrets, with Harry Gilmore on keyboards, Kevin Taylor on bass and drummer Chris Fox, stayed on at the Plainsman until 1972 when it was sold to Fox. It was not to last, and the door closed on a seminal moment in Christchurch music history.